1Q BSA's: It's April. Do You Know Who Your "Ms.Backspin" Is?
The 1st Quarter of the 2017 WTA season was, at equal times, exhilarating, historical, frustrating, heartwarming and, yes, bug-out crazy-balls on occasion, too.
Hey, it's STILL "the crazy women's tennis tour," after all... to be anything else would be unforgivable.
But in a season in which we've often never really been sure exactly what to expect, how does one construct a true standing of the contenders at the quarter-post for this year's "Ms.Backspin" honor? Consult an "alternative" source, maybe?


With so many big names missing either entirely or for long stretches of time -- by choice/necessity (Serena) or otherwise (Azarenka, Kvitova, Sharapova) -- through the opening months, as well as other important players being late-starting (Keys), injury-slowed (Halep) or "not quite right" (Kerber, Aga), listing in order the "top" players of the season so far proves somewhat problematic. While many have been very good, no one has really fully outrun the competition in a traditional sense, either.

So far, two women lead the tour in titles (with two), but neither won the quarter's sole slam event nor reached the semis in Australia, while the player that did lift the trophy has only played two matches outside of her run in Melbourne, and none since... not to mention both re-taking, then relinquishing, the #1 ranking without playing a match over the last two months of the 1Q. The player who has reached the most finals (3) in 2017 has yet to win one, while no doubles duo has managed to claim multiple crowns. Two players have won multiple women's doubles titles, but with different partners, while another has won both a WD and mixed crown.

But, oh, the stories -- and numbers -- have been great so far...



Both the singles and doubles #1 rankings have changed hands.


================


The Open era women's singles slam title record was finally broken, as Steffi Graf's career mark was surpassed by Serena Williams eighteen years after the German won her last major title.


================


The ages of three of the Australian Open semifinalists were 36, 35 and 34. One (Mirjana Lucic-Baroni) hadn't reached a slam semi in eighteen years, while the fourth (CoCo Vandweghe) was a first-timer, making it six straight majors (and eight of nine) and five consecutive AO's with newcomers in the final four (in yet another turn-back-the-clock series of occurrences, four of them have hailed from North America, and the other from Great Britain). The resulting AO final was the first at a slam between Serena and Venus Williams in eight years.


================


While the AO finalists were a combined 71 years of age, two other 1Q finals included women with twenty-nine years less life experience, as both the ages of the Auckland and Kuala Lumpur finalists were just 42, four years less than Kimiko Date ALONE. The 46-year old Japanese vet will return from knee injury in a challenger event in April.


===============


Nine nations have produced tour-level singles champs to date in '17, while finalists have represented sixteen countries. The ages of the 1Q singles champions spanned from 20-35, while doubles winners stretched things out just a bit more, with duo members aged 19-36 coming out on top.


===============


There have been five first-time singles champs (two in Week 1 alone), as well as one first-time doubles winner, and a new mixed slam champ, too.


===============


In a season that has once again included the usual "musical chairs" when it's come to the ongoing doubles partnerships, 2017's fifteen WD titles have been won by fifteen different duos.


===============


Indian Wells hosted the 28th all-Russian singles final in tour history, but just the second since the end of the 2011 season


===============


With so many top players sidelined, the season's three high-level Premier events saw finals that pitted the #13, #15 and #11-ranked players against #15, #8 and #14, respectively.


===============


There have been four wins over the world #1 (either Serena or Angelique Kerber) by players ranked outside the Top 10 (in order -- #14,#25,#35 and #12), and we've seen the oldest woman (Venus, at 36) to ever record such a win, as well.


===============
And that just scratches the surface.
But does any of this mean a thing when it comes to ranking the "Ms.Backspin" contenders? Is this 1st quarter, with all its odd angles and fantastic beasts, a TRUE barometer of how we'll eventually remember 2017 once the dust cloud has settled come November?
Oh, well. At least I tried. So...
1.
Czech Fed Cup Team
...
and that's why they are who they are.
Some might call what the Czechs have an "embarrassment of riches." But many nations have a handful of good players who could stock a Fed Cup roster and contend for multiple titles.
But only the Czechs are doing it, to a degree not witnessed in the team competition in decades.
The Maidens are ONE, fighting for the respect and life of the team. The Maidens are individual, capable and worthy of hoisting the team's chances upon their backs whenever their number comes up. The names have changed over the now six-year stretch of Czech dominance in this event, but the numbers have remained the same. And the mindset, too. They can be challenged, but they never wilt. At home. On the road. In the 1st Round, semis or final. They are to be feared. They have heart, even if their true heart wasn't even in Ostrava this particular weekend, except through a video connection.
Petra Kvitova with a good luck message for her @FedCup teammates ahead of a big day. Warm cheers all around Ostravar Arena pic.twitter.com/ldfRgmV31l

— Leigh Walsh (@LeighWalsh87) February 12, 2017
Perhaps that's WHY they are who they are. And it will take another nation capable and willing to fully challenge them, not only match-by-match, but heart-by-heart, to stop their inevitable march to a fourth straight title, and sixth in seven years, come the fall. It COULD happen. But the odds are not in its favor.
Once again, against the Spanish in the 1st Round, the Czechs won a tie by a 3-2 score, but this time it was the result of a dead rubber doubles victory. After Garbine Muguruza gave Spain a 1-0 lead with a win over Barbora Strycova, Karolina Pliskova took over. She shut down any hope of a quick start with a straight sets victory over Lara Arruabarrena, then she turned Day 2's headline clash in match #3 vs. Muguruza into a hard lesson for the Spaniard. She won just four games against Pliskova, two in each set en route to her first career FC singles loss in eight matches. Pliskova is now 9-3 (
6-0 indoors
) and has seamlessly assumed the role of team leader in the wake of Petra Kvitova's '15-'16 downturn in FC results and current injury-related absence after an offseason home invasion attack. A ninth straight semifinal beckons for the Maidens, who have now posted ten straight FC victories and haven't lost at home since '09. But they'll will be called upon to travel to the U.S. in the semis to keep their run alive. The reinvigorated Bannerette squad might present the Czech Republic with a REAL test in a power-vs.-power contest that could feature the likes of CoCo Vandeweghe, Madison Keys, and maybe even a Williams... or not (
who's to know?
).
===============================================
2.
Serena Williams, USA
...we haven't seen a whole lot of Serena this season. She's only played nine matches. After losing to Madison Brengle in Auckland in Week 1, Williams showed up in Melbourne and proved to be ready for the task at hand, winning her seven matches without dropping a set to claim slam title #23, breaking her Open era tie with Steffi Graf and moving within one of Margaret Court's all-time total. The run allowed her to reclaim the #1 ranking from Angelique Kerber. But Serena hasn't played since, and actually handed the ranking back to Kerber without having ever played a match during her latest stint in the #1 position. Williams has won a title in eleven straight seasons, more than any player other than Maria Sharapova (13 from 2003-15) since Graf retired in 1999.
?? @serenawilliams' Grand Slam singles titles@AustralianOpen: ??????????????@rolandgarros: ??????@Wimbledon: ??????????????@usopen: ???????????? pic.twitter.com/ThqFAW7C95

— #AusOpen (@AustralianOpen) January 28, 2017
===============================================
3.
Karolina Pliskova, CZE
...while the Czech has admitted to being on a still uncompleted quest to play "cosmic tennis," she HAS come pretty close to it at times this season. In Brisbane, she dominated the field so thoroughly that she was considered a "co-favorite" to win the Australian Open five months after reaching her first career slam final in New York. Ultimately, she fell in the QF (
still her best AO finish
) to an inspired Mirjana Lucic-Baroni. Pliskova followed up by leading the Czech Republic back to the Fed Cup semifinals, and picked up still another title in Doha a week later. She didn't quite "live up" to her advanced billing in Indian Wells and Miami, but still put up two big event semifinals while not playing her best tennis (
she was still the only woman to produce multiple SF+ results in the "Sunshine" stretch
). After putting up a tour-leading 23 wins (
tied with Wozniacki
) in the 1Q, the clay season likely won't bring her great riches, but it will give Pliskova perhaps a greater gift: time. Time to tighten up her game even more, and replicate the training regimen from last spring that got her fitter, improved her movement, and readied her for the grass/hard court summer months that changed her career last season. So, the cosmic quest continues.
By the end of the year, the Czech might just find her treasure, too.
===============================================
4.
Elina Svitolina, UKR
...Svitolina has been carving a path through the '17 season, knocking down career breakthroughs as if they're were on a To-Do list. Biggest title. Longest winning streak. Victory over a #1-ranked player. First Top 10 ranking. Before her less-than-ideal ending to the quarter in Indian Wells and Miami (
which, likely only temporarily, cost her her Top 10 standing
), Svitolina had been arguably THE in-form player all season, winning titles in Taipei City and at her first Premier 5-level tournament in Dubai. Her thirteen-match win streak, plus two more wins following a walkover, equal the longest undefeated streak on tour since 2013. In all, the Ukrainian was 20-4 in the 1Q, and will now seek out the next item to check off her list -- a true slam breakout performance. Her only QF result at a major came at Roland Garros in 2015.
===============================================
5.
Swiss Fed Cup Team
...Switzerland's 1st Round FC tie vs. France in Geneva was always going to depend on whether or not Kristina Mladenovic could essentially put the entire French effort on her shoulders to make up for an underwhelming roster. But it turned out to be about the heart of the Swiss. First, Timea Bacsinszky, who battled through injured knees to notch two singles victories, then Belinda Bencic, who found a way through her own on-court struggles after an injury-riddled '16 to get her first singles win of the season when the tie was on the line. With one and a half arms tied behind their backs on the road, the Pastries were in a tough spot in their first tie without Amelie Mauresmo's guiding hand (
or her FC protege Caroline Garcia's half of the one-two punch w/ Mladenovic that took the team the '16 final
), while the Swiss, if they can stay healthy, have reason to believe they might just be looking at a golden opportunity to seize their very first FC title nineteen years after Martina Hingis (
still a member of the roster
) led the nation to its only previous final appearance back in 1998.
This say a lot... ????#SupportTheSwiss ???????????? pic.twitter.com/hE6DZpSlou

— #TimiArmy (@FansBacsinszky) February 12, 2017
===============================================
6.
Johanna Konta, GBR
...the Brit continued to show an affinity for hard court tennis, proving herself once again to be one the best on the entire tour on the surface, capable of beating anyone on a given day. She crushed the competition in Sydney in Week 1, ultimately completing a streak of 18 straight sets through that event up through the Australian Open QF, when she wasn't able to fully defend her '16 AO semifinal. After a brief absence with an ankle injury, she returned to U.S. hard courts (
she won her first tour title last summer in Stanford
) and shined once more, lifting her biggest title trophy to date in Miami and climbing back into the Top 10. The clay season will be a challenge, but Konta's 21-4 record so far in '17 speaks to the fact that the Brit need only survive the spring to be in prime position for more success at the end of the rainbow come summertime.
An historic first Miami Open title ??, and now a career-high ranking for @JoKonta91!

The ???? No.1 is now the world No. 7??! ?? pic.twitter.com/v9X66ivuwv

— Team GB (@TeamGB) April 3, 2017
===============================================
7.
Venus Williams, USA
...over the last few years, even after she'd learned to live with and thrive despite her Sjogren's syndrome, returned to the Top 10 and played in a slam semifinal ('16 Wimbledon), we'd accepted that Venus would likely never be able to rise to her previous heights, and had begun to enjoy and be grateful for HER, no matter her results. Well, now she's gone and done it, hasn't she? Her heartwarming run in Melbourne to her first slam final in eight years, naturally against Serena, served to remind us that she was the first Williams to make her mark in the sport. Since then, she's reached the Miami semifinals, became the oldest woman (36) to defeat a reigning world #1 and returned to the Top 10.
===============================================
8.
Caroline Wozniacki, DEN
...while the Dane hasn't quite climbed back into the Top 10, her comeback surge after having been ranked at #74 heading into last year's U.S. Open continues. She leads the tour at the conclusion of the 1Q in finals (3) and match wins (23, tied with Pliskova), including becoming the first woman to reach back-to-back finals in Doha and Dubai for a SECOND time (w/ 2011), and reaching her first career championship match in Miami. She's yet to win a title in 2017, but the relevant question for the remainder of Wozniacki's season wouldn't seem to be whether she'll win one, but HOW MANY she'll win by the time it's through.
===============================================
#LucicBaroni in tears: "I never could dream about being here again. I will never forget this day." #AusOpen pic.twitter.com/0xSL6HCol8

— #AusOpen (@AustralianOpen) January 25, 2017
9.
Mirjana Lucic-Baroni, CRO
...coming eighteen years and several lifetimes worth of anxiety and uncertainty after her original slam semifinal performance at Wimbledon in 1999, no one saw the 34-year old Croat rising to such heights once again in Melbourne.
Not even her, though she never gave the sources of her by now well-known struggles the satisfaction of ever seeing her give up.
From the moment it happened, it was already difficult to believe her storybook AO run could be overtaken as the most unexpected and heartwarming occurrence this ENTIRE season. But maybe Lucic-Baroni herself may be able to do it. After all, she's shown no signs of having Melbourne be her only '17 highlight. She's since reached the Acapulco semis and Miami QF while pushing up ranking up to just outside the Top 20.
Who knows what she'll have in store as the season moves along.
===============================================
10.
Elena Vesnina, RUS
...the Russian, on the move since her Wimbledon semifinal last summer, has continued to reach new heights in 2017. Her surprise title run in Indian Wells produced the biggest singles win of her career, and lifter her to a new career high of #13. Together with Ekaterina Makarova, she picked up another doubles title in Dubai and briefly had a shot to snag the #1 doubles ranking from Bethanie Mattek-Sands.
===============================================
So, will these rankings even come close to holding up very well by the time we reach the summer?
All right.
=ALSO NOMINATED=
USA FED CUP TEAM:
with Kathy Rinaldi in charge --
even while the weather didn't cooperate, court safety concerns were botched, a pre-match anthem screw-up of monumental proportions nearly caused a non Trump-related international incident, and the on-court demeanor of one team member created negative headlines
-- the Bannerettes held together and battled like an actual T-E-A-M that wanted to win for its new Captain, defeating Germany to earn a shot at the Czechs in the semis
BLR FED CUP TEAM:
the upstart Belarusians upset --
blew out, really
-- the Dutch to reach the nation's first ever Fed Cup semifinal
BETHANIE MATTEK-SANDS, USA:
climbed to #1 in doubles, winning Brisbane (w/ Mirza, who she replaced as #1) and the AO (w/ Safarova) in her fifth and sixth straight finals dating back to '16. From the U.S. Open to Miami QF, BMS went on a 31-1 doubles tear.
There's a new Doubles World No.1 ??@BMATTEK! pic.twitter.com/oZlvGWuumB

— WTA (@WTA) January 7, 2017
MATTEK-SANDS/SAFAROVA, USA/CZE:
Team Bucie won a second straight slam WD title in Australia, and improved their combined 2016-17 stretch to 26-1 before losing in the Miami SF
KRISTINA MLADENOVIC, FRA:
the Pastry claimed her maiden tour title in Saint Petersburg, reached the I.W. semis and Acapulco final, and moved within striking distance of overtaking Mattek-Sands as the doubles #1 (
she ended the 1Q at #2
)
CoCo VANDEWEGHE, USA:
while walking the fine line between "opinionated/free spirited" and "bull in a china shop," CoCo blasted her way to her maiden slam semi in the AO (
def. the world #1 -- becoming the first non-Williams U.S. woman to do since '01 -- and AO defending champ, three of 2016's major title holders AND two former slam finalists
), then went 2-0 in the U.S. Fed Cup win over Germany
SVETLANA KUZNETSOVA, RUS:
the I.W. finalist, and winner of the best, and longest (naturally), match of the 1Q vs. Jankovic in Melbourne
#SAPStatOfTheDay: @SvetlanaK27 reaches 40th career #WTA Final! #BNPPO17 pic.twitter.com/30zi68qpwP

— WTA (@WTA) March 18, 2017
ABIGAIL SPEARS, USA:
a first-time slam winner (MX) at age 35, and w/ a title run in Doha w/ Srebotnik
Y.CHAN/HINGIS, TPE/SUI:
won Indian Wells in their third pairing, then SF in Miami
MAKAROVA/VESNINA, RUS/RUS:
picked up another big title in Dubai
DABROWSKI/XU YIFAN, CAN/CHN:
won Miami in their very first tournament as a duo
*RISERS*


1.Karolina Pliskova, CZE
2.Elina Svitolina, UKR
3.SUI Fed Cup Team
4.Johanna Konta, GBR
5.Elena Vesnina, RUS
6.Kristina Mladenovic, FRA
7.CoCo Vandeweghe, USA
8.Garbine Muguruza, ESP
9.Yulia Putintseva, KAZ
10.Timea Babos, HUN



*FRESH FACES*


1.Katerina Siniakova, CZE
2.Ash Barty, AUS
3.CiCi Bellis, USA
4.Kayla Day, USA
5.Elise Mertens, BEL
6.Ana Konjuh, CRO
7.Naomi Osaka, JPN
8.Lauren Davis, USA
9.Oceane Dodin, FRA
10.Anna Blinkova, RUS



*IMPROVED*


1.Kristyna Pliskova, CZE
2.Wang Qiang, CHN
3.UKR Fed Cup Team
4.Aliaksandra Sasnovich, BLR
5.Shelby Rogers, USA
6.Maria Sakkari, GRE
7.Natalia Vikhlyantseva, RUS
8.Carina Witthoeft, GER
9.Donna Vekic, CRO
10.Jana Fett, CRO



*SURPRISES*


1.BLR Fed Cup Team
2.Veronica Cepede Royg, PAR
3.Risa Ozaki, JPN
4.Jennifer Brady, USA
5.SRB Fed Cup Team
6.Rebecca Sramkova, SVK
7.Mandy Minella, LUX
8.Julia Boserup, USA
9.Asia Muhammad, USA
10.Lesley Kerkhove, NED



*VETERANS*


1.Serena Williams, USA
2.Venus Williams, USA
3.Mirjana Lucic-Baroni, CRO
4.Caroline Wozniacki, DEN
5.Svetlana Kuznetsova, RUS
6.Bethanie Mattek-Sands, USA
7.Timea Bacsinszky, SUI
8.Lucie Safarova, CZE
9.Barbora Strycova, CZE
10.Pauline Parmentier, FRA



*COMEBACKS*


1.Mirjana Lucic-Baroni, CRO
2.Ash Barty, AUS
3.USA Fed Cup Team
4.Peng Shuai, CHN
5.Sorana Cirstea, ROU
6.Ajla Tomljanovic, CRO
7.Mona Barthel, GER
8.SVK Fed Cup Team
9.RUS Fed Cup Team
10.Ash Barty/Casey Dellacqua, AUS/AUS



*DOWN*


1.Belinda Bencic, SUI
2.NED Fed Cup Team
3.Martina Hingis/CoCo Vandeweghe, SUI/USA
4.Cagla Buyukakcay, TUR
5.ROU Fed Cup Team
6.GER Fed Cup Team
7.FRA Fed Cup Team
8.Carla Suarez-Navarro, ESP
9.Aga Radwanska, POL
10t.Angelique Kerber, GER & Simona Halep, ROU



*JUNIORS*


1.Marta Kostyuk, UKR
2.Iga Swiatek, POL
3.Rebeka Masarova, SUI
4.Whitney Osuigwe, USA
5.Maja Chwalinska, POL
6.Amanda Anisimova, USA
7.Anastasia Potapova, RUS
8.Carson Branstine, CAN
9.Olga Danilovic, SRB
10.Zeel Desai, IND



*DOUBLES*


1.Bethanie Mattek-Sands, USA
2.Abigail Spears, USA
3.Bethanie Mattek-Sands/Lucie Safarova, USA/CZE
4.Chan Yung-Jan/Martina Hingis, TPE/SUI
5.Ekaterina Makarova/Elena Vesnina, RUS/RUS
6.Gaby Dabrowski/Xu Yifan, CAN/CHN
7.Sania Mirza, IND
8.Andrea Hlavackova/Peng Shuai, CZE/CHN
9.Ash Barty/Casey Dellacqua, AUS/AUS
10.Sania Mirza/Barbora Strycova, IND/CZE



*ITF PLAYERS*


1.Maria-Teresa Torro-Flor, ESP
2.Tatjana Maria, GER
3.Dejana Radanovic, SRB
4.Polina Monova, RUS
5.Ekaterina Alexandrova, RUS
6.Bianca Andreescu, CAN
7.Destanee Aiava, AUS
8.Zheng Saisai, CHN
9.Irina Khromacheva, RUS
10.Anhelina Kalinina, UKR



*FED CUP*


1.Timea Bacinszky, SUI
2.Karolina Pliskova, CZE
3.Rebecca Sramkova, SVK
4.CoCo Vandeweghe, USA
5.Aliaksandra Sasnovich, BLR
6.Barbora Strycova, CZE
7.Ekaterina Makarova, RUS
8.Iryna Sabalenka, BLR
9.Alison Riske, USA
10.Belinda Bencic, SUI
---
RISER: Elina Svitolina, UKR
FRESH FACE: Ivana Jorovic, SRB
SURPRISE: CHI Fed Cup Team
VETERAN: Yanina Wickmayer, BEL
COMEBACK: Daniela Hantuchova, SVK
DOUBLES: Yaroslava Shvedova/Galina Voskoboeva, KAZ
JUNIOR: Bianca Andreescu, CAN
DOWN: Kiki Bertens, NED
CAPTAIN: Kathy Rinaldi, USA



*WHEELCHAIR*


1.Yui Kamiji, JPN
2.Jiske Griffioen, NED
3.Jiske Griffioen/Aniek Van Koot, NED/NED
---
FRESH FACE: Diede de Groot, NED
SURPRISE: Lucy Shuker, GBR
VETERAN: Sabine Ellerbrock, GER
When you're THIS CLOSE...
Wang Qiang posted this on her Weibo, saying "I can't even concentrate on my training!" ??

Roger's movement in the background though. ???????? pic.twitter.com/0DWlBTVdJX

— Cherry (@cherryyc) January 13, 2017
Wang Qiang strikes again. This time is Rafa. pic.twitter.com/0V4nvrZE4L

— Ratazana (@Ratazana) January 16, 2017
And, while I'm at it, how about a quick look back at the rest of the best of the 1st Quarter...
SERENA WINS #23
...while she started slowly in Auckland, Serena Williams arrived in Melbourne knowing that her tough draw wouldn't allow her to simply round into form as the Australian Open went along. Focused and ready from Day 1, she won the third major title (
of her now Open era record of 23
) of her career without dropping a set, just one fewer than Martina Navratilova's record of four such slam runs.
Just what Serena needs, another record to chase.
Here's ANOTHER that's now in her rearview mirror:
no one has won more AO titles in the Open era than her, either.
Serena's win in the final over sister Venus was one more declaration of the historic path the siblings have staked out for the last two decades, and it says a great deal about the breadth and depth of her career that Williams was barely even aware that she'd reclaimed the #1 ranking she lost last summer with the victory. Later, noting that even during the trophy presentation, Margaret Court's all-time major total of 24 titles was already being mentioned, Serena only half-jokingly lamented, "23...24...25. It's never enough." Of course, the day will come when she'll win no more titles. But that day hasn't arrived just yet. At least for a while, for Serena, 35 really IS "the new 25."
Maybe more than we even know, as she won't turn 36 until after the U.S. Open.
===============================================
.@EVesnina001 wins first #WTA title since 2013!

Conquers @BNPParibasOpen after THREE hour marathon--> https://t.co/wAOuLIWCb5 pic.twitter.com/Y88c5zFj4g

— WTA (@WTA) March 19, 2017
A RUSSIAN RULES IN THE THE DESERT
...in Indian Wells, an "on fire" Elena Vesnina strung together gritty wins over Shelby Rogers, Timea Babos, Angelique Kerber, Venus Williams and Kristina Mladenovic to reach her biggest career final (
the tenth of her tour career
), then went about staging multiple comebacks (
down 4-1 in the 2nd, then 4-2 in the 3rd
) against countrywoman Svetlana Kuznetsova in the final to claim the title, her first since winning her second career crown (
both coming in the same season
) in Eastbourne in 2013. She rose to a new career high of #13 with th title, with a shot to become the fourteenth Hordette representing USSR/RUS to reach the singles Top 10 in the three months before she'll be called upon to defend her '16 SF points at SW19 in late June. "This is a dream," she said. "I hope it's a great example for other players that everything can happen if you believe in yourself, you know that you have the game. I knew I could play well. I know I have the game. I have the shots. I have the serve. I was just, it was just about the consistency and using the right shots on the right moment. Don't panic, don't rush."
===============================================
PLISKOVA KICKS OFF '17 IN BRILLIANT BRISBANE FORM
...
and away we go.
By the end of the 2016 season, Karolina Pliskova had (nearly) transformed herself into an all-level force of epic proportions. After having assumed the lead role in the Czech Republic's last two Fed Cup title runs, she'd also worked to improve her fitness and court movement AND shape up her previous (over)scheduling woes, riding her wave of revelation to a special summer that included title runs on grass and hard courts, wins over BOTH Williams Sisters in New York, and an appearance in her first slam final in which she pushed "#1-elect" Angelique Kerber to three sets before the German's ultra-fitness finally did her in in the U.S. Open championship match.
Her 2017 season started even better.
Pliskova, within whose head new coach David Kotyza insisted in Week 1 "a champion sleeps," was fairly well dominant in Brisbane, picking up her seventh career singles title (
she'd get #4 in February
) while losing just one set along her route to the winner's circle. Aside from a single set dropped to Roberta Vinci in the QF, Pliskova allowed no more than four games in any of the ten sets she claimed over Yulia Putintseva (
4 games
), Asia Muhammad (
5 games
), Vinci (
two 2-game sets of the three
), Elina Svitolina (
6 games
) and Alize Cornet (
3 games
) in the final.
===============================================
OPERATIC KONTA PLAYS BEAUTIFUL MUSIC IN SYDNEY
...days before the start of her defense of an Australain Open semifinal from 2016, Johanna Konta took to the fast courts of Sydney like a Trump Cabinet nominee to conflicts of interest. The Brit put up wins over Arina Rodionova, BOTH Dashas (
first Gavrilova, then Kasatkina
), Genie Bouchard and Aga Radwanska in the final in their second match-up for a title in a little over three months (Beijing '16). She didn't lose a set all week, and ultimately ran off eighteen straights sets won before losing to Serena Williams in the AO quarterfinals.
.@SydneyTennis Final Highlights! pic.twitter.com/tAF32msJKV

— WTA (@WTA) January 13, 2017
===============================================
TEAM BUCIE TAKE MELBOURNE
...recently-elevated to the doubles #1 ranking, Bethanie Mattek-Sands teams with Lucie Safarova to win their second (w/ '15) Australian Open WD crown, reaching the semis without dropping a set, then winning three-setters over Hozumi/Kato and Hlavackova/Peng to claim their fourth slam title as a duo, and their second straight major. "Team Bucie" is now just a Wimbledon title away from completing a Career Doubles Slam as a pair. The friends' tremendous stretch ultimately led to a 26-1 run from the start of last year's U.S. Open until Mattek-Sands failed to defend either of her "Sunshine Doubles" wins from '16 in Indian Wells and Miami, the latter of which she won with Safarova.
===============================================
KIKI...finally
...Kristina Mladenovic's big week in Saint Petersburg began with her ending Hobart champ Elise Mertens' eleven-match winning streak, and she followed up with wins over Venus Williams, defending champ Roberta Vinci, wild card Cinderella Natalia Vikhlyantseva and Yulia Putintseva in a spirited three-set final in which the Pastry blew a big 2nd set lead, and nearly let slip another in the 3rd, before finally putting down the Kazakh on her fifth MP. The week finally erased Kiki's 0-3 career mark in tour-level singles finals.
First #WTA Title!@KikiMladenovic wins @Formula_TX after defeating Putintseva 6-2, 6-7 (3), 6-4! pic.twitter.com/Iktzpbpg8D

— WTA (@WTA) February 5, 2017
===============================================
THE CZECH (and Pliskova) WAY
...even in a "normal" week, let alone after the pressure of once again successfully assuming the lead role carrying the Czechs back to a ninth straight FC semifinal, Karolina Pliskova's time in Doha would have been especially impressive. While most of the other Week 6 Fed Cu participants either withdrew or lost early in Week 7, the Czech carried over her dominance as she posted wins over Caroline Garcia, Zhang Shuai, Dominika Cibulkova and Caroline Wozniacki, after having been winless vs. the latter two opponents, winning eight of nine sets en route to lifting her first trophy at the event. Her eighth overall title on tour, Pliskova has won half her crowns since last summer.
Karolina Pliskova is champion of Brisbane and, 3 of our 4 experts believe, will also be champion at the #AusOpen: https://t.co/SMnsR1oib6 pic.twitter.com/lmKclqEfNb

— TENNIS.com (@Tennis) January 13, 2017
===============================================
ELINA DOES DUBAI
...in Dubai, Elina Svitolina dropped just one set while taking down Zheng Saisai, Christina McHale, Lauren Davis, Angelique Kerber (again) and Caroline Wozniacki to claim her biggest title (
her first Premier event
) and become the first Ukrainian to reach the Top 10. Svitolina's game may most closely resemble the last two women she defeated in the tournament, but her form and winning focus against them unquestionably outdistanced both former #1's (
and, in Kerber's case, soon-to-be-again
) when it mattered the most in her straight sets wins. The title was Svitolina's second in a row in '17, as she extended her season opening run to 17-2.
.@ElinaSvitolina becomes first ???? to reach the Top 10 in #WTA history! pic.twitter.com/gxeYMDvdMz

— WTA (@WTA) February 25, 2017
What a backhand winner from @ElinaSvitolina to win biggest career title! ?? #DDFTennis pic.twitter.com/TqMokQPRbZ

— WTA (@WTA) February 25, 2017
===============================================
GUTSY BACSINSZKY LEADS SWISS TO SEMIS
...Timea Bacsinszky got the expected match #1 win over Alize Cornet in Swizterland Fed Cup 1st Round tie vs. France, but it was her match #3 victory --
after going down with an injury and looking in dire straights in tears when getting medical attention
-- over Kiki Mladenovic that was the moment (
both on court in their collective soul
) that allowed the Swiss to survive. Belinda Bencic's clinching singles victory was huge, but without Bacsinszky's 2-0 singles weekend the prospect of defeating the French would have been (at best) a 50/50 proposition, since Mladenovic would have likely hit the courts again in the deciding doubles. As it turned out, Timea (
of course, maybe it was the adrenaline
) felt good enough after her win to participate in a "victory lap" once Bencic wrapped up the tie, putting up a dead rubber doubles win alongside fellow Olympic doubles medalist Martina Hingis in celebration of Switzerland's return to the FC semifinals.
===============================================
BRIT OVER MIAMI
...after a brief February/early March interlude, Johanna Konta once again (
for the most part
) resembled the sometimes-lethal player we saw on the hard courts in January. She dropped just two sets in Miami, one to Aliaksandra Sasnovich in her first match, and another to Simona Halep in the QF. The Romanian served for the match, but Konta staved off the challenge and soon after took control. Straight sets wins over Pauline Parmentier, Lara Arruabarrena, Venus Williams and, in the final, Caroline Wozniacki produced the Brit's biggest career win, her first Premier Mandatory title. With the win, she rose to a career-high #7 in the rankings.
#SAPStatOfTheDay: @JoKonta91 becomes the first ???? player to win a #WTA Premier Mandatory title! #MiamiOpen pic.twitter.com/EqdqgTpWfk

— WTA (@WTA) April 1, 2017
===============================================
A BARTY PARTY
...in Kuala Lumpur, 20-year old Ash Barty qualified (
emphatically downing Ula Radwanska love & 1 in the final round
) and proceeded to put a load of hurt on nearly every player she faced while stringing together seven consecutive wins to become the second qualifier (Mertens in Hobart) to win a tour singles title this season. Barty went three sets in the 1st Round vs. Irina Falconi, but bageled the Bannerette in the decider. She downed Miyu Kato love and three, then Zhang Kailin love & six, her fourth straight match with a love set victory. Han Xinyun got eight games off her in the semi, but Nao Hibino could only manage five in the final. After having never advanced past a QF in her tour career, Barty experienced the whole shebang in Malaysia, not only winning her first singles title (the long way), but also taking her first tour doubles title since 2014 with Casey Dellacqua. With her first big success since her return from a year and a half sabbatical that began in 2014, Barty jumped into the Top 100 for the first time.
Barty Party ????@AshBar96 wins maiden #WTA title at @alyawtamo--> https://t.co/nBSAUoeFTr pic.twitter.com/e0M8qFcytW

— WTA (@WTA) March 5, 2017
===============================================
HELLO, (NEW) PARTNER
...it took some trail and error (
see CoCo
), but Martina Hingis may have finally found her post-Sania Mirza doubles soulmate. In Indian Wells, the same event where she and Mirza won their first title together two years ago, Hingis teamed with Chan Yung-Jan to secure as many match wins (5) as she'd had in her previous five WD events in 2017 combined. Putting up wins over Mirza/Strycova, Mattek-Sands/Safarova and Hradecka/Siniakova in the final, winning the crown in just their third event together without dropping a set. While for Chan it was her second '17 title (
she won w/ sister Hao-Ching in Taipei City
), and nineteenth career tour-level win with a fifth different partner, Hingis won her first title since taking Rome with Mirza last spring (
in just her second final since the announcement of their split last summer
), winning for a 56th time in her Hall of Fame career with a seventeenth different WD partner. Two weeks later in Miami, Chan/Hingis lost to Mirza/Strycova in the semifinals, as Mirza took a 2-1 head-to-head lead in matches vs. Hingis since the split.
The winning wiggle ?????????????????? pic.twitter.com/db1AYkhLfL

— ???~YungJan Chan (@YungJan_Chan) March 19, 2017
===============================================
[JUNIORS]
Marta Kostyuk, UKR
...14-year old Kostyuk won the AO girls title, taking out #1-seeded Rebeka Masarova in three sets in the final to become the third junior slam champ --
w/ Kateryna Bondarenko & Elina Svitolina
-- to hail from Ukraine, and the first since Svitolina in 2010.
[WHEELCHAIR]
Yui Kamiji, JPN
...the former WC #1 took care of some unfinished business in Melbourne, finally winning the AO singles crown for the first time after twice falling in the final in recent years. She's now needs only a Wimbledon singles title to complete a career collection of all eight slam titles. No player in WC history has accomplished the feat. Current #1 Jiske Griffioen is a U.S. Open singles title short, while Esther Vergeer never got to play Wimbledon singles, as that competition wasn't contested for the first time until 2016.
Congratulations to the #AusOpen 2017 Women's Wheelchair Singles champion Yui Kamiji. pic.twitter.com/tBYd2Szier

— #AusOpen (@AustralianOpen) January 28, 2017
When Petko goes to an art museum, every masterpiece is fair game...
When you forget your tennis shoes for practice: pic.twitter.com/4qtputMW25

— Andrea Petkovic (@andreapetkovic) February 1, 2017
When somebody talks too much. And nonsense: pic.twitter.com/4MeeLBRzsT

— Andrea Petkovic (@andreapetkovic) February 1, 2017
When you lose 2 pounds after a stomach virus: pic.twitter.com/vLVraHcvmI

— Andrea Petkovic (@andreapetkovic) February 1, 2017
When paparrazzi waits in the bathroom: pic.twitter.com/37Pfuo49GE

— Andrea Petkovic (@andreapetkovic) February 1, 2017
When bae is angry. Do not touch. pic.twitter.com/Me2reirJWB

— Andrea Petkovic (@andreapetkovic) February 1, 2017
When you try to take a "pensively-gazing-off-in-the-distance" selfie. pic.twitter.com/1BEQu8p6Dh

— Andrea Petkovic (@andreapetkovic) February 1, 2017
Australian Open 3rd Rd. - Svetlana Kuznetsova def. Jelena Jankovic
...6-4/5-7/9-7.
The two vets battled for 3:36, as Kuznetsova failed to put away the match after leading 6-4/4-1, but made up for it by coming back from 3-0 down in the 3rd.
With these two, would you expect anything less, or more?
What a match.#AusOpen pic.twitter.com/BFNMduUb2C

— #AusOpen (@AustralianOpen) January 20, 2017
===============================================
Saint Petersburg Final - Kristina Mladenovic def. Yulia Putintseva
...6-2/6-7(3)/6-4.
In a match-up which would crown a first-time singles champ, these two battled for 2:36, producing 94 total winners (Mladenovic 62-32) and 67 UE's (46-21). Putintseva made the Pastry work, battling back from 5-2 down in the 2nd to force and win a TB, then nearly climbing out of a 5-1 hole in the 3rd. Mladenovic served at 5-2, only to see Putintseva save three MP, then a fourth when Kiki served for the title again at 5-4. Finally, Mladenovic fired a winner on her 5th MP, ending her 0-3 career run in finals.
First #WTA Title!@KikiMladenovic wins @Formula_TX after defeating Putintseva 6-2, 6-7 (3), 6-4! pic.twitter.com/Iktzpbpg8D

— WTA (@WTA) February 5, 2017
===============================================
Fed Cup 1st Round Match #3 - Timea Bacsinszky/SUI def. Kristina Mladenovic/FRA
...7-6(4)/4-6/7-5.
After straining one knee on Saturday, Bacsinszky went down with another knee injury here while leading 3-2 in the 3rd. But she returned to gut out the singles win that the Swiss HAD to have over Mladenovic, shifting the advantage to SUI vs. a French bench player (
it turned out to be Pauline Parmentier
) in Match #4, which Belinda Becic secured to clinch the tie. This win could be the difference between a 1st Round exit and the very real possibility of a first-ever Swiss Fed Cup title for what might be the deepest non-Czech, full-participation squad in the semifinals.
===============================================
Indian Wells Final - Elena Vesnina def. Svetlana Kuznetsova
...6-7(6)/7-5/6-4.
A lost opportunity for Kuznetsova, and a moment of true opportunistic achievement for Vesnina. Coming back from a break down twice in the 1st, Kuznetsova took the TB. But with the advantage on her side of the net in the 2nd (4-1 lead) and 3rd (4-2) she wasn't able to call upon championship form.
That winning feeling @EVesnina001! ?? #BNPPO17 pic.twitter.com/QmFS8GRWoA

— WTA (@WTA) March 19, 2017
===============================================
Indian Wells 3rd Rd. - Timea Bacsinszky def. Kiki Bertens
...6-3/5-7/7-6(8).
In 3:22, Bacsinszky survives after failing to put away two MP in the 2nd, saving four MP in the 3rd after falling behind 5-2, then finally winning on her own sixth MP.
3 hours, 22 minutes!@TimeaOfficial saves FOUR match points to beat Bertens 6-3, 5-7, 7-6(8)! #BNPPO17 pic.twitter.com/ssSLWyrTyu

— WTA (@WTA) March 12, 2017
===============================================
Australian Open 1st Rd. - Lucie Safarova def. Yanina Wickmayer
...3-6/7-6(7)/6-1.
Serving to stay in the match while down 6-3/6-5, Safarova fell behind love/40, and it seemed just a matter of time before it'd be over and Bethanie Mattek-Sands would have her doubles partner all to herself for the rest of this tournament. But that was when Safarova decided she wasn't ready to go. Here's how things went:
Video of Lucie Safarova saving nine MPs against Yanina Wickmayer.https://t.co/tj6SPEMyno

— Steven Mills (@StevenMtennis) January 17, 2017
Safarova and BMS went on to win the AO doubles, too.
===============================================
Australian Open 3rd Rd. - Karolina Pliskova def. Jelena Ostapenko
...4-6/6-0/10-8.
Against the unrelenting Latvian, Pliskova fell behind two breaks in the 3rd and saw Ostapenko serve for the match at 5-2 and 5-4. Finding a way to win when she wasn't at her best, the Czech reached into her "experience bag" and pulled out defense and, ultimately, her big serve to move forward.
Ostapenko: "My team told me, don't be pity, be proud of yourself b/c you showed some good tennis today." #AusOpen

— WTA Insider (@WTA_insider) January 21, 2017
===============================================
Australian Open 2nd Rd. - Jennifer Brady def. Heather Watson
...2-6/7-6(3)/10-8.
In her first career slam MD, qualifier Brady saves five MP against the Brit, paving the way for her first career Round of 16 result in a major.
????!@jennifurbrady95 joins the U.S. roster of women into singles 3R (along with Venus, Vandeweghe and Riske), d. #Watson 2-6 7-6(3) 10-8. pic.twitter.com/FD7pawHwz5

— #AusOpen (@AustralianOpen) January 19, 2017
===============================================
Indian Wells 2nd Rd. - Venus Williams def. Jelena Jankovic
..1-6/7-6(5)/6-1.
Taped up and with things looking upside-down, Venus' time in the desert looked like it'd be short. Then she charged back from 6-1/4-1 down, saving three MP, to knot her career head-to-head with JJ at 7-7.
Love this. "I didn't see no fat lady singing" ???? true fighter https://t.co/DhJLAPY9mm

— Melanie South (@melaniesouth) March 12, 2017
"It ain't over til it's over ??" -@VenusesWilliams #BNPPO17 pic.twitter.com/SDd6uPC2sW

— WTA (@WTA) March 12, 2017
===============================================
Indian Wells 3rd Rd. - Dominika Cibulkova def. Kristyna Pliskova
...2-6/7-6(5)/7-6(4).
Pliskova led 6-2/4-2 and served for the win having yet to face a BP in the match. Of course, as one can tell by the scoreline above, she was broken there, then suffered her first loss in a TB since last season. In the 3rd, the Czech again was on the verge of her biggest career win vs. the Top 5 Slovak. Cibulkova, down 5-4, saved a MP and held serve in an 11-minute game. Pliskova broke in a 9-minute Cibulkova service game two games later (
on her sixth BP in the game
) with a forehand return winner of a second serve to send things to a TB, where she lost out yet again to the veteran to fall in 2:47. Pliskova was 2-of-13 on BP chances in the 3rd set alone, and just 5-of-23 in the match.
POME! ??@Cibulkova makes 2-6, 7-6(5), 7-6(4) comeback win over Kr. Pliskova in @BNPParibasOpen Third round! #BNPPO17 pic.twitter.com/VcJn5hteaJ

— WTA (@WTA) March 13, 2017
===============================================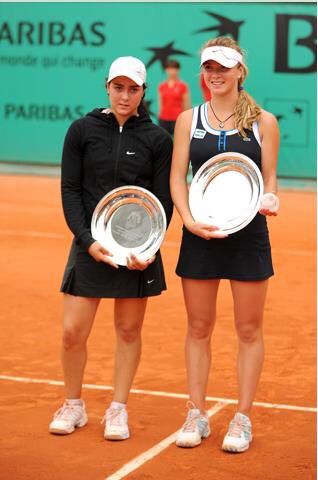 JABEUR and SVITOLINA at RG in 2010
Taipei City QF - Elina Svitolina def. Ons Jabeur
...6-1/3-6/7-6(4).
Trailing Jabeur, her victim in the '10 RG junior final, 5-3 in the 3rd, things didn't look good for Svitolina. When Jabeur served for the match at 5-4, it looked even worse. Four match points?
Well, you know.
But experience in big matches counts, and so does a lack of it. How things played out in the closing games showed how differently the pro careers of Svitolina and Jabeur have gone so far, and (for the most part) likely will continue to play out.
Unbelievable tennis from @ElinaSvitolina and @Ons_Jabeur!! ?? #TaiwanOpen pic.twitter.com/pOuBtR2N0T

— WTA (@WTA) February 3, 2017
===============================================
Fed Cup 1st Round Match #3 - CoCo Vandeweghe/USA def. Andrea Petkovic/GER
...3-6/6-2/6-0.
Vandeweghe received medical treatment for heat illness when Petko led 6-3/4-2. Whether it might be seen as games(wo)manship or not, there doesn't seem to have been any actual rules violated. So be it. Petkovic still can't lose ten straight games and lose that match with the tie on the line. It's that simple.
????'s @CoCoVandey edges Petkovic 3-6, 6-4, 6-0!

Sets #FedCup Semifinal vs defending champs ????! pic.twitter.com/sdvlx6D6nL

— WTA (@WTA) February 12, 2017
===============================================
Australian Open 3rd Rd. - Barbora Strycova def. Caroline Garcia
...6-2/7-5.
Strycova's experience that ruled the day. The Czech jumped to a 4-1 lead in the 1st, putting away the set at 6-2. Garcia seemed to be ready to push things to a 3rd set, breaking Strycova in game #8 and serving for the set at 5-3. Taking a 40/15 lead, she held double set point. But after failing to put away the first, she double-faulted on the second. One point later, a forehand error gave Strycova a BP, then Garcia failed to get back the Czech's backhand return. The error gave Strycova the break for 5-4.
The Pastry never recovered.
Strycova held at love for 5-5, then broke Garcia at love when the French woman's forehand sailed long to end game #11. Suddenly serving for the match at 6-5, the Czech did so with a hold at 15 to win 6-2/7-5, claiming sixteen of the final seventeen points in the match. When Garcia found herself at double SP in game #9, the two women were separated by just two overall points in the match. With her final run, Strycova ultimately ended with a somewhat misleading 68-51 gap on the points scorecard.
===============================================
Fed Cup WG II - Belgium def. Romania 3-1 [at Bucharest, ROU]
...the Romanians kept things close after a disastrous opening to the tie when Monica Niculescu (
who was 15-9 in FC singles
) fell in straight sets to Kirsten Flipkens (
11-19 in career FC singles before this weekend
) to get things off to a bad start. But Belgium won a pair of three-setters that went to 7-5 in the 3rd, with three different team members posting wins over three different Romanians. Needless to say, the congratulations and "blame" can be spread like syrup and butter on, well, waffles.
A few years ago, Romania looked to be deep and talented enough to challenge for and/or win a Fed Cup title by the end of the 2017 season. Well, that's not happening. The deep (
but rollercoaster-y
) talent pool is still there, and a year ago the Swarmettes had the Czech Maidens scrambling on Romanian soil, up 2-1 and a with a set lead in the fourth singles match in a 1st Round tie. But that one slipped away, and they lost in the spring to Germany, again at home in Romania. This was the third straight home tie lost for this team after having the Czech dynasty one set away from defeat. Now, after three different players failed to get a singles win vs. Belgium, Romania will have to win a WG II Playoff in the spring just to avoid falling into zone play for 2018. Simona Halep was absent from this tie, as was the returning-from-injury heart of the Romanian effort, Alexandra Dulgheru. But it doesn't make the extent of this loss any more disheartening, and having Ilie Nastase step in as Captain for this tie only to oversee this result gives it all a "slippery slope" feeling that's reminiscent of Serbia's loss in the 2012 FC final, after which that nation had a hard time turning around the backward momentum.
It's now official -- the moment has been lost.
Totally, and completely. The Swarmettes are elbowing for room along the Cliffs of Simona.
Match #2 - Yanina Wickmayer/BEL def. Sorana Cirstea/ROU
...7-6(4)/5-7/7-5.
If Cirstea had won this 3:25 battle, might the Romanian crowd and momentum turned this tie in an entirely different direction on Day 2? Maybe.
But Romania's Fed Cup history is filled with a lot of if's and but's, isn't it?
Match #3 - Elise Mertens/BEL def. Irina-Camelia Begu/ROU
...3-6/7-5/7-5.
Mertens' first win clinches a road tie singles sweep.
Mertens has set the bar pretty high, considering this is her first career FC win, hasn't she?
===============================================
Belarus def. Netherlands 4-1 [at Minsk, BLR / HCI]
...as it turned out, one year after upsetting the Russians in Moscow, it was the Dutch who were the Russians this time around. Heading into the weekend, the prospect of '16 FC revelation Aliaksandra Sasnovich notching a win wasn't a far-out idea, but 18-year old Aryna Sabalenka was a blank slate as far as Fed Cup singles was concerned. Could she be this year's Viktorija Golubic? Well, yes, we soon learned. But what we could never have seen coming was Kiki Bertens' FC nightmare coming to life. After being 15-1 in singles in her NED FC career, she nearly went 0-2, saving MP vs. the teen in her FC singles debut on Saturday to get her only win of the weekend after Sabalenka had served for the match and held a MP. Bertens then was crushed 3 & 4 by Sasnovich on Sunday. With Arantxa Rus (
with as many FC singles wins to her credit as Bertens
) on the bench, Captain Paul Haarhuis went with Michaella Krajicek, by now best utilized as a doubles specialist, in TWO singles matches, including with Netherlands' life on the line down 2-1 in match #4 against the big-hitting Sabalenka, who sealed the upset with a win over the vet that officially crowned herself as a new Fed Cup star.
Things had turned ugly by the end of the weekend, as once Belarus got the favored (
in a big change from their run to the semis
) Dutch on the run, they simply ran away. The lack of any real virtual punch back in the face of the upstart BLR squad on Sunday will make NED's spring WG Playoff tie vs. SVK one worth watching, just to see if this result really is a sign that the nerve that lifted the Netherlands through the FC ranks has now abandoned the team, from top to bottom. The winning facade built by the Dutch over the last few years crumbled in the trio of straight sets defeats that turned what appeared to be a golden opportunity for a return to the semifinals into a 4-1 blowout that was very nearly a shutout. The bloom is officially off the Netherlands' rose. The Dutch swept into the semifinals a year ago on a remarkable multi-season run and huge upset of a far more experienced Russian squad. But they failed to cash in on a 2-1 lead there vs. France, nor close out the deciding doubles after winning the 1st set over Garcia/Mladenovic. With this tie as the Dutch follow-up to that defeat, you wonder if they're yet to recover from it.
Belarus will play in the nation's first FC semifinal, hosting Switzerland, in whatever form the sometimes-broken-but-never-bowed Swiss squad will take in April.
And if the team can somehow slip into the final, well, you never know if a certain new mother might just be ready for action come November, too.
===============================================
Indian Wells 2nd Rd. - Kayla Day def. Mirjana Lucic-Baroni
...6-4/5-7/7-5.
The 17-year old wild card (#175) notches her first career Top 30 win over a player literally more than twice her age in 35-year old Lucic. In her first tour-level three-setter, Day staged a comeback from 5-3 down in the 3rd, with the Croatian serving for the match.
What a win for the 17 year old!!@kaylaeday upsets Lucic-Baroni 6-4, 5-7, 7-5! #BNPPO17 pic.twitter.com/HQWlw3JoxY

— WTA (@WTA) March 10, 2017
===============================================
Auckland 2nd Rd. - Madison Brengle def. Serena Williams
...6-4/6-7(3)/6-4.
Week 1 play was highlighted by #72-ranked Brengle's windy conditions upset of Williams, which made her just the second (
w/ Sloane Stephens, '13 AO
) U.S. player that Serena has ever lost to who was younger than herself. Williams had beaten Brengle 6-0/6-1 in their only previous match-up. The other seasons in which Serena suffered her first loss of the season BEFORE the Australian Open? 2007, '09 and '10.
The other thing those three seasons had in common was that she was crowned AO champ all three years.
Well, we know what happened in Melbourne, don't we?
First #WTA career Top 3 win!!

World No.72 Madison Brengle knocks out Serena Williams 6-4, 6-7(3), 6-4! #ASBClassic pic.twitter.com/eSHu1i4mHe

— WTA (@WTA) January 4, 2017
===============================================
Miami 2nd Rd. - Ajla Tomljanovic def. Elena Vesnina
...3-6/6-4/7-5.
Momentum didn't travel to Miami for the Indian Wells champ, though the Tennis Gods seemed to want to give her a few chances to claim it as her own. Rain stopped the action as Tomljanovic served for the match, and when play resumed Vesnina saved two MP and got the break of serve to extend the proceedings. But three DF from the Russian handed Tomljanovic a third MP, only to see rain delay the action yet again. As it turned out, the Croat/Aussie found her way to the first legitimately huge victory in her comeback (
and she's only played two events so far
)... even if this match DID seem to take place on a court from which you could see the Miami hinterlands, just over the fence.
@AjlaTom knocks out Indian Wells champion Vesnina 6-3, 4-6, 7-5! #MiamiOpen pic.twitter.com/bdHssNVXCj

— WTA (@WTA) March 24, 2017
===============================================
Dubai 3rd Rd. - CiCi Bellis def. Aga Radwanska
...6-4/2-6/6-2.
It may not ultimately prove to be the case as '17 progresses, but this one sure did have "the look" of players taking on the role of two ships passing in the night, heading in opposite directions.
"I really can't believe it! This is the biggest win of my life!" ?? @CiciBellis99 #DDFTennis pic.twitter.com/fM5a9jKZmv

— WTA (@WTA) February 22, 2017
===============================================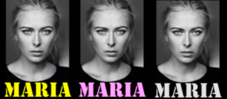 All for now.