2008 I.O.: Russia


Sure, there was already a first Russian revolution (no, not THAT one) ...




...before the one that has taken place on the WTA tour over the past decade, but this more recent Russian tennis era -- unlike the one cut short by the Communist state back in the 1970's (here's a little bit about could-have-been-a-star Natasha Chmyreva, a grand slam semifinalist at 16, and if you can get your hands on a copy of the May '07 issue of Tennis magazine, you'd have a very interesting read, as well) -- has been allowed to fully blossom to its full potential.

And, my, has it ever.

Last season, the now common Russian tennis numbers are nonetheless remarkable. Two players in the Top 5. Three in the Top 10. Six in the Top 20. Nine in the Top 50. Fifteen in the Top 100. Twelve singles titles in total from eight different players. Twenty-seven finals from eleven different woman. Fifty-three semifinals, nearly double the nation (France) ranked second for the season. Oh, and Team Russia won its third Fed Cup title in four seasons, too.

And it says even more about the depth and quality of the Hordette legion that it all happened in a year when the most well-known and decorated member of the group (no Hordette has won more career titles than her sixteen) had what by her standards was nothing short of a supremely frustrating and disappointing season. Just months after seeming to solidify her position in the game with her "exquisite" US Open win, Maria Sharapova was forced to tip toe through a virtual minefield of obstacles in 2007... and in a departure from past seasons, this time she usually DIDN'T rise above the danger (more on that in a moment).

Scarily, looking at the list of potential NextGen Hordette stars, in a few years there might be even MORE Russian women at or near the top of the game than there already are as the 2008 season beckons. Four of the top eight juniors in the world hail from Mother Russia, so there seems to be no coming abatement in the waves of Marias, Anastasias, Annas or Ksenias (the latest "it" name, it appears) upon the WTA shores.




Hmmm, with so much talent, wouldn't some version of this Russian hegemony have occurred with or without a certain Miss Kournikova leading the way, as long as the fall of the Soviet system occurred as it did?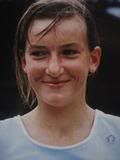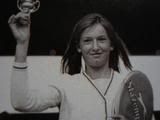 Maybe, maybe not (and, no, this isn't a tease for a future edition of Backspin "What If"). But if world events had been different oh so many years ago, maybe instead of "Anna's Army" it would have been "Natasha's Masses" (for lack of a better moniker). Either way, it seems that the Russians were always coming... it was just a matter of when they got here.


CAN SHARAPOVA BE SUPER AGAIN?
From Kim Clijsters' voluntary swan dive into history to Martina Hingis' horrifyingly inappropriate exit (at least for now) from the game, you'd think it'd be impossible to find a more vexing story from the 2007 season.

You'd THINK so, but actually it's pretty easy to put a finger on it. Maria Sharapova's stunning trip from a legacy-building US Open winner last September to a confidence-lacking, sore-shouldered sometimes also-ran for most of the last twelve months certainly qualifies as a head-scratcher. I mean, she was ONLY the #5 player in the world last season.

(pause here for the collective group eye roll)

Only the Supernova (not even Venus or Serena, when you think about it... considering neither of them have finished a year in the Top 5 since 2003) could have a year like she did in '07 and have it be considered a "failure." After all, she won the US Open Series, was RU in Oz and at the YEC, won a Tier I in San Diego and reached a career-best SF at Roland Garros. She was 14-5 against Top 20 players in 2007, and holds a career 29-11 edge against the Russians who currently reside in the Top 25.




But, then again, she WAS 1-3 in finals (her lowest title total for a season since before she claimed her first crown during the '03 season), including her destruction at the hands of Serena in Melbourne just days after nearly being euthanized on the court by the Extreme Heat and Camille Pin. And there were the season-long shoulder problems that turned her serve from a weapon into an unreliable liability that lacked the big-point pop that characterized her slam-winning runs. Then when Agnieszka Radwanska silently taunted and psyched Sharapova out of her US Open title defense in the 3rd Round, the Supernovic aura wasn't just tarnished, but in serious need of refurbishing.




But, just in the nick of time, Venus Williams pulled out of the YEC, opening up a slot for Sharapova, who'd been beaten out for the eighth and final Points Race position by Daniela Hantuchova. Sensing a rare opportunity to write a completely different coda for her season, Sharapova looked like the Supernova again. Her serve was on. Her aura was back. She reached the final before finally losing to Justine Henin in what would have been a classic slam final had it occurred somewhere other than Madrid.

So is the REAL Maria back? Is she fully healthy now? Have all the kinks in the serve been worked out?

We may find out in Melbourne in January, precisely where the path of her ultimately rocky '07 season experienced its initial humbling rough patches. With the Williamses' "year-after" potential always up in the air (and one wrong step from being a washout), slam-winning comebacks by Amelie Mauresmo and Lindsay Davenport only intriguing theories at this point in the season, and the crop of new young stars still largely unproven in late-stage slam matches, the opportunity for that Justine-vs.-Maria season-long tete-a-tete that we missed out on last year until the final match of '07 could become a reality in 2008.

It's a pretty safe bet that La Petit Taureau will still be playing on a few concluding weekends at the slams and/or Olympics. If Maria joins her, Madrid might have been just the beginning.

WEIRD SCIENCE:
If Russian coins had three sides, the faces on them would be Anna Chakvetadze, Nadia Petrova and Svetlana Kuznetsova.

All right, all right. Maybe that's a ham-fisted way of trying to tie these three players together. But, think about it, if only some Russian mad scientist could find a way to merge these three players' best qualities into one SuperHordette, you'd have a player who'd... well, be a lot like Serena Williams was during her "Serena Slam" period.

Ah, where's the old, rule-bending, gene-splicing Soviet school of sports science when you need it?

Chakvetadze, Petrova and Kuznetsova each have individually admirable traits, but they also currently must fight at least one flaw that holds them back and prevents them from being something more than a Top 10 player... something more Supernovian, if you will.

Chakvetadze, no doubt, is a "money" player. She's 6-0 in career tour singles finals (halfway to Smashnovaville!), including a 4-0 mark last season. She won 59 matches in '07, went 3-1 in Fed Cup, reached QF at both the Australian Open and Roland Garros, and SF at the US Open and YEC. Yet, even while she bristles when the subject arises and likes to mention how her game has more pop than that other player she's most often compared to, she suffers at the hands of the game's best players just as that Swiss Miss did in her later years. When the Doll faces the Big Babes (and Justine Henin, who's in her own pound-for-pound category) in the Top 8, she's just 10-19 (4-9 in '07), 4-17 if you subtract her 6-2 career mark against Jelena Jankovic. She's put together a great last season and a half, but reaching "the next level" might take something more than Chakvetadze is capable of attaining.

Meanwhile, Petrova has the varied game, surface versatility and power to take down the top players. And sometimes, she even does just that (including in 2006's Match of the Year, when she defeated Henin in Berlin just before Roland Garros)... but her head and body usually betray her more often than not. As soon as she conquers one, as she did during that great confidence-building '06 clay run when she won fifteen straight matches (and titles at Amelia Island, Charleston and Berlin), and seems on the verge of a slam breakout, her body gives way. Example: she looked to be a RG favorite in '06, then injured herself in practice, lost in the 1st Round, and then had to skip Wimbledon as a booby prize. At one point last season, Petrova seemed on the brink of throwing up her hands and calling it a day. In the end, after a better-than-it appeared-on-the-surface season that included a Paris indoors title, Hopman and Fed Cup crowns and a pair of RU in Amelia Island and L.A. (poor slam performances cost her her Top 10 ranking), Petrova decided to live to fight another day. But unless she finds a witch doctor to keep her body and head in one piece, will it matter?

As for Kuznetsova, the player some of us once thought might be the most talented of all the Hordettes? Well, it wouldn't exactly be unfair to say that the world #2 actually had a more disappointing season than Sharapova... just because of the "what might have been" feel to her '07 campaign. Remember, Kuznetsova IS a grand slam champion, having won a surprise US Open crown in 2004, and no less than Roger Federer says she's his favorite female player to watch on tour. But she's no Federer when it comes to winning in the clutch, going 5-9 in finals since that grand night in NYC. Last season, she was a shocking 1-5, with the sole win coming when Agnes Szavay had to retire in New Haven while LEADING the match. Kuznetsova led Russia to the Fed Cup championship, but then ended her season with a 0-3 record in the YEC round robin. At this point, "one-slam wonder" might be a premature label to hang on the Contessova... but you'd have a hard time refuting anyone who tried to put her in that particular box.

With no Dorothy in sight to accompany these three to the Emerald City, they'll have to go about fixing their issues without the help of any Wizard.

Just goes to show you that no matter how golden a player may look AT TIMES, the yellow brick road always has a few chips and missing pieces... whether a player has a Russian pedigree or not.
(And thus ends my pre-season "Daily Backspin: Oz Edition" wordplay practice for Melbourne.)

==The NextGen Stars?==
1. Anastasia Pavlyuchenkova, 16
2. Maria Kirilenko, 20
3. Vera Dushevina, 21
4. Anastasia Pivovarova, 17
5. Elena Vesnina, 21
6. Olga Poutchkova, 20
7. Evgeniya Rodina, 18
8. Vasilisa Bardina, 20
9. Yaroslava Shvedova, 20
10. Alla Kudryavtseva, 20
11. Anna Lapushchenkova, 21
12. Ksenia Pervak, 16
13. Ksenia Lykina, 17
14. Evgeniya Linetskaya, 21 (hopefully)
15. Elena Chernyakova, 17
16. Ekaterina Makarova, 19
17. Alisa Kleybanova, 18
18. Regina Kulikova, 18
19. Natalia Orlova, 18
20. Arina Rodionova, 18
HM- Ekaterina Afinogenova, 20

=BACKSPIN PREDICTIONS=
FIRST TITLES:
Vera Dushevina, Anastasia Pivovarova (Jr. slam), Olga Poutchkova, Elena Vesnina
FIRST FINAL:
Evgeniya Rodina, Elena Vesnina
FIRST SEMIFINALS:
Alla Kudryavtseva, Nadia Petrova (at a slam since '05 RG), Evgeniya Rodina
FIRST QUARTERFINALS:
Anna Lapushchenkova, Anastasia Pavlyuchenkova



1. Maria Sharapova:

the thinking here is that the Supernova will rebound with major #3, another slam RU and a medal in Beijing, but the more interesting story surrounding Sharapova might be the sight of her actually playing a Fed Cup match for Team Russia, after having assumed the role of dutiful sideline cheerleader in '07.


=============================




2. Nadia Petrova:

it's such a relief that Nadia doesn't intend to leave her tennis dreams behind... and it would be oh-so-sweet around here if she could pull off something truly unexpected in '08. Backspin loves her to death, but the sand has almost (but not quite) run through the hourglass when it comes to Petrova being able to do it.


=============================




3. Anna Chakvetadze:

hmmm, I wonder what she'll be answering questions about during the first few weeks of the season? Between the potential and rumored poisonings, match fixing irregularities and home invasion robberies... should all the Russian male and female players have their heads installed on a swivel just to be safe? A little lighter in the pocketbook aside, the Doll is going to have a great deal to live up to on the court in '08. The crystal ball sees another multiple title season, maybe a step back in overall slam results, as well as a first career loss in a tour final (hey, she's Anna Chavekvetadze, not Smashnova).


=============================




4. Russian Fed Cup Team:

no doubt the Russians have the deepest squad, but who still wouldn't take some combination of Davenport and Williams sisters against the Hordettes if it were to come to that?


=============================




5. Anastasia Myskina & Elena Bovina:

after Myskina played just two matches in '07, and Bovina only fifteen, does the Mind of Myskina have an appropriate synonym for "comeback attempt?"


=============================




6. Svetlana Kuznetsova:

the world #2, but does anyone REALLY think that's a valid ranking? The Contessova will have a winning record in finals in '08, but she won't reach nearly as many as she did in '07.


=============================




7. Elena Dementieva:

her Moscow title showed there's still some fizz left in Punch-Sober, but was that week more of a reminder of that fact or something of a hometown swan song as a big-time player for the two-time slam RU? Her four-season run of year-end Top 10 rankings came to an end (barely, she was #11) last season. Is the eight-year string of Top 20 finishes next?


=============================




8. The Two Veras:




...after three QF-or-better results in '07, including a RU in Stockholm and QF in Moscow, Dushevina jumped over 50 spots in the rankings last season and might just be the next Russian to "hit" on tour. Zvonareva opened the season in fine form (18-6), but missed nearly five months with a wrist injury that kept her out of Roland Garros and Wimbledon, but is still ranked just outside the Top 20 after returning to action at the US Open and putting together a 13-6 run.


=============================




9. Maria Kirilenko:

Kirilenko slipped in an ITF title in Dubai in December to become the fifth player to win both WTA and challenger crowns in '07. It was a nice capper to a season where the 20-year old who seems to have been around "forever" finally showed that all the hype of a few seasons ago might not have been just because of the way she looks, that her name is Maria, or the way she looks (oh, did I say that already? Hmmm...). Her back-to-back finals in Kolkata and Seoul during an 18-6 spark during the summer proved that she can play at a high level for an extended period of time, but that that period must be weighed against the fact that she only won back-to-back matches twice in her first eighteen tournaments last season and finished with four straight opening match losses before Dubai surely does maintain a lifetime to those lingering questions about the arc of her career.


=============================




10. Dinara Safina:

oh, she's not as loopy as her brother. But, then again, if she was there'd probably be some psychologists knocking on the door of the family home. So, good for her... I guess.


=============================




11. Olga Poutchkova:

after reaching a pair of finals late in '06, last season seemed as if it would play host to her "arrival." Unfortunately, the flight was delayed due to player error. Poutchkova suffered through a 12-match losing streak before she finally pulled out of the nosedive with an 11-6 final stretch (ending in a RU in a $75K event in Pittsburgh) that places her into the "next season could be her breakthrough" category. Hmmm, fool us once, shame on Olga. Fool us twice, shame on us?


=============================




12. Vasilisa Bardina & Yaroslava Shvedova:




...barely noticed last season was the first title (Shvedova in Bangalore) and first final (Bardina in Hobart, where she lost to Chakvetadze in the only all-Hordette final of '07) feats pulled off by these two under-the-radar Russians.


=============================




13. Evgeniya Linetskaya:


...if the tennis gods have any heart, they'll let Linetskaya return to full-time success on tour. In limited action in '07, she put together a 19-1 ITF match run that included three consecutive titles.


=============================




14. Alla Kudryavtseva:

just think how '07 history would have changed had she been able to close out Venus in the early going of Wimbledon. Of course, imagining what things would be like if George W. Bush hadn't "won" the 2000 election doesn't really change anything, does it? Hmmm... maybe Alla will win a Nobel Peace Prize somewhere down the line.


=============================




15. Elena Likhovtseva:

she might not make as many waves on tour as she used to, but the 32-year old is probably the best, most reliable player in World Team Tennis (where she led the Sacramento Capitals to another title last year, with recent Orange Bowl champion Michelle Larcher de Brito by her side).

=============================
HM- Anastasia Pavlyuchenkova:

...will the Superjunior's big tour success be fast-tracked or slow-but-sure? Even while some of her contemporaries (such as Tamira Paszek) have made as easy jump from the juniors to the WTA, Pavlyuchenkova had limited impact on the pro circuit in '07, so it would seem to point to the latter path in her case. So maybe '09 will be the year that headline writers and sports department interns will have to learn to spell her name correctly or else.


=============================




All for now.



NEXT UP:
2008's "Most Intriguing Question" & The Rest of Europe