Wk.34- Bare Bones Backspin: Elking is Fun

Backspin is bare-boned. And Carl is elking.


As Carla already tell, Carl getting married. But no think Carl going to get sappy here. That not Carl! Carl squish if think is!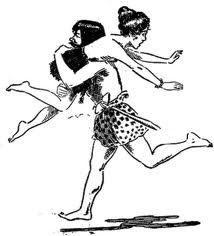 Remember, no matter what Carla say, Carl been in control of relationship from start. Carl see. Carl want. Carl get. Carl just have to wait a little longer than usual with Carla. What make think Carl no plan that way? Speak of plans, Carla "planning" wedding, but Carl have say in all that, too. Carl have "traditional" wedding. One day, when Carl feel time right, Carl pick up Carla and carry off to wedding. Carl make decision... not wedding planner. Carl meet "wedding planner" with Carla, and Carl want to squish as soon as Carl see! Carl try to, but Carla say Carl have to pay "wedding planner" extra money if squished. Carl no want to waste money on non-squishworthy "wedding planner."

So Carl go on bachelor trip with buddies. Carla call them "big-foreheads." Carla right, but buddies "keeping real" for Carl. No need to look like everyone else. No need to live in "house" when cave do, either. Carl going to have fun with buddies when Carl want to, even after marry Carla. Carla have no say.


Carl and buddies currently elking in "old country." Go find elks, then charge them. Elking is fun! Carl always win! How Carl got tough. Carl father teach Carl when young. Carl teach baby Carl one day, no matter what Carla say, too. Carl no let baby forget where came from and ways of the past. Carl squish PETA!!!

Elking supposed to last month, but Carla already complain about Carl gone too long. Carl tell her: "Carl and buddies stay until elks head north." Or until no more buddies left. Whichever comes first. Sometimes happen... buddies usually not as tough as Carl.

Of course, no one as tough as Carl!


*WEEK 34 CHAMPIONS*
NEW HAVEN, CONNECTICUT (Premier $740K/hard outdoor)


S:

Petra Kvitova/CZE def. Maria Kirilenko/RUS 7-6/7-5


D:

Huber/Raymond (USA/USA) d. Hlavackova/Hradecka
DALLAS, TEXAS (Int'l $220K/hard outdoor)


S:

Roberta Vinci/ITA def. Jelena Jankovic/SRB 7-5/6-3


D:

Erakovic/Watson (NZL/GBR) d. Dekmeijere/Falconi (LAT/USA)




PLAYER OF THE WEEK:

Petra Kvitova/CZE

...after New Haven, Petra win U.S. Open Series with second hard court title in three weeks. Now undefeated in last five finals (seven if count Fed Cup and Hopman Cup team wins), and have nine titles in career. No lose set in wins over Gibbs, Safarova, Errani and Kirilenko. If Carl no Carl and fired up after few days of elking, Carl maybe be afraid of Petra in New York City. Harharharhar. Carl kidding. Carl no afraid of anyone. (Well, maybe Carla on bad morning... but no count.)





=============================




RISERS:

Maria Kirilenko/RUS & Casey Dellacqua/AUS


...Kirilenko continue good results, but with help in New Haven. Defeat Peer in 1st Round and Govortsova in QF, but get walkover from Barthel and retirement from Wozniacki on way to second final of 2012. After beating Czech in Olympics, lose to Kvitova. Kirilenko 0-4 in finals since winning title in Seoul in '08. Last week start with Dellacqua a wild card for U.S. Open. But then she qualify in Dallas and defeat Begu, Wickmayer and Wozniak to reach SF and able to get into main draw in New York. Replaced by countrywoman Olivia Rogowska as WC.


=============================




SURPRISES:

Marina Erakovic/Heather Watson (NZL/GBR) & Olga Govortsova/UKR


...Erakovic & Watson get Dallas doubles title to go with one in Stanford. They only duo to win two hard court titles this summer. Govortsova have strange week. She reach QF and get retirement win over #1-seed A-Rad. Is second time in '12 Olga upset top seed (Schiavone in Barcelona). But no able to shake Dushevina all week in New Haven. Beat in final qualifying round, then have to do again in 1st Round when Dushevina in as lucky loser. Then Olga have to play doubles with Vera, too. Lose in 1st Round to Huber/Raymond.


=============================




VETERANS:

Roberta Vinci/ITA & Liezel Huber/Lisa Raymond (USA/USA)


...Vinci win 7th career title in Dallas, get wins over Hsieh, Hercog, Scheepers, Jovanovski and Jankovic. Serbia maybe deny passport after event... but when Roberta ever have to go to Belgrade? This Roberta's first title on outdoor hard courts (win four clay, one grass and one indoor hard court). Now 7-1 in career finals. Huber (mostly) and Raymond making few friends in '12. Carl know feeling. And, like Carl, Liezel no care as long as winning titles (and celebrating birthday, as she did last week). Get first title since March this weekend. Take New Haven for fifth title of season (9th as team), and defeat Hlavackova/Hradecka in final. Is Raymond career title #79, one behind Hall of Famer Natasha Zvereva for fifth all-time, while Huber #53 means one title away from tying ex-partner Cara Black career total. Ah, revenge. Carl can get behind that. Call Carl, Liezel. Give pointers are how to make extra sweet by rubbing salt into Cara wound.


=============================




COMEBACK???:

Jelena Jankovic/SRB


...before Dallas, JJ in 1-8 slide since reach Birmingham final, in season where lose five matches after holding match point. Nearly served out by Shvedova in straights in 1st Round, but survived. Beat Rus, Cirstea and Dellacqua to reach second final of 2012. But no take advantage of chances vs. Vinci. JJ now lose five straight finals over last three seasons. Make Carl head hurt.


=============================




FRESH FACE:

Bojana Jovanovski/SRB


...BoJo win Baku on hard court in summer, and last week reach Dallas SF on same surface. Very JJ-like run. Beat Panova, then Lucic (because Croat replace #1 seed Kerber in draw) and Peng (retired from match, week after save five match points vs. JJ in Cincinnati). Then double-bageled in semi by Vinci. Carl think BoJo -- same player who flew to Carlsbad, New Mexico last year for tournament instead of Carlsbad, California -- spend too much time during Fed Cup with JJ. Maybe share water bottle?


=============================




DOWN:

Agnieszka Radwanska/POL


...Carl need to get Aga shipment of fresh melons. Results been rotten since Wimbledon. Lose in first match in New Haven. Retire with shoulder injury. Been taping up all season.


=============================




ITF PLAYER:

Anna-Lena Friedsam/GER


...18-year old German win $25K challenger in Charleroi, Belgium. Is sixth circuit title of 2012, tying for ITF lead with Maria-Teresa Torro-Flor.


=============================




JUNIOR STAR:

Jamie Loeb/USA


...17-year old win both singles and doubles in USTA Hard Court Championships in College Park, Maryland.


=============================






1. NH 2nd Rd - Bartoli d. Stephens
...6-1/0-6/6-3. Sloane crap out in end again. Win nine straight games and up 3-0 in 3rd, then loses six straight. Sloane need to join Carl and friends. One day of playing chicken with elks and Sloane never blow match again. She have nerves of steel. Just like Carl.


=============================


2. Dal 1st Rd - Jankovic d. Shvedova
...6-7/7-6/6-1. For once, JJ have opponent no close out match. Shvedova serve for match in 2nd. JJ win in 3:00.


=============================


3. NH QF - Kirilenko d. Wozniacki
...7-5 ret. Caro now 20-1 in New Haven. Wonder if Todd still call "Wozniacki Open?" Actually, Carl no really care.


=============================


4. NH Final - Kvitova d. Kirilenko
...7-6/7-5. Kirilenko end Kvitova medal hopes in London. Petra save set points in both sets here. Petra know revenge dish best cold. Carl know, too. Todd will pay... one day.


=============================


5. Dal Final - Vinci d. Jankovic
...7-5/6-3. JJ serve for 1st set, and have chances in 2nd. Carl ask JJ to go elking, too. JJ might actually do.


=============================


6. NH Q3 - Govortsova d. Dushevina 5-7/6-2/7-5
NH 1st Rd - Govortsova d. Dushevina 6-7/6-4/6-2
...Vera lose twice to Olga after winning 1st set. Elking party going to be crowded. Vera should take Olga to elks... then distract when elk charging. Never lose to Olga again. Carl did once with guy on Squish List. Not on Squish List anymore.


=============================


7. Dal SF - Vinci d. Jovanovski
...6-0/6-0. It Serbian thing? Or just no want to play JJ in final?


=============================






NH 2nd Rd - Govortsova d. A.Radwanska
...6-0/2-1 ret. Carl no like admit, but Todd probably right about being stupid that A-Rad try to play with shoulder injury days before slam start. Hmmm, is Rad trying to mess with Carl head? (shakes head) Todd stupid -- A-Rad should have actually FINISHED match with shoulder injury. There, that feel better.


=============================








**2012 WTA SINGLES TITLES**


5...Serena Williams, USA
4...Victoria Azarenka, BLR
4...Sara Errani, ITA
3...Agnieszka Radwanska, POL
3...Maria Sharapova, RUS
2...PETRA KVITOVA, CZE
2...Kaia Kanepi, EST
2...Angelique Kerber, GER



**BEST 2012 WIN PCT. = 2+ FINALS**


1.000 - Serena Williams (5-0)
1.000 - Kaia Kanepi (2-0)
1.000 - PETRA KVITOVA (2-0)
0.800 - Sara Errani (4-1)
0.750 - Agnieszka Radwanska (3-1)
0.667 - Victoria Azarenka (4-2)



**CONSECUTIVE SEASONS w/ A TITLE - ACTIVE STREAKS**


10...Maria Sharapova, 2003-12
6...Serena Williams, 2007-12
4...Victoria Azarenka, 2009-12
4...ROBERTA VINCI, 2009-12
--
STREAKS YET TO BE EXTENDED IN '12: Wozniacki (4), Zvonareva (4), Clijsters (3), Martinez-Sanchez (3), Stosur (3)



**OLDEST 2012 CHAMPIONS**




[singles]


31 - Francesca Schiavone
30 - Serena Williams (5), Li Na, Nadia Petrova
29 - ROBERTA VINCI
28 - Sofia Arvidsson, Daniela Hantuchova, Zheng Jie


[doubles]


41 - Kimiko Date-Krumm
39 - LISA RAYMOND
38 - Lisa Raymond (4)
37 - Jill Craybas, Janette Husarova
36 - LIEZEL HUBER, Kveta Peschke
35 - Liezel Huber (4)



**NATIONS w/ MULTIPLE CHAMPIONS IN '12**


3 - ITA (Errani, Schiavone & VINCI)
3 - SVK (Cibulkova, Hantuchova & Rybarikova)
2 - CHN (Li & Zheng)
2 - GER (Barthel & Kerber)
2 - RUS (Petrova & Sharapova)
2 - USA (Oudin & S.Williams)



**2012 DOUBLES TITLES - TEAMS**


7...Sara Errani & Roberta Vinci, ITA/ITA
5...LIEZEL HUBER & LISA RAYMOND, USA/USA
3...Andrea Hlavackova & Lucie Hradecka, CZE/CZE
2...MARINA ERAKOVIC & HEATHER WATSON, NZL/GBR
2...Serena Williams & Venus Williams, USA/USA



**ALL-TIME WTA DOUBLES TITLES**


177...Martina Navratilova
112...Rosie Casals
106...Pam Shriver
101...Billie Jean King
80...Natasha Zvereva
79...LISA RAYMOND
76...Jana Novotna
69...Arantxa Sanchez-Vicario
68...Gigi Fernandez
68...Helena Sukova
66...Larisa Savchenko
60...Rennae Stubbs
55...Wendy Turnbull
54...Cara Black
53...LIEZEL HUBER



*U.S. OPEN SERIES WINNERS*


2004 Lindsay Davenport, USA
2005 Kim Cljisters, BEL *
2006 Ana Ivanovic, SRB
2007 Maria Sharapova, RUS
2008 Dinara Safina, RUS
2009 Elena Dementieva, RUS
2010 Caroline Wozniacki, DEN
2011 Serena Williams, USA
2012 Petra Kvitova, CZE
--
* - won U.S. Open title


Here come big elk. Carl going to have some fun!

Arrrrrggggghhhhhhhh!!!!!!!

All for now.