Wk.33- A Familiar Feeling
Carlos Rodriguez could get used to this. Again.


After about fifteen years of watching from the stands as Justine Henin went about winning on the court in front of him, Rodriguez got used to celebrating big wins. Of course, all that's been a while for him now. Suddenly, though, everything old is new again... thanks to Li Na.

In their first event as a coach/player team, Rodriguez was on hand as Li won the title in Cincinnati, her first tour win since her Roland Garros run in 2011. Unlike with many players when they initiate a coaching change, Li hadn't exactly fallen off the charts in '12. In fact, even without a title heading into last week, she'd arguably put together her most consistently good season as a pro. Days before Rodriguez came aboard, she'd reached the final in Montreal. Her appearance in another final this weekend gives her four for the season, more than she's ever had in a single season. In fact, she's now reached more high-level Premier event finals than any other player this year, reaching the championship match in the last three on the WTA schedule (w/ a runner-up result in Rome coming during the spring).

Something WAS missing, though. Whether Rodriguez helped all that much en route to Li's first title in over fourteen months or not, it's safe to say that, as of now, Li will surely associate their teaming with good times. Things could hardly have started out any better, after all. Saying she "missed the feeling" of winning, Li was back to her smiling self after outlasting a tired Angelique Kerber in the Cincinnati final. The 30-year old Chinese vet had staged a comeback from a 6-1/3-1 deficit to win, one week after overcoming a 5-1 3rd set hole against Lucie Safarova to reach the final in Montreal.

Li has a history of re-focusing and performing well after coaching changes. Last year, after Maria Sharapova poached her coach and Li's husband took over the duties, Na won in Sydney, then reached the Australian Open final. A few months later, during Michael Mortensen's brief coaching stint, she won in Paris. Now, here comes Rodriguez into the fold for a while. Is he the latest right coach at the right time? Timing IS everything, after all. And Li is building up a nice late-career reputation for striking "while the iron is hot."

I guess we'll find out in New York just how well-timed -- and hot -- a combination Li & Rodriguez might turn out to be.



*WEEK 33 CHAMPIONS*
CINCINNATI, OHIO USA (Premier $2.168m/HCO)


S:

Li Na/CHN def. Angelique Kerber/GER 1-6/6-3/6-1


D:

Hlavackova/Hradecka (CZE/CZE) d. Srebotnik/Zheng (SLO/CHN)

PLAYER OF THE WEEK:
Li Na/CHN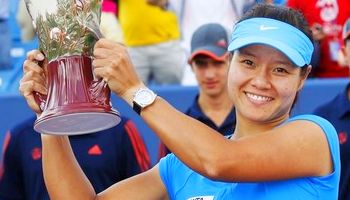 ...oh, lordy. What do we have happening here? If nothing else, Rodriguez struck a blow for positive reinforcement in the final, if Li's comments after the match were any indication, as she spoke of how he was anything but negative during their on-court session after she'd dropped the 1st set 6-1 to Kerber. But I guess I should stop talking about Rodriguez here (sorry about that -- I guess it's an Henin thing) and focus on Li, huh? While last week's run in Montreal was nice, this continuation -- and improvement -- might turn out to be truly newsworthy. When Li is on, nothing is out of the question. And the way she handled things down the stretch in Cincinnati in her destruction of Agnieszka Radwanska, outlasting of Venus Williams and comeback against Kerber has to send her to Flushing Meadows with both loads of confidence and a sense of "freshness" with her new situation. Li is actually riding a three-match losing streak at the Open, but hopefully that's about to be turned around... at least long enough for a Li-tastic night match win and an on-court interview under the lights during which Na could quickly become a crowd favorite in NYC just as she has become in so many other places around the world.


=============================




RISERS:

Angelique Kerber/GER & Anastasia Pavlyuchenkova/RUS


...well, the good is that Kerber's uncharacteristic early loss in Montreal (3rd Round) was proven to be just that in Cincinnati, as the German's solid game got her all the way to the final with wins over Timea Babos, Andrea Hlavackova, (wait for it...) Serena Williams and (wait for it again...) Petra Kvitova. Her run gives her eight Top 10 wins this season, and those last two were actually both Top 5 victories. But, of course, the bad news is that -- much like what happened to her in Eastbourne against Tamira Paszek -- she let her frustration with being unable to put away the final against Li after being up a set and 3-1 get the best of her and, then, tired as all get-out, barely dragged herself across the finish line, losing eleven of the final twelve games of the match. As determined a player as she is, Kerber has started to show small signs of being susceptible to mini-meltdowns this summer. In a smart move, though, she decided to pull out of this week's tournament in Dallas, where she was the top seed. So, with a week off to rest and prepare to defend her '11 U.S. Open semi, I'm betting Kerber comes back with something good yet again. Maybe matching-or-exceeding last year's Open result sort of good. Meanwhile, Pavlyuchenkova, still the best hope for the NextGen Hordettess, is finally picking things up. She reached the Cincy SF with wins over Carla Suarez-Navarro, Julia Goerges and Caroline Wozniacki (she also beat the Dane in the '06 AO Girls final, by the way). The Russian has now put up QF-or-better results in five of her last seven events, after going 0-for-13 in such attempts to start the '12 season. As of this week, Pavlyuchenkova is back in the Top 20 for the first time since March.


=============================




SURPRISE:

Laura Siegemund/GER


...the 24-year old German, 26-5 in '12, ran her ITF winning streak to sixteen straight matches and took her third straight title in a $10K challenger in Ratingen, Germany. She defeated American Caitlyn Whoriskey in the final.


=============================




VETERANS:

Venus Williams/USA & Andrea Hlavackova/Lucie Hradecka (CZE/CZE)


...Venus sure didn't look like a 32-year old tennis player with health issues in Cincy last week. Well, at least not until the semifinals. As a wild card entry with a ranking of #64, Williams carried over her Olympic momentum with three-set victories over Maria Kirilenko, Chanelle Scheepers and Samantha Stosur, with an easy win over Sara Errani sandwiched in between, reaching her first SF since the '10 U.S. Open. She might have had a good shot against Li in the semis, too, had she not been held back by a lingering back injury that caused her to forego being able to use her serve as any sort of weapon at all. Still, she went three sets with the eventual champion. I'd say she might be worth watching come the Open... but a thirtysomething player nursing a back ailment isn't exactly something one should pin TOO much hope on, even if her name is Williams. Meanwhile, probably thankful that they didn't have to face Venus & Serena in another final (after losing to the Sisters in the Wimbledon and Olympics deciders), Hlavackova & Hradecka won the Cincy doubles crown, their biggest title other than when they claimed Roland Garros in '11 (hey, with Li winning in Cincy, too, it was a virtual Paris reunion!). The Czechs got wins over Errani/Vinci earlier in the tournament, then Srebotnik/Zheng in the final. It's their third title this season, and eighth overall as a duo. The win bumped them both into the Top 6 in the doubles rankings to start this week.


=============================




COMEBACK:

Eleni Daniilidou/GRE


...Daniilidou, a month shy of her 30th birthday, continued her "mini-comeback" of this season. So far in '08, coming into last week, she'd reached her first tour SF (in Kuala Lumpur) since '08, and notched wins over Elena Vesnina, Sania Mirza and Jarmila Gajdosova. Last week in Cincinnati, she got qualifying victories over Coco Vandeweghe and Kateryna Bondarenko, a 1st Round win over Vania King, and then put up a respectable 6-3/6-4 score in her 1st Round match against Serena Williams.


=============================




FRESH FACES:

Nicole Gibbs/USA & Eugenie Bouchard/CAN


...Gibbs, the NCAA champ from Stanford (speaking of, have you heard about the uproar created by proposed scoring changes in college tennis? You can read about it all over at Zoo Tennis. It's quite interesting.), made it through New Haven qualifying with wins over Paula Ormaechea and Lourdes Dominguez-Lino, and has since knocked off Alexa Glatch in the 1st Round. Meanwhile, 18-year old Wimbledon girls singles and doubles champ Eugenie Bouchard's great summer continues. Since winning at SW19, she's notched an ITF crown (her third of the season, tied for the North American lead in '12 with Grace Min, the '11 U.S. Open junior champ), reached her first career WTA quarterfinal in Washington D.C., and made it through qualifying this weekend in Dallas when she upset #1 Q-seed Melinda Czink. Tonight, she got a 1st Round win over Galina Voskoboeva, too.


=============================




DOWN:

Jelena Jankovic/SRB


...it wasn't a good week for JJ. In 2011, Jankovic reached the Cincinnati final. But at the start of last week, she went out in the 1st Round to Peng Shaui after failing to serve out the match at 7-5/5-4, then holding a 6-3 lead in the tie-break in the 3rd. In all, she blew five match points to drop her fifth match this season in which she held match point. Today, after having recently held a Top 20 ranking for 300 straight weeks, and 307 of the last 313, her ranking fell all the way down to #34. At this point, you have to start to wonder (at least a little) if she'll ever be able to climb back into the Top 20 again. Oh, well. At least she still has the Fed Cup final (after the final entry in the Backspin MVP list series, of course) to look forward to. Heehee.


=============================




ITF PLAYER:

Katerina Vankova/CZE


...the 22-year old Czech Maiden did something that her countrywoman Petra Kvitova couldn't -- win her second tournament in two weeks. Vankova claimed the $10K challenger in Innsbruck, defeating Lena-Maria Hoffman in the final, for her second of back-to-back ITF crowns.


=============================




JUNIOR STAR:

Sachia Vickery/USA


...the 17-year old Bannerette, the #7-ranked junior, was given a wild card into the qualifying in New Haven, then got wins over Lauren Embree and Anastasia Rodionova before losing to Timea Babos in the final Q-round.


=============================






1. Cincy Final - Li d. Kerber
...1-6/6-3/6-1. Kerber was up a set and 3-1, but lost nine consecutive games, including a 24-point 8th game in the 2nd that took the wind out of her sails. In all, Li took eleven of the final twelve games against the tiring German. Of some note, this sixth career crown is Li's biggest other than RG, and is the eighth title claimed this season by a thirtysomething woman.


=============================


2. Cincy QF - Kerber d. S.Williams
...6-4/6-4. Serena's 19-set, and 19-match winning streaks come to an abrupt end. Afterward, she said she probably needed a break. She likely does. A long winning streak that carried over into New York didn't prevent Serena from imploding in the U.S. Open final a year ago. So, let's see how things work out this time.


=============================


3. Cincy SF - Li d. V.Williams
...7-5/3-6/6-1. We'll never know what might have happened here had Venus not waited until she was down a set and a break before she got an on-court visit and treatment from a trainer for her back injury. She was feeling it even before the match started, but played throughout with her serve pretty much tied behind her back. Still, she broke Li when she was serving at 5-4 in the 1st (only to give the break back a game later), then came back to take the 2nd set after her medical timeout. Venus had been going for her third straight Top 10 win in Cincinnati.


=============================


4. Cincy QF - V.Williams d. Stosur
...6-2/6-7/6-4. Through this match, Venus looked like she'd found the fountain of youth and vigor. Meanwhile, defending U.S. Open champ Stosur is just 3-2 on hard courts this summer, and heads to New York with an awful lot more pressure on her shoulders than she had a year ago.


=============================


5. Cincy SF - Kerber d. Kvitova
...6-1/2-6/6-4. Kvitova's longtime bugaboo -- unforced errors -- and her top '12 semifinal "issue" -- failure to convert break points -- both came back to contribute to Kvitova's loss after she'd managed to corral both overwhelmingly negative aspects of her game in Montreal. Kvitova was 0-for-7 in BP attempts in the 1st here, and fell to 1-5 in semifinal matches this season with the loss.


=============================


6. Cincy 2nd Rd - Kvitova d. Barthel
...3-6/6-2/7-5. Kvitova came back from a break down at 4-3 in the 3rd. After back-to-back, match-heavy weeks, one wonders what she could possibly have left for New Haven. She can still win the U.S. Open Series, but she has to be thinking that wild card she asked for and got for this week's "Wozniacki Open" has turned out to be too much of a (surprisingly) good thing for her this North American hard court season.


=============================


7. Cincy 1st Rd - Makarova d. Petrova
...7-6/3-1 ret. Oh, Nadia.


=============================


8. Cincy 2nd Rd - Wozniacki d. Karatantcheva
...6-1/6-0. Last week, Sesil WON a match 6-0/6-0. Somehow, it's fitting, I guess.


=============================


9. Dallas Q1 - Webley-Smith d. Stevenson
...7-6/6-4. Just count this as a "Where Are They Now?" entry. Yes, it's THAT Alexandra Stevenson -- the 1999 Wimbledon semifinalist.


=============================


10. New Haven 1st Rd - Stephens d. Paszek
...6-3/6-1. New Haven isn't played on grass. Meanwhile, "Future Sloane" sends warm greetings. Hmmm, I wonder if she was on the Backspin MVP list in 2022?


=============================


11. New Haven 1st Rd - Petkovic d. Babos
...6-3/5-7/7-5. Welcome back, Andrea. This was Petko's first match since her ankle injury in April. Even with her long absence, the German only finally dropped out of the Top 20 at the start of last week, ending a 71-week run.


=============================


12. Dallas 1st Rd - Jankovic d. Shvedova
...6-7/7-6/6-1. Aha! There's life in that thar QC yet! What are the chances she'll still be in the draw when her final MVP List ranking is revealed?


=============================






1. Cincy 3rd Rd - S.Williams d. U.Radwanska
...6-4/6-3. Although Williams ended this one with a six-game run, Radwanska had been up a break at 3-0 in the 2nd. U-Rad also broke Serena's serve at the Olympics, making her the only player who managed that feat in London.


=============================


2. Cincy QF - Li d. A.Radwanska
...6-1/6-1. Even worse than in Montreal, when Li took out Radwanska 2 & 1. And now A-Rad is playing this week in New Haven, too. Even if she does better there, it looks like she's setting herself to be pretty much too strung out for any success in Flushing Meadows. On a bright note, Aga's week did manage to get her ranking back up to #2. Just in the nick of time, too, since it means she'll have the benefit of heading up the bottom half of the U.S. Open draw, allowing her to avoid the likes of Vika, Maria or Serena before the SF. Of course, it's still difficult to see Radwanska going THAT far in New York.


=============================


3. $50 Kazan QF - Valentyna Ivakhnenko/UKR d. Lyudmyla Kichenok/UKR 6-3/6-4
#50K Kazan Doub Final - Ivakhnenko/Kozlova d. Kichenok/Kichenok 6-4/6-7/10-4
...as usual, Ivakhnenko and the Kichenoks faced off. More than once. Ivakhnenko has now faced off with either Nadiya, Lyudmyla or both eight times in 2012. She 3-2 in singles, and 1-2 in doubles.


=============================



Meanwhile... Sugarpova is in the building (and ready for tasting):






**2012 WTA FINALS**


7...Maria Sharapova (3-4)
6...Victoria Azarenka (4-2)
5...Serena Williams (5-0)
5...Sara Errani (4-1)
4...Agnieszka Radwanska (3-1)
4...ANGELIQUE KERBER (2-2)
4...LI NA (1-3)



**CONSECUTIVE FINALS IN 2012**


4...Victoria Azarenka (January-March)
3...Maria Sharapova (March-April)
3...Serena Williams (June-August)
2...Sara Errani (April-May)
2...Serena Williams (April-May)
2...Maria Sharapova (May-June)
2...LI NA (AUGUST-current)
--
NOTE: Azarenka ended '11 w/ 2 con. finals, giving her 6 consecutives finals from 2011-12



**WTA TITLES WON BY CHINESE PLAYERS**


6...LI NA (2004, '08, '10-'12)
4...Zheng Jie (2005-06, '12)
1...Sun Tiantian (2006)
1...Yan Zi (2005)



**LONG WTA WINNING STREAKS - last 4 seasons**


26...Victoria Azarenka (2012)
19...SERENA WILLIAMS (2012)
18...Maria Sharapova (2008)
17...Serena Williams (2008)
17...Serena Williams (2012)
16...Dinara Safina (2009)



**2012 $2m+ PREMIER FINALS**


Doha - #1 Victoria Azarenka/BLR def. #5 Samantha Stosur/AUS
Indian Wells - #1 Victoria Azarenka/BLR def. #2 Maria Sharapova/RUS
Miami - #4 Agnieszka Radwanska/POL def. #2 Maria Sharapova/RUS
Madrid - #9 Serena Williams/USA def. #1 Victoria Azarenka/BLR
Rome - #2 Maria Sharapova/RUS def. #9 Li Na/CHN
Montreal - #6 Petra Kvitova/CZE def. #11 Li Na/CHN
Cincinnati - #9 Li Na/CHN def. #7 Angelique Kerber/GER



**DEFEATED BOTH WILLIAMS SISTES IN SAME SEASON, since 2000**


2000 - Lindsay Davenport
2001 - Martina Hingis (x-Australian Open)
2002 - Kim Clijsters
2003 - Amelie Mauresmo
2004 - Lindsay Davenport, Maria Sharapova
2005 - Silvia Farina Elia
2006 - none
2007 - Justine Henin (x-U.S. Open)
2008 - Jelena Jankovic, Li Na
2009 - Kim Clijsters (x-U.S. Open), Elena Dementieva
2010 - Jelena Jankovic (x-Rome)
2011 - Samantha Stosur
2012 - ANGELIQUE KERBER
--
x - same event



**CAREER DOUBLES TITLES BY DUO - ACTIVE TEAMS**


21...Serena Williams & Venus Williams (2 titles in '12)
20...Lisa Raymond & Samantha Stosur (ex-team)
12...Sara Errani & Roberta Vinci (7)
11...Gisela Dulko & Flavia Pennetta
10...Iveta Benesova & Barbora Zahlavova-Strycova (1)
10...Nuria Llagostera-Vives & Maria Jose Martinez-Sanchez (1)
9...Kveta Peschke & Katarina Srebotnik (1)
8...Liezel Huber & Lisa Raymond (4)
8...ANDREA HLAVACKOVA & LUCIE HRADECKA (3)



**MOST 2012 SLAM WILD CARDS**


3...Ashleigh Barty, AUS (AO/RG/WI)
3...MELANIE OUDIN, USA (RG/WI/US)
2...KRISTINA MLADENOVIC, FRA (RG/US)
2...Aravane Rezai, FRA (AO/RG)
2...OLIVIA ROGOWSKA, AUS (AU/US)



**LONGEST WTA EVENT TITLE STREAKS**


6...Steffi Graf, Hamburg 1987-92
6...Martina Navratilova, Wimbledon 1982-87
6...Martina Navratilova, Chicago 1978-83
5...Chris Evert, Family Circle Cup 1974-78
5...Martina Navratilova, Eastbourne 1982-86
--
NOTE: Caroline Wozniacki has won New Haven four straight years (2008-11)





NEW HAVEN, CONNECTICUT USA (Premier $637k/hard outdoor)
11 Final: Wozniacki d. Cetkovska
11 Doubles Champions: Chuang/Govortsova
12 Top Seeds: A.Radwanska/Kvitova
=============================


=SF=


#3 Wozniacki d. #7 Kirilenko
#8 Safarova d. Stephens


=FINAL=


#3 Wozniacki d. #8 Safarova

...hey, it HAS been the "Wozniacki Open" for four years running, right? If she's going to win a title in '12, this will probably be the one.



DALLAS, TEXAS USA (Int'l $220k/hard outdoor)
11 Final: Lisicki d. Peer
11 Doubles Champions: Brianti/Cirstea
12 Top Seeds: #2 Jankovic/#3 Vinci (#1 Kerber w/d)
=============================


=SF=


#6 Peng d. #7 Scheepers
Wozniak d. #2 Jankovic


=FINAL=


Wozniak d. #6 Peng

...sorry, JJ.

ALSO:

U.S. OPEN QUALIFYING ROUNDS



Hello, dahlings. I've got big news! After thinking about it for quite some time, I've decided to accept Carl's proposal! We're getting married!

I know, know. All of you probably think I'm absolutely crazy. You know, with the whole "squish" thing and him always fighting the urge to head off to the "old country" to hunt down large mammals and kill them with his bare hands. It can be a bit... well, MUCH. I understand. I probably am a little "off" to undertake this massive change in my life. But, in my heart of hearts, I think that Carl just might be the one for me. I mean, who else could pick ticks out of his ears and eat them and not make me want to either throw up or knock him upside the head with a club? Why, Carl, of course. Not to sound too "cavegirly" or anything, but I'm really looking forward to this!

Now, I won't lie to you, dahlings. I'm going to have to do a great deal of work to whip Carl into shape. He's hardly a totally fit groom OR husband. Yet. But I'm confident that I can mold that big mountain of clay into a presentable caveman before I'm through.

First up? Getting him to understand that we like different things. Take, for instance, the engagement "ring" he gave me. My, it was quite a rock. Literally. He gave me a ring with a rock glued to it. I mean, he didn't even have it engraved. I guess it's the thought that counts. Well, until he gets me a REAL ring, that is.




*NEW HAVEN FINAL*


Kirilenko def. Kvitova


*DALLAS FINAL*


Jankovic d. Peng

So, for the next few months, I guess I'll be all about wedding dresses and cakes. Diane, call me! We can set up a time to go pick out your Maid of Honor gown! I know you'll agree to help. Right? Right? Remember, you wouldn't want my inner caveperson to come out. I'm going to be stressed out all the time now for the foreseeable future -- so I might not be able to suppress my genes ALL the time. Just say "yes" and everything will be all right. Good? Good.

Naturally, I'm sure Carl will have something to say about all this when he does "Bare Bones Backspin" this weekend. At least he'd BETTER. But, as usual, anything he says will have to be viewed through a "Carl filter." In other words, just ignore it when he lets an actual almost-human feeling slip through and then immediately tries to cover it up by threatening to squish anyone within earshot.

See, even that trait is suddenly bringing a smile to my face. I must be in love. With CARL! Can you imagine? Wish me luck.

All for now.







THIS WEEK:

The MVP Final 4


THIS WEEKEND:

Bare Bones Backspin & U.S. Open Preview