U.S. Open Preview: A Neverending Story
With one slam left to go in 2012, it's been a pretty good year for women's tennis. You can tell by the nice, plump number of ongoing sagas heading into this U.S. Open.

Unlike elsewhere (hey, guys -- no hard feelings) at this slam, there are all varieties of WTA-related stories in the hopper for Flushing Meadows. Can reigning #1 Victoria Azarenka end her slam season with as much explosiveness as she began it and secure the year-end top ranking? If not, which other woman could more effectively put the heat on the Belarusian? Maria Sharapova, looking for an ON-court sugar high, or Serena Williams, looking to become the third woman to stuff Wimbledon, Olympic and U.S. Open titles into a single summer?



*BACK-TO-BACK US/WIMB TITLES - OPEN ERA*


1970 Margaret Court, AUS
1972 Billie Jean King, USA
1976 Chris Evert, USA
1982 Chris Evert-Lloyd, USA
1983 Martina Navratilova, USA
1986 Martina Navratilova, USA
1987 Martina Navratilova, USA
1988 Steffi Graf, GER *
1989 Steffi Graf, GER
1993 Steffi Graf, GER
1995 Steffi Graf, GER
1996 Steffi Graf, GER
1997 Martina Hingis, SUI
2000 Venus Williams, USA *
2001 Venus Williams, USA
2002 Serena Williams, SUA
--
* - also won Olympic Gold

Oh, and how about Petra Kvitova? Suddenly, she's lovin' North America after her two-title, U.S. Open Series-winning late summer I'll-show-you-palooza. After fiddling while her '12 season seemingly burned, is she about to walk all over a grand slam field like she did last year in London? And then there's Li Na, fashionable again after pulling her game together on her own, and then adding even more depth to her rebirth in the form of coach Carlos Rodriguez. The last two times she switched coaches, she reached the Australian Open final, and then won Roland Garros. What sort of charm could this third switcheroo in less the two seasons bring her?

But with every rise, there must also be a few falls. Such as...

Where have all the Russians gone? Aside from Sharapova, while the Hordette ranks are still overflowing with nice players (well, unless still more have run off to play for Kazakhstan), the days of Russians contending for slams appear to be over. For now, anyway. Elsewhere, after being the top seed at this event the last two years, Caroline Wozniacki is trying to just hold onto a Top 10 ranking and is still looking for her first title of the season after being forced out by injury in New Haven, a tournament in which she'd never lost a match until a few days ago. Her work with coach Thomas Johansson has brought about some encouragement for her future, but the project of turning the Dane into a slam contender in a much rougher field than the one in which she was so successful just a few seasons ago isn't going to be of the quick-fix variety. Surely, her (& Piotr's) patience is going to be tested.

I'd talk about how much of a non-entity Agnieszka Radwanska has been since her melon-busting run to the Wimbledon final, but I'm afraid The Radwanska will "visit" me in my sleep. And the fact that I've gone this long without mentioning Samantha Stosur -- the 2011 Open champ -- says all you need to know about how nearly invisible she's been since about this time last year.

And last, but not least, we have Kim Clijsters, who hasn't lost a match in this tournament in nine years. She wont' be losing any more after this Open, since it's the final event of her one-loss-from-retirement #2 career. For as long as this final bow lasts for the once-and-always Barbie, she'll be a big story waiting to happen. Either the end will come in a quick, shocking fashion, or she'll sop up all the adulation she can for as long as it lasts.

It'll have to hold her awhile... so I won't begrudge the expected overly-sentimental nature of it all.

Here's a quick overview of the draw, quarter-by-quarter:



=AZARENKA QUARTER=




*POWER RANKINGS*


1.

Li Na, CHN...

on a roll, confident, and with immediate faith that her relationship with new coach Carlos Rodriguez can make her better, might Li be poised for another great post-coaching change slam result? She has to avoid the notion that she peaked a tad too early, and won't be able to get any mid-match pep talks from CR during the Open like she did in Cincinnati, but she could be lethal if her head, health and game all come together over the next two weeks. Or maybe this is just me seeing a chance for La Petit Taureau -- Rodriguez's former charge -- to have another potential slam run, even if it's only by proxy.
2.

Victoria Azarenka, BLR...

she's had little hard court warm-up, with only an in-match retirement since her two-medal Olympic performance on the grass. But it should mean she's rested and focused. HC is her best surface, and the buzz of NYC might just play into her sweet spot. Vika would seem to be the sort of snarky, in-your-face player that NYC fans could embrace... but it could get dicey if she gets on their bad side, too. Good luck with that.
3.

Kim Clijsters, BEL...

Barbie's career farewell might have to overcome Li's late summer surge -- fitting, considering the Henin connection there -- to get its footing into the second week. But, remember, KC enters carrying a 21-match U.S. Open winning streak, and the crowd will be with her from the moment the first ball is struck.
4.

Samantha Stosur, AUS...

oh, yeah. The defending champ. Whether the Aussie is confident or feeling the pressure will likely determine whether she gets to face off with the potential Li/Clijsters survivor in the Round of 16. With three other big names in her quarter sharing spots on the schedule every other day, one wonders if Stosur might find herself scheduled off the show courts again. Truthfully, that might be the best thing that could happen to her.


THE BRACKET BUSTER:

Sabine Lisicki/Julia Goerges, GER... when Vika was the #1 seed in Paris, she very nearly went out in the 1st Round. The winner of this possible all-German 3rd Rounder will likely face Azarenka in the 4th. An upset of the Belarusian could clear the deck for another feel-good run to the final for whichever player escapes the Li/Clijsters/Stosur section.


THE WILD CARD:

Kim Clijsters/BEL... is this going to just be a big "it's-been-swell" farewell tour, or is she prepared, healthy and single-minded enough to put everything into what could still be the greatest last go-around seen in professional tennis since Pete Sampras won the Open in '02 and never played another match?


DON'T COUNT HER CHICKENS:

Samantha Stosur, AUS... if she's thinking TOO much about the pressure of defending her title, Stosur might have a hard time even getting past Petra Martic in the 1st Round. Still, one "title" Stosur definitely has a shot at keeping at this Open is that of "First Winner." She's been the first woman to advance to the 2nd Round at the last two slams, and has a shot to do it again since she and Martic are first up on Ashe on Monday morning.


THE POOR SOUL:

Victoria Duval/USA... 16-year old wild card will be fed into the Open machinery in a Night 1 match against Clijsters. A young Bannerette vs. a big name under the lights in the early going of the Open hasn't produced too many matches where you didn't want to cover your eyes in recent years. Hopefully, the experience won't scar Duval for too long. Maybe she'll be able to sell something from the match on eBay to one of Kim's admirers.


=In the End...=


More than any of the four quarters, this one has the most potential championship contenders. There are four past slam champs, including the defending U.S. Open winner and a former slam semifinalist. But the 32-player section also includes half (8) the qualifiers in the draw, plus three wild cards. So, one would think there are fewer big upset possibilities in these parts, meaning a big name will definitely come out of this section to earn a semifinal berth. It's just a matter of which one it' ll be. Whoever it is, she'll probably have beaten TWO (or maybe three) title contenders to get there, while the other three Final Four members, combined, might have had to have taken out just one truly legit threat. In other words, this section's winner will be battle-tested, but maybe tired, too.



=SHARAPOVA QUARTER=




*POWER RANKINGS*


1.

Maria Sharapova, RUS...

hmmm, I wonder if Maria will come armed with "free samples" of Sugarpova to toss to the fans? Seriously, she should. As far a her chances... well, she seems to have a pretty easy road to the QF (though Nadia Petrova or Lucie Safarova in the 4th Round COULD be dangerous, but probably wouldn't be). At that point, she'd likely face Petra Kvitova for a berth in the semis. She's already 3-0 against the Czech in '12.
2.

Petra Kvitova, CZE...

the U.S. Open Series champ comes into Flushing Meadows on a roll, having won two titles on North American hard courts after a season full of disappointment. But was it too many matches over a short period of time for an asthmatic player who's had a hard time in the summer heat and humidity in the past? I'm still a little gun-shy with Petra, not sure of what to think, expect or hope for. A confident Kvitova's run could continue (though she's never reached a QF in NY), but NO ONE -- likely, including herself -- seriously expected that she'd arrive at the Open having played seventeen matches over the last four weeks.
3.

Anastasia Pavlyuchenkova, RUS...

well, since Marion Bartoli's inconsistent summer form makes her a non-starter for inclusion, SOMEONE has to be listed here, right? She's talented and capable, but something generally goes wrong in the slams (and it could again as early as in the 1st Round against Daniela Hantuchova, too).
4.

Nadia Petrova, RUS...

see above (except insert "Jarmila Gajdosova" for "Daniela Hantuchova.")


THE BRACKET BUSTER:

Andrea Petkovic, GER... she's coming back from her latest injury (an ankle), but was a quarterfinalist in '11. She has a tough road -- Bartoli (2nd Rd.), Pavlyuchenkova (3rd) and Kvitova (4th) -- but if her body holds up she might get to dance a little on Ashe.


THE WILD CARD:

Marion Bartoli, FRA... La Trufflette is sort always a wild card, even as the #11 seed. She's got the energetic game to cause trouble, but her results have been all over the place this season. She could have a real go at Kvitova in the Round of 16, or lose to Jamie Hampton in the 1st Round.


DON'T COUNT HER CHICKENS:

Anabel Medina-Garrigues, ESP... because, well, you know, AMG is not going get to that first career slam QF. Anna Smashnova shall have no fear of being left alone in WTA history's dark of night.


THE POOR SOUL:

Nicole Gibbs, USA... the NCAA champ just lost to Kvitova in the 2nd Round in New Haven. If she can get past Alize Cornet in the 1st Round at Flushing Meadows, guess who'll likely be once again be waiting for her there, ready to send her on a plane out of town.


=In the End...=


This quarter sure seems to be setting up a "Big Bang" match in Sharapova vs. Kvitova for a fourth time in the last six slams. Sharapova hasn't played since the Olympics, while Kvitova has played every week. With Sharapova with a draw made for momentum-gathering -- Czink in the 1st, Karatantcheva/LDL in the 2nd -- I'm not liking the odds that Kvitova is going to be in a better position to defeat the Russian for the first time since whipping her in the Wimbledon final last year. That said, if Sharapova doesn't reach the semifinals, it's hard to imagine it'd be anyone other than Kvitova from this quarter who would. If it's anyone else, it'll be a stunner.



=S.WILLIAMS QUARTER=




*POWER RANKINGS*


1.

Serena Williams, USA...

judging by her words this past week, Serena is still thinking about her last two controversial trips to NYC. You remember... the foot fault and threat, then the scream and point penalty. It almost sounds as if she's waiting for something to go against her this time around, too. That might not be the proper head space for her to be existing in if she's going to win her first Open since '08 (and only her second since 2002). Still, she'll enter as the favorite.
2.

Maria Kirilenko, RUS...

Kirilenko was part of the tail end of the first wave of Hordettes, but has been something of a late bloomer compared to many of her Russian countrywomen. A year ago, she battled eventual Open champ Stosur in a record-breaking match (she won an 17-15 tie-break). This summer, she nearly upset eventual finalist Agnieszka Radwanska in the Wimbledon QF. Her improved serve has put her into the Top 20, and she was almost a surprise singles medalist in London, where she defeated Kvitova. Still, even while she can play forever and sometimes looks like she's barely sweating, she's got a lot of "near-misses." Maybe there's a reason for that.
3.

Caroline Wozniacki, DEN...

she's reached at least the semis at the last three U.S. Opens, but "Caro 2.0" is still a work in progress (at best) and now she's nursing a knee injury that ended her four-year run of titles in New Haven. If she's healthy, she's got a good path back to the QF, which would match her best slam result (w/ the AO) since last year's semi at Flushing Meadows.
4.

ummm, maybe Sloane Stephens??????...

if the Bannerette would ever learn how to close out matches (her latest fumble: dropping six straight games to lose to Bartoli in New Haven, after having won nine straight to take a 3-0 3rd set lead), she might finally be able to make "Future Sloane" proud. After reaching the 3rd Round in '11, Stephens will face her first test against Francesca Schiavone in the 1st Round this year. If she can win, and C-Woz and AnaIvo falter (again), maybe she could breakout with her first slam QF.


THE BRACKET BUSTER:

Ekaterina Makarova, RUS... the Hordette upset Serena in Melbourne in January, and could face her again in the 3rd Round. A sequel probably won't happen, but since Serena is the overwhelming fave in this quarter, anyone with any shot at all to take her out has Bracket Buster potential.


THE WILD CARD:

Ana Ivanovic, SRB... it's easy to overlook her in the draw, especially since she still holds the mark for the earliest-ever exit at the Open by a women's #1 seed (2nd Round to Julie Coin in '08).


DON'T COUNT HER CHICKENS:

Caroline Wozniacki, DEN... New Haven crystallized her entire season. The four-time champ of the "Wozniacki Open," she failed to get her first '12 title of any kind there this past week, and suffered a knee injury that brings her Open viability to even put up a real fight into question. I assume she'll be playing. For how long is the question.


THE POOR SOUL:

Coco Vandeweghe/USA... her hard court summer began with a surprise run to the Stanford final, where she lost to Serena. Her hard court summer will likely end the same way... only in the 1st Round this time, when Williams runs her career opening round record in slams to 48-1.


=In the End...=


Serena hasn't lost before the Round of 16 at the Open since her debut in 1998. She won the title a year later. She's had a grand (Golden, actually) summer, and is looking to join Venus and Steffi as the only players to win Wimbledon, the Olympics and the Open in a single summer. Serena should take this quarter with ease, and then we'll see if she can avoid her third straight star-crossed trip to New York City. I don't know how it'll happen, but something tells me she's not going to be the last woman standing. But maybe The Radwanska is just inside my head again. Case in point...



=RADWANSKA QUARTER=




*POWER RANKINGS*


1.

Angelique Kerber, GER...

imploding and then tiring in the Cincinnati final against Li might have been the kick in the butt that Kerber needed. A seeming "fluke" semifinalist in New York a year ago, she's proven herself to be anything but ever since. While she has a possibly daunting 2nd Round with Venus staring her dead in the face, she's already beaten Williams once this summer. If she can do it a second time, the German is likely semifinal-bound. At least. Sure, Serena could be standing in her way in the SF. But Kerber beat HER this summer, as well.
2.

Venus Williams, USA...

I didn't think she'd ever rank this high at a slam again, but Venus has looked like anything but a thirtysomething player with health issues since her early, "sad" exit from the Wimbledon singles. After battling and defeating multiple Top 10 players on hard courts in North America, it turned out to be a back injury that helped cut Venus down to size in Cincinnati. If she's healthy, a 2nd Round match-up with Kerber (who beat her in the Olympics) could be the first nighttime classic of this Open, with the winner the favorite to reach the SF.
3.

Agnieszka Radwanska/POL...

she's the #2 seed, but she's been a non-factor since her heady (first) trip to London of this summer. In New Haven, she retired with the same shoulder injury that's been bothering her most of the season. If healthy, she'll be a factor. If not, she might be the first Top 8 seed sent packing. In other words, the NYC melons are shaking in their fruit stands, but hoping for the best.
4.

Dominika Cibulkova, SVK...

a winner in Carlsbad last month, and a quarterfinalist at the Open in '10, she might be around to pick of the pieces at the bottom (A-Rad/JJ) section of this quarter.


THE BRACKET BUSTER:

a Bannerette, any Bannerette... American players have really stepped up at the Open in recent years, from Oudin to McHale to Stephens and Falconi. McHale & Falconi could face off in the 2nd Round in this quarter this year, while the likes of Vania King is bouncing around in here, too. Even unseeded Venus and wild card Bethanie Mattek-Sands face off in the 1st Round.


THE WILD CARD:

Yaroslava Shvedova, KAZ... in her comeback-from-injury season, she's reached the QF of one slam and nearly knocked off Serena at Wimbledon. She'll face off with sometimes-doubles partner King in the 1st Round.


DON'T COUNT HER (RUNNING-AROUND-WITH-THEIR-HEADS-CUT-OFF) CHICKENS:

Jelena Jankovic, SRB... other than Venus, JJ is the only other player in this quarter who has actually played in a U.S. Open singles final. No one is likely to be counting on much from her, but it's tempting to think her run to the Dallas final (after experiencing a 1-8 stretch) might mean she could be ready for a surprise. Maybe. But probably not.


THE POOR SOUL:

Roberta Vinci, ITA... it should be noted that Vinci's title in Dallas this week gives her seven career titles, meaning she's now just three away from joining AMG and Anna Smashnova on the ten-singles-titles-but-no-slam-quarterfinals "honor roll." She'll face a Radwanska (Ula, not Aga) in the 1st Round. Maybe there'll be a melon shortage in NYC this weekend.


=In the End...=


Honestly, it's hard to see anyone but Kerber emerging from this quarter. Well, unless Venus manages to upset her (and that's what it would be now, considering the German's rise) in the 2nd Round. If both their bids went by the wayside, the one surprise semifinalist would come from this quarter. Still, if there's any woman in this draw who might have a shot to be a first-time slam finalist or champion, it's Kerber.







=QUALIFYING ROUNDS=




TOP PLAYER:

Magdalena Rybarikova/SVK


...the #1 Q-seed, Rybarikova notched wins over one-time U.S. Open upset star Julie Coin, Serbian Girl Wonder Alexandra Krunic and Anastasiya Sevastova


RISERS:

Lara Arruabarrena-Vecino/ESP & Julia Glushko/ISR




SURPRISES:

Samantha Crawford/USA & Nastassja Burnett/ITA




VETERANS:

Kirsten Flipkens/BEL & Edina Gallovits-Hall/ROU




COMEBACKS:

Alla Kudryavtseva/RUS & Olga Puchkova/RUS




FRESH FACES:

Elina Svitolina/UKR & Johanna Konta/GBR




SISTERS:

Kristyna Pliskova/CZE & Anastasia Rodionova/AUS




DOWN:

#10 Aravane Rezai/FRA (1q)





OTHER QUALIFIERS:

Tatjana Malek/GER, Lesia Tsurenko/UKR & Stefanie Voegele/SUI




WILD CARDS:

Mallory Burdette/USA, Julia Cohen/USA, Victoria Duval/USA, Nicole Gibbs/USA, Bethanie Mattek-Sands/USA, Kristina Mladenovic/FRA, Melanie Oudin/USA, Olivia Rogowska/AUS


LUCKY LOSER:

Eleni Daniilidou/GRE



=QUALIFYING MATCHES=




Q1:

Duan Ying-ying/CHN def. Reka-Luca Jani/HUN 6-1/6-2


...Reka-Luca Jani! Reka-Luca Jani! Reka-Luca Youchi!


Q1:

Zheng Saisai/CHN def. #10 Aravane Rezai/FRA 6-4/7-6


...I'm not taking any blame for this!


Q3:

Alla Kudryavtseva/RUS def. #14 Paula Ormaechea/ARG 2-6/6-2/6-1


...welcome back, Alla.






Q1:

Chanel Simmonds/RSA d. (WC) Chalena Scholl/USA 6-3/7-6




Q1:

Zhang Shuai/CHN d. #19 Erika Sema/JPN 6-1/6-1


...one less Scholl, one less Sema.


Q2:

Donna Vekic/CRO d. #7 Karolina Pliskova/CZE 6-1/6-2




Q2:

#25 Edina Gallovits-Hall/ROU d. Yurika Sema/JPN 2-6/7-5/6-1




Q2:

Heidi El Tabakh/CAN d. ChiChi Scholl/USA 6-2/6-1


...one less Pliskova, no more Semas or Scholls.


Q3:

#18 Kristyna Pliskova/CZE d. Maria Sanchez/USA 6-3/7-6




Q3:

Anastasia Rodionova/AUS d. Veronica Cepede Royg/PAR 6-1/6-2


...as usual, a Pliskova survives slam qualifying. Meanwhile, the sole Rodionova in the qualifying draw holds up the family name all by herself. Eat it, Arina!



*U.S. OPEN "Q-PLAYER OF THE WEEK" WINNERS*


2006 Chang Yung-Jan, TPE
2007 Alina Jidkova, RUS
2008 Yaroslava Shvedova, KAZ & Barbora Strycova, CZE
2009 Eva Hrdinova, CZE
2010 Michelle Larcher de Brito, POR
2011 Romina Oprandi, ITA (now SUI)
2012 Magdalena Rybarikova, SVK



*SLAM QUALIFYING/WILD CARDS*




=2012 SLAM QUALIFYING RUNS=


2...Lara Arruabarrena-Vecin, ESP (RG/WI)
2...Karolina Pliskova, CZE (RG/WI)
2...Kristyna Pliskova, CZE (WI/US)
2...Stefanie Voegele, SUI (AO/US)


=MOST 2012 SLAM Q's - BY NATION=


7...United States
6...Czech Republic
4...Russia
3...GBR, GER, ITA
2...ESP, FRA, SUI, SVK, TPE, UKR


=2012 SLAM WILD CARDS=


3...Ashleigh Barty, AUS (AO/RG/WI)
3...Melanie Oudin, USA (RG/WI/US)
2...Kristina Mladenovic, FRA (RG/US)
2...Aravane Rezai, FRA (AO/RG)
2...Olivia Rogowska, AUS (AO/US)







*PREVIEW NOTES*


...after nearly being dumped out in the 1st Round at Roland Garros in her first stint as a slam #1 seed, Victoria Azarenka should be a bit more comfortable with the top spot at this Open. Her rise ends Caroline Wozniacki's run of two straight top-seeded campaigns in NYC in 2010-11 after having reached the final in '09. This year, the Dane is seeded #8. Meanwhile, five-time U.S. Open champ Roger Federer is seeded #1 at Flushing Meadows for the first time since 2009. Overall, he'd gone eight slams without being the top seed, following his stretch of 23-of-26 majors when his name WAS on the top line of the draw.



**US OPEN TOP SEEDS - since 2002**




[women]


2002 Serena Williams, USA
2003 Kim Clijsters, BEL
2004 Justine Henin-Hardenne, BEL
2005 Maria Sharapova, RUS
2006 Amelie Mauresmo, FRA
2007 Justine Henin, BEL
2008 Ana Ivanovic, SRB
2009 Dinara Safina, RUS
2010 Caroline Wozniacki, DEN
2011 Caroline Wozniacki, DEN
2012 Victoria Azarenka, BLR


[men]


2002 Lleyton Hewitt, AUS
2003 Andre Agassi, USA
2004 Roger Federer, SUI
2005 Roger Federer, SUI
2006 Roger Federer, SUI
2007 Roger Federer, SUI
2008 Rafael Nadal, ESP
2009 Roger Federer, SUI
2010 Rafael Nadal, ESP
2011 Novak Djokovic, SRB
2012 Roger Federer, SUI

Federer opens his '12 Open campaign in the concluding match on Ashe Court on Night 1. At 19-0 under the lights for his career, a win on Monday will tie him with Pete Sampras (20-0) for the best career night session mark in the history of the tournament. He'll be facing Donald Young, who reached the 4th Round in 2011, but is currently on a 1-18, nearly-out-of-control skid. It was actually a totally-out-of-control 0-17 crash until he finally got a win this past week in Winston-Salem. So, umm, find some room -- again -- for Roger, Mr. Sampras.

Seriously, has this been a bad summer for Pistol Pete's historical standing or what?



**BEST UNDEFEATED CAREER MARKS IN U.S. OPEN NIGHT SESSION HISTORY**


20-0...Pete Sampras
19-0...ROGER FEDERER
16-0...Martina Navratilova
14-0...MARIA SHARAPOVA
14-0...Chris Evert
--
NOTE: Novak Djokovic is 9-0

...this will be Kim Clijsters' final U.S. Open, and final tournament of her career. She'll open Night 1 with her 1st Round match against Victoria Duval. She hasn't lost a match in New York since dropping the 2003 final to Justine Henin, having won the title in '05, missed '06 due to injury, then being in retirement in '07-'08. She returned in '09 and won again, then defended her crown in '10. Last year, again, she was injured and didn't play. Her 21-match streak is the tournament's second-longest ever for a woman in the Open era... but the longest EVER for any player, male or female, when it comes to actual timespan.



**LONG WOMEN'S U.S. OPEN MATCH WIN STREAKS - OPEN ERA**


31...Chris Evert, 1975-79
21...KIM CLIJSTERS, 2005/2009-10 (current)
20...Martina Navratilova, 1983-85
20...Venus Williams, 2000-02
19...Steffi Graf, 1988-90
--
pre-Open era: Helen Wills (46), Helen Jacobs (28), Margaret Osbourne duPont (20)

Unless KC wins her fourth Open title, then changes her mind (not bloody likely, I say) and plays again, Evert's 31-match record is safe and secure for the foreseeable future. So, it would seem, is her women's mark of 101 overall U.S. Open match wins. The Williams Sisters are hot on the trail of #3-on-the-list Steffi Graf, though.



**CAREER U.S. OPEN MATCH WIN LEADERS - WOMEN**


101...Chris Evert
89...Martina Navratilova
73...Steffi Graf
62...Lindsay Davenport
61...VENUS WILLIAMS
--
NOTE: Serena Williams has 58

On the men's side, Federer will simply be padding his all-time slam match victory advantage, with a chance (oh, say, maybe at the 2015 U.S. Open or 2016 Australian) to catch Martina Navratilova's career mark of 306 match wins.



*SLAM MATCH WINS - OPEN ERA*




[women]


306...Martina Navratilova
299...Chris Evert
278...Steffi Graf
218...SERENA WILLIAMS
211...VENUS WILLIAMS
210...Arantxa Sanchez-Vicario


[men]


244...ROGER FEDERER
233...Jimmy Connors
224...Andre Agassi
222...Ivan Lendl
203...Pete Sampras

...no women's #1 seed has ever lost in the 1st Round of the U.S. Open. The earliest exits both came in the 2nd Round: Billie Jean King lost to Kerry Melville in '66, and Ana Ivanovic was upset by Julie Coin in '08. Although, it should be noted that no #1 women's seed has ever lost in the 1st Round at Roland Garros, either. Yet, #1-seed Victoria Azarenka had to scrape and claw, coming back from 7-6/4-0 (and points for 5-0), to defeat Alberta Brianti in the 1st Round there this spring. At this U.S. Open, Vika is again the #1 seed.



**RECENT WOMEN'S SLAM WINNERS**


2010 RG: Francesca Schiavone, ITA
2010 WI: Serena Williams, USA
2010 US: Kim Clijsters, BEL
2011 AO: Kim Clijsters, BEL
2011 RG: Li Na, CHN
2011 WI: Petra Kvitova, CZE
2011 US: Samantha Stosur, AUS
2012 AO: Victoria Azarenka, BLR
2012 RG: Maria Sharapova, RUS
2012 WI: Serena Williams, USA

...the last seven slams have been won by seven different women. The last six U.S. Open women's championships have been claimed by five women.



**RECENT WOMEN'S U.S. OPEN CHAMPIONS**


2006 Maria Sharapova, RUS
2007 Justine Henin, BEL
2008 Serena Williams, USA
2009 Kim Clijsters, BEL
2010 Kim Clijsters, BEL
2011 Samantha Stosur, AUS

Meanwhile, on the men's side, the ATP's three-headed monster has won 29 of 30 slams, and 31 of 33.

The men's major singles titles have been spread around in '12, as Novak Djokovic, Rafa Nadal (out of this Open with a knee injury) and Roger Federer have all won slams, while Andy Murray claimed Olympic Gold. If someone other than Djokovic or Federer wins this Open it'll be the first time since 2003 (Agassi, Ferrero, Federer & Roddick) that four different men have won slam titles in the same season. If the champion is also not named Murray, it'd be the first time since 2000 (Agassi, Kuerten, Sampras, Kafelnikov & Safin) that the four slams and Olympics were split five different ways.

If Federer wins his sixth U.S. Open title, he'll break out of a tie with Pete Sampras (not again!) and Jimmy Connors for the most by any male in the Open era. On the women's side, Samantha Stosur will be looking to become the first Aussie woman to defend a slam title since Evonne Goolagong won the Australian Open in 1976-77, and the first to do so at the U.S. Open since 1969-70 champ Margaret Court. The last Aussie male to defend a slam was Patrick Rafter, who won the U.S. Open in 1997 & '98.



*U.S. OPEN FINALS - ACTIVE*




[women]


5...Serena Williams (3-2)
4...Kim Clijsters (3-1)
4...Venus Williams (2-2)
2...Svetlana Kuznetsova (1-1)
1...Maria Sharapova (1-0)
1...Samantha Stosur (1-0)
1...Jelena Jankovic (0-1)
1...Caroline Wozniacki (0-1)
1...Vera Zvonareva (0-1)


[men]


6...Roger Federer (5-1)
3...Novak Djokovic (1-2)
2...Lleyton Hewitt (1-1)
2...Rafael Nadal (1-1)
2...Andy Roddick (1-1)
1...Juan Martin del Potro (1-0)
1...Juan Carlos Ferrero (0-1)
1...Andy Murray (0-1)

...Federer, for his part, is appearing in his 52nd consecutive slam, and by the end of next season he could match Wayne Ferreira's men's record of 56. Francesca Schiavone will appear in her 49th straight, the longest current perfect attendance run on the women's tour. But she's still quite a few behind the WTA's all-time leader -- Ai Sugiyama, who had 62. Venus will be playing in her 57th career slam, the most overall by any active woman.

...at least one Russian woman has reached the semifinals at twenty-nine of the last thirty-four slams, but Hordettes have accounted for just one semifinal slot at the U.S. Open over the last three years after having at least one every year during their peak seasons of tour dominance from 2004-08.



*RUSSIAN U.S. OPEN SEMIFINALISTS*


2004 Elena Dementieva (RU), Svetlana Kuznetsova (W)
2005 Elena Dementieva, Maria Sharapova
2006 Maria Sharapova (W)
2007 Anna Chakvetadze, Svetlana Kuznetsova (RU)
2008 Elena Dementieva, Dinara Safina
2010 Vera Zvonareva (RU)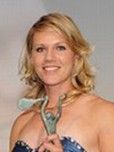 ...meanwhile, women's wheelchair champ Esther Vergeer failed to win any titles at a grand slam for the first time in her career at this year's Wimbledon (there was no singles competition on the grass, and she lost in doubles). The Dutch woman, a 21-time slam singles and 21-time slam doubles champion, has a singles winning streak that is approaching 500 consecutive matches now. She last lost a singles match in January 2003. But she won't be winning titles at this year's U.S. Open, either. You see, there will be no wheelchair competition at Flushing Meadows this year, as it's taking a one year hiatus while the athletes compete in the 2012 Paralympic Games in London. The tennis competition will take place between September 1-9. Vergeer is the defending, three-time Gold medalist in singles (2000, '04 & '08) and a three-time medalist in doubles (Gold in '00 & '04, then Silver in '08).







=ROUND OF 16 PREDICTIONS=


#1 Azarenka d. #18 Goerges
#9 Li d. #7 Stosur
#3 Sharapova d. #19 Petrova
#5 Kvitova d. Petkovic
#8 Wozniacki d. Stephens
#4 S.Williams d. #14 Kirilenko
#6 Kerber d. #21 McHale
#13 Cibulkova d. #30 Jankovic



=QUARTERFINAL PREDICTIONS=


#9 Li d. #1 Azarenka
#3 Sharapova d. #5 Kvitova
#4 S.Williams d. #8 Wozniacki
#6 Kerber d. #13 Cibulkova



=SEMIFINAL PREDICTIONS=


#9 Li d. #3 Sharapova
#6 Kerber d. #4 S.Williams



=FINAL PREDICTION=


#9 Li d. #6 Kerber

...I'm just going on a tingle of feeling here. The final would actually be a rematch of the Cincinnati final from last week. That said, it's always a big gamble to pick Li. Hopefully, though, she hasn't peaked yet, and the addition of Carlos Rodriguez as coach will allow to take one more step at this tournament. It could be that she's feeling so good about her decision to bring him on that she'll be able to stay on Cloud 9 for two more weeks before any sort of reality sets in and she realizes she can't win EVERY match she plays under the heading of this new relationship.

Thankfully, that period of time would work out quite well for my predition. Haha.

Really, I think there are about six (maybe seven) players with a fairly equal chance -- I mean, unless Serena "does her thing" -- of winning this thing: all four predicted semifinalists, plus Azarenka, Kvitova and maybe Stosur. And I'm not even counting Clijsters, which I think would be asking for more than she's likely capable of giving -- just getting over the finish line of her career on two feet to end her final season will be something of a "victory" after her string of injuries over the past year or so. Williams, of course, is the favorite. But since she enters the tournament still obviously fixated on all the people she believes have done her wrong at the Open over the years, I just wonder if we have a self-fulfilling prophecy thing about to happen. Thus, if I had to pick a "second pick," I'd probably go with Vika.

But,then again, maybe in KC's final event, I'm just feeling a litle wistful for La Petit Taureau. In a lot of important ways, Azarenka reminds me of Henin; while Li is now employing Henin's longtime coach.

Interesting?





...Nadal or no Nadal, the men's draw just doesn't seem like it'll be all that exciting until the very end of the tournament. While there are a plethora of storylines for the women, there are very few legit (as in, it could actually happen) potential title-winning paths for the men. Truthfully, it's difficult to make a prediction for this Open and NOT have at least the Top 3 seeds in the semis. And the absence of Rafa just removes one potential winner from a mix that is pretty thin to begin with.



=QUARTERFINAL PREDICTIONS=


#1 Federer d. #6 Berdych
#3 Murray d. #5 Tsonga
#9 Isner d. #4 Ferrer
#2 Djokovic d. #7 del Potro



=SEMIFINAL PREDICTIONS=


#1 Federer d. #3 Murray
#2 Djokovic d. #9 Isner



=FINAL PREDICTION=


#1 Federer d. #2 Djokovic

...in my heart of hearts, I'd love to pick del Potro's Olympic surge to show up again and get him (at least) into the final of the slam that he won in 2009. If he'd been drawn into a different quarter, I might have picked him to go through to at least the SF. As it is, I picked Djokovic to take him out in the QF, although the Serb didn't look particularly threatening when it mattered at the Olympics or in Cincinnati this summer.

Federer's wins over Djokovic at Wimbledon and in that Cincy final should keep his confidence high, so I'll go the tried-and-true-all-over-again route.

Let's just hope the final is actually played on a Sunday for once. Yeah... fat chance of that.


Hello again, dahlings! Carl is off celebrating our engagement with his big-foreheaded friends, so he couldn't bother to live up to his contract and submit his slam predictions. So, once again, I'm here to do HIS job. Sigh... this marriage is going to be a neverending character-building experience, I suspect.

Anyway, after being thrust into this prediction thing this season, I admit I've been a slow learner. So far, I've picked seven events, but haven't gotten any of the champions correct. But don't worry about me. I think I'm getting close to getting the hang of it. Last week, both my picks (JJ and Maria K.) reached the final! They lost. But, hey, I take small victories where I can find them. I mean, I celebrated for an entire weekend when I finally got Carl to change his underpants more than once a month.

Trust me, that was a far more difficult task than picking silly tennis tournaments.




*SEMIFINALS*


Kvitova d. Azarenka
S.Williams d. V.Williams


*FINAL*


S.Williams d. Kvitova

I hear this Serena is pretty good. And since her name hasn't been taken here, I figured I'd go with her.

And if she loses earlier, I think I'll have to give her a call. I bet SHE could drag Carl's Neanderthal butt back here to help me prepare for the wedding!






**MOST SLAM #1 SEEDS - ACTIVE PLAYERS**


8...Serena Williams, USA
6...Caroline Wozniacki, DEN
4...Maria Sharapova, RUS
3...Dinara Safina, RUS (DNP in '12)
2...VICTORIA AZARENKA, BLR
2...Ana Ivanovic, SRB
1...Kim Clijsters, BEL
1...Jelena Jankovic, SRB
1...Venus Williams, USA



**RECENT US OPEN WOMEN'S SEMIFINALISTS**


2004: Svetlana Kuznetsova (W), Elena Dementieva (RU), Jennifer Capriati, Lindsay Davenport
2005: Kim Clijsters (W), Mary Pierce (RU), Elena Dementieva, Maria Sharapova
2006: Maria Sharapova (W), Justine Henin-Hardenne (RU), Jelena Jankovic, Amelie Mauresmo
2007: Justine Henin (W), Svetlana Kuznetsova (RU), Anna Chakvetadze, Venus Williams
2008: Serena Williams (W), Jelena Jankovic (RU), Elena Dementieva, Dinara Safina
2009: Kim Clijsters (W), Caroline Wozniacki (RU), Yanina Wickmayer, Serena Williams
2010: Kim Clijsters (W), Vera Zvonareva (RU), Venus Williams, Caroline Wozniacki
2011: Samantha Stosur (W), Serena Williams (RU), Angelique Kerber, Caroline Wozniacki



**RECENT US OPEN GIRLS FINALS**


2005 Victoria Azarenka/BLR def. Alexa Glatch/USA
2006 Anastasia Pavlyuchenkova/RUS def. Tamira Paszek/AUT
2007 Kristina Kucova/SVK def. Urszula Radwanska/POL
2008 Coco Vandeweghe/USA def. Gabriela Paz/VEN
2009 Heather Watson/GBR def. Yana Buchina/RUS
2010 Daria Gavrilova/RUS def. Yulia Putintseva/RUS
2011 Grace Min/USA def. Caroline Garcia/FRA



**FIRST-TIME SLAM CHAMPS AT WIMBLEDON**




[Open Era]


1968 Virginia Wade, GBR
1979 Tracy Austin, USA
1990 Gabriela Sabatini, ARG
1998 Lindsay Davenport, USA
1999 Serena Williams, USA
2004 Svetlana Kuznetsova, RUS
2005 Kim Clijsters, BEL
2011 Samantha Stosur, AUS



*ACTIVE PLAYERS - FIRST SLAM FINAL*


1997 U.S. Open - Venus Williams
1999 U.S. Open - Serena Williams (W)
2001 Roland Garros - Kim Clijsters
2004 Wimbledon - Maria Sharapova (W)
2004 U.S. Open - Svetlana Kuznetsova (W)
2007 Roland Garros - Ana Ivanovic
2007 Wimbledon - Marion Bartoli
2008 Roland Garros - Dinara Safina
2008 U.S. Open - Jelena Jankovic
2009 U.S. Open - Caroline Wozniacki
2010 Roland Garros - Francesca Schiavone (W)
2010 Roland Garros - Samantha Stosur
2010 Wimbledon - Vera Zvonareva
2011 Australian Open - Li Na
2011 Wimbledon - Petra Kvitova (W)
2012 Australian Open - Victoria Azarenka (W)
2012 Roland Garros - Sara Errani
2012 Wimbledon - Agnieszka Radwanska




All for now. Day 1 awaits... as well as Bare Bones Backspin (hopefully with Carl), and the crowning of Backspin's all-time MVP.