RG.2- The Tell-Tale Letter?

[
Note to Readers: Please to be not be alarmed by what follows. It is only a notion. We hope.
]
The end may be nigh.
"A." tells us so.


First, a little background: out of public view, the keepers of the grounds at Roland Garros often repair and update the various buildings, stadiums and court surfaces during the tennis offseason. It is common, and usually takes place without incident. Until this past winter, that is. While preparing to "refurbish" the clay surface on Court Suzanne Lenglen, something happened. It was all quickly hushed up by the powers-that-be, but one report of an emergency call being placed in Paris DID manage to make it into Paris news and police reports late last year around the holiday, when no one was paying much attention. In relative silence, officials released a statement that called the odd nature of the details of the incident -- something about a worker falling into a large hole and being reported "missing" -- an obvious attempt at sensationalism by media outlets and fringe groups. The story immediately disappeared and was forgotten about.

Until now.

I never talk about them here, but Backspin does indeed have moles placed throughout the tennis world, reporting back to me about such on-site incidents that might directly or indirectly be able to be linked back to the threat that I've been warning the general tennis blogging pubilc about for over a year now. Yes, of course, I'm talking about the Radwanskian threat. Real, imagined, overblown, or maybe even underplayed, it is a threat that has lingered. Well, in recent weeks, while the threat of The Rad has seemed to wane and -- almost -- drift from memory, I received information from one of my sources that the aforementioned incident on Lenglen did indeed happen, and that the worker is still listed as "missing." But that wasn't the end of the story. The hole that supposedly "opened up" and swallowed the man -- a 49-year old from Nice, who enjoyed following OGC Nice and taking his pet Affenpinscher named "Smug" on long walks after sundown -- had already closed by the time other members of the grounds crew arrived on the scene. Based on the eyewitness accounts, though, heavy equipment was brought in to dig in what was ultimately a futile attempt to discover the workers' lost friend. It was no surprise, as it seemed a far-fetched scenario at the time.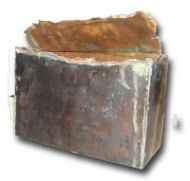 But something was found.

Deep below the surface of Lenglen, a previously undiscovered metal deposit was detected via underground radar. Once found, the metal object -- a long-ago sealed box -- was retrieved and opened. It contained but one thing. A single, handwritten letter of unknown origin and time frame. It was signed, simply, "A." I hesitated to release this information when I first received it, not wishing to disturb or alarm the public. But recent developments in Paris have forced my hand. I must do it, so forgive me. I honestly believe that knowledge may be our only chance and, in my role as something of an early warning beacon, I have a duty to be forthcoming about what I know. Thus, below are the contents of that letter, shown to me in their original letter form, under total secrecy, a few months ago:

"To You, and All -

I don't have much time. I am truly and deeply sorry. I have done all that I can, but... and I despise that I have to use the words... The Radwanska has won. It is time to run. To hide. To cover our heads and make the best of the time we have left. Again, I am so sorry. I was wrong when I said I could keep you safe. So, so wrong. So many people have suffered because of my well-intentioned actions. We could just never win back time from The Rad. It already had it under Its control.


But, I wouldn't be myself if I gave up ALL hope. So I will hold out some belief, for as long as I breathe -- which I fear will not be much longer -- that there is SOMEONE who can do what I could not. For them, or anyone who finds this letter generations upon generations after I, my friends and soldiers in this far-too-long-and-bloody battle are long gone, I must tell you the one thing that we have learned. We were so stupid. If only we'd seen it earlier. The Radwanska is not a single beast, for it has TWO heads. They live separate lives, but are always together in spirit. In fact, they are one. Neither head is "less" than the other, and when they occupy the same space simultaneously they are able to harness the abilities of each, using the power they garner through fear to its full effect. Together, despite all appearances, they are a million times more lethal. Keep them apart! For the good of humankind and whatever future it may have here, now, in the future, or in the past! It is only then that you -- WE -- may have any chance to prevail.

I fear that I have lost hope, though. But I CAN'T lose hope. I WON'T. So, I write this letter. And instill this spirit. In SOMEONE. SOMEWHERE. SOME TIME. Maybe it will do some good. Maybe.

A."

I will say no more about this letter, or what it might mean, at this moment in time. But I will say that while the true identity of "A." will surely be bandied about, what we may believe to be true -- in our worst fears -- may or may not be accurate. For one, the "A." could simply stand for "Anonymous." Also, the missing worker was named Arnaud. Now, this news may allay some fears about the level of success of The Radwanska's plan, but it may also create entirely new ones. As always, I only urge everyone to remain as calm as possible, try to stay in contact with close friends and relatives as often as possible, and don't leap to any unsubstantiated conclusions about any particular Polish tennis players who might appear in the news in the coming days, weeks, months or even years, since we really have no idea if anything in the letter is true, or when or if what is talked about might occur.

So, back to tennis:

In women's 1st Round action on Day 1, Agnieszka Radwanska showed little mercy to her opponent, Israel's Shahar Peer, swiftly putting her down by a 6-1/6-1 score in fifty-eight brutal minutes of battle on Court Lenglen -- one day after her sister Urszula had dispatched the iron-willed Venus Williams there -- and showing herself to seemingly be no worse for wear due to the shoulder injury that has apparently bothered her for over a year and was behind her recent poor results and withdrawal from the tournament in Brussels, where she decided against any attempt to defend her 2012 crown.

Thus, the potential 3rd Round match-up between the two Radwanskas remains on course for later this week, with only 2nd Round opponents Mallory Burdette and Dinah Pfizenmaier, respectively, standing in the way with the future of the known world potentially on the line when they take to the court in the coming days.

Sorry, I said I wasn't going to do that.

Gulp.













=DAY 2 NOTES=


...meanwhile, in non-Radwanskian Apocalypse-related news:

Defending champ Maria Sharapova, tucked "safely" away on the other side of the draw from the R.A., beat up on poor Hsieh Su-Wei in her 1st Round match, winning 6-4/6-2. Elsewhere, another former RG champ, Francesca Schiavone, got off to a fast start, as well. The '10 winner served Melinda Czink a bagel in the opening set, then went on to win 6-0/7-6. It was quite the opposite of what happened to Schiavone's countrywoman -- and former potential 2nd Round opponent -- Flavia Pennetta. Rather than serve a bagel to her opponent, Pennetta was the one getting served, losing to Kirsten Flipkens 2-6/6-4/6-0.

In the match in which pretty much everyone expected an upset to occur, #10-seed Caroline Wozniacki proved everyone wrong -- maybe even her father and herself, and whoever is going to be coaching her "for the rest of her career," as her still-to-be-announced new coach is supposed to do (so, no pressure), according to the statement released by Wozniacki -- and actually defeated Laura Robson. In straight sets, even, 6-3/6-2. Of course, an upset seemed a likely result, as Robson has defeated three former grand slam winners (Li, Clijsters & Kvitova) at the last two slams, while the Dane entered on a five-match losing streak and was without a single clay court match win in 2013. So, I guess the Brit's Kryponite is former #1's without a slam title to her name? Meanwhile, father/coach Piotr was in the stands for this one, and was likely quite pleased by what he saw. So... look out, Caro -- that "mystery coach II" in your future might end up being as imaginary as the first one turned out to be.

In other matches, Svetlana Kuznetsova committed a bit of Hordette-on-Hordette crime, knocking out fellow Russian Ekaterina Makarova, the #22 seed, 6-4/6-2, and Carla Suarez-Navarro, a dark horse pick for success at this RG (SI.com's Jon Wertheim picked her in the semis), had to hold her breath a bit today, but she escaped the 1st Round with a 3-6/6-2/6-2 win over Simona Halep.

In the wake of Venus Williams' valiant loss on Day 1, it was a good day for the Bannerettes on Monday. Melanie Oudin, Bethanie Mattek-Sands, Vania King, Varvara Lepchenko and Madison Keys all won, while Sloane Stephens exorcised a few demons, as well. With her wearing a Day-Glo yellow dress, there was no missing Miss Twitter, but the big news with her wasn't what she was wearing or that she defeated Karin Knapp by a 6-2/7-5 score. No, it was how she did it that mattered -- with a 2nd set comeback that saw her rebound from a 4-1 deficit to surge back and close out the match in straight sets rather than allowing it to go to a 3rd set and taking her chances there. That sort of thing hasn't worked out so well for Sloane in the past. This time, she didn't let it have a chance to bite her. Hopefully, all the news she'll make for a bit longer will because of things ON the court. Much to ask, I know, but when under Radwanskian threat, you try to be optimistic.

Oh, and not to be outdone, in the wake of the U.S. success so far, and Puerto Rico's Monica Puig knocking out Nadia Petrova on Day 1, another North American got a big win, too. Canada's Eugenie Bouchard, fresh off her first career tour SF in Strasbourg, got her maiden career grand slam win (over Tsvetana Pironkova) in her very first try, as today was also her career main draw slam debut.

SEEDS OUT: #22 Makarova, #24 Goerges, #28 Paszek
QUALIFIER WINNERS: Vania King/USA, Zuzana Kukova/SVK, Paula Ormaechea/ARG
PASTRY WINNERS: Mathilde Johnansson

...LIKES FROM DAY 2:

-- that yesterday during Urszula Radwanska's win over Venus, Andy Murray Tweeted some compliments to U-Rad, saying, "Radwanska has the best lob in tennis! An inch from the line everytime and venus isn't small, so accurate." Of course, on ESPN2, Darren Cahill wondered aloud whether the Scot might have gotten Ula confused with her sister. As for me, though, I was more impressed that Murray was actually unashamedly following a women's tennis match and Tweeting compliments about it, rather than choosing to denigrate, accuse or put down the other side of his sport like so many of his ATP bretheren have in recent seasons.

Hmmm, maybe that good vibe I started to get about Murray in January was the beginning of something great. I still have the draft of that AA -- Andy Anonymous -- fan speech I was prepared to deliver a few months ago had he won the Australian Open final over Djokovic. Maybe it'll be eventually used when the time is right, after all.

...and, finally, as always at the slams, Anabel Medina-Garrigues' time in the draw has an expiration date stamped on its side. At the 2013 edition of Roland Garros, that date was today.

After AMG won the Hopman Cup for Spain with Fernando Verdasco in Week 1, there was some thought that she might pose a threat to #11 seed Marion Bartoli in the 1st Round in Melbourne in January. Well, not really. After being the "First Seed Out" at Flushing Meadows last August, the unseeded Spaniard lost to La Trufflettte," in straight sets.

In Paris, considering her proficiency on clay (she has more match wins on the surface than any active WTA player), as well as her EuroClay wins over achieving youngsters Madison Keys and Yulia Putintseva (and tight losses to Kaia Kanepi and Serena Williams), there was more than a little thought that she might pose a threat to #6 seed Li Na, the 2011 RG champion. Well, not really. While not a pushover, Medina-Garrigues lost today 6-3/6-4, her 19th 1st Round exit in her forty-four slam appearances.

Looking at AMG's career numbers, although she's had a nice WTA run, there really shouldn't have been much thought that she'd get a win today. In slams, she's now 0-12 vs. Top 10 players, and 3-19 vs. those in the Top 20 (w/ past wins over Pennetta, Hantuchova & Schiavone). Stretching it out even further, AMG, who reached a career-high of #16 in 2009, is just 10-29 in slams against Top 50 players, and her numbers are only slightly better against Top 100 opponents, as well, at 23-39. So, really, a win today was a bit of a long shot, no matter how enticing a notion a potential upset seemed in the match-up with the oft-inconsistent Li.

Okay, now here's where I'm obliged to once again note that AMG is STILL linked in history with Anna Smashnova as the only players to ever win double-digit WTA singles titles but never reach a slam Final 8. There, that's another Daily Backspin slam ritual checked off the list. Medina-Garrigues, 30, now has a career slam match record of 43-44 (far better than Smashnova's, see below). She's 15-11 at Roland Garros, the only slam at which she sports a winning record, though she only has one Round of 16 result (2007) in Paris.

Oh, well... keep on fighting the good fight, AMG.













*We've Survived Before -- Radwanska vs. Radwanska*


2003 Gdynia, POL - Grade 4 Girls 1st Rd. (clay) - Agnieszka 6-3/6-3
2004 Zabrze, POL - Grade 4 Girls Final (clay) - Agnieszka 6-4/6-4
2005 Wels, AUT - Grade 1 Girls Final (clay) - Agnieszka 6-2/6-3
2005 Bratislava, SVK - Grade 2 Girls Final (carpet) - Agnieszka 6-2/7-6(1)
-
2009 Dubai 2nd Rd. (hard) - Urszula 6-4/6-3
2009 Eastbourne 1st Rd. (grass) - Agnieszka 6-1/6-1
2011 U.S. Open 1st Rd. (hard) - Agnieszka 6-2/6-3
2012 Sydney 1st Rd. (hard) - Agnieszka 6-1/6-1



*MEDINA-GARRIGUES' CAREER SLAM RESULTS*


0 - W
0 - RU
0 - SF
0 - QF
3 - 4th Rd.
12 - 3rd Rd.
10 - 2nd Rd.
19 - 1st Rd.
==
AMG SLAM W/L TOTAL: 43-44
AMG CAREER WTA SINGLES TITLES: 11


[Anna Smashnova's Slam Results]


0 - W
0 - RU
0 - SF
0 - QF
2 - 4th Rd.
7 - 3rd Rd.
10 - 2nd Rd.
30 - 1st Rd.
==
SMASHNOVA SLAM W/L TOTAL: 30-49
SMASHNOVA CAREER WTA SINGLES TITLES: 12



*RG GIRLS/WOMEN'S SLAM TITLES - OPEN ERA*


Sue Barker (1974 Jr. Champion; 1976 Women's Champion)
Jennifer Capriati (1989 Jr. Champion; 2001 Women's Champion)
Justine Henin (1997 Jr. Champion; 2003, '05-'07 Women's Champion)
Mima Jausovec (1973 Jr. Champion; 1977 Women's Champion)
Hana Mandlikova (1978 Jr. Champion; 1981 Women's Champion)





TOP QUALIFIER:

Anna Schmiedlova/SVK




TOP EARLY-ROUND (1r-2r):

xx


TOP MIDDLE-ROUND (3r-QF):

xx


TOP LATE-ROUND (SF-F):

xx


TOP QUALIFYING MATCH:

Q2: #24q Barbora Zahlavova-Strycova/CZE d. Alexandra Panova/RUS 1-6/7-5/10-8




TOP EARLY-RD. MATCH (1r-2r):

xx


TOP MIDDLE-RD. MATCH (3r-QF):

xx


TOP LATE-RD. MATCH (SF-F/Jr.):

xx


=============================




FIRST VICTORY:

#5 Sara Errani/ITA (def. Rus/NED)




FIRST SEED OUT:

#11 Nadia Petrova/RUS (lost 1st Rd. to Puig/PUR)




UPSET QUEENS:

xx


REVELATION LADIES:

xx


NATION OF POOR SOULS:

xx


LAST QUALIFIER STANDING:

1st Rd. wins: King/USA, Z.Kucova/SVK, Ormaechea/ARG, Pfizenmaier/GER, Voskoboeva/KAZ


LAST WILD CARD STANDING:

1st Rd. wins: Garcia/FRA, Razzano/FRA, Rogers/USA


LAST PASTRY STANDING:

1st Rd. wins: Garcia/FRA, Johansson/FRA, Razzano/FRA
MADEMOISELLE/MADAM OPPORTUNITY: xx
IT "??": xx


COMEBACK PLAYER:

xx


CRASH & BURN:

Nominee: #11 Petrova/RUS (1st Rd./Puig)


ZOMBIE QUEEN:

Nominee: #19 Pavlyuchenkova/RUS (1st Rd. - down set & 4-2 vs. Hlavackova, who served for match)
JOIE DE VIVRE: Nominee: V.Williams/USA


DOUBLES STAR:

xx


AMG SLAM FUTILITY UPDATE:

lost 1st Rd. to #6 Li Na, once again failing to reach a slam QF in her career (so Anna Smashnova still has a buddy)


JUNIOR BREAKOUT:

xx





All for Day 2. More tomorrow (I hope).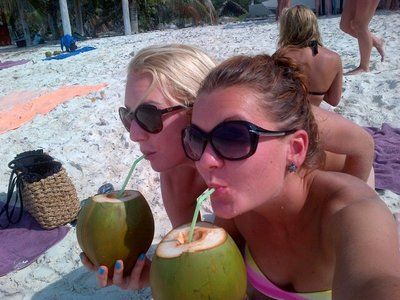 Hmmm...