W 8.0 - Everything But the Meat

Aha! A Wimbledon first! A TWO-part post!
(
Who says the U.S. Open HAS to corner the market on multi-part Daily Backspins?
)


Anyway, I'll post the SECOND half of Day 8's recap later tonight. But here's "everything but the meat," i.e. all but the Radwanskian section of today's women's quarterfinals. Needless to say, I need a bit more time to sort through my feelings. In short, after so much "close contact" with The Rad, I feel as if my opinion may have been compromised and I need to put things just right..

Yes, I fear I have been "Minionized." I might need some help.

I'll explain later. So, until then... I hope "the bread" is filling enough for a post all its own.












=DAY 8 NOTES=
...ah, the thrill of victory, and the agony of defeat.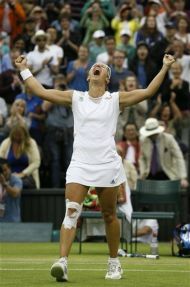 Actually, Petra Kvitova (as above) often looked defeated during the final set of her quarterfinal match with Kirsten Flipkens, seeking medical attention more than once and often lumbering around the court looking as if WE DIDN'T WANT TO KNOW HOW BADLY SHE FELT. Of course, the 27-year old Waffle had a lot to do with that. Let it be known, if it wasn't already, if you can play a well-rounded game against the Czech, committing just five unforced errors in a three-set match (just one in the 3rd!) then you're going to put yourself in position to win. And that's what happened with Flipkens, making her slam QF debut after issues with blood clots last year that could have had a tragic ending has she not sought medical attention after exiting a flight and doing something about the pain she was feeling in her calves.

With a new lease on life, Flipkens took one out on her tennis career, too. With the support of good friend (no, not in that "Sloane-y way," but really) Kim Clijsters, the Belgian began a climb from outside the Top 250 (so far back she couldn't even get into Wimbledon qualifying in 2012) last spring, ultimately winning her first career tour singles title in September in Quebec City, reaching her first slam Round of 16 in Melbourne, getting her first Top 20 ranking and making another final (on the grass at Rosmalen) last month leading up to her current career-best slam run at this Wimbledon. Still, against '11 Wimbledon champ Kvitova, the #20-seed seemed the least likely to advance of all the quarterfinalists on Day 8.

But what does that sort of thing mean at this Wimbledon?

Early on, Kvitova had the sort of time you'd expect from her. Great shots, followed by errors, followed by great shots.... you get the idea. The Czech held in a four-deuce game for 2-2 in the 1st. Hitting shots deep at Flipkens' feet, she got a break for 3-2, then lost the advantage when the Belgian fired a second serve return winner on break point a game later. Kvitova immediately got the break back for 4-3, then served for the set at 5-4. On set point, the world #8 hit her first double-fault of the match. Ultimately, she fought off four break points and put the set away 6-4, but saw the Belgian grab a break advantage for 4-2 in the 2nd as the Czech began to physically falter. At 5-2, Kvitova took her first medical break, as she was administered to by a trainer and doctor, had her temperature checked and was given medication. After Flipkens knotted the match with a 6-3 win, Kvitova left the court for seven minutes in another time-out.

Still, even while the athletic Flipkens was playing her low-error game, as Kvitova was racking up her usual winner/unforced error totals, the former Wimbledon champ seemed to be on her way to her third SW19 semifinal in four years in a potentially season-changing, and maybe even career-defining (considering her up-and-down results over the two years since her win on this same Centre Court) moment. Things were on serve, fairly routinely, at 4-4 in the 3rd. Then, suddenly, it all went bad.

Flipkens got to break point, then Kvitova approached the net to put away an easy swing volley, but overcompensating for Flipkens' speed at the baseline, Kvitova supercharged the shot way too much, firing it a foot or more past the line to break herself and give Flipkens the chance to serve for the match. Often, this is where a player with no experience under such pressurized circumstances would crumble. But after what Flipkens went through last year, this was "cake." Continuing to play within herself, the Waffle fired an ace to get to triple match point. Kvitova saved two with screaming cross court winners, but then Flipkens ended things the way that Kvitova did in the final against Maria Sharapova two years ago after building a 40/love lead in the final game -- she hit an ace on match point.

Final Score: Flipkens d. Kvitova 4-6/6-3/6-4.



...Sloane Stephens was once again the last American standing in a slam at this Wimbledon, and her ability to get herself out of trouble (both on court and off) has been admirable of late. It speaks well of her future, which could include a Top 10 ranking by the end of 2013 (she'd be the first Bannerette to debut there in fourteen years -- since Serena in '99). But she really needs to work on not losing her focus when matches are interrupted for one reason or another.

In Melbourne, while all holy hell came down on Vika Azarenka for her medical timeout(s) late in the match, the more important story was how poorly Stephens, sitting on her seat the entire time and heading back onto the court ice cold, handled the situation ON the court, not how she didn't make a big deal of things afterward. In Fed Cup play this year against Sofia Arvidsson, she came out of a weather delay far worse than she'd been before it, as well, leading to a loss that got her pulled from her second scheduled match in the tie vs. Sweden. Today against Marion Bartoli, it happened yet again.

In the 1st, Stephens and Bartoli stayed on serve for almost the entire set. Stephens saved three break points to hold for 3-3, then Bartoli saved two for 5-4. In Game #10, Stephens saved two set points on serve, but when the drizzling rain started to come down harder, Bartoli began to storm around the court, first complaining to the umpire, and then a tournament official on the sideline, about the grass being too slippery to continue. With Stephens serving at 40/40, two points from dropping the set, La Trufflette got a stoppage of play (really, would YOU want to tell a wound-up Marion that she wasn't going to get her way and risk the consequences?) and both players were called to their chairs. Stephens had a PO'ed look on her face that blared, "Are you (bleeping) kidding me? What, do I have a magnet in my bag for moments like this?" Soon, the rain stopped play everywhere, so anything involving Bartoli getting her way was a moot point.

But how Stephens reacted to the two-and-a-half-hour delay wasn't.

Again, Stephens came back out onto the court an unfocused shell of the player who'd battled with the fiery Pastry in the nine-plus games before. It took about thirty seconds for Stephens to drop the two points and lose the set. Even worse, amazingly, she was even worse on serve after that. Bartoli broke Stephens' serve to go up 2-0 in the 2nd, the first of eight consecutive breaks of serve between the two women (servers lost twelve straight points at one point), but that Stephens lost eighteen of her first nineteen service points after the resumption of play is downright scary. Maybe even worse than The Radwanska on a Monday.

Still, with Bartoli trying to close the set like she started it, with a hold of serve that would put away a straight sets victory at 5-3, Stephens' return game saved her. For a while. On her third break point, the American closed to 5-4 with a break, then held for 5-5. Bartoli did the same, but then quickly went up yet another triple break (match) point a game later after Stephens sailed a shot long. Bartoli's crosscourt winner put away the win as she advanced to her second career Wimbledon semi, and her first since she upset Justine Henin there in 2007.

Final Score: Bartoli d. Stephens 6-4/7-5.



Bartoli's trip through this Wimbledon has been truly unique. Even as she notches yet another win -- and a good one, too -- it's more "fun" to talk about Stephens' bad reactions in the match rather than the veteran Bartoli's ability to keep herself centered and in the moment. But her time might be about to come as she plays for her second Wimbledon final in two days against Flipkens. Since her surprise run six years ago, Bartoli has been an admirable, energetic and entertaining presence on tour. But, at 28, she hasn't quite been able to sustain great form and reach the sort of heights one might have wished for her. Sure, her 317-week run in the Top 20 is the longest active stretch on tour, but this is just her third career slam semifinal. Injuries and inconsistency have held her back. She last won a title in 2011, and it's been nearly a year since she reached a final. She recently shook up her coaching situation, more than once. First replacing long-time coach/dad Walter with Jana Novotna, a set-up which lasted less than two weeks. Now, while still talking daily with her father about her tennis, she's utilizing the assistance of the French federation headed up my Amelie Mauresmo, who finally managed to come to an agreement with Bartoli earlier this year to play Fed Cup for the first time in nearly a decade (after the split cost her a spot in the Olympics last year).

So far, so good. Maybe Bartoli is about to "get her due." Interestingly, should she win this title, as she's playing in her forty-seventh slam, Bartoli would break a record held by Novotna (45) for the most slams played before winning a maiden slam crown. Novotna won her first, at age 29, in 1998 at Wimbledon. More than likely, the Czech will be in the stands for the Ladies final on Saturday. Will Marion be on the court, as well? Stay tuned.

...in the other QF match, Lisicki did this time what so many others haven't been able to do at this Wimbledon: follow up a big-time with another victory. Of course, it helped that it was Kaia Kanepi that the German was expected to dispatch this time out, the same Estonian who went down on her sword three years ago in this very round at SW19, blowing five match points while the opponent -- Kvitova -- went on to bigger and better things.

While still good (Clijsters' presence litters this slam almost as much as The Rad, as her former fitness team is working with Sabine... and seem to be keeping her on the court a bit more often than used to be the case in her injury-plagued career), Lisicki's form wasn't quite as great as it was against Serena Williams, but it didn't need to be. She got a break in the 1st and never gave it up, winning 6-3. It was Kanepi who got the early break in Game #3 of the 2nd, but Lisicki immediately got things even a game later and never looked back. She went a break up at 4-2, then let Kanepi semi-crumble down the stretch. Serving like she was playing in her own backyard, which is sort of how she sees the lawns of the All-England Club, Lisicki served out the match, holding with a swinging volley.

Final Score: Lisicki d. Kanepi 6-3/6-3.





...a few little statistical tidbits now that the Final Four are set. We already knew that the Big 3's run of six straight slam titles would not be extended in London, and that we were assured of a third different slam champion in '13. Now, with Kvitova and Li out, we're assured of a first-time slam winner, as well. Whoever lifts the Venus Rosewater Dish on Saturday will become the eighth woman to grab her first career slam crown at Wimbledon in the Open era, while Lisicki and Flipkens both have shots at becoming the sixth active player to win her maiden slam crown in her first appearance in a slam final.





**FIRST-TIME SLAM CHAMPS AT WIMBLEDON IN OPEN ERA**


1968 Billie Jean King, USA
1978 Martina Navratilova, TCH (CZE)
1994 Conchita Martinez, ESP
1998 Jana Novotna, CZE
2000 Venus Williams, USA
2004 Maria Sharapova, RUS
2011 Petra Kvitova, CZE


[won in first slam final, active players]


1999 U.S. Open - Serena Williams
2004 Wimbledon - Maria Sharapova
2010 Roland Garros - Francesca Schiavone
2011 Wimbledon - Petra Kvitova
2012 Australian Open - Victoria Azarenka

...not only that, with Azarenka, Li, Serena and Sharapova not reaching the final, we will be through three slams in 2013 with six different finalists. The last time that all the slams finalists were different in a single season was 1977, and it's actually the ONLY time it's happened in the Open era. The closest things have come in recent seasons to matching the feat was 2007, when seven of the eight finalists were different (only Henin was a two-time finalist).

...LIKE FROM DAY 8 (ready for her close-up):




...LIKE/DISLIKE? FROM DAY 8:

-- ESPN and ESPN2's full coverage of all the women's quarterfinals, even if things did get a bit hectic at times. Of course, that doesn't mean there wasn't at least one trip-up. Like, say, airing a live Novak Djokovic interview on BOTH channels simultaneously, while missing the commentary of the opening games of the Radwanska/Li match when it unexpectedly resumed a few minutes early after a rain delay. While the interview was being shown full-screen on ESPN, it was boxed next to the soundless A-Rad/Li match on ESPN2. What, it couldn't have been taped and aired later on ESPN2? Can no one make a decision on the fly?

...AWARDS UPDATE:

Flipkens' first career slam SF run gets her the "Ms. Opportunity" award, while Bartoli's second Wimbledon Final Four gets her "Comeback Player" honors. As for the "Middle-Round Top Player," I'll go with Lisicki just edging out Radwanska. We'll see how that match-up goes ON the court in two days.

...in doubles, top-seeded Sara Errani & Roberta Vinci were upset by #16 seeds Julia Goerges & Barbora Zahlavova-Strycova, as the world #1's fail to reach the QF after going out in the SF a year ago (vs. Hlavackova/Hradecka, the #2 seeds this year, who advanced to the QF today). Thus, the Italians' quest for a Career Doubles Slam will have to wait for (at least) another year.

...and, finally, the "Wimblebum" (thanks for that one, Pammy Shriver!):















*LADIES' SINGLES SF*


#23 Sabine Lisicki/GER vs. #4 Agnieszka Radwanska/POL
#15 Marion Bartoli/FRA vs. #20 Kirsten Flipkens/BEL



*GENTLEMEN'S SINGLES QF*


#1 Novak Djokovic/SRB vs. #7 Tomas Berdych/CZE
#4 David Ferrer/ESP vs. #8 Juan Martin del Potro/ARG
Lukasz Kubot/POL vs. #24 Jerzy Janowicz/POL
Fernando Verdasco/ESP vs. #2 Andy Murray/GBR



*LADIES' DOUBLES QF*


#16 Goerges/Zahlavova-Stycova (GER/CZE) vs. Aoyama/Scheepers (JPN/RSA)
Jankovic/Lucic-Baroli (SRB/CRO) vs. #8 Hsieh/Peng (TPE/CHN)
#7 Groenefeld/Peschke (GER/CZE) vs. #3 Petrova/Srebotnik (RUS/SLO)
#12 Barty/Dellacqua (AUS/AUS) vs. #2 Hlavackova/Hradecka (CZE/CZE)



*GENTLEMEN'S DOUBLES SF*


#1 Bryan/Bryan (USA/USA) vs. #14 Bopanna/Roger-Vasselin (IND/FRA)
#4 Paes/Stepanek (IND/CZE) vs. x/x
















*WIMBLEDON "Ms. OPPORTUNITY" WINNERS*


2004 Maria Sharapova, RUS
2005 Venus Williams, USA
2006 Severine Bremond, FRA
2007 Marion Bartoli, FRA
2008 Zheng Jie, CHN
2009 Elena Dementieva, RUS
2010 Tsvetana Pironkova, BUL
2011 Petra Kvitova, CZE
2012 Agnieszka Radwanska, POL
2013 Kirsten Flipkens, BEL



*WIMBLEDON "COMEBACK PLAYER" WINNERS*


2007 Venus Williams, USA
2008 Tamarine Tanasugarn, THA
2009 Ana Ivanovic, SRB
2010 Vera Zvonreva, RUS
2011 Maria Sharapova, RUS
2012 Mirjana Lucic, CRO
2013 Marion Bartoli, FRA



*2013 WIMBLEDON FINAL FOUR*




[by career slam SF]


3...Marion Bartoli, FRA (1-1)
2...Sabine Lisicki, GER (0-1)
2...Agnieszka Radwanska, POL (1-0)
1...Kirsten Flipkens, BEL (0-0)


[by career Wimbledon SF]


2...Marion Bartoli (1-0)
2...Sabine Lisicki (0-1)
2...Agnieszka Radwanska (1-0, 2 con.)
1...Kirsten Flipkens (0-0)


[WTA most career slam SF - active]


23...Serena Williams (20-3)
19...Venus Williams (14-5)
17...Maria Sharapova (8-9)
6...Victoria Azarenka (3-3)
6...Jelena Jankovic (1-5)
5...Svetlana Kuznetsova (4-1)


[WTA most slam SF since 2010 - active]


7...Maria Sharapova
6...Victoria Azarenka
6...Serena Williams
4...Petra Kvitova
4...Li Na


[2013 WTA slam SF - by nation]


2...BLR, RUS, USA
1...BEL (Filpkens) CHN, FRA (Bartoli), GER (Lisicki), ITA, POL (A.Radwanska)


[WTA slam SF since 2010 - by nation]


11...Russia
8...United States
6...Belarus
5...BELGIUM (Flipkens), China, Italy
4...Czech Republic, GERMANY (Lisicki)
3...Australia, Denmark
2...FRANCE (Bartoli), POLAND (A.Radwanska)
1...Bulgaria, Serbia


[2013 WTA SF]


7...Serena Williams (6-0 +W)
7...Maria Sharapova (5-2)
6...Sara Errani (3-3)
5...Victoria Azarenka (3-1 +L)
5...AGNIESZKA RADWANSKA (2-2)
4...Li Na (3-1)
4...Anastasia Pavlyuchenkova (3-1)
4...Jelena Jankovic (2-2)
4...Angelique Kerber (1-3)



*WIMBLEDON MIDDLE-ROUND (3r-QF) TOP PLAYER AWARDS*


2006 Justine Henin-Hardenne, BEL
2007 Justine Henin, BEL
2008 Zheng Jie, CHN
2009 Serena Williams, USA *
2010 Serena Williams, USA *
2011 Maria Sharapova, RUS
2012 Victoria Azarenka, BLR"
2013 Sabine Lisicki, GER
--
* - won title



*RECENT WIMBLEDON SEMIFINALISTS*


2007 Venus Williams (W), Marion Bartoli (RU), Justine Henin, Ana Ivanovic
2008 Venus Williams (W), Serena Williams (RU), Elena Dementieva, Zheng Jie
2009 Serena Williams (W), Venus Williams (RU), Elena Dementieva, Dinara Safina
2010 Serena Williams (W), Vera Zvonareva (RU), Petra Kvitova, Tsvetana Pironkova
2011 Petra Kvitova (W), Maria Sharapova (RU), Victoria Azarenka, Sabine Lisicki
2012 Serena Williams (W), Agnieszka Radwanska (RU), Victoria Azarenka, Angelique Kerber
2013 Marion Bartoli, Kirsten Flipkens, Sabine Lisicki, Agnieszka Radwanska



**LOW-SEEDED WIMBLEDON SEMIFINALISTS - Open Era**


unseeded - Ann Jones, 1968
unseeded - Rosie Casals, 1969
unseeded - Francoise Durr, 1970
unseeded - Judy Dalton, 1971
unseeded - Yvonne Vermaak, 1983
unseeded - Catarina Lindqvist, 1989
unseeded - Gigi Fernandez, 1994
unseeded - Lori McNeil, 1994
unseeded - Meredith McGrath, 1996
unseeded - Anna Kournikova, 1997
unseeded - Natasha Zvereva, 1998
qualifier - Alexandra Stevenson, 1999
unseeded - Mirjana Lucic, 1999
unseeded - Jelena Dokic, 2000
wild card - Zheng Jie, 2008
unseeded - Petra Kvitova, 2010
unseeded - Tsvetana Pironkova, 2010
wild card - Sabine Lisicki, 2011
#23 - SABINE LISICKI, 2013
#23 - Venus Williams, 2007 (W)
#21 - Vera Zvonareva, 2010 (RU)
#20 - KIRSTEN FLIPKENS, 2013
#18 - Marion Bartoli, 2007 (RU)
#16 - Nathalie Tauziat, 1998 (RU)
#16 - Kathy Rinaldi, 1985
#14 - Venus Williams, 2005 (W)
#13 - Maria Sharapova, 2004 (W)
#12 - Billie Jean King, 1982
#12 - Kimiko Date, 1996
#11 - Bettina Bunge, 1982
#10 - Billie Jean King, 1983
#10 - Gabriela Sabatini, 1986



**MOST SLAMS BEFORE FIRST TITLE**




[ Bartoli in 47th slam ]


45 - Jana Novotna (1998 Wimbledon)
39 - Francesca Schiavone (2010 Roland Garros)
34 - Samantha Stosur (2011 US Open)
31 - Amelie Mauresmo (2006 Australian Open)
29 - Jennifer Capriati (2001 Australian Open)


[ Radwanska in 29th slam ]


28 - Kerry Melville-Reid (1978 Australian Open)
26 - Lindsay Davenport (1998 U.S. Open)
25 - Victoria Azarenka (2012 Australian Open)







TOP QUALIFIER:

Petra Cetkovska/CZE




TOP EARLY-ROUND (1r-2r):

#1 Serena Williams/USA




TOP MIDDLE-ROUND (3r-QF):

#23 Sabine Lisicki/GER




TOP LATE-ROUND (SF-F):

xx


TOP QUALIFYING MATCH:

Q3: #11q Mariana Duque-Marino/COL d. An-Sophie Mestach/BEL 6-7/6-3/8-6




TOP EARLY-RD. MATCH (1r-2r):

2nd Rd. - (Q) Michelle Larcher de Brito/POR d. #3 Maria Sharapova/RUS 6-3/6-4




TOP MIDDLE-RD. MATCH (3r-QF):

4th Rd. - #23 Sabine Lisicki/GER d. #1 Serena Williams/USA 6-2/1-6/6-4




TOP LATE-RD. MATCH (SF-F/Jr.):

xx


TOP UNDER-THE-ROOF MATCH:

Nominee: QF - A.Radwanska d. Li (partial under roof)


=============================




FIRST WINNER:

Lesia Tsurenko/UKR (def. Arruabarrena-Vecino/ESP)




FIRST SEED OUT:

#5 Sara Errani/ITA (lost to Puig/1st Rd.)




UPSET QUEENS:

Czech Republic




REVELATION LADIES:

Australia/New Zealand




NATION OF POOR SOULS:

Great Britain (1-6 in 1st Rd.)




LAST QUALIFIERS STANDING:

Eva Birnerova/CZE, Petra Cetkovska/CZE & Michelle Larcher de Brito/POR (all 3rd Rd.)




LAST WILD CARD STANDING:

Alison Riske/USA (3rd Rd.)




LAST BRIT STANDING:

Laura Robson/GBR (4th Rd.)




IT ("Upstart"):

Michelle Larcher de Brito, POR (def. #3 Sharapova/2nd Rd.)




Ms.OPPORTUNITY:

#20 Kirsten Flipkens/BEL




COMEBACK PLAYER:

#15 Marion Bartoli/FRA




CRASH & BURN:

#13 Nadia Petrova/RUS (1st Rd./Ka.Pliskova; third straight 1st Round slam loss)




ZOMBIE QUEEN:

Eugenie Bouchard/CAN (escaped early-round carnage, winning after being down 7-5/5-4 vs. G.Voskoboeva, with Kazakh serving for match, in 1st Rd.)




DOUBLES STAR

xx


JUNIOR BREAKOUT:

xx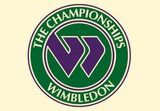 All for Day 8.0. More tonight.