To Be or Not to Be... Enshrined
Players don't commit to a life in tennis with the express goal of being inducted into the Hall of Fame.
It's an honor --
a gift, really
-- bestowed upon them years later, after their careers have been completed (
well, unless your name is Martina Hingis and you get enshrined and then say, "Psych! You THOUGHT I was retired -- but I fooled you!"
), when they can better process it, allowing them to appreciate that their career will be remembered by future generations, immortalized by this one final "championship run." At that moment, it will be apparent that all the sacrifices were worthwhile, and some may well wish that they could go back and re-live everything --
or at least the good parts
-- all over again.
But a day of celebration in Newport will have to suffice.
Well, again, unless you're Martina Hingis.


The Hall is filled with greats large and small. But which players, both current and retired, are the next to join their ranks? A consideration...



=COUNTING DOWN THE DAYS=


...will they go into the Hall of Fame? Actually, it'd probably be more appropriate to say when.


Justine Henin & Kim Clijsters, BEL/BEL (both retired)



...for a bit, it looked as if the two Waffles might just walk arm-in-arm into Newport in the same year, but since Henin's final retirement came in 2011, while Clijsters toughed it out for one more season despite embarking on her comeback from early retirement before her Belgian counterpart did the same, it'll be La Petit Taureau who'll make her way in the Hall of Fame before Barbie. Hmmm... does that count as a "final victory" in their career-long push-pull?


=============================




Lindsay Davenport, Mary Pierce & Conchita Martinez, USA/FRA/ESP (all retired)


...all three are amongst the Hall nominees for enshrinement next year, and it'd be no big surprise if all three are passed through (possibly along with Nick Bollettieri) in what would be a super-duper-sized class of former slam winners. At the very least, Davenport -- a former singles and doubles #1, with three singles and three doubles slam wins -- is a shoo-in to be inducted in her first year of eligibility.


=============================




Amelie Mauresmo, FRA (retired)


...by this time next year, the two-time slam champ and former #1 will surely be a HOF nominee. Soon after, she'll waltz through the doors in Newport as gracefully as she glided over the surface of the lawns at the All-England Club in 2006.


=============================




Esther Vergeer, GER (retired)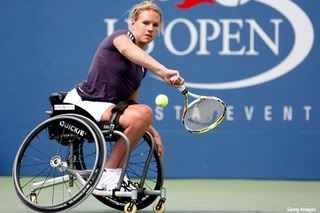 ...all the Wheelchair great -- the most dominant athlete in any sport over the past decade -- did was win twenty-one slam singles and, twenty-three slam doubles crowns, as well as four Paralympic Golds. She was ranked #1 for thirteen years, 668 weeks, and won 120 tournaments in a row during the astounding 470-match winning streak that ended only when she played her final match in 2012. Oh, and she won eighty-nine matches in a row BEFORE her last loss, making her 559-1 in her last 560. There are currently just two Wheelchair athletes in the Hall of Fame, sport founder Brad Parks (2010) and men's player Randy Snow (2012), but no women's WC athletes have yet to be inducted. Vergeer should be the first.


=============================





=THE ACTIVE "GIMMES"=


...Game. Set. Match.


Serena Williams, USA


...seventeen singles slams, thirteen doubles and two mixed doubles. Multiple Olympic Golds. The oldest singles #1 ever, and a holder of the top spot, by the time of the '14 Australian Open, for 170+ weeks. When she gets to 179 she'll move past HOFer Monica Seles for the fifth-most all-time. I could go on, but there's really no need.


=============================




Venus Williams, USA


...while her seven singles majors are less than half her sister's total, they've shared thirteen doubles slams, and Venus, too, has twice won in mixed doubles. Her four Olympics Golds are the most ever for a tennis player. The only real eyebrow-raiser in Venus' career is that she barely spent more weeks (just eleven) as the singles #1 as she did in doubles (eight), where she was a part-time player, at best.


=============================




Maria Sharapova, RUS


...the best of the Russians, and one of just three women in the last twenty-five years to put together a Career Grand Slam in singles. And, assuming her shoulder doesn't preclude it, she's not finished yet, either.


=============================





=THE "GIMMES": DOUBLES EDITION=


...they only cover half the court, but it's more than enough.


Lisa Raymond, USA



...with 137 weeks as the doubles #1, Raymond has held the position during her career for longer than all but three players. Six slam doubles and four mixed crowns, as well as the sixth-most overall doubles titles all-time on the WTA tour would seem to make the American a safe HOF pick. Earlier in her career, the two-time NCAA champion won four tour singles titles, too.


=============================




Cara Black, ZIM


...Zimbabwe's Black is one of the women with more weeks (163) than Raymond as the doubles #1, including a 33-consecutive month stretch second only to Martina Navratilova's forty-one. Fifty-seven tour doubles titles, including five doubles slam crowns and five mixed championships, as well, make Black one of the most accomplished doubles stars of the last twenty years. In her younger days, she was a fantastic junior -- she was #1 in 1997 -- and won a tour-level singles title in 2002.


=============================




Liezel Huber, USA (former RSA)


...only Navratilova has held the doubles #1 longer than the oft-disliked (by her peers) Huber, who has held the spot for 200 weeks, including thirty consecutive months in one stretch while partnering with Black. The South African-turned-American has won fifty-three tour titles, five doubles slams and two mixed.


=============================





=OPEN AND SHUT CASES?=


...for various reasons, they would seem to be safe reservations for a future weekend in Newport... umm, right?


Svetlana Kuznetsova, RUS


...Kuznetsova has been an enigma throughout her career, but it's hard to imagine a two-time slam winner with a sterling Fed Cup history for Russia being kept out of the Hall of Fame no matter what the rest of her career holds in store. Just a year ago, when Tennis Channel ranked the 100 best players of all time in the sport, Sveta was one of the relatively few active players to make the list. She came in at #92, ahead of Andy Roddick, a likely future inductee, and Michael Chang, who's already enshrined.


=============================




Li Na, CHN


...if the HOF was based solely on pure numbers, Li wouldn't stand a chance with seven singles crowns and just one slam win. But Li is so much more than the sum of her parts. No player active on tour today fits more snugly into the "Hall-worthy because of contributions to the game" subset than Li, as she (based on pure numbers that are in her favor this time) is the biggest WTA superstar in the world and the forerunner of the coming future generations of Chinese champions who will point to her as their idol and inspiration. That said, another slam win might just remove any "contributions asterisk" (*) that might be attached to her name upon induction.


=============================




Virginia Ruano Pascual & Paola Suarez, ESP/ARG (both retired)



...as a doubles duo, their case is pretty strong. Suarez held the #1 ranking for 87 weeks, while Ruano Pascual did the same for 65, including a 16-month run in 2004-05. As a team, they combined for eight slam crowns (VRP won two more with another partner, as well as a mixed slam). A dual entry into the HOF is not without precedence, as 14-time slam winners Gigi Fernandez & Natasha Zvereva entered as a doubles team in 2010. The answer here will now take a little while longer, though both retired years ago (VRP in '09, two years after Suarez), as Suarez briefly returned to the tour last year in order to play doubles for Argentina in the London Olympics.


=============================





=ARGUMENTS-R-US=


...one Hordette has her HOF supporters, while those of the other are a little more sparse. But should they be?


Elena Dementieva, RUS (retired)


...when she retired, the consensus was that she was the best player in the world without a slam title. Dementieva, who went from "Punch-Drunk" to "Punch-Sober" over the course of her career as she learned how to win, seems a borderline HOFer and will be a real test case for the many players of both the current era and her own who had wonderful careers but failed to break through the slam threshold in the Williams/Belgians Era. Two slam finals, contributions to multiple Russian Fed Cup championship teams and an Olympic Gold Medal in singles are the chips that the Russian will soon push to the middle of the table. We'll see if Newport accepts her offering.


=============================






Anastasia Myskina, RUS (retired)


...in many ways, Myskina seems to have as good as or a better HOF case than Dementieva based on some of her accomplishments and standing. The first Russian slam winner ('04 Roland Garros), The Czarina had multiple Top 10 seasons, was THE Russian Fed Cup leader and assumed the "mother" role amongst the Spartak Hordettes who broke through in the early 2000's.


=============================





=TIME IS ON THEIR SIDE...=


...not yet, but check back in a few years.


Victoria Azarenka, BLR


...a multiple grand slam winner, former #1 and burgeoning (only) rival for Serena, she might have accomplished enough to already at least be nominated for the Hall of Fame. The future looks bright, brighter and brightest for Vika.


=============================




Petra Kvitova, CZE


...the promise is still there for the Czech who burst through the slam bubble at Wimbledon in '11, was named WTA Player of the Year and reached #2 in '12. Things have been a bit -- to say the least -- up-and-down since then. In the end, her leading of the Czechs to (so far) two Fed Cup titles could work greatly in her favor when it comes to eventual (possible) enshrinement.


=============================





=ONE BRICK -- OR TWO -- SHY OF A FULL LOAD?=




Samantha Stosur, AUS


...much like Jana Novotna, a HOFer in '05 who was enshrined in her second year of eligibility, Stosur might have been able to make case for Newport on her doubles career alone. Well, that is, if she hadn't essentially abandoned it after 2007 in favor of her singles progress. Like Novotna, both reached #1 in doubles, won multiple mixed slams, and have a sole singles slam win to their credit. But the Czech's other numbers dwarf those of the Aussie: 24 singles titles to 5, 76 doubles crowns to 24 and 17 overall slam titles to 5. Both are known for their mental meltdowns and some big stage singles disappointments, but the overall breath of Novotna's versatile career was enough to get her over the hump. As of now, Stosur can't say the same. Another slam win (or two?) might do the trick, though.


=============================




Ana Ivanovic & Jelena Jankovic, SRB/SRB



...it's likely a both-or-neither case when it comes to the Serbs in the Hall of Fame. If neither ever get the last few pieces of the puzzle that would make their case a less than controversial one, they'll go down as a memorable two-headed near miss. Both reached #1, but only JJ finished a season there. Jankovic reached a slam final, while AnaIvo reached three and is the only Serbian woman to win one. But that was back in 2008, and her career has been a disappointment since then. Jankovic has actually been the more consistent threat, not to mention the most entertaining player on tour over the past decade. If only JJ could have led the Serbs to a Fed Cup title last year in what might have been her last best shot at a true "defining moment," her career-long series of FC highlights might have provided a basis for a discussion. Now, though, she'd likely have to put together an unexpected late-career surge to get back in the conversation.


=============================




Sara Errani & Roberta Vinci, ITA/ITA




...the Italians both reached -- or nearly so, as Vinci has been #11 -- the Top 10 in singles, but it's as a doubles duo that they might have a HOF (long) shot. Thing is, their accomplishments -- three slams and 16 overall tour titles -- are contained within a relatively small window. All their slams have come during the past two seasons, when they've held or shared the #1 doubles ranking since September '12. A few more years of dominance, and maybe three or four more slams, could be cause for them to have some hope to one day celebrate. Another Fed Cup title for Italy this month wouldn't hurt, either. Still, when Gigi Fernandez & Natasha Zvereva went into the Hall as a combo entry they had fourteen slam titles as a duo to form the foundation for such an arrangement. The Italians aren't likely to get anywhere near close to that number.


=============================




Flavia Pennetta, ITA


...I know, it seems a bit of a wild hair to put Pennetta in this category. But in reviewing her career, there might be enough to warrant a future nomination. For one, she's quite possibly the best Fed Cup player of the past decade. A member of three FC championship teams, Pennetta provided the clinching singles win in the final for Italy in both 2009 and '10. A grand slam doubles champion in 2011, the Italian held the #1 doubles ranking for eighteen weeks in 2011, the first Italian woman to do so. In 2009, she was also the first Italian to reach the singles Top 10. After coming back from wrist surgery, just this season at the U.S. Open, Pennetta reached her first slam singles semifinal. It also doesn't hurt that she's one of the most well-liked players of recent years, either. Of course, any legitimate HOF chance isn't likely... but wouldn't it be nice?


=============================





=THE HALL OF THE VERY GOOD=




Caroline Wozniacki, DEN


...she just tied Pam Shriver with the most tour singles titles (21) without having also won a slam. #1 for 67 weeks in 2010-12 and a U.S. Open runner-up in '09, Wozniacki doesn't have the doubles background to make up the difference ala HOFer Shriver. At 23, the Dane's still got time to make a better case... and up to thirty more tries, at least, to get a difference-making slam win on her career resume.


=============================




Daniela Hantuchova, SVK


...a Fed Cup stalwart, but with a thwarted singles career. She picked up a Career Grand Slam in mixed doubles, though.


=============================




Rennae Stubbs, AUS (retired)


...the Aussie won seven slams (5 doubles, 2 mixed), 60 titles (12th all-time) and briefly (3 weeks) held the #1 doubles ranking. Not on her side: Larisa Savchenko (Neiland) had nearly identical career numbers -- 2 doubles and four mixed slams, 66 titles and 4 weeks at #1 -- and isn't a HOF contender.


=============================




Katarina Srebotnik, SLO


...a former doubles #1, junior singles slam champ ('98 Wimbledon) and six-time slam winner (5 mixed & 1 doubles).


=============================




Dinara Safina, RUS (retired?)




...the longest-standing Russian in the #1 ranking (26 weeks to Sharapova's 21), she never won a slam and is best known for her very public implosions in three slam finals.


=============================




Francesca Schiavone, ITA


...she'll always have Paris, and a slew of great Fed Cup moments. It's not likely enough for Newport consideration, though.


=============================





=THEY'VE EARNED MANY HEARTS & MINDS, BUT NOT A WHIFF OF INTEREST FROM RHODE ISLAND=




Agnieszka Radwanska, POL:

who's more fun to watch play than Aga? Of course, the voters will pay later for saying it's not enough.


Ai Sugiyama, JPN (retired):

the best Japanese player ever? A four-time doubles/mixed slam winner, and a former doubles #1.


Vera Zvonareva, RUS:

with a '14 return on the docket, another of the Original Hordettes might still yet have something left to prove


Patty Schnyder, SUI (retired):

Sneaky Patty should be in the Hall of Something


Marion Bartoli, FRA (retired):

at least she saved the best for last


Zheng Jie, CHN:

an early groundbreaker, but Li would be chosen as the "flagbearer" for Chinese tennis


Kimiko Date-Krumm, JPN:

just on longevity alone, she deserves at miniature plaque, don't you think? I mean, she reached her first slam SF when many of today's young stars were still in diapers. Literally.


Sania Mirza, IND:

the best female player from India. Ever.

And, finally...



=AN OVERDUE CASE FOR...=




Helena Sukova, TCH/CZE



...while it's par for the course to debate the Hall of Fame potential of current or recently retired players, how about doing so for one who retired fifteen years ago but whose career has sort of gotten lost in the shuffle in the intervening decade and a half? I'm talking about Helena Sukova.

Playing in an era that included Navratilova, Evert and also Graf, the Czech still managed to have one of the most undervalued careers ever. From 1983-98, she reached four slam singles finals (losing one each to Martina and Chris, and twice to Steffi), claimed nine slam doubles titles and five more in mixed. In doubles, Sukova was ranked #1 for 68 weeks (9th all-time) and finished as the year-end #1 twice, winning 69 titles (8th) and two Olympic Silvers. Against heavy competition, she won ten career singles titles and rose to as high of #4 Throw in her membership on four Fed Cup title-winning teams for Czechoslovakia and you've got quite a case that can be made for her enshrinement.

Oh, but that's not all. In the Australian Open in 1984, Sukova ended Navratilova's 74-match winning streak, dashing Martina's chances for a "true Grand Slam" (the AO was the fourth slam of the year and held in December at that time) despite her having won six consecutive slam titles. Then, in 1987 at Eastbourne, Sukova ended another mammoth Navratilova streak -- a 69-match grass court run. She even defeated Evert in that same event.

In 2006, at 41, Sukova was granted a wild card into the Mixed draw at Wimbledon along with her brother Cyril. They didn't win their 1st Round match, but it says something of the regard in which Sukova family (mother Vera also played on tour, and was RU at Wimbledon in '62) was held that the siblings were granted such a request by the All-England Club. Still, though, Sukova sits on the outside looking in when it comes to Newport.

Granted, when you think of the greatest Czech-born tennis stars Sukova's name doesn't come up until you're at least five or six spots down the list, at least. But she can't help her great national tennis heritage, which just recently added another name to its Roll of Champions in Petra Kvitova. Kvitova might someday arrive in Newport as an honored guest, and it'd be nice if Sukova had already walked down the same path by then.

But that's just me.





All for now.