Wk.16- The Thrill of Fed Cup Victory, and the Agony of Short-Sightedness
When you see Aga being tossed into the air, you know it must be Fed Cup weekend.


When Germans are dancing, you know that Petko can't be far away.




When Dutch women are dousing Paul Haarhuis with alcohol... you think, "Oh, so that's what's happened to him since he lost to Jimmy Connors at the Open in 1991."




When Anastasia the Great is hand-slapping Hordettes, you know the Russian Fed Cup winter must finally be over.




And, last but not least, when Petra Kvitova is smiling and flashing victory signs...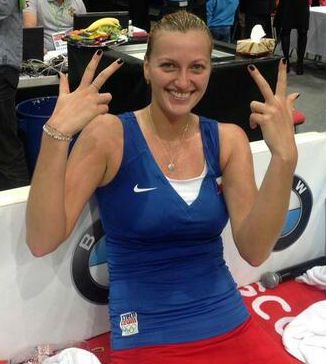 Once again, it just HAS to be Fed Cup weekend. Well, either that or it's early July in 2011. But in this case, yes, it most definitely WAS a Fed Cup weekend.



*WEEK 16*



=Semifinals=


Germany def. Australia (H) 3-1
Czech Republic (H) def. Italy 4-0


=World Group Playoffs=


Russia (H) def. Argentina 4-0
Canada (H) def. Slovak Republic 3-1
France def. United States (H) 3-2
Poland def. Spain (H) 3-2


=World Group II Playoffs=


Romania (H) def. Serbia 4-1
Netherlands (H) def. Japan 3-2
Switzerland def. Brazil (H) 4-1
Sweden (H) def. Thailand 4-0


=Europe/Africa II Promotion Finals (at Lithuania)=


Liechtenstein def. Bosnia & Herzegovina 2-0
Georgia def. Finland 2-1
KUALA LUMPUR, MALAYSIA (Int'l $250K/HCO)
S:

Donna Vekic/CRO def. Dominika Cibulkova/SVK 5-7/7-5/7-6(4)


D:

Babos/Chan Hao-Ching (HUN/TPE) d. Chan Yung-Jan/Zheng Saisai (TPE/CHN) 6-3/6-4

[Semifinal MVPs]
Angelique Kerber/GER [overall P.O.W.]
...in February, I gave the Fed Cup Player of the Week to Andrea Petkovic, although Kerber actually won two matches to Petko's one against the Slovak Republic. This time, Angie gets the barbecue. Again, Petkovic led off Germany's tie with Australia with a victory over Sam Stosur, but it was the way that Kerber, save for one set, destroyed her two opponents the rest of the weekend that couldn't help but leave everyone in awe. Against poor Casey Dellacqua, Kerber won 6-1/6-0 and fired thirty-one winners. On Sunday, with a 0-2 head-to-head mark vs. Stosur staring her in the face, all the German did after dropping the 1st set against an aggressive Sam was take the match (and Stosur) by the neck and drag Germany over the finish line. She won 4-6/6-0/6-4, sending Stosur to 0-2 for the tie although she really didn't play that badly at all. Kerber just was not to be denied. Again. Germany is in its first FC final since 1992, and don't think that the Czechs are going to easily coast to another crown. As long as this sometimes-injury prone German team can stay healthy into November, it just might do one better than simply REACHING the first Fed Cup final since the Graf era.


=============================




Petra Kvitova/CZE




...for once, Kvitova looked confident, fit and healthy for an entire event. Sure, it was only two days long, but so what. Kvitova re-assumed her lead role on the Czech team, going 2-0 to run her career FC singles mark to 21-6. On Saturday, she dispatched Camila Giorgi (in for Roberta Vinci) 2 & 2, then on Sunday she did the same to Vinci (in for Sara Errani, whose 0-6 mark vs. Kvitova was far worse than RV's 2-1) by the tune of 3 & 5, closing the door every time the Italian vet threatened to put a little drama into the match and prevent Kvitova from clinching the tie. She wasn't successful, as Kvitova saved nine break points in her first four service games. Thus, the Czechs are heading back to the FC final for the third time in four years.


=============================





[WORLD GROUP PLAYOFFS MVPs]




Ekaterina Makarova/RUS


...the weekend before the start of the Sochi Olympics in February, Makarova won a tour singles title in Pattaya. This weekend, the Hordette was actually IN Sochi helping the Russians avoid falling down into World Group II in 2015 after dropping two consecutive ties after a dispute between the players and the Russian Federation left the FC roster absent any experienced players in last year's final and in the '14 1st Round. Playing on indoor red clay, Makarova swept both her singles matches over Argentina's Paula Ormaechea and Maria Irigoyen in straight sets. The two wins equal Makarova's previous total of career FC singles wins. She's now 4-2.




=============================




Eugenie Bouchard/CAN


...the Canadian resurgence is being led by the 20-year old Bouchard, and she's finding ways to stay on her feet even as the spotlight continues to get brighter and brighter. Back home in Quebec, with the Genie Army at full force, Bouchard went 2-0 in singles to put the finishing touches on Canada's win over the Slovaks. Not that it was easy. In her first match, Kristina Kucova led 3-0 in the 1st and served at 5-4, holding four set points. But Bouchard forced a tie-break, took it at love, then won in three after Kucova had claimed the 2nd. On Sunday, Jana Cepelova served at 5-3 in the 1st and held a set point at 6-5, but Bouchard took another tie-break and won in straight sets.


=============================




Caroline Garcia/FRA



...whew! Garcia's weekend, were it not for the primacy of the semifinals, was more than enough for her to be in contention for overall P.O.W., not just one of the MVP awards. Hot off her title run in Bogota, Garcia was often scalding in St.Louis against Team USA. She destroyed Sloane Stephens to start things off, showing zero signs of nerves in what was her FC debut, then threw the French team a huge life vest after Alize Cornet's injury and Virginie Razzano's replacement loss, downing Madison Keys in 1:09 and sending things to the doubles. There, teamed with the far-more-veteran, but also-far-more-nervous, Razzano it was Garcia that provided the glue for the effort, constantly turning back any threat provided by Keys/Stephens, even after they'd come back from a double-break down in the 2nd set to edge into the lead. The Pastries won 6-2/7-5 to stay in the World Group for 2015, and they have Garcia and her three wins in the 3-2 victory to thank for it. Well, that and captain

Amelie Mauresmo

's continued ability to pick versatile rosters, convince players (remember, she even got Bartoli to reach an agreement to play last year) to sign up, and read their psyches well enough to place them into the best game day positions to win. Considering the obstacles and situations that Mauresmo has had to maneuver around this year, it's hard to imagine a team captain doing a better job than she has in 2014.


=============================




Agnieszka Radwanska/POL


...all hail, Aga. The Polish Queen of Fed Cup. Really, Radwanska IS Polish FC tennis, and she proved it all over against this weekend in Barcelona. While she went 2-0 in singles, allowing a total of nine games to Silvia Soler-Espinosa and Maria-Teresa Torro-Flor and running her FC winning streak to fourteen matches, her sister Ula went 0-2 against the same two Spaniards. U-Rad won her first set against MTTF, but then won just five games in her other four sets of play, as she's still obviously not yet fully recovered from the shoulder surgery that ended her '13 season early and delayed her '14 campaign. With Poland's place in the 2015 World Group at stake, Aga was called upon to add to her two singles points with another in doubles for the Poles to survive. This was the fourth time in Poland's last five ties that this scenario has occurred, as no Fed Cup team is more of a one-woman show than the one that stars A-Rad. Still, for the fourth time in four tries, Radwanska pulled it off, this time joining with Alicja Rosolska to defeat Anabel Medina-Garrigues and Soler-Espinosa 6-4/6-2 to give Poland the win and advance to next year's final eight. Aga now has a combined forty-one career FC singles & doubles match wins -- and she's only 25.


=============================





[WORLD GROUP II PLAYOFFS MVPs]




Sorana Cirstea/ROU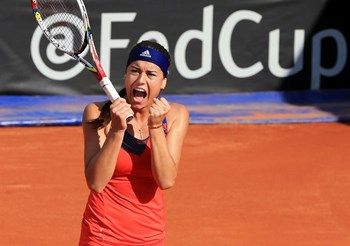 ...Simona Halep is still the Pride of Romania, but it was Cirstea who was called upon to carry the flag in the WG II Playoff with Serbia. Opening things with a spectacular 3-6/6-1/6-2 win over best friend Ana Ivanovic, the Swarmette would go on to be the star of the weekend in Bucharest. After Halep finished off an interrupted Day 1 match with Bojana Jovanovski with a victory, but then lost in the contest with AnaIvo that immediately followed, Cirstea was left with the task of also defeating BoJo in order to send Romania to 2015's WG II, setting the stage for a potential run at a FC title in 2016. Her match with Jovanovski was a wild affair, as the Romanian led 6-3/5-2, but failed to convert three MP (DF-ing on one) before being forced to a tie-break, which the Serb won 9-7. Cirstea eventually pulled away in the 3rd, converting MP #6 to end the two and a half hour match and clinch the latest Romanian triumph.


=============================




Kiki Bertens/NED


...the Dutch-hosted tie with Japan figured to be a nip-and-tuck affair. It was, but if not for Bertens it might have been even closer. Her three-hour match #3 win over Kurumi Nara gave the Netherlands a 2-1 lead that was never relinquished. In the Nara match, Bertens overcame a 3-1 3rd set deficit, winning the final set at 9-7 on her fifth match point. She's now 14-1 in her Fed Cup career, including a spotless 8-0 in singles.


=============================




Timea Bacsinszky/SUI


...The Kid, aka Belinda Bencic, was the focus of conversation before Switzerland's tie with Brazil, but it was 24-year old Bacsinszky who kept the Swiss team from falling back into zone play for 2015, opening play with a straight sets win over Brazilian #1 Teliana Pereira (who'd come back to defeat Bencic on Sunday) and then clinching the tie with a win over Paula Cristina Goncalves that prevented things from going to the deciding doubles.


=============================




Johanna Larsson/SWE


...Sofia Arvidsson is into the 50's when it comes to FC ties in which she's participated in, but Larsson is no neophyte. She has nearly forty ties to her credit, and she's currently the only Top 100 player representing Sweden. She provided two of the Swedes' three singles win in their 4-0 win over Thailand, clinching the tie with a win on Sunday over Luksika Kumkhum one day after Arvidsson had sullied the Thai's previously-undefeated career FC record.


=============================





[Zone Play MVPs]




Stephanie Vogt/LIE


...Vogt, 24, is the best player in the history of Liechtenstein tennis, so it's fitting that she's the player to lead her tiny nation out of Zone II action for the very first time. She went 6-1 in pool and promotional playoff singles & doubles action in Europe/Africa II zone competition, notching the clinching 6-3/6-1 win over Bosnian revelation Jasmina Tinjic to secure her team's 2-0 promotional playoff victory.


=============================




Sofia Shapatava/GEO


...it's hard to say there was a better player in zone play last week than the 25-year old Georgian. After all, she never lost any of her seven singles and doubles matches. And Georgia needed them all. The squad squeaked out of pool play, and had to go to a deciding doubles match against Finland in order to win the promotional playoff. Shapatava teamed with Oksana Kalashnikova for that decisive win.


=============================





[RISERS]




Kurumi Nara/JPN


...2014 Rio champ Nara is this year's Fed Cup Hard Luck Award winner. In February, she unsuccessfully battled Argentina's Maria Irigoyen on the road in a match that might have tipped the tie in Japan's favor had Nara been able to escape with the win. In match #3 vs. the Dutch in the Netherlands, Nara again did battle in a match that might have tipped the tie to the Japanese side. With the nations tied at 1-1, as Nara had opened play with a three-set win over Arantxa Rus, the 22-year old took NED #1 Kiki Bertens to three sets, as well. In the 3:00 match, Nara actually led 3-1 in the 3rd before Bertens caught her and then won on her fifth match point.


=============================




Elena Vesnina/RUS


...maybe the Russian Federation's dispute with the players ended behind closed doors, or possibly it was Anastasia Myskina fully assuming team captain duties that was key. Or maybe it's not really over, and this face-saving tie win is just an aberration and the return of "C"-team squads will be in store in 2015. It could be that Vesnina was in action this weekend because Sochi is her home town, too. Whatever the case, the Russian, who had just one career FC singles win before this weekend, arguably put up the top single victory of the tie when she opened Day 1 by taking out Paula Ormaechea 6-3/6-3, putting the Argentine in her place despite her 11-1 record in her previous twelve FC matches.


=============================





[FRESH FACES]




Madison Keys/USA


...Keys was a lost soul in her FC debut vs. Italy in February, left to twist in the wind by U.S. captain Mary Joe Fernandez. After Sloane Stephens lost to Caroline Garcia to open the tie with France on Saturday, it was easy to think that Keys would do the same against Alize Cornet. She often played well, showing power and shot-making ability, but also an inconsistency and lack of a game plan that prevented her from holding onto any sort of advantage. But, sometimes, just not giving up is enough. Keys never did against Cornet, even as the Pastry was serving at 7-6/5-4. Eventually, Cornet's thigh injury slowed her down, and Keys kept enough of her powerful shots in the court to seize control of the match, twice going up a double-break (Cornet cut that lead in half both times) and win the 3:00 contest, knotting the tie and knocking Cornet out of action for Day 2. Heck, a case could be made that Keys even inspired Sloane Stephens to put up a decent effort and notch her first career FC win. THAT might be her biggest accomplishment of the weekend, actually. In the end, though, Keys was totally outclassed by Garcia in match #4, then her doubles inexperience showed in the deciding match with Stephens vs. Garcia and Virginie Razzano. Still, the small glimpse of Future Madison was enticing. It'll likely even be enough to keep MJF in place as the American captain for years. Not that that's necessarily a good thing, mind you.


=============================




Belinda Bencic/SUI


...17-year old Bencic wasn't THE star of the Swiss team this time around, but she played her role, winning match #2 over Brazil's Paula Cristina Goncalves to give Switzerland a 2-0 lead on Day 1. She lost on Sunday to Teliana Pereira, but Timea Bacsinszky picked up the slack and clinched the WG II Playoff win one match later. Bencic returned to play the "dead" doubles rubber, joining with Viktorija Golubic to push the final Swiss victory margin to 4-1 and run her career FC record to 5-3.


=============================





[SURPRISES]




Jasmina Tinjic/BIH & Team Bosnia/Herzegovina


...no one would have ever guessed that 23-year old Tinjic and the Bosnia/Herzegovina team would be the surprise revelations of Europe/Africa II zone play action. She notched two pool singles victories during the week, including an important one over RSA's Chanel Simmonds in Bosnia's 2-1 win over South Africa on Day 1 of action. That Bosnian win was the difference between one nation advancing to the promotional playoff instead of the other. Ultimately, Bosnia/Herzegovina lost to Liechenstein, but Tinjic took her place as the likely heir to the team leader role formerly held by Mervana Jugic-Salkic.


=============================






Alicja Rosolska/POL

...you sort of get the feeling that it doesn't really matter which player might get teamed with Aga Radwanska in a deciding Fed Cup doubles match. They'll win just because of the overwhelming drive of her artistic, but driven partner. Well, for the second time in 2014, after a win over Sweden's Arvidsson/Larrson in February, it was Rosolska who teamed with A-Rad to carry Poland to victory, as the pair took out Anabel Medina-Garrigues & Silvia Soler-Espinosa to finish off a 3-2 defeat of Spain.


=============================





[VETERANS]




Lucie Safarova/CZE


...two years ago, it was Safarova who starred rather than the ill Petra Kvitova on the Czech Republic's successful FC final weekend. She only played one match in Ostrava, but her 6-4/6-1 first match win over Sara Errani knocked the already-lacking-confidence Team Italia off-kilter so much that it never recovered. The Italians were scrambling before a single ball was struck, fretting about the Czech advantage on indoor hard court in an arena where they'd beaten the Italians in the past. From the start, Roberta Vinci was subbed for on Day 1 by Camila Giori, presumably on a hunch that didn't pan out. When the "maybe" win over Safarova didn't come, since the Italians (rightly) seemed to think they had no chance against a healthy Kvitova under the roof, they threw their hands up. Vinci was suddenly brought in to face Kvitova on Day 2 after she wasn't allowed to do so on Day 1. That didn't work, either. Credit Safarova, mistress of shattered Italian dreams, for the wonderful mess that fell fully in the Czechs' favor.


=============================




Aleksandra Wozniak/CAN



...Wozniak is the top Fed Cup player in Canadian history, and she added a chapter to her under-the-radar legacy in the World Group Playoff against the Slovak Republic in Quebec City. In the opening singles match against Jana Cepelova, A-Woz overcame a 6-4/5-2 deficit with the young Slovak serving at 5-3, then did it again when Cepelova served at 5-3 in the 3rd set, getting to within two points of victory. When Kristina Kucova pushed Eugenie Bouchard to three sets in match #2 (Genie eventually won) it was clear just how important Wozniak's win actually was.


=============================





[COMEBACKS]




Andrea Petkovic/GER


...after providing the tone-setting match #1 win over Dominika Cibulkova (back from MP) against the Slovaks in February, German Secret Weapon Petkovic did the same in Brisbane against Sam Stosur. She was on top of the Aussie from the start, jumping her like a mugger in an alley, knocking her over the head and carrying off a 6-1 1st set before Stosur knew what hit her. She recovered in time to take a 5-3 lead in the 2nd, and served for the set at 5-4. But one moment of hesitation -- a DF at 30/15 -- and Petkovic was all over her again. It ultimately took Petko five match points to finally claim the match, with the potential that her nerves could get to her in the 3rd if it came to that surely playing on her mind. She didn't let it deviate her from her comeback course, though. With two starring Fed Cup roles and a Charleston title in her pocket, everyone is starting to remember just how exciting a presence the German was on tour a few seasons ago. Let's hope her body stays healthy enough for her to climb all the way back up to where she was back in 2011 before her career was so rudely interrupted.


=============================




Sloane Stephens/USA


...yeah, maybe this is a BIT of a stretch. After all, the listless Current Sloane WAS in attendance in St.Louis on Saturday in her loss to Carolina Garcia in the U.S.'s World Group Playoff match-up with France. But after Madison Keys' stick-with-it win over Alize Cornet, and the resulting thigh injury that kept the Pastry out of her scheduled match on Day 2 with Stephens, the American was finally chagrined enough to put up a good effort to give the Bannerettes at 2-1 lead with a victory over replacement Pastry Virginie Razzano. Okay, maybe Current Sloane wasn't so embarrassed by Keys' victory -- after all, the recent success of the likes of the younger Bouchard, Garcia, Svitolina and now Vekic hasn't seemed to make a difference with her on-court drive to strive -- that she played like Future Sloane to save face, but the win WAS her first career FC victory. One is more than zero. Progress. Or close enough. Being placed into the deciding doubles match with Keys -- two players with no real experience, though Stephens was a good doubles player as a junior -- by U.S. coach Mary Joe Fernandez was never going to be a favorable situation, so that the pair came back from two breaks down in the 2nd against Garcia and Razzano to briefly take the lead, only to lose in straight sets, has to be looked at as neither a good or bad effort. It's basically a wash. Still, Stephens left St.Louis with SOMETHING good on her resume, and I can't say that I was really expecting that.


=============================




Arantxa Rus/NED


...Rus has had her share of troubles over the last couple of seasons on the WTA tour -- she's yet to record a main draw win in '14 after suffering through a similar 17-match such streak from 2012-13 -- but she's played just fine in Fed Cup action. She opened the Netherlands' tie with Japan with a three-set loss to Kurumi Nara, but she redeemed herself on Sunday by getting the clinching point in a straight sets win over Misaki Doi.


=============================




Emma Laine/FIN


...the 28-year undertook the role of player/captain for the Fin team in Europe/Africa II zone action, and she very nearly put the team on her back all the way to promotion. The all-time Fin leader in FC wins (30+ singles victories in 40 ties), Laine hadn't played a Fed Cup match in two years and came in ranked barely in the WTA Top 1000. Still, she went 5-1 in singles & doubles in pool play and got Finland to within the deciding doubles of winning the promotional playoff against Georgia.


=============================





[DOWN]




Team SRB


...I'm tempted to say that the Serbs deserve what they get for failing to include Serbian Good Luck Charm Aleksandra Krunic on the roster. Although, since the tie never actually came down to the deciding doubles, the faux pas wasn't nearly as egregious as Mary Joe Fernandez not including an experienced doubles player on the U.S. roster, eventually ensuring defeat. Still, it's something of a karmic victory that ever since the Serbs started to throw anyone and everyone with "SRB" by their name onto FC rosters instead of (now-only-added-to-the-roster-if-multiple-players-get-injured) Krunic, who participated in a series of successful deciding doubles matches during the team's climb to the 2012 Fed Cup final, Serbia has yet to win a single tie. The 4-1 loss to Romania in the World Group II Playoffs gives Team Serbia five straight tie defeats, and the return to zone play in '15 is now complete as even the addition of AnaIvo to the roster this weekend wasn't enough to turn the tide of what became a 4-1 defeat. Serves them right.


=============================




Mary Joe Fernandez


...oh, MJF isn't going anywhere as the U.S. FC team captain, but once again her maneuvers on a Fed Cup weekend left much to be desired. You can't judge a FC (or any other) captain/coach by what happens when a team includes someone, like, say Serena Williams. It's when the team doesn't have a virtual nuclear weapon at its disposal that you can see whether or not any real decision-making is taking place. Whether it be sudden stars on the other side of the net (Karin Knapp, Caroline Garcia) or injuries (to Serena Williams, Varvara Lepchenko, Bethanie Mattek-Sands, etc.), MJF always seems to have a ready reason to get her off the hook for the U.S.'s continued Fed Cup failures. But, unlike with the woeful U.S. men's Davis Cup team, Fernandez has a deep and/or young pool of players to build a roster from these days. Still, MJF can't get anything accomplished unless the Williams Sisters put the team on their backs and carry it over the finish line. While the U.S. losing effort in the World Group Playoff vs. France in St.Louis wasn't the same disaster on the court that the one in Cleveland vs. Italy was in February, the glaring holes in MJF's captaincy were just as apparent. Two months ago, she threw her young roster members to the sharks and watched them drown, not putting more stable players into action (or, in the case of Lepchenko that particular week, even including her on the 1st Round roster) who'd have a better chance of winning until it was too late. This weekend, she got more than a little lucky, as the French team was without doubles star Kristina Mladenovic, and then Alize Cornet's injury led to one French loss on Saturday, and arguably another on Sunday when Virginie Razzano was a late singles replacement. Still, it wasn't enough, as French captain Amelie Mauresmo -- with one and half hands tied behind her back -- was still able to put together a more competent doubles duo from her decimated roster than MJF was from her's, which didn't include a single doubles player, even with doubles specialists such as Liezel Huber, Lisa Raymond, Raquel Kops-Jones, Abigail Spears and (the perfect singles/doubles combo player/vet, if versatility was an issue) Vania King (who just reached the singles SF and doubles final in Bogota) all sporting American credentials. As it was, roster members Christina McHale and Lauren Davis served as mere uniform-clad, not-particularly-vocal cheerleaders next to the posing-for-Mount-Rushmore visage provided by MJF. Oh, and speaking of Mauresmo, the contrast between the two captains on the sidelines couldn't have been greater. While Mauresmo constantly encouraged her charges, firing them up and spurring them on (sort of a pre-requisite in FC settings, right?), MJF usually sat stoically watching the action, looking as if she was solving some complex quadratic equation in her head while, say, Sloane Stephens was running the U.S. effort into a ditch in match #1 on Saturday. But, as I said, MJF got lucky thanks to Cornet's injury, and she should give Keys a big hug for making her look good, even if the young Bannerette's best move was just to not give up on herself when it looked as if Cornet was going to run away with match #2. What could have been a shutout loss turned into a near-victory that looks better on paper than it was in reality. But the Tennis Reaper got Fernandez in the end, thanks to the poor roster-building skills (either hers or those of other Powers That Be) that failed to provide ANY clear option if things went to the deciding doubles. I'm glad the American team lost... aside from anything that actually happened between the lines of the court, the U.S. didn't deserve to win. Being short-sighted shouldn't be rewarded.


=============================




Team SVK


...no Cibulkova. No Hantuchova. No fun. Although, it should be noted that new Team SVK leader Jana Cepelova, the Charleston runner-up a few weeks ago, DID manage to follow in her veteran countrywomen's footsteps, considering their fumbled tie vs. Germany in February and blown 2-0 semifinal lead over the Russians last year. So the vets were in Quebec City in spirit, I guess. On Day 1 against Aleksandra Wozniak, Cepelova led 6-4/5-2 and served at 5-3, only to be forced to a 3rd set, then led 3-1 and served at 5-3 in the 3rd set, only to lose despite coming within two points of victory. On Day 2, Cepelova led Genie Bouchard 5-3 in the 1st, and held a set point at 6-5. She lost in straight sets. Yeah, I know I could have given Cepelova the "DOWN" designation rather than the entire Slovak team, which on the whole played fairly well. Kristina Kucova pushed Bouchard on Sunday, and the doubles team of Janette Husarova and Anna Schmiedlova got a win in the "dead" doubles rubber over Gabriela Dabrowski and Sharon Fichman. I COULD have done that. But, really, after her run in Charleston, I just didn't have the heart to come down hard on Cepelova, who really shouldn't have been forced to carry such a big load ALONE (hmmm... that's become a pattern with her, hasn't it?) less than a year after a filled-with-talent Slovak team was THIS CLOSE to reaching the final.


=============================




Chanel Simmonds/RSA


...there were seemingly four top teams in Europe/Africa II zone pool play, and three of them advanced to the promotional playoff round. The only one that didn't was South Africa. Simmonds, the third highest-ranked player in last week's pool play, put up a combined 1-4 record in singles & doubles (w/ the win coming via a retirement) in pool action that played the monster role in the poor end result. As it turned out, the South African team was behind the eight ball right from the start, dropping its opening tie of pool play against Bosnia & Herzegovina when Simmonds and vet Natalie Grandin lost the deciding doubles match to Jasmina Tinjic (who'd also beaten Simmonds in singles) and Anita Husaric. Simmonds finally got an actual win in the relegation playoff, but all it did was help RSA finish in 5th place in the zone.


=============================





WTA PLAYER OF THE WEEK:

Donna Vekic/CRO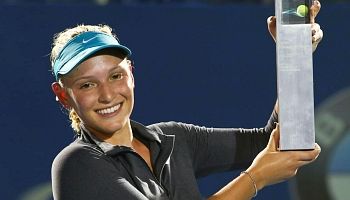 ...as it turned out, Vekic's third trip to a WTA singles final was the charm. In a week that saw the Croat face off against rain delays and having to come back from a set down on three occasions -- vs. Chan Yung-Jan, Kristyna Pliskova and Zhang Shuai -- just to get into the final, Vekic had a whole different set of problems once she got their against Dominika Cibulkova. Looking to grab her first career title, as well as notch the first Top 10 (and Top 20) win of her career, Vekic took a 4-2 1st set led, only to drop the set and then fall behind 7-5/5-4. She turned things around, winning seven straight games to claim the 2nd and go up 4-0, then 5-1, in the 3rd. She held four match points at 5-2, but Cibulkova, as she is wont to do in 2014, refused to give up and got the match into a deciding tie-break. Vekic finally won the 2:51 match on her seventh MP, becoming the fifth maiden WTA singles champ this season and the youngest -- at 17 years and just under 11 months -- on tour since Vania King won in Bangkok in 2006 at 17 years, eight and a half months of age. So, add another name to the suddenly growing list of 21-and-under players not named Sloane who are picking up tour singles titles. Vekic is on her way up and ready to make a name for herself... even if a Tennis Channel graphic on Sunday asked whether or not she "The Next SERBIAN Star."


=============================




RISER:

Timea Babos/HUN


...move over Kristina Mladenovic? Babos, too, is a young former junior singles star who has put up much greater results in doubles in the early stages of her WTA career. The Hungarian grabbed the Kuala Lumpur doubles title with Chan Hao-Ching, her second title of '14 and her seventh -- with six different partners -- over a stretch of less than two years. Babos has yet to crack the Top 20 in doubles, but she surely looks on track to do so in the near future.


=============================




SURPRISES:

Cagla Buyukakcay/TUR, Chan Hao-Ching/TPE and Chan Yung-Jan/TPE


...24-year old Buyukakcay, after advancing past Kimiko Date-Krumm (retired) and Tadeja Majeric in Kuala Lumpur, became the first Turk to reach a tour singles quarterfinal. Meanwhile, the Chan sisters performing well on the doubles court isn't a surprise, as both are accomplished players. That they both played in the Kuala Lumpur final isn't a shock, either. After all, they won a WTA crown together in Shenzhen last year and combined to reach the Charleston final just a few weeks ago. What is a surprise is that after reaching six professional doubles finals as an all-sister duo, their berths in the final this weekend in Malaysia marked the first time they'd faced off AGAINST each other on such an occasion. Hao-Ching & Timea Babos defeated Yung-Jan and Zheng Saisai in straight sets, with the younger sister grabbing career WTA title #3. Oh, well... at least now the Chans will surely how have something different to talk about.


=============================




FRESH FACE:

Zarina Diyas/KAZ


...the 20-year old Kazakh reached her first tour QF in two years in Kuala Lumpur, where she took the opening set and pushed Dominika Cibulkova. The Slovak saved twenty of the twenty-six break points Diyas held on her serve, winning in three sets. Diyas has been making steady progress in 2014, having recently climbed into the Top 100 and this seek setting a new career-high ranking of #85. She previously notched wins over Camila Giorgi, Marina Erakovic and Aleksandra Krunic this season.


=============================




ITF PLAYER:

Grace Min/USA


...Min, 19, defeated fellow American teen Vicky Duval, 18, to claim the $50K challenger in Dothan, Alabama. Min got wins over Heidi El Tabakh, Veronica Cepede Royg and Allie Kiick to reach final, and the 6-3/6-1 win over Duval gives her five career ITF singles crowns.


=============================




JUNIOR STARS:

Kristina Schmiedlova/SVK & Katarina Jokic/SRB


...while Anna Schmiedlova was getting a FC doubles win in Quebec City, and the Serbs were losing in Bucharest, these two were in Florence, Italy looking to grab a Grade 2 junior crown that will be decided on the red clay on Monday. Schmiedlova, 16, is the #10-ranked junior and the #1-seed at the event. She enters the final at 13-1 on the season in junior action, with a ten-match winning streak that includes a win over Jokic in a Grade 1 final in Umag. Jokic, also 16, is the #2 seed and #65-ranked girl. She arrives in the final riding a nine-match overall winning streak that includes a $10K challenger title in Croatia two weeks ago.


Note:

Jokic defeated Schmiedlova in the final.


=============================






1. KL Final - Vekic d. Cibulkova
...5-7/7-5/7-6(4). Cibulkova erased a 4-2 1st set deficit to grab the lead, but then saw her own 7-5/5-4 lead get reversed by the Croat. In the 3rd, it was Vekic's turn to lose a lead, as Cibulkova came back from 5-1 and 4 MP down to force a tie-break. Vekic's win means that fourteen different nations have produced singles champions in the WTA's first twenty events.


=============================


2. KL QF - Cibulkova d. Diyas
...4-6/6-2/6-4. Cepelova could have used a few of those twenty break points that Cibulkova saved here.


=============================






1. KL SF - Cibukova d. Karolina Pliskova
...6-7(3)/6-3/6-3. En route to the final, Cibulkova twice had to come back from a set down, including here against defending champion Pliskova. Still, her 24 match wins lead the tour this season.


=============================


2. KL 2nd Rd. - Vekic d. Kristyna Pliskova
...1-6/6-3/7-5. Apparently, dropping the 1st set to a Czech sibling was the way to reach the final.


=============================


3. KL Doubles Final - Babos/Chan Hao-Ching d. Chan Yung-Jan/Zheng Saisai
...6-3/6-4. It was the best of times. It was the worst of times.


=============================








**2015 FED CUP**




=World Group=


Australia
Canada
Czech Republic
France
Germany
Italy
Poland
Russia


=World Group II=


Argentina
Netherlands
Romania
Slovak Republic
Spain
Sweden
Switzerland
United States



**18 or under WTA TITLES SINCE 2007**


5...Caroline Wozniacki, DEN (2008-09)
2...Anastasia Pavlyuchenkova, RUS (2010-11)
2...Agnieszka Radwanska, POL (2007)
2...Agnes Szavay, HUN (2008)
1...Timea Babos, HUN (2012)
1...Sorana Cirstea, ROU (2008)
1...Alize Cornet, FRA (2008)
1...Petra Kvitova, CZE (2009)
1...Elina Svitolina, UKR (2013)
1...DONNA VEKIC, CRO (2014)
--
NOTE: Vania King (17) in Bangkok '06 was last under-18 before Vekic



**YOUNGEST 2014 CHAMPIONS**


17...DONNA VEKIC, CRO (KUALA LUMPUR)
20...Caroline Garcia, FRA (Bogota)
20...Garbine Muguruza, ESP (Hobart)
22...Simona Halep, ROU (Doha)
22...Kurumi Nara, JPN (Rio)
22...Anastasia Pavlyuchenkova, RUS (Paris)



**2014 WTA FINALS**


3...Li Na, CHN (2-1)
3...DOMINIKA CIBULKOVA, SVK (1-2)
3...Klara Koukalova, CZE (1-2)



**2014 - DEFEATED #1 SEED, WON TITLE**


Paris - A.Pavlyuchenkova (SF-Sharapova)
Rio - Kurumi Nara (F-Zakopalova)
Florianopolis - Klara Zakopalova (SF-Suarez-Navarro)
Indian Wells - Flavia Pennetta (SF-Li)
Katowice - Alize Cornet (SF-A.Radwanska)
Bogota - Caroline Garcia (F-Jankovic)
Kuala Lumpur - DONNA VEKIC (F-Cibulkova)




...Vika, still on ice. In this case, literally.







STUTTGART, GERMANY (Premier $719K/red clay indoor)


13 Final: Sharapova d. Li (Sharapova 2012-13)
13 Doubles Final: Barthel/Lisicki d. Mattek-Sands/Mirza
14 Top Seeds: A.Radwanska/Halep
=============================


=SF=


#6 Sharapova d. #4 Kerber
#2 Halep d. Ivanovic #5 Jankovic


=FINAL=


#2 Halep d. #6 Sharapova

...so many crazy match-ups here, including JJ/AnaIvo in the 1st Round, as well as Petkovic/Pennetta. It's a really well-stocked draw, as long as all the FC participants actually play, as Kvitova, Lisicki, Kuznetsova, Errani, Wozniacki, Makarova, Safarova, Pavlyuchenkova, Koukalova, Cirstea and Vinci are all also in the draw. I'll go with Simona, just because she might want to immediately put behind her that second-match-of-the-day loss to AnaIvo on Sunday.



NOTE:

So far, Wozniacki and Cibulkova have already pulled out, moving AnaIvo's spot in the draw, so I'll go with JJ in the semis.





MARRAKECH, MOROCCO (Int'l $250K/red clay outdoor)


13 Final: Schiavone d. Dominguez-Lino
13 Doubles Final: Babos/Minella d. Martic/Mladenovic
14 Top Seeds: Hantuchova/Svitolina
=============================


=SF=


#8 Schiavone d. Dominguez-Lino
#5 Muguruza d. Torro-Flor


=FINAL=


#5 Muguruza d. #8 Schiavone

...man, this is a messy draw, especially the top half. So, I'll go with a for-old-time's-sake semi in the top half which is actually a rematch of last year's final. Meanwhile, if Muguruza can just get out of her own way...


All right, it looks like it's time to put this thing to bed. So...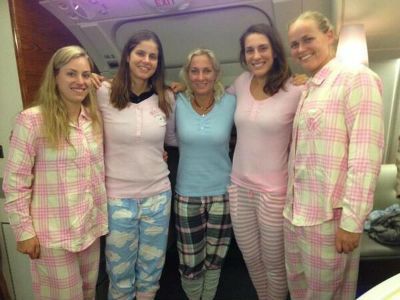 All for now.