Wk.17- The Business of Being Maria
We saw all of Maria Sharapova last week, from nearly every angle. She started out wearing her birthday suit, then ultimately ended the proceedings with seemingly nothing on but a great big smile.


No, no. I'm not talking about some new internet selfie scandal! I'm talking about Sharapova managing in a very short time to put on display nearly every facet of her public persona: the more comfortable off-court presence, the tennis player who sports a few flaws but who is still an intense competitor at her core, the athlete who has worked hard to turn her "cow on ice" clay court image into that of a player who now sports the best career win percentage on the surface among all active players and, last but not least, the tireless businesswoman who may yet prove that her current "career" could be simply a prelude to something even more interesting down the line. In the end, Sharapova's latest triumph was termed something of a "family" affair for the Russian who was once queen, and who still might have a shot to be all over again.

Sharapova's time in Germany began with the celebration of her 27th birthday in the old country. It doesn't matter that Germany might not actually be HER old country, of course, because the nation has actually still managed to become a key player in her career, both on and off-court. As the two-time defending champion in the event that has kicked off her red clay season the previous two years, both of which ended with trips to the Roland Garros final (champion in '12, runner-up in '13), Sharapova has used Stuttgart as her proving ground, not only to the outside world that never really considered her a legit clay threat until fairly recently, but maybe even for herself in order to validate all the training that has vastly improved the on-court movement that was once a deadly liability for her once she took off for Europe each spring.

Early last week, we saw a bit of the "bad" side of Sharapova, circa 2013-14, something which has become more common since her most recent shoulder issues last season. Ill-timed double-faults and, sometimes more alarmingly, some shakiness under pressure with her confidence waning when it comes to half of her game, has made her seem to be close to slipping out of the discussion of the very top players in the sport. She went into last week needing to put up a good result to avoid dropping out of the Top 10 for the first time in over three years (her 160-week run was second to only Victoria Azarenka's 186 weeks for the longest active Top 10 stretch on tour), but she very nearly blew a 5-1 3rd set lead over Lucie Safarova in the 1st Round of play. Sharapova held three match points before being forced to a deciding tie-break by the Czech, then finally advanced after converting her fourth MP.

Of course, Sharapova was also dominant.

In the 2nd Round, she avenged her February Paris indoors loss to countrywoman Anastasia Pavlyuchenkova, reasserting her career-long mastery over fellow Russians. In the QF against Aga Radwanska, a player who has at times (U.S. Open '07, Miami '12) in the past brought out the worst in her, Sharapova swiftly brushed the Pole aside, assuring her continued presence in the Top 10 following the tournament. Save for a stubborn stretch in the final two games in Stuttgart, Radwanska was hardly a match for Sharapova, who then dispatched Sara Errani in the semifinals even more efficiently than she had in the Roland Garros final two years ago.

In the final, Sharapova was rocky, then she got on a roll.

Ana Ivanovic raced to a 5-0 led in the 1st, and led 6-3/3-1 on the back of her powerful forehand. The Serb had a point for a 4-1 lead, but Sharapova got the break. A game later, Sharapova nearly gave the break back as AnaIvo reached BP for a 4-2 lead that might have been difficult to reverse yet again. But Sharapova, showing the gritty competitiveness that was the hallmark of her best seasons, saved the BP with a backhand winner and totally changed the complexion of the match. And maybe the WTA's EuroClay spring, too?

In nearly "Supernovic" fashion, the Russian won eleven of the final thirteen games, running her career head-to-head advantage over Ivanovic to 8-2, as the 3-6/6-4/6-1 victory was her seventh straight over AnaIvo. Stuttgart is now the first tournament at which Sharapova has managed a "three-peat" (she's 13-0 there for her career), and another undefeated week on clay means that Serena Williams is still the only player to have beaten her on the surface over the last three seasons.

Afterward, Sharapova was quite simply thrilled to have found once again the sort of inner fire that has made her a four-time slam champ, and talked of how much she loves tennis and has always worked very hard to be the best player that she can be. So far, her work ethic has now produced thirty career titles, including at least one in each of the last dozen seasons, a streak that is four years longer than any current run of success by any woman on the WTA tour.


Oh, but there's that other side to Sharapova, too. Make no mistake, she knows how to sell a product. While the Porsche Tennis Grand Prix event has been great for her tennis, the business relationship that has grown around it isn't too shabby, either. The Russian's links to Porsche are everywhere, right down to the latest Sugarpova candy -- "Sweet Ride" -- that is shaped just like the Porsche 911 that was part of her third straight winner's package for taking this week's event.

During the post-match ceremony, Sharapova said that she considers herself a "small part of the Porsche family." Not quite as eye-rolling as Serena's, "That was a real G moment" line from a few years ago, but it let everyone know that Sharapova's eyes are as squarely focused on her future as they are on her present.

And speaking of her present, what is to be made of her chances in Paris now that she has finally lifted herself out of her early season doldrums? Remember, Serena hasn't quite been herself in '14, either. The Italians (or most of them) have been slumping. Aga can't close. While she's a Roland Garros champ, clay isn't Li Na's best surface. Simona Halep still hasn't actually TOTALLY risen, and AnaIvo, JJ and Sam Stosur, while contenders, surely provide a lot of reasons why one wouldn't think they could win the season's second slam.

But here's Sharapova, proving she still has "it" on the red stuff. Stuttgart might not make her an odds-on favorite to win a second RG title, or even reach a third straight final... but it surely inserts her back into the opening statement of the conversation, doesn't it?



*WEEK 17 CHAMPIONS*
STUTTGART, GERMANY (Premier $719K/RCI)
S:

Maria Sharapova/RUS def. Ana Ivanovic/SRB 3-6/6-4/6-1


D:

Errani/Vinci (ITA/ITA) d. Black/Mirza (ZIM/IND)
MARRAKECH, MOROCCO (Int'l $250K/RCO)
S:

Maria-Teresa Torro-Flor/ESP def. Romina Oprandi/SUI 6-3/3-6/6-3


D:

Muguruza/Oprandi (ESP/SUI) d. Piter/Zanevska (POL/UKR)

PLAYER OF THE WEEK:
Maria Sharapova/RUS

...while Serena Williams' place in the hierarchy of tennis greats is well known, Sharapova's name is slowly moving to near the top of quite a few lists, as well. Aside from her Career Slam feat following her win in Paris in '12, even with her shoulder problems, she's now put together a twelve-season streak of winning at least one title that is now only behind long runs by Martina Navratilova, Chris Evert and Steffi Graf. Also, her 30th career title ties her with Tracy Austin for 16th on the all-time WTA list, and her ability to put together a long career has allowed her own accomplishments to continue to dwarf the other members of the large Hordette contingent that Sharapova's Wimbledon triumph in 2004 arguably kick-started into high gear. Her all-time Russian record of 30 titles is nearly double that of the woman who is #2 on her list of countrywoman -- Elena Dementieva (16 titles, but no slams).


=============================




RISERS:

Maria-Teresa Torro-Flor/ESP & Garbine Muguruza/ESP




...the parade of 21-year old or younger first-time champs not named Sloane continues. Earlier this season, Garbine Muguruza was a first-time title winner in Hobart. This past weekend, her countrywoman Maria-Teresa Torro-Flor followed in her footsteps in Marrakech. The Spaniard reached the final without dropping a set, defeating Bojana Jovanovski, Lara Arruabarrena, Polona Hercog and Muguruza, then outlasted Romina Oprandi in three sets in the final. Muguruza just hasn't had the same consistency and/or closing ability since her loss to Aga Radwanska at the AO. Remember, she opened her season with an eleven-match win streak that is still second to only Li Na's 13-match run so far in the '14 season. Since then, Muguruza has become quite adept at blowing big leads. She didn't totally pick up where she left off in Hobart last week in Morocco, but she did make a few inroads. She reached the semis without dropping a set, getting wins over Julia Glushko, Stefanie Voegele and Shahar Peer, and won her second career tour doubles title thanks to a successful week of partnering with Oprandi.


=============================




SURPRISES:

Antonia Lottner & Anna Zaja (GER/GER)


...before last week, neither of these Germans had ever won a main draw tour match in singles OR doubles. In fact, 17-year old Lottner had never played in a MD match in either, while 22-year old Zaja was just 0-1 (in Bad Gastein doubles last year). The pair entered the Stuttgart main draw last week after having been alternates, and all they did was claw their way to the semifinals, upsetting the likes of Barthel/Birnerova (10-8 in the match tie-break) and Huber/Husarova (in straight sets) before finally going down to Black/Mirza in another match tie-break (10-4) after having actually taken the 1st set from the veteran duo. Not surprisingly, both have climbed to new career-high doubles rankings, with Lottner up to #240 and Zaja at #145.


=============================




VETERANS:

Ana Ivanovic/SRB & Svetlana Kuznetsova/RUS


...AnaIvo reached her third final of 2014 with wins over Sabine Lisicki, Julia Goerges, Svetlana Kuznetsova and Jelena Jankovic, but will her blown lead over Sharapova in the Stuttgart final be the more important result from the Serb's time in Stuttgart? The past few years, the answer to that question would have been easy, but Ivanovic has shown much more resiliency this season. With Roland Garros only a month away, she would be wise to keep on doing what she's doing. It's helped produce a 23-6 mark in 2014, with eight of her wins coming against Top 20 players. Hmmm, did Kuznetsova's mini-run in Stuttgart put her back on the fringes of the RG discussion? Sure, she only reached the QF, and is still just 4-5 on the season. But she's (currently) holding onto a ranking that will get her seeded in Paris (she's #30), and her 2nd Round win over Simona Halep last week was her first Top 5 victory since defeating Aga Radwanska at Roland Garros in 2012.


=============================




COMEBACKS:

Sara Errani/Roberta Vinci (ITA/ITA) & Romina Oprandi/SUI


...Errani/Vinci have lost their #1 ranking in 2014, but they managed to retain their Australian Open crown in January. They came into Stuttgart having gone just 5-4 since, with a three-match losing streak. But don't count out the Italians just yet. Last week's title run raised their doubles co-ranking from #5 to #3, and their 18th overall crown as a duo was their first on red clay since winning Roland Garros in 2012. Their good week didn't end there, either. Vinci actually got a main draw singles win (def. Annika Beck), a rarity for her this year, while Errani put up victories over Klara Koukalova, Kaia Kanepi and Carla Suarez-Navarro to reach the semifinals. 28-year old Oprandi was proving to be a late bloomer in 2013, reaching a pair of semifinals in Oeiras and Brussels after having had just two previous final four results in her career. Last June, she climbed to a career-high rank of #32, but then didn't play a match after Wimbledon due to an injured right shoulder. Well, slowly but surely, the Swiss is on her way back up the rankings. She reached a QF in Bogota a few weeks ago, then last week in Marrakech knocked off Yvonne Meusburger and top-seeded Daniela Hantuchova en route to the first tour singles final of her career. She lost in three sets to Maria-Teresa Torro-Flor, but it was enough to raise her ranking from #101 to #78. She reached the doubles final, too, becoming the third player to make such a dual run at an event this season, and won her first career doubles crown with Garbine Muguruza.


=============================




FRESH FACES:

Taylor Townsend/USA & Jelena Ostapenko/LAT


...Townsend, 18, won both her first ITF singles and doubles titles at the $50K challenger in Charlottesville. Given a wild card into the draw, the Bannerette ran off victories over a list of opponents that included Irina Falconi, Anastasia Rodionova, Sesil Karatantcheva, fellow American wild card Sanaz Marand in the SF and then qualifier Monserrat Gonzalez (PAR) in the final. After going 0-2 in pro doubles finals last year, Townsend also joined with Asia Muhammad to swipe the doubles title, as well, defeating Falconi & Maria Sanchez in the final. Meanwhile, Ostapenko's great run continues as the 16-year old Latvian swept the singles and doubles at the $10K in Santa Margerita di Pula, Italy. Her win in the singles final over Yvonne Cavalle Reimers (ESP) pushed her career pro singles record to 5-0, while her doubles run with Rosalie van der Hoek (NED) makes her 7-0 there.


=============================




DOWN:

Francesca Schiavone/ITA & Lucie Safarova/CZE


...last year's unexpected title rub in Marrakech had the feeling of a potential last hurah for Schiavone, and it very well might have been. Since that title week, she's gone just 17-28, including 2-11 in 2014 with her 1st Round loss to qualifier Beatriz Garcia Vidagany while attempting to defend that '13 crown. She'd been on a 6-16 slide before going 5-0 in Morocco last April, too. Schiavone, the 2010 RG champ, will be 34 by the end of the summer. Meanwhile, Safarova continues to be the "hard luck" player of the season. She's played nine events in 2014, and three times she's been taken out by the eventual tournament champion, including after holding match point vs. Li Na at the Australian Open, as well as her near-successful comeback from 5-1 in the 3rd set in the 1st Round vs. Sharapova last week in Stuttgart. Charleston champ Andrea Petkovic also made her way through Safarova to get to her title.


=============================




ITF PLAYER:

Denisa Allertova/CZE


...Allertova, 21, claimed her circuit-leading third challenger crown of 2014 at the $50K event in Istanbul. Wins over Ximena Hermoso, Marta Sirotkina, Lyudmyla Kichenok, Ksenia Pervak and Yuliya Beygelzimer in the final gives the Czech Maiden six career titles and runs her record to 5-0 in singles finals since 2012.


=============================




JUNIOR STAR:

Aliona Bolsova Zadoinov/ESP


...the 16-year old Spaniard, the junior #7 and #1 seed in the event, won the Grade 1 19ème Open International Junior de Beaulieu-sur-Mer in France. She defeated unseeded Seone Mendez, the 14-year old Aussie who'd knocked off two seeds to reach her first career Grade 1 final. The win gives Zadoinov a second G1 crown this season after having already claimed the Banana Bowl in March. The two finalists had met just recently, with Zadoinov also defeating Mendez in the QF of the Juan Carlos Ferrero event in Trofeo two weeks ago.


=============================




Now, a Caro the Comedian & Friends (oh, and Victor/Piotr, too) break. Kiss her adidas.



1. Stuttgart Final - Sharapova d. Ivanovic
...3-6/6-4/6-1. Sharapova has won six titles over the last two and a half seasons. Five of them have come on red clay. In the previous nine title-winning years of her career, only two of twenty-four crowns came on the red stuff, with none coming from 2003-09 (though she did win on green clay at Amelia Island in '08).


=============================


2. Stuttgart 1st Rd. - Sharapova d. Safarova
...7-6(5)/6-7(5)/7-6(2). The three-set win over Safarova in Miami lasted three hours. This one took nearly three-and-a-half.


=============================


3. Stuttgart 1st Rd. - Jankovic d. Barthel
...2-6/7-6(8)/6-3. Barthel led 6-2/3-1, but JJ battled back to serve for the 2nd at 5-4. After holding six set points, Jankovic was broken on Barthel's fourth break point of the game. In the tie-break, the German took a 6-2 lead and held four match points, only to see the Serb come back again and take the match.


=============================


4. Marrakech Final - Torro-Flor d. Oprandi
...6-3/3-6/6-3. This was the second all-unseeded final this season, following the Venus/Cornet contest in Dubai. MTTF is yet another first-time Spanish champ, yet the top-ranked Spaniard -- Carla Suarez-Navarro -- is still looking for her maiden trophy.


=============================


5. Stuttgart 1st Rd. - Goerges d. Cirstea
...6-1/7-5. Cirstea lost early. But, then again, this happened.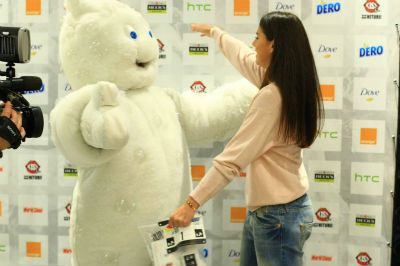 =============================


6. Stuttgart 2nd Rd. - Sharapova d. Pavlyuchenkova
...6-4/6-3. Putting the loss to her countrywoman in Paris behind her, Sharapova ran her career record vs. Russians to 78-23, including 16-1 since 2011.


=============================


7. Stuttgart SF - Sharapova d. Errani 6-1/6-2
Stuttgart SF - Ivanovic d. Jankovic 6-3/7-5
...Errani won five games off Sharapova in the 2012 RG final, but just three here. JJ hasn't beaten AnaIvo since 2010, with Ivanovic now sporting a 9-3 head-to-head advantage.


=============================


8. Marrakech SF - Torro-Flor d. Muguruza
...6-0/6-3. Torro-Flor won six games in a row, then Mugurza won three straight, only to drop six in a row to complete her Kvitova-like afternoon.


=============================


9. Stuttgart 1st Rd. - Pennetta d. Petkovic 7-5/3-6/6-1
Stuttgart 1st Rd. - Suarez-Navarro d. Makarova 6-0/6-4
Stuttgart 2nd Rd. - Suarez-Navarro d. Kerber 7-5/6-4
...the week after Fed Cup.


=============================


10. Stuttgart 2nd Rd. - Kuznetsova d. Halep
...7-5/7-6(4). Halep led 5-2 in the 1st, and held three set points at 5-4 in the 2nd. Note: See #6 above. Oh, I see.


=============================


11. Stuttgart 1st Rd. - Kleybanova d. Kvitova
...6-2/7-6(3). Kvitova held a 5-3 advantage in the 2nd set. Fed Cup is over, and "the look" is back.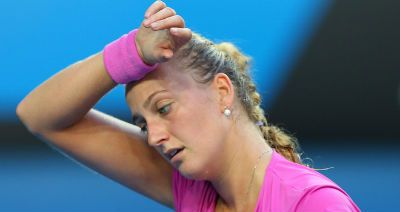 =============================


12. $25K Chiasso Final - Lucie Hradecka/CZE d. Tereza Mrdeza/CRO
...6-3/7-6(4). The 28-year old Czech, now ranked #147 in singles, grabs her 19th career ITF title, her first since 2011.


=============================


HM- $25K Namangan Final - Naomi Broady/GBR d. Nigina Abduraimova 6-3/6-4
$10K Sharm El Sheikh Final - Amy Bowtell/IRE d. Katie Boulter/GBR 6-7(5)/6-0/7-6(6)
$10K Antalya Final - Eleanor Dean/GBR d. Lena Reichel/AUT 5-1 ret.
...with varying degrees of difficulty, it was a good week to be a British tennis player. Well, unless you're Laura Robson, I guess.

=============================


1. Stuttgart QF - Sharapova d. Aga Radwanska
...6-4/6-3. Sharapova needed to win this match to preserve her Top 10 ranking, but saw Radwanska save six match points in the penultimate game of the match. Sharapova won on MP #8 a game later. Yep, things turned out all right for her in Stuttgart.


=============================


2. $50K Seoul 2nd Rd. - Misa Eguchi d. Hsieh Su-Wei 6-4/6-3
$50K Seoul QF - Misa Eguchi d. Erika Sema 7-5/6-3
$50K Seoul SF - Misa Eguchi d. Kristyna Pliskova 6-2/6-2
...sister star Eguchi knocked off three other sister stars en route to the final in Seoul, only to lose there to Misaki Doi. Maybe Misa should have asked if Misaki had a sister she could play instead.


=============================






...a Vika update via Twitter & Vine: "Just wanted to give everyone an update on my recovery. Working hard to get fit again. Will be in touch soon! -V"



With Rome and Madrid now off the table, one has to wonder about the chances of Azarenka making it to Paris this year, as well. At least when it comes to playing tennis at Roland Garros. As it is, if she did show up she'd have either no clay match play, or possibly only something the week before play begins at in 2014's second slam. And is sliding around on the clay while coming off a bad foot injury -- in a tournament that she'd probably have a slim to no chance of winning anyway -- really any way to spend even a few weeks of her spring? It would seem like SW19 will be where we next see Vika, wouldn't you think?

Probably a smart move, too.







**ALL-TIME CONSECUTIVE SEASONS WITH TITLE**


21...Martina Navratilova, 1974-94
18...Chris Evert, 1971-88
14...Steffi Graf, 1986-99
12...MARIA SHARAPOVA, 2003-14
11...Evonne Goolagong, 1970-80
11...Virginia Wade, 1968-78



**2014 WTA FIRST-TIME CHAMPIONS**


Sydney - Tsvetana Pironkova, BUL (26, #107) - d. Kerber
Hobart - Garbine Muguruza, ESP (20, #58) - d. Koukalova
Rio - Kurumi Nara, JPN (22, #62) - d. Koukalova
Bogota - Caroline Garcia, FRA (20, #74)- d. Jankovic
Kuala Lumpur - Donna Vekic, CRO (17, #95) - d. Cibulkova
Marrakech - MARIA-TERESA TORRO-FLOR, ESP (21, #71) - d. Oprandi



**2014 WTA FIRST-TIME FINALISTS**


Sydney - Tsvetana Pironkova, BUL (W)
Hobart - Garbine Muguruza, ESP (W)
Rio - Kurumi Nara, JPN (W)
Acapulco - Christina McHale, USA (L)
Charleston - Jana Cepelova, SVK (L)
Monterrey - Jovana Jaksic, SRB (L)
Bogota - Carolina Garcia, FRA (W)
Katowice - Camila Giorgi, ITA (L)
Marrakech - MARIA-TERESA TORRO-FLOR, ESP (W)
Marrakech - ROMINA OPRANDI, SUI (L)



**SINGLES/DOUBLES FINAL IN EVENT**


Klara Zakopalova, CZE - Hobart (L - W)
Caroline Garcia, FRA - Bogota (W - W)
ROMINA OPRANDI, SUI - Marrakech (L - W)



**MOST WTA FINALS - 2012-14 (active)**


22 - Serena Williams (20-2)
16 - Victoria Azarenka (9-7)
15 - MARIA SHARAPPVA (6-9)
11 - Li Na (4-7)
10 - Agnieszka Radwanska (6-4)
10 - Sara Errani (5-5)



**2014 WTA SF**


4...Li Na (3-1)
4...Dominika Cibulkova (3-1)
4...Agnieszka Radwanska (1-3)
4...MARIA SHARAPOVA (1-3)
4...JELENA JANKOVIC (1-3)
3...ANA IVANOVIC (3-0)
3...Klara Koukalova (3-0)
3...Serena Williams (2-1)
3...Alize Cornet (2-1)
3...GARBINE MUGURUZA (2-1)



**LOW-RANKED 2014 SEMIFINALISTS**


#160 Nasstasja Burnett/ITA - Rio SF
#140 Belinda Bencic/SUI - Charleston SF
#137 Jovana Jaksic/SRB - Monterrey RU
#126 Andrea Hlavackova/CZE - Pattaya SF
#114 Estrella Cabeza-Candela/ESP - Hobart SF
#107 Tsvetana Pironkova/BUL - Sydney Champion
#102 Julia Goerges/GER - Pattaya SF
#101 ROMINA OPRANDI/SUI - Marrakech RU







OEIRAS, PORTUGAL (Int'l $250K/red clay outdoor)


13 Final: Pavlyuchenkova d. Suarez-Navarro
13 Doubles Final: Y.Chan/Mladenovic d. Jurak/Marosi
14 Top Seeds: Suarez-Navarro/Bouchard
=============================


=SF=


#1 Suarez-Navarro d. #3 Stosur
#2 Bouchard d. #8 Vesnina


=FINAL=


#1 Suarez-Navarro d. #2 Bouchard

...working off the theory that one of them has to win their first title at some point. Right? Maybe the success of the other Spanish first-time champs will finally push CSN into the winner's circle for the first time. Maybe more importantly, though, she could face Safarova in the QF. Considering the Czech's recent penchant for playing the role of stepping-stone-to-a-title for the players who defeat her, that could be "good news" for CSN.


All for now.