Wk.34- Just Under the Wire
Well, you've got to hand it to Petra. She got this one in right under the wire.
Sort of like this abbreviated Week 34 recap.

*WEEK 34 CHAMPIONS*
NEW HAVEN, CONNECTICUT USA (Premier $710K/Hard Court)
S:

Petra Kvitova/CZE def. Magdalena Rybarikova/SVK 6-4/6-2


D:

Klepac/Soler-Espinosa (SLO/ESP) d. Erakovic/Parra-Santonja (NZL/ESP)
WORLD YOUTH OLYMPIC GAMES - NANJING, CHN (Grade A Junior/Hard Court)
GS:

Xu Shilin/CHN d. Iryna Shymanovich/BLR 6-3/6-1


BS:

Akvile Parazinskaite/LTU d. Anhelina Kalinina/UKR 6-3/7-5


GD:

Kalinina/Shymanovich (UKR/BLR) d. Kasatkina/Komardina (RUS/RUS)


BD:

Ostapenko/Parazinskaite (LAT/LTU) d. Kenin/Zarazua (USA/MEX)


MG:

Teichmann/Zielinski (SUI/POL) d. Ye/Yamasaki (CHN/JPN)


MB:

Stollar/Majchrzak (HUN/POL) d. Ducu/Zukas (ROU/ARG)

PLAYER OF THE WEEK:
Petra Kvitova/CZE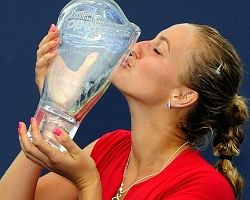 ...no matter what happens in Flushing Meadows, Kvitova salvaged her summer hard court season with her second New Haven title run in the last three years (she won in '12 en route to her U.S. Open Series title). The only seed to advance to the QF in New Haven, the Czech didn't drop a set all week, taking out Ekaterina Makarova, Barbora Zahlavova-Strycova, Sam Stosur and Magdelena Rybarikova along the way. It's her thirteenth career tour singles crown.


=============================




RISERS:

Magdalena Rybarikova/SVK & Camila Giorgi/ITA


...Rybarikova occasionally brings out a very good result, and her very "stealthy" four career titles over the last few years are evidence of it. She made her way into the final this past week in New Haven, her first championship match run since she won in Washington D.C. last year. Wins over Silvia Soler-Espinosa, top seed and defending champ Simona Halep, Alison Riske and Camila Giorgi got her the chance to be the limping final victim of Kvitova in the final. It's at least a better memory than the one she had about this time a year ago, when she was the "First Seed Out" in Flushing Meadows. Giorgi is still looking for her own first singles title, but one has to think that her ability to go power groundstroke for power groundstroke with players who would seem to have a big physical advantage over the five-foot-six Italian will eventually get her into the winner's circle. Her New Haven run included wins over big hitters Coco Vandeweghe and Garbine Muguruza (despite Giorgi throwing in 19 DF's!), as well as an even bigger victory over the summer hard court season's winningest player, Caroline Wozniacki, who the Italian also upset at last year's U.S. Open during her Round of 16 run.


=============================




SURPRISES:

Andreja Klepac/Silvia Soler-Espinosa (SLO/ESP) & Akvile Parazinskaite/LTU


...as "stealthy" as Rybarikova's titles have been, Klepac's doubles crowns would give them a run for the money in the "incognito race." Is there any title all season more instantly forgotten than a winning doubles run the day before the start of grand slam? In New Haven, the 28-year old Slovenian won the third tour level doubles title of her career. All three wins have come since July of last season. This season alone, Klepac has won in Bastad with Maria-Teresa Torro-Flor, and her partner this past week was another Spaniard, Silvia Soler-Espinosa, who grabbed her first WTA title of any kind with the victory. A little bit of WTA trivia: Klepac, as a singles player, was the opponent defeated in the '08 Budapest final by an 18-year old Alize Cornet as the Pastry won her first tour singles title. Meanwhile, in the Youth Olympics in Nanjing, China, 17-year old Lithuanian Akvile Parazinskaite didn't win any Gold medals, but she still had a breakthrough week in the second edition of these Summer Games. The #31-ranked junior, Parazinskaite claimed a pair of Bronze medals, in singles after defeating #5-seed Jil Teichmann and #2 Darya Kasatkina to reach the semifinals, then over #7 Anhelina Kalinina in the Bronze Match. She picked up her other medal in the doubles, taking the 3rd place honors along with Latvia's Jelena Ostapenko.




=============================




VETERAN:

Patricia Mayr-Achleitner/AUT


...at last year's U.S. Open, Mayr-Achleitner was the conqueror of the "First Seed Out," upsetting #29-seed Magdalena Rybarikova in the 1st Round. To prepare for her return to New York, the 27-year old, #85-ranked Austrian was north of the border in Winnipeg winning a $25K challenger title, defeating Mayo Hibi in the final. She's set to face Casey Dellacqua in the 1st Round of the Open this year. The Aussie, like Rybarikova a year ago, is the #29 seed. Hmmm.


=============================




COMEBACKS:

Samantha Stosur/AUS & Alexandra Stevenson/USA


...Stosur used her wild card into the New Haven draw well, working her serve into shape, winning a marathon match over Kurumi Nara and then posting wins over Genie Bouchard and Kirsten Flipkens to reach her first semifinal since Week 2 in Hobart. Meanwhile, in the same week that fellow 1999 Wimbledon semifinalist Mirjana Lucic-Baroni was qualifying for the main draw of the U.S. Open, Alexandra Stevenson, now 33 and ranked #567, was in the $25K challenger in Winnipeg putting up her first main draw singles wins in any event since October of last year. The American had lost her last seven MD matches, and failed to get out of the qualifying rounds in six other events. Of course, don't get TOO excited now. The first player Stevenson defeated was ranked #770, while the other was unranked 17-year old junior Charlotte Petrick, who was just two years old when Stevenson reached that SW19 semifinal in 1999.


=============================




FRESH FACES:

Antonia Lottner/GER & Victoria Rodriguez/MEX


...18-year old Lottner, a junior slam runner-up last year at Roland Garros (and semifinalist at the U.S. Open), won her fourth career ITF singles title in the $15K challenger in Braunschweig, Germany, defeating Swiss Conny Perrin in the final. Meanwhile, in the $10K in Rosarito Beach, Mexico it was an all-Mexican affair in the final as 19-year old Rodriguez defeated 20-year old Zacarius. It's Rodriguez's fourth career ITF singles win, and her second of 2014. She and Zacarius teamed up to take the doubles title, giving them a 4-2 mark in finals this season.


=============================




DOWN:

Dominika Cibulkova/SVK


...the AO finalist lost in the 1st Round in New Haven to Andrea Petkovic, dropping her to 1-5 in her last six matches, and 5-10 in her last fifteen.


=============================




ITF PLAYER:

Gabriela Pantuckova/CZE


...Czech Denisa Allertova is leading the ITF with six singles titles in 2014, but 19-year old Pantuckova is the latest Czech Maiden to put up some results of note. She won the $10K challenger in Vinkovci, Croatia this weekend to snatch her second straight title, defeating Croat Iva Mekovec in the final. She's on a ten-match winning streak, and has gone 14-1 while reaching three straight singles finals. Pantuckova is 25-6 on the season.


=============================




JUNIOR STARS:

Xu Shilin/CHN & Anna Kalinskaya/RUS




...the Chinese women were a disappointment at the Beijing Summer Olympics in 2008, but 16-year old Xu made sure the same thing didn't happen when Nanjing hosted the tennis event of the Summer Youth Olympics this past week. The #13 junior, unseeded at the event, Xu battled her way all the way to the Gold, taking out Anna Bondar, #6 Marketa Vondrousova, #4 Kristina Schmiedlova, Akvile Parazinskaite and #8 Iryna Shymanovich in straight sets in the Gold Match. The win prevented the Belarusian, battling a hamstring injury at the end of a busy week, from sweeping the singles and doubles Golds. Shymanovich had taken the doubles title with Anhelina Kalinina. Meanwhile, at the International Hard Court Championships in College Park, Maryland, 15-year old Hordette Kalinskaya (the Jr. #21) claimed her first Grade 1 junior singles crown in her second consecutive final in an event on that level. She won the doubles, too, to get her second G1 title in her third straight final.


=============================






1. NH 1st Rd. - Stosur d. Nara
...7-6(5)/6-7(10)/6-2. In 2:39, Stosur survived against Nara, who had a 5-1 lead in the 1st set, but lost, then barely won a 12-10 tie-break in the 2nd (on her seventh set point) after having led 5-1 there, only to be forced to stave off three Stosur match points. Stosur took control in the 3rd. Who knows which Sam we'll see in NYC.


=============================


2. NH QF - Giorgi d. Muguruza
...6-4/6-7(4)/6-2. After hitting 19 double-faults in the match, naturally, Giorgi ended things with an ace on match point.


=============================


3. NH Final - Kvitova d. Rybarikova 6-4/6-2
NH 2nd Rd. - Rybarikova d. Halep 6-2/4-6/6-3
NH 2nd Rd. - Stosur d. Bouchard 6-2/6-2
NH 2nd Rd. - Giorgi d. Wozniacki 6-4/6-2
...ah, but will it carry over to Flushing Meadows? For any and/or all of the players involved.


=============================


4. NH 1st Rd. - Bouchard d. Jovanovski
...6-1/6-1. At least Genie isn't win-LESS since Wimbledon. New York Times Magazine cover jinx?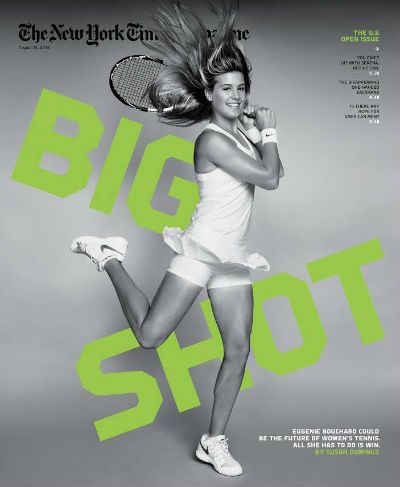 =============================


5. NH 1st Rd. - Makarova d. Vinci 6-3/6-3
NH 1st Rd. - Muguruza d. Errani 6-2/3-6/6-1
...Vinci has lost four straight, while Errani has lost four of five. At least they have the doubles at the Open to fall back on.


=============================


6. Youth Olympics Gold Match - Xu d. Shymanovich
...6-3/6-1. After a 1:15 delay because of stormy weather, Xu weathered the final better than the Belarusian. She ended things with a net cord winner on match point.


=============================


7. Youth Olympics Doubles Gold Match - Kalinina/Shymanovich d. Kasatkina/Komardina
...6-4/6-4. Hmmm, I wonder if Iryna will compare her Youth Olympics Doubles Gold medal with Vika's Olympic Mixed Doubles Gold?

=============================


1. Int'l HC Chsp SF - Kalinskaya d. Usue Arconada
...6-3/6-3. Add another to the list. Arconada, 15, reached the semifinals in College Park, while in the boys competition her brother Jordi did the same.


=============================






...Vika on Arthur Ashe Kids Day


I had so much fun at @aakidsday who came out today? #usopen #AAkidsday pic.twitter.com/6S5IIHFlym

— victoria azarenka (@vika7) August 23, 2014




**2014 WTA TITLES ON MULTIPLE SURFACES**


2 - Simona Halep, ROU (Hard,Red Clay)
2 - Ana Ivanovic, SRB (Hard,Grass)
2 - PETRA KVITOVA, CZE (Grass,Hard)
2 - Andrea Petkovic, GER (Green Clay,Red Clay)
2 - Serena Williams, USA (Hard,Red Clay)



**2014 BACKSPIN Q-PLAYERS OF THE WEEK**


AO: Belinda Bencic, SUI
RG: Grace Min, USA
WI: Michelle Larcher de Brito, POR
US: Aleksandra Krunic, SRB



**2014 BEST WIN PCT. IN FINALS**


1.000 - Serena Williams (5-0)
1.000 - Maria Sharapova (3-0)
1.000 - PETRA KVITOVA (2-0)
1.000 - Andrea Petkovic (2-0)
0.667 - Li Na (2-1)
0.600 - Ana Ivanovic (3-2)



**DEFEATED TOP SEED & DEFENDING CHAMP, DIDN'T WIN TITLE**


Sydney: Bethanie Mattek-Sands/USA [2r-A.Radwanska; QF]
Roland Garros: Garbine Muguruza/ESP [2r-S.Williams; QF]
's-Hert.: Annika Beck/GER [2r-Halep ret.; QF]
Montreal: Venus Williams/USA [SF-S.Williams; RU]
New Haven: Magdalena Rybarikova/SVK [2r-Halep; RU]



**WTA SINGLES TITLES - CZECHS**


51...Martina Navratilova (1974-81)
27...Hana Mandlikova (1878-87)
24...Jana Novotna (1988-99)
13...PETRA KVITOVA (2009-14)
10...Helena Sukova (1982-92)
10...Regina Mariskova (1976-81)
6....Nicole Vaidisova (2004-06)
5....Lucie Safarova (2005-13)
--
* - includes 4 won before '75 defection and 47 during "stateless" period from 1974-81 (Navratilova won 116 more titles after becoming U.S. citizen in Sept. 1981)



**YOUTH OLYMPIC SINGLES MEDALISTS**




[Gold]


2010 Daria Gavrilova, RUS
2014 Xu Shilin, CHN


[Silver]


2010 Zheng Saisai, CHN
2014 Iryna Shymanovich, BLR


[Bronze]


2010 Jana Cepelova, SVK
2014 Akvile Parazinskaite, LTU


All for now. The Daily Backspin begins on Monday, and I'll have a presence of some sort (we'll see how it plays out, I guess) on the new Backspin Twitter feed @TheBackspinner.