US.1 - An Artful Almost on Ashe
Well, that was almost interesting, wasn't it? It wasn't
supposed
to be, but it was. For a while, anyway.


After Simona Halep barely registered on the WTA landscape in the North American hard court lead-up to this U.S. Open, one wondered if she was truly ready to push for another slam deep run. Still, as she arrives in New York, she's one of two players who can overtake Serena for #1 (Petra Kvitova is the other) if the American fails to reach the QF. Well, for a set, it looked like she might not be ready at all to even go up against NCAA champ Danielle Rose Collins, who was making her slam debut, in the first scheduled match on Ashe Court at this slam.

Needless to say, Halep's slow start had some people we know on the edge of their seat...


If I'm yelling at Simona Halep in the first set of the first round, what is my mental state going to be like by the middle of week 2?

— Diane Elayne Dees (@WomenWhoServe) August 25, 2014


A newly-minted Junior at the University of Virginia, Collins was loaded for Romanian bear right from the start. Tennis Channel's Martina Navratilova was openly tickled that the American managed to break the unofficial record for the earliest "Come on!" ever yelled in a match -- on the second point -- and then she watched as Collins won three straight points to hold for a 1-0 lead and then never allow Halep to pull away in the 1st set. Collins broke Halep to get back on serve at 4-4, then pushed things to a tie-break. She won it 7-2 and the world #2 was suddenly teetering on the edge of oblivion.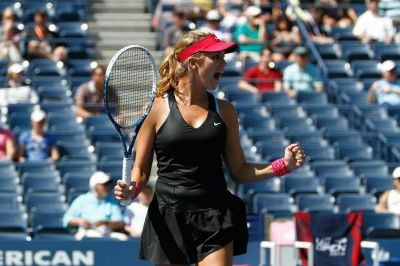 Of course, the Pride of Romania didn't break down, or worry. After taking the break between sets to get her head straight, Halep just stayed calm and righted her game. After committing fourteen errors in the 1st set, she committed nineteen in the final two, taking them 6-1/6-2. She'd taken a 5-1 lead in the 2nd set before she faced a break point past the 1st. Halep saved three in the final game to serve out the set, then didn't face any BP at all in the 3rd.

Pride for Simona.


#Halep survives! Defeats wild card Danielle Collins 6-7, 6-1, 6-2 to advance to the second round. #usopen pic.twitter.com/Ziig9I1etm

— US Open Tennis (@usopen) August 25, 2014


And now back to school, literally, for Collins. She'll be in class tomorrow... but with good memories from NYC.


@collinssssss13 at Arthur Ashe Kids day today. #usopen #gohoos pic.twitter.com/E5u09UnaTZ

— UVa Women's Tennis (@UVaWomensTennis) August 23, 2014


We'll see her again.



=DAY 1 NOTES=
...on Louis Armstrong, Aga Radwanska's day had an even smaller window of drama. Oh, while wearing a rather smart-looking tennis dress, the Montreal champ WAS broken to start the match by Canadian Sharon Fichman but, well, that was the last moment of anything that didn't resemble clarity in this match, which ultimately produced the first women's winner (a men's match ended by retirement even earlier) in the main draw of this Open. Radwanska, who also was the first to advance at Roland Garros this year, proceeded to win the next twelve games and wrap up the 6-1/6-0 victory in just forty-seven minutes. Fichman had just fifteen total points in the match, and just three -- THREE -- in the 2nd set. Aga had fifty-two points for the day, running her career 1st Round slam record to 32-2. Only Serena Williams has a better win percentage (she's 55-1) on tour amongst players with a slam history longer than the average time it takes to play a point in an Ivo Karlovic match.

Meanwhile, there was this the other day. too...


@ARadwanska joined Rado in NY for the @TasteofTennis event! Aga wore her dazzling HyperChrome Diamonds. Fan? #tennis pic.twitter.com/dNXAGGjLGE

— RADO (@radonews) August 22, 2014


...the first match up on Grandstand Court, though, WAS sticky with late intrigue as Angelique Kerber faced down two opponents -- very, very game qualifier Ksenia Pervak and, well, unwittingly, the "The Kuznetsova Curse," as well, I suppose.

The Russian broke Kerber for a 4-3 lead in the 3rd set, then had game point for 5-3 soon after. On the German's third break point, Kerber converted to get back on serve at 4-4. After Pervak pushed things to 30/30, Kerber held for 5-4, but in her next service game she had to save BP to hold for 6-5. Finally, a game later, relying on her great defense and hard-nosed stubbornness, Kerber broke Pervak at love with a lefty forehand return winner down the line to win 6-2/3-6/7-5 in 2:17.

Whew!

So, Kerber keeps a step ahead of the "Kuznetsova Curse" I put on her head by picking her to reach her first slam final at the end of this Open.

Coming up on Day 2: Marina Erakovic's inevitable upset of Svetlana Kuznetsova in their 1st Round meeting. Wait... didn't I? Yes, I did. Hence, the inevitable, I'm sure.

...in other matches, another German, Andrea Petkovic was pushed to three sets by qualifier Ons Jabeur in the Tunisian's slam MD debut. Petkovic won 7-6(7)/1-6/6-3, but Jabeur actually had set point in the important opening set that Petko eventually was able to claim. Good thing. Meanwhile, Johanna Larsson showed little mercy to Virginie Razzano, winning 6-0/6-0.

There was a Pironkova Sighting at the Open on Day 1, as Tsvetana took out Karin Knapp, who put on a 3rd Round run in '13 in Flushing Meadows. While the Bulgarian is known for her Wimbledon exploits, she also reached the U.S. Open Round of 16 two years ago, and this is her last chance to create a little major event chaos in a 2014 season that will, at this point, be remembered as the campaign during which she FINALLY won her first tour singles title (way back before the Australian Open).

Pironkova's next match will be against Jelena Jankovic, who knows a little about Chaos.




The all-Serb match-up between JJ and Bojana Jovanovski took place on Day 1, even while there were reports that BoJo has been told that she needs to have wrist surgery. Jankovic won 6-2/6-3, then afterward brought the inner JJ out in her Tennis Channel interview with Rennae Stubbs, noting how the surface on Court 17 is the hottest of all to play on (oh, how I wanted someone to mention those "air-conditioned shoes" she talked about a few years ago) and noted that after recently having part of her signature long ponytail cut off she felt like she was playing naked on court today.

Okay.

...in Seniors Division play, Venus Williams took on... no, wait, this was actually a 1st Round Women's Singles match-up? My mistake. Hey, 34-year old Venus and 43-year old Kimiko Date-Krumm DID make for a combined match age of 77, after all. Why, you could fit five CiCi Bellises into that match and STILL have two years leftover! It's the oldest combined age in a WTA match in the Open era.

You never know whether Venus has a physical/fatigue issue, or is just having an "off" day on the court. Against vet KDK, there was a little bit of everything for Williams. Showing "that look" that doesn't generally accompany a great Venus performance, Williams dropped the 1st set 6-2 as Date-Krumm was playing very well. While Kimiko didn't implode, the fact is that she hasn't won a MD match at the Open since 1995. No, that's not a typo. Nineteen years ago.

Venus, especially in her resurgent summer, is still the better player in this sort of match if she doesn't beat herself. As it was, Williams just let nature take its course. Maybe a little bit TOO much, actually. As she had a devil of a time getting rid of a bee that had decided that it couldn't get through the day without landing on Venus' racket while she was serving up 3-0 in the 3rd. Unwilling to simply swat it away (or "worse"), Venus finally had a ball person wrap the insect in a towel and take it to the side of the court. Hopefully, it was released from its cloth prison before it was too late.

Williams, for her part, took a 5-0 3rd set lead before KDK delayed the inevitable with a just-as-inevitable late surge. Venus was broken twice while trying to serve out the match. Then, serving at 3-5, KDK held game point for 4-5. She didn't get it, but soon was a volley away from holding another. Instead, she dumped the shot into the net, giving Venus a match point. KDK fell to her knees, as she probably knew what was coming next. One point later, the Japanese vet couldn't get back a Williams deep return of a second serve and it was over. Venus won 2-6/6-3/6-3... then Pam Shriver tried to pull off one too many bee puns in her on-court interview with Williams.

Oh, PammyPammyPammy.

...update as of the late afternoon:



QUALIFIER WINS:

Alla Kudryavtseva (def. Duan), Zheng Saisai (def. Voegele)


WILD CARD WINS:

none so far


BANNERETTE WINS:

Sloane Stephens (def. Beck), Venus Williams (def. Date-Krumm)


Caption this.... pic.twitter.com/fkP9eQVzSy

— victoria azarenka (@vika7) August 25, 2014


...LIKE FROM DAY 1:

-- Stop the world! Aga in polka-dots!






...LIKE

/

FUTURE DISLIKE?

FROM DAY 1:

-- Tennis Channel coverage of the U.S. Open, though I wonder if this year's edition might be the death knell of live Open action on the network with ESPN taking over full coverage of the tournament starting in 2015. A similar set up is in place for Wimbledon, and all we get on TC is evening replay action with TC studio commentary.

...NOTION FROM DAY 1:

-- with the fun/odd "Bryan Bots" for Esurance ad running on the U.S. Open Live section of the tournament website, the notion of an American male SINGLES player being highlighted with such an ad seems a quaint idea from the "olden days." It says something that the retired Andy Roddick is also featured in a Chase ad on U.S. Open Live. But with the summer the young American Jack Sock has had, winning a pair of doubles titles in what might just be new Dynamic Duo in doubles with Vacek Pospisil and going head-to-head with U.S. Open Series champ Milos Raonic (losing to the Canadian in D.C. and Toronto, but winning one set off him and going to tie-breaks in the other four), could there finally be an American men's player worth promoting in the next few years? I mean, I've already got the Nike marketing campaign ready for the day: a take-off on the old "Bo Knows" series with football/baseball star Bo Jackson, specifically the one with Bo Diddley in which the musician stops the admiration party with, "Bo, you don't know diddley."



Only this time with Sock, the focus of the ad would be a "You don't know Jack!" theme, maybe even with Jackson providing the line. Just an idea. Come on, Jack (and Phil Knight). Make it so. Ha!





...YOU-NEVER-KNOW-WHO-YOU'LL RUN INTO FROM DAY 1:




This morning with @serenawilliams @usopen #QueenS pic.twitter.com/mAtaVJlwLf

— Françoise Abanda (@franckie12345) August 25, 2014


...LIKE FOR THE SECOND WEEK:

-- Wheelchair #1 Yui Kamiji, 20, who'll begin her quest for two more singles and doubles slams next week (she's won four of the five contested in '14, and was runner-up in the fifth). Turns out, the notion that the young Japanese player could have "Vergeerian success" might have all started a few years ago, when Dutch future Hall of Famer Esther played the then 14-year old Kamiji in 2008. Get to know Kamiji here.

...and, finally, I'll likely be back later with a short, late night post that will include coverage of the all-Russian Maria vs. Maria tete-a-tete on Ashe Court, as well as some other late-finishing matches.





Still waiting for the first women's seed to fall, too.





*RECENT U.S. OPEN "FIRST VICTORY"*


2009 Vania King, USA (def. Yakimova)
2010 Francesca Schiavone, ITA (def. Morita)
2011 Monica Niculescu, ROU (def. Mayr-Achleitner)
2012 Anna Tatishvili, GEO (def. Foretz-Gacon)
2013 Carla Suarez-Navarro, ESP (def. Davis)
2014 Aga Radwanska, POL (def. Fichman)


[2014]


AO: Kirsten Flipkens, BEL (def. Robson)
RG: Aga Radwanska, POL (def. Sh.Zhang)
WI: Elena Vesnina, RUS (def. Mayr-Achleitner)
US: Aga Radwanska, POL (def. Fichman)



*BACKSPIN 2014 PLAYER-OF-THE-MONTH WINNERS*


JAN: Li Na, CHN
FEB: Simona Halep, ROU
MAR: Serena Williams, USA
APR: Andrea Petkovic, GER
MAY: Maria Sharapova, RUS
JUNE: Petra Kvitova, CZE
JUL: Caroline Wozniacki, DEN
AUG: Serena Williams, USA


[2014 Weekly POW Award Wins]


5...Serena Williams
3...Maria Sharapova
2...Simona Halep
2...Petra Kvitova
2...Andrea Petkovic
1...Eugenie Bouchard
1...Dominika Cibulkova
1...Alize Cornet
1...Ana Ivanovic
1...Angelique Kerber
1...Madison Keys
1...Li Na
1...Anastasia Pavlyuchenkova
1...Flavia Pennetta
1...Tsvetana Pironkova
1...Agnieszka Radwanska
1...Carla Suarez-Navarro
1...Elina Svitolina
1...Donna Vekic
1...Venus Williams
1...Caroline Wozniacki







TOP QUALIFIER:

#32q Aleksandra Krunic/SRB




Co-TOP EARLY-ROUND (1r-2r):

xx


TOP MIDDLE-ROUND (3r-QF):

xx


TOP LATE-ROUND (SF-F):

xx


TOP QUALIFYING MATCH:

Q3: Duan Yingying/CHN d. Irena Pavlovic/FRA 6-3/1-6/7-6(5) [Pavlovic up 5-1 3rd, held MP]




TOP EARLY-RD. MATCH (1r-2r):

xx


TOP MIDDLE-RD. MATCH (3r-QF):

xx


TOP LATE-RD. MATCH (SF-F/Jr.):

xx


TOP ASHE NIGHT SESSION MATCH:

xx


=============================




FIRST WINNER:

#4 Aga Radwanska/POL (def. S.Fichman/CAN)




FIRST SEED OUT:

xx (lost to xx)




UPSET QUEENS:

xx


REVELATION LADIES:

xx


NATION OF POOR SOULS:

xx


CRASH & BURN:

xx


ZOMBIE QUEEN:

xx


LAST QUALIFIER STANDING:

Day 1 wins: A.Kudryavtseva/RUS, Sai.Zheng/CHN


LAST WILD CARD STANDING:

Day 1 wins: x


LAST BANNERETTE STANDING:

Day 1 wins: S.Stephens, V.Williams


IT ("??"):

xx


Ms.OPPORTUNITY:

xx


COMEBACK PLAYER:

xx


BROADWAY-BOUND:

xx


LADY OF THE EVENING:

xx


DOUBLES STAR:

xx


JUNIOR BREAKOUT:

xx






All for now. More tonight.