Wk.33- A Million Little Serena Pieces
It takes a million little pieces to build a grand slam champion.
After her embarrassing exit in London, the summer hard court season has seen Serena Williams, piece by piece, brick by brick, attempt to rebuild herself into the she-takes-on-and-takes-down-all player who dominated the WTA for the eighteen months leading into the 2014 season. Whether or not she has succeeded will determine just what sort of U.S. Open we'll see kick off one week from now.


It's been both a triumphant and hard to gauge three weeks in North America for Serena.

After a wobbly start in Stanford, at which she still managed to walk away with the title, Williams was upended in Montreal by her own sister Venus. Last week in Cincinnati, Serena reached the final while still searching for her best form. After showing some of the old fire in an early round match against Sam Stosur, for the second straight week, Serena was pushed to three sets by Caroline Wozniacki in the semis. In the final against Ana Ivanovic, though, she seemed to possibly turn a familiar corner. The Serb's win over Williams in the Australian Open Round of 16, after having never before taken a set off her in four meetings, created the template for Williams' 2014 slam slide. But in their latest encounter, while still fighting off some lower back issues, Serena rediscovered the focused, winner-heavy, dominating-serve style of play that has, well, made her "Serena Williams." Or, as Petra Kvitova once oh-so-fittingly, even if unintentionally, called her, "The Serena." After AnaIvo's "forehand that rekindled dreams are made of" had done so in Melbourne, it was Williams who controlled the tone of the match this time around, hitting twice as many winners as unforced errors, and pounding twelve aces.

So impressed was her opponent by Williams' display, after the match AnaIvo joked, "I really want to congratulate Serena. I think I got a lesson on how to serve today. Maybe after you retire you can give me some tips!"

So, is the Serena slam house now rebuilt and up to code? Are three weeks of reclamation work, some good and some bad, have we seen enough to flip the house and declare Williams a true brick-and-mortar edifice again, or is she just a flimsy facade set to be blown down on Ashe Stadium court by another good-but-not-great player looking to have her greatest ever grand slam moment?

Well, after a season of seeing and realizing that it was wrong to believe, while Williams will surely top most U.S. Open favorite lists at the end of the week and will be the pick to win by an overwhelming majority (including, I suspect, here... though I also expect another "double pick" moment coming on this weekend), it's best to be cautious. While the Serena we've seen on the summer North American circuit -- well, some of the PIECES we've seen of her, at least -- is good enough to continue to rack up singles titles in the tour's "regular season," we still don't know how well it will translate in the "playoff atmosphere" of Flushing Meadows. Williams has yet to advance past a slam Round of 16 this season, and is staring directly at her first season without at least an appearance in a slam final since 2006, and just her third (w/ 2000) since she reached and won her first slam final as a 17-year old in New York back in 1999.

Serena is the two-time defending U.S. Open champ, but before her recent run of dominance she won the title just once in the previous nine years. Three-peating in New York is a feat accomplished just once by any woman in the Open era, and only twice since 1950. Neither Martina Navratilova nor Steffi Graf ever did it. The same goes for Margaret Court, Billie Jean King, Monica Seles and Kim Clijsters. Only Chris Evert, a four-time champ from 1975-78, knows for sure that it CAN be done. And when she pulled it off, it'd been nearly a quarter century since the last woman -- Maureen Connolly 1951-53 -- before her had done the same.

Is Serena capable of joining such elite company? Oh, sure... we KNOW that's true. But do a few fleeting moments over the course of a long summer make it a probable occurrence? No, they don't.

Not yet, anyway.



*WEEK 33 CHAMPIONS*
CINCINNATI, OHIO USA (Premier $2.567m/Hard Court)
S:

Serena Williams/USA def. Ana Ivanovic/SRB 6-4/6-1


D:

Kops-Jones/Spears (USA/USA) d. Babos/Mladenovic (HUN/FRA)

PLAYER OF THE WEEK:
Serena Williams/USA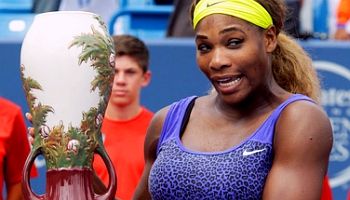 ...even in a season in which she's hardly been in peak form, Serena manages to accomplish new things. For one, she'd somehow never won a title in Cincinnati before this week. Done. She's never defended a U.S. Open Series championship, either. Done. And that's not even touching on a week that saw her defeat three former #1's (JJ, Caro & AnaIvo), another slam winner (Stosur) and a semifinalist at last year's U.S. Open (Pennetta) en route to her 62nd title (just five behind Billie Jean King) in her 79th final (six away from all-time #5 Monica Seles' total of 85) as she ran her season record to 38-6 with a tour-best five singles crowns.


=============================




RISERS:

Ana Ivanovic/SRB & Timea Babos/Kristina Mladenovic (HUN/FRA)


...AnaIvo's resurgent, multiple-coach 2014 campaign continues. Her wins over Sorana Cirstea, Christina McHale, Svetlana Kuznetsova and Elina Svitolina are one thing, but her three-set survival against Maria Sharapova in the semifinals is most assuredly NOT a result that the Serb would have been capable of a few seasons ago when she was still in her prolonged post-2008 fog. In the past, blowing a 6-2/4-0 lead that went immediately haywire once AnaIvo saw a baseline call go against her would have been the elaborately-decorated first car in very slow-moving death train commemorating the Serb's demise in another big match. But not this season. Yeah, Sharapova (especially her serve) was often her own worst enemy in the deciding final set, but out-dueling the Russian in ANY three-set match is something to hold up as a great accomplishment... even if Maria does want your blood pressure to be checked. Meanwhile, though their week didn't end in glory, Babos & Mladenovic had quite a time in Cincinnati. They ended the eleven-match winning streak of Errani/Vinci in the QF, winning a 3rd set match tie break. In the SF, the duo outlasted Date-Krumm/Hlavackova in another deciding tie-break to reach their third final in five pairings this season just a few weeks after being runners-up at Wimbledon. Thing is, after Mladenovic's back injury forced a retirement in the final against Kops-Jones/Spears, the duo are still looking for their first title together. It's an odd situation, considering Mladenovic has won eighteen professional doubles titles with thirteen different partners, while Babos has won seventeen with fifteen (and even won three junior slam crowns with Sloane Stephens in '10). Winning one with each other, though, is proving to be quite the Herculean task. One of these days...


=============================




SURPRISES:

Valeriya Strakhova/UKR & Harriet Dart/GBR


...hmmm, not many tour level choices here other than maybe Karin Knapp, whose slow resurrection of her season continued as she put up Cincinnati qualifying wins over Ula Radwanska and Monica Puig, then a main draw victory over Belinda Bencic. In the New Haven Q-rounds, the Italian got additional wins over Katarzyna Piter and Polona Hercog, but since she fell in her qualifying final match to Peng Shuai she comes up short as an "official" designee here. So I'll go the ITF route with... Strakhova, 19, who claimed her fourth ITF singles title of the season at the $10K in Sharm Al-Shiekh, Egypt with a win in the final over 18-year old Brit Dart. Dart, who won the doubles with Anna Morgina, had been looking to claim her first professional singles title.


=============================




VETERANS:

Raquel Kops-Jones/Abigail Spears (USA/USA) & Maria Sharapova/RUS


...the OTHER thirtysomething American doubles duo -- RKJ is 31, Spears 33 -- haven't had the same sterling summer they had last year, when they claimed titles in Stanford and Carlsbad (the latter of which was as missing from the WTA schedule this summer as Backspin's similarly-named caveman "friend" has been all year long since becoming a cave papa). But, as things turned out, they claimed an even bigger title this weekend in Cincinnati than they grabbed in '13, winning their tenth career crown as a pair (second in '14, having won on the grass in Birmingham) when Babos/Mladenovic retired in the final due to the Pastry's back injury. The title is the twelfth in Kops-Jones' career, and Spears' fourteenth. Meanwhile, Sharapova saw her serve let her down, big-time, as she failed to complete her comeback bid in the semifinals against Ivanovic. After coming back from a 6-2/4-0 deficit, and surviving the Serb serving for the match at 5-3, Sharapova led 4-2 in the 3rd and served at 5-4, holding two match points. But back-to-back double-faults (her sixth and seventh in the 3rd set alone) broke the Russian, who didn't win another game.

Still, Sharapova's wins over Madison Keys, Anastasia Pavlyuchenkova and Simona Halep provide a nice stepping stone toward possibly peaking at the Open, and her "check her blood pressure" plea to the umpire -- after Ivanovic was treated by a trainer, then broken the Russian for 4-4 in the 3rd -- will live in snarky WTA infamy forever. Not a bad week.


=============================





COMEBACK:

Caroline Wozniacki/DEN


...Wozniacki made yet another splash in Cincinnati, making a run to the semifinals without dropping a set, notching two Top 10 wins (def. Angelique Kerber & Aga Radwanska), and pushing Serena to three sets for the second straight week while continuing to employ the "more forward moving" game that so many of us practically begged for her undertake in all those "Wozniology-101" classes from a few seasons ago. Finally getting a passing grade, the Dane has put up SF, 4th Round (Wimbledon), W, QF and SF results at her last five tournaments, moving up to #11 in the new rankings (with a shot at soon returning to the Top 10 for the first time since before the Australian Open) and matching Serena with the most wins (12) so far on the summer hard court circuit. As of now, she's still scheduled to play for a third straight week in New Haven, where she's a former four-time champion. Whether another deep run might prove to be detrimental in New York, I suppose, is the proverbial bridge to be crossed later, but at this point even an earlier-than-desired exit in the Open won't take away the glow of Wozniacki's post-Rory summer. Well, not TOO much of the glow, at least.


=============================




FRESH FACES:

Elina Svitolina/UKR & Belinda Bencic/SUI


...Svitolina, the 19-year old two-time Baku title winner, reached her first career Premier 5 event QF in Cincinnati, notching victories over Lauren Davis, Petra Kvitova and Carla Suarez-Navarro. The 2nd Round victory over Kvitova not only "officially" gave birth to another post-Wimbledon title slump for the Czech, but the win was the Ukrainian's first ever over a Top 10 player. Svitolina is up to #34 with the result, just one off the career high ranking she established in May. A humbled Bencic, 17, came to Cincinnati just a few weeks after being ousted 4 & 1 by Simona Halep at Wimbledon and then double-bageled by Wozniacki in her last outing in Istanbul. The New Swiss Miss then promptly went down in straight sets in the 1st Round to Karin Knapp to drop her third straight match. But the world #59 rebounded quite nicely, heading to New Haven and putting up qualifying wins over Donna Vekic, An-Sophie Mestach and Mona Barthel (Vekic and Barthel have both won tour level singles titles this season) to reach the main draw and run her overall '14 record to an impressive 30-15 in her debut season.


=============================




DOWN:

Petra Kvitova/CZE & Victoria Azarenka/BLR


...ugh. This category has started to get a bit repetitious, which multiple appearances by too many top players. But, here we go again anyway. Kvitova dropped to 1-2 since winning her second Wimbledon title, losing her opening match in Cincinnati to Elina Svitolina, who garnered her first career Top 10 win. The 2012 U.S. Open Series champ is scheduled to play one more tune-up event this week in New Haven. Thankfully, though, Vika isn't in that same draw. Perhaps (finally) looking to go the safe/smart route after testing her limits in Montreal, Azarenka pulled out of the Cincinnati draw before her scheduled opening match due to the knee injury she played through in Canada. As the defending Cincy champ, the resulting points hit drops her from #10 to #17 in the new rankings. As a finalist at last year's Open, unless she suddenly grows wings after going just 4-4 since her return to action, Azarenka now faces the very real possibility of falling out of the Top 20 for the first time in 327 weeks, currently the second-longest streak on tour (Radwanska is at 340). Vika already recently saw her then tour-leading Top 10 streak end at 200 weeks, and is assured of her lowest slam seeding next week since she was #26 at the 2008 Australian Open, and likely her worst standing in a U.S. Open draw since she was unseeded at Flushing Meadows in 2007 (though injuries to other players might still lift her a few spots in the seeds, with the slight chance she'll match her '08 U.S. seeding of #14).




=============================




ITF PLAYER:

Lara Arruabarrena/ESP


...the Top 100-ranked Spaniard was hard at work in Bogota, taking both the singles and doubles (w/ Florencia Molinero) titles at the $100K challenger held there last week. Arruabarrena defeated Swedish vet Johanna Larsson, making her second appearance in a $100K final this year (she previously lost to Alexandra Dulgheru in Marseille), 6-1/6-3 to take the singles crown. The winner of a WTA level singles title in 2012, then a WTA 125 Series challenger last year, Arruabarrena has now claimed twelve ITF singles wins, though her previous eleven were in $10K events. Overall, the 22-year old -- one of just five players to have won WTA, WTA 125 and ITF singles titles -- is now 14-1 in pro singles finals over the course of her career.


=============================


JUNIOR COLLEGE STAR:

Danielle Collins/USA




...U-Va. (U-vee-A) Cavalier Collins, the 2014 NCAA singles champion as a sophomore at Virginia, officially received her automatic wild card into the U.S. Open women's main draw this past week, as the 20-year old will make her slam and WTA MD debut in Flushing Meadows in about a week. This weekend in New Haven, Collins took the court at her first-ever WTA tournament as a wild card in the qualifying rounds. She didn't get a win, losing 6-4/6-3 to Hsieh Su-Wei, but it hardly puts a dent in what is surely a highlight (so far) in the career of the St. Petersburg, Florida native.


=============================






1. Cin SF - Ivanovic d. Sharapova
...6-2/5-7/7-5. Sharapova falls to 16-6 in 2014 three-setters, while Ivanovic notches her tour-best 47th win of the season.


=============================


2. Cin QF - Sharapova d. Halep
...3-6/6-4/6-4. If Sharapova had won in the semifinals, and Halep wins this week in New Haven, it'd have been easier to wonder -- as I did when these two met in the middle of the clay season -- if this was a preview of the final match-up in the next grand slam event on the schedule. As it turned out, the thought was a prophetic one in Paris... and it still could be in NYC, too. Either way, although Sharapova is 5-0 against the Romanian, these two DO produce some very nice matches. This time, Halep led 2-0 in both the 2nd and 3rd sets.


=============================


3. Cin 2nd Rd. - Svitolina d. Kvitova
...6-2/7-6(2). Oh, no. Not again.


=============================


4. Cin 2nd Rd. - Kuznetsova d. Bouchard
...6-4/3-6/6-2. Well, we'll see if Genie can rise up on the big stage in NYC. Although, she might still have a chance to get something out of her pre-Open tune-up schedule in New Haven. If the Yale football team adopts her, as well, be very afraid. If emulating one former #1 works for you, why not two...?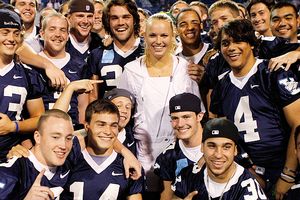 But, rest assured, if someone confuses the Canadian with yet another blonde tennis star, well, there will be hell to pay.

Elle Québec illustre un portrait d'Eugenie Bouchard avec des photos de... Maria Sharapova ! Joli fail. #Bouchard pic.twitter.com/cXNaiqXGH1

— Maxence Fabrion (@max_fabrion) August 13, 2014



=============================


5. Cin 3rd Rd. - Jankovic d. Stephens
...7-6(4)/6-4. These two decided things in a 3rd set tie-break a week ago in Montreal. Overall, Current Sloane has played three tie-break sets in two weeks against JJ. Hmmm, she might deserve a little extra prize money for that, don't you think?


=============================


6. Cin 1st Rd. - Keys d. Cornet
...6-2/6-4. Though the winner was the same, the drama was cranked down a BIT compared to the last time these two played in that epic Fed Cup match.


=============================


7. Cin 1st Rd. - Pavlyuchenkova d. Cibulkova
...6-3/6-3. Cibulkova has been horribly streaky in 2014. Her season, in stages: 8-2, 0-4, 16-2, 5-9 (1-4 in her last five).


=============================


8. Cin 1st Rd. - Errani d. Wickmayer
...7-5/3-6/7-6(2). Needless to say, Errani had every right to be furious with the chair umpire, who obviously must have had his eyes closed during the point in question.



=============================


HM- $10K Innsbruck SF - Iva Mekovec d. Laura Pous-Tio
...6-2/6-3. The Croat ends the 23-match win streak of Pous Tio ("the other LPT," I suppose), and the 19-year old world #429 goes on to win her fifth career ITF title.


=============================






1. Cin Final - Serena Williams d. Ivanovic
...6-4/6-1. So close, and yet so far. Less than 24 hours after blowing a lead in the semifinal against Sharapova, yet still managing to win, AnaIvo couldn't pull off the same trick twice, squandering a point-from-a-double-break advantage in the 1st set and going on to fall to 1-7 vs. Serena for her career.


=============================


2. Cin SF - Serena Williams d. Wozniacki
...2-6/6-2/6-4. In a match in which Williams' serve was hardly a headliner -- she was broken three times each in the 1st and 3rd sets -- the Dane lost her own serve seven of nine times in the final two sets.


=============================


3. Cin 3rd Rd. - Aga Radwanska d. Lisicki 6-1/6-1
Cin QF - Wozniacki d. Aga Radwanska 6-4/7-6(5)
...perhaps a little TOO drunk on cheesecake and Lisicki juice, Aga lost to longtime friend Caro a round after getting a little additional AELTC revenge by taking down the German for the second time in less than two weeks.


=============================


4. Cin 2nd Rd. - Serena Williams d. Stosur
...7-6(7)/7-6(7). Even in a straight sets loss in a rematch of the 2011 U.S. Open final, Stosur showed far more promise than she has, well, at virtually any other point all season.


=============================


5. Cin 1st Rd. - Safarova d. Venus Williams
...6-7(2)/6-3/6-4. After a long week in Montreal, credit Venus for putting up this much fight barely a blink after arriving in Cincinnati following her appearance in the Rogers Cup final.


=============================


HM- Cin QF - Serena Williams d. Jankovic
...6-1/6-3. There was a tad less drama in THIS Serena/JJ "clash" than usual.



=============================






...holding hands, or the prelude to checking her blood pressure?



Nike's new promotional ad, featuring Vika (and some other familiar faces):









**2014 WTA FINALS**


5...SERENA WILLIAMS (5-0)
5...ANA IVANOVIC (3-2)
4...Simona Halep (2-2)
4...Angelique Kerber (0-4)
3...Li Na (2-1)
3...Maria Sharapova (3-0)
3...Dominika Cibulkova (1-2)
3...Klara Koukalova (1-2)
3...Venus Williams (1-2)



**2014 WTA SF**


7...SERENA WILLIAMS (5-2)
7...MARIA SHARAPOVA (3-4)
6...ANA IVANOVIC (5-1)
6...Simona Halep (4-2)
6...Aga Radwanska (2-4)
5...Eugenie Bouchard (2-3)
5...CAROLINE WOZNIACKI (1-4)
5...Jelena Jankovic (1-4)



**U.S. OPENS SERIES WINNERS**


2004 Lindsay Davenport, USA
2005 Kim Clijsters, BEL*
2006 Ana Ivanovic, SRB
2007 Maria Sharapova, RUS
2008 Dinara Safina, RUS
2009 Elena Dementieva, RUS
2010 Caroline Wozniacki, DEN
2011 Serena Williams, USA
2012 Petra Kvitova, CZE
2013 Serena Williams, USA*
2014 Serena Williams, USA
--
* - also won U.S. Open



**2014 U.S. OPEN WILD CARDS**




CiCi Bellis/USA

= USTA Jr. Chsp. winner; at 15, will be youngest in MD


Madison Brengle/USA

= BrengleFly failed in 24 con. slam qual. tries; WC gets her into first slam MD since '08


Danielle Collins/USA

= reigning NCAA champ gets automatic berth in first WTA main draw


Jarmila Gajdosova/AUS

= was also a WC at Wimbledon; reached '06 US 3rd Rd.


Nicole Gibbs/USA

= won USTA's multi-event playoff; US WC in '12-'13 as NCAA champ


Amandine Hesse/FRA

= current eighth-ranked Pastry makes US MD debut; lost in RG 1st Rd. as WC


Grace Min/USA

= the '11 US Open Jr. champ reached the RG main draw as a qualifier in June


Taylor Townsend/USA

= 18-yr. old gets 3rd straight slam WC; reached 3r in Paris


[best '14 slam WC results]


4th Rd. AO - Casey Dellacqua, AUS
4th Rd. RG - Pauline Parmentier, FRA
3rd Rd. RG - Taylor Townsend, USA
3rd Rd. WI - Vera Zvonareva, RUS
2nd Rd. WI - Naomi Broady, GBR
2nd Rd. RG - Claire Feuerstein, FRA
2nd Rd. WI - Jarmila Gajdosova, AUS
2nd Rd. AO - Olivia Rogowska, AUS
2nd Rd. WI - Silvia Soler-Espinosa, ESP


[oldest 2014 slam WC]


29 - Mathilde Johansson (RG), Vera Zvonareva (WI)
28 - Casey Dellacqua (AO), Claire Feuerstein (RG), Pauline Parmentier (RG)


[youngest 2014 slam WC]


15 - CiCi Bellis (US)
17 - Ashleigh Barty (AO), Fiona Ferro (RG)
18 - Ashleigh Barty (RG), Taylor Townsend (RG/WI/US), Sachia Vickery (AO)
19 - Storm Sanders (AO), Tang Haochen (AO)



**PLAYERS WITH WTA, WTA 125 & ITF SINGLES TITLES**


Lara Arruabarrena, ESP
Bojana Jovanovski, SRB
Shahar Peer, ISR
Elina Svitolina, UKR
Zhang Shuai, CHN



**OLDEST 2014 DOUBLES CHAMPIONS**


38 - Kvita Peschke, CZE (Rome)
38 - Kveta Peschke, CZE (Paris)
35 - Cara Black, ZIM (Oeiras)
33 - Martina Hingis, SUI (Miami)
33 - Katarina Srebotnik, SLO (Rome)
33 - ABIGAIL SPEARS, USA (cincinnati)
32 - Abigail Spears, USA (Birmingham)



**ACTIVE STREAKS IN TOP...as of August 18**




[Top 10]


177 weeks...Maria Sharapova
150 weeks...Aga Radwanska
124 weeks...Serena Williams
118 weeks...Angelique Kerber
106 weeks...Li Na


[Top 20]


340 weeks...Aga Radwanska
327 weeks...Victoria Azarenka
313 weeks...Caroline Wozniacki
280 weeks...Li Na
202 weeks...Maria Sharapova
186 weeks...Petra Kvitova



**CAREER SLAM TOP SEEDS - active**


15 - SERENA WILLIAMS (w/ US Open)
6 - Caroline Wozniacki
4 - Maria Sharapova
3 - Victoria Azarenka
2 - Ana Ivanovic
1 - Jelena Jankovic
1 - Venus Williams






NEW HAVEN, CONNECTICUT USA (Premier $710K/HCO)


13 Final: Halep d. Kvitova
13 Doubles Final: J.Zheng/Mirza d. Medina-Garrigues/Shvedova
14 Top Seeds: Halep/Kvitova
=============================


=SF=


#1 Halep d. #4 Wozniacki
Makarova d. (WC) Stosur


=FINAL=


#1 Halep d. Makarova

...if The Pride of Romania is going to be a real factor in New York, you sort of get the feeling she needs a North American hard court run to gather momentum. So far, she's come up a bit short. Maybe New Haven, a year after her title there led into her (then) best-ever slam result at the Open, will do the trick. Of course, I DID formerly call call this event "The Wozniacki Open" during the Dane's four-year reign (2008-11) as champ, and we know who's been in rare form lately.





YOUTH OLYMPIC GAMES; Nanjing, CHN (Jr. event)


10 Final: Gavrilova d. Zheng Saisai (Bronze: Cepelova d. Babos)
10 Doubles Final: Tang Haochen/Zheng Saisai d. Cepelova/Skamlova (Bronze: Babos/Mestash d. Gavrilova/Putintseva)
14 Top Seeds: Jorovic/Kasatkina
=============================


=SF=


#3 Ostapenko/LAT d. Bains/AUS
#6 Vondrousova/CZE d. #2 Kasatkina/RUS


=FINAL=


#3 Ostapenko/LAT d. #6 Vondrousova/CZE

...hey, it's not a junior slam, but why drift away from my 2014 inclination to go with the Latvian, right?

ALSO:

U.S. OPEN QUALIFYING






"Backspin Time Capsule" coming soon, along with the Qualifying Rounds edition of "The Daily Backspin: U.S. Open Edition," the Week 34 wrap-up and the U.S. Open preview. In other words, a hectic pre-slam week.

Hmmm, maybe a certain Backspinner, like Laura Robson, should take the Ice Bucket Challenge just to get refreshed for the upcoming grind.




All for now.