Wk.32- For the First Time in a While, Only Aga's Dress was Blue
Maybe. Just maybe. Aga Radwanska's "Lisicki Blue Period" is finally, at long last, over.


Not that the Pole was the biggest story coming out of Montreal last week. THAT was Genie Bouchard. Well, until she lost in her first WTA match back in her home country three quarters of the way into her maiden-title winning, Top 10-climbing, Army-forming, two slam semifinal and one runner-up breakout 2014 season. Then, on some level, the story became Vika Azarenka, who once again found herself in a heap on the court, grasping at an injured body part. She recovered enough to win that particular match and, perhaps showing that she might not have learned much from her recent past when it comes to trying to push through an injury, played and won another (with said body part heavily wrapped) before finally being frustratingly ridden out of the draw by Radwanska. From there, Venus Williams stepped into the spotlight, as the 34-year old maneuvered her way through four three-set matches, including her first win over Serena in five years, to reach her biggest final since 2010.

In recent weeks and months, Venus has quietly gone about inadvertently "showing up" (as The Calm Williams wouldn't do it intentionally) Radwanska. If it wasn't by "outdoing" her with a competing flower dresses in Paris, it was by having her nude ESPN Magazine Body Issue photos lauded just one year after Aga's own turn in front of the camera had created something of a negative firestorm back home in Poland.




At the end of Venus' arduous week in Canada, though, it was Radwanska who took home the final honors at the Rogers Cup, defeating Williams in straight sets in the final, 6-4/6-2. And, with that one win to take home her biggest title in nearly two and a half years, A-Rad may have finally risen above the year-long funk that began with her squandered '13 Wimbledon semifinal against Sabine Lisicki, and the angry-and-heartbroken non-handshake that followed. While the Pole has had her moments since then, crushing Azarenka in a perfect set in Melbourne eight months ago and maintaining a Top 5 ranking going into last week despite having won just one small tournament over the past year. But Radwanska's best moments have invariably followed up big moments with low ones over the past thirteen months. That changed this weekend. Against Williams, with everything on the line, she lifted her game and was rightly rewarded for it.

Sure, it helped that Venus was likely at the end of her physical rope by that point, and that Aga didn't have to face the OTHER Williams, against whom she's 0-8 for her career. But A-Rad's earlier-in-the-week win over Lisicki, while just a 3rd Round step along the path to the title (though it WAS her toughest match of the five she played, the only one that went three sets), might have been the key, non-Cheesecake Factory visit for Aga for this entire North American swing and beyond. It may have served a second purpose other than just getting her to the next round -- it might have finally exorcised the ghosts of that meeting with Lisicki at the All-England Club, finally freeing up Radwanska to be the cool-thinking court-magician that she was before that bleak day in London.




Maybe the REAL Aga has finally returned to us. The "Lisicki Blue Period" is over. Hallelujah!

Well, maybe.



*WEEK 32 CHAMPIONS*
MONTREAL, QUEBEC CAN (Premier $710K/Hard Court)
S:

Agnieszka Radwanska/POL def. Venus Williams/USA 6-4/6-2


D:

Errani/Vinci (ITA/ITA) d. Black/Mirza (ZIM/IND)

PLAYER OF THE WEEK:
Agnieszka Radwanska/POL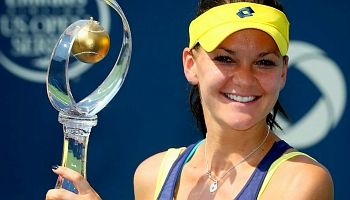 ...Aga's merciless closing touch returned in Montreal, as she grabbed her first title of any kind since last September in Seoul. That title run in Korea had been her only win over a nearly 19-month span. Radwanska's Montreal crown, her biggest since winning Miami in 2012, is the fourteenth of her career, and she did it while dropping just one set all week long. Her wins over Barbora Zahlavova-Strycova, Victoria Azarenka, Ekaterina Makarova and Venus Williams in a straight sets final were great, but one has to think Aga took a little extra pleasure in winning her 3rd Rounder against Sabine Lisicki. Sure, the German won the only set lost by Radwanska last week, but if winning the deciding set against the German is what finally flips the switch back to "on" for Aga's mental game, then her "Lisicki Blue Period" could be thankfully filed away as a part of her best-left-forgotten past. Fingers crossed.


=============================




RISERS:

Ekaterina Makarova/RUS & Coco Vandeweghe/USA


...Makarova has always been capable of big upsets, but her ability to build upon them has been equally questionable. The Hordette followed the same pattern in Montreal, taking out doubles partner Elena Vesnina, and then an even bigger fish named Petra Kvitova in her first post-Wimbledon title event. Makarova managed one more victory, over Coco Vandeweghe in the QF, but then dropped a pair of tie-breakers to Radwanska in the semis to bring her run to an end. Speaking of Vandeweghe, the 22-year old Bannerette is up to a career-best #38 this week after her QF run in Canada, which included over five and a half hours of tennis against the two-headed Serbian entity that is BOTH Ana Ivanovic (2:58 in the 2nd Rd.) and Jelena Jankovic (2:38 in the 3rd Rd.).


=============================




SURPRISE:

Paula Kania/POL


...as it turned out, Aga wasn't the only Polish singles champion in Week 32. 21-year old world #177 Kania, a recent Wimbledon qualifier who put up a nice 1st Round fight at the AELTC vs. Li Na, followed up her to the Stanford doubles final by posting her first post-SW19 main draw singles win and carrying her momentum all the way to her fifth career ITF crown in a $25K challenger in Landisville, Pennsylvania. Kania notched wins over Alize Lim, Jamie Loeb, Maria Sanchez, Alexandra Mueller and Ons Jabeur in a three-set victory in the final.


=============================






VETERANS:

Sara Errani/Roberta Vinci (ITA/ITA) & Venus Williams/USA


...could we be looking at the smiling faces of the eventual co-winners of this spot's 2014 "Ms. Backspin" honors? Hmmm, maybe. I know it took some pondering to NOT make the rare move of naming a doubles duo the Players of the Week for Week 32... but, you know, I thought the "silent repercussions" could prove to be too great if I didn't go with Aga. Heehee. Anyway, both Italians lost in the 1st Round in singles in Montreal, but they were unbeatable when they teamed up. Thus, Errani & Vinci's close-to-being-magical season added a second high-level Premier event title to a haul that already includes slam wins in Melbourne and London, as well as the completion of a Career Doubles Slam. In Canada, the Italians got wins over the Chan sisters, Hingis/Pennetta and Black/Mirza as they grabbed their tour-best fifth title of '14, notched their 200th victory as a duo and ran their current winning streak to ten matches (their second double-digit streak this year). Their 21st tour title as a team ties them with the Williams Sisters for the most by any active duo (of note, no-longer-teammates Raymond/Stosur also have 21, while the former pairing of Black/Huber put up 29 crowns before "differences" ended their partnership). Venus might not have won the Montreal title, but her run in Quebec will likely be mentioned quite a bit in the early days of the upcoming U.S. Open, where she won't be forced to play as many back-to-back days should she put on a similar run. But even if Williams can't replicated anything close to her past success in NYC, last week she showed that she's still capable of digging down and finding the "old Venus," rather than simply being relegated to being cheered for a few nice outings as the "old," 34-year old Venus. Three-set wins over Anastasia Pavlyuchenkova, Angelique Kerber, Carla Suarez-Navarro and Serena (her first win over her sister in five years) got Venus into the final, where she finally hit the wall against Radwanska. But, no matter, while she surely wanted to win the title, her reappearance in the Top 20 today as she once again gives the Williams the TOP TWO spots in the U.S. rankings says volumes about just how much Venus has left to give, for as long as she chooses to give it. At this point, anyone who asks any of those nagging "r"-related questions anytime before the 2016 Rio Olympics should be ashamed of themselves... and maybe sentenced to an abbreviated stint as Current Sloane's coach.




=============================




COMEBACKS:

Caroline Wozniacki/DEN & Heather Watson/GBR


...while her ex-fiance may be winning much BIGGER, Wozniacki's recent resurgence is nothing to sneeze at, either. In Montreal, she ran off a string of dominating wins -- 1 & 1 over Hantuchova, 1 & 2 over Koukalova and 1 & love over Rogers -- en route to the QF, where she took a 6-4/3-1 lead over Serena Williams. She eventually lost in a 7-5 3rd set, but the smile is back, and so is the optimism. Inching back up the rankings, Caro comes in at #12 in the new rankings. Meanwhile, Watson's comeback from her illness-ravaged '13 season has become a never-ending series of successful outings. Her latest feel-good week included a qualifying run and main draw wins in Canada over Tereza Smitkova and Dominikova Cibulkova, and then another weekend qualifying run in Cincinnati that included victories over Kristyna Pliskova and Shahar Peer. Eight months after finishing 2013 at #119, Watson is back in the Top 50 this week at #46, not far off the career-best rank of #39 she attained in February of last year. [Late note: Watson lost her 1st Rd. match in Cincinnati on Monday to Zhang Shuai.]


=============================






FRESH FACE:

Shelby Rogers/USA


...naturally, Rogers shined at the Rogers Cup... but at the expense of hometown fave Genie Bouchard. The recent Bad Gastein finalist, and '13 winner of the USTA's U.S. Open multi-tournament wild card competition, Rogers had arguably the best week of her career, notching wins over Ajla Tomljanovic and Bouchard en route to the 3rd Round. The on-fire 21-year old Bannerette put up a pair of bagel sets against an off-kilter Bouchard in the three-set upset. Sure, Rogers was nearly double-bageled herself (1 & love) a round later against Wozniacki, and was then ousted by Zarina Diyas in the opening round of Cincinnati qualifying, but she's still up to a career-best #86 (up from #113) in the new WTA rankings.


=============================




DOWN:

Petra Kvitova/CZE & Eugenie Bouchard/CAN


...in their first action since they faced off in the Wimbledon final, neither Kvitova nor Bouchard fared nearly as well as they did in London. At least SW19 champ Kvitova got a win, defeating Casey Dellacqua before being shipped off south of the border via a 6-2 3rd set loss in the 3rd Round against Ekaterina Makarova. Bouchard, under the microscope as the tour went to Canada, was all sorts of "Sloaney" in her only match against Rogers, dropping both the 1st and 3rd sets at love. While this result could be looked at as a sign that the Canadian might be showing signs of being susceptible to the pressure of her new standing on and off tour, it should also be remembered that after her Australian Open semifinal, Bouchard went 2-0 in Fed Cup play and then lost in her first post-Melbourne WTA match. She soon won her first tour title and made another deep slam run. Following her Roland Garros semi, she again dropped her first WTA match after leaving Paris, but then rebounded to reach her first slam final. Now, the same has happened in her first tournament after Wimbledon. So far, Bouchard has avoided the sort of post-big success slides that slow down the career trajectory of Not Ready for Primetime Players. We'll soon see if she can keep it up, if not this week in Cincinnati, then in New York.

=============================
ITF PLAYER:
Laura Pous-Tio/ESP

...the 29-year old Spaniard continued her ITF circuit tear, notching her fourth consecutive title in a $10K challenger in Vienna. The former Top 75 player (in 2012), ranked #358, claimed her 18th career ITF crown with wins over Jana Fett, Lenka Jurikova and Czech Maiden Gabriela Pantuckova in a 6-7(6)/6-3/6-1 final. 38-5 in 2014, Pous-Tio is now on a 20-match winning streak and has matched Denisa Allertova with a circuit-leading six singles titles this season.


=============================




JUNIOR STAR:

CiCi Bellis/USA


...the 15-year old Californian claimed a wild card into the U.S. Open women's main draw by winning the USTA Girls 18s National Championship in San Diego. The youngest girl to take the title since a 15-year old Lindsay Davenport did it in 1991, #2-ranked junior Bellis defeated 16-year old Tornado Black 6-3/6-1 in the final. Last year, recent Stanford qualifier-to-quarterfinalist Sachia Vickery won the 18s crown.


=============================






1. Mtl 2nd Rd. - Azarenka d. Cornet
...6-4/2-6/6-4. 2014 is becoming a bit of a wash for Vika. Another fall, and another injury -- this time a knee -- is hard to look past, even if she did gather herself afterward to take out Cornet in this match, and then got another win before an at-least-it-wasn't-as-bad-as-Australia loss to Aga in the QF. She's got a ton of points to defend (a title in Cincy, a RU in Flushing Meadows), but Vika has to "mind the store" and not risk doing something that will jeopardize the early part of '15 in attempt to chase points down the back stretch of '14.



=============================


2. Mtl 1st Rd. - Keys d. Kuznetsova
...6-1/3-2 ret. Oh, the Tennis Gods are just cats, while apparently I'm their ball of yarn. Remember, I picked Keys to win her first title a while back in Birmingham, only to see her lose in the 1st Round... and then win her maiden title a week later in Eastbourne. Well, last week, the TG's were having even more fun. The other week I picked Keys to win the title in D.C., only to again see her lose in the 1st Round, while Kuznetsova went on to win the title. Wouldn't you know it, the two faced off in the 1st Round in Montreal a few days later, with Keys winning when the Hordette retired in the 2nd set. Of course she did! Of course.


=============================


3. Mtl 2nd Rd. - Lisicki d. Keys
...4-6/6-1/6-4. The Reverse Keys Curse didn't quite play out in Canada, but even the TG's have their limits, I guess. Plus, if Keys won this one, Aga wouldn't have been able to exorcise her Lisicki demons a round later. So there. Meanwhile, the hoped-for rematch of Keys/Cornet that I wanted in D.C. is happening TODAY in Cincinnati. (Rolls eyes.)


=============================


4. Mtl 2nd Rd. - Rogers d. Bouchard
...6-0/2-6/6-0. Sure, this one sort of released all the Canadian air from the Rogers Cup balloon. But...


=============================


5. Mtl 1Q - Davis d. El Tabakh 6-0/7-6(8)
Mtl 1Q - Vandeweghe d. Dabrowski 6-0/6-3
Mtl 1Q - Vesnina d. Patrascu 6-3/6-3
Mtl 2Q - Rogers d. Zhao 6-2/6-4
Mtl 1st Rd. - Cibulkova d. F.Abanda 6-1/3-6/6-0
Mtl 1st Rd. - Muguruza d. Dubois 6-1/6-7(4)/6-2
Mtl 1st Rd. - Stephens d. Wozniak 6-3/6-0
...honestly, there wasn't really a great deal of air left in the balloon by the time Bouchard lost. In all, Canadians put up zero main draw wins in Montreal, and were just 3-8 overall, with only Q-round wins from Dubois and Zhao in the "W" column. If this was a slam, I think we know what "honor" the poor Canadian souls would be coming to the podium to receive right about now.


=============================


6. Mtl 2nd Rd. - Vandweghe d. Ivanovic 6-7(7)/7-6(7)/6-4
Mtl 3rd Rd. - Vandeweghe d. Jankovic 7-6(8)/2-6/7-5
...maybe Coco should follow Maria's lead and wear Novak's name on her head the next time she visits Serbia. You know, just to fool the natives into believing she has nothing against Serbs. Really, she doesn't.




=============================


7. Mtl 2nd Rd. - Suarez-Navarro d. Sharapova
...6-2/4-6/6-2. Hmmm, maybe this had something to do with the "unnatural crossing of potential kingdoms" when Maria took a selfie with a fan holding a bag of Sugarpova while also wearing evidence of Genie Army affiliation.




=============================


8. Mtl 2nd Rd. - Jankovic d. Stephens
...6-7(7)/6-4/7-6(4). Considering her recent outings, would this loss be counted as a "moral victory" for Current Sloane? At least it wasn't 6-0 again in the 3rd set.


=============================


9. Mtl 1st Rd. - Safarova d. Cirstea
...6-4/6-2. A year after reaching the final, Cirstea comes up JUST A BIT short of a return trip.


=============================


10. Mtl 2nd Rd. - Watson d. Cibulkova
...6-2/6-7(3)/7-6(5). Watson held two MP at 5-4 in the 3rd, then soon found herself down 3-0 in the 3rd set tie-break and fighting for survival at 5-5 a few moments later. But the Brit's comeback continued, while the Slovak's AO run continued to get farther and farther away. Meanwhile, Laura Robson watches and wonders, "How long until 2015 gets here?"


=============================




Elsewhere in Montreal...




Apparently, Aga just had to win at EVERYTHING last week. Sheesh.





1. Mtl SF - Venus Williams d. Serena Williams
...6-7(2)/6-2/6-3. Oh, if only Serena and Venus could have played the sort of matches against each other years ago, when they were in the primes of their careers and deciding major championships via a "family invitational," that they often have in the latter years of their careers. Rather than those much-hyped, anticlimactic slam finals we could have had possibly the greatest series of grand slam finals, well, maybe EVER. Now that would be a "What If?" scenario worth living through in real time. In this 25th all-Sisters installment, the first in Canada, Venus' second serve was as good as it's ever been, as she was broken just once in the match as she notched her first win over Serena since 2009. Of course, this is just the second match the two have played since they faced off five times in '09 alone, and nine times in all in 2008-09.


=============================


2. Mtl Final - Aga Radwanska d. Venus Williams
...6-4/6-2. Aga gets her first win in a final over a Williams Sister. Of course, she's still winless for her career against Serena, but this third straight win over Venus makes her 4-5 against the elder Williams.

Woohoo 🏆🏆🏆 pic.twitter.com/S9vyWbQTxi

— Aga Radwanska (@ARadwanska) August 10, 2014



=============================


3. Mtl 3rd Rd. - Venus Williams d. Kerber
...6-3/3-6/6-4. Angie must be seeing Williams Sisters in her dreams... err, nightmares. A week ago, it was Serena in Stanford. In Montreal, Venus took her turn at "Whack-a-German."


=============================


4. Mtl QF - Aga Radwanska d. Azarenka
...6-2/6-2. A-Rad is just 5-13 against Vika, but she's 2-0 in '14 after having lost nine consecutive match-ups from 2011-13, and going 1-11 since 2010. While Radwanska has now won a title for a fourth consecutive year, Azarenka is still looking for her first win of the season to extend her own streak to six years.

I'd like to say that no innocent rackets were harmed in this highlight package, but Vika -- at 1:59 in -- would make a liar of me if I did.


=============================


5. Mtl QF - Serena Williams d. Wozniacki
...4-6/7-5/7-5. Miami's Dynamic Duo met on the court, with the Dane taking a 6-4/3-1 lead before Serena climbed back into the match and advanced to the semifinal against Venus. In other news, Caro may have found herself a new beau.



=============================


HM- $10K Zajecar SRB Final - Kostic d. Elizaveta Ianchuk
...6-2/6-1. Ianchuk was more Venus than Aga in this singles final featuring a tennis sister. Of note, Ianchuk and Kostic combined to take the doubles title. So there's that.


=============================






Since, on the whole, it was another troublesome week in VikaLand, I thought it'd be best to show the lighter side of things. Such as, an impromptu crossing of paths with a certain Dane...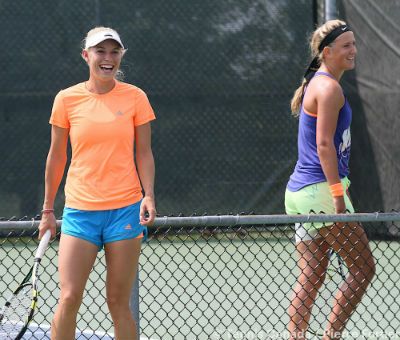 And, of course, who doesn't like a "Big Vika on a Little Bicycle" moment?



Also, in a possible "calm before the storm" moment, Vika DID manage to sneak back into the Top 10 in the new rankings today after a one week absence. I hope she enjoys it, because she's probably going to have to defend her Cincinnati title this week to stay there, and unless she puts on a major late-season run will likely end '14 with her worst season-ending ranking since 2007-08.







**WILLIAMS vs. WILLIAMS - by nation**


9 - United States (Serena 5-4)
5 - England (Serena 3-2)
3 - Qatar (Serena 2-1)
2 - Australia (tied 1-1)
1 - Canada (Venus 1-0)
1 - France (Serena 1-0)
1 - Germany (Serena 1-0)
1 - India (Serena 1-0)
1 - Italy (Venus 1-0)
1 - U.A.E. (Venus 1-0)



**CAREER WINS OVER WORLD #1**


18...Martina Navratilova
16...Serena Williams *
14...Lindsay Davenport
14...VENUS WILLIAMS *
11...Steffi Graf
10...Gabriela Sabatini



**2014 WTA TITLES - DOUBLES TEAMS**


5 - ERRANI/VINCI (AO-Stuttgart-Madrid-Wimb-Mtl)
3 - Hsieh/Peng (Doha-IW-RG)
2 - Kudryavtseva/An.Rodionova (Brisbane-Dubai)
2 - Medina-Garrigues/Shvedova (Flo-Charleston)
2 - Niculescu/Zakopalova (Shenzhen-Hobart)



**WTA FINALS - 2012-14**


24...Serena Williams (22-2)
17...Maria Sharapova (8-9)
16...Victoria Azarenka (9-7)
11...Simona Halep (8-3)
11...AGNIESZKA RADWANSKA (7-4)
11...Sara Errani (5-6)
11...Li Na (4-7)
11...Angelique Kerber (3-8)



**2014 - DEFEATED TOP SEED & DEFENDING CHAMPION**


Bethanie Mattek-S./USA (Sydney/A.Radwanska) - to QF
Caroline Garcia/FRA (Bogota/Jankovic) - won title
Garbine Muguruza/ESP (R.Garros/S.Williams) - to QF
Annika Beck/GER ('s-Hert./Halep ret.) - to QF
Venus Williams/USA (Montreal/S.Williams) - to F



**MOST THREE-SET WINS OVER SERENA**


5 - Jennifer Capriati
4 - VENUS WILLIAMS
3 - Justine Henin, Patty Schnyder, Sandrine Testud
2 - Azarenka, Dementieva, Hingis, Mauresmo, Sanchez-V., Stosur



**MOST OVERALL PREMIER TITLES - since 2009**


15...Serena Williams (4 in '14)
12...Caroline Wozniacki (0)
10...Victoria Azarenka (0)
10...Maria Sharapova (2)
9...AGNIESZKA RADWANSKA (1)
6...Petra Kvitova (0)


[Premier Mandatory/Premier 5 only]


9...Serena Williams (2 in '14)
7...Victoria Azarenka (0)
6...Maria Sharapova (1)
5...Caroline Wozniacki (0)
4...AGNIESZKA RADWANSKA (1)
3...Petra Kvitova (0)
2...Jelena Jankovic (0)
2...Venus Williams (0)






CINCINNATI, OHIO USA (Premier 5 $2.567m/HCO)


13 Final: Azarenka def. S.Williams
13 Doubles Final: Hsieh/Peng d. Groenefeld/Peschke
14 Top Seeds: S.Williams/Halep
=============================


=QF=


#1 S.Williams d. Petkovic
#12 Wozniacki d. #4 A.Radwanska
#3 Kvitova d. #9 Ivanovic
#5 Sharapova d. #2 Halep


=SF=


#1 S.Williams d. #12 Wozniacki
#5 Sharapova d. #3 Kvitova


=FINAL=


#1 S.Williams d. #5 Sharapova

...Serena looks to rebound in her last pre-Open tune-up. Interestingly, she's never won this tournament, with her best result coming a year ago when she lost to Azarenka in an 8-6 3rd set tie-break. A QF rematch with Vika is possible, but with Azarenka's knee it's easy to think the defending champ will get tripped up (figuratively... I guess) in the early rounds by, say, a Petkovic or Jankovic. If she were healthy enough to make a big stand here, though, maybe she'd be able to rise to "dark horse" level at the Open, because right now she doesn't seem to be much more than a "dangerous floater" who'll be seeded outside the Top 8.


All for now.