Wk.31- A Wobbly Serena Stands (Sorta) Tall in Stanford
Well, things surely weren't easy last week for Serena Williams in Stanford. Nor were they particularly pretty. Rarely did she get off to a good start, play a match without a slippery patch of frustration, or have a moment when she didn't find herself at some point staring up at a somewhat surprisingly big deficit on the scoreboard. And, because of her 2014 track record, the moments were also few when it was a mental "given" that she'd pull herself out of the many ruts in which she found herself, no matter how many times she'd done just that in similar circumstances in seasons past.
But, still, through the first week of her North American hard court swing, Williams gradually rediscovered bits and pieces of her form in each of her four outings in northern California, though she really still hadn't TOTALLY found her game by the time she was lifing her sixty-first career singles title trophy above her head at the end of a week that nevertheless saw her notch wins over three Top 20 players, including one Top 10er and a second who would climb into the Top 10 immediately after the tournament.


Through it all, her return to a WTA court for first time since her double dose of Wimbledon disappointment -- a 3rd Round loss in singles to Alize Cornet, then an even more embarrassing and/or disturbing, stumbling exit in doubles -- can rightly be declared a "success." After beginning the week by taking on (in typically-vague Serena language) a slew of surely uncomfortable questions about what happened on the court at the AELTC, Serena didn't (literally) stumble or crash out of the draw in headline-grabbing fashion. She was hardly perfect, but she found a way to do what she often does best. Just win.

2014 has been a bad slam year for Williams, as she hasn't advanced past the Round of 16 at any of the season's three majors. But, still, she's ensconced at #1 in the rankings, her Stanford run gives her a tour-best four titles on the season, and she's 7-0 against Top 10 players this year, running her record against the very best players in the game to 46-4 since 2012. One could make a case that... no, make that CAN put together a pretty clear argument that Serena is the WTA's most dominant "regular season" player of 2014, save for Maria Sharapova during her brief spring clay court campaign.

But does last week mean anything as we inch closer to New York and the U.S. Open at the end of the month, when Williams will attempt to win her third straight title at Flushing Meadows? Umm, well... probably not. After years of being the best player in tour's four majors, the opposite has been the case with Serena this season. The pressure, maybe her age (which has to play a part at SOME point, right?) and whatever the things are that Serena doesn't talk about have made her seem ready to be fitted with a Riddler, Matthew Lesko-style question mark-filled outfit.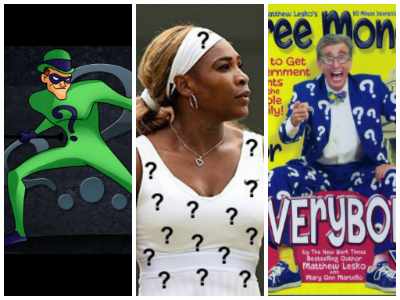 The last person to three-peat at the Open was Chris Evert, who won four straight titles from 1975-78. The last before that? Well, how about Maureen "Little Mo" Connolly, who competed her three straight run -- sixty-one years ago -- in 1953.

We DO know that Serena leads the U.S. Open Series, for now, and will be the top seed this week in Montreal. That's about it. As we race toward the fall, we won't really know if Williams' game will once again be slam-worthy in NYC until she is -- or isn't -- lifting her eighteenth major trophy on Arthur Ashe Court in September.

So, let the countdown to the "big reveal" begin. Once more, history is waiting for Serena. Whether Williams promptly arrives for the rendezvous will be the "great unanswered question" for what remains of this summer.



*WEEK 31 CHAMPIONS*
STANFORD, CALIFORNIA USA (Premier $710K/Hard Court)
S:

Serena Williams/USA def. Angelique Kerber/GER 7-6(1)/6-3


D:

Muguruza/Suarez-Navarro (ESP/ESP) d. Kania/Siniakova
WASHINGTON, D.C. USA (Int'l $250K/Hard Court)
S:

Svetlana Kuznetsova/RUS def. Kurumi Nari/JPN 6-3/4-6/6-4


D:

Aoyama/Dabrowski (JPN/CAN) d. Kuwata/Nara (JPN/JPN)

PLAYER OF THE WEEK:
Serena Williams/USA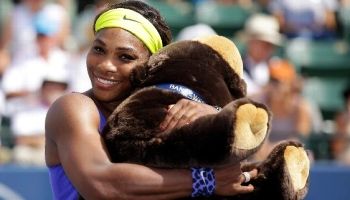 ...Williams' third career Stanford title came a day before she marked her 200th career week as the #1 player in the world. The road to title #61 was a rollercoaster, though. Serena fell behind 5-1 while losing the 1st set in the QF vs. Ana Ivanovic, then saw her 3-1 3rd set led turn into a 4-3 deficit before she pulled out the win. In the SF against Andrea Petkovic, a tight 1st set turned her way late as she ran off the final eight games of the match. Then, in the final, Angelique Kerber led 5-1 in the 1st set and had two set points before Williams won in straights. Serena was hardly the dominating version of herself that has been in the past, but it'll do. For now. This version of Serena would likely lose in New York, though. So, stay tuned.


=============================




RISERS:

Garbine Muguruza/Carla Suarez-Navarro (ESP/ESP) & Varvara Lepchenko/USA


...while both Spaniards have claimed their first career WTA singles titles in 2014, Muguruza & CSN have also fallen into a very successful doubles team, as well. In Stanford, they finally grabbed their first title as a duo after putting up QF (Miami), SF (Roland Garros) and RU (Madrid) results earlier this season. Muguruza, who also knocked off defending champ Dominika Cibulkova and Daniela Hantuchova last week, claims her third career doubles title, while Suarez-Navarro now has her first. Meanwhile, Lepchenko's Stanford semifinal run -- with wins over Caroline Garcia, Aga Radwanska & Sachia Vickery -- makes her the tenth different Bannerette to reach a WTA semi in '14.


=============================




SURPRISE:

The Japanese


...there have been a few Japanese players not named Kimiko putting up noteworthy results in 2014, but the group truly made their presence felt in Week 31. Four of the six Washington, D.C. singles/doubles finalists hailed from Japan, including three of the four doubles participants. 22-year old Kurumi Nara, a first-time singles champ earlier this season in Rio, reached her second career tour singles final, taking out Madison Keys, Zarina Diyas, Kristina Mladenovic and Marina Erakovic before losing the three-set final to Svetlana Kuznetsova. Nara also reached the doubles final with 23-year old countrywoman Hiroko Kuwata. Kuwata, the world singles #200, had earlier defeated Alison Riske in her tour main draw debut. Kuwata/Nara lost the doubles final to Japan's Shuko Aoyama (w/ Canada's Gabriela Dabrowski), the 26-year old who claimed her third straight Washington title. In Stanford, another Japanese newcomer, 16-year old world #406 Naomi Osaka, a qualifier, upset former U.S. Open champ Sam Stosur in the 1st Round, saving match point and claiming a three-set win in her tour main draw debut.


=============================




VETERANS:

Svetlana Kuznetsova/RUS & Emma Laine/FIN




...you never know which Sveta you're going to get, but "the good one" showed up in Washington, D.C. and walked away with her first title in four years ('10 San Diego). The 29-year old Russian got wins over Polona Hercog, Kirsten Flipkens and Ekaterina Makarova to reach the final. After having blown a 4-1 3rd set lead in the Oeiras final against Carla Suarez-Navarro earlier this year, Kuznetsova had to fight against squandering another lead in the D.C. decider against Kurumi Nara. She led 6-3/3-1 but was forced to a 3rd. Finally, though, the two-time slam champ came through down the stretch, saving a break point in the ninth game of the 3rd, holding to take a 5-4 lead in a break-free set. Break-free, that is, until the Hordette broke Nara a game later to secure the title, the 14th in her career. On the ITF circuit, veteran Fin Emma Laine, 28, continued her resurgence. Earlier this year, the former top 50 player (2006) assumed the role of playing captain of Finland's Fed Cup team after having not played a FC match in two years and coming in barely in the WTA Top 1000 after playing just three pro singles matches in 2012-13. Laine went 5-1 in singles/doubles pool play in a near-miss loss in a promotional playoff vs. Georgia. In March, she won her first ITF singles title since 2010. This weekend in the $10K challenger in Savitaipale, Finland, Laine won her second title of '14, taking a 6-0 3rd set in the final against Greece's Maria Sakkari, the 19-year old who was playing in her circuit-best eighth final of the season. It's Laine's ninth career ITF singles win, and she's now up to #786 in the new rankings.


=============================




COMEBACK:

Andrea Petkovic/GER


...Petko, a quarterfinalist at the U.S. Open back in '11 before injuries dragged her down the rankings, continued to post new chapters in one of the 2014 season's best stories, reaching her fourth semifinal (she's gone on to win two titles) after notching victories over Ajla Tomljanovic, Stosur conqueror Naomi Osaka and Venus Williams.


=============================




FRESH FACES:

Sachia Vickery/USA & Denisa Allertova/CZE



...ah, a Backspin rarity: Vickery wins a share of this award for the second straight week for her results in a single tournament. A week ago, the 19-year old was honored after qualifying in Stanford with a final Q-round win over former Stanford champ (2008) Aleksandra Wozniak. This time time it's for her main draw victories over a pair of past WTA singles champions, Zhang Shuai and Monica Puig, en route to reaching her first career WTA quarterfinal. Meanwhile, 21-year old Czech Allertova continues to make hay on the ITF circuit. The Maiden claimed her ITF-leading sixth season title at a $10K in Plzen, CZE, defeating Ukrainian Anastasia Vasylyeva in the final to lift her career circuit record in finals to 10-3. She's up to a new career high of #172 this week.


=============================




DOWN:

Samantha Stosur/AUS & Victoria Azarenka/BLR


...the former slam champs were rudely welcomed, in very different fashions, to the '14 North American hard court season in Stanford. Stosur was bounced in the 1st Round by 16-year old qualifier Naomi Osaka of Japan, the world #406, who was making her tour debut. Stosur held a match point in the 2nd set tie-break, and served for the match at 5-4 in the 3rd. Oddly enough, Stosur's long-awaited first tour title came IN Osaka, Japan in 2009. Go figure. Azarenka opened her U.S. Open Series with a 2nd Round straight sets loss to Venus Williams. That wasn't a big surprise, really, but the result puts an end to Vika's tour-best run of 200 straight weeks in the Top 10. She drops down to #11 in the new rankings, as Maria Sharapova takes over as the current active Top 10 streak leader, with 175 weeks.


=============================




ITF PLAYER:

Jarmila Gajdosova/AUS


...the 27-year old Aussie won the second $100K ITF challenger of her career, adding a title run in Vancouver to the one she had in Taipei in 2008 (she's since won a pair of WTA singles crowns in 2010-11). Wins over Grace Min, Madison Brengle and Lesia Tsurenko in a 3rd set tie-break in the final gives Gajdosova a 14-4 mark in ITF singles title deciders.


=============================




JUNIOR STAR:

Olga Fridman/UKR



...the 15-year old Ukrainian, the #18-ranked junior in the world (#1068 on the WTA computer), claimed her first pro singles title in the $10K challenger in Istanbul. Fridman began her '14 season on a junior circuit tear, stringing together sixteen straight wins at one point during a 21-1 start (26-1 going back to November) that saw her win three Grade 1 titles in the opening month while reaching four straight finals. In Turkey, qualifier Fridman defeated China's Ye Quiyu, 16, in the final.


=============================






1. Stanford 1st Rd. - Osaka d. Stosur
...4-6/7-6(6)/7-5. "The Road to Osaka" used to mean something so different to Stosur.


=============================




2. Stanford 1st Rd. - Ivanovic d. Lisicki
...7-6(2)/6-1. Still, the headline here involved Lisicki, as the German set the WTA serving record with a 131 mph bullet. Venus Williams had held the official record (128 mph in the '07 U.S. Open), while Brenda Schultz-McCarthy ('06 Cincinnati) held the "unofficial" mark in a qualifying match.

Still, AnaIvo got the last laugh. Not only did she win here, but her QF result was enough to lift her back into the Top 10 for the first time since her '08 Roland Garros title points fell off in June '09.


=============================


3. Stanford SF - Kerber d. Lepchenko
...4-6/7-6(4)/6-2. Kerber saved MP in the 2nd set before going on to win a 2:40 Saturday evening match, then couldn't replicate her performance in the afternoon on Sunday. Considering her Wimbledon fate, the German is having really "poor luck" when it comes to late tournament match schedules.


=============================


4. Wash DC 1st Rd. - Rogers d. Cornet 7-5/4-6/6-4
Wash DC 1st Rd. - Nara d. Keys 7-5/6-3
....so much for that Keys/Cornet rematch.


=============================


5. Wash DC 1st Rd. - McHale d. Stephens
...6-4/4-6/6-0. Different coach, same result. Thomas Hogstedt...watch your back.


=============================


6. Wash DC Doubles QF - Rae/Smith d. Black/Mirza 6-4/6-3
Wash DC Doubles SF - Kuwata/Nara d. Rae/Smith 6-1/1-6/12-10
...the Brits are still getting it done, pulling off a big upset and nearly going even deeper in the draw, as they held a MP at 10-9 in the match tie-break against the Japanese pair.


=============================


7. Stanford 1st Rd. - Zhao d. Wickmayer
...6-2/1-0 ret. Hey, it doesn't matter how exactly it came about. It's still the Canadian's first MD WTA win.


=============================


8. Wash DC 1st Rd. - Mladenovic d. Safarova
...2-6/6-3/6-3. Mladenovic Magic was alive and well in D.C. ...for a while. The Pastry eventually lost in the QF to Nara.


=============================


9. Stanford 1st Rd. - Davis d. Peng 1-6/6-4/6-2
Montreal Q1: Rogers d. Peng 6-1/6-3
...the Chinese vet hasn't exactly carried over her momentum after winning that WTA $125K Challenger Series crown.


=============================


10. $10K Copenhagen Final - Mai Grage/DEN d. Karen Barbat/DEN
...6-4/7-5. The 22-year old Dane wins her first ITF title. Meanwhile, the 24-year old Dane announced her plan to run her first New York City Marathon.




=============================


HM- $10K Rovereto Final - Laura Pous Tio/ESP d. Lisa Sabino/SUI
...6-2/4-6/6-1. The 29-year old Spaniard has grabbed five ITF singles this season, just one off the circuit lead.


=============================






1. Stanford Final - Serena Williams d. Kerber
...7-6(1)/6-3. Kerber led 5-1 and held two set points in the 1st, but her eventual loss, her fifth straight in WTA finals, dropped her to 0-4 in finals this season and to 3-9 for her career.


=============================




2. Stanford 2nd Rd. - Venus Williams d. Azarenka
...6-4/7-6(1). The scoreline wasn't the shocking thing in this one. Yeah, it's the outfit. (Said in the same sort of tone as the final line in that AT&T ad.)



=============================


3. Stanford QF - S.Williams d. Ivanovic
...2-6/6-3/7-5. One of Serena's typical Stanford rollercoasters. She fell behind 5-1 en route to losing the 1st set, then grabbed a 4-2 lead in the 2nd as AnaIvo called a trainer to tend to her hip. Williams led 3-1 in the 3rd, only to see Ivanovic soon take a 4-3 lead. If Serena had lost, headlines would have been made. But she held on to win for the sixth time in seven tries against the Serb, quite possibly sending herself off on a successful North American hard court campaign.


=============================


4. Stanford 2nd Rd. - Serena Williams d. Karolina Pliskova
...7-5/6-2. Another case of, all together now... "sister-on-sister crime." Such a pity.


=============================


5. Stanford 2nd Rd. - Lepchenko d. Aga Radwanska
...6-3/3-6/6-4. Aga's evil eye is becoming less and less lethal all the time.

=============================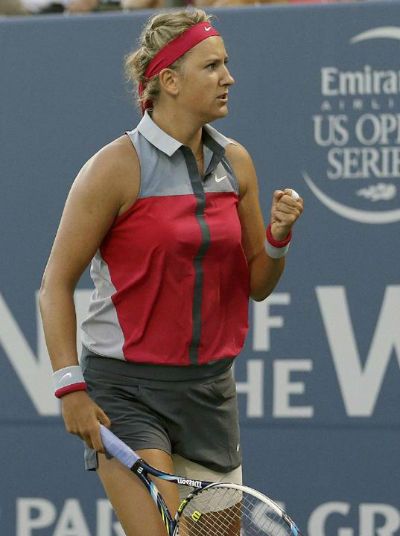 ...umm, or not. Seriously, I didn't think Nike could come up with an outfit that suited Vika worse than that THING she wore at last year's U.S. Open. But I may stand corrected. Just goes to show, I guess, that there are "good" shorts and "bad" shorts, with the latter looking like the person wearing them might have raided her dad's clothes hamper because there was nothing clean in her own.


Meanwhile, Cheesecake Factory break:

Did someone say Oreo Dream Extreme? #SayCheesecakeContest http://t.co/9GBlJHv9ge @Cheesecake #spons pic.twitter.com/jeM8kaZb4I

— Aga Radwanska (@ARadwanska) July 30, 2014


Which means, the latest issue of the Polish version of Shape magazine might come in handy: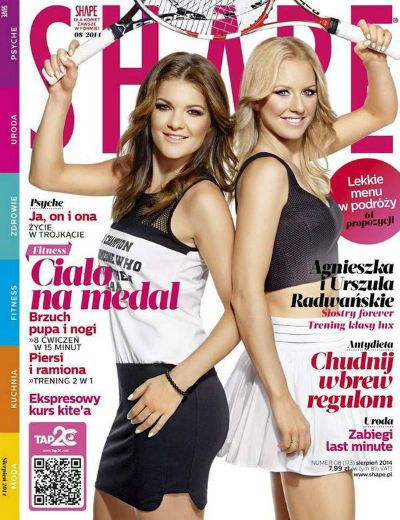 **2014 WTA TITLES**


4 - SERENA WILLIAMS, USA
3 - Maria Sharapova, RUS
3 - Ana Ivanovic, SRB
2 - Li Na, CHN
2 - Simona Halep, ROU
2 - Andrea Petkovic, GER



**2014 WTA FINALS**


4...SERENA WILLIAMS (4-0)
4...Ana Ivanovic (3-1)
4...Simona Halep (2-2)
4...ANGELIQUE KERBER (0-4)
3...Li Na (2-1)
3...Maria Sharapova (3-0)
3...Dominika Cibulkova (1-2)
3...Klara Koukalova (1-2)



**ALL-TIME WEEKS AS WTA #1**


377...Steffi Graf
331...Martina Navratilova
260...Chris Evert
209...Martina Hingis
200...SERENA WILLIAMS
178...Monica Seles
117...Justine Henin



**2014 SINGLES/DOUBLES FINALS AT EVENT**


Hobart = Klara Koukalova, CZE (L/W)
Bogota = Caroline Garcia, FRA (W/W)
Marrakech = Romina Oprandi, SUI (L/W)
Rome = Sara Errani, ITA (L/L)
Nurnberg = Karolina Pliskova, CZE (L/W)
Washington DC = KURUMI NARA, JPN (L/L)



**2014 WTA CHAMPIONS - LONGEST TITLE DROUGHTS**


8yr,5m,1w - Klara Koukalova, Florianopolis [Portoroz '05]
4yr - SVETLANA KUZNETSOVA, Wash.D.C. [San Diego '10]
3yr,11m - Flavia Pennetta, I.W. [Marbella '10]
3yr,7m,2w - Ekaterina Makarova, Paris [Eastbourne '10]



**CAREER WTA TITLES - ACTIVE**


61 - SERENA WILLIAMS (2014: 4)
45 - Venus Williams (1)
32 - Maria Sharapova (3)
22 - Caroline Wozniacki (1)
17 - Victoria Azarenka (-)
14 - Ana Ivanovic (3)
14 - SVETLANA KUZNETSOVA (1)



**ALL-TIME RUSSIAN TITLES**


32...Maria Sharapova (2003-14)
16...Elena Dementieva (2003-10)
14...SVETLANA KUZNETSOVA (2002-14)
13...Nadia Petrova (2005-12)
12...Vera Zvonareva (2003-11)
12...Dinara Safina (2002-09)
10...Anastasia Myskina (1999-05)

Now, the tour comes to Canada. And, predicably, you-know-who is everywhere...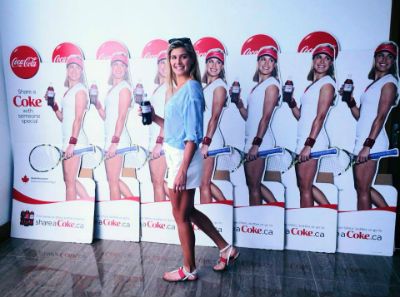 Also, the Montreal-invading Genie Army debuted a new fight song:








MONTREAL, QUEBEC CAN (Premier 5 $2.44m/HCO)


13 Toronto Final: S.Williams d. Cirstea
12 Montreal Final: Kvitova d. Li
13 Toronto Doubles Final: Jankovic/Srebotnik d. Groenefeld/Peschke
12 Montreal Doubles Final: Jans-Ignacik/Mladenovic d. Petrova/Srebotnik
14 Top Seeds: S.Williams/Kvitova
=============================


=QF=


#1 S.Williams d. #5 Bouchard
#4 Sharapova d. V.Williams
#8 Azarenka d. Keys
#9 Ivanovic d. #2 Kvitova


=SF=


#1 S.Williams d. #4 Sharapova
#9 Ivanovic d. #8 Azarenka


=FINAL=


#1 S.Williams d. #9 Ivanovic

...it's still a no-slam zone, so it's a good bet to pick Serena again. Of course, if the Inside-Out Keys Reverse Curse (thanks, Diane!) comes about, I guess Team Madison would be scheduled for a celebration a week from now, huh? Hmm, maybe not... but I picked her as far as a could, though I guess I could have pushed her into the final four.

Of course, Montreal is where we'll get our first look at a post-Wimbledon Petra, Take Two, as well. Let's hope it'll be better than the original after-SW19 version from three years ago. If not, well, Kvitova can catch up on her reading...




...and maybe hope that Li has a SECOND book in her. Unfortunately, the AO champ will have some free time on her hands, as a knee injury led to her announcement last week that she'll miss the U.S. Open. Sigh. Melbourne seems so long ago now, doesn't it?


All for now.