Petra, Take 2

All right, let's try this again. Petra Kvitova is the Wimbledon champion. A little older, but also a little wiser.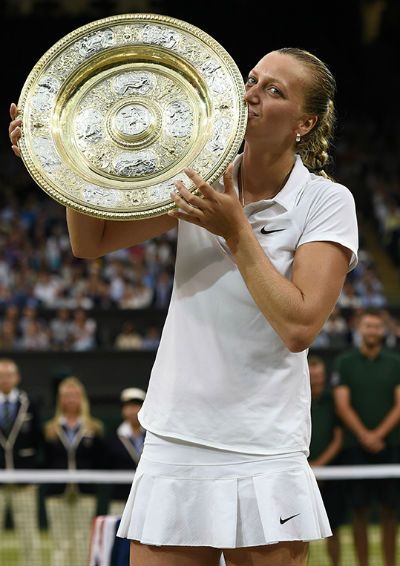 The predominant storyline heading into the Ladies singles final today seemed to revolve around 20-year old Eugenie Bouchard, a fresh and new face on the WTA tour. With an edgy confidence that has been revealed through an extended three-slam, six-month breakout, hers has gone from a name known only to in-the-know tennis fans to that of the player being dubbed "the next One," the sort of player who can galvanize both off-court fanfare as well as on-court success radiantly from a supremely confident personality and fist-clenching competitiveness that calls to mind the intense greats of other sports, along with a matter-of-fact acknowledgement of her own belief in the inevitability of her success that sounds an awful lot like some of the comments made by one Roger Federer when he was in the midst of placing his name atop a series of "best ever" lists.

For the first time since a teenage Russian burst onto the scene in London a decade ago, the face of the next generation of "full package success" seemed to be ready to emphatically claim her place in the spotlight. Named for English royalty (Princess Eugenie, who was present in the Royal Box for the match), armed with "good luck charm" actor Jim Parsons in the Friends Box, as well as her two sisters, who'd flown in to join their ever-present little brother in the crowd, every plot point seemed ready to project the Canadian into the WTA stratosphere. Right now. Flattered by comparisons to other slam-winning players such as Sharapova and "cold-hearted killer" Chris Evert, Bouchard had still made a point to say rather clearly, "I want to make my own history." She already has and will continue to do just that.

But today was Kvitova's day to shine -- glow white-hot, really -- on Centre Court. Again. In its own right, the inevitability of becoming a grand slam champion is a tough opponent... but not as tough as the Czech was today.

After witnessing Kvitova's thunderous run to her maiden slam title at Wimbledon in 2011, it was crystal clear to anyone with working vision -- and good hearing, too, for that matter -- that she COULD dominate on the grass like few people in the collective memory of tennis watchers. Rarely has a young player been the object of such fawning attention from all-time greats as Kvitova was following her all-encompassing destruction of Sharapova on Centre Court in the final three years ago. It was easy to forget that she was also a shy, 21-year old in no way prepared for the onslaught of attention and heightened expectations that her success was about to dump into her lap the second she stepped off the grass.

Over the course of the past three years, while the Czech has often been a bundle of errors waiting to explode in the middle of a match, in between bouts with breathing issues associated with her asthma, that is, no one truly forgot that Kvitova, under the right circumstances, had the ability, especially on the grass, to prevent an opponent from even seeing an opportunity to step into a match, blowing them off the court in a barrage of clean groundstroke winners and explosive, wide-angling lefty serves. But after not seeing much of THAT Petra over the last three years, recently, the possibility of giving up hope that we ever would again was starting to creep into the conversation.

Oh, all right. I'll admit it. I HAD sort of given up on her. Not ENTIRELY, but until further notice. I no longer expected anything good, and I wasn't the only one, either. At some point, after experience has beaten reality into you enough times, you tend to shy away from the stove just to avoid the possibility of getting burned. In Kvitova's case, heading into this Wimbledon, while it was known that one couldn't look PAST Kvitova, there was a lingering, troubling thought that maybe what we THOUGHT we saw in 2011 had been something of a mirage. Of at least a wonderful daydream.

Thankfully, Kvitova never gave up on herself. Some players in similar situations, whether or not they had fewer gifts at their disposal as the talented Czech, might have done just that and never fully recovered. We've seen it happen many times before. While her results were still often spotty, Kvitova still managed to improve her fitness over the past year, and even hired a "mental coach" to help her deal with all the things that hampered her in the past.

Against the #13-seeded Bouchard, it was expected that the match would be a tight affair, with the mettle of both players tested in a series of big moments and points. Bouchard's coach, Nick Saviano, said the final would be an example of "first strike tennis," with short points going to the player who could aggressively get out in front of the ball first. It was the sort of approach that has become Bouchard winning calling card, as the Canadian chooses to plant her feet inside the baseline against every opponent and dares them to hit through her. Even the likes of Roland Garros finalist and #3-seed Simona Halep, already hampered by injury, essentially admitted to being intimidated and frustrated by the tactic after her semifinal loss to Bouchard, speaking in terms that many of her victims would likely understand. But trying to employ the same sort of game plan against the air and ground assault style of an in-form Kvitova, who'd shown three years ago that she could blast her way through the likes of Sharapova (and did so again in the 3rd Round this year in a classic win over Venus Williams), was an eyebrow-raiser. Could Bouchard pull it off and, most importantly, would Kvitova LET her?

Ummm, no. To both.

While Bouchard's name was on everyone's lips before the match, #6-seeded Kvitova was having nothing of it once the match began. Not at Wimbledon. Not on Centre Court, both her tennis "home," as well as that of her childhood idol, Martina Navratilova. And with the "host" determining the "guest's" menu for the day, what Bouchard received was a steady diet of hard, deep power shots that often handcuffed the Canadian from her position inside the baseline. Kvitova's groundstrokes attacked the very cherished ground that Bouchard had established as her own during this past fortnight, and her angled shots often left the first Canadian to ever reach a slam singles final flailing to just get a racket on the ball, let alone think about establishing any sort of footing from which to impose her own game on the Czech as she had in big moments against other players through her first six matches at the AELTC.

It didn't take long for the ACTUAL storyline of the match to play out. In game #3, Kvitova's cross-court backhand winner gave her a break point on Bouchard's serve, then a cross-court forehand won it to give the Czech a 2-1 lead. After Bouchard's backhand volley had seemingly put Kvitova in a poor position in the far right hand corner of the court, Kvitova's backhand cross-court winner to hold for 3-1 proved that nothing was going to play out as anyone was really expecting in this final. Bouchard held, barely, for 3-2 after saving three break points, but it was apparent that the plan to face off with Kvitova's power from inside the baseline was simply not going to work unless the Czech's game went haywire itself. But it wasn't going to do that. Instead, Kvitova had won seventeen of twenty-one rallies that lasted four shots or less, the very definiton of "first strike tennis," and quickly held for 4-2. With Kvitova's powerful shots coming at her deep into the court, Bouchard, a "Time Bandit" coming into the final, simply didn't have enough time to react. As a result, she was often off-balance, unable to be aggressive, and usually didn't even have a chance to get a racket on the winners rocketing off the Czech's strings.

Kvitova went up 30/love on Bouchard's serve in game #7. The Canadian double-faulted to go down break point, and soon trailed 5-2. After Kvitova had held in sixty of sixty-four serve games in the tournament, Bouchard managed a break for 5-3 a game later after pouncing on a return with a forehand cross-court shot that elicited an error from the Czech, it seemed as if a match might develop, after all. But it didn't. Kvitova's power and angles came into prominence again almost immediately. On her third break point of game #9, Kvitova blasted an angled forehand return deep, and it got upon Bouchard so quickly that she couldn't even get a full swing on it. The Czech got the break to take the 1st set at 6-3, and things would only get worse for Bouchard from that point on as Kvitova rode the wave of her early success to a whitewash in the 2nd set.

Kvitova quickly went up 40/love in the first game of the 2nd, holding for 1-0. A big return produced a Bouchard error as the Czech took a 30/love lead in game #2, causing a frustrated Bouchard to throw up her hands as she lost her ninth of twelve points. On BP #2 of the game, Bouchard sprayed yet another deep-landing Kvitova power shot to go down 2-0 as teh Czech was essentially having target practice with the young, still stubbornly stationed inside the baseline Canadian. After climbing back from 15/40 to deuce on Kvitova's serve, Bouchard saw her fire an ace to hold for 3-0. Kvitova was simply not going to allow her into the match, and Bouchard could do nothing about that fact.

In her last ditch attempt to hold serve, Bouchard tried to seize control of a rally by moving into the net on game point, only to see Kvitova blast a forehand cross-court passing shot to wipe it away. Soon it was 4-0 with another break, with Kvitova in total command of things, dictating nearly every point with clean shots to which there was no acceptable response. Bouchard, often out of position, would continually lunge for shots that, once she got a racket on them, would just result in the the ball sailing sky high to set up Kvitova for an even easier winner. Kvitova held at love for 5-0, and suddenly Bouchard was attempting to avoid the most lopsided Wimbledon final loss in twenty-two years (Graf def. Seles 6-2/6-1 in 1992). As was the case with everything all day, Bouchard still couldn't hold Kvitova back. At 30/30, Bouchard committed an error that gave the Czech a match point. Kvitova's cross-court backhand winner ended the 6-3/6-0 match after just fifty-five minutes.





All in all, it was unstoppable march to an inevitable conclusion for Kvitova, one made without a single misstep. Bouchard will have to wait, though it still seems inevitable that she will have her day as a grand slam champion. Likely a few more than one, actually. Her stern will will make it a reality. But this was Petra's day. Again. No doubt about it.

For the match, Kvitova fired twenty-eight winners to just twelve unforced errors. Bouchard had only eight winners, and since she barely got the chance to have get her racket on the balls coming off Kvitova's stringed sledgehammer, let alone make a mistake with a shot, she had just four unforced errors. Kvitova won 82% of her 1st serve points for the match while, in about as telling a stat comparison as you'll ever find, Bouchard won just 46% of hers. She was broken in six of eight service games.

Finally, once the match was complete, somebody put a stop to Kvitova -- whoever looked at the weather radar and decided to close the Centre Court roof for the trophy presentation. The moved forced the two finalists, in an unprecedented move, to leave the court before the beginning of the post-match ceremonies. Once Kvitova and Bouchard had returned after the beautiful overhead mechanical contraption had sealed off the ages-old building from the elements, Bouchard waited patiently (and as politely as she possibly could) while Kvitova took a more adult, this-time-she-knows-what-she's-getting-herself-into victory lap with the Venus Rosewater dish. By the time she'd climbed the indoor steps and fulfilled the new-ish tradition of posing with the trophy on a balcony overlooking the grounds and a slew of gathered fans, the rains had arrived.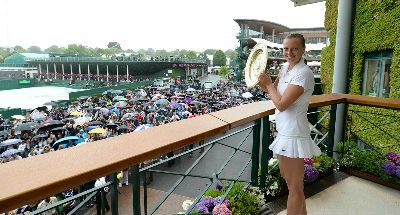 But nothing was going to rain on Kvitova's parade of smiles on her second day in the SW19 sun... even if that sun was hiding somewhere behind the clouds.

Rather than Bouchard becoming the youngest first-time slam champ since a 19-year old Svetlana Kuznetsova in 2004, she'll have to be content (for now) with becoming the second Canadian woman to reach the Top 10, as well as being the highest-ranked (she'll be the new #7 on Monday) ever. Her '14 grand slam quest will pick up again in New York at the end of the summer, where the Genie Army's U.S. division -- as well as a few home nation battalions shipped in from up north, I'm sure -- will likely conduct maneuvers under the lights of Arthur Ashe on at least one occasion before things are through.

Three years after becoming the first man or woman born in the 1990's to win a slam singles title, Kvitova is STILL the only one to become a champion. And now she's done it twice. Bouchard might have the looks of an ultimate "Time Bandit," but the Czech is laying down her own footprints in the early battle against the clock and calendar.

Kvitova, though, will now have to move on from London and try to find more success elsewhere. But even if she doesn't, she's got a nice thing going at the All-England Club. And that alone could be something that makes her entire career. 26-3 in last twenty-nine matches there, Kvitova is just the eighth woman in the Open era to win multiple Wimbledon singles titles. The other seven either are or will be Hall of Famers. The last non-Williams to win a second title at SW19 was Steffi Graf in 1989, twenty-five years ago and in a decade that has still cornered the market as the era of birth for the majority of the grand slam champions of the past ten years or so.

Maybe Kvitova, who hadn't played in a final this season until today, won't be able to expand her Wimbledon confidence and composure to similar success at other major events. And while she'll continue to remain a top player for years to come, the AELTC will always remain the site where her game and champion's personality shine the brightest. That might be a somewhat disappointing development for a player who has already been a WTA Player of the Year winner and who came within an eyelash of reaching #1 early in 2012, but if things turn out that way, so be it. If Wimbledon is where the majority of Kvitova's tennis legend will be told, then she should own it. Fully and completely. In her post-match interview, Kvitova joked that she's still has a long way to go to match record nine-time champ Navratilova's Wimbledon exploits.

It is a far way down the road, for sure, but it's not a road that is definitively closed to the Czech. Not if she can reach and play Wimbledon finals with the same tenacity, power and precision that she did both in 2011 and today. Three years ago, she cemented her beautiful friendship with Wimbledon as she looked virtually unbeatable on the grass if she played at her top level. She looked just as lethal today.

Grand history has been carved from circumstances with far less promise than that.












=DAY 12 NOTES=
...later, Sara Errani & Roberta Vinci took a note from the singles championship that preceded the women's doubles final on Centre Court, as the Italians handily defeated Timea Babos & Kristina Mladenovic 6-1/6-3 to win their first Wimbledon title and complete a Career Doubles Slam. They're the sixth duo to pull off the feat in the Open era, and the only active team other than the Williams Sisters to have done it. It's the duo's fifth overall major title, good for the fifth-best total in the Open era.




The men's doubles final followed, and a Canadian FINALLY won a title at this Wimbledon as Vacek Pospisil teamed with American Jack Sock to take down the defending champion Bryan twins in a 7-5 5th set. The win prevented the brothers from equaling one of the few career records they don't already own -- that of Open era leaders for individual men's slam doubles titles. Both Bryans have fifteen, one behind retired Aussie Todd Woodbridge's sixteen.

...in the Mixed semifinals, the Mladenovic Magic was completely drowned. After losing in the doubles final, the Pastry lost for the second time on Day 12. Kiki & Daniel Nestor, the Wimbledon defending champs, lost to Chan Hao-Ching & Max Mirnyi in the semifinals. The Taiwanese/Belarusian pair will face Sam Stosur & Nenad Zimonjic in the final tomorrow.
THE ART OF WAITING YOUR TURN ON DAY 12:


Hey, patience is supposed to be a virtue, right?

After her semifinal win, Bouchard said of her first slam final, "It's not like a surprise to me. I expect good results like this. So for me, I was like, 'Okay, good. It's a step in the right direction. I get to play in the final.'" She said essentially the same thing after today's loss, handing all the credit to Kvitova for her performance, saying she was looking forward to a nice break before the North American hard court season and giving every indication, as she has for months, that she'll continue to walk, and sometimes sprint down, a direct path toward her personal tennis goals. She lost today but, really, nothing has changed about her confident demeanor, her focus or her belief that she'll be the one lifting a slam trophy in the near future.

Good. By this time, we've seen enough lopsided losses in slam finals that mess with the minds of young players to last a lifetime. That's not going to happen here. Good things supposedly come to those who wait, and though it may go against every fiber in her being, that's what Bouchard will now have to do.

But not for much longer.

REALIZATION ON DAY 12:

-- hey, Venus Williams, who very nearly defeated Kvitova in the 3rd Round, actually DID have a chance to win this title.

CRYING "FOUL!" MOMENT ON DAY 12:

-- Mary Joe Fernandez trying to re-write ESPN's 2014 Wimbledon coverage, after the fact. MJF stated today how everyone looked to Kvitova as the favorite to win the title once Serena Williams lost. Uh, no, Mary Joe. No. While it might have been a correct, though risky, thought process at the time, since THAT Petra hadn't been present at Wimbledon for a full fortnight since 2011, the actual talk on ESPN after Williams' exit, including from Fernandez herself before the very match in which the Russian lost, was how Maria Sharapova was the overwhelming tournament favorite without Serena in her way. A few days later, when the odds were posted on air for the "favorite" to win and the Czech wasn't listed in the top position, no one on the ESPN set was standing up for Kvitova's chances, either.

It's all right to be wrong sometimes, Mary Joe. I'd think you would have learned all about that as Fed Cup coach.

...in the juniors, Latvia's Jelena Ostapenko took out Czech Marketa Vondrousova 6-1/6-2 to advance to her first girls slam final, while Slovak Kristina Schmiedlova defeated Elena Gabriela Ruse of Romania, coming back from a set down to win 4-6/6-3/6-4. Schmiedlova's sister Anna reached the Roland Garros junior final in 2012, losing to Germany's Annika Beck. She'll be looking to be the first Slovak to claim a girls slam singles title since Kristina Kucova at the U.S. Open in 2007, while Ostapenko will attempt to become the first Latvian to do so.

In the Roehamption grass court event before Wimbledon, Ostapenko defeated Schmiedlova in the final.

In the boys, it'll be an all-American final at Wimbledon for the first time since 1977 (Van Winitsky/Eliot Teltscher) as #6-seed Stefan Kozlov will face qualifier Noah Rubin. The last American to win the junior Wimbledon crown was Donald Young in 2007.

In the girls doubles final, the team of Marie Bouzkova & Dalma Galfi (CZE/HUN) will face the all-Asian pair of Tami Grende & Qiu Yu Ye (INA/CHN).

...and, finally...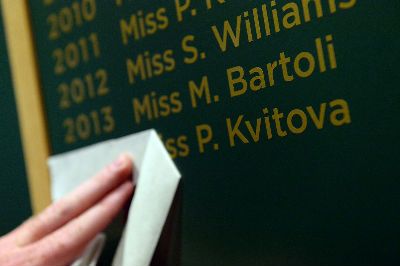 With many more still to come?














=LADIES' SINGLES FINAL=




#6 Petra Kvitova/CZE def. #13 Eugenie Bouchard/CAN 6-3/6-0





=GENTLEMEN'S SINGLES FINAL=


#1 Novak Djokovic/SRB vs. #4 Roger Federer/SUI



=LADIES' DOUBLES FINAL=




#2 Sara Errani/Roberta Vinci (ITA/ITA) def. #14 Timea Babos/Kristina Mladenovic (HUN/FRA) 6-1/6-3





=GENTLEMEN'S DOUBLES FINAL=




Vacek Pospisil/Jack Sock (CAN/USA) def. #1 Bob Bryan/Mike Bryan (USA/USA) 7-6(5)/6-7(3)/6-4/3-6/7-5





=MIXED DOUBLES FINAL=


#14 Chan Hao-Ching/Max Mirnyi (TPE/BLR) vs. #15 Samantha Stosur/Nenad Zimonjic (AUS/SRB)



=GIRLS SINGLES FINAL=


Jelena Ostapenko/LAT vs. #8 Kristina Schmiedlova/SVK



=BOYS SINGLES FINAL=


(Q) Noah Rubin/USA vs. #6 Stefan Kozlov/USA



=GIRLS DOUBLES FINAL=


Tami Grende/Qiu Yu Ye (INA/CHN) vs. Maria Bouzkova/Dalma Galfi (CZE/HUN)



=BOYS DOUBLES FINAL=


#1 Stefan Kozlov/Andrey Rublev (USA/RUS) vs. #3 Orlando Luz/Marcelo Zormann (BRA/BRA)



=WC LADIES' DOUBLES FINAL=


#1 Yui Kamiji/Jordanne Whiley (JPN/GBR) vs. #2 Jiske Griffioen/Aniek Van Koot (NED/NED)



=WC GENTLEMEN'S DOUBLES FINAL=


#1 Stephane Houdet/Shingo Kunieda (FRA/JPN) vs. #2 Maikel Scheffers/Ronald Vink (NED/NED)
















*WIMBLEDON SINGLES TITLES - active*


5 - Serena Williams (2002-03,09-10,12)
5 - Venus Willimas (2000-01,05,07-08)
2 - Petra Kvitova (2011,14)
1 - Maria Sharapova (2004)



*WON SECOND WIMBLEDON TITLE - Open era*


1972 Billie Jean King (won 2nd overall Wimbledon title in '68)
1976 Chris Evert
1979 Martina Navratilova
1980 Evonne Goolagong
1989 Steffi Graf
2001 Venus Williams
2003 Serena Williams
2014 Petra Kvitova



*RECENT WIMBLEDON DOUBLES CHAMPIONS*


2008 Serena Williams & Venus Williams, USA/USA
2009 Serena Williams & Venus Williams, USA/USA
2010 Vania King & Yaroslava Shvedova, USA/KAZ
2011 Kveta Peschke & Katarina Srebotnik, CZE/SLO
2012 Serena Williams & Venus Williams, USA/USA
2013 Hsieh Su-Wei & Peng Shuai, TPE/CHN
2014 Sara Errani & Roberta Vinci, ITA/ITA



*DOUBLES DUOS with CAREER SLAM - Open Era*


Margaret Court & Judy Tegart
Martina Navratilova & Pam Shriver
Kathy Jordan & Anne Smith
Gigi Fernandez & Natasha Zvereva
Serena Williams & Venus Williams
Sara Errani & Roberta Vinci



*SLAM DOUBLES TITLES, DUOS - Open Era*


20 - Martina Navratilova & Pam Shriver
14 - Gigi Fernandez & Natasha Zvereva
13 - Serena Williams & Venus Williams
8 - Virginia Ruano Pascual & Paola Suarez
5 - SARA ERRANI & ROBERTA VINCI



*CAREER WTA DOUBLES TITLES*




[both players in duo still active]


29 - Cara Black & Liezel Huber #
21 - Serena Williams & Venus Williams
20 - SARA ERRANI & ROBERTA VINCI
20 - Lisa Raymond & Sam Stosur #
12 - Hsieh Su-Wei & Peng Shuai
--
# - no longer doubles partners



*WIMBLEDON "DOUBLES STAR" WINNERS*


2006 Yan Zi & Zheng Jie, CHN
2007 Cara Black, ZIM
2008 Samantha Stosur, AUS
2009 Serena & Venus Williams, USA
2010 Vania King & Yaroslava Shvedova, USA/KAZ
2011 Kveta Peschke, CZE
2012 Lisa Raymond, USA
2013 Kristina Mladenovic, FRA
2014 Sara Errani & Roberta Vinci, ITA/ITA



*WIMBLEDON GIRLS FINALS - since 2002*


2002 Vera Dushevina/RUS def. Maria Sharapova/RUS
2003 Kirsten Flipkens/BEL def. Anna Chakvetadze/RUS
2004 Kateryna Bondarenko/UKR def. Ana Ivanovic/SRB
2005 Agnieszka Radwanska/POL def. Tamira Paszek/AUT
2006 Caroline Wozniacki/DEN def. Magdalena Rybarikova/SVK
2007 Urszula Radwanska/POL def. Madison Brengle/USA
2008 Laura Robson/GBR def. Noppawan Lertcheewakarn/THA
2009 Noppawan Lertcheewakarn/THA def. Kristina Mladenovic/FRA
2010 Kristyna Pliskova/CZE def. Sachie Ishizu/JPN
2011 Ashleigh Barty/AUS def. Irina Khromacheva/RUS
2012 Eugenie Bouchard/CAN def. Elina Svitolina/UKR
2013 Belinda Bencic/SUI def. Taylor Townsend/USA
2014 Jelena Ostapenko/LAT vs. Kristina Schmiedlova/SVK



*RECENT WIMBLEDON MEN'S DOUBLES CHAMPIONS*


2006 Bob Bryan & Mike Bryan, USA/USA
2007 Arnaud Clement & Michael Llodra, FRA/FRA
2008 Daniel Nestor & Nenad Zimonjic, CAN/SRB
2009 Daniel Nestor & Nenad Zimonjic, CAN/SRB
2010 Jurgen Melzer & Philipp Petzschner, AUT/GER
2011 Bob Bryan & Mike Bryan, USA/USA
2012 Jonathan Marray & Frederik Nielsen, GBR/DEN
2013 Bob Bryan & Mike Bryan, USA/USA
2014 Vacek Pospisil & Jack Sock, CAN/USA







TOP QUALIFIER:

Michelle Larcher de Brito/POR




TOP EARLY-ROUND (1r-2r):

#5 Maria Sharapova/RUS




TOP MIDDLE-ROUND (3r-QF):

#6 Petra Kvitova/CZE




TOP LATE-ROUND (SF-F):

#6 Petra Kvitova/CZE (2nd Wimbledon title)




TOP QUALIFYING MATCH:

Q3: Paula Kania/POL d. Shelby Rogers/USA 7-6(12)/4-6/6-3




TOP EARLY-RD. MATCH (1r-2r):

1st Rd. -Coco Vandeweghe/USA d. #27 Garbine Muguruza/ESP 6-3/3-6/7-5 (on 13th MP, 9th in final game)




TOP MIDDLE-RD. MATCH (3r-QF):

4th Rd. - #9 Angelique Kerber/GER d. #5 Maria Sharapova/RUS 7-6(4)/5-6/6-4




TOP LATE-RD. MATCH (SF-F/Jr.):

xx


=============================




FIRST WINNER:

Elena Vesnina/RUS (def. Patricia Mayr-Achleitner/AUT)




FIRST SEED OUT:

#17 Samantha Stosur/AUS (lost 1st Rd. to Wickmayer/BEL)




UPSET QUEENS:

USA (def. 3 seeds and one ex-semifinalist in 1st Rd.)




REVELATION LADIES:

CZE




NATION OF POOR SOULS:

SVK (1-4 in 1st Rd.)




LAST QUALIFIER STANDING:

Tereza Smitkova/CZE (4th Rd.)




LAST WILD CARD STANDING:

Vera Zvonareva/RUS (3rd Rd.)




LAST BRIT STANDING:

Naomi Broady & Heather Watson (2nd Rd.)




IT ("??"):

Nominees: E.Bouchard/CAN; Y.Kamiji/JPN


Ms.OPPORTUNITY:

Lucie Safarova/CZE




COMEBACK:

Vika's white shorts




CRASH & BURN:

Sloane Stephens/USA (lost 1st Rd. to Kirilenko/RUS, ending 6 con. slam Round of 16 streak)




ZOMBIE QUEENS:

A.Pavlyuchenkova/L.Safarova, RUS/CZE (saved 9 MP vs. Black/Mirza in Doubles 2nd Rd.)




DOUBLES STARS:

Sara Errani & Roberta Vinci (ITA/ITA)




AMG SLAM FUTILITY UPDATE:

DNP - singles (first time Medina-Garrigues didn't play Q/MD singles at a slam since 2003 Wimbledon, ending a 43-tournament appearance streak)


JUNIOR BREAKOUT:

Nominees: J.Ostapenko/LAT; K.Schmiedlova/SVK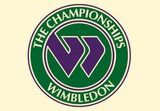 All for Day 12. More tomorrow.