Wk.28- Pride & Petkovic
Wimbledon is over and finished, so now it's time to get back to building a season. And, right on cue, Simona Halep and Andrea Petkovic stepped right up with their brick and mortar.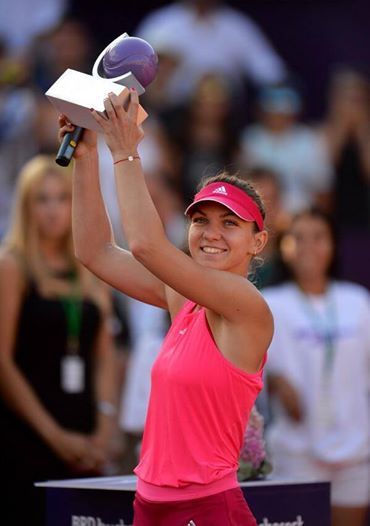 As great as Halep's season has been as she's climbed to a Romanian-best ever ranking of #3 in the world, reached a pair of slam semifinals and her first major final, the one thing that was the hallmark of her climb up the rankings in 2013 -- her ability to salt away singles titles -- has been mostly missing in '14. After going 6-0 in finals last year, Halep was just 1-2 heading into last week, with her only winning weekend coming in Doha five months ago. Ah, but wouldn't you know it, the Pride of Romania managed to steal the show in the inaugural Bucharest Open, racing through the draw while dropping just one set all week and firing the first shot across the bow of BOTH world #2 Li Na and Road to Singapore points leader Maria Sharapova as the '14 season nears it's turn down the back stretch when things head to North America in less than two weeks.

Meanwhile, in Bad Gastein, Petkovic was both rekindling an old flame AND staking out new territory. Five years ago, as the then-#98 ranked player in the world who'd never won back-to-back WTA main draw matches, the German went to Austria and made off with her maiden career singles title. Within eighteen months, she was starting down the path of an '11 season in which she'd reach a trio of slam quarterfinals and finish the year in the Top 10. Injuries and aggravation have ruled much of Petko's day since then, until this season. In 2014, the dancing and smiling German has returned in nearly full force, putting up big time Fed Cup wins, returning to the Top 20, winning Charleston and reaching first career slam semifinal at Roland Garros. With her career trajectory tracking upward once again, Petkovic returned to the tournament where she first cut her teeth and took another big bite. Her title run gives her multiple singles crowns in a season for the first time in her career.


#trophyselfie no. 2 pic.twitter.com/lhHzXGRcGh

— Andrea Petkovic (@andreapetkovic) July 13, 2014


With quite a few weeks left in the '14 season, it'd surprise no one if both Halep and Petkovic aren't finished their step-by-step march toward seasons they'll never forget. Crossing fingers. They're two of the main reasons that, even as the world #1 and '13 #2 have been mostly afterthoughts when it's come to on-court high points, this WTA campaign has turned out to be one of the most interesting in recent memory.



*WEEK 28 CHAMPIONS*
BUCHAREST, ROMANIA (Int'l $250K/Red Clay)
S:

Simona Halep/ROU def. Roberta Vinci/ITA 6-1/6-3


D:

E.Bogdan/Cadantu (ROU/ROU) d. Buyukakcay/Knapp (TUR/ITA) 6-4/3-6 [10-5]
BAD GASTEIN, AUSTRIA (Int'l $250K/Red Clay)
S:

Andrea Petkovic/GER def. Shelby Rogers/USA 6-3/6-3


D:

Ka.Pliskova/Kr.Pliskova (CZE/CZE) d. Klepac/Torro-Flor (SLO/ESP) 4-6/6-3 [10-6]




PLAYER OF THE WEEK:

Simona Halep/ROU


...Halep's second title of the year finally puts her on equal -- or nearly so -- footing with the rest of the players potentially in the running for 2014 Player of the Year. Her wins in Bucharest over Indy De Vroome, Aleksandra Krunic, Lara Arruabarrena, Monica Niculescu and Roberta Vinci get her to eight career titles, just four off the all-time Romanian lead. She's still at #3 in the rankings and 175 points behind #2 Li Na, but while the Chinese vet's level of play heading into North America is anyone's guess, Halep looks ready to tackle what comes next. Of course, Li's lead is still a huge gulf compared to the measly eleven point advantage Maria Sharapova currently holds over Halep in the Road to Singapore standings, as the Romanian's first-ever qualification for the season-ending championships is pretty much just a matter of time at this point.


=============================




RISERS:

Karolina Pliskova/Kristyna Pliskova (CZE/CZE) and Monica Niculescu/ROU


...while both Pliskovas lost out to a pair of Bannerettes in singles (Karolina at least made the QF), the Power of Two proved to be too much for anyone to handle in the doubles. The 22-year olds, the only twins to share a WTA doubles title, won the second of their careers in Bad Gastein (Karolina won an additional title earlier this year w/ another partner), pulling them into a tie for third place -- behind the Williams and Bondarenko sisters -- on the all-time WTA title-winning sisters duos list. Niculescu, 26, reached her first tour singles finals in 2011 and '12, then won her first singles title last year. The Swarmette hasn't made a similar step forward in '14, but after going 0-3 in quarterfinals she did reach her first semi of the season this weekend in her own backyard in Bucharest. Befoer her three-set loss to Halep, her three wins -- including victories over Klara Koukalova and Polona Hercog -- were Niculescu's first back-to-back triumphs in a tour main draw since her attempted defense of her Florianopolis title in February (she reached the QF), and her SF result is her best since a final four finish in Monterrey in April of last year.


=============================




SURPRISES:

Elena Bogdan/Alexandra Cadantu (ROU/ROU) and Kristina Kucova/SVK


...while Halep took the inaugural singles title at the Bucharest Open, fellow Swarmettes Bogdan and Cadantu grabbed the doubles. It's the first tour level doubles crown for both. Bogdan and Cadantu came into the event ranked #245 and #496, respectively, and jump to #134 and #175 in the new rankings. Also in Bucharest, #166 Kucova became the lowest-ranked semifinalist on tour this season, as the 24-year reached her first career final four with wins over Anna Schmiedlova, Cristina Dinu and Danka Kovinic.


=============================




VETERANS:

Roberta Vinci/ITA & Sara Errani/ITA


...as has often been the case with Italians in recent seasons after big results, it'd been easy for Vinci and Errani to lean back and enjoy the fruits of the Career Doubles Slam they just won at Wimbledon. But in separate tournaments, both took to the court and put up good singles results the "week after." For Errani, it wasn't a big leap, as her semifinal run in Bad Gastein after wins over Katerina Siniakova, Paula Ormaechea and Chanelle Scheepers was predictable. But Vinci entered Bucharest sporting a 7-17 singles record this season and had lost five matches in a row, so the 31-year old's run to her first final since her Palmero win exactly one year ago served as quite the potential season-turning event. Wins over Alexandra Dulgheru, Silvia Soler-Espinosa, Petra Cetkovska and Kristina Kucova gave Vinci her first four-match win streak since last year's U.S. Open, and it's the first time she's beaten three Top 100 players in an event since she did it in Cincinnati last August.


=============================




COMEBACK:

Andrea Petkovic/GER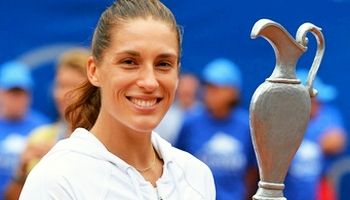 ...Petkovic's Bad Gastein (2009) to Bad Gastein (2014) full circle trip managed to put a few more check marks in the column for this current season being the German's best ever, even if she's so far "only" climbed up to #18 in the new rankings. Career title #4 came via wins over a mostly-inexperienced lot -- Jana Cepelova, Dinah Pfizenmaier, Grace Min & Shelby Rogers, along with the more-experienced Stefanie Voegele -- but her trip wasn't without potential pitfalls that had to be overcome. Cepelova held set points in both sets in Petkovic's straights sets win in a rematch of the Charleston final, while Min won the 1st set in their three-set semifinal.


=============================






FRESH FACES:

Shelby Rogers/USA & Grace Min/USA


...following in the pre-Wimbledon footsteps of Madison Keys and Coco Vandweghe, another pair of young Bannerettes simultaneously stretched for career-best results, only this time in the same tournament. Not only that, but they even shared a defeated opponent and BOTH knocked off a Pliskova sister. Rogers, 21, qualified in Bad Gastein and reached a tour level semifinal and final for the first time in her career, becoming the lowest-ranked (#147) singles finalist on tour in 2014 after entering the event without back-to-back WTA main draw wins on her WTA resume. Rogers, who notched the first two Top 20 wins of her career last week (def. Carla Suarez-Navarro and Sara Errani, and adding hardly-shabby wins over Camila Giorgi and Kristyna Pliskova, too), has a history of raising her game when the stakes are high, though. Remember, she put up multiple good results in challenger events over a short stretch last year while twice winning the USTA's wild card berths into Roland Garros and the U.S. Open. 20-year old Min, the '11 U.S. Open junior champ, reached her first career tour semifinal as the #138-ranked player in the world heading into the Austrian event. After getting a break and seeing top-seeded Flavia Pennetta withdraw, Min got a win over "lucky loser" Beatriz Garcia-Vidagany (who Rogers def. in qualifying), then took out Irina Falconi and Karolina Pliskova. In the semis, she was up a set on eventual champ Petkovic before losing in three. Rogers is now up to a career-best #104, while Min checks in a new high of #114.


=============================




DOWN:

Serena Williams/USA


...yeah, she didn't play this past week. Meanwhile, Jana Cepelova did, and lost again... after having chances in multiple sets to win. Again. But since she "won" the Down award the week before Wimbledon, I don't have the heart to pile on the young Slovak whose results have been reeling since she reached the Charleston final. Speaking of, Cepelova lost her rematch with Charleston champ Petkovic in the 1st Round in Bad Gastein this week, but played well, even if she did squander some chances at a tournament-upending upset. So, I'll go with Serena here. Yeah, again. But this is for missing out on her Bastad defense attempt this coming week, citing whatever it was that took her out of Wimbledon as the reason. Remember, she was a somewhat surprising participant in the Swedish event last year as she added one more week to her '13 clay court season right after the completion of Wimbledon, picking up her seventh of what would be eleven singles titles last season. She's got just three so far this year, and it doesn't look like #4 will be coming anytme soon.


=============================




ITF PLAYER:

Kaia Kanepi/EST


...the 29-year old had a disappointing Wimbledon (losing in the 2nd Rd. to Yaroslava Shvedova after defeating JJ in the 1st Rd.), but she's followed it up with back-to-back runs to $100K challanger finals. After losing last week in Contrexeville, the Estonian took the title this weekend in Biarritz with wins over Stephanie Vogt, Mandy Minella and Teliana Pereira in the final. A past winner of four WTA singles titles, this is Kanepi's first ITF win since 2010. Her first came fourteen years ago in 2000.


=============================




JUNIOR STAR:

Francoise Abanda/CAN


...the 17-year old hasn't played much junior tennis in '14, appearing in just a pair of slams -- RG semis, Wimbledon 3rd Rd.. Still, she gets the honor this week for, naturally, her second career appearance in an ITF singles final. In the $25K challenger in Gatineau, Canada, Abanda lost to veteran Stephanie Foretz-Gacon, after having won her first pro title in Port St. Lucie, Florida earlier this season.


=============================





Meanwhile...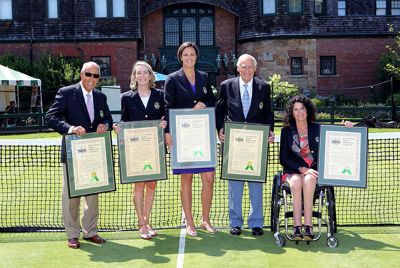 Lindsay Davenport, Nick Bollettieri and Chantal Vandierendonck (the first ITF Wheelchair World Champion in 1991) were among the group of people inducted into the Tennis Hall of Fame in Newport, Rhode Island this weekend.




1. BG 1st Rd. - Petkovic d. Cepelova
...7-6(8)/7-5. Perhaps looking for a chance to right her season precisely where it started to go wrong, when the Slovak lost to the German in the Charleston final, Cepelova had her opportunities. After climbing out of a 5-2 hold in the 1st set, she held three set points in the tie-break, then two more in the 2nd set. Alas, she fell in straights to drop her seventh straight, and to 1-10 in her last eleven matches.


=============================


2. BG SF - Rogers d. Errani
...7-6(10)/6-3. Errani held two SP at 5-4 in the 1st, had three more in the TB, and led 2-0 in the 3rd.


=============================


3. BG 1st Rd. - Meusburger d. Smitkova
...7-6(9)/4-6/7-5. While Smitkova qualified in Bad Gastein, the Wimbledon Round of 16er couldn't take out defending champ Meusburger despite holding a pair of SP in the 1st. The Austrian finally took the set on her seventh SP in the tie-break. The 2nd set saw seven consecutive breaks of serve as the Czech teenager sent things to a 3rd, where she went up an early break and served for the match at 5-4, only to lose while dropping the final four games of the match.


=============================


4. Istanbul Q1 - Eguchi d. Smitkova
...6-4/6-0. Things weren't quite as dramatic in Smitkova's next match.


=============================


5. Bucharest Final - Halep d. Vinci
...6-1/6-3. Halep is tied with Ana Ivanovic for the most final appearances (4) this season.


=============================


6. BG Final - Petkovic d. Rogers
...6-3/6-3. Rogers joins McHale and Keys to make it a trio of first-time finalist Bannerettes in 2014, tying the Spaniards for the '14 tour lead.


=============================


7. BG Doubles 1st Rd. - Ormaechea/Pfizenmaier d. Krejcikova/Siniakova
...4-6/7-5 [10-7]. I'm assuming there were no on-court dance routines for the young Czech Maidens after this one.


=============================


8. $50K Sacramento Final - Rogowska d. Boserup
...6-2/7-5. The Aussie grabs her eleventh career ITF crown, and her second $50K event this season, both being her biggest titles ever. Rogowska whipped up on a five-pack of Bannerettes, adding wins over Macall Harkins, Peggy Porter, Sachia Vickery and Madison Brengle to her final victory over Boserup.


=============================


HM- $10K Sharm El Sheikh Final - Jan Abaza d. Pauline Payet
...6-4/6-4. The 19-year old American has reached a combined six singles & doubles finals over the last three weeks in Egypt. Her sweep of the singles and doubles this weekend gives her 2-1 records in both sets of finals during the span.


=============================






1. BG Doubles Final - Karolina & Kristyna Pliskova d. Klepac/Torro-Flor


...4-6/6-3 [10-6]. Battling back from a 5-0 deficit in the match tie-break, the Pliskovas win their second tour title and prevent Klepac from defending the crown she won a year ago with Sandra Klemenschits. Oddly enough, both of the Czech sisters' titles have come in Austria, as they won in Linz last season.


=============================


2. Bucharest 1st Rd. - Kristina Kucova d. Anna Schmiedlova
...6-3/6-3. Kucova won the '07 U.S. Open junior title, while Schmiedlova was the girls runner-up at RG in '12. Anna's sister, Kristina, was just the RU in the Wimbledon juniors, as well. So, I guess things held to form here... family wise.


=============================


3. $10K Bangkok Doubles Final - Varatchaya & Varunya Wongteanchai d. Kumkhum/Tanasugarn
...6-3/4-6 [10-8]. The Thai siblings take out their more-accomplished countrywomen to grab their third ITF title as a duo.


=============================






Hmmm, two to choose from as the return of Vika as a "regular" tour presence gets closer and closer. First, a nice photo.


And, second, well... this just looks like an accident waiting to happen, doesn't it?







**2014 WTA TITLES**


3...Serena Williams [Brisbane,Miami,Rome]
3...Maria Sharapova [Stuttgart,Madrid,Roland Garros]
3...Ana Ivanovic [Auckland,Monterrey,Birmingham]
2...Li Na [Shenzhen,Australian Open]
2...SIMONA HALEP [Doha,Bucharest]
2...ANDREA PETKOVIC [Charleston,Bad Gastein]



**WTA FINALS - 2012-14**


23 - Serena Williams (21-2)
17 - Maria Sharapova (8-9)
16 - Victoria Azarenka (9-7)
11 - SIMONA HALEP (8-3)
11 - Sara Errani (5-6)
11 - Li Na (4-7)



**CAREER CLAY TITLES - active**


11...Serena Williams
10...Anabel Medina-Garrigues, Maria Sharapova
7...Flavia Pennetta, Venus Williams
6...Sara Errani, Jelena Jankovic
5...Francesca Schiavone, Roberta Vinci
4...ANDREA PETKOVIC, Caroline Wozniacki



**2014 WTA TITLES - MULTIPLE SURFACES**


2 - Serena Williams = Hard,Red Clay
2 - Ana Ivanovic = Hard,Grass
2 - SIMONA HALEP = Hard,Red Clay
2 - ANDREA PETKOVIC = Green Clay,Red Clay



**2014 #1 SEED WON TITLE**


Brisbane - Serena Williams, USA
Shenzhen - Li Na, CHN
Acapulco - Dominika Cibulkova, SVK
Miami - Serena Williams, USA
Oeiras - Carla Suarez-Navarro, ESP
Rome - Serena Williams, USA
Birmingham - Ana Ivanovic, SRB
Bucharest - Simona Halep, ROU



**2014 LOW-RANKED FINALISTS**


#147 SHELBY ROGERS, USA - Bad Gastein (L=Petkovic)
#137 Jovana Jaksic, SRB - Monterrey (L=Ivanovic)
#118 Silvia Soler-Espinosa, ESP - Strasbourg (L=Puig)
#107 Tsvetana Pironkova, BUL - Sydney (W=Kerber)
#101 Romina Oprandi, SUI - Marrakech (L=Torro-Flor)



**2014 WTA SF**


6...SIMONA HALEP (4-2)
6...Maria Sharapova (3-3)
5...Ana Ivanovic (4-1)
5...Eugenie Bouchard (2-3)
5...Aga Radwanska (1-4)
5...Jelena Jankovic (1-4)



**2014 LOW-RANKED SEMIFINALISTS**


#166 KRISTINA KUCOVA/SVK - Bucharest SF
#160 Nasstasja Burnett/ITA - Rio SF
#147 SHELBY ROGERS/USA - Bad Gastein RU
#140 Belinda Bencic/SUI - Charleston SF
#138 GRACE MIN/USA - Bad Gastein SF
#137 Jovana Jaksic/SRB - Monterrey RU



**REACHED FINAL IN HOME NATION**


Shenzhen - Li Na, CHN (W)
Shenzhen - Peng Shuai, CHN (L)
Miami - Serena Williams, USA (W)
Rome - Sara Errani, ITA (L)
Bucharest - Simona Halep, ROU (W)



**WTA TITLES - ROMANIANS**


12 - Virginia Ruzici (1975-85)
8 - SIMONA HALEP (2013-14)
4 - Irina Spirlea (1994-98)
4 - Ruxandra Dragomir (1996-97)


[active]


2...Alexandra Dulgheru
1...Irina-Camelia Begu
1...Sorana Cirstea
1...Monica Niculescu



**WTA DOUBLES TITLES - ALL-SISTERS DUOS**


21 - Serena & Venus Williams, USA
3 - Alona & Kateryna Bondarenko, UKR
2 - KAROLINA & KRISTYNA PLISKOVA, CZE
2 - Chan Hao-Ching & Yung-Jan, TPE



**2014 $100K ITF FINALS**




-FEB-


Midland, USA - Heather Watson/GBR d. Ksenia Pervak/RUS


-MAY-


Cagnes-sur-Mer, FRA - Sharon Fichman/CAN d. Timea Bacsinszky/SUI


-MAY-


Prague, CZE - Heather Watson/GBR d. Anna Schmiedlova/SVK


-JUN-


Marseille, FRA - Alexandra Dulgheru/ROU d. Johanna Larsson/SWE


-JUL-


Contrexeville, FRA - Irina-Camelia Begu/ROU d. Kaia Kanepi/EST


-JUL-


Biarritz, FRA - Kaia Kanepi/EST d. Teliana Pereira/BRA







BASTAD, SWEDEN (Int'l $250K/RCO)


13 Final: S.Williams d. Larsson
13 Doubles Final: Medina-Garrigues/Koukalova d. Dulgheru/Pennetta
14 Top Seeds: Cornet/Pavlyuchenkova
=============================


=SF=


#1 Cornet d. #4 Shvedova
Larsson d. Min


=FINAL=


#1 Cornet d. Larsson

...not a lot of "sure things" here, but Cornet on the clay is as good as anything available.





ISTANBUL, TURKEY (Int'l $250K/HCO)


=last held in 2010: A.Pavlyuchenkova champion=
14 Top Seeds: Wozniacki/Vinci
=============================


=SF=


#7 Jovanovski d. #1 Wozniacki
#2 Vinci d. Niculescu


=FINAL=


#2 Vinci d. #7 Jovanovski

...Vinci's on a nice run over the last week and a half, so maybe she can make it a multi-continental affair. Caro -- who just had a birthday on Friday -- might be due for a final, but I just can't pull the trigger.


All for now.