Wk.29- The Dane Stands Tall in the Land of the Turks
With hints of both
the good
and
bad aspects
of the 1974 "Love Double" of Chris Evert and Jimmy Connors, in events held over 1700 miles apart this weekend, both Caroline Wozniacki and her ex-fiance Rory McIlroy seized the moment in their own special way.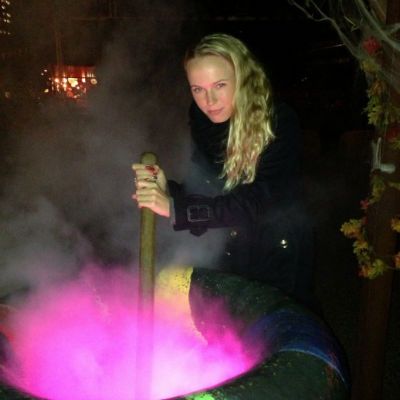 Ever since the former couple's engagement was broken off via a brief, three-minute phone call from the golfer last May, Wozniacki, who soon after changed her Twitter avatar to a photo of herself dressed as a witch stirring her brew, has been making the rounds with WTA friends, smiling and making it pretty clear that she's doing just fine not having to plan on making a trip to Georgia next spring for some mid-week caddying duties. Last week, she even found a moment to take a thinly-veiled swipe at McIlroy when she posted a photo of herself enjoying a day on the town... in heels:


Out and about in Istanbul. It's been 3 years since I have worn heels on a normal day out. #feelsgood… http://t.co/K66BZcrSej

— Caroline Wozniacki (@CaroWozniacki) July 17, 2014


It only took a quick glance at some photos of a heel-wearing Wozniacki during her three-year relationship with McIlroy to get the picture.




It was a cute jab, and more than a bit funny. In a (oh-so-good) nasty way. But nothing compares to what Caro actually did on the court in Turkey, where her more focused, post-engagement, post-coaching carousel, post-lost in the woods blue period game finally got some traction and produced a string of consistent performances. In the end, she was the last woman standing in Istanbul, lifting a tour singles trophy for the 22nd time in her career.


Woohoo!! Title number 22!! So excited! #istanbul pic.twitter.com/mrP05Ly4AU

— Caroline Wozniacki (@CaroWozniacki) July 20, 2014


Of course, as the "Non-Love Doubles" weekend ended, McIlroy had his own moment in Liverpool, concluding a dominant week on the links by winning the British Open to claim his third major title, something that Wozniacki had yet to be able to do on the WTA tour.


Celebrating with the Claret Jug!! Thanks for all the support and well wishes this week! #TheOpen #3outof4 pic.twitter.com/9ZJsV62US0

— Rory Mcilroy (@McIlroyRory) July 20, 2014


While it's hardly fair to compare their wins or careers, Wozniacki's jab will surely cause it to be the case now. At least in the short term.

But, hey, after the way the Dane has managed to stand tall in recent weeks after a few seasons of being lost in the WTA darkness, maybe she's finally found the inspiration to push her to be the best player she can be -- to show a certain someone just what he left behind. Spite can be a wonderful thing, and if it's focused in order to accomplish something good, it can be a pretty powerful tool, as well.

If a scorned Caro turns out to be better player, well, who's to argue with results, right? After all, the Tennis Gods do sometimes work in mysterious ways. And if she's looking to trump a British Open title... well, there could be an opportunity waiting to be taken in about a month in, depending on Serena Williams' personal situation by then, what could be as wide open a U.S. Open competition as we've seen in years.

I'm just sayin'.



*WEEK 29 CHAMPIONS*
ISTANBUL, TURKEY (Int'l $250K/Hard Court)
S:

Caroline Wozniacki/DEN def. Roberta Vinci/ITA 6-1/6-1


D:

Doi/Svitolina (JPN/UKR) d. Kalashnikova/Kania (GEO/POL) 6-4/6-0
BASTAD, SWEDEN (Int'l $250K/Red Clay)
S:

Mona Barthel/GER def. Chanelle Scheepers/RSA 6-3/7-6(3)


D:

Klepac/Torro-Flor (SLO/ESP) d. Rae/A.Smith (GBR/GBR) 6-1/6-1




PLAYER OF THE WEEK:

Caroline Wozniacki/DEN


...it was quite a week for Wozniacki. She celebrated her 24th birthday the Friday before the start of play in Istanbul, then opened the week with a double-bagel win (her first in four years) over Belinda Bencic. After getting off that feel-good shot at the height of ex-fiance McIlroy, who was soon leading the British Open, Caro survived three-setters over Karin Knapp and Karolina Pliskova before taking out Kristina Mladenovic in straights to reach the final. While McIlroy was stretching, then barely holding onto, then stretching his lead again on Sunday, Wozniacki went about her business, as well, eliminated Roberta Vinci 6-1/6-1 in the final to take her first title of the season, and the 22nd of her career. Of course, the "Caro Buzz Kill Stat of the Week" says that title #22 now makes the Dane the player with the MOST career titles (breaking a previous tie with Pam Shriver) without an accompanying slam title. But, hey, why spoil the celebration? The win also gives Wozniacki seven straight seasons with a title. The only WTA players with longer active streaks? Sharapova and Serena.


=============================




RISERS:

Mona Barthel/GER & Kristina Mladenovic/FRA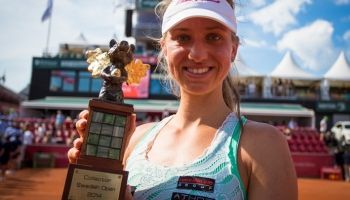 ...ah, but Caro wasn't the only player who just celebrated a birthday who ended up winning a title this weekend. Yep, the week's other singles champ, Barthel, was ALSO born on July 11, 1990. The German's talent has been evident for a few seasons, but her ability to sustain consistent results has been in deep question over that time. So, here we go again. Maybe the third time will be the charm. Barthel grabbed her third career tour singles title in Bastad, taking her first clay court crown and lifting a trophy for the first time since she took home a big one in the Paris Indoors last February. Barthel put up wins over Gabriela Dabrowski, Kaia Kanepi, Silvia Soler-Espinosa (SSE led 3-1 in the 3rd) and Chanelle Scheepers in the final this past week, giving her as many titles over the past three seasons as the likes of players named Cibulkova, Cornet, Ivanovic, Kerber, Pavlyuchenkova and Vinci (and just one less than Li and Wozniacki). Meanwhile, after starring most of the last year in doubles, Mladenovic has finally been asserting herself a bit more in singles lately. She upset Li Na at Roland Garros, and last week reached her first WTA singles semifinal since February '13 (Florianopolis) by reaching the final four in Istanbul. The 21-year old's victories over Patricia Mayr-Achleitner, Klara Koukalova and Francesca Schiavone lifted the Pastry (who reached #36 last August) back into the Top 100 at #81 in the new rankings.


=============================




SURPRISES:

Andreja Klepac/Maria-Teresa Torro-Flor (SLO/ESP) & Jocelyn Rae/Anna Smith (GBR/GBR)


...a week after Klepac & Torro-Flor lost in the Bad Gastein final (where the Slovenian was the defending champ), the pair reached the championship match in Bastad, as well. This time, though, they won, taking their first tour title as a duo, while both woman won the second crown of their respective careers. Klepac has one tour level singles final to her credit (losing in Budapest in '08 to Cornet), while Torro-Flor was a first-time winner in Marrakech earlier this year. Klepac & MTTF won the final in a quick forty-three minutes over Brits Rae & Smith, who were making their maiden appearance in a WTA final. Still, the loss didn't diminish the great week they had as they carried over their ITF success to the big tour. Rae & Smith have won eight challenger crowns while reaching ten finals, including going 5-1 in '14 while reaching finals in a combination of hard, clay and grass court events. They won the Nottingham title before Wimbledon, as 25-year old Smith has claimed 21 ITF doubles titles, while 23-year old Rae has 15.




=============================




VETERANS:

Roberta Vinci/ITA & Chanelle Scheepers/RSA


...has Vinci finally gotten things under control? After starting her season with a loss to a 16-year old making her tour debut, the 31-year old Italian opened '14 on a 0-6 stumble. Standing at 3-11 for the season, she won four of five matches, only to then lose five straight and fall to 7-17. Since completing a Career Doubles Slam at Wimbledon with Sara Errani, though, Vinci has gone 8-2 over the last two weeks, reaching back-to-back finals. She didn't win either one, but her victories last week in Istanbul over Anna Tatishvili, Alexandra Dulgheru, Kurumi Nara and Ana Konjuh (the aforementioned 16-year old from Week 1) brings the Top 20 again within the reach the world #23. First up... #22 Sloane Stephens? Scheepers, 30, advanced to her second career tour final (she won Guangzhou in '11) in Bastad, notching wins over Mariana Duque-Marino, Laura Siegemund, Lara Arrubarrena and Jana Cepelova. The world #91 sees her standing jump twenty spots to #71 in the new rankings.


=============================




COMEBACK:

Petra Cetkovska/CZE


...the Czech's climb back from her ranking plummet after missing the first four months of '13 with a stress fracture in her foot continues. After reaching the Top 25 in '12, Cetkovska ended '13 at #132. She went into the $50K challenger in Olomouc, CZE last week having climbed back into the Top 70, and the top-seeded 29-year old ultimately put up wins over Sofia Shapatava, Barbora Krejcikova and Denisa Allertova en route to her 22nd career ITF title. She won the doubles with Renata Voracova, too, taking out Krejickova & Aleksandra Krunic for her 25th career ITF doubles win. Cetkovska has never won a tour level singles crown, having lost to Wozniacki in the '11 New Haven final. Cetkovska is #66 in the new rankings.


=============================




FRESH FACES:

Jana Cepelova/SVK & Ana Konjuh/CRO


...the hope last week was that Charleston runner-up Cepelova might have turned a corner with her tight 1st Round loss to eventual Bad Gastein champ Andrea Petkovic, the same German who'd beaten her in the Family Circle Cup final last spring. Coming to Bastad on a 1-10 skid, Cepelova strung together her first back-to-back wins (over Swede Rebecca Peterson and #1 seed Alize Cornet conqueror Anett Kontaveit) since April and added a third (Yulia Putintseva) to reach the semifinals. In Istanbul, 16-year old Konjuh qualified with wins over Sesil Karatantcheva and Kristyna Pliskova, then ran off victories over Magdalena Rybarikova, Misaki Doi and Elina Svitolina to reach her first career WTA semifinal. At the end of the same week that fellow 2013 two-time junior slam winner Belinda Bencic was bounced love & love in Istanbul, the Croat's spoils following the best week of her pro career is a new best-ever ranking of #116 on the WTA computer.


=============================




DOWN:

Tsvetana Pironkova/BUL


...I guess we sort of knew things would play out this way, huh? After winning a slew of big matches but never winning a tour title for so many years, a huge obstacle was cleared by Pironkova when she claimed her first WTA crown with an 8-0 run through qualifying and the main draw to take Sydney champion honors in January. Flashforward seven months, though, and the Bulgarian has gone 10-13 since, and just 6-11 in WTA MD action. She even went 0-2 on grass! Her 1st Round loss to Stefanie Voegele last week in Istanbul was her fourth straight, and her sixth in her last seven matches. But don't cry, or blink, for the Weeping Angel, for she'll surely spring an attack again... after everyone has stopped looking. In that case, I'd say the time may be coming soon, I guess.



=============================




ITF PLAYERS:

Patricia Maria Tig/ROU & Andreea Mitu/ROU


...Swarmettes rule! Tig, 19, claimed her circuit lead-tying fifth ITF title of the season with a win in the $10K Galati, Romania final over countrywoman Irina Maria Bara. Tig has raised her ranking nearly 500 spots since the start of the season, going 42-8 in all singles action. 22-year old Mitu, a recent qualifier at Wimbledon, took the $25K Darmstedt challenger in Germany, defeating Viktorija Golubic in the final to grab her third ITF title of the season, matching her biggest wins in two previous $25K tournaments. Both Romanians have now won a total of ten challenger titles in their careers.


=============================




JUNIOR STARS:

Tornado Black/USA & Katie Boulter/GBR


...juniors were grabbing titles on the ITF circuit this weekend. 2013 U.S. Open girls runner-up Black, 16, won her second career (w/ the '13 Amelia Island $10K) pro singles title, taking the $10K challenger in Evansville, Indiana with a 6-4/4-6/6-2 win in the final over fellow American Caitlin Whoriskey. Meanwhile, 17-year old Boulter, the Australian Open girls doubles RU (w/ Ivana Jorovic) in January, won her third ITF doubles title in the $15K challenger in Imola, Italy along with a fellow Brit, 19-year old Katy Dunne, who also claimed the singles title. Boulter reached the singles semifinals, as well.


=============================



Meanwhile, Caro wasn't the only tennis player towering over a star from another sport last week... not with Maria Sharapova presenting an ESPY Award with boxer Floyd Mayweather:






1. Istanbul Final - Wozniacki d. Vinci
...6-1/6-1. While she's only appeared in seven over the last three seasons, Caro has reached a total of 35 tour singles finals in her career. Her 22 wins place her 23rd on the all-time WTA title list. She's two behind Jana Novotna, three back of Amelie Mauresmo and has just five fewer than Gabriela Sabatini and Hana Mandlikova. All of those women are enshrined in Newport, but only Mauresmo was ranked #1 (for 39 weeks, compared to Wozniacki's 67). All won slam titles, though, while Caro still seeks her first.


=============================


2. Bastad Final - Barthel d. Scheepers
...6-3/7-6(3). Barthel's three career titles is more than (Goerges-2), equal to (Kerber & Lisicki) or nearly as many as (Petkovic-4) all the "bigger-named" Germans of her generation.


=============================


3. Istanbul 1st Rd. - Wozniacki d. Bencic
...6-0/6-0. This was the Dane's third career double-bagel victory. Oddly enough, none of them came while she was ranked #1, as she posted love & love wins over Edina Gallovits (2009 New Haven 1st Rd.) and Chang Kai-Chen (2010 U.S. Open 2nd Rd.) before she topped the rankings for the first time in October '10.


=============================


4. Bastad 1st Rd. - Kontaveit d. Cornet
...7-6(3)/6-3. Cornet took out #1 Serena at Wimbledon, but suffered the same fate as the #1 seed in Bastad in her first post-SW19 outing.


=============================


5. Istanbul 2nd Rd. - Schiavone d. Jovanovski
...6-1/6-4. Schiavone came in ranked #75, while BoJo was #40. It's the Italian's fourth Top 40 victory in the past year.


=============================


6. Istanbul QF - Mladenovic d. Schiavone
...3-6/6-3/7-5. Schiavone nearly pulled off her best result since reaching the SF in Seoul last October, losing out to the Pastry when Kiki bounced back after failing to convert two MP at 5-4 in the 3rd. After breaking for 6-5 on her fifth BP of the game, Mladenovic held to take the match, finally converting on her third MP.


=============================


7. Istanbul SF - Vinci d. Konjuh
...6-4/6-2. Ah, sweet revenge. Back in Week 1, before the calendar had even officially turned over to 2014 (on December 31st), the just-turned-16 Konjuh made her WTA main draw debut and upset Vinci in the 1st Round in Auckland. It's taken Vinci nearly seven months to finally get her season turned around, but with back-to-back finals she seems to have righted the ship.


=============================


8. $50K Olomouc CZE Final - Cetkovska d. Allertova
...3-6/6-1/6-4. Might the 21-year old Allertova at some point follow in fellow Czech Tereza Smitkova's footsteps and put on a qualifying run at a slam and take her chances in a main draw? Already a five-time ITF title winner in '14, the unseeded Maiden took out the #2 (Hlavackova) and #5 (Tsurenko) seeds to reach the final, then extended #1-seeded Cetkovska to three sets. At a new career-high of #177 in the current rankings, Allertova is now 7-2 in career ITF single finals (5-1 this season).




=============================


9. $50K Carson Final - Gibbs d. Oudin
...6-4/6-4. The 21-year old, former two-time NCAA singles champion has now won $50K challengers on U.S. hard courts in each of the last three Julys.


=============================


10. Istanbul Doubles Final - Doi/Svitolina d. Kalashnikova/Kania
...6-4/6-0. With her first tour level doubles crown, Svitolina has now won at least one WTA singles, WTA doubles, ITF singles, ITF doubles and WTA 125 singles title in her career. If the 19-year old can pick up a 125 doubles win later this year, she'll have collected one of all six women's pro titles out there to be had.


=============================






1. WTT - Hingis/Venus Williams d. Medina-Garrigues/Jurak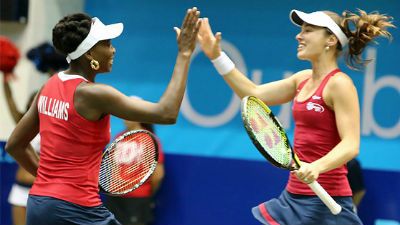 ...5-2. Fancy meeting you here. Washington Kastle teammates Martina & Venus combined to hand a loss to AMG & Jurak. Seventeen years ago in 1997, Hingis & Williams faced off in the U.S. Open final. The then 16-year old Swiss Miss won in straight sets, winning her third slam crown. 17-year old Venus was playing in just her third slam main draw.


=============================


2. Istanbul Doubles 1st Rd. - Kalashnikova/Kania d. Lyudmyla Kichenok/Nadiya Kichenkok
...6-7(3)/6-4 [10-8]. If you want to put up a good doubles result, draw the Kichenoks in the early rounds. At Wimbledon, Errani/Vinci overcame 6 MP and went on to take the title. Kalashnikova/Kania won a tight one here and went on to reach the final.


=============================






Rubbin' elbows with a great in the WTT!






**CONSECUTIVE YEARS WITH A WTA TITLE - active streaks**


12 years - Maria Sharapova, 2003-14
8 years - Serena Williams, 2007-14
7 years - CAROLINE WOZNIACKI, 2008-14
5 years - Li Na, 2010-14
4 years - Dominika Cibulkova, 2011-14
4 years - Petra Kvitova, 2011-14
3 years - Alize Cornet, 2012-14
3 years - MONA BARTHEL, 2012-14


[current streaks, no 2014 title]


5 years - Victoria Azarenka, 2009-13
5 years - Roberta Vinci, 2009-13
3 years - Agnieszka Radwanska, 2011-13
3 years - Daniela Hantuchova, 2011-13
3 years - Magdalena Rybarikova, 2011-13



**CONSECUTIVE 2014 WTA FINALS**




[singles]


2...Li Na, January (2-0)
2...Klara Zakopalova, Feb-Mar (1-1)
2...Ana Ivanovic, April (1-1)
2...Maria Sharapova, Apr-May (2-0)
2...ROBERTA VINCI, July (0-2)


[doubles]


4...Errani/Vinci, May-Jun (2-2)
3...Peng Shuai, Feb-Mar (3-0)
2...Errani/Vinci, January (1-1)
2...Kveta Peschke, February (1-1)
2...Hsieh/Peng, Feb-Mar (2-0)
2...Chan Hao-Ching, April (1-1)
2...Chan Yung-Jan, April (0-2)
2...Black/Mirza, Apr-May (1-1)
2...KLEPAC/TORRO-FLOR, July (1-1)



**MOST WTA TITLES WITHOUT A SLAM WIN**


22...CAROLINE WOZNIACKI *
21...Pam Shriver
19...Manuela Maleeva-Fragniere
19...Nancy Richey
16...Elena Dementieva
15...Dianne Fromholtz Balestrat
14...Zina Garrison
13...Nadia Petrova *
13...Jelena Jankovic *
13...Agnieszka Radwanska *
--
*- active



**2014 WORST WINNING PCT. IN WTA FINALS - 2+**


.000 - Angelique Kerber (0-3)
.000 - Sara Errani (0-2)
.000 - Karolina Pliskova (0-2)
.000 - ROBERTA VINCI (0-2)
.333 - Dominika Cibulkova (1-2)
.333 - Simona Halep (1-2)
.333 - Klara Koukalova (1-2)



**2014 ALL-UNSEEDED FINALS**


Dubai - V.Williams/USA (WC) d. A.Cornet/FRA
Marrakech - M-T.Torro-Flor/ESP d. R.Oprandi/SUI
Strasbourg - M.Puig/PUR d. S.Soler-Espinosa/ESP (Q) *
's-Herto. - C.Vandeweghe/USA (Q) d. J.Zheng/CHN
Bastad - M.Barthel/GER d. C.Scheepers/RSA #
--
*-all unseeded SF; #-all unseeded QF



**2014 WTA CHAMPIONS BY COUNTRY**


4 USA - S.Williams,V.Williams,Keys,Vandeweghe
3 RUS - Makarova,Pavlyuchenkova,Sharapova
3 ESP - Muguruza,Suarez-Navarro,Torro-Flor
2 FRA - Cornet,Garcia
2 CZE - Koukalova,Kvitova
2 GER - Barthel,Petkofic
1 - BUL,CAN,CHN,CRO,DEN,ITA,JPN,PUR,ROU,SRB,SVK


[recent winning nations by season]


2007: 17
2008: 18
2009: 20
2010: 21
2011: 20
2012: 23
2013: 19
2014: 17



**2014 LOW-RANKED SEMIFINALISTS**


#166 Kristina Kucova/SVK - Bucharest SF
#160 Nasstasja Burnett/ITA - Rio SF
#147 Shelby Rogers/USA - Bad Gastein RU
#140 Belinda Bencic/SUI - Charleston SF
#139 ANA KONJUH/CRO - Istanbul SF
#138 Grace Min/USA - Bad Gastein SF



**2014 ITF TITLES**


5...Denisa Allertova, CZE
5...PATRICIA MARIA TIG, ROU
4...Elise Mertens, BEL
4...Nadia Podoroska, ARG
4...Ana Sofia Sanchez, MEX
4...Zhu Lin, CHN




ALERT!!! ALERT!!! ALERT!!! ALERT!!! ALERT!!! ALERT!!! ALERT!!!


Laura Robson has been spotted in a photo WITHOUT her wrist brace!!!! See?




More evidence...




Just had to get that in there.








BAKU, AZERBAIJAN (Int'l $250K/HCO)


13 Final: Svitolina d. Peer
13 Doubles Final: Buryachok/Kalashnikova d. Daniilidou/Krunic (Buryachok 2012-13)
14 Top Seeds: Cirstea/Svitolina
=============================


=SF=


#5 Jovanovski d. Peer
#8 Cepelova d. Mladenovic


=FINAL=


#8 Cepelova d. #5 Jovanovski

...hmmm, bypassing #1-seed Cirstea and #2-seed/defending champ Svitolina might be a big no-no, but Cepelova's recent upswing makes her a feel-good player to root for this week, so I'll go with that.





NAN CHANG, CHINA (WTA 125 Series Challenger/HCO)


=new event=
14 Top Seeds: Peng/J.Zheng
=============================


=SF=


#1 Peng d. #6 Sa.Zheng
#2 J.Zheng d. #4 Kumkum


=FINAL=


#2 J.Zheng d. #1 Peng

...Peng has never won a WTA level singles title (0-6 in finals). A win here wouldn't, technically, give her a first... but it would be closer. It still probably won't happen. I should probably be picking Zheng Saisai, but I'll go with the veteran Zheng. The best chances for a non-Chinese winner here are Kumkhum, Doi and Minella.





WORLD TEAM TENNIS PLAYOFFS


13 Final: Washington Kastles d. Springfield Lasers
=============================


=FINAL=


Washington Kastles d. San Diego Aviators

...going for the four-peat, and a fifth title in six years, with Hingis (for sure) and Venus (maybe, crossing fingers) leading the way. Although, if Vika's around for the postseason matches, look out for the dark horse Philadelphia Freedoms.


And, now, while there wasn't really anywhere to naturally fit this in this week, I can't let the week go by without using this:




While Petra Kvitova might not be able to sing a lick, it goes without saying that she at least LOOKS the part of a musician, doesn't she? Imagine if she CAN sing, though. Oh, Petra!


All for now.