AO 1 - The Endless Search for the Eternal Sunshine of the Spotless AnaIvo Mind

AnaIvo, we hardly knew ye...
umm, or maybe we actually did.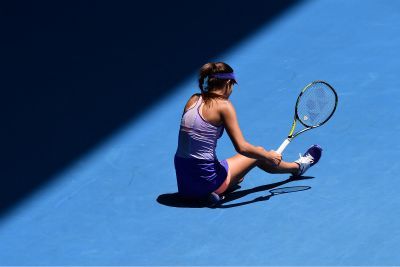 By almost all accounts, Ana Ivanovic had a great 2014 season. Her best season since she won Roland Garros in 2008, and in all ways except one, arguably her greatest (and certainly most consistent) season ever, maybe even when weighed against her slam-winning, #1-ranking grabbing (briefly, at least) campaign. She led the WTA in match wins, finished in the Top 5, claimed four singles titles and was (usually) equal to or behind only someone named Serena in most every category that spoke to the week-in, week-out competitiveness of the players on tour. But aside from her 4th Round upset of the aforementioned Miss Williams in Melbourne last January, Ivanovic was not a good player at the majors. She never advanced past the 3rd Round at any of the final three slams of 2014.

She came to Melbourne acknowledging her slam failures, and the desire to set things right in 2015. After reaching the final in Brisbane in Week 1, she seemed in good form. Playing with a #5 seed in Melbourne, the "good vibes" site of her upset of the world #1, and with an Aussie crowd that has traditionally been behind her (she had a long romantic relationship with Aussie golfer Adam Scott), Melbourne seemed as good a place as any for the Serb to right what went wrong in the slams a season ago.

Ah, but it also jacked up the pressure to succeed. You know she felt it. And we know how AnaIvo reacts to that... not well. It's too bad she can't just have all the old memories of how much she hated and couldn't handle the baggage that came with being a slam winner and the #1-ranked player erased from her mind, leaving it eternally spotless. Free of all the bad memories, and open to experiencing similar success with the hope of handling it far differently than she did before, minus all the lingering pain.

Hmmm, that sort of sounds familiar.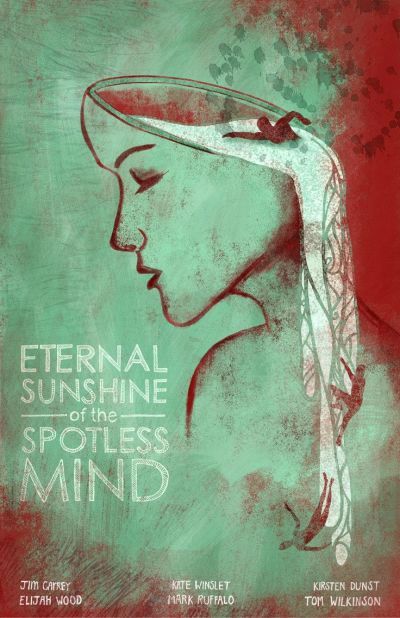 You could see all the old, bad aspects of Ivanovic on display on Monday in her 1st Round loss to qualifier Lucie Hradecka. After taking the 1st set at 6-1, AnaIvo essentially had a meltdown late in the 2nd and never really recovered from it. With so much pressure to succeed, and with an opponent smacking the ball back at her, it was just a perfectly horrible storm that swept her out of this Australian Open. Her toss went off. Way off. Which led her serve to break down, and Ivanovic to get overly emotional about every missed shot, gesturing and yelling to her box in the stands. And, of course, with all that went the match and her first of four shots to "get it right" in '15.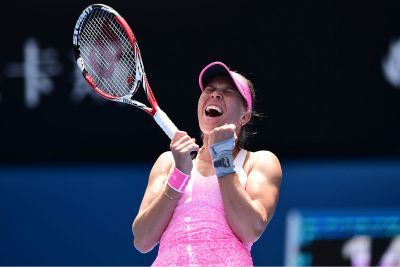 Hradecka, who battled AnaIvo at Wimbledon in their only previous meeting (dropping an 8-6 3rd set in '09 after having held two match points, something which she immediately pointed out in her post-match interview on court), won 1-6/6-3/6-2 as the Serb had ten total double-faults, and put in just 41 of 74 1st serves (though she had fewer unforced errors -- 30 to the Czech's 35 -- and still only lost 78-74 in total points in the match).

I can still remember the story from 2008, when Ivanovic faced off with Jelena Jankovic in the RG semifinals, with the winner destined to claim the #1 ranking after the tournament no matter what happened in the final. The inner circle that AnaIvo had around her then didn't tell her about the stakes of that match before it began. At first, it seemed as if it might have been just so that she could focus on the task at hand, but it's turned out to mean so much more.

They knew. Even before the proverbial you-know-what hit the fan. They knew. She wasn't going to be able to handle playing her best if she knew what doing just that was going to mean. They should have told her, though. Maybe, just maybe, it would have been the first step in conquering what has now become a career-defining malady. Instead, seven years later, she's still able to look fondly at a reality where she would be far better off on court if she had the eternal sunshine of a spotless AnaIvo mind to fall back on.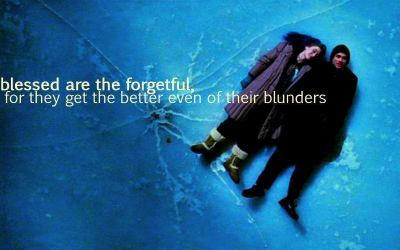 It's be nice if Ivanovic really could manage to go forward with a clean slate, but maybe the struggle is simply a part of her soul, destined to bubble up all over again whenever something similar to what she would choose to forget is before her once more. After all, nothing is truly eternal. But nothing is truly unbeatable, either.

And that's no fantasy. Maybe, someday, even for Ana Ivanovic.

But that day wasn't today.







=DAY 1 NOTES=
...of course, Ivanovic wasn't the only seeded woman left shaking her head at the end of Day 1. Not by a long shot. And it all started with a 17-year old.

It didn't take long for the "First Seed Out" to be determined in Melbourne, as #32 Belinda Bencic, who arrived on the AO scene last year as a 16-year old qualifier (fresh off a two slam-winning, #1-ranked junior season in' 13) who made her slam debut a 1st Round win over a 43-year old Kimiko Date-Krumm, was ridden out by a 6-2/6-1 score by Julia Goerges in 1:05. This marks the second straight year in which the German has sent the first seed packing at the Australian Open, having upset #7 Sara Errani in the 1st Round in 2014.


.@JuliaGoerges knocks the 1st seed out of the @AustralianOpen. Def Bencic 62 61--> http://t.co/9E7nEYut4f #AusOpen pic.twitter.com/mRsi7zXwzN

— WTA (@WTA) January 19, 2015


The two were close in errors for the match (18 for Goerges, 15 for Bencic), but the German far outdistanced the New Swiss Miss in winners by a massive 30-4 edge. Bencic won just 50% of her 1st serve points (15/30), and was even worse when it came to her 2nd serve (5/21).

As it turned out, the Goerges/Bencic match was the first to be completed, so Goerges gets the "First Victory" honors, too. Next up in the winner's circle was Magdalena Rybarikova, whose serve was broken late in the 2nd set by Ana Konjuh (the OTHER '13 two-time junior slam winner who made her slam debut at last year's AO) or else SHE might have garnered the ticket to the 2nd Round of the event. The Slovak led 6-4/4-1 before ultimately putting away a 6-4/6-4 victory.

...speaking of first victories, Aussie Jarmila Gajdosova, firing the first shot across the bow of this tournament in her bid to become a "Second Week Sheila" darling of the home crowd, finally garnered the first main draw Australian Open win of her career. At 27, Gajdsova was a Top 200 player all the way back in 2003. She traveled quite a road to get to the victory today over Alexandra Dulgheru that puts her career Melbourne mark at 1-9, too. Born in the Slovak Republic, she became an Aussie after marrying fellow player Sam Groth. The two have since divorced, but she's maintained her Australian citizenship, and now is on the comeback trail after an illness that threatened to end her career in 2013. Sure, she's at least one more win from TRULY threatening to become the latest Aussie, following in the recent footsteps of Jelena Dokic (2009) and Casey Dellacqua ('08 & '14), to put on a heartwarming second week run in Melbourne, but it's a start.

Her next opponent? Why that'd be Simona Halep. Aka The Pride of Romania. Aka The Pride. Aka The Swarmette Queen. Aka a clear cut 1st Round winner today over Karin Knapp as she became the first of the high seeds to move on in the draw.


.@Simona_Halep notches her 1st win of 2015 @AustralianOpen! Beats Knapp 63 62--> http://t.co/CcoqWGcXea #AusOpen pic.twitter.com/d6vTnfLUbX

— WTA (@WTA) January 19, 2015


Ivanovic's loss was initially said to have most benefited the #3-seeded Romanian, as AnaIvo is in her quarter of the draw. But, really, there are a few players who could be helped even earlier by the absence of the 2008 AO finalist -- Karolina Pliskova and Ekaterina Makarova, who are both positioned in the Section That is Now the Former Home of a Certain Serb.

Makarova reached the semis at last year's U.S. Open, has a win over Serena Williams in Melbourne (2012) on her resume, and is always lurking as a possibility for a potential deep slam run. The same might be said about Pliskova, though she's far, far newer to the scene. The Czech has already reached seven finals in her career, and put up quite a good fight against Petra Kvitova in the Sydney final the other day. In fact, she looked the part of a young player who could shockingly "pull a Genie" (the new name for "pulling a Sloane one-time slam semifinalist") in Melbourne, or maybe Paris, London or New York in 2015 (i.e. reaching a slam SF or better). I actually considered predicting her to do so before this AO, but settled on a slightly more conservative QF result for the Czech, with a win over Ivanovic that will no longer be necessary.

Well, so far, so good.

On Monday, Pliskova got off to a semi-slow start against Evgeniya Rodina. She was down an early break, and the Russian led 4-2 before getting to within a game of the set at 5-4. But then Pliskova ran off nine of the final ten games to win 7-5/6-1. Makarova, avoiding the sort of upset that took out a few other Hordettes, advanced in straight sets over An-Sophie Mestash.

Done, and done.

Pliskova and Makarova could meet in the 3rd Round, two rounds before either would have faced Ivanovic in the Round of 16. If Halep is waiting in the QF for either player next week, she'd probably be glad to not have to face AnaIvo. But that doesn't mean she'd exactly relish playing either of those two, either.

...well, the pre-event bad vibes about Svetlana Kuznetsova proved to be prophetic. It didn't take long for the #27 seed to fall behind on Day 1 against Caroline Garcia. The Pastry led 4-1, and served for the set at 5-3, holding a set point. The Russian broke her on her fifth break point of the game to extend the set, but it wasn't the prelude to a big comeback. Garcia won 6-4/6-2 and handed the two-time slam winner her fourth 1st Round loss at the last five slams, and her second in a row in Melbourne. Before Sveta's now back-to-back 1st Round AO exits, she hadn't lost in her opening match in the season's first slam since 2003. She's now 0-3 in 2015.

Sveta wasn't the only "name" Russian to be sent packing. Elena Vesnina "got got" by Katerina Siniakova, while #23 Anastasia Pavlyuchenkova, never disappointing in her quest to always be a disappointment at a major, was ousted by Yanina Wickmayer.

...coincidentally (or maybe not), as Kristina Mladenovic's doubles career has produced few titles over the last year, her singles has produced bigger wins. She upset Li Na in Paris last spring, and today we saw the Frenchwoman rebound from dropping the opening set against #28 Sabine Lisicki and come back to win 4-6/6-4/6-2. Good on ya, Kiki... and the Pastries, conquerors of two seeds on Monday.



The seeds keep falling! This is the moment Kristina #Mladenovic downed Lisicki at the #ausopen: http://t.co/plzkU4vhwU

— Australian Open (@AustralianOpen) January 19, 2015


...elsewhere, #9 Angelique Kerber was the second Top 10 seed to exit on Day 1, and after having gotten off to such a promising start in 2015, too, with QF and SF results in the first two weeks. Hmmm, was that Mary Joe Fernandez saying on ESPN2 that she didn't think the German had played any AO tune-up events, or was that just me thinking the worst of just about the greatest Fed Cup coach in the history of Western civilization going back to the days even before there was even such a thing as Fed Cup, or tennis... or even ESPN?

Well, I wasn't able to reverse the video to re-hear her comment, so I can't be 100% sure... but would it really be a surprise if MJF wasn't all that up on the happenings of the first two weeks of the season? I mean, it's not like she might need to know who's playing well because she has a FC tie to captain in a couple of weeks or anything. Hmmm, what's that? Oh. Well... I guess she DOES have that, I've just been told. Anyway... whatever, I guess.

Now, where was I?

Oh, yeah. In a wildly-swinging match, Kerber was taken out by the tour's second-ranked Swarmette, Irina-Camelia Begu. Begu took a 5-1 lead in the 1st. She secured the set but lost nine of ten games as Kerber took the 2nd at love. But as soon as it looked like the German would coast to a win, Kerber fell off yet again and was sent out by a 6-4/0-6/6-1 score.

So, I guess that's one less player Genie Bouchard might have to contend with in her section.

...in a match that was played (mostly) at the same time as Kerber's demise, Christina McHale and Stephanie Foretz engaged in a wild, you-take-it-because-I-don't-want-it sort of match that saw both player's seeming momentum turn on a dime more than once in the final set. Troubled over the past year with a battle with mono and a shoulder injury, McHale came to Melbourne likely not in the best condition, which is never a good thing, but especially so if you, though you often display a boxer-like heart and spirit, also have a history of physically and emotionally coming apart down the stretch in tight matches.

In order in this one, McHale led 3-1 in the 3rd, then soon was having her shoulder examined at 4-3, and not much later was throwing up in the back of the court. Twice. After a time out to clean McHale's guts off the court (literally), all hope seemed lost. The 33-year old French vet served for the win and held a match point at 7-6, only to falter and send this match into the Isner/Mahut Zone. The two engaged in a series of breaks deep into the 3rd as they combined to hold for seven straight service games until McHale finally got a break to win 6-4/1-6/12-10 in 3:09.

So, no drama there. Let's move on.

...as the day neared its end, one might have thought that all the upsets would end, too. But nooooo.

#16 Lucie Safarova, who held match point against eventual champ Li Na in the 3rd Round last year, was bounced in the 1st Round this time around by Yaroslava Shvedova, losing 6-4/2-6/8-6. Hold on, we're still not finished. #17 Carla Suarez-Navarro, too, was taken out by young German Carina Witthoeft 6-3/6-1.

So, that leaves one more less player Bouchard might have to contend with in her section since, as has been her pattern at recent slams, the Canadian DIDN'T lose her 1st Round match on Night 1. She might do that quite a bit in "regular season" tournaments, but not in the "playoffs" that are the majors.

Oh, and in case you might be wondering if The Radwanska might have had a hand in all this carnage, well, Ula actually lost her 1st Round match today, too. Plus, most of the upset victims are, to varying degrees, all members of the Emotional Headcase Club (or its Phoenix chapter, The Perpetual Underachievers Society).

So the evidence says no... at least for now.



DAY 1 QUALIFIER WINS:

Lucie Hradecka/CZE (def. #5 Ivanovic), Alexandra Panova/RUS (def. Cirstea)



DAY 1 WILD CARD WINS:

Oceane Dodin/FRA (def. Riske)



DAY 1 AUSSIE WINS:

Jarmila Gajdosova (def. Dulgheru)

...in a bit of Week 2 housekeeping, the "ITF Player of the Week" honor goes to yet another early-season achieving Bannerette, as 19-year old Sachia Vickery took out her 19-year old fellow American, Samantha Crawford, to claim the first singles challenger title of her career at the $25K event clay event in Plantation, Florida. The #3 seed, Vickey notched earlier victories over Sara Sorribes-Tormo, Ipek Soylu, Kristie Ahn and Darya Kasatkina.

The unseeded Crawford, the '12 U.S. Open girls champ, had had quite a week before dropping the final. In order, she took out #1 seed Michelle Larcher de Brito, Reka-Luca Jani ("...Reka-Luca Jani, Reka-Luca Jani!" There, that's out of the way), Edina Gallovits-Hall and Elise Mertens. She, too, was attempting to win her maiden ITF title.

In another interesting circuit result, Slovak Petra Uberalova took the $10K in Antalya, ending a nice run by Germany's Anne Schaefer. Schaefer was 9-0 on the season and looking for her second title in two weeks. She'd been 14-0 since last November, when she ended her '14 season with another title-winning run at an ITF challenger. Schaefer did at least manage to win the Antalya doubles crown with Lenka Wienerova.

...in ranking news, Karolina Pliskova has moved into the Top 20 for the first time in the new lists, pushing out Sam Stosur. Makarova was replaced at #10 by Dominika Cibulkova. Meanwhile, with her AO '14 points now all gone, Vika Azarenka is suddenly all the way down at -- whew! -- #44. So, I guess her 1st Round opponent is the "favorite" on Day 2 since she's Currently -- hint, hint -- #32.

We shall see. If Sloane (unnamed 1st Round opponent) just wins more than five games, it'll actually be an improvement over her last two meetings with Azarenka in Melbourne.



...DAY 1 LIKE #1:

the new visual of the remodeled, copper-roofed Margaret Court Arena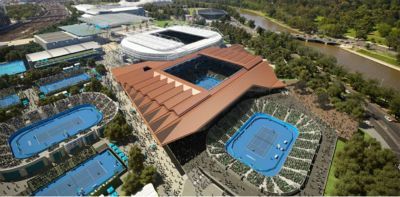 ...DAY 1 LIKE #2:

the new backgrounds on the WTA site, especially this one with Aga:




I mean, how can you not like the combination of a don't-mess-with-me facial expression looking over the image of Radwanska in her butterfly dress?



...DAY 1 LIKE #3:

Vika. This. And that.




...DAY 1 "Hmmm, I'm thinking maybe it was good to take a step back":

-- I haven't taken quite as many pot shots at Hannah Storm over the last year (because of her own off-the-set travails and relative absence from the ESPN coverage during slam time -- well, except when we're "treated" to the deadly combo of both her AND LZ Granderson on occasion), and judging by the way she reacted recently when a stray hand from a makeup artist got between her and a live camera shot, maybe keeping my mouth shut has been for the best. Now that's what they call "giving someone the evil eye."



...DAY 1 LIKE DISLIKE:

-- all right, all right, ESPN. We get it. With the new TV deal with the U.S. Open that includes the singles finals, the network will now have first-ball-to-last-ball coverage of all four grand slam events. So, of course, they had to make sure they actually SHOWED the first ball being struck in the main draw in Melbourne (a serve from Knapp vs. Halep). It's actually a neat little fact that this will now happen, but when you pat yourself on the back a little TOO much -- and no media entity is more self-reverentially clever than ESPN -- it becomes a bit less "neat" by the second. Exponentially so, in fact.

...DAY 1 "Hmmm...":

-- it took a full twenty-six minutes before Sydney champ Petra Kvitova's name was uttered at the start of ESPN2 coverage of Day 1 in Melbourne, well after 6 to 10 other contending (or not... I mean, Sloane a former semifinalist from two years ago was brought up) women had already been discussed. Petra's had a feast or famine career at the AO, reaching a SF and QF, but also with two 1st Round and two 2nd Round exits, including one each the last two years. She was certainly all famine in '14, losing on Day 1 to Luksika Kumkhum, so maybe 2015 is when she will feast on the Melbourne cuisine. But not in the sort of way that would compromise the maybe-best-of-her-career shape she seemed to be in last week in Sydney.

...DAY 1 "Li being Li... but soon doing so for two, or maybe not?":

-- '14 AO champ Li Na responded the other day to rumors that she might be pregnant (whispers hardly shut down by the "room to grow" dress she was last spotted wearing) by saying that, yes, there was a child "on the way"... but then insisted she was joking. So very Na, no matter what turns out to be true.

...and, finally, the unofficial Maria vs. Genie hardly-under-the-radar storyline has officially begun. Bouchard opened night play on Margaret Court Arena on Night 1 with a win over Anna-Lena Friedsam while the Genie Army, in the place of its birth, was in attendence to provide as much exuberance in the stands as is allowed. Maria Sharapova (vs. Petra Martic) was the second match up on Rod Laver... but I'm posting this before that one finishes because, you know, one can't wait ALL night to do such things.

The best sign seen in the stands after Bouchard's 6-2/6-4 win? The one held by a woman that read, "Eugenie -- Please Marry My BF." Next to her was, apparently, the BF in question, holding his own sign which had a big arrow pointing to his head and read, "That's me."

The two could meet in what would be a blockbuster quarterfinal. And unlike the attention given some matches, that one would actually deserve the publicity. For the actual TENNIS match-up, though, which should be given equal footing with the off-the-court things that would likely dominate the lead-up coverage. After all, Sharapova would be on a quest for slam #6 and the #1 ranking, while Bouchard -- coach or no coach -- would be looking to plant a great big flag in the middle of any talk that she might be about to experience a "sophomore slump."

Hey, but that's still about a week or so away. There will be time for all that if the match actually happens. IF.








Vika in Melbourne in 2014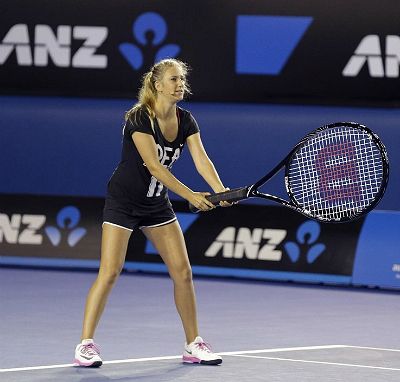 Vika in Melbourne in 2015
Does size matter? I guess we'll soon see.




*RECENT AO "FIRST SEED OUT"*


2005 #16 Ai Sugiyama, JPN (lost to Sucha)
2006 #9 Elena Dementieva, RUS (lost to Schruff)
2007 #25 Anabel Medina-Garrigues, ESP (lost to Vesnina)
2008 #32 Julia Vakulenko, UKR (lost to Vesnina)
2009 #23 Agnes Szavay, HUN (lost to Voskoboeva)
2010 #14 Maria Sharapova, RUS (lost to Kirilenko)
2011 #28 Daniela Hantuchova, SVK (lost to Kulikova)
2012 #19 Flavia Pennetta, ITA (lost to Bratchikova)
2013 #32 Mona Barthel, GER (lost to Pervak)
2014 #7 Sara Errani, ITA (lost to Goerges)
2015 #32 Belinda Bencic, SUI (lost to Goerges)



*RECENT AO "FIRST VICTORY" HONORS*


2009 Patricia Mayr, AUS (def. Schruff)
2010 Dinara Safina, RUS (def. Rybarikova)
2011 Evgeniya Rodina, RUS (def. Rogowska)
2012 Victoria Azarenka, BLR (def. Watson)
2013 Maria Sharapova, RUS (def. Puchkova)
2014 Kirsten Flipkens, BEL (def. Robson)
2015 Julia Goerges, GER (def. Bencic)






TOP QUALIFIER:

Renata Voracova/CZE




TOP EARLY ROUND (1r-2r):

xx


TOP MIDDLE-ROUND (3r-QF):

xx


TOP LATE ROUND (SF-F):

xx


TOP QUALIFYING MATCH:

Q1 - Renata Voracova/CZE def. #17 Zhu Lin/CHN 5-7/7-6(5)/6-2 (saved MP in 2nd set)




TOP EARLY RD. MATCH (1r-2r):

xx


TOP MIDDLE-RD. MATCH (3r-QF):

xx


TOP LATE RD. MATCH (SF-F/Jr./Doub.):

xx


TOP LAVER NIGHT MATCH:

Nominee: xx


=============================




FIRST VICTORY:

Julia Goerges/GER (def. #32 Bencic/SUI)




FIRST SEED OUT:

#32 Belinda Bencic/SUI (lost 1st Rd. to Goerges/GER)




UPSET QUEENS:

Nominees: French, Czechs


REVELATION LADIES:

xx


NATION OF POOR SOULS:

xx


LAST QUALIFIER STANDING:

Day 1 wins: Hradecka/CZE, Panova/RUS


LAST WILD CARD STANDING:

Day 1 wins: Dodin/FRA


LAST AUSSIE STANDING:

Day 1 wins: Gajdosova


Ms. OPPORTUNITY:

xx
IT (??): xx


COMEBACK PLAYER:

xx


CRASH & BURN:

Nominee: #5 Ivanovic/SRB (lost 1st Rd. vs. qualifier Hradecka)


ZOMBIE QUEEN:

xx


LADY OF THE EVENING:

Nominee: xx


DOUBLES STAR:

xx


JUNIOR BREAKOUT:

xx






All for Day 1. More tomorrow.