AO 2 - The Third Time is Still a Charm

The last twelve months of Victoria Azarenka's life have included injuries, romantic heartbreak, professional frustration and a loss of the standing that she had worked so hard to achieve. But, hey, at least she always has her ability to throttle Sloane Stephens in Melbourne to fall back on.


Despite the two-time Australian Open champion's mastery over Stephens in their two previous meetings, a pair of victories in which the American put up just five games each while going 0-2, there's just something about this match-up that stirs the beating hearts of tennis watchers. Maybe it's because there often seems to be a bit of pique in both women when they face off (they even nearly exchanged body blows at the net last year after Stephens solidly hit Azarenka with a shot, then Vika nearly did the same right back at her soon afterward), or maybe it's because the Australian fans have been so slow to warm up to the "uninvited guest" who walked away with all the hardware in back-to-back years in 2012-13, even while stirring "Whack-a-Vika" sentiments and "Cheaterenka" signs after all the double medical timeout controversy that accompanied Azarenka's 2013 semifinal win over Stephens.




Azarenka arrived at this AO as an unseeded underdog, though, ranked #44 and looking to battle her way back into the WTA's center ring. Could it be that her change in status has changed Vika's image in the eyes of some of those same Aussies who have hated on her for so long? The crowd didn't seem to take the traditional stance of being against her this time around. Of course, it helped that Stephens was the first to mouth off to the chair umpire when she allowed Azarenka a late replay challenge in the 1st set, stirring a slight, low rumble in the crowd when she called the ruling "ridiculous" and made one wonder if the Aussies might have had it up-to-here with Stephens as much as many of the rest of us.

Hmmm. Anyway, where was I? Oh, yeah. The match. Well, I guess I haven't talked about it yet because there really isn't a whole lot to say. After beating Stephens 6-1/6-4 in 2013, then 6-3/6-2 last year, Azarenka put up another 6-3/6-2 win this time around. So, I guess Stephens' limit is five games against Vika. Some wanted to cast this match as Stephens' chance to "make a statement." Yeah, right. While it wasn't a full-on "no comment" situation, it rarely rose above a cursory "opening remark."


Two-time champ @Vika7 Azarenka wins 3rd straight over Sloane Stephens at #AusOpen 63 62--> http://t.co/PLo9SrZhnP pic.twitter.com/WOnJzUV1gO

— WTA (@WTA) January 20, 2015


As was the case in their previous meetings, Azarenka controlled the tempo of the match, playing good defense, avoiding Stephens' forehand as much as possible and taking away much of the court by moving forward to put away volley winners. Stephens, as usual, had some very good moments with some sterling winners, but she was never really able to string together enough points for any of it to matter, though the traces of the talent that got everyone so excited about her future two years ago WERE still visible on occasion.

Despite opening the match with a love service hold, Stephens' only really big stand came in the second game of the 2nd set, as she saved five break points in a 13-minute game to hold for 1-1 and prevent Azarenka from getting an early break and running away with the set. While a landslide was averted there, Vika still went on to win five of the final six games of the match, breaking Stephens in the final game as the American delivered a backhand error on Azarenka's second match point because, well, you know, if she'd held in that game she'd have won SIX games in the match. And that just couldn't happen. Five was the quota, and Stephens no longer "rocks the boat" by, you know, actually WINNING something. Anything, really.

Sure, it'd been nice to see the current world #32 get a bit more fired up than the occasional positive reaction to a good shot that we saw today, but one can't expect new coach Nick Saviano to get a bucket of blood from the Sloane stone so early in the season, can we? If at all. Ever. Really, one has to wonder how long that relationship will last into the 2015 season after Saviano dealt with a player with quite the opposite temperament last year during Genie Bouchard's multiple slam runs. Maybe Nick was just seeking a little mental balance, and he needed someone on the far end of the I-want-it-and-I-want-it-now spectrum. Well, if that's the case, then bravo, Nick... balance is achieved. I hear it's healthy.

Really, though, the only thing worth discussing in this match is Azarenka. While not yet in full flight by any means, she's actually looking better than you sort of had any right to expect this early in the season. Based on some of the matches that Karolina Pliskova has played since the two faced off in the first match for both of 2015 in Brisbane -- Vika led and held match point in that one -- one has to feel pretty good about Azarenka's initial steps into the new year.

Now, if she only had the chance to work her way into the tournament for a few matches before a match-up with a top player who could end her run before it's hardly even begun. But, unfortunately, that's not the case. Vika will have to immediately continue her upward trajectory if she's to make something special of this return to Melbourne.

The Dane awaits.







=DAY 2 NOTES=
...while the seeds were an endangered species on Day 1, with eight women with numbers beside their name meeting their Melbourne makers, that was hardly the case on Day 2. At least for a while.

Early on, even #20 Sam Stosur won. So...




I figured I'd better get some use out of this photo from last year, when Stosur reached the 3rd Round. You know, while it's still applicable. It surely was today, as Stosur defeated Swarmette Monica Niculescu by a surprisingly uncomplicated 6-4/6-1 score. She's now 18-12 for her AO career... not nearly as bad as one might expect, considering her inability to seize the moment throughout her career in front of the Aussie fans who'd likely tear down the tournament if she ever actually made a deep-into-the-draw run.

Good on ya, Sam. For today.

...of course, while seeds didn't fall like Fidal Castro at a 2008 graduation ceremony...



that doesn't mean that there wasn't a touch of intrigue around the grounds in the opening hours of play.




#8 Caroline Wozniacki faced off with Taylor Townsend, with lingering questions about the Dane's wrist and much hope for the young Bannerette highlighting the match (a rematch of their Auckland meeting, won by Caro 6-1/7-6(4)) as a potential headline-maker. Well, Townsend played well, once again showing her desire to seek out attention-grabbing winners, surprising speed (she actually seems a tad bit lighter than last season, so the speed wasn't quite as shocking as it might have been) and the sort of desire to reach for more that has so often been absent from Stephens' game. But, Wozniacki being Wozniacki, the Dane was steady throughout and eventually outlasted her. After three straight holds at love, the two went to a 1st set tie break, where Caro pulled away for a 7-1 win, then took the 2nd set at 6-2.


It all looked a bit like this for @CaroWozniacki today as she toughed out a 7-6(1) 6-2 win over the talented Townsend pic.twitter.com/RzqbTydUni

— Australian Open (@AustralianOpen) January 20, 2015


She'll get Azarenka next in a truly exciting, but also unfortunate early-round encounter (for the two players, who both could have gone deeper in the event with a different draw). Caro jokingly blamed draw ceremony guest Li Na for their names being pulled out in such an order.

...#24 Garbine Muguruza, proud owner of not only a slam win over her idol Serena Williams last year in Roland Garros but is also the player who has handed the world #1 her WORST career defeat in a major (winning just four games in Paris), fell behind Marina Erakovic early, but turned things around and finished strong with a 7-5/6-0 victory. Early on Day 2, '14 finalist Dominika Cibulkova, the #11 seed, dropped the opening set against Kirsten Flipkens, but ultimately bulled her way through by a 3-6/6-3/6-1 score.

A year after falling in the 1st Round in Melbourne, #4 Petra Kvitova was having none of that today, eliminating Richel Hogenkamp 6-4/6-1. #18 Venus Williams ran her '15 undefeated string to six matches with a routine 6-2/6-2 win over Maria-Teresa Torro-Flor, #6 Aga Radwanska handled Kurumi Nara a 6-3/6-0 loss and #1 Serena Williams took out Alison Van Uytvanck 6-0/6-4 in the night session on Laver, as the Belgian actually played well in the 2nd set and pushed Serena a bit, making her work hard and pump her fist and yell after quite a few points, especially for a 1st Round match.

...of course, all that didn't mean EVERY seed would escape Melbourne with her hair intact.

In the final hours before the beginning of the night session on Laver and MCA, #13 seed Andrea Petkovic's horrible start to 2015 continued. It didn't have to go that way, but it did. She served for the match at 7-5/5-3 against American Madison Brengle, but failed to put away the victory. Madison, extending the "Summer of Brengle II: Aussie Edition" well into the January calendar, took the momentum and ran with it. She won the 2nd set in a tie-break and took a 3-0 3rd set lead. Petkovic knotted things at 3-3, but Brengle again ran off the final three games to win 5-7/7-6(4)/6-3.

It took Brengle ten years of trying to get her first slam main draw win (at last year's U.S. Open), then she reached her first career tour QF in Linz in the 4Q. In 2015, she's qualified for two tour events, reached her first-ever final last week in Hobart and has now downed a seed in a major. She's got more MD tour victories this season than she had for her entire pro career from 2005-14.

Not particularly unexpectedly, #16 Jelena Jankovic was the second seed to fall on Day 2, falling 6-1/6-4 to Timea Bacsinszky, leaving us with a little less chaos to snuggle up with in the Melbourne sun. Or something like that.

Later, Camila Giorgi made my pre-tournament research worth it, as she downed #12 Flavia Pennetta 4-6/6-2/6-3 to run her combined career record against all her other fellow Italians in the AO women's main draw to a robust 7-2.

...after a few disappointing results on Day 1, many Bannerettes flexed their muscles a bit on Tuesday. Along with Brengle, wild card Irina Falconi put up a win over Kaia Kanepi, converting seven of eight BP attempts in the three-set match, while Nicole Gibbs downed Aussie wild card (for the SEVENTH straight AO) Olivia Rogowska.

Coco Vandeweghe took out vet Francesca Schiavone in straights, handing the Italian her eighth consecutive slam defeat, and the 2010 RG champ's seventh straight 1st Round exit (and 9th in 10) at a major. She's 1-5 in her last six matches in Melbourne, and just finished '14 at her lowest year-end ranking (#82) since 1999. Still, Schiavone does still have something to play for at the majors, as this was her 58th consecutive slam appearance, just four off Ai Sugiyama's WTA record of 62 straight. Now, if she can just keep her ranking high enough to get direct entry into slam main draws over the next twelve months.

Also, qualifier Anna Tatishvili took out 44-year old Kimiko Date-Krumm (who couldn't break the "oldest AO match winner" record she set two years at ago at 42), Madison Keys downed Lesia Tsurenko, #30 Varvara Lepchenko defeated Vitalia Diatchenko and little Lauren Davis ousted U.S. Open mighty mite, the just-slightly-less-little-than-Davis, Aleksandra Krunic. (Bye, Bracelet -- your Serbian Good Luck didn't last long Down Under, but you will be greatly missed.)

There are already twelve Americans in the final sixty-four, more than any other nation, and Shelby Rogers is still to play her Night 2 match against Ajla Tomljanovic. The Czechs have pushed eight players into the 2nd Round, while the Slovak Republic (4-0!), Russia and France all have four. Australia could have four, as well, if Ajla Tomljanovic wins her night match vs. Rogers.

...on the other hand, some nations didn't fair quite so well in the opening round in Melbourne. I like to call those the "Nations of Poor Souls." The Serbs went a combined 0-4, with AnaIvo, JJ, BoJo and The Bracelet (my, it's like the tennis' Guardians of the Galaxy or something) all exiting early. Croats were also 0-4, but they didn't come to the AO with quite as much oomph behind them. And one year after Li Na won the title at this slam, the Chinese were 1-5 in the 1st Round this year, with only Peng Shuai advancing. But only one nation can win the award. So I'll go with... China. So there.



DAY 2 QUALIFIER WINS:

Denisa Allertova/CZE (def. Oprandi), Anna Tatishvili/USA (def. Date-Krumm)



DAY 2 WILD CARD WINS:

Chang Kai-Chen/TPE (def. J.Zheng), Irina Falconi/USA (def. Kanepi)



DAY 2 AUSSIE WINS:

Casey Dellacqua, Sam Stosur (Tomljanovic to finish)

...also on Tuesday, Tsvetana Pironkova looked at Heather Watson's 2015 Hobart title, then raised the stakes with her own 2014 Sydney crown. Apparently, the Bulgarian played a better hand today, taking out the Brit, who was treated for illness during the match, 6-4/6-0 to prove that getting a little less attention the week before the Australian Open actually makes her MORE dangerous. Of course, what else would you expect from a Weeping Angel?







...DAY 2 LIKE #1:

Caro reconfiguring the old "I've got time" argument, and coming out on top.


#Wozniacki on the younger up-and-coming players "You know I'm 24 now so I'm extremely old." pic.twitter.com/f0xdVht0Fu

— Australian Open (@AustralianOpen) January 20, 2015
...DAY 2 LIKE #2:
Thanks for hanging out at the Social Shack & taking over our Twitter @ChristinaMcHale #superstar pic.twitter.com/dwVb3ibwA0

— Australian Open (@AustralianOpen) January 20, 2015


And even better, Christina kept her guts on the INSIDE today. Yay!

...DAY 2 LIKE #3:

-- in the U.S., the Azarenka/Stephens match was carried by Tennis Channel, not ESPN, sparing us all from what would have surely been a point-by-point rehash (likely X two, or maybe X three or four times over) of the 15-20 minutes or so of the three matches the two woman have now played in which Vika wasn't dominating Sloane. Last year's embarrassing coverage -- here's how I recounted it, in case you don't remember -- of their 2014 rematch should have put to rest the whole pro-Sloane take on the match-up, but I doubt if it would have played out that way had basketball games not been ruling the early evening ESPN2 coverage at the end of Martin Luther King Day here. I'm glad to have avoided the headache.



...DAY 2 LIKE #4:

A very vibrant Vika.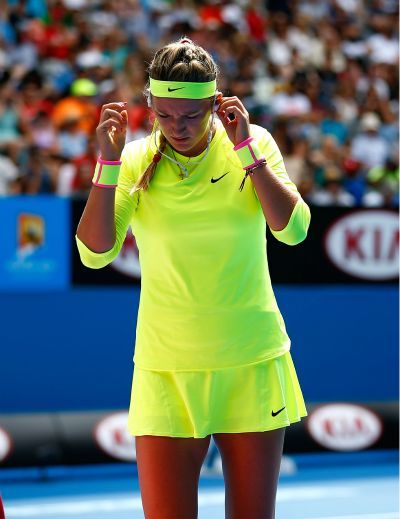 2x champ @vika7 #Azarenka bright as the #Aussie sun today! another neon outfit! #ausopen pic.twitter.com/TUu1WhqYhJ

— Australian Open (@AustralianOpen) January 20, 2015
?????? #SoBrightYouCanProbablySeeMeFromSpace ?? pic.twitter.com/odhgjmlHcg

— victoria azarenka (@vika7) January 19, 2015


Hey, she was right!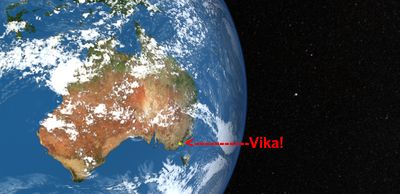 ...DAY 2, err DAY 1 "A DAY LATE, BUT NEVER A QUOTE SHORT" AWARD:

-- Li Na actually did officially announce that she was pregnant on Day 1 in Melbourne. Somehow I missed that until this morning. Of course, she still managed to throw her hat into the ring for Quote of the Year, saying of her husband, "Dennis is doing good job -- he just makes one ace."


Congratulations!!!! #LiNa makes a very special #ausopen announcement about a new arrival... http://t.co/rJfd9OEkq5

— Australian Open (@AustralianOpen) January 19, 2015


The line might not replace Li's "welcome to the crazy women's tennis tour" quote as the Official Backspin Tagline (see the right sidebar above), but it's pretty good.

And then -- poof -- she was gone.


Good luck and goodbye 2014 champion #LiNa and Dennis from all of us here at the #ausopen ???? pic.twitter.com/ZqYdcBmZu3

— Australian Open (@AustralianOpen) January 20, 2015
...and, finally, Pride of Romania Alert! Pride of Romania Alert! Simona Halep is scheduled to make her nighttime debut on Laver on Night 3 against Jarmila Gajdosova tomorrow. Of course, it helps to be playing an Aussie.

Meanwhile, Genie Bouchard will be... featured once again in the night session on MCA. Nine of the twelve night matches that have so far been scheduled in the first three days of this AO have included either an Aussie or a former slam singles champion. Three have had neither. Guess who has played in two of those matches.

I guess it pays to arrive with an Army in tow. A sponsored Army now, apparently, too.


The Genie Army has a corporate sponsor (Canadian Club) now on their shirts. It's weird and confusing how sad that makes me. #AusOpen

— Ben Rothenberg (@BenRothenberg) January 19, 2015






Vika/Sloane I in Melbourne in 2013
Vika/Sloane II in Melbourne in 2014
Vika/Sloane III in Melbourne in 2015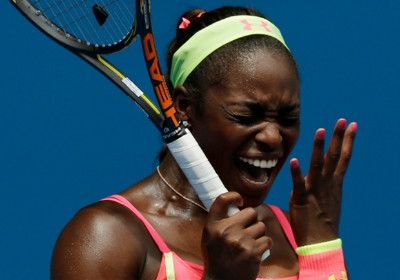 Some things remain the same.




*MOST CONSECUTIVE WEEKS AT WTA SINGLES #1"*


186 - Steffi Graf, 1987-91
156 - Martina Navratilova, 1982-85
113 - Chris Evert, 1976-78
100 - SERENA WILLIAMS, 2013-15



*SERENA WILLIAMS at THE SLAMS - Rd.-by-Rd.*


57-1...1st Rd. ['12 RG: Razzano]
54-2...2nd Rd. ['98 AO: Venus; '14 RG: Muguruza]
46-8...3rd Rd.
38-8...4th Rd.
25-13...QF
22-3...SF [Venus 00,Henin-H 03,Clijsters 09]
18-4...F [Venus 01,Sharapova 04,Venus 08,Stosur 11]



*AO "CRASH & BURN" LOSERS*


2008 Svetlana Kuznetsova, RUS (3rd Rd.)
2009 Venus Williams, USA (2nd Rd.)
2010 Maria Sharapova, RUS (1st Rd.)
2011 Jelena Jankovic, SRB (2nd Rd.)
2012 Samantha Stosur, AUS (1st Rd.)
2013 Samantha Stosur, AUS (2nd Rd.)
2014 Petra Kvitova, CZE (1st Rd.)
2015 Ana Ivanovic, SRB (1st Rd.)



*AO "NATIONS OF POOR SOULS"*


2012 GBR (0-4 1st Rd.; all on Day 1)
2013 AUS (1-6 in 1st Rd., 1-7 overall)
2014 ITA (top-seeded #7 Errani & #12 Vinci out 1st Round)
2015 CHN (year after Li wins title, 1-5 in 1st Round)



*WOMEN'S OVERALL WON/LOST - BY NATION*




[through day 2]




[North America/Atlantic]


12-4..United States
1-0...Canada
1-0...Puerto Rico


[South America]


none in main draw


[Russia & Eastern Europe]


4-6...Russia
2-3...Romania
1-0...Belarus
1-0...Bulgaria
1-1...Ukraine
0-1...Estonia


[Western Europe & Scandinavia]


8-2...Czech Republic
4-0...Slovak Republic
4-2...France
3-2...Spain
3-3...Italy
3-6...Germany
2-2...Switzerland
1-0...Denmark
1-0...Slovenia
1-0...Sweden
1-1...Netherlands
1-1...Poland
1-3...Belgium
0-1...Austria
0-1...Great Britain
0-1...Hungary
0-4...Croatia
0-4...Serbia


[Asia/Pacific]


3-4...Australia
2-1...Kazakhstan
1-0...Taiwan
1-5...China
0-1...New Zealand
0-2...Japan


[Africa/Middle East]


0-1...South Africa
0-1...Tunisia
==
STILL TO PLAY 1st Rd.: Rogers/USA vs. Tomljanovic/AUS






TOP QUALIFIER:

Renata Voracova/CZE




TOP EARLY ROUND (1r-2r):

xx


TOP MIDDLE-ROUND (3r-QF):

xx


TOP LATE ROUND (SF-F):

xx


TOP QUALIFYING MATCH:

Q1 - Renata Voracova/CZE def. #17 Zhu Lin/CHN 5-7/7-6(5)/6-2 (saved MP in 2nd set)




TOP EARLY RD. MATCH (1r-2r):

xx


TOP MIDDLE-RD. MATCH (3r-QF):

xx


TOP LATE RD. MATCH (SF-F/Jr./Doub.):

xx


TOP LAVER/MCA NIGHT MATCH:

Nominee: xx


=============================




FIRST VICTORY:

Julia Goerges/GER (def. #32 Bencic/SUI)




FIRST SEED OUT:

#32 Belinda Bencic/SUI (lost 1st Rd. to Goerges/GER)




UPSET QUEENS:

Nominees: French, Czechs, Germans


REVELATION LADIES:

Nominees: Czechs, French, Americans, Spaniards


NATION OF POOR SOULS:

China (year after Li wins title, 1-5 in 1st Round)




LAST QUALIFIER STANDING:

1st Rd. wins: Allertova/CZE, Hradecka/CZE, Panova/RUS


LAST WILD CARD STANDING:

1st Rd. wins: Chang/TPE, Dodin/FRA, Falconi/USA


LAST AUSSIE STANDING:

1st Rd. wins: Dellacqua, Gajdosova, Stosur


Ms. OPPORTUNITY:

xx
IT (??): xx


COMEBACK PLAYER:

Nominee: J.Gajdosova/AUS (first AO MD win in 10th try)


CRASH & BURN:

#5 Ana Ivanovic/SRB (lost 1st Rd. vs. qualifier Hradecka/CZE; one of eight seeds to lose on Day 1)




ZOMBIE QUEEN:

Nominee: C.McHale/USA (1st Rd.: shoulder, threw up & saved MP vs. Foretz)


LADY OF THE EVENING:

xx


DOUBLES STAR:

xx


JUNIOR BREAKOUT:

xx






All for Day 2. More tomorrow.