AO 4 - A Glowing Success

Well, if this is what was supposed to be a "work in progress," could Vika have a secret masterpiece hidden up her DayGlo yellow sleeve, ready to be gradually unveiled over the next week and a half?
She's Back! @Vika7 Azarenka beats Wozniacki 64 62 for spot in @AustralianOpen 3R--> http://t.co/PLo9SrZhnP #AusOpen pic.twitter.com/VZtXMcBo4g

— WTA (@WTA) January 22, 2015


After battling through personal disappointment and professional frustration in 2014, two-time Australian Open champ Victoria Azarenka came into the new season with more question marks than expectations. Would she be able to recover the game that once made her the best hard court player on the WTA tour, or would her series of leg injuries hamper her movement and mean her best years were already behind her at age 25? With her ranking having fallen outside the Top 40, did her time away dull the competitive desire that once made her one of the most feared opponents in the game, so much so that just one year ago she was being talked about as the only true challenger to the throne of Serena Williams largely because the Belarusian, unlike so many others on tour, didn't quake in her Nikes at the sight of the #1-ranked player in the world on the other side of the net?

Based on what happened tonight on Margaret Court Arena when Azarenka faced off with former U.S. Open finalist Caroline Wozniacki in the 2nd Round, the reports of the potential death the THAT Vika were greatly exaggerated.

On a cool night after the hottest day of this Australian Open so far, both players entered tonight's match sensing an opportunity. Wozniacki, employing a bigger serve and a more aggressive approach, was looking to prove that her run to the final last summer in New York was just the beginning of an even greater Second Act to her career; while Azarenka was, well, we really weren't quite sure. If she was healthy and her game was in form, she was surely the most dangerous unseeded floater not named Williams in any slam draw in the past decade, but there was really no reason to think that was truly the case, other than choosing to believe it to be so on faith. Sure, Azarenka's one pre-AO tune-up match had shown her immediately capable of a big win, as she led and held match point in Brisbane against Czech Karolina Pliskova, who'd reached the Sydney final and climbed into the Top 20 one week later. But she lost that day, and her full fitness and match toughness at this stage in her comeback were rightly questioned. Sure, two days ago Azarenka looked just as dominate in her third meeting with Sloane Stephens in Melbourne as she had in her previous two but, well, you know, it was Sloane Stephens... so it wasn't exactly something on which you could build any tangible belief.

There was a sense, though. A sense that maybe things weren't quite as bad in these initial stages of Azarenka's return as one had originally feared. Maybe she WAS capable of taking a big step forward. Maybe even more than one. But it was still smart to guard against any potential disappointment if the reality of the situation was something far different.

As it turned out, things are apparently far better than anyone ever imagined.

Wozniacki actually played well in this match. She pulled off a plan to come into the net, winning 16 of 18 approaches on the night. But it wasn't enough. Azarenka was even more aggressive, coming in 26 times, winning 21 of those points, and consistently controlling rallies by pulling the Dane from side to side to open up the court for winners. Her movement, save for a slightly-scary (for a second) near-turning of her ankle in the back court (the ghost of Li Na trying to get some revenge for the '13 final?), was good. Sometimes, it was great. Azarenka's movement and court coverage were superb, allowing her to employ her defensive skills in long rallies until an opening for a winner came about, or force Wozniacki into an error when she tried to go for a big shot close to a line because she knew she HAD to -- the level of play of her opponent meant that she had very little choice, or margin of error.

Who saw THAT coming going into this match?

Azarenka was on the Dane right from the start, forcing her into a long, twelve-point service game to begin the match as her free-flowing movement brought her into the net and her game plan for the night became crystal clear. A backhand return winner up the line broke the Dane for 1-0, and the show was on. Focused and not bothered at all by the windy conditions on MCA, Azarenka went up a double break at 3-0.

Wozniacki, after feeling the surprising pressure of the new/old Vika in the early going, finally got her footing a game later, getting back one of the breaks, then fighting off a break point to hold for 3-2. Azarenka saved a BP and held for 4-2, then went up 40/love on serve two games later at 4-3. It was here that her game slipped for really the only time during the match. The three game points went away quickly, and so did the game, as Vika committed five straight unforced errors to break herself and level the match at 4-4. Years ago, such a game would led to an emotional firestorm, but it was just a blip on the radar tonight. The break points continued to come. It took Azarenka four attempts to break Wozniacki in Game #9, but she finally did it with a volley winner to take a 5-4 lead and serve for the set. After a Wozniacki replay challenge failed, Azarenka earned the point that gave her a 30/15 lead, then two points later she put away the set with big forehand that Caro couldn't get back. Azarenka took the set at 6-4, having broken the Dane's serve three times in five games, and hold break points in four.

In the 2nd, perhaps emboldened by her success, Azarenka managed to find a way to raise the level of her game just a little bit more. Often firing shots into the corner and following up with a net approach, the Belarusian broke Wozniacki for a 2-1 lead, then had her easiest hold of the night for 3-1. The Dane battled to stay in the match, scrambling to reach a short ball and converting a crosscourt winner off Azarenka's racket. She held for 3-2 with an ace. But two games later, Wozniacki found herself down love/40 as Azarenka's movement and regulary-employed volley seized total control. A backhand return winner down the line broke Wozniacki for a 5-2 lead and Vika was given the task of serving for a straight sets win over the #8 seed.

On ESPN2, as Azarenka scurried to the changeover area with a decided bounce in her step, Pam Shriver declared, "This is vintage Azarenka right now."

Once again, though, one had to hedge their bets, figuring that Azarenka's mental toughness after not having pulled off a Top 10 in over a year might not quite be up to snuff for a quick finish. After all, let's face it, Vika often had problems finishing off a match even when she was the #1-ranked player in the world... and she made a few headlines with a certain semi-but-brief meltdown in a semifinal match in Melbourne two years ago, after all. It was good that she had A TWO-break lead, was the thought.

But, as it turned out, just like every other question, worry and raised eyebrow, there was nothing to be concerned about. Azarenka finished off Wozniacki in style, and even ended the match by moving forward and delivering her most crisp and picture-perfect volley of the night on match point, winning 6-4/6-2 and putting everyone on notice that they will underestimate her at their own peril.

Wozniacki wasn't really able to have much say about this result, as Azarenka's offensive game was more bold and skillful on the night, and her defense was the equal to -- and often better than -- that of the Dane's. In the end, Vika's play was as bold as the blinding clothes on her back.

Afterward, the sudden bull in the Australian Open draw's china shop was smiling and dancing on court... and the notoriously fickle -- at best, when it's come to her -- Aussie crowd was cheering her on. Who'd-a-thunk-it?


Werk it Vika. https://t.co/pIGeWeNfv8

— Harry (@_harry91) January 22, 2015


A few days ago we really didn't know when -- or if -- we'd get the old Vika back. But, as it turns out, far earlier than anyone anticipated, she may have already arrived on our doorstep. Just in the nick of time for it to matter, too.

Hold on. This.Could.Be.Fun.







=DAY 4 NOTES=
...Day 4 was a good day for the Williams Sisters. With BOTH legitimate threats in this tournament, and Venus the one who came to Melbourne in the best form, that could be the status quo for at least a few more rounds, too.

Serena was the Sister who faced the bigger challenger today, drawing former world #2 Vera Zvonareva. The Russian, still attempting a long comeback from shoulder surgery (she reached a pair of QF, but retired from both, in the two previous tournaments she's played this season), came to play. Breaking the Williams serve twice in the opening set, Zvonareva held for 5-3 and then had two sets points up 40/15 on Serena's serve a game later. But Williams saved both, then a third to hold for 5-4.

From that point on, she didn't lose another game. Williams got a break one game later, then two games later fired a big return to get to 40/15 on Zvonareva's serve and hold her own double set point. A long shot by the Russian handed the set to Serena, and she never looked back, winning 7-5/6-0 as she claimed the final ten games of the match.


From set points down in the 1st, #Serena wins TEN games in a row to see off #Zvonareva 7-5 6-0 #ausopen pic.twitter.com/IaH8kVHNYA

— Australian Open (@AustralianOpen) January 22, 2015


Meanwhile, it can probably be rightly assumed that the reason the Williams Sisters removed themselves from the doubles draw is because it appears that Venus just might be able to play into the second week of this Australian Open, and having additional doubles matches on her schedule will likely only hinder her attempt to reach her first slam Round of 16 since the 2011 Wimbledon. Once again today, Williams' play gave every reason to believe she actually could do just that. The dream of another run was not going to end today for the 34-year old.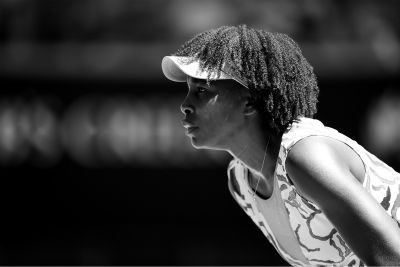 Against Lauren Davis, in a rematch of the Auckland semifinal won by Williams 6-0/6-3, Venus saw her serve broken to begin the match. But she was in complete control the rest of the way against her 21-year old countrywoman, who is "officially" eleven inches shorter than Williams... though visual evidence would have you believe that the difference is actually far greater. Davis won two additional games this time around in the 6-2/6-3 rematch, and Williams will next face off with Camila Giorgi.

...Bannerettes were all over the schedule on Day 4. Along with the Williams Sisters (and Davis), the sixteen women's 2nd Round matches played on Thursday included ten American women.


Young American Madison Keys rallies back to defeat Aussie Dellacqua 26 61 61 to advance to the 3rd rd at #AusOpen. pic.twitter.com/sthXAQQHek

— ESPNTennis (@ESPNTennis) January 22, 2015


Winners included Madison Keys, who made a mid-match course adjustment (and didn't need a coach telling her what to do during a changeover to pull it off, either) to turn around an awful 1st set and take out #29 Casey Dellacqua, disappointing a partisan Aussie crowd. She'll face off with Petra Kvitova next. Also advancing were Varvara Lepchenko (she'll face Aga Radwanska, who she's beaten twice on hard court in the past year), and Madison Brengle, who knocked off fellow Bannerette Irina Falconi in straights as she has now obviously mastered the art of "flipping the switch" and suddenly being a legit WTA player after struggling to make her way on tour for a decade. In the 3rd Round, Brengle could end up facing a second straight fellow Bannerette, as she'll get the winner of the Coco Vandeweghe/Sam Stosur night match on Laver.

Nicole Gibbs looked as if she might have a shot to join the U.S. party in the next round, but she was ousted by #26 Elina Svitolina 7-6(3)/7-6(6), despite having led 5-1 in the 2nd set. Qualifier Anna Tatishvili lost to Swiss Timea Bacsinszky, who then treated herself to a special treat after her victory advanced her to the 3rd Round, matching her career-best slam result at the 2008 U.S. Open.


Ice bath,I Love you right now!!! What a fight, I Love my job!??#TennisRunsInOurBlood #LacosteTennis#3rdRound#AO2015 pic.twitter.com/23JNl2DsuN

— Timea Bacsinszky (@TimiBacs) January 22, 2015


...unlike the bottom half of the draw, the top half hasn't seen a slaughter of the seeds. Many of the top players haven't really even been fully pushed. Today, #4 Petra Kvitova, finally getting some attention as a real title contender as her noticeable fitness (courtesy of Li Na's former trainer) is making her more potentially fearsome than usual, eliminated Mona Barthel 6-2/6-4 and has dropped just eleven games. On ESPN2, Pam Shriver essentially predicted that the Czech will win up to eight slam titles in her career, with possibly six coming at the All-England Club.

#6 Aga Radwanska has lost just four games through two matches, winning today 6-0/6-1 over Johanna Larsson. 2014 finalist Dominika Cibulkova throttled Tsvetana Pironkova 6-2/6-0, as the Weeping Angel fitfully turned to stone just as everyone was looking to her to potentially pull off one of her patented slam upsets.

Elsewhere, Alize Cornet defeated Czech Denisa Allertova, but not without a little drama. The Pastry led 6-5/5-3, and served for the match at 6-5. She eventually won, but she had to go into a 3rd set to do it, winning 6-4/6-7(2)/6-2.

...with the 2nd Round (mostly) over, the "Revelation Ladies" and "Upset Queens" awards can finally be bestowed. Edging out the Czech Maidens, the French Pastries are the "RL" pick on the strength of another multiple-win run at a slam by Cornet, seed-upsetting victories by Kristina Mladenovic and Caroline Garcia (she'll face Genie Bouchard next) and the brief star-turn by Oceane Dodin.

Meanwhile, the vast numbers of Bannerettes who are moving up the WTA ladder have placed the American contingent in the "UQ" mix quite a bit over the last few seasons. In 2012, the U.S. women won the "Upset Queens" crown at Roland Garros and Wimbledon, took it at the U.S. Open in '13 and then Wimbledon and the U.S. Open last year, as well. They probably SHOULD win it here, as well, with the likes of Petkovic, Dellacqua, Mladenovic and Kanepi being ousted by Bannerettes. But I'm not going to go that way again... sort of like how I've unofficially sworn off picking Serena to win slam titles largely because it's hard to have fun and be creative and interesting with predictions if you just pick the same player to win every time.

So that leaves us with a battle between the Germans -- Goerges (def. Bencic & Koukalova), Witthoeft (CSN & McHale) and Barthel (Vekic) leading the way -- and the Czechs (Hradecka def. Ivanovic, Siniakova def. Vesnina, Allertova def. Oprandi and Smitkova def. Lucic-Baroni). With Goerges and Witthoeft surviving into the 3rd Round, while the young Czechs did not, I'll go with Germany.

...with losses today by Denisa Allertova and Anna Tatishvili, Lucie Hradecka has ridden her 1st Round upset of AnaIvo to the "Last Qualifier Standing" honor. The "Last Wild Card Standing" will be shared by all three of the WC women who won their 1st Round matches, but failed to reach the 3rd Round: Dodin, Chang Kai-Cheng and Irina Falconi.

Last night's loss by Jarmila Gajdosova to Simona Halep was followed up today by Dellacqua being sent out by Keys and Ajla Tomljanovic losing to Varvara Lepchenko. So, Sam Stosur is the final Aussie to play her 2nd Round match in the night session on Laver. She'll either win and grab the "Last Aussie Standing" title all for herself, or it'll have to be split up into quarters.

...in the junior Traralgon AO lead-up event, 16-year old Aussie Kimberly Birrell (who got the "Junior Star" award last week for taking a set off Kateryna Bonderenko in AO qualifying) reached the final of the Grade 1 tournament against Canada's Katherine Sebov. Birrell was a girl singles semifinalist at last year's Australian Open, but 16-year old Sebov took this title by a 7-5/6-2 score. The junior draw, by the way, should be out within 24 hours.

Birrell was right back out there today in Melbourne in the women's doubles draw with fellow Aussie Priscilla Hon (combined age: 32), facing off with veterans Raquel Kops-Jones & Abigail Spears (combined age: 65). The American pair defeated the Aussies in straight sets, 6-3/7-5. Experience counts.



...DAY 4 LIKE #1:

The Pride's WTA site background image.






...DAY 4 LIKE #2:

Lovely memories from someone who was there. Long live the WTA's "Spice Girls."


...DAY 4 "GOOD TO KNOW":
.@AZGuy777 "Oreo cheesecake :)" #askAga

— Australian Open (@AustralianOpen) January 22, 2015




...DAY 4 LIKE #3:

Sharapova's very often, very good photographic eye on her Instagram account.






...DAY 4 HAPPY BIRTHDAY, Part 1:

To Laura Robson! (January 21)






...DAY 4 HAPPY BIRTHDAY, Part 2:

To Alize Cornet! (January 22, actually)


This was my first birthday cake of the day thanks to my fitness coach @NicolasPerrotte and my physio Antonin :) ! #25 pic.twitter.com/Bai331BB3A

— Alize Cornet (@alizecornet) January 22, 2015
Happy Birthday @AlizeCornet ???? #WTA tennis pic.twitter.com/LxaTVX2Qrw

— WTA (@WTA) January 22, 2015
...and, finally... I think it speaks for itself.
Putting the 'ball' in ballkid! #newballsplease #thatsgottahurt #ausopen https://t.co/KTnPGDmAqK

— Australian Open (@AustralianOpen) January 22, 2015






A bit of the very first Vika/Caro meeting in a slam, as teenagers in the 3rd Round of the U.S. Open back in 2008.




*WOMEN'S FINAL 32 - BY REGION*




[North America/Atlantic]


6 - USA (Brengle,Keys,Lepchenko,Mattek-S.,S.Williams,V.Williams)
1 - CAN (Bouchard)


[South America]


none in main draw


[Russia & Eastern Europe]


2 - ROU (Begu,Halep)
2 - RUS (Makarova,Sharapova)
1 - BLR (Azarenka)
1 - UKR (Svitolina)


[Western Europe & Scandinavia]


4 - CZE (Hradecka,Kvitova,Ka.Pliskova,Z.-Strycova)
2 - FRA (Cornet,Garcia)
2 - GER (Goerges,Witthoeft)
2 - ITA (Errani,Giorgi)
1 - BEL (Wickmayer)
1 - ESP (Muguruza)
1 - POL (A.Radwanska)
1 - SUI (Bacsinszky)
1 - SVK (Cibulkova)


[Asia/Pacific]


2 - KAZ (Diyas,Shvedova)
1 - CHN (Peng)


[Africa/Middle East]


none
==
STILL TO FINISH: Stosur/AUS vs. Vandweghe/USA



**AO "EARLY-ROUND TOP PLAYER" WINNERS**


2002 (Week 1 POW) Martina Hingis, SUI
2003 (Week 1 POW) Kim Clijsters, BEL
2004 (Week 1 co-POW) Kim Clijsters, BEL & Justine Henin, BEL *
2005 (Week 1 POW) Svetlana Kuznetsova, RUS
2006 (Week 1 POW) Amelie Mauresmo, FRA *
2007 Kim Clijsters, BEL
2008 Maria Sharapova, RUS *
2009 Dominika Cibulkova, SVK
2010 Kim Clijsters, BEL
2011 Kim Clijsters, BEL *
2012 Victoria Azarenka, BLR *
2013 Maria Sharapova, RUS
2014 Serena Williams, USA
2015 Genie Bouchard, CAN
--
* - won title



*AO "REVELATION LADIES" WINNERS*


2006 Italy
2007 Belarus
2008 Poland
2009 Kazakhstan
2010 Germany
2011 Czech Republic
2012 Germany
2013 United States
2014 Romania
2015 France



*AO "UPSET QUEENS" WINNERS*


2004 Hungary
2005 Russia
2006 Spain
2007 Czech Republic
2008 Russia
2009 France
2010 Russia
2011 Russia
2012 Russia
2013 Russia
2014 Australia
2015 Germany



*AO "LAST WILD CARD STANDING" WINNERS*


2008 Jessica Moore, AUS (2nd Rd.)
2009 Jelena Dokic, AUS (QF)
2010 Justine Henin, BEL (RU)
2011 Jelena Dokic/AUS, Caroline Garcia/FRA & Alicia Molik/AUS (2nd)
2012 Casey Dellacqua/AUS & Olivia Rogowska/AUS (2nd Rd.)
2013 Madison Keys/USA (3rd Rd.)
2014 Casey Dellacqua/AUS (4th Rd.)
2015 Chang Kai-Chen/TPE, Oceane Dodin/FRA & Irina Falconi/USA (2nd)



*AO "LAST QUALIFIER STANDING" WINNERS*


2006 (3rd Rd.) Olga Savchuk, UKR
2007 (2nd Rd.) A.Kremer/LUX,A.Kudryavtseva/RUS,T.Paszek/AUT,J.Vakulenko/UKR,R.Voracova/CZE
2008 (4th Rd.) Marta Domachowska, POL
2009 (2nd Rd.) E.Baltacha/GBR, A.Brianti/ITA, S.Karatantcheva/KAZ
2010 (4th Rd.) Yanina Wickmayer, BEL
2011 (3rd Rd.) Vesna Manasieva, RUS (now Vesna Dolonc/SRB)
2012 (3rd Rd.) Nina Bratchikova, RUS
2013 (3rd Rd.) Valeria Savinykh/RUS, Lesia Tsurenko/UKR
2014 (3rd Rd.) Zarina Diyas, KAZ
2015 (in 3rd Rd.) Lucie Hradecka/CZE



*VIKA vs. CARO*


2008 U.S. Open 3rd Rd. (HC) - WOZNIACKI 6-4/6-4
2009 WTA Chsp rr (HC) - WOZNIACKI 1-6/6-4/7-5 (Vika held MP)
2009 Rome 3rd Rd. (RC) - AZARENKA 6-2/6-2
2009 Memphis Final (IH) - AZARENKA 6-1/6-3
2009 Fed Cup (HC) - WOZNIACKI 6-3/6-3
2010 Tokyo SF (HC) - WOZNIACKI 6-2/6-7(3)/6-4
2011 Indian Wells QF (HC) - WOZNIACKI 3-0 ret.
2013 Cincinnati QF (HC) - AZARENKA 6-3/7-6(5)
2013 Indian Wells QF (HC) - WOZNIACKI walkover
2015 Australian Open 2nd Rd. (HC) - AZARENKA 6-4/6-2



*ALL-TIME AO MATCH WINS - MEN*


75...Roger Federer *
56...Stefan Edberg
48...Andre Agassi
48...Ivan Lendl
45...Pete Sampras
45...Novak Djokovic *
43...Rafael Nadal *
--
Also: Murray (35)






TOP QUALIFIER:

Renata Voracova/CZE




TOP EARLY ROUND (1r-2r):

#7 Genie Bouchard/CAN




TOP MIDDLE-ROUND (3r-QF):

xx


TOP LATE ROUND (SF-F):

xx


TOP QUALIFYING MATCH:

Q1 - Renata Voracova/CZE def. #17 Zhu Lin/CHN 5-7/7-6(5)/6-2 (saved MP in 2nd set)




TOP EARLY RD. MATCH (1r-2r):

2nd Rd. - #2 Maria Sharapova/RUS d. (Q) Alexandra Panova/RUS 6-1/4-6/7-5 (saved 2 MP)




TOP MIDDLE-RD. MATCH (3r-QF):

xx


TOP LATE RD. MATCH (SF-F/Jr./Doub.):

xx


TOP LAVER/MCA NIGHT MATCH:

xx


=============================




FIRST VICTORY:

Julia Goerges/GER (def. #32 Bencic/SUI)




FIRST SEED OUT:

#32 Belinda Bencic/SUI (lost 1st Rd. to Goerges/GER)




UPSET QUEENS:

Germans




REVELATION LADIES:

French




NATION OF POOR SOULS:

China (year after Li wins title, 1-5 in 1st Round)




LAST QUALIFIER STANDING:

Lucie Hradecka/CZE(in 3rd Rd.)




LAST WILD CARD STANDING:

Chang Kai-Chen/TPE, Oceane Dodin/FRA & Irina Falconi/USA (all 2nd Rd.)




LAST AUSSIE STANDING:

In 2nd Rd.: Dellacqua(L), Gajdosova(L), Stosur(x), Tomljanovic(L)


Ms. OPPORTUNITY:

xx
IT (??): Nominee: Dodin (wild card Pastry)


COMEBACK PLAYER:

Nominees: J.Gajdosova/AUS (first AO MD win in 10th try); M.Brengle/USA; B.Mattek-Sands/USA; V.Williams/USA; V.Azarenka/BLR


CRASH & BURN:

#5 Ana Ivanovic/SRB (lost 1st Rd. vs. qualifier Hradecka/CZE; one of eight seeds to lose on Day 1)




ZOMBIE QUEEN:

#2 Maria Sharapova/RUS (2nd Rd.: saved 2 MP vs. Panova/RUS)




LADY OF THE EVENING:

Nominee: E.Bouchard


DOUBLES STAR:

xx


JUNIOR BREAKOUT:

xx






All for Day 4. More tomorrow.