Who Will(iams) Be Well in Indian Wells?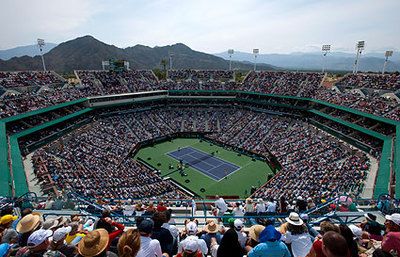 After what has seemed like a tennis lifetime, a long absence will soon finally end...


Laura Robson has been awarded a wild card into Miami qualifying!


When the ticket lady at the cinema asks you why you're alone so much. #juststop

— Laura Robson (@laurarobson5) February 5, 2015


So her private cinema excursions might have to be cut back a bit pretty soon. After wrist surgery and a long rehab, the last time the Brit played was now all the way back in Melbourne in January 2014! She only played two matches in total last season, as her ranking fell from #46 to #946. Soon, the sweat will be real.


Taking action snaps with lots of fake sweat and @NikeTennis. ???? pic.twitter.com/2P5VVlydHe

— Laura Robson (@laurarobson5) March 8, 2015


What? You thought I was talking about something else?



Yes, for the first time in fourteen years, Serena Williams will be in Indian Wells, ending the personal boycott by both Sisters -- despite threats of fines and ranking point penalties -- that began after an injured Venus (who still isn't playing the event) withdrew from an all-Sister semifinal in '01. At the time, if you remember, one anti-Williams line of thought was that Richard Williams was directing the results of matches between his daughters and deciding behind the scenes who should advance. In that atmosphere, Serena was booed loudly when she took the court for the final (which she won), and was sometimes met with derisive calls from the crowd during the match, as well. In the awards ceremony, she was booed still more. A few weeks later, Richard claimed that racial slurs were directed toward Serena from the stands. Both Sisters have stood by the boycott until Serena announced in February her decision to return.

So much has changed since Serena last set foot in the California desert with a racket in her hand. Setting aside the fact that it was still six months BEFORE 9/11, just looking at the WTA rankings at the start of the '01 Indian Wells event produces a bit of a flashback shock. For example:



The Top 5 featured four Americans, and four of these women are already enshrined in the Hall of Fame:
1. Martina Hingis, SUI
2. Lindsay Davenport, USA
3. Venus Williams, USA
4. Monica Seles, USA
5. Jennifer Capriati, USA

There were six U.S. women ranked in the Top 10. And these singles rankings were current:

8. Amanda Coetzer, RSA
9. Anna Kournikova, RUS (the top Hordette in singles, and doubles -- at #3)
10. Serena Williams, USA
19. Kim Clijsters, BEL
21. Justine Henin, BEL
25. Lisa Raymond, USA
30. Gala Leon Garcia, ESP (the current Spanish Davis Cup Captain)
37. Cara Black, ZIM (yes, in singles... she was the '97 Wimbledon girls champ, remember)
353. Vera Zvonareva, RUS (at sweet 16)
672. Dinara Safina, RUS (at 14)
915. Svetlana Kuznetsova, RUS (at 15)

The early pioneers of the 2000's Russian Tennis revolution were inching upward...

11. Elena Dementieva
28. Elena Likhovtseva
58. Anastasia Myskina (Paris was three years away)
67. Nadia Petrova
72. Lina Krasnoroutskaya (oh, pity the lamentably lost career of Lina K, who'd reach the RG QF a few months later)


Meanwhile, CiCi Bellis was still a month away from her second birthday, and the notion of Vika Azarenka creating an Instagram skit/ad for Citizen watches wasn't on anyone's radar (I mean, even now it feels at bit, umm, forced)...



But it's now 2015. And while so much has changed, Serena is still around, making headlines and winning slams. She'll be going for her third Indian Wells title over the next two weeks, looking to belatedly add to a 15-1 record at the tournament dating back to her first title there in 1999 (which was just the second singles title of her career). She comes to California having not played since winning the Australian Open, with her current ten-match winning streak (extending back to '14) second only behind the active twelve-match run by Timea Bacsinszky.

Let me see, B-A-C-S-I-N-S-Z-K-Y. Yep, that's it.


"@letstalktennis1: … and now lets all repeat: B-A-C-S-I-N-S-Z-K-Y. (via @fedele_giulio) pic.twitter.com/XsbmcgHJMp" ??Awesome!!! ??????

— Timea Bacsinszky (@TimiBacs) March 9, 2015


By the way, have I mentioned how much I'm loving the vibe and sense of humor coming off the Queen of Mexico?

Elsewhere, as Indian Wells gets underway, Dominika Cibulkova is out of surgery...


surgery was successful,thank you for all your messages! INFO: http://t.co/8pNdYPXljU READ MORE:http://t.co/OiGEfzgTYU pic.twitter.com/bKtiF5rbDu

— Dominika Cibulkova (@Cibulkova) March 9, 2015


And Caroline is, I'm sure, re-posting yet another of her S.I. swimsuit photos again. Oh, there's another. She REALLY loves doing that, apparently... though I guess it's difficult to blame her, you know?


Flying high!?? See you Indian Wells in 24 hours! #longtripahead #excited @si_swimsuit pic.twitter.com/RnhcEK9CjO

— Caroline Wozniacki (@CaroWozniacki) March 9, 2015


Oh, and she just posted another one. ;)






**RECENT INDIAN WELLS FINALS**


2006 Maria Sharapova d. Elena Dementieva
2007 Daniela Hantuchova d. Svetlana Kuznetsova
2008 Ana Ivanovic d. Svetlana Kuznetsova
2009 Vera Zvonareva d. Ana Ivanovic
2010 Jelena Jankovic d. Caroline Wozniacki
2011 Caroline Wozniacki d. Marion Bartoli
2012 Victoria Azarenka d. Maria Sharapova
2013 Maria Sharapova d. Caroline Wozniacki
2014 Flavia Pennetta d. Aga Radwanska


[doubles champions]


2006 Lisa Raymond & Samantha Stosur
2007 Lisa Raymond & Samantha Stosur
2008 Dinara Safina & Elena Vesnina
2009 Victoria Azarenka & Vera Zvonareva
2010 Kveta Peschke & Katarina Srebotnik
2011 Sania Mirza & Elena Vesnina
2012 Liezel Huber & Lisa Raymond
2013 Ekaterina Makarova & Elena Vesnina
2014 Hsieh Su-Wei & Peng Shuai



**MOST INDIAN WELLS FINALS**


6...Lindsay Davenport (2-4)
3...Steffi Graf (2-1)
3...Maria Sharapova (2-1)
3...Kim Clijsters (2-1)
3...Martina Hingis (1-2)
3...Caroline Wozniacki (1-2)
2...Martina Navratilova (2-0)
2...Serena Williams (2-0)
2...Daniela Hantuchova (2-0)
2...Mary Joe Fernandez (2-0)
2...Monica Seles (1-1)
2...Ana Ivanovic (1-1)
2...Amanda Coetzer (0-2)
2...Svetlana Kuznetsova (0-2)
2...Conchita Martinez (0-2)






INDIAN WELLS, CALIFORNIA USA (Premier Mandatory $5.381m/hard outdoor)


14 Final: Pennetta d. A.Radwanska
14 Doubles Final: Hsieh/Peng d. Black/Mirza
15 Top Seeds: S.Williams/Sharapova
=============================


=ROUND OF 16=


#1 S.Williams d. #13 Kerber
#10 Safarova d. #27 Bacsinszky
#14 Ka.Pliskova d. #3 Halep
#7 A.Radwanska d. #12 Suarez-Navarro
#9 Petkovic d. #6 Bouchard
#16 Keys d. #4 Wozniacki
#25 Garcia d. Gajdosova
#2 Sharapova d. #15 Pennetta (the DC, in case you forgot... or didn't look above)

...of note here, while Vika is surely happy to have finally gotten her ranking high enough to get the #32 seed in Indian Wells, it's placed her directly in the line of fire with #2 Sharapova, a two-time champ. Everything in the bottom half of the draw could get scuttled if Vika gets the upset in the possible 3rd Round clash. Another possibly interesting (and telling, for both players) early-round match would be a Kerber/Stephens in the 2nd Round. Kerber has been slip-sliding of late, while Sloane actually PLAYED WELL in this event a year ago, reaching the QF. With early matches between Muguruza/Ka.Pliskova (3rd Rd.), Aga/Giorgi (3rd Rd. - as Radwanska reached the '14 final, while Giorgi made it to the 4th Rd. as a qualifier) and Ivanovic/Garcia (3rd Rd., in a rematch of the Pastry's destruction of AnaIvo in the Monterrey SF) the first week looks to be quite compelling.



=QUARTERFINALS=


#1 S.Williams d. #10 Safarova
#14 Ka.Pliskova d. #7 A.Radwanska
#16 Keys d. #9 Petkovic
#2 Sharapova d. #25 Garcia

...Pliskova could just as easily be replaced here by Muguruza or Halep (who A-Rad defeated in last year's semi), while Keys is playing her first event since her AO final four run. How long will it take the match rust to fall away, and will it be replaced by the damning weight of expectatiion?



=SEMIFINALS=


#1 S.Williams d. #14 Ka.Pliskova
#2 Sharapova d. #16 Keys

...Pennetta won this title as the #20 seed last year, so a high seed is not necessary a prerequisite for getting deep into this event. 2014's QF also included a qualifier (Dellacqua), and the #12 (Cibulkova) and #17 (Stephens) seeds. So, of course, I'm picking #1 vs #2. It seems like a good bet... so the chances of it actually happening in the desert are probably nil.



=FINAL=


#1 S.Williams d. #2 Sharapova

...oh, what irony if Serena's fourteen-year absence ended with a final in which Maria ended an eleven-year losing streak to Williams. But, considering the history, one would think that Serena is REALLY intent on winning this title. And when that's the case...

By the way, there will be a mid-I.W. update next week, as well.

But before I go, there's ATP Backspin's Galileo West and his take on the women's draw...




Hey Y'all.



SECTION 1:

#1 SERENA


...The 2007 Australian Open. The 2012-14 U.S. Open. Serena had a point to prove. Serena won those tournaments. I can't remember the last time she went into a tournament and wasn't the favorite. Perhaps on slow clay there may be a question mark. That's it. I think Serena will be nervous , but she'll also be angry. She will play Niculescu or Krunic in her first match. I think she looks nervy and struggles a bit but wins 7-5,6-2 or something close to that score. Then she just rolls and never looks back. Vekic and Diyas could play each other, which would be interesting. Stephens is also here, as is 13th seed Kerber. But I pick Sveta, seeded #23, to avenge her recent loss to the German. Kerber has not been in form whilst Sveta is a former winner.
4th Rd.: #1 SERENA D. #23 KUZNETSOVA


=============================




SECTION 2:

#8 MAKAROVA


...Naming the sections after their biggest seed is just easiest and I'm surprised Makarova has her own. She is no longer the perennial dark horse. She should beat Vesnina or the qualifier who the Russian plays. Bacsinszky, seeded #27, lies here and is on form, but Makarova will be fine. Safarova will get past the young guns of Svitolina, Mladenovic and Nara before falling to the more solid Makarova in the fourth round. That will be a match to watch.
4th Rd.: #8 MAKAROVA d. #10 SAFAROVA


=============================




SECTION 3:

#3 HALEP


...Halep will beat Lepchenko in the third round and advance to the fourth to meet a rising star. A lot of rising stars in attendance.
Tomljanovic can only represent Australia in ITF events. Pliskova and Muguruza play here -- it's the match the WTA has been waiting for. I think Pliskova edges it [literally a toss-up] but it will be an incredible watch. The winners goes down tamely to Halep.
4th Rd.: #3 HALEP D. #14 KA.PLISKOVA


=============================




SECTION 4:

#7 RADWANSKA


...Radwanska has been quiet of late. That makes us here at Backspin very nervous. Lucic-Baroni is here. Goerges and Watson play one another. Gibbs and Pavlyuchenkova are in this section, too. Puig is also hanging around. Giorgi beats Radwanska, who is in a big slump and so puts on her glass slippers. Suarez Navarro outlasts the catty BZS in three long sets. Giorgi improbably beats Navarro and Todd has his story for the first week. Unless ,you know, Sharapova double bagels Azarenka or Serena implodes.
4th Rd.: #29 GIORGI D. #12 SUAREZ NAVARRO


=============================




SECTION 5:

#6 BOUCHARD


...Look who has her own section. She and Raonic really are an incredible pair. If only there was a big mixed doubles event that only happens rarely coming up in the next year or two. They'd do well, in that. [#Rio2016] Eugenie has Cepelova and Pironkova around here, not to mention thirtieth seed Vandeweghe. Bouchard advances. Petkovic has Cetkovska, Cornet, McHale and Beck around her. Talented women, but the German ninth seed comes through no problems. Lacking in form, the Canadian will lose to the German. Sadly for Eugenie, in the real world this doesn't work:

4th Rd.: #9 PETKOVIC D. #6 BOUCHARD


=============================




SECTION 6:

#4 WOZNIACKI


...Wozniacki is again rising without winning a slam. Up to number five now, I struggle to think of what the Dane has actually done in the past few months aside from the odd final and losing to Serena in NY. To be honest, that NY final was six months ago now. The Dane hasn't done a lot. She should beat Kanepi or the qualifier, but 31st seed Bencic poses a bit more of a problem. I still like the Dane to advance. Schmiedlova and Davis play in the young match, whilst Koukalova takes on Hantuchova in the veterans. Hantuchova has won this before. At #16, Keys is two spots higher than Jankovic but both are on different trajectories now. If Jankovic makes it there Keys will dismiss her.
4th Rd.: #16 KEYS D. #4 WOZNIACKI [Oh, why not]


=============================




SECTION 7:

#5 IVANOVIC


...Do I trust Ivanovic? With my keys, yes. To be solid and not lose to someone she shouldn't? No. She will beat the winner of Zvonareva and Garcia and then the rest of this section is, first, Italian and, secondly, a mess. Apart from Gajdosova -- she isn't Italian -- Vince, Schiavone and Errani are here, but Gajdosova beats them all. The Aussie is on form and could make the quarterfinals if she finds her groove. Jarmila is back in the top 50. Oh yes, Lisicki is here, too. I forgot about her. It isn't grass.
4th Rd.: #5 IVANOVIC D. GAJDOSOVA


=============================




SECTION 8:

#2 SHARAPOVA


...What a nasty draw. Knapp or Wickamyer then Azarenka followed by Pennetta before having to face Ivanovic. That stinks. Rogers and Flipkens play for the right to face Vika. Vika wins but loses to Sharapova. I know I'm wrong, but the percentage play is to pick Maria. I am not throwing the ball on the one yard line here. Brengle or Zheng [not that Zheng -- Saisai] will get through and play Pennetta. Flavia is 4-4. It's March. She loses to one of those two or to Stosur despite the match up problem the Aussie has. Stosur just kicks and spins her way into the fourth round. Mattek against Townsend is interesting, especially as the winner plays Sam. Poor Sam never beats Vika or Maria.
4th Rd.: #2 SHARAPOVA D. #21 STOSUR


=============================





=ROUND of 16=


Serena d. Kuznetsova
Makarova d. Safarova
Halep d. Pliskova
Giorgi d. Suarez Navarro
Petkovic d. Bouchard
Keys d. Wozniacki
Ivanovic d. Gajdosova
Sharapova d. Stosur


*QUARTERFINALS*


Serena d. Makarova
Halep d. Giorgi
Petkovic d. Keys
Sharapova d. Ivanovic


*SEMIFINALS*


Serena d. Halep
Sharapova d. Petkovic


*FINAL*


Serena d. Sharapova

...This for me is the big one. Not the match, that won't be a contest. Serena will win easily, but it will be the one she has wanted for so long. She puts her demons to bed here.

Thanks all. See you soon!






All for now.