2015 BSA's: Matches of the Year -- The Leftovers

Hmmm, you'd think that ALL the memorable matches of the just-passed 2015 season would have already been gone over with a fine-toothed comb, right? Weeeeelll...
Hey, sometimes leftovers are STILL pretty tasty, right?


Here are the matches that just missed the cut. Well, until now.

*2015 MATCHES OF THE YEAR -- SUPPLEMENTAL*

Result: Carla Suarez Navarro battles past Eugenie Bouchard to reach final eight in Rome http://t.co/zxyZmB2NqD #IBI15

— Sports Mole Tennis (@SMTennis_) May 14, 2015



1s.

Rome 3rd Rd. - Carla Suarez-Navarro d. Genie Bouchard
...6-7(2)/7-5/7-6(7). No matter how close she got, Bouchard was still unable to get the sort of big win that might have turned around the 2015 slide that was beginning to get out of control as she headed toward her ultimately futile defense of her '14 Wimbledon final result this summer. The Canadian served for the match at 5-4 in the 2nd here against the Spaniard, then again at 5-4 and 6-5 in the 3rd. In the deciding TB, CSN took a 6-2 lead, only to see Bouchard save four match points and hold one of her own at 7-6. Suarez-Navarro finally took the match on MP #5. Finally, a few months later, Bouchard seemed to have found her groove at the U.S. Open, but a locker room slip and fall after a late night mixed doubles match ultimately prevented her from a stand-off with Roberta Vinci (who'd go on to def. Serena in the SF) that might have changed tennis history. At it's turned out, the resulting stand-off is between Bouchard and the USTA.


=======================================




2s.

Brisbane Final - Maria Sharapova d. Ana Ivanovic
...6-7(4)/6-3/6-3. Sharapova's peerless run in Brisbane was briefly interrupted when Ivanovic battled back from 4-1 down and saved two set points before taking the first stanza as her own. Sharapova pulled away in the final two sets, foreshadowing a similar result for AnaIvo once she reached Melbourne. The Russian reached the final in Melbourne but -- shocker! -- lost to Serena.

Maria Sharapova of Russia holds the Brisbane trophy after defeating Ana Ivanovic of Serbia Jan10,2015-by Jason Reed pic.twitter.com/VnGZUPTwO3

— Karya Setia (@kasetia21) January 13, 2015



=======================================




3s.

WTA Finals Round Robin - Maria Sharapova d. Aga Radwanska
...4-6/6-3/6-4. In the first match for both at this season's event in Singapore, it'd wouldn't have been difficult to imagine that the eventual champion was playing right here. It's just that most would thought it'd be Sharapova, who finally played her first full match since Wimbledon in finishing off this victory over the Pole. It wasn't "vintage" Maria, but the fight (and health, finally) pulled her through. At 4-5 in the 3rd, Radwanska failed to put away a swing volley on BP, then saw the Russian cobble together a down-the-line-and-lob combo to weather the late, quick storm. She'd soon win on her third MP. But, in the end, it was Aga who was holding up the trophy.


=======================================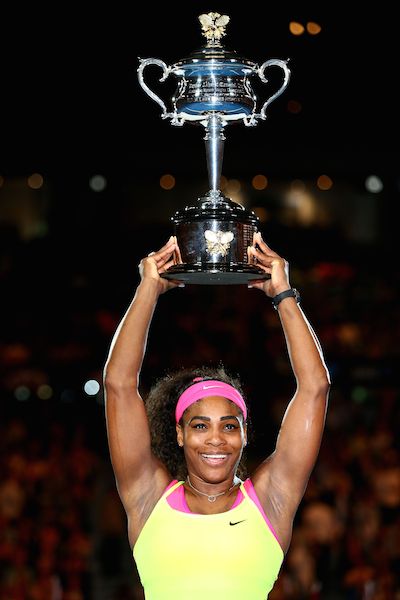 4s.

Australian Open Final - Serena Williams d. Maria Sharapova
...6-3/7-6(5). Playing for (more) history, Serena was happy to see Sharapova on the other side of the net, for Williams is never prone to "one of those days" when Maria is around. Maintaining her ten years (and now working on a second decade) of mastery over the Russian, Serena claimed her twenty-fourth and twenty-fifth set of her last twenty-six against the Russian, firing eighteen aces (15 in the 2nd set alone) to claim slam #19. Still, at it was, this was one of Sharapova's BETTER performances against Serena since 2004... which says a lot about the "non-rivalry." They met again in the Wimbledon semis, with Williams winning for the seventeenth straight time in the series, firing thirteen aces to make it 27 of 28 sets vs. the Russian.


=======================================




5s.

Stuttgart SF - Caroline Wozniacki d. Simona Halep
...7-5/5-7/6-2. In this one, Halep was the one who couldn't win the big points. The Romanian was 0-for-5 on break point chances in the 1st set, and very nearly blew a two-break lead in the 2nd (the Dane closed to 5-5). After being frustrated by Wozniacki's defense, which dragged out rallies and forced her to hit extra shots, Halep showed the fight that she'd said earlier in '15 that she'd always have. Wozniacki got to within two points of a straight sets win before Halep forced a 3rd. In the final set, she saved three MP at 5-1 before Wozniacki finally converted on #4. This win -- one of Caro's four Top 10 victories in '15, but her sole conquest of a Top 5 player -- was arguably the high point of the Dane's entire 2015 season.

Caroline Wozniacki goes the distance with Simona Halep to reach Stuttgart final http://t.co/vffRSh3CAa World's Da… pic.twitter.com/iQhn4BOlXy

— DailyNew5 (@DailyNew5) May 1, 2015



=======================================




6s.

Australian Open 4th Rd. - Serena Williams d. Garbine Muguruza
...2-6/6-3/6-2. In a rematch of Williams' career worst-ever slam loss to the Spaniard at Roland Garros last year, she was forced to three sets as Muguruza's tactic of firing balls hard and deep in the court proved effective. Muguruza, who'd closed out her three previous AO opponents with a love set, saved three break points in the opening game of the 3rd, only to see Williams save six break points of her own one game later. The momentum shifted in Serena's favor after the hold... and she didn't lose another set in the tournament. The two met again on the slam stage in the Wimbledon final, with Williams once again winning in three sets.


=======================================




7s.

Wuhan 2nd Rd. - Karolina Pliskova d. Mirjana Lucic-Baroni
...7-6(4)/5-7/7-6(5). The Czech's 4Q redemption tour picked up steam in China as Pliskova avenged her 1st Round loss in Toronto (you know, her earliest defeat during her U.S. Open Series "championship run"). Lucic served for the match at 5-4 in the 3rd before Pliskova held two MP at 6-5. In the deciding tie-break, the Croat again grabbed the lead at 5-3, only to see Pliskova sweep the final points to get the win. The Czech soon put up another good win in Wuhan over Elina Svitolina, reached the Tianjin semis and Elite Trophy final, then closed out her season by leading the Maidens to another Fed Cup title. Pliskova might soon be 2016's version of 2015 mover-and-shaker Muguruza.


=======================================




8s.

Nottingham 2nd Rd. - Lauren Davis d. Magda Linette
...5-7/7-6(13)/6-2. Davis led 5-2 in the 1st and held a set point, but the Pole prevailed. Linette led 5-2 in the 2nd, holding two MP before Davis forced a TB, then held six more MP there. The Bannerette won 15-13 on her sixth SP, then took the 3rd for the win. Ouch.


=======================================




9s.

U.S. Open 1st Rd. - Andrea Petkovic d. Caroline Garcia
...3-6/6-4/7-5. Garcia won the 1st set, but failed on four BP attempt at 3-3 in the 2nd as Petkovic held and went on to knot the match. In the 3rd, the Pasty led 4-2 and held BP for a 5-2 lead. Petko ultimately won the 2:34 contest on her second MP as once again the big stage (though this was only played on the Grandstand court, not Chatrier in Paris) proved to be just a little too big for the talented (but still young) Frenchwoman.

VIDEO! #USOpen Petkovic-Garcia: gli highlights ? http://t.co/CUsvZNFGZU pic.twitter.com/ErDjywNVEu

— Eurosport.it (@Eurosport_IT) September 2, 2015



=======================================




10s.

Wimbledon Q3 - Tamira Paszek d. Wang Yafan
...6-4/6-7(6)/7-5. Paszek held four MP in the 2nd set TB, then Wang served at 5-4 in the 3rd. The Austrian won on her sixth MP.


=======================================




11s.

U.S. Open 2nd Rd. - Anna Schmiedlova d. Danka Kovinic
...6-4/5-7/6-4. Kovinic claimed the 1st on her fourth set point, but the Slovak took the 2nd to force a deciding set. In the 3rd, Schmiedlova led by a double-break at 5-1, but was broken for 5-3 to give back half her advantage. She held three MP in game #9 but failed to convert any, then a game later had to save two BP to avoid going back on serve before finally winning on her eighth MP.


=======================================




12s.

Toronto 1st Rd. - Alison Riske d. Timea Bacsinszky
...3-6/7-6(4)/7-6(3). Bacsinszky's 2015 story was still great, but her magic waned a tiny bit over the summer months. In this 3:04 match, she served at 6-5 in the 2nd set and held two match points before seeing Riske stage her comeback. After a five-week break, this was Bacsinszky's first post-Wimbledon match after having reached the QF at SW19. It was as close as she got to a hard court win during the summer, too, as she ended up losing all four matches she played, the final three in straight sets. The Queen of Mexico rebounded in the fall to reach the Beijing final (getting three Top 20 wins, and claiming four three-set matches en route) before losing to Garbine Muguruza. She climbed into the Top 10 for the first time a day later, but then saw her season come to a premature end after one more match due to an injury in Luxembourg.


=======================================




13s.

Madrid 3rd Rd. - Svetlana Kuznetsova d. Samantha Stosur
...5-7/6-2/7-6(5). Sveta, as if often the case, had to overcome herself more than anything to win this one. The Hordette held two MP at 5-4 in the 3rd, then two more at 6-5. After double-faulting on multiple MP attempts, Kuznetsova finally won on her sixth.


=======================================




14s.

Madrid 1st Rd. - Mariana Duque d. Heather Watson
...0-6/6-3/7-6(11). After dropping the opening set at love, Duque pushed Watson to a 3rd. The Colombian saved three MP at 6-5 in the final set, then two more in the deciding tie-break. On her own sixth MP in the tie-break, Duque finally prevailed.


=======================================




15s.

's-Hertogenbosch QF - Belinda Bencic d. Kristina Mladenovic
...7-6(4)/6-7(4)/7-5. Bencic held a MP in the 2nd. Mladenovic had three in the 3rd. The New Swiss Miss finally won the match in 2:55. But have no fear, Belinda and Kiki are still BFFs.

Opponents today but friends always. #TeamBeliKiki ???? @BelindaBencic @KikiMladenovic pic.twitter.com/Jxyg8CXzP6

— #TeamBelinda (@FanOfBencic) December 8, 2015



=======================================




16s.

Bad Gastein 1st Rd. - Andreea Mitu d. Barbara Haas
...6-1/6-7(5)/7-6(5). Mitu served up 6-1/5-3 and held two match points at 5-4, only to see the Austrian win the 2nd in a tie-break and then go on to hold two MP of her own at 5-4 in the 3rd. Ultimately, the Romanian took out Haas in another tie-break, sending the local fans home unhappy.


=======================================




17s.

U.S. Open 1st Rd. - Dominika Cibulkova d. Ana Ivanovic
...6-3/3-6/6-3. A seesaw match. Back-from-Achilles'-surgery Cibulkova came back from 0-2 to take the 1st, while AnaIvo recovered from a 1-3 deficit to claim the 2nd. After dropping serve to open the 3rd, Cibulkova rebounded to break Ivanovic's serve twice in a row as the Serb was the "First Seed Out" at Flushing Meadows.

Spoke about this lastnight... RT @usopen: Upset Alert: #Cibulkova oust #Ivanovic 6-3, 3-6, 6-3 #usopen @chase http://t.co/hZZvTsHeyY

— Despicable Oddy (@iOddOne) August 31, 2015



=======================================




18s.

50.

Wimbledon Q1 - Julie Coin d. Lesley Kerkhove
...2-6/7-6(1)/6-4. Kerkhove led by a set and 5-2, and served at 5-3 in the 2nd. Pastry Coin won fifteen of the final eighteen points in the set, then took the match in three.


=======================================




19s.

Fed Cup II 1st Rd. - Irina-Camelia Begu/Monica Niculescu (ROU) d. Garbine Muguruza/Anabel Medina-Garrigues (ESP)
...5-7/6-3/6-2. Playing without regular doubles partner Carla Suarez-Navarro, Muguruza wasn't able to win a third match on the weekend and lead the Spaniards to a thrilling, Romanian tennis nation-deflating win over the Swarmettes in Galati.


=======================================




20s.

Monterrey 2nd Rd. - Magdalena Rybarikova d. Polona Hercog
...7-5/3-6/7-6(11). The Slovak wins a wild one. She held a MP at 5-4 in the 3rd set, but was forced to a tie-break. She led 4-0, only to see Hercog surge back and hold four MP of her own. But Hercog lost back-to-back serve points to give Rybarikova a second MP.


=======================================




HM(s).

Fed Cup Americas Zone I RR - Veronica Cepede Royg/Montserrat Gonzalez (PAR) d. Victoria Rodriguez/Marcela Zacarias (MEX) 6-3/3-6/6-3
Fed Cup Americas Zone I Promotional Playoff - Veronica Cepede Royg/Montserrat Gonzalez (PAR) d. Paula Cristina Goncalves/Teliana Pereira (BRA) 6-3/6-3
...Paraguay's fate rested in the hands of doubles duo Cepede Royg & Gonzalez, who took down the Mexicans on their home soil in the deciding doubles match of the tie that determined the Pool winner. Then, against Brazil in the promotional playoff, they teamed to do it again and send Paraguay to the World Group II playoffs.


=======================================




All for now.















"I made this program for you because I wanted to give you the gift of being able to play tennis at a high level for the rest of your life." - Ramon Osa



CLICK HERE: THE SIMPLE SERVE


By purchasing The Simple Serve, you'll gain instant access to your 9 HD Video lessons on a secure site that you can review whenever you want.