Wk.5- The Usual Suspects
It was a Fed Cup weekend characterized by teams being propped up and led by "the usual suspects." Some were the same "old reliables" that, as they have for years, came to the rescue during this weekend's most tense moments, while a few of the others were relatively-new leaders who managed once again to pad their early-career FC resumes, allowing them to dream of being "team legends" somewhere down the line.


A quick rundown of some stand-outs from 2012's first weekend of FC action:



*EIGHT THINGS THAT WERE GOOD*




1.

Or is it "familiar?" For the fourth straight year, Italy, Russia and the Czech Republic have advanced and will do battle in the semifinals. For the Hordettes, this weekend's actions earned them a sixth straight Final Four berth.



2.

Svetlana Kuznetsova... showing that she CAN pull her head out of you-know-where at FC time, at least. Although, she ALMOST got stuck in there yet again.



3.

The U.S. getting Venus Williams onto the court in a "meaningless" WG II doubles match (with Liezel Huber, not Serena), while ultimately feeling better about NextGen Bannerette Christina McHale's FC weekend than the sketchy one of Venus' sibling.



4.

The defending champion Czech team, on the road again (after winning three road ties en route to the title in '11), coming back from a set down three straight times in singles against Sabine Lisicki and Julia Goerges, not-so-arguably the two best players who lost FC singles matches over the weekend.



5.

Team Australia managing not to choke against Switzerland in WG II play. Naturally, since the tie was played on the road, Sam Stosur starred.



6.

After not fairing well without their help late in '11, Team Italia being led back to the SF by the likes of Francesca Schiavone, Flavia Pennetta & Roberta Vinci in '12.



7.

One year after successfully going it alone for Team Serbia last February, Bojana Jovanovski, after managing to get to the arena on time and in one piece, doing it again on Day 2 in Belgium.



8.

China moving up to the World Group II Playoffs, advancing for the first time in FC play since February '08 (won 1st Rd.). Since reaching the SF four years ago, China had gone 0-5 in FC ties, then failed to advance out of Zone play in '11. Last week, the Chinese, led by the likes of Li Na, Zheng Jie and Peng Shuai, went 8-0 overall in Asia/Oceania pool and promotional playoff action.



*THREE THINGS THAT WEREN'T*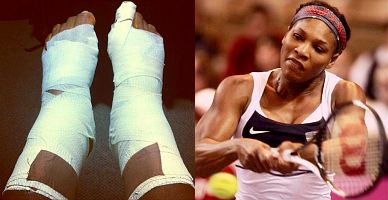 1.

Serena Williams' feet. Sure, she didn't play all that well in Massachusetts. But... I guess that she chose to play at all should be commended. Especially considering...



2.

The other stars' health. Serena and Venus managed to play, but the likes of Victoria Azarenka (lower back), Jelena Jankovic (leg) and Maria Sharapova (pulled out with a cold two hours before her second match on Day 2) were absent from action either all or part of the weekend. Maybe this week-after-a-slam schedule for FC action is a bit flawed.



3.

Kateryna Bondarenko... oh, vey. How does it feel to be the latest victim of Francesca Mania?



*ONE THAT RAISES A FEW QUESTIONS*


That the MVP in the United States' win over Belarus in World Group II play might have been... Victoria Azarenka. The AO champ's withdrawal from action became official an hour before the start of play on Saturday, and Christina McHale notched her first career FC win shortly afterward against "replacement" Anastasiya Yakimova. With Serena Williams then struggling at times in her two matches against Yakimova and Olga Govortsova over the two days of play, it's easy to think that Azarenka might have gone 2-0 in singles had she played, putting much pressure on FC newbie McHale to get her first win on Day 2 to avoid having Mary Joe Fernandez's team fall still farther down the FC ladder, even with the Williams Sisters on the team fulfilling their Olympics-eligibility requirements. That sigh we heard coming from Massachusetts this weekend wasn't coming from frustrated New England Patriots fans... it was a very thankful MJF, who maybe came within an eyelash of being at the wheel when the American FC team's cruise ship ran aground.



*AND ANOTHER THAT I'LL CONTINUE TO HARP ON*


Just think how dramatic, if only for a few hours, some of this weekend's ties might have been if the Fed Cup best-of-five format played the doubles match in the #3 slot (as the Davis Cup does) rather than #5. Rather than often be a throw-away match as it was in six of the weekend's high-level ties, it'd have been a viable match in ALL eight (and had the potential to be the clinching point in four), not to mention allowing all team members to contribute in a "live" match and brought about some interesting coaching decisions since top singles players would be potentially-necessary doubles team choices while still possibly having to play an additional singles match later. Doubles matches that decide ties -- as was the case with SRB/BEL and ITA/UKR -- are nice, but imagine if it was a head-to-head SINGLES match between top players that decided which team advanced. THAT would provide good (and sometimes even better) theater.



*WEEK 5*



=1st Round=


Russia(H) def. Spain 3-2
Serbia def. Belgium(H) 3-2
Italy(H) def. Ukraine 3-2
Czech Republic def. Germany(H) 4-1


=World Group II=


United States(H) def. Belarus 5-0
Japan(H) def. Slovenia 5-0
Slovak Republic(H) def. France 3-2
Australia def. Switzerland(H) 4-1


=Zone Promotion Finals=


[Europe/Africa]: Great Britain def. Austria 2-0
[Europe/Africa]: Sweden def. Poland 2-1
[America's]: Argentina def. Colombia 2-0
[Asia/Oceania]: China def. Kazakhstan 2-0




[1st Rd. MVPs]




Petra Kvitova/CZE

(overall P.O.W.)
...Kvitova led the defending champion Maidens back to the semifinals, but it was anything but easy. On the road in Germany, against both Sabine Lisicki and Julia Goerges, Kvitova dropped the 1st set and had to scramble back to get wins. The second, the tie-clincher against Goerges, came via a 10-8 3rd set in a match in which the German twice came within two points of victory. Kvitova held serve three straight times to finally secure the victory, her 23rd straight wins indoors (and 27th, counting January's Hopman Cup).


=============================




Flavia Pennetta & Roberta Vinci, ITA


...Pennetta has been making an opening FC weekend practice of picking up the Italian team for the last three years. In 2010 and '11, she helped Team Italia rebound after Francesca Schiavone had lost opening day singles matches, getting a pair of singles wins over Ukraine (both Bondarenkos) and Australia (Stosur & Gajdosova). This year, Schiavone lost again on Day 1. Then, when Sara Errani had to retire from her Day 2 singles match, the tie went to the doubles match. With Vinci's regular doubles partner Errani out, the still-nursing-injury Pennetta stepped in to play with her countrywoman for the first time since 2003. They won a three-setter over Lesia Tsurenko & Olga Savchuk, 7-5/0-6/6-1 to get back to the SF. Vinci, by the way, remains undefeated for her career in FC doubles play.


=============================




Svetlana Kuznetsova/RUS


...the Russian's longtime Fed Cup success will have as much to do with her eventual Hall of Fame induction as her pair of two-weeks-of-bliss-surrounded-by-months-of-inconsistency slam titles. Again this weekend, she was Team Russia's rock. After a straight sets win on Saturday over Carla Suarez-Navarro, she followed up the potential chaos created by Sharapova's last-minute withdrawal from Match #3 (an unprepared Nadia Petrova was steamrolled by CSN), by securing the clinching point in the tie with a win over Silvia Soler-Espinosa. Of course, being Sveta, she didn't make things easy for herself. She led SSE 6-2/4-1 before going into one of her funks, which she eventually crawled out of to win 6-2/4-6/6-3.


=============================




Bojana Jovanovski/SRB


...one year ago in opening FC weekend WG II action, with Jelena Jankovic and Ana Ivanovic out, BoJo put the Serbian team on her back against Canada, having a hand in all three of the winning points. JJ was in Belgium this time around, but a leg injury took her out of play after she got a win in Match #1. After Yanina Wickmayer notched back-to-back singles wins (one over BoJo), Jovanovski was put in the position of needing to lead Serbia out of the 2-1 hole and into the SF. She got a singles win over Kirsten Flipkens, then teamed with Aleksandra Krunic to defeat Wickmayer and Alison van Uytvanck in doubles to secure the victory and Serbia's first berth in the FC semis.


=============================





[WG II MVPs]




Christina McHale/USA


...still just 19 and without a career FC victory, McHale was put in the early line of fire by MJF, set to face Victoria Azarenka to lead off Day 1 action against Belarus on Saturday. Azarenka's withdrawal from the match-up took a little bit of the pressure off, but it didn't mean the moment might not get to the American. It didn't. She went up 6-0/4-0 on Yakimova, then survived her only (short) case of nerves to win 6-0/6-4. On Sunday, with the tie clinched, she defeated Darya Kustova 6-0/6-1.


=============================




Ayuma Morita/JPN


...the Japanese team had a relatively easy time of it against Slovenia on the scoreboard, sweeping the tie 5-0. But they had to scrape and claw for those wins. Kimiko Date-Krumm opened the tie with a win come-from-behind, three set win over Polona Hercog, only to see her lose-the-1st, win-the-next-two pattern (as happenened with CZE vs. GER) carry over to Morita's back-to-back singles matches over the two days. Morita, 21, came back from a set down in her victories over Nastja Kolar and Hercog, the latter of which clinched Japan's advancement to the World Group Playoffs.


=============================




Daniela Hantuchova/SVK


...the Slovak team was armed with both Hantuchova and Cibulkova for the WG II tie with the Bartoli-less French team. And, even without La Trufflette, the team NEEDED them both. Hantuchova opened play by taking out Pauline Parmentier in a 9-7 3rd set, then saw Cibulkova split her two matches. Avoiding sending things to the doubles, Hantuchova clinched the win with a 6-3/6-4 win over Alize Cornet in Match #4.


=============================




Samantha Stosur/AUS


...Sammy, and all of Team Australia, should just petition to NEVER have to play Down Under. In 2011, the Aussies lost two home ties in FC play, with Stosur crumbling against Italy in the 1st Round, then Anastasia Rodionova doing the same against Ukraine in the WG Playoffs. Down in Group II, and on the road in Switzerland, Rodionova wasn't in action this time. But Stosur was, along with the we-brought-all-the-troops lineup of Jarmila Gajdosova, Jelena Dokic and Casey Dellacqua. While Gajdosova split a pair of long marathons -- losing 8-6 in the 3rd to Stefanie Voegele on Day 1, then winning 8-6 over Amra Sadikovic on Day 2 -- Stosur was picture perfect, winning straight sets matches over Timea Bacsinszky and Voegele. With everyone getting in on the act, Dellacqua & Dokic contributed a doubles point in Australia's 4-1 win.


=============================





[Zone Play MVPs]




Sofia Arvidsson/SWE


...Sweden, with Arvidsson and Johanna Larsson filling their customary leadership positions, advanced to the WG II Playoffs by winning one half of the Europe/Africa zone. In pool and promotional playoff action, Arvidsson went 3-0 in singles, and 3-0 in doubles with Larsson.


=============================




Elena Baltacha/GBR


...while Anne Keothavong (3-1) and the doubles team of Laura Robson/Heather Watson (3-0) all performed well in the other half of Europe/Africa zone play, it was Elena Baltacha who was entrusted with taking out the best players from the other teams. And she went 4-0 in those matches, getting wins over Shahar Peer, Michaella Krajicek, Michelle Larcher de Brito and Tamira Paszak.


=============================




Paula Ormaechea/ARG


...along with Florencia Molinero, 19-year old Ormaechea led the Dulko-less Argentine team through America's zone play. Both went 3-0 in singles play, but Ormaechea opening three ties with a win (including victories over Aleksandra Wozniak and Catalina Castano) in Match #1 gets her the MVP nod. Overall, Argentina went 11-0 in matches in pool and promotional playoff action.


=============================




Li Na/CHN


...most of China's recent FC troubles, aside from poor management at the top, has come because of the absence of the nation's best players from team play. Well, Li, Zheng and Peng all showed up this time, and China avoided yet another disaster by finally escaping Zone play after failing to do so in '11. Li was the only player who played a singles match in all three ties. She went 3-0, getting victories over Chang Kai-Chen and Galina Voskoboeva.


=============================





[RISERS]




Agnieszka Radwanska/POL


...A-Rad couldn't push Poland back into World Group II play, but she did just about all that she could. 4-0 in singles, she dropped just nine total games against the likes of Irina-Camelia Begu, Petra Martic, Johanna Larsson and Anne Kremer. She also teamed with sister Urszula for a doubles win over Begu & Simona Halep, dropping the 1st set before back-to-back bageling the Swarmettes in a 4-6/6-0/6-0 win.


=============================




Yanina Wickmayer/BEL


...Jovanovski ultimately proved to be THE star of the Serbia/Belgium 1st Round tie, but Wickmayer was the best singles player on the court. She took out BoJo 6-4/6-4, then nearly double-bageled Krunic.


=============================





[FRESH FACES]




Lesia Tsurenko/UKR


...ever since she played a huge part in taking down Rodionova and Australia in last year's WG Playoffs, Tsurenko has been putting up better and better results across the board. In the 1st Round against Italy, the 22-year old, world #121 nearly single-handedly pulled off one of the bigger FC upsets in recent years. On Day 1, she crushed Schiavone 6-1/6-2, then handled a retiring Errani 6-1/3-0 in Match #4 to send things to the doubles. With Savchuk by her side, the Ukrainians bageled the veteran Italian pair of Pennetta/Vinci in the 2nd set to take things to an all-or-nothing 3rd set. As SHOULD have happened, the experienced Italians pulled ahead at that point. But Tsurenko seems willing and able to help get Team Ukraine back to this stage again soon.


=============================




Aleksandra Krunic/SRB


...the 18-year old has become something of a FC Girl Wonder in doubles over the past year. In three straight ties, she's successfully teamed with a bigger Serbian star -- once JJ, twice Bojo -- in the deciding doubles match. This weeekend's win over Belgium push the women's FC team into the semifinals in the wake of the Serbian men claiming the Davis Cup at the end of the '10 season.


=============================





[SURPRISES]




Stefanie Voegele/SUI


...Voegele, 21, has been making some noise in this early season. Before this weekend, she'd already qualified at the Australian Open and notched wins over Shahar Peer and Bojana Jovanovski. In Melbourne, she led Lisicki 4-2 in the 3rd set in their 1st Round match. Against Australia in WG II play, she outlasted Jarmila Gajdosova in a 6-0/6-7(8)/8-6 Day 1 match.


=============================




Florencia Molinero/ARG


...teamed with Ormaechea, the 23-year old, 3-0 in Zone play with wins over Stephanie Dubois and Mariana Duque-Marino, is giving the Argentine team a floor to stand on, with or without Gisela Dulko.


=============================





[VETERANS]




Iveta Benesova/CZE


...understandably, Kvitova gets more attention for HER wins from a set down against Lisicki and Goerges, but Benesova, too, won a come-from-behind thriller. In Match #1 of the CZE/GER tie, Benesova fell behind 6-2/2-1, 15/40 on Lisicki's serve before fighting back for a 2-6/6-4/6-2 win that proved to be FAR more important than it might have seemed at the time.


=============================




Francesca Schiavone/ITA


...oh, Francesca. As soon as you're counted out, you come back with a vengeance. Schiavone's penchant for losing opening day, opening weekend FC matches proved true once again, as she won just three games against Tsurenko on Day 1. Things didn't look good on Day 2, either. She trailed Kateryna Bondarenko 7-6/5-1in Match #3. I guess she had the Ukrainian right where she wanted her. Dropping just one point in the next three games, Schiavone turned the match in her favor -- turning on the crowd -- and took the 2:50 match 6-7/7-5/6-4 to prevent Italy from falling into a 2-1 hole. In the end, her "save" allowed Pennetta & Vinci to sent Team Italia to the SF with a doubles win.


=============================




Kimiko Date-Krumm/JPN


...the 41-year old only played one match in Japan's WG II tie with Slovenia, but her come-from-behind 2-6/6-4/6-2 win over just-turned-21 Polona Hercog set the fight-until-the-end tone for Japan's 5-0 victory. Polona must now know to respect her elders.


=============================





[COMEBACKS]




Serena Williams/USA & Venus Williams/USA


...Serena wasn't exactly impressive -- sweating out a 7-5 1st set against Govortsova, and dropping the opening set to Yakimova -- but she DID go 2-0 in singles play in the tie against Belarus. Meanwhile, with the tie secure with a 4-0 score, Venus took to the court in doubles with Liezel Huber. They won 6-1/6-2 over Kustova & Yakimova in Venus' first official competitive match since she pulled out of the U.S. Open along with the announcement of her ongoing health concerns.


=============================





[DOWN]




Kateryna Bondarenko/UKR


...a year ago, K-Bond successfully put the Ukrainian team on her shoulders without her sister Alona to help out. This time, her shoulders didn't support the weight. Serving at 7-6/5-1 against Schiavone, with a shot to put UKR up 2-1 with the hot-as-fire Tsurenko ready to close out the upset one match later, Bondarenko collapsed to the tune of only winning one point over a three-game stretch, and then losing in three sets.


=============================




Maria Sharapova/RUS... almost


...maybe she should leave a thank-you note on Sveta's locker at the next tournament, for if not for Kuznetsova, then Sharapova's late withdrawal from play on Day 2 with "a cold" might have been something that would have "grown prickly hair" had the Russians gone on to drop a tie that probably should never even have come close to being tight... which is surely did late in Match #4.


=============================





ITF PLAYER:

Sofia Kvatsabaia/GEO


...we're only five weeks into the 2012 season, but the Georgian has already won three ITF singles titles. #3 came this weekend in a $10K challenger in Mallorca, where she defeated Spain's Ivonne Cavalle-Reimers in the final.



JUNIOR STAR:

Irina Khromacheva/RUS


...the world's #1-ranked junior, a Girls singles quarterfinalist and doubles runner-up at the AO, had a nice run in the $25K challenger in Burnie, Australia. The 16-year old got wins over Cagla Buyukakcay, Yurika Sema and Eugenie Bouchard en route to reaching the final, where she lost to Olivia Rogowska.




1. FC 1st Rd - ITA/UKR - Schiavone d. K.Bondarenko
...6-7/7-5/6-4. 2:50. Back from a set and 5-1. Okay, I see. Francesca didn't give us one of her great slam dramas because she was holding it for this match. Sneaky thing, she is.


=============================


2. FC 1st Rd - CZE/GER - Kvitova d. Goerges
...3-6/6-3/10-8. Petra will eventually be had in an indoor match, but it didn't happen here. Goerges, by the way, was one of the last players to defeat Kvitova indoors, having done so in October '10 in Linz.


=============================


3. Asia/Oceania Final - CHN/KAZ
Peng def. Shvedova 6-3/3-6/6-1
Li def. Voskoboeva 6-1/3-6/6-1
...close, but no cigar. The Kazakhs will have to wait to make their FC mark. But with Ms. Pervak waiting in the wings, it's hard to believe that they won't be doing it soon.


=============================


4. FC 1st Rd - RUS/ESP - Suarez-Navarro d. Petrova
...6-0/6-3. Oh, Nadia. But I know you drew the short straw and had to replace Sharapova at the last moment, so you get a free pass.


=============================


5. FC WG II - AUS/SUI
Voegele d. Gajdosova 6-0/6-7(8)/8-6
Gajdosova d. Sadikovic 6-3/3-6/8-6
...after her 1st Round loss in Melbourne, I guess Jarmila needed the match play.


=============================






$25K Grenoble Final - Karolina Pliskova/CZE d. Kristyna Pliskova/CZE
...7-6(11)/7-6(6). The Pliskova Twins rule... the ITF circuit. Well, at least they have the last two weeks. For the second straight week, the 19-year old Czechs swept the singles and doubles titles at a challenger. A week ago, Kristyna defeated Karolina in a QF match, then took the title. This week, Karolina got her back in the final (winning her fifth in eight meetings with her sister, and evening up their ITF match-ups in finals). It's their first such title-determining match in an event since 2010. In addition to her win over her sibling, Karolina also knocked off the likes of Julie Coin and Elena Bovina (who, amazingly, is STILL out their plugging away).


=============================








**OVERALL FED CUP TITLES**


17...United States
6...Australia
5...Czechoslovakia
5...Spain
4...Russia
3...Italy
2...France
2...West Germany/Germany
1...Belgium
1...Czech Republic
1...Slovak Republic
1...South Africa


[1960's]


4...United States
3...Australia


[1970's]


4...Australia
4...United States
1...Czechoslovakia
1...South Africa


[1980's]


5...United States
4...Czechoslovakia
1...West Germany


[1990's]


5...Spain
3...United States
1...France
1...Germany


[2000's]


4...Russia
2...Italy
1...Belgium
1...France
1...Slovak Republic
1...United States


[2010's]


1...Czech Republic
1...Italy



=2012 Semifinalists=


Czech Republic
Italy
Russia
Serbia


=World Group I Playoffs=


Australia
Belgium
Germany
Japan
Slovak Republic
Spain
Ukarine
United States


=World Group II Playoffs=


Argentina
Belarus
China
France
Great Britain
Slovenia
Sweden
Switzerland





PARIS, FRANCE (Premier $637K/hard indoors)
11 Final: Kvitova d. Clijsters
12 Top Seeds: Sharapova/Bartoli
=============================


=SF=


#1 Sharapova d. Kanepi
#6 Goerges d. #2 Bartoli


=FINAL=


#1 Sharapova d. #6 Goerges

...hmmm, I wonder if Wozniacki played in Weeks 1 & 2, then reached the AO SF and participated in tough Week 5 Fed Cup action, if SHE would have chosen to not defend her Paris Indoors title (and points), as Kvitova has? Yeah, I know, stupid question. Instructive, though.



PATTAYA CITY, THAILAND (Int'l $220K/hard court outdoors)
11 Final: Hantuchova d. Errani
12 Top Seeds: Zvonareva/Cibulkova
=============================


=SF=


#1 Zvonareva d. #6 Voskoboeva
#3 Hantuchova d. #5 Zheng


=FINAL=


#1 Zvonareva d. #3 Hantuchova

...many of the prospective champions in this tournament were involved in FC action over the weekend and could come to Thailand a little tired or unprepared. Vera had the week off, as well as the week before (except for her AO Doubles title run). So, I'll go with her to reclaim the title she won in 2009-10.







PARIS




=SF=


kanepi d. sharapova
li d. kerber


=FINAL=


kan d. li



PATTAYA




=SF=


kirilenko d. zvonareva
hantuchova d. cibulkova


=FINAL=


hantuchova d. kirilenko

...Carl have nothing to say, other than that Carl picked Vika to win AO and Todd did not. As Carl always way, Carl smart. Todd not Carl.


All for now.