Wk.29- Between Clay and a Hard (court) Place
As the summer season hits its full stride, the tides begin to change. 2013 is no different. All the signs were there in Week 29.


First, after a brief respite, the world #1 emerged and saw her shadow... on the dirt, as the '13 clay court season, dominated from start to finish by one Ms. Serena Williams, came to a close with her claiming her tour-topping fifth title on the surface(s). The result ended one chapter of the current season, ushering in the homestretch of this year's WTA campaign. We won't likely see the world #1 at all that many more events in this calendar year, but you can be sure the ones in which she does appear will be quite a bit larger than the $235K International level event which she won this weekend in Bastad, Sweden.

Accordingly, as the clay court season concluded, we finally got what used to be a "normal" sort of clay court result. After a season in which the other seventeen clay events were won by players with the average seed of #2.5, with fourteen champions being seeded in the Top 3 of their event (after just eight Top 3 seeds won the sixteen clay events in '12), Bad Gastein produced a match-up of two unseeded, title-less players whose rankings were both outside the Top 100 just two weeks ago. It used to be that such occurrences were commonplace at many of the WTA tour's clay events, making them notoriously difficult to predict. But in the WTA of 2013, the top-ranked players, generally on the whole, are capable on ALL surfaces, and are now far more proficient on clay than was previously the case a few years ago (Serena and Maria, take a bow). As with so many things that have happened on tour this season, it would seem to be a trend that can only be good for the women's game as we move into the future.

Of course, the player effectively -- if not winningly, though we'll know for sure in about seven days -- spanning the bridge between the two seasons might just be a certain Pole. Less than a week after appearing (tastefully) in the buff in ESPN Magazine's Body Issue, Agnieszka Radwanska was attacked by Catholic critics back home and dropped as a spokesperson for a Catholic youth group in Poland. Less than a week after that, she's headlining the Stanford hard court event this week in California, where she'll likely get a better, less judgmental, reception... especially since '12 champ Williams won't be in the draw to, umm, eliminate the possibility of a hoped-for result next weekend.

So, with that, onward we go, with an exclusively hard court schedule from here on out until the end of the season, with the U.S. Open already flashing on the radar at the end of next month.

But, first, a recap of the final "official" clay court week of the 2013 season:



*WEEK 29 CHAMPIONS*
BASTAD, SWEDEN (Int'l $235K/RCO)
S:

Serena Williams/USA def. Johanna Larsson/SWE 6-4/6-1


D:

Medina-Garriges/Zakopalova (ESP/CZE) d. Dulgheru/Pennetta (ROU/ITA)
BAD GASTEIN, AUSTRIA (Int'l $235K/RCO)
S:

Yvonne Meusburger/AUT def. Andrea Hlavackova/CZE 7-5/6-2


D:

S.Klemenschits/Klepac (AUT/SLO) d. Barrois/Daniilidou (GER/GRE)
FED CUP AMERICAS II ZONE (El Salvador)
POOL A promotion:

Ecuador


POOL B promotion:

Bahamas

PLAYER OF THE WEEK:
Serena Williams/USA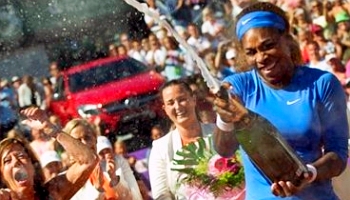 ...the past week on the clay in Bastad was a bit of a "reset" for Williams, as she extinguished the bad memory of Wimbledon and set herself up for what she hopes will be a successful defense of her U.S. Open crown at the end of the North American hard court season. Williams didn't lose a set in her five matches in Sweden, taking out, in order, Sesil Karatantcheva, Anna Tatishvili, Lourdes Dominguez-Lino, Klara Zakopalova and crowd fave Johanna Larsson. Serena's title is her seventh of the season, equaling the number of crowns she won last season, and bringing her within one of tying her career-high season total of eight back in 2002. This was also career title #53, tying Monica Seles for eighth on the all-time WTA list, just two behind Lindsay Davenport's 55 wins.


=============================




RISERS:

Johanna Larsson/SWE & Karin Knapp/ITA


...Larsson opened up play in front of the Swedish crowd by having to take out countrywoman Sofia Arvidsson. Once that was accomplished, she was propelled all the way to her second career Bastad final (2011) with wins over Nina Bratchikova, '12 RU Mathilde Johansson and Flavia Pennetta. Larsson's loss to Serena dropped her career final mark to 0-3, the same record she has against the Williams Sisters in '13, having also lost to both Serena and Venus in Fed Cup play earlier this season. Knapp, still fresh off her first career slam Round of 16 at Wimbledon, knocked off Valeria "Pocket Hordette" Solovyeva, Alexandra Cadantu and Annika Beck en route to her second '13 semifinal (Bogota). She lost to eventual champion Yvonne Meusburger. The 26-year old is up to #57, still a ways back from the career-high of #35 she achieved back in 2008.


=============================




SURPRISES:

Lisa-Maria Moser/AUT & Sandra Klemenschits/Andreja Klepac (AUT/SLO)




...Moser's run in Bad Gastein will likely go down as the biggest surprise of 2013. At 22, she finished last year at #1098 and last week was ranked #725, with less $10,000 in career earnings. In BG, after back-to-back $10K final runs in Egypt (she won one), Moser was awarded the last wild card entry into the main draw because countrywoman Melanie Klaffner (tied for the ITF lead in '13 titles) was injured and couldn't accept it herself. In her tour MD debut, Moser, under .500 for her career, got a win over qualifier Elena Bogdan and then jumped on top of #1-seed Mona Barthel early, taking a 6-2/4-3 lead before the German (who'd won her 1st Round match 6-0/6-0) retired with a shoulder injury, putting Moser into the QF. She lost there to eventual finalist Andrea Hlavackova, but Moser now finds herself at a career-best #394 after a 331-spot jump in the new rankings. But Moser's run, along with Yvonne Meusburger's title, weren't the only headlines grabbed by Austrians in Bad Gastein. In doubles, Sandra Klemenschits teamed with Slovenia's Andreja Klepac for the first tour doubles crown won by either women. They'd reached the semis in Budapest a week earlier. It was 27-year old Klepac's third tour final, after losses in '07 and '09, while 30-year old Klemenschits was also a previous two-time tour runner-up, in '05 and '11. The final in '05 came while partnering twin sister Daniela, with whom she won 23 ITF doubles titles. Both were diagnosed with a rare form of cancer in '07, leading to their retirements. Daniela died in '08, but Sandra was able to recover and resumed her career soon afterward. Needless to say, winning a title in her home country was likely something of a dream result on oh-so-many emotional levels.


=============================




VETERANS:

Yvonne Meusburger/AUT & Andrea Hlavackova/CZE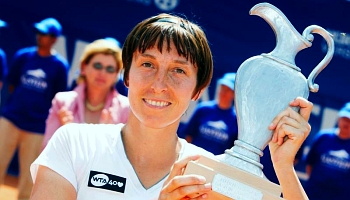 ...after jumping from #112 to #86 last week with a final run in Budapest, her first on tour in six years, Meusburger arrived back home in Austria at Bad Gastein, where she's arguably had her best career results. With wins over Irina-Camelia Begu, Arantxa Rus, Karin Knapp and Andrea Hlavackova in her second of back-to-back final appearances, the 29-year old Austrian claimed her first career tour title. 21-4 in her last twenty-five matches, Meusburger is the first player this season to win singles titles on both the ITF circuit and WTA tour, and now has a BG career resume that includes two QF, two SF, two finals (w/ '07) and one title. She's now up to a career-best #58. A week ago, 26-year old Hlavackova won the Budapest doubles with partner Lucie Hradecka. This week in BG, ranked #108, she reached her first-ever singles SF & final with wins over Eleni Daniilidou, Viktorija Golubic, Lisa-Maria Moser and Elina Svitolina. If she'd managed to defeat Meusburger, Hlavackova would have become the sixth woman on tour to claim both singles and doubles crowns this season.


=============================




COMEBACKS:

Flavia Pennetta/ITA & Arantxa Rus/NED


...after wrist surgery cost her a large chunk of her '12 season, Pennetta's recent return to the tour continues to yield better and better results. In Bastad, coming in ranked #103, she reached the second SF in her comeback (w/ Strasbourg) after getting wins over Mariana Duque-Marino, Simona Halep (via retirement) and Virginie Razzano. She also reached the doubles final with Alexandra Dulgheru. Meanwhile, Rus ended what has been a nearly year-long nightmare of a slide. Last August, the 22-year old Dutch was at a career-best ranking of #61. Problem is, going into last week, Rus hadn't won a main draw tour match since, seeing her ranking fall all the way down to #262. The streak reached a WTA record-tying seventeen straight with her first round loss at Wimbledon, but finally ended with her three-set victory last week in Bad Gastein over Maria-Teresa Torro-Flor. She even got a second win over Estrella Cabeza-Candela to reach the QF... and finally take a breath..


=============================




FRESH FACES:

Elina Svitolina/UKR & Richel Hogenkamp/NED


...18-year old Svitolina has been climbing the tennis ladder for a few seasons now. In 2010, she was the Roland Garros girls champion and junior #2. Last year, she reached the Wimbledon girls final, qualified for the U.S. Open women's draw and then closed out the season by winning the WTA 125 Challenger in Pune, India over Kimiko Date-Krumm. Before last week, she'd already won an ITF crown and reached the semifinals of another WTA 125 in Cali, Colombia this season. The rise continued in Bad Gastein as she reached her first International-level tour semi with wins over Chanelle Scheepers and Patricia Mayr-Achleitner. The Netherlands' Hogenkamp, now 21, qualified and made her main draw tour debut in Bad Gastein in June '12, christening her WTA career with a big win over Julia Goerges in the 1st Round before dropping her following match. While not in BG this year, Hogenkamp was in Bastad, where she again made it through qualifying. Wins over Lara Arruabarrena-Vecino and Lesia Tsurenko resulted in her maiden tour QF, and raised her ranking from #278 to a new career-best #229.


=============================




DOWN:

Mona Barthel/GER


...it's Barthel, and it's not early in the season, so it's always smart to expect the worst. As the #1 seed in Bad Gastein, that's precisely what happened... even after a double-bagel 1st Round win. After getting her serve broken early in her 2nd Round match, Barthel dropped the 1st set and was well on her way to losing the 2nd against wild card Moser, the world #725, before finally having to retire with a shoulder injury.


=============================




ITF PLAYER:

Polona Hercog/SLO


...the last two seasons, Hercog won the singles crown at the WTA tour-level event at Bastad (including def. '13 runner-up Larsson in the '11 final). But she wasn't there this week, and was instead at the $100K challenger in Olomouc, Czech Republic. The 22-year old Slovenian maintained her winning ways, though, taking the second $100K of her career (she won in Cuneo, Italy in '09) with wins over Nadiya Kichenok, Maryna Zanevska and Katarzyna Piter by a 6-0/6-3 score in the final.


=============================




JUNIOR STAR:

Elise Mertens/BEL


...the 17-year old Waffle, a girls quarterfinalist at the Australian Open and Wimbledon this season, claimed the Junior Open Linz Grade 1 event, downing Kristina Schmiedlova in the final. The #1 seed in singles, the world junior #10 was also the #2 seed in doubles, where she joined with Brit Harriet Dart to claim that title, as well.


=============================




FED CUP MVP:

Kerrie Cartwright/BAH



...Americas II pool play took place in El Salvador at the end of the week, with two teams advancing for 2014. Cartwright, a 21-year old sophomore at Florida State, led the Bahamas to the top spot in one of the pools. In the deciding tie against the Dominican Republic, the result came down to the deciding doubles. There, Cartwright, following up her singles victory in the three-match tie, joined with Larikah Russell to take the three-set match over Joelle Schad & Francesca Segarelli and clinch the promotion of the Bahamas.


=============================






1. BG Final - Meusburger d. Hlavackova
...7-5/6-2. This was the third time this season -- w/ Florianopolos & Kuala Lumpur -- that a tour singles final included two players both seeking their first career titles. With Meusburger becoming the ninth of 2013, there have been more unseeded singles titlists this season than those who were wearing any seeds other than #1 (14 wins, including Serena this week).


=============================


2. Bastad Doubles Final - Medina-Garrigues/Zakopalova d. Dulgheru/Pennetta
...6-1/6-4. Hmm, might Kristina Mladenovic one day look into the mirror of her career and see AMG staring back? Consider this: Medina-Garrigues just won her third doubles title this season, with a third different partner on a third different surface. Her twenty-one career doubles crowns have come while partnering fourteen different women. All in all, not a bad deal... but, Kristina, get thee to a slam QF. Stat! You know, just to be safe.


=============================


3. Bastad 2nd Rd. - Pennetta d. Halep
...4-6/7-5/2-0 ret. Simona can put this one in the "all good things someday must end" drawer in the "blessings in disguise" cabinet after playing so many matches over the last few weeks.


=============================


4. BG 1st Rd. - Rus d. Torro-Flor
...7-5/5-7/6-4. Credit to Rus for showing some heart here, considering that most players with a 17-match WTA main draw losing streak (not that there are many who've experienced such a thing) would probably have just figuratively thrown in the proverbial towel when they fell behind 4-2 in the 3rd set en route to #18.


=============================


5. Bastad 1st Rd. - Larsson d. Arvidsson
...6-1/6-1. What are the odds that the one tour event held in Sweden would produce a draw that pitted the top two players in the nation against each other in the 1st Round?


=============================


6. BG Q - E.Bogdan d. A.Bogdan
...6-3/7-5. Swarmette Sisters... but not actual sisters.


=============================


7. Bastad SF - Larsson d. Pennetta 2-6/6-3/6-4
Bastad SF - S.Williams d. Zakopalova 6-0/6-4
...semifinals featuring three 31-year olds, speaking volumes about one of the underlying trends on the WTA tour these days.


=============================






1. Bastad Final - S.Williams d. Larsson
...6-4/6-1. Larsson took a 2-0, then 3-1 and at deuce for more, lead in the 1st set, but... come on... no one really expected that to continue for long. Serena is now 53-16 in finals, a cool 76.8% winning percentage... compared to, for example, a 68.8% clip for a certain Mister from Switzerland whose numbers aren't likely to improve over the next few years, if losing to a #114-ranked qualifier last week in Hamburg is any indicator of future results.


=============================


2. $25K Imola Final - Kan d. L.Kichenok 3-6/7-5/6-2
$25K Imola Doubles Final - L.Kichenok/Ostapenko d. Lehnert/Matteucci 6-4/3-6/10-3
...Lyudmyla lost in the singles final, but had a doubles title in hand to avoid going away empty-handed. It's Kichenok's second title this season without her sister Nadiya, after the siblings combined to win fifteen ITF doubles crowns from 2009-12.


=============================








**2013 CLAY COURT RANKINGS**


1.

Serena Williams, USA:

5 titles: 4 red, 1 green...and RG
2.

Roberta Vinci, ITA:

two titles, and Fed Cup heroics
3.

Maria Sharapova, RUS:

a title, & RU in Madrid/RG, but a letdown vs. '12
4.

Simona Halep, ROU:

two titles, and a semi (as a qualifier) in Rome
5.

Sara Errani, ITA:

won Acapulco, Palermo RU, RG/Madrid semis
6.

Makarova/Vesnina, RUS:

Roland Garros champs
7.

Victoria Azarenka, BLR:

Rome RU & RG SF
8.

Jelena Jankovic, SRB:

won Bogota, Charleston RU
9.

Yvonne Meusburger, AUT:

back-to-back finals, 1st title
10.

Alize Cornet, FRA:

won Strasbourg, Acapulco SF
HM-

K.Kanepi/EST, A.Pavlyuchenkova/RUS, F.Schiavone/ITA:

all won tour titles



**2013 BEST WIN PCT. IN FINALS - 2+**


1.000 - Simona Halep (3-0)
1.000 - Agnieszka Radwanska (2-0)
1.000 - Elena Vesnina (2-0)
1.000 - Roberta Vinci (2-0)
0.875 - SERENA WILLIAMS (7-1)
0.667 - Victoria Azarenka (2-1)
0.667 - Anastasia Pavyuchenkova (2-1)



**LOW-RANKED 2013 CHAMPIONS**


#127 - Karolina Pliskova, CZE (Kuala Lumpur)
#86 - YVONNE MEUSBURGER, AUT (Bad Gastein)
#81 - Lara Arruabarrena-Vecino, ESP (Cali 125)
#75 - Monica Niculescu, ROU (Florianopolis)
#71 - Marina Erakovic, NZL (Memphis)



**2013 FIRST-TIME...**




[champions]


Hobart - Elena Vesnina, RUS (age 26, #68)
Memphis- Marina Erakovic, NZL (age 24, #71)
Kuala Lumpur - Karolina Pliskova, CZE (age 20, #127)
Florianopolis - Monica Niculescu, ROU (age 25, #75)
Nuremberg - Simona Halep, ROU (age 21, #58)
Bad Gastein - YVONNE MEUSBURGER, AUT (age 29, #86)


[finalists]


Bogota - Paula Ormaechea, ARG (age 20, #198)
Kuala Lumpur - Karolina Pliskova, CZE (age 20, #127)
Eastbourne - Jamie Hampton, USA (age 23, #41)
Bad Gastein - ANDREA HLAVACKOVA, CZE (age 26, #108)



**2013 CONSECUTIVE FINALS**


6...Serena Williams, February-June (5-1)
4...Maria Sharapova, March-May (2-2)
2...Agnieszka Radwanska, January (2-0)
2...Victoria Azarenka, January-March (2-0)
2...Sabine Lisicki, February (0-2)
2...Sara Errani, February-March (1-1)
2...Simona Halep, June (2-0)
2...YVONNE MEUSBURGER, July (1-1)



**2013 ALL-UNSEEDED FINALS**


Kuala Lumpur - Karolina Pliskova/CZE def. Bethanie Mattek-Sands/USA (WC)
Florianopolis - Monica Niculescu/ROU def. Olga Puchkova/RUS
Birmingham - Daniela Hantuchova/SVK def. Donna Vekic/CRO
Eastbourne - Elena Vesnina/RUS def. Jamie Hampton/USA (Q)
BAD GASTEIN - Yvonne Meusburger/AUT def. Andrea Hlavackova/CZE



**ALL-TIME WTA TITLES**


167...Martina Navratilova
154...Chris Evert
107...Steffi Graf
92...Margaret Court
68...Evonne Goolagong
67...Billie Jean King
55...Lindsay Davenport
53...SERENA WILLIAMS
53...Monica Seles





STANFORD, CALIFORNIA USA (Premier $794K/hard court outdoor)
12 Final: S.Williams d. Vandeweghe
12 Doubles Final: Erakovic/Watson d. Gajdosova/King
13 Top Seeds: A.Radwanska/Stosur
=============================


=SF=


#1 A.Radwanska d. Keys
#2 Stosur d. #3 Cibulkova


=FINAL=


#1 A.Radwanska d. #2 Stosur

...no Serena to defend. I'm putting Keys into the semis over Halep because of the Romanian's nagging injury/over-playing issues. Plus, it would set up a nice Aga/Madison SW19 rematch on hard court, which could be quite interesting. Remember, Vandeweghe was a surprise finalist last year (though she's being forced to try to make it through qualifying a year later). Could Keys follow in her footsteps? Either way, the winner here grabs the initial lead in the U.S. Open Series race.



BAKU, AZERBAIJAN (Int'l $235K/hard court outdoor)
12 Final: Jovanovski d. Cohen
12 Doubles Final: Buryachok/Solovyeva d. Birnerova/Brianti
13 Top Seeds: Jovanovski/Vekic
=============================


=SF=


#1 Jovanovski d. #5 Ka.Pliskova
#6 Hercog d. #2 Vekic


=FINAL=


#6 Hercog d. #1 Jovanovski

...Hercog just won that $100K title, so I'll go with the momentum over the defending champ in a very mediocre draw. BoJo defeated Cohen in the final last year, but they could meet in the QF this year.



WTT PLAYOFFS - July 25th & 28th
12 Final: Washington d. Sacramento
=============================
Washington d. Sacramento

...the Kastles set a North American team record with a 34th straight win last week (they lost in the attempt for #35), and are going for a third straight WTT title this week.


All for now.