Wk.30- The Best Laid Plans of Agas and Slovaks
Well, if there's hope for Dominika Cibulkova, then maybe fate will be on ALL of our sides in the end.


2013 couldn't have started off any better for Agnieszka Radwanska, or any worse for Cibulkova. In Week 2 in Sydney, A-Rad faced off with the Slovak in the final and simply destroyed her, putting up a 6-0/6-0 win for her second of back-to-back titles to open the season and raising her career mark against Cibulkova to 4-0. Flashforward twenty-eight weeks and the two met once again in the Stanford final.

For a while, even with the diminutive Cibulkova possessing the sort of the-motor's-always-revving power and tenacity that sometimes gives Radwanska's clever game trouble, it looked as if A-Rad was going to have the last laugh once again. While Cibulkova had break point chances throughout the first set and a half of action, she wasn't able to convert them. Instead, Radwanska would calmly utilize some good serving to make risky holds look almost routine in the end. The Slovak was 0-for-3 in BP chances in the 1st set, and 0-for-4 on four more chances mid-way through the 2nd. Already a set down and looking ready to be dispatched in straight, though not bagel-laden, sets, Cibulkova finally broke Radwanska's serve on her eighth attempt and managed to push things to a 3rd set. In the deciding stanza, after the two exchanged early breaks, Cibulkova found a way to maintain her confidence after twice falling down a break. Serving up 4-2, 40/15, A-Rad was well on her way to career title #13, her first since defeating the Slovak in Sydney.

But it didn't work out that way.

Cibulkova kept charging and blasting groundstrokes, and, eventually, Radwanska blinked. The Slovak broke for 5-4 with a hellacious outright return winner, then saw the Pole make a rare blaring error when she attempted a (very poor) drop shot on a service return at 15/15 to bring Cibulkova within two points of the title. Soon, three match points came and went as Cibulkova failed to put the match away when she fired shots beyond the baseline to end rallies. Radwanska got to break point, but, just like at Wimbledon against Sabine Lisicki, she couldn't put away the big point late in the match. Moments later, Radwanska saved MP #4 when her volley bounced just out of reach of a racing Cibulkova (although I'll admit to having hopeful visions of the Slovak attempting a diving shot on that MP, ala Andy Roddick's successful one in the Memphis final in '11 on his 5th MP vs. Milos Raonic), only to see the Slovak get yet another chance two points later. It was then that, finally, Radwanska was unable to keep up in another hard-hitting rally that concluded the match, as Cibulkova got her first win in five tries against the world #4 when she put away with a crosscourt winner that ended the 2:28 match, giving her a 3-6/6-4/6-4 victory as she successfully tempted fate against Radwanska and lived to tell about it. Heck, she even beat Aga's sister Ula earlier in the tournament, as well. Talk about living dangerously!

It's great performances like this that make you wonder why Cibulkova has won just three titles in her career, but also the sort of vulnerable display that makes one question Radwanska when it comes to facing the hard hitters on tour for, even with her mastery of the craft and all the personal improvements in her game the last two years, she can still be hit off the court if her opponent finds her groove and doesn't divert from it.

As Serena Williams used Bastad last week to exorcise some of her lingering Wimbledon demons, Radwanska seems to be planning on using the North American hard court circuit to do the same to her bad memories of her most recent trip to London. Notice I said the "circuit," but not the U.S. Open. Remember, A-Rad has never advanced past the QF in NYC, so it would seem right to assume that her pre-Open gameplan isn't designed to allow her to peak at the season's final slam, but instead to take advantage of the weeks leading up to it. Her schedule has her playing every week, save New Haven the week before the Open begins, and more than hints that she's going for broke in an attempt to take the U.S. Open Series, considering most top players will play only once or twice in the participating tune-up events.

Although she came up short in Palo Alto, Aga might very well pull it off, even if, say, Cibulkova were to defend her Carlsbad title this week. But Aga's sort of developing a "best laid plans" trend in 2013. She opened her campaign with two titles, but hasn't won one since. At the upset-filled Wimbledon, she was the highest-ranked player remaining in the SF, but tired out after multiple three-setters and failed to return to the final one year after pushing Serena there in '12. In Stanford, the title seemed to be hers, but she walked away empty-handed. Geez, even her stint as a nude model for ESPN Magazine didn't turn out quite the way she'd planned or expected.

Might her run at a U.S. Open Series crown suffer the same fate? Hmmm...



*WEEK 30 CHAMPIONS*
STANFORD, CALIFORNIA USA (Premier $794K/HCO)
S:

Dominika Cibulkova/SVK def. Agnieszka Radwanska/POL 3-6/6-4/6-4


D:

Kops-Jones/Spears (USA/USA) d. Goerges/Jurak (GER/CRO
BAKU AZERBAIJAN (Int'l $235K/HCO)
S:

Elina Svitolina/UKR def. Shahar Peer/ISR 6-4/6-4


D:

Buryachok/Kalashnikova (UKR/GEO) d. Daniilidou/Krunic (GRE/SRB)
WTT CHAMPIONSHIP
Washington Kastles d. Springfield Lasers 25-12

PLAYER OF THE WEEK:
Dominika Cibulkova/SVK

...for a few seasons, it looked as if Cibulkova might be indefinitely fated to be one of the highest-ranked players in the world without a tour singles title. But that changed in 2011 when, after three seasons ranked in the Top 31, she finally got her maiden title late in the year in Moscow. Last year, she won in Carlsbad, and title #3 came this weekend in Stanford, once again on hard court, as were her previous crowns. Maybe more important, though, was her ability to put behind that double-bagel loss to A-Rad in Week 2 in Sydney and stage a come-from-behind win in the 3rd set of the final on Sunday. Cibulkova hadn't advanced past the QF (and had only one of those, as well, on the grass in Rosmalen) in any event since that beatdown in Australia, so this win surely takes it's place alongside some of the Slovak's best career victories, including over Sharapova (2009) and Azarenka in Paris (2012), the latter after having failed to end Vika's season-opening winning streak in '12 a few months earlier.


=============================




RISERS:

Shelby Rogers/USA & Raquel Kops-Jones/Abigail Spears (USA/USA)


...20-year old Rogers was declared the victor in the USTA's U.S. Open main draw wild card competition with her winning run at the $50K challenger in Lexington, Kentucky, where she defeated Julie Coin in the final. She'd earlier reached the semifinals in another of the $50K challengers (Portland, Oregon) that were used as the USTA's "proving grounds." Rogers is developing a nice history of earning her way into slams, having emerged victorious in a similar stretch of challengers that gained her the USTA's MD wild card for Roland Garros this season, as well. In Stanford, Kops-Jones and Spears teamed for their seventh career tour title as a duo, but their first this season. The American pair won four of their previous six crowns last season, all of them coming between Weeks 29-41, including their just-as-big-as-Stanford win in Carlsbad.


=============================




SURPRISES:

Magda Linette/POL & Irina Buryachok/UKR


...Linette, 21, made her WTA main draw debut just a few months ago in Strasbourg (she reached the 2nd Rd.), and her qualifying run (def. Buryachok, see below) last week in Baku allowed her to make her second MD appearance. It turned out pretty well. Wins over '12 Baku runner-up Julia Cohen, Kristyna Pliskova and Ons Jabeur carried the world #226 into her maiden career semifinal, making her the first non-Radwanska Pole to reach a WTA SF since Marta Domachowska in 2006. Meanwhile, Elina Svitolina wasn't the only Ukrainian crowned champion in Baku. In fact, this was the second straight year in which Buryachok, 27, won the doubles in Azerbaijan. A year ago, she claimed her first career WTA title with Valeria Solovyeva, and this time around she got #2 with Oksana Kalashnikova.


=============================




VETERAN:

Shahar Peer/ISR


...two weeks ago, it was cause to celebrate when Peer reached her second QF of 2013. Last week in Baku, she reached her first tour final in two years, defeating Chanelle Scheepers, Tadeja Majeric and Magda Linette to get within one win of her first title since 2009 (Tashkent). It didn't happen, as the 26-year old lost to teenager Svitolina. But, either way, Peer seems to finally be back in the land of the WTA living.


=============================




COMEBACKS:

Vera Dushevina/RUS & Lauren Albanese/USA


...while she was under the radar in comparison to her slam-winning countrywoman, Dushevina arrived on the scene right in the thick of the Russian Revolution in the early 2000's. In 2005, she climbed to a career-high rank of #31 and reached her first of four career tour finals. In 2009, she won her first title in Istanbul in final #4, but she's yet to reach another since. After eight straight year-end Top 100 rankings, she fell to #141 in 2012, and the 26-year old came into Stanford last week ranked #154. As it turned out, she caused a bit of a stir, qualifying and then getting upset wins over Marina Erakovic (a tour champ in Memphis this year) and Madison Keys, the brightest young Bannerette star not named Sloane, en route to the QF. Meanwhile, in a $10K challenger in Austin, Texas, 23-year old Lauren Albanese woke up at least a couple of the echoes of the time when SHE was considered a potential American hope, albeit in what turned out to be a "lost generation" of non-stars. Albanese won her first ITF title back in '06, and climbed into the Top 200 in '09, but has mostly dropped off the radar since. She finished 2012 at #648, and came into last week at #766 with just a 1-7 record in ITF action on the season. Still, she got things together well enough to string a handful of wins together, including one in the semifinals over Beatrice Capra before taking out Ema Burgic in the final to claim her third career circuit title, and first since 2010.


=============================




FRESH FACES:

Elina Svitolina/UKR & Ons Jabeur/TUN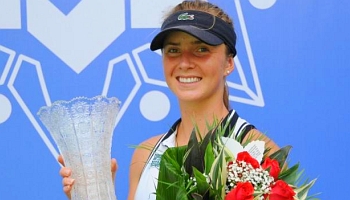 ...Svitolina's rise continues. A week ago, she reached her first career tour International level SF in Bad Gastein. This week, she jumped into her first "regular" tour level final in Baku with wins over Aleksandra Krunic, Nastassja Burnett, Donna Vekic and Alexandra Cadantu, then defeated veteran Shahar Peer in the final to take the title. Late last year, the 18-year old won the WTA 125 challenger crown in Pune (over another far more experienced vet, Kimiko Date-Krumm), so she's not an "official" first-time champion, but this title does make her the second player (after Lara Arrubarrena, following her Cali 125 win earlier this season) in tour history to ever claim ITF, WTA 125 and WTA International level-or-better tour singles titles in her career. Tunisia's Jabeur, who lost to Svitolina in the Roland Garros girls final in 2010 before becoming the first North African junior slam champ in Paris one year later, received a wild card into the Baku draw. The world #204 got her first career tour main draw win in the 1st Round over Daria Gavrilova, then came back one round later and upset #1-seed and defending champ Bojana Jovanovski to reach the QF.


=============================




DOWN:

Yanina Wickmayer/BEL & Samantha Stosur/AUS


...sometimes, it's difficult to remember that Wickmayer is a former U.S. Open semifinalist (2009), while Stosur was crowned champion in Flushing Meadows just two years ago. Both lost their opening matches in Stanford last week: Wickmayer to Daniela Hantuchova, and Stosur to Olga Govortsova. While Wickmayer has been passed in the rankings by countrywoman Kirsten Flipkens, Stosur, having fallen out of the Top 10 while still searching for her first SF berth in '13 (Wickmayer has two, and one final), likely has a couple of years before she has to worry about looking up and seeing the likes of an Ashleigh Barty ahead of her on the WTA rankings pages. But the trend is surely heading in that direction.


=============================




ITF PLAYER:

Nadiya Kichenok/UKR


...the 21-year old Ukrainian won the biggest of her six career ITF singles crowns at the $100K challenger in Astana, Kazakhstan. After wins over Yuliya Beygelzimer, Alexandra Panova and Luksika Kumkhum, Kichenok defeated Maria Joao Koehler in the final. In doubles, Nadiya teamed with twin sister Lyudmyla to win their 16th career ITF title as a duo.


=============================




JUNIOR STAR:

Barbora Krejcikova/CZE


...the #17-year old Czech Maiden, the #4-ranked junior in the world, captured the European Junior Championships in Switzerland, defeating home favorite Karen Kennel in the final after having ended Belinda Bencic's 39-match junior winning streak in the semis. Krejcikova also took the doubles with fellow Czech Katerina Siniakova, with whom she also won the girls titles at Roland Garros and Wimbledon this year.


=============================




WTT MVP:

Martina Hingis/SUI




...the Washington Kastles wrapped up a third straight WTT title, and fourth in five seasons, Sunday evening in D.C., sweeping all five sets in the final against the Springfield Lasers in a 25-12 win. Leading the way was recent Hall of Fame inductee Hingis, 32, who last week was named the league's Female MVP for the season. In the final, she had a hand in three of the five winning sets, teaming with Anastasia Rodionova in doubles (def. Vania King/Alisa Kleybanova), wrapping up the title in singles over Kleybanova and then joining Leander Paes in mixed doubles to complete the sweep over Kleybanova and Andy Roddick. Hingis, while stating that she has no plans to return to the tour in singles, comes out of retirement for the second time in her career this week in Carlsbad as she teams with Daniela Hantuchova in doubles.


=============================






1. Baku Final - Svitolina d. Peer
...6-4/6-4. Svitolina has notched those WTA 125, ITF and tour-level titles in just a short nine-month span, all since turning 18.


=============================


2. Stanford 2nd Rd. - Cirstea d. Vandeweghe
...6-3/6-3. Last year, Coco got into the draw at Palo Alto as a "Lucky Loser" and went all the way to the final. This year, she made it through qualifying and lost in the 2nd Round. It doesn't pay to win, I guess.


=============================


3. Baku 1st Rd. - Linette d. Cohen 6-2/6-1
Baku 2nd Rd. - Jabeur d. Jovanovski 6-2/7-5
...BoJo defeated Cohen in the Baku final a year ago.


=============================


4. Stanford 2nd Rd. - Hampton d. Gibbs
...7-5/6-7/6-3. A good showing from NCAA champion Gibbs, playing on what served as her home court as a Stanford Cardinal.


=============================


5. DC Q1 - Usue Arconada d. Maria Irigoyen
...7-5/6-3. The 14-year old American, who trains nearby in College Park, Maryland, was given a wild card into the Washington qualifying and got a come-from-behind (she trailed 5-2 in the 1st) win over the #5 Q-seed, making her the youngest player to register a win at a tour event since Madison Keys in 2009 (also at 14). Arconada lost in the final qualifying round to Alexandra Mueller.


=============================


HM- $10K Palic Final - Jani d. Spremo
...6-0/6-3. Reka-Luca Jani! Reka-Luca Jani! Reka-Luca Jani! For the sixth time on the ITF circuit this season, more than any other woman in 2013.


=============================






1. Stanford Final - Cibulkova d. A.Radwanska
...3-6/6-4/6-4. Frustration has been slipping into Aga's game lately, mostly in the late stages of matches she should have won, both in her SF loss at Wimbledon and here. It's been twenty-eight weeks since she won a title. When the stoic exterior begins to crack, what does that say for what's going on inside?


=============================


2. $100K Astana 2nd Rd. - Bratchikova d. L.Kichenok 6-3/6-4
$100K Astana Doubles Final - L.Kichenok/N.Kichenok d. Bratchikova/Solovyeva 6-2/6-2
...sweet Kichenokian revenge.


=============================


3. Baku 1st Rd. - Majeric d. Ka.Pliskova 7-5/6-3
Baku 2nd Rd. - Linette d. Kr.Pliskova 3-6/6-1/6-2
Baku Doubles SF - Buryachok/Kalashnikova d. Pliskova/Pliskova 6-1/6-4
...it just wasn't a week that the Pliskovas will highlight in their diaries.


=============================


HM- $25K Les Contamines-Montjoie Final - Kr.Kucova d. De Bernardi
...7-5/6-7/6-3. The 23-year old grabs her fourth career circuit crown.


=============================








**WTA TITLES, age 18 or under - since 2007**


5...Caroline Wozniacki (2008-09)
2...Anastasia Pavlyuchenkova (2010-11)
2...Agnieszka Radwanska (2007)
2...ELINA SVITOLINA (2012-13)
2...Agnes Szavay (2008)
1...Timea Babos (2012)
1...Sorana Cirstea (2008)
1...Alize Cornet (2008)
1...Petra Kvitova (2009)



**MOST 2012-13 WTA FINAL MATCH-UPS**


5...Serena Williams vs. Maria Sharapova (SW 2-0 & 3-0)
4...Victoria Azarenka vs. Maria Sharapova (VA 3-1 in '12)
4...Serena Williams vs. Victoria Azarenka (SW 2-0 & tied 1-1)
2...Maria Sharapova vs. Li Na (MS 1-0 & 1-0)
2...AGNIESZKA RADWANSKA vs. DOMINIKA CIBULKOVA (tied 1-1 in '13)



**MOST WTA CHAMPIONS IN 2013**


4 - RUS (Kirilenko, Pavlychenkova, Sharapova, Vesnina)
3 - ITA (Errani, Schiavone, Vinci)
2 - CZE (Kvitova, Ka.Pliskova)
2 - FRA (Bartoli & Cornet)
2 - ROU (Niculescu & Halep)
2 - SVK (Cibulkova & Hantuchova)



**2013 LOW-RANKED SEMIFINALISTS**


#228 Catalina Castano/COL (Cali 125) - RU
#226 MAGDA LINETTE/POL (Baku) - SF
#198 Paula Ormaechea/ARG (Bogota) - RU
#197 Bethanie Mattek-Sands/USA (Kuala Lumpur) - RU
#195 Paula Ormaechea/ARG (Cali 125) - SF



**2013 SEMIFINALISTS BY NATION**


19 - UNITED STATES
18 - Russia
15 - Italy
12 - Germany, Romania
==
2013: 160 total semifinalists from 31 different nations
2012: 34 nations
2011: 31 nations
2010: 32 nations



**DEFEATED TOP SEED & DEFENDING CHAMP, DIDN'T WIN TITLE**


Wimbledon - Sabine Lisicki, GER [4r-S.Williams, reached final]
Baku - ONS JABEUR, TUN [2r-Jovanovski, reached QF]



**2013 DEFENDED DOUBLES TITLES**


Sydney - Katarina Srebotnik, SLO
Kuala Lumpur - Chang Kai-Chen, TPE
Miami - Nadia Petrova, RUS
Charleston - Lucie Safarova, CZE
Baku - IRINA BURYACHOK, UKR





CARLSBAD, CALIFORNIA USA (Premier $794K/hard court outdoor)
12 Final: Cibulkova d. Bartoli
12 Doubles Final: Kops/Spears d. King/Petrova
13 Top Seeds: Azarenka/A.Radwanska
=============================


=SF=


#1 Azarenka d. Cibulkova
#2 A.Radwanska d. Kuznetsova


=FINAL=


#1 Azarenka d. #2 A.Radwanska

...Vika's back. Could Aga's frustration be about to get still deeper?



WASHINGTON, D.C. (Int'l $235K/hard court outdoor)
12 Final: Rybarikova d. Pavlyuchenkova
12 Doubles Final: Aoyama/Chang d. Falconi/Scheepers
13 Top Seeds: Kerber/Stephens
=============================


=SF=


#3 Makarova d. #1 Kerber
#2 Stephens d. #5 Cirstea


=FINAL=


#2 Stephens d. #3 Makarova

...Sloane is pretty much the only woman included in the promotion for the dual WTA/ATP events in D.C. this week who is being promoted. One could say that organizers don't expect anyone would recognize the name of anyone else in the draw, or that they might be onto something. While I KNOW the former is the truth, there's also the chance that they could luck out and the latter might turn out to be true, as well. This thing is tailor (though not Taylor, as in Townsend, who might match up with Madison Keys in an interesting 2nd Rounder) made for Stephens to, at the very least, reach her first tour final. I'll go one step further.






What this!?! WTA still out to get Carl???? Like Carl said LAST year -- Carl is NOT bad!!!! Carl is just Carl!!!! Why WTA name tournament so it insults Carl???? Carl no sue last year, and no this time either. Carl will SQUISH!!!!!!
Now, now, Carl. Calm down. I told you LAST year it has absolutely nothing to do with you. And, anyway, you can't go off looking for people to squish when I'm almost ready to pop. When the time comes -- and it will be soon -- you're going to have to escort me out of this cave and to the hospital so that we can welcome in our little bundles of joy and mayhem. Yes, I said bundles, with an "s" -- we're going to be doubling the size of our family! One each!


Psssst, everyone out there. Don't worry, Carl is just trying to play the "role" that he thinks the world expects him to play. He's actually become quite domesticated the last few months. As you can see by his cave drawing of me, he's even taken up art. Did you know that his great great great great great great great great great great great great grandfather was the first caveman to draw cave art that depicted a pterodactyl carrying off a man into the sunset? Isn't that amazing?
Man name was Leander.
Your great, great, great -- oh, forget it -- your grandfather?
No... man carried off. Him great caveman. Booohooohooohooo...
Are you crying, Carl?
Carl no cry, Carla. (sniffle) Carl just have something in eye. Carl going to take walk. (sniffle) Put up Carl picks.
Well, all right. If you say so.

(pause)

Oh, look at him go. He really has become very sensitive. Poor thing. I think I'm going to have to take care of HIM when this is all over.




CARL-is-not-BAD




=SF=


cibulkova d. 1 azarenka
3 kvitova d. 2 a.radwanska


=FINAL=




3 kvitova d. cibulkova




All for now.