Game of Thrones: Roland Garros Edition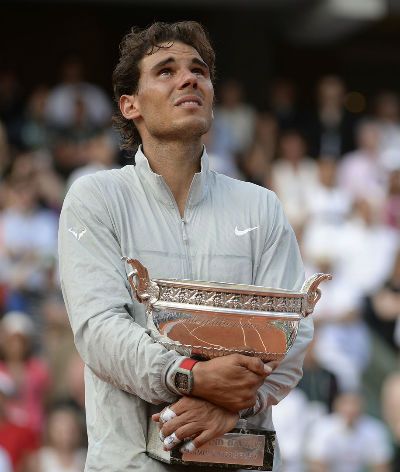 It might not be too long before Rafa Nadal isn't looking up at anyone. At all.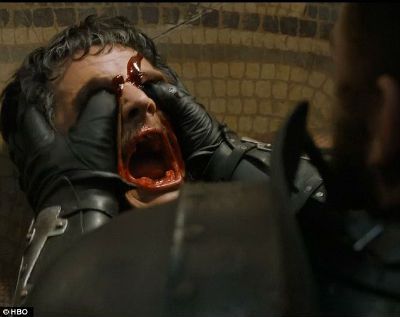 There were no "Game of Thrones" swords, battle axes or giants crushing a man's skull with his bare hands in the Roland Garros men's final, but there was enough to make George R.R. Martin, if not proud, at least nodding his head in approval.


I mean, we had Novak Djokovic's vomiting and looking ill down the stretch, but also seemingly within a few points of turning around the match in the 4th set. The Serb was in search of not only a return to the #1 ranking, but also an elusive Career Grand Slam. For a fleeting moment, it looked as if it might happen, too, as Nadal either blinked and felt the moment, as he admitted, or was slowed down by a twinge in his ailing back, which he didn't admit (even if not admitting an injury might qualify as a first for the Spaniard) as he continued down his path toward not-so-quietly building a Greatest of All-Time case for himself with his fourteenth career grand slam victory today. The win ties Nadal with Pete Sampras on the career ATP list, and he's just fifty-eight days older than all-time leader (w/ 17) Roger Federer was when he won his own #14 major title in Paris in 2009.

You remember THAT Roland Garros. It was the ONE that Nadal hasn't won over the last decade, courtesy of an upset at the hands of Swede Robin Soderling (who, by the way, currently seems to be considering messing with his "legacy" by whispering of a possible comeback from his three-year absence following a severe bout with mono). I'm just sayin'... it's a little eerie. In a way.

What was also eerie about today's Roland Garros men's final was how history threatened to change on the slightest twists and turns. In the 1st set, Djokovic came out playing well in his third match-up against Nadal in their past three trips to Paris, looking to finally get his first RG win over the Spaniard after putting up a 4-2 record against him on clay in their last six non-RG match-ups on the surface. The Serb's inside-out forehand winner gave him a chance to serve out the opening set. After saving a break point, an opposite court forehand forced a Nadal long error and the set was his at 6-3. In the 2nd, Djokovic threatened to go up two sets to none, staying on serve mid-way through. But after failing to secure a game point, he was broken by Nadal to fall behind 4-2. He got the break back a game later, only to get broken in the final game of the set to lose it 7-5.

By the time the 4th set was half-way finished, a less-than-100% Djokovic had experienced stomach upset in the oppressive heat, not helped by the grinding nature of any match-up with Nadal, and seemed to be THIS CLOSE to giving in to the inevitable: Nadal winning a fifth straight RG crown, and his ninth title there in his career. In the sixth game of the set, the Serb seemed in control of his service game, only to see it crumble in the matter of a minute or two around his ankles. Nadal got the break to go up 4-2, and it seemed smart for the crowd to make dinner reservations for the night in Paris.

But then Nadal flinched, whether it was because of the moment or his back, it doesn't really matter. What did matter was that a double-fault put him down 15/30. Rafa grimaced and gritted his teeth. After badly missing an overhead from the backcourt, he seemed to hunch over in some pain. Djojkovic got the break to get to 4-3, and suddenly the Serb's history of reaching into the jaws of defeat and pulling out a victory were resurrected. If Nadal lost the set, what would he have left for the 5th? What would Djokovic, who'd already (literally) left part of himself all over the terre battue. The rest of the set was a dirty, grimy affair filled with dread and the threat of violence, or at least as close to it as we get on the tennis court when two straight-up monster competitors dig in and battle each other in another of their not-graceful-but-always-crazy-intense matches.

With the Spaniard seemingly on the edge of a potential disaster, Djokovic got to deuce on Nadal's serve. After one point, Nadal's foot slipped out from under him and he nearly hyper-extended his knee. Meanwhile, Djokovic, like a caged tiger, waited to return serve. But Nadal found his game again, pulling things together to hold for 5-4 as the match clock ticked to 3:30. Seeing the finish line, Rafa got a second wind.

Djokovic went up 30/love on serve, but Nadal's backhand passing shot -- off his back foot while positioned behind the baseline -- got things even at 30-all. As Nadal's feet, nestled in special shoes with "8" on the heel, restlessly looked for a chance to explode toward a ball, it was apparent that Rafa was suddenly "right" again. Djokovic knew it, too. Normally, that'd be a challenge he'd savor... but, in his current condition, he didn't seem to relish the notion quite as much today. His moment to turn history's path in his direction was gone, having flown away almost as quickly as it'd suddenly appeared a few games earlier. A long Djokovic shot gave Nadal a match point, then an anticlimactic double-fault ended the 3-6/7-5/6-2/6-4 match.




Nadal's win makes him the first man in the Open era to win Roland Garros five straight times, tying the men's slam record jointly held by trophy presenter Bjorn Borg (at Wimbledon) and Roger Federer (Wimbledon/U.S.). A year from now, Rafa could rise to a level never seen before with a tenth title at a single slam, a record sixth straight championship in Paris and the extension of his match winning streak in Paris to a new men's record. His 35-match RG run is six behind Borg's SW19 stretch from 1976-81.

When it was over, all that was left was "the bite," something that's become a Rafa tradition in Paris. So much so that one wonders when it'll end. If ever.




Remember, Pat Cash's climb into the Centre Court Player's Box at Wimbledon changed the way that grand slam wins are celebrated back in 1987. It's become the Aussie's lasting legacy, even if some may not even realize that he began what has become a post-final "given" in the twenty-seven years that have followed. I guess we'll know if someone else ever wins this title... will he bite the handle of the Coupe des Mousquetaires?

Of course, someone not named Nadal would have to win at Roland Garros for that moment to arrive. And we still might have to wait a while for that to happen.












**Through Week 23, with 1Q POY ranking in parenthesis**


1.

Maria Sharapova, RUS (HM)


...her 19-1 clay mark is front of mind, accounting for her big climb, and so is Li's lackluster clay season. So the Russian is tentatively in the lead heading into the summer. She's tied with Serena for the most titles (3) in 2014, but hasn't won four in a single season since 2006.


=============================


2.

Hsieh Su-Wei & Peng Shuai, TPE/CHN (2)


...the #1-ranked doubles team, and the reigning champs at Roland Garros, Wimbledon and the Tour Championships. Their additional wins on hard court in Doha and Indian Wells tie the pair with Errani/Vinci for the most on tour in '14.


=============================


3.

Li Na, CHN (1)


...Miami final aside, Li has sagged a bit since winning in Melbourne, but she's still #2 in the world. One wonders if another "mid-season boot camp" will soon get her ready to be fresh for the 4Q again this year.


=============================


4.

Serena Williams, USA (3)


...she has three titles, but her season has been a disappointment. She may rebound in London, but maybe that won't come until NYC. Did anyone think in January that it could be possible for Serena to win no slams in 2014? Since the start of the 2001 season, excluding this year, she's only had three seasons (2004, '06 & '11) in which she didn't win a major title, and just one (2006) when she didn't reach a slam final. She's got zip of both half-way through this season.


=============================


5.

Simona Halep, ROU (5)


...still moving in an upward direction, she's now the world #3. That she's only won one title so far in '14 is keeping her from climbing up this list right now, but finals in Madrid and Paris will surely help lift her come the year-end rankings.


=============================


6.

Czech and German Fed Cup Teams (6/9)


...they'll battle it out come the fall for a title. It's become "old hat" for the Czechs, but it'll be an entirely new experience for this generation of Germans.


=============================


7.

Sara Errani & Roberta Vinci, ITA/ITA (HM)


...they came a RG final win away today from being half-way to a Grand Slam. Still, they're tied for the season lead in titles (3) and are currently on a four-event final streak.


=============================


8.

Eugenie Bouchard, CAN (13)


...hmmm, I hear that Genie, after reaching slam SF on hard court and clay, is saying that grass is her favorite surface. Well, she did win the SW19 girls title in 2012 and reached the 3rd Round at Wimbledon last year. I've been thinking of changing things up and making a "Serena Draw" pick for Wimbledon, as well as a "Non-Serena Draw" one. On the ten-year anniversary of Sharapova's breakout run to the title (I DID pick her to reach the final that Wimbledon), would I be tempting fate to go with the Canadian to get that far this time around? Maybe even facing a certain Pole looking for redemption in the final? Just some ideas two weeks out. Commence the Curse talk. Haha!


=============================


9.

Andrea Petkovic, GER (-)


...a Charleston championship run, two great Fed Cup ties and now a Roland Garros semi? Let's hope nothing derails the Petko train.


=============================


10.

Ana Ivanovic, SRB (15)


...she's got two titles and an AO win over Serena, but she's still looking for that "moment" that will officially carry her to the next level of achievement for 2014.


=============================


11.

Dominika Cibulkova, SVK (4)


...the AO runner-up result is already getting more and more difficult to see in the rear-view mirror. She needs another "moment."


=============================


12.

Flavia Pennetta, ITA (7)


...Indian Wells was great, but she hasn't advanced past the QF in any other event this season and didn't play Fed Cup.


=============================


13.

Alize Cornet, FRA & Caroline Garcia, FRA (HM/-)


...they've been rising and falling together, winning titles in the same week, then leading the French Fed Cup team together. Their clay court seasons were equally disappointing, too, unfortunately. They should rebound, though.


=============================


14.

Garbine Muguruza, ESP & Klara Koukalova, CZE (HM/8)


...Muguruza has reached two finals and won her first title, as well as made the AO 4th Round and RG QF (def. Serena along the way). Koukalova has reached three finals, winning one. She's got two doubles titles, too. I put them together because they're the only two women who've met in TWO singles finals in 2014, splitting Hobart and Florianopolis.


=============================


15.

Yui Kamiji, JPN (-)


...why not? The just-turned-20 #1 wheelchair player in the world has grabbed three of the four slam singles/doubles titles contested so far in 2014, and was the RU in the AO women's singles. If she can claim half of the Wimbledon WC doubles (they don't play the singles competition on the lawns), I'm thinking Kamiji is going to find a way into Backspin's Wimbledon Awards list next month, too.


=============================





=DAY 15 NOTES=




...before the men's final, the women's doubles champions were decided as top-seeded Hsieh Su-Wei & Peng Shuai defeated #2 Sara Errani & Roberta Vinci 6-4/6-1 to add a RG title to the slam crown they won at Wimbledon a year ago, previously the biggest prize in the longtime friends' points cache that pushed them both (at least briefly, in Hsieh's case) into the #1 doubles ranking.

...in Week 23's ITF action, Alexandra Dulgheru defeated Johanna Larsson in the latest $100K challenger event, this one on the clay in Marseille. It's the Swarmette's third career $100K title. Of some note, Bannerette Allie Kiick advanced to the semifinals in the event.

On the grass in Notthingham, Kristyna Pliskova knocked off Zarina Diyas. The $75K title is her fifth ITF singles win, and the biggest so far of the Czech's career. Her twin sister Karolina, of course, has ten ITF titles and a WTA tour-level event trophy from Kuala Lumpur, too.

...STORY ON DAY 15 THAT REALLY SHOULDN'T BE AS BIG A STORY AS IT IS... not in 2014:

-- Andy Murray officially named Amelie Mauresmo as his coach, at least for the upcoming grass court season.



...WHY THE BEST TROPHY PHOTOS ALWAYS COME AFTER THE ROLAND GARROS FINAL:




...and, finally...




BIRMINGHAM, ENGLAND (Premier $710K/grass outdoor)


13 Final: Hantuchova d. Vekic
13 Doubles Final: Barty/Dellacqua d. Black/Erakovic
14 Top Seeds: Ivanovic/Stosur
=============================


=QF=


#1 Ivanovic d. Ka.Pliskova
#8 Rybarikova d. #15 Riske
#11 Keys d. #4 Flipkens
Vekic d. #2 Stosur


=SF=


#8 Rybarikova d. #1 Ivanovic
#11 Keys d. Vekic


=FINAL=


#11 Keys d. #8 Rybarikova

...in a bit of bad-drawing, last year's finalists could meet in the 2nd Round this year. That is, if Vekic can get past Belinda Bencic in the 1st Round. Something to watch: qualifier -- and grass court loving -- Tamira Paszek lurks, but might have to go through both Caroline Garcia and AnaIvo just to reach the QF. Rybarikova lost to Keys in last year's Birmingham QF, but the Bannerette has improved greatly since then (she pushed Aga greatly at SW19 in '13, too).

Taking something of a flier by going with Keys making her name the latest added to the "21-and-under first-time champions" list that still includes no one named Sloane (who's in this draw, by the way), but maybe the change in surfaces will produce a better result for this picks section. A Backspinner can hope, right? Well, at least I picked Nadal to defeat Djokovic in the RG men's final, and Halep to be the women's runner-up. So that's something.

(Grasping at invisible straws.)









=WOMEN'S SINGLES FINAL=
#7 Maria Sharapova/RUS def. #4 Simona Halep/ROU 6-4/6-7(5)/6-4
=MEN'S SINGLES FINAL=
#1 Rafael Nadal/ESP def. #2 Novak Djokovic/SRB 3-6/7-5/6-2/6-4
=WOMEN'S DOUBLES FINAL=
#1 Hsieh/Peng (TPE/CHN) def. #2 Errani/Vinci (ITA/ITA) 6-4/6-1
=MEN'S DOUBLES FINAL=
#11 Benneteau/Roger-Vasselin (FRA/FRA) def. #12 Granollers/M.Lopez (ESP/ESP) 6-3/7-6(1)
=MIXED DOUBLES FINAL=
Groenefeld/Rojer (GER/NED) def. #8 Goerges/Zimonjic (GER/SRB) 4-6/6-2 (10-7)
=GIRLS SINGLES FINAL=
#8 Darya Kasatkina/RUS def. #1 Ivana Jorovic/SRB 6-7(5)/6-2/6-3
=BOYS SINGLES FINAL=
#4 Andrey Rublev/RUS def. #7 Jaume Antoni Munar Clar/ESP 6-2/7-5
=GIRLS DOUBLES FINAL=
Ioana Ducu/Ioana Loredana Rosca (ROU/ROU) def. #7 CiCi Bellis/Marketa Vondrousova (USA/CZE) 6-1/5-7 (11-9)
=BOYS DOUBLES FINAL=
Benjamin Bonzi/Quentin Halys (FRA/FRA) def. Lucas Miedler/Akira Santillan (AUT/AUS) 6-3/6-3
=WOMEN'S WC SINGLES FINAL=
#1 Yui Kamiji/JPN def. Aniek Van Koot/NED 7-6(7)/6-4
=MEN'S WC SINGLES FINAL=
#1 Shingo Kunieda/JPN def. #2 Stephane Houdet/FRA 6-4/6-1
=WOMEN'S WC DOUBLES FINAL=
#2 Yui Kamiji/Jordanne Whiley (JPN/GBR) def. #1 Jiske Griffioen/Aniek Van Koot (NED/NED) 7-6(3) 3-6 (10-8)
=MEN'S WC DOUBLES FINAL=
#1 Joachim Gerard/Stephane Houdet (BEL/FRA) def. Gustavo Fernandez/Nicolas Peifer (ARG/FRA) 4-6 6-3 (11-9)











*RECENT RG CHAMPIONS*




[Men's Singles]


2005 Rafael Nadal, ESP
2006 Rafael Nadal, ESP
2007 Rafael Nadal, ESP
2008 Rafael Nadal, ESP
2009 Roger Federer, SUI
2010 Rafael Nadal, ESP
2011 Rafael Nadal, ESP
2012 Rafael Nadal, ESP
2013 Rafael Nadal, ESP
2014 Rafael Nadal, ESP


[Women's Doubles]


2006 Lisa Raymond & Samantha Stosur
2007 Alicia Molik & Mara Santangelo
2008 Anabel Medina-Garrigues & Virginia Ruano Pascual
2009 Anabel Medina-Garrigues & Virginia Ruano Pascual
2010 Serena Williams & Venus Williams
2011 Andrea Hlavackova & Lucie Hradecka
2012 Sara Errani & Roberta Vinci
2013 Ekaterina Makarova & Elena Vesnina
2014 Hsieh Su-Wei & Peng Shuai, TPE/CHN



*CAREER SLAM TITLES - MEN*


17...Roger Federer, SUI *
14...RAFAEL NADAL, ESP *
14...Pete Sampras, USA
12...Roy Emerson, USA
11...Bjorn Borg, SWE
11...Rod Laver, AUS



*CAREER SLAM FINALS - MEN*


24...Roger Federer (17-7) *
20...RAFAEL NADAL (14-6) *
19...Ivan Lendl (8-11)
18...Pete Sampras (14-4)
17...Rod Laver (11-6)
16...Bjorn Borg (11-5)
16...Ken Rosewall (8-8)



*CONSECUTIVE MATCHES WON AT A SLAM - MEN*


41...Bjorn Borg, Wimbledon 1976-81
40...Roger Federer, Wimbledon 2003-08
40...Roger Federer, US Open 2004-09
35...RAFAEL NADAL, Roland Garros 2010-14
31...Pete Sampras, Wimbledon 1993-96
31...Rafael Nadal, Roland Garros 2005-09



*TOTAL SLAM TITLES - ACTIVE MEN*


22...Bob Bryan, USA
18...Mike Bryan, USA
17...Roger Federer, SUI
14...RAFAEL NADAL, ESP
14...Leander Paes, IND
12...Mahesh Bhupathi, IND
12...Daniel Nestor, CAN



*CAREER ATP SINGLES TITLES*


109...Jimmy Connors
94...Ivan Lendl
78...Roger Federer *
77...John McEnroe
64...RAFAEL NADAL *
64...Bjorn Borg
64...Pete Sampras
62...Guillermo Vilas
60...Andre Agassi



TOP QUALIFIER:
Grace Min/USA
TOP EARLY-ROUND (1r-2r):
#4 Simona Halep/ROU
TOP MIDDLE-ROUND (3r-QF):
#18 Eugenie Bouchard/CAN
TOP LATE-ROUND (SF-F):
#7 Maria Sharapova/RUS
TOP QUALIFYING MATCH:
Q2: Cagla Buyukakcay/TUR d. Alberta Brianti/ITA 6-3/5-7/10-8
TOP EARLY-RD. MATCH (1r-2r):
2nd Rd: (WC) Taylor Townsend/USA d. #20 Alize Cornet/FRA 6-4/4-6/6-4
TOP MIDDLE-RD. MATCH (3r-QF):
3rd Rd: #27 Svetlana Kuznetsova d. #5 Petra Kvitova 6-7(3)/6-1/9-7
TOP LATE-RD. MATCH (SF-F/Jr.):
Final: #7 Maria Sharapova/RUS d. #4 Simona Halep/ROU 6-4/6-7(5)/6-4
=============================
FIRST VICTORY:
Aga Radwanska/POL (def. Sh.Zhang/CHN)
FIRST SEED OUT:
#25 Kaia Kanepi/EST (lost 1st Rd. to Niculescu/ROU)
UPSET QUEENS:
The French
REVELATION LADIES:
The Spaniards
NATION OF POOR SOULS:
The Chinese (0-4 in 1st Rd.)
LAST QUALIFIER STANDING:
Kiki Bertens/NED (4th Rd.)
LAST WILD CARD STANDING:
Pauline Parmentier/FRA (4th Rd.)
LAST PASTRY STANDING:
Pauline Parmentier/FRA (4th Rd.)
MADEMOISELLE/MADAM OPPORTUNITY:
Simona Halep/ROU
IT "Spaniard":
Garbine Muguruza/ESP
COMEBACK PLAYER:
Andrea Petkovic/GER
CRASH & BURN:
#1 Serena Williams/USA (DC, lost 2nd Rd./Muguruza) & #2 Li Na/CHN (lost 1st Rd./Mladenovic - 1st AO champ out early since 2000)
ZOMBIE QUEEN:
#27 Svetlana Kuznetsova/RUS (3rd Rd.: Kvitova up 3-1 in 3rd, twice served for match; Kuznetsova wins 9-7)
JOIE DE VIVRE:
Kristina Mladenovic/FRA (last player alive in singles, doubles & mixed)
DOUBLES STAR:
Anna-Lena Groenefeld/GER
AMG SLAM FUTILITY UPDATE:
Medina-Garrigues lost in second round of qualifying to Smitkova/CZE (ends streak of 41 con. appearances in slam main draws)
JUNIOR BREAKOUT:
Darya Kasatkina/RUS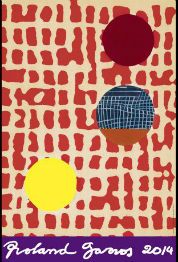 All for now.