RG.9- Small is Large
You know, if someone wanted to be a real smarty-pants, they might note how ironic it is that on Day 9 it was Simona Halep, of all people, who proved to Sloane Stephens that size doesn't matter on the WTA tour.
But, of course, who wants to be a smarty-pants, right?


Stephens entered today's Round of 16 match at Roland Garros with the memory of having last swept through the Romanian in two quick matches in January 2013, allowing six total games in four sets. Of course, those matches took place not only before Stephens' own Australian Open semifinal run but, more importantly, Halep's year-long scaling of the WTA ladder, from winning the "smaller" tournaments that Stephens made a point to note the other day to the many "bigger" ones that Sloane neglected to mention, en route to a #4 ranking and the chance to set a new career-best slam mark this week at a third straight major, after 4th Round and QF results in New York and Melbourne. Those two most recent meetings between the two really had nothing to do with this match, though, especially when you consider that their only meeting on clay had gone the Romanian's way in 2012. Halep has not only re-shaped her body, but, more importantly, her game and mindset, as well. Her defense and footwork are sound, and new aggressive instincts have been installed in her game with nary a hiccup. She's even managed to improve her serve. At the top of the list, though, is the fact that she's proven to not be afraid to win, seizing the moment while winning seven tournaments over the past year.

But maybe Current Sloane thought that all this talk of a "new" Halep was overblown.

Hey, I've reached a slam SEMIfinal, after all, Stephens might have told herself. Halep hasn't. And I've beaten both Serena Williams and Maria Sharapova, too. Halep hasn't done that. Sure, I've never won a tour title, or even reached a final, but I've got six straight slam Round of 16 results and all that talk of my Future means something, right? And I've got soooooo many followers! Simona can't have as many as I do. No way, man. Yeah, nearly every other young twentysomething player in my age group has put up better results than me in recent weeks and months, but I'm still the better "big stage" player, right? Right? I mean, I beat Serena... remember THAT? This isn't going to be as difficult as Paul is telling me it will be. I'm sure of that. Right?

Umm, no, Sloane. No.

If Stephens really did have any of those thoughts drifting around in her head going into this match, well, then we've got another thing to add to the list of Sloaney mistakes that the 21-year old American has made while seemingly expecting her rise to the top of the WTA to include a series of other they-sure-look-more-hungry-than-Sloane players stepping out of the way to let her pass.

Halep surely wasn't going to do that today.

Thing is, once again, Stephens had a chance to win a match that she'd ultimately lose, only to come up small in the end. She went up an early break for 3-2 in the 1st set, only to see Halep take it back a game later. As the games came up that would determine the set -- the tense games -- it was Stephens' game that became more tense. In game #7, Stephens' tentative, poor drop shot (the ball barely landed half-way through the American's own service box) contributed to Halep racing to a 40/love lead on serve, then a return error gave the Romanian a 4-3 lead. A game later, Stephens struggled to hold, taking six game points to do so.

In the ninth game, Stephens got to break point on Halep's serve, and even got a look at a second serve. But with her feet cemented to the clay, she didn't take a quick step to her left to allow herself to fire a forehand winner off a very mediocre serve, instead choosing to "lay up" and send back a no-bad-intentions-involved backhand return. As a result, Halep's backhand winner down the line saved the BP and she won the three-deuce game to hold for 5-4. A clearly frustrated Stephens committed a forehand error that gave the Romanian a break point/set point one game later, which Halep put away with a backhand winner to take the 1st at 6-4.

The two exchanged breaks early in the 2nd, but Stephens' tentative play opened the door for her opponent. At 30/30 in game #4, having gotten Halep on the run, Stephens failed to get to the net quickly enough, arriving at least a step later than a more instinctive move would have produced, forcing her to have to reach too far for a low forehand return that she sent into the net. It gave Halep a break point, and when the American just missed on a wide backhand up the line she was down 3-1.

Again, though, Halep opened the door, if only a crack. Rushing through her service game, she fell behind love/40 with a double-fault and error, then missed on an easy forehand smash of a sitter at the net to break her own serve. But, ultimately, it didn't really matter.

The other day, speaking after her match with Sam Stosur, in which she fell behind but never put her head down or showed an ounce of defeat in her demeanor, Maria Sharapova said of her show of intense emotion, "Why wouldn't there be? I'm in a grand slam 4th round. I lost in the 4th round of the Australian Open. I lost the 1st set playing an opponent who's played a great tournament so far. There's no reason why I should be walking around with my head down."

If Stephens ever becomes the sort of player who is stunned, like Sharapova, at even the notion of NOT being fully into a match, we'll know that the Future has arrived. So far, though, that day is still a long way away. You could see the Current state of things today just on random rallies against Halep, where Stephens would often hit a groundstroke and slow down, expecting it not to come back, only to see Halep scramble waaaay off the court to get it and send back a reply that was often even MORE angled and unreturnable than the Stephens shot that Sloane had just thought had ended the point.

It's a simple thing to never give up on a point. But, with Stephens, it's often the exception rather than the general rule that guides her play.

Rather than see Halep's blink as an opening for victory, as Sharapova did with Stosur's loss on focus in the 2nd set of their match yesterday, Stephens took another step back from the moment. Halep got to a break point on the American's serve, then Stephens double-faulted to break herself and fall behind 4-2. A game later, Current Sloane's returns were half-hearted and she remained flat-footed in the face of the tireless, more professional-looking Romanian, who continued to fight even when she wasn't in exactly the fine form she's displayed through the first three rounds at this Roland Garros. A Halep winner put away her hold for 5-2, then a Stephens forehand error ended things a game later on match point. Halep won 6-4/6-3 to advance to her first career QF in Paris.

After the match, Stephens, certainly "feeling" the disappointment of her loss, said of her Round of 16 exit, "I could have lost 1st round; that would have been real bad, right?"

Yep... the Future is certainly not now. At least not for Sloane. Future Simona? Well, that might just be whole other can of smart-pants waiting to be opened.









=DAY 9 NOTES=
...in the first women's Round of 16 match of the day, Andrea Petkovic had to go three sets for the third straight time in Paris in order to reach her first slam QF since 2011. The German didn't play particularly well on the day against Kiki Bertens, but she managed to find a way despite actually winning fewer total points (89-88) than her opponent.

The 1st set ended with a frustrated Petkovic sailing a forehand, suffering a break of serve that handed the 6-1 set to the Dutch woman, who was seeking to become the second qualifier to reach the RG quarters in the last six years ('12 Shvedova). Petkovic slammed the ball down with her racket at the conclusion of the set, then began to find ways to muddle through to victory. The German pushed things to a 3rd, as Bertens won just eight points on serve in the entire 2nd set.

In the 3rd, the players exchanged breaks of serve in the first five error-strewn games. Bertens ultimately ended the match with more total winners -- 35-14!! -- than Petkovic, but was undone by her 48 unforced errors on the day. Petkovic got a key hold for 4-2, coming back from love/30 down, then two games later served out the 1-6/6-2/7-5 victory that came after a little over two hours. Interestingly, Bertens led 17-3 in winners in the final set, but had twice as many (24-12) errors as Petko.

...not unexpectedly, the Sara Errani/Jelena Jankovic match had quite a few twists and turns.

The contest was quite nice to watch, at least for a while, as it showcased clay court tennis like very matches few have at this Roland Garros. Filled with long and aesthetically pleasing rallies, as well as quite a few Radwanskian (no, she didn't invent them -- but one tends to think of her these day when players use them as weapons) drop shots that served to vex, flummox and frustrate a certain Serb who likes to pull her hair back tight on game day.

Errani jumped out to a 4-1 lead in the 1st set, but Jankovic forged her way back, getting a break for 4-3 and then saving a break point to hold for 4-4. A game later, the Serb whacked a backhand return down the line to get her own break advantage and the chance to serve for the set at 5-4. But an Errani drop shot, followed a second later by a taken-out-of-the-air reflex winner off a Jankovic shot that bounced off the net cord, led to another break of serve. A game later, a 22-shot rally was ended by JJ with an overhead to go up 30/love on Errani's serve, then a backhand down the line winner put her up 40/15. Errani's error broke her to give Jankovic a 6-5 lead and a second chance to serve out the 1st set.

Another Errani backhand error sailed long to end another long rally, giving JJ a set point in game #12. The Italian saved it, then still another long rally was interrupted by a patented Errani drop shot and winner combo. It set up a break point chance. When the Serb moved into the net, Errani's passing shot went off JJ's racket and things were going to a tie-break.

In the breaker, the rallies proved to be far shorter, and Errani took a quick mini-break lead at 2-0. She then spun a slicing drop shot just inside the sideline, then knocked a forehand winner past Jankovic after she'd retrieved it. Errani led 4-2, then 5-2, before she strung together three straight backhand errors to pull Jankovic even at 5-5. A point later, JJ was wrong-footed in the backcourt, slipped and then couldn't get back Errani's shot, giving the Italian her first set point. A forehand error from Jankovic matter-of-factly ended the 1st after an hour and twenty-one minutes of play. It pretty much ended the match, too.

At the time, it was easy to think that the frustration of Errani's tactics combined with Jankovic's failure to serve out the 1st set on two attempts would set her a sea on the clay and the 2nd set would go pretty quickly. Well, that IS what ultimately happened.

Errani quickly went up a break in the 2nd at 1-0, then another at 3-0. When Jankovic couldn't reach a backhand volley attempt on an Errani passing shot she bent over on her racket, emphasizing her frustration with the well-in-form Italian with an, "Ei-yi-yee." As Errani continued to play great defense and spin in a series of lethal drop shots to end rallies, it was obvious the air had gone out of the Serb's proverbial balloon (no word on the slam helicopter transport she's always dreamed of, though). Jankovic managed a break of serve down the stretch to avoid an embarrassing 2nd set scoreline, but, playing with a thigh wrap for an injury that was treated during the match, she was still a taped-up shell of a player by the end of the match. Credit Errani, who has most definitely rediscovered her fiery side after looking to have had her flame snuffed out at the end of 2013.

JJ's long backhand return of serve put the finishing touch on Errani's 7-6(5)/6-2 win as she advanced to her tour-best third straight QF in Paris. Once the match was over, she let out her emotions and fully allowed her Italian flag to fly once again in France.




...late in the day, in a match essentially ignored on Tennis Channel in favor the the Andy Murray match, Svetlana Kuznetsova advanced to her seventh career Roland Garros QF -- she has eight in the other three slams combined -- with a win over Lucie Safarova, breaking the Czech's serve in the final game of the match to win 6-3/6-4.

...in doubles, the number of woman alive in both disciplines was sliced to one -- Arantxa Parra-Santonja. Errani and the team of Muguruza/Suarez-Navarro are the three still alive in singles and doubles.

Kristina Mladenovic picked up the "Joie de Vivre" award for this Roland Garros, but she and Flavia Pennetta lost in three sets in the doubles Round of 16 today to Ashleigh Barty & Casey Dellacqua. Mladenovic & Daniel Nestor, the RG Mixed runners-up a year ago, are still kicking in the QF this year, though.

...in junior action, two more girls seeds fell -- #5 Jil Belen Teichmann (SUI) to Rebecca Sramkova (SVK), and #15 Sandra Samir (EGY) to Fanny Stollar (HUN). Unseeded losses of note came from Katarina Jokic (SRB) to Margot Yesolymos (FRA), Jana Fett (CRO) to Marketa Vondrousova (CZE) and Jelena Ostapenko (LAT) -- there goes that pick -- to #10-seed Francoise Abanda (CAN), 7-6(5)/6-4.

...LIKE FROM DAY 9:

-- the image used during Tennis Channel's "Outraged...or meh?" segment with Mary Carillo, Rennae Stubbs and Jon Wertheim when discussing the continued survival of two Canadians in the singles draws, but no Americans, eh?




Reminds me of that old, underrated show, "Due South."

...Meanwhile, in Miami:

-- Serena and Caro's adventures are including having dinner and heading to the beach. Serena even crashed a wedding in her leopard print bathing suit!





...QC MOMENT FROM DAY 9:

-- after being victimized by one of Errani's early drop shots, an aggravated Jankovic swiped at the ball with her racket, flicking it over the net as she turned back toward the baseline. The ball traveled into the backcourt and... hit Errani directly on the left hand as she, who'd also turned her back, was walking to the baseline. She turned around, like, "What the heck was that?" Or whatever the equivalent would be in Italian.

...and, finally, well, we'll always have JJ's "very French" dress.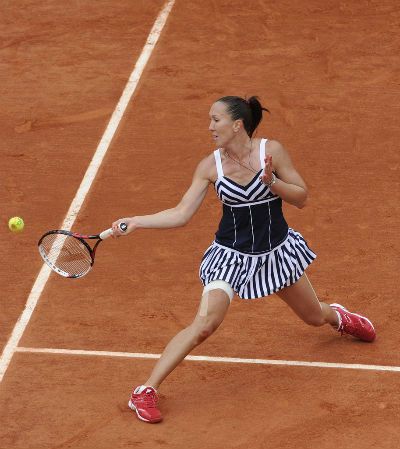 =WOMEN'S SINGLES QF=


Garbine Muguruza/ESP vs. #7 Maria Sharapova/RUS
#14 Carla Suarez-Navarro/ESP vs. #18 Eugenie Bouchard/CAN
#27 Svetlana Kuznetsova/RUS vs. #4 Simona Halep/ROU
#10 Sara Errani/ITA vs. #28 Andrea Petkovic/GER



=MEN'S SINGLES ROUND OF QF=


#1 Rafael Nadal/ESP vs. #5 David Ferrer/ESP
#23 Gael Monfils/FRA vs. #7 Andy Murray/GBR
#6 Tomas Berdych/CZE vs. #18 Ernests Gulbis/LAT
#8 Milos Raonic/CAN vs. #2 Novak Djokovic/SRB



=WOMEN'S DOUBLES QF=


#1 Hsieh/Peng (TPE/CHN) vs. #5 Black/Mirza (ZIM/IND)
#4 Peschke/Srebotnik (CZE/SLO) vs. Muguruza/Suarez-Navarro (ESP/ESP)
Hradecka/Krajicek (CZE/NED) vs. #16 Erakovic/Parra-Santonja (NZL/ESP)
#7 Barty/Dellacqua (AUS/AUS) vs. #2 Errani/Vinci (ITA/ITA)



=MEN'S DOUBLES QF=


#12 Granollers/M.Lopez (ESP/ESP) def. #1 Bryan/Bryan (USA/USA)
Draganja/Mergea (CRO/ROU) def. #3 Nestor/Zimonjic (CAN/SRB)
#9 Kubot/Lindstedt (POL/SWE) vs. Golubev/Groth (KAZ/AUS)
#11 Benneteau/Roger-Vasselin (FRA/FRA) vs. M.Gonzalez/Monaco (ARG/ARG)



=MIXED DOUBLES QF=


Parra-Santonja/S.Gonzalez (ESP/MEX) vs. Groenefeld/Rojer (GER/NED)
#3 Shvedova/Soares (KAZ/BRA) vs. #5 Mladenovic/Nestor (FRA/CAN)
Babos/Butorac (HUN/USA) def. (WC) Cornet/Eysseric (FRA/FRA)
#8 Goerges/Zimonjic (GER/SRB) def. #2 Srebotnik/Bopanna (SLO/IND)













*RG "JOIE DE VIVRE" WINNERS*


2011 Virginie Razzano, FRA
2012 Virginie Razzano, FRA
2013 Serena Williams, USA
2014 Kristina Mladenovic, FRA



*2014 RG FINAL EIGHT*




[by career slam QF]


21...Maria Sharapova
15...Svetlana Kuznetsova
5...Sara Errani
4...Andrea Petkovic
4...Carla Suarez-Navarro
2...Eugenie Bouchard
2...Simona Halep
1...Garbine Muguruza


[by career RG QF]


8...Maria Sharapova
7...Svetlana Kuznetsova
3...Sara Errani
2...Andrea Petkovic
2...Carla Suarez-Navarro
1...Eugenie Bouchard
1...Simona Halep
1...Garbine Muguruza
[by preseason "Grand Slam Master List" rankings]
4 - Maria Sharapova
10 - Sara Errani
12 - Simona Halep
18 - Carla Suarez-Navarro
20 - Eugenie Bouchard
21 - Svetlana Kuznetsova
37 - Andrea Petkovic
53 - Garbine Muguruza


[Consecutive slam QF]


2...Eugenie Bouchard
2...Simona Halep


[Consecutive RG QF]


4...Maria Sharapova
3...Sara Errani
2...Svetlana Kuznetsova


[WTA most career slam QF - active]


37...Serena Williams
33...Venus Williams
21...MARIA SHARAPOVA
15...SVETLANA KUZNETSOVA
12...Victoria Azarenka
10...Li Na
10...Agnieszka Radwanska
9...Nadia Petrova
8...Jelena Jankovic
7...Ana Ivanovic
7...Petra Kvitova
7...Francesca Schiavone


[WTA most slam QF since 2010 - active]


10...Victoria Azarenka
9...Serena Williams
8...Li Na
8...MARIA SHARAPOVA
7...Petra Kvitova
7...Agnieszka Radwanska


[2014 slam QF - by nation]


2 - Canada, Italy, Romania, Russia, Spain
1 - BLR,CHN,GER,POL,SRB,SVK


[Active players w/ "Career QF Slam" - # slam completed]


Victoria Azarenka, BLR - 2012 US (28th slam app.)
Dominika Cibulkova, SVK - 2014 AO (26th)
Kimiko Date-Krumm, JPN - 1995 WI (23rd)
Ana Ivanovic, SRB - 2012 US (32nd)
Svetlana Kuznetsova, RUS - 2006 RG (16th)
Li Na, CHN - 2011 RG (20th)
Nadia Petrova, RUS - 2006 AO (24th)
Francesca Schiavone, ITA - 2011 AO (42nd)
Maria Sharapova, RUS - 2005 US (12th)
Serena Williams, USA - 2001 RG (12th)
Venus Williams, USA - 1998 WI (6th)
Vera Zvonareva, RUS - 2010 US (31st)



*RECENT BEST AMERICAN WOMEN'S SLAM RESULTS*




=2011=


AO: Venus Williams (3rd)
RG: Vania King & Bethanie Mattek-Sands (3rd)
WI: Serena Williams (4th)
US: Serena Williams (RU)


=2012=


AO: Serena Williams (4th)
RG: Sloane Stephens (4th) & Varvara Lepchenko (4th)
WI: Serena Williams (W)
US: Serena Williams (W)


=2013=


AO: Sloane Stephens (SF)
RG: Serena Williams (W)
WI: Sloane Stephens (QF)
US: Serena Williams (W)


=2014=


AO: Sloane Stephens & Serena Williams (4th)
RG: Sloane Stephens (4th)



*STEPHENS & BOUCHARD...BOUCHARD & STEPHENS*




=Career Top 5 Wins=


2 - Stephens
0 - Bouchard


=Career Top 10 Wins=


4 - Bouchard
2 - Stephens


=Career Top 20 Wins=


7 - Bouchard
5 - Stephens


=Slam SF=


1 - Bouchard
1 - Stephens


=Slam QF=


2 - Bouchard
2 - Stephens


=Slam Round of 16's=


7 - Stephens
2 - Bouchard


=Career-High Ranking=


#12 - Stephens
#16 - Bouchard


=Career WTA Final Records=


1-1...Bouchard
0-0...Stephens






TOP QUALIFIER:

Grace Min/USA




TOP EARLY-ROUND (1r-2r):

#4 Simona Halep/ROU




TOP MIDDLE-ROUND (3r-QF):

xx


TOP LATE-ROUND (SF-F):

xx


TOP QUALIFYING MATCH:

Q2: Cagla Buyukakcay/TUR d. Alberta Brianti/ITA 6-3/5-7/10-8




TOP EARLY-RD. MATCH (1r-2r):

2nd Rd: (WC) Taylor Townsend/USA d. #20 Alize Cornet/FRA 6-4/4-6/6-4




TOP MIDDLE-RD. MATCH (3r-QF):

Nominee: 3rd Rd: #27 Kuznetsova d. #5 Kvitova 6-7(3)/6-1/9-7


TOP LATE-RD. MATCH (SF-F/Jr.):

xx


=============================




FIRST VICTORY:

Aga Radwanska/POL (def. Sh.Zhang/CHN)




FIRST SEED OUT:

#25 Kaia Kanepi/EST (lost 1st Rd. to Niculescu/ROU)




UPSET QUEENS:

The French




REVELATION LADIES:

The Spaniards




NATION OF POOR SOULS:

The Chinese (0-4 in 1st Rd.)


LAST QUALIFIER STANDING:

Kiki Bertens/NED (4th Rd.)




LAST WILD CARD STANDING:

Pauline Parmentier/FRA (4th Rd.)




LAST PASTRY STANDING:

Pauline Parmentier/FRA (4th Rd.)


MADEMOISELLE/MADAM OPPORTUNITY: xx
IT "??": Nominees: K.Mladenovic/FRA, T.Townsend/USA, G.Muguruza/ESP, S.Halep/ROU


COMEBACK PLAYER:

#28 Andrea Petkovic/GER




CRASH & BURN:

#1 Serena Williams/USA (DC, lost 2nd Rd./Muguruza) & #2 Li Na/CHN (lost 1st Rd./Mladenovic - 1st AO champ out early since 2000)




ZOMBIE QUEEN:

#27 Svetlana Kuznetsova/RUS (3rd Rd.: Kvitova up 3-1 in 3rd, twice served for match; Kuznetsova wins 9-7)


JOIE DE VIVRE: Kristina Mladenovic/FRA (last player alive in singles, doubles & mixed)


DOUBLES STAR:

Nominees: K.Mladenovic/FRA, A.Parra-Santonja/ESP, Muguruza/CSN (ESP), Barty/Dellacqua (AUS)


AMG SLAM FUTILITY UPDATE:

Medina-Garrigues lost in second round of qualifying to Smitkova/CZE (ends streak of 41 con. appearances in slam main draws)


JUNIOR BREAKOUT:

xx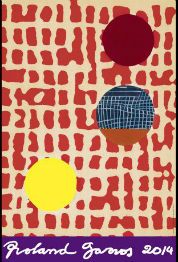 All for Day 9. More tomorrow.