RG.6- The Radwanska Blues
In nature, sometimes parents eat their young. Some would say that it happens on occasion on the wild world of the women's tennis tour, too.
The same might go for a certain entity and It's progeny.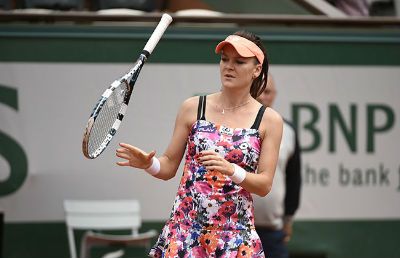 At least it sure seems that way.


Something has happened to Aga Radwanska over the past year. It could be because of the lingering hurt of her disappointment over losing that Wimbledon semifinal to Sabine Lisicki which ended her life-long dream of winning the title at SW19 at the (almost) end of a tournament in which top seeds were massacred seemingly to clear the path specifically for HER to raise the Venus Rosewater Dish on the final weekend. It could be the shoulder issues that have lingered for quite a while now. Or it could be something ELSE... and if you're a regular around these parts, you know what THAT might be.

On some level, the same thing has happened in Paris that did in London last summer. After #1 Serena Williams and #2 Li Na became the first top two seeds to ever exit before the 3rd Round of a slam in the Open era, #3 Radwanska became the highest seed remaining. Of course, it's NOT the same, though. Radwanska has never been as comfortable on clay, or in Paris, as she has on other surfaces or in other slams. What happened today against young Ajla Tomljanovic on Day 6 of Roland Garros had the look of something more than just an aversion to red playing surfaces or some sort of Francophobia. Anecdotally, her loss to the 21-year old, #72-ranked Croat isn't something to fret about. The Evert Academy-trained and David Taylor-coached Tomljanovic has been a player on the come for a while, she's just had a hard time getting out of her own way (and overcoming a '12 battle with mono that knocked her out of the Top 400).

Today, she didn't stop herself from winning... and the illness is a thing of the past, too.

But she had other help. Taken as a whole, this result as well as a whole slew of others really make you wonder what is troubling Radwanska and her game. Sure, she's still ranked #3 in the world, but that really says more about the slumping or injured players ranked just below her -- save for a hard-charging #4 Simona Halep -- than it does about Radwanska's own inconsistent level of play. The Pole has always had difficulty with big hitters. They've sometimes simply overpowered her and taken her out of her artistic magician's style of game. That's nothing new. But what's been happening since last Wimbledon has been more troubling.

While she on occasion can be masterful, as she was in taking out Vika Azarenka in a 3rd set in Melbourne in January, Aga's ability to back it up the next time out now seems non-existent. She was a no-show in the match following her defeat of the defending champ in Australia, and she hasn't been able to come through in the clutch on numerous occasions at the end of tournaments over the past twelve months, either. Actually, her title run in Seoul last September is Radwanska's only tour singles title over the past sixteen months since opening the 2013 season with back-to-back titles in Week 1 and 2.

In between then and now, she's posed for those "controversial" nude photos for ESPN the Magazine, (briefly) turned into a blond, picked up major endorsements and fans... and also appeared a shell of a player at last year's Tour championships to close out a very hectic season. Into 2014, she doesn't look to have recovered and the accompanying downturn in big-time results hasn't really been turned around. At times, she's looked flummoxed during her now-not-surprising fades. Today in Paris, she was even out-smarted. Aga... maybe the smartest and most clever player in tennis.

Tomljanovic threw in slices and a series of drop shots behind her powerful ground strokes during their 3rd Round match. For Radwanska it must have felt like being robbed of her own weapon and then smote with it on the street outside her own home. In the end, she was out-willed, too. That's happened a few times over the past year, as well.

Tomljanovic took a quick double-break lead over the slow-starting Radwanska in the 1st set, racing to a 5-1 lead before wavering just enough for A-Rad to "only" lose the set at 6-4. In the 2nd set, Radwanska was broken to fall behind 1-0 and was never able to get things back on serve.

With Tomljanovic's history of collapsing on big stages because of her nerves, one would have thought it might happen here again, but Radwanska never really gave the Croat the chance to fail. She beat her to it. She didn't high-tail it out of today's match ala her quick handshake at the net with Lisicki at Wimbledon, but she sure seemed to be looking past the match point soon to be held by Tomljanovic rather than the opportunity that still might be there for her to grab.

Serving up 4-3, 30/15, Tomljanovic even served directly at the Pole, jamming her as she only barely avoided being hit by the ball. A double-fault by the Croat gave Radwanska an opening with a break point, but Tomljanovic closed it with a forehand crosscourt winner. Two more break points in the game went unconverted as none of Radwanska's halfhearted attempts at trickery worked well enough to make one think the tide was even close to turning. Tomljanovic held for 5-3, while Aga bounced her racket off the clay in frustration.

Commentating on ESPN2, though, Chris Evert, who Tomljanovic has called her "second mom" after the Croat's seven-year stay at her Boca Raton academy, noted that the match still wasn't over. She could see the tension creeping into the youngster's game once again, bringing to mind, most famously, Tomljanovic's inability to serve out a match against Sloane Stephens at the Australian Open in January. Said Tomljanovic, "After seeing the two first seeds go out, I feel like I can do this, too. I grew up with these girls that are beating them. Obviously, you respect everyone, but you don't fear anyone." She added, "This year I've been in a few situations where I was up and didn't execute so I wanted to make it right this time."

The Stephens match was on her mind, too.

"Honestly, what went through my mind was that match in Australia. I thought, 'Oh, my God, here I am again with an opportunity. I'm definitely not going to do the same thing I did last time.'"

And she didn't, either. Serving at 5-4, Tomljanovic saw a bad Radwanska return of serve and a drop shot attempt that failed to get over the net give her a 30/love lead. Things tightened to 30/30, but another poor drop shot (!!!!) from Aga gave the Croat a match point. Naturally, things ended with a Radwanska error -- a long forehand. Tomljanovic won 6-4/6-4, notching her first career Top 25 victory and advancing to her maiden slam 4th Round in just her fourth career main draw appearance in a major.

Now, for the first time in the Open era, the top THREE seeds at a slam have failed to reach the Round of 16. Oh, and another NextGen star has stepped into the spotlight. This one, as pointed out by ESPN's Chris Fowler and Mary Joe Fernandez, even literally resembles a young version of an achiever from the past. Weird.




Ah, but what of Aga? Well, maybe her downward trend will change once she returns to SW19, looking to take care of unfinished business. Maybe this will all turn out to be a case of a temperamental artiste working her way through a blue period in her craft. If so, it will be a time to let out a deep breath. Crisis averted.

If not, well... what sort of an entity do we have to make a deal with to get some movement here, anyway?

S.O.A. - Save Our Aga. Anyone out there? Any...THING? Or is It still punishing her for not taking advantage of all Its work in London last year? Come on, Rad. Get over it. If You do, maybe Aga will, too.









=DAY 6 NOTES=
...well, I guess Maria Sharapova is starting to "feel it," huh?

On Friday, 3rd Round opponent Paula Ormaechea was but a gnat swatted away during a picnic on a Parisian afternoon where the Russian was concerned. The Argentine won zero games today. Zip. And it probably wasn't that close.

The 6-0/6-0 match lasted just fifty-one minutes, with Sharapova outpacing Ormaechea 54-17 in points, including a sweep of the last thirteen played on the day. The Argentine won zero -- zero! -- points on her second serve, notched just three -- three! -- total points in the 2nd set and had just a single winner to Sharapova's twenty-three for the match.

And all that happened AFTER Ormaechea actually had three break points on Sharapova's serve in the first game of the match.

Being the favorite to win the title is cool. Apparently.

...Sharapova's next opponent (probably) won't be quite the pushover that Ormaechea was. It'll be Samantha Stosur. Armed with a great RG history, and a protective wrap and pad on her left shin that makes her look like she's ready to hit the pitch for a friendly once she's finished playing tennis, the #19 seed took out #9 Dominika Cibulkova in straight sets, avoiding any sort of match-extending break of serve while trying to put the match away at 5-4 in the 2nd. The Aussie fell behind 15/30, but a backhand winner and ace got her to match point. Cibulkova saved it with a return winner, but Stosur fired an ace up the middle when she got a second chance two points later. The 6-4/6-4 win gives Stosur a 5-0 career mark against the Slovak, and the scoreline was very similar to those from their most recent meeting in Madrid (6-4/6-0) and their last face-off in a slam (6-4/6-1 in the RG QF in '12).

Of course, Stosur's wrap and pad were there because of the mishap that occurred last week while she was box jumping in the gym. It required five stitches. She's got the pad there because she sometimes whacks her shin during her service follow-through. Oh, and I KNOW that that can huuuurt, too.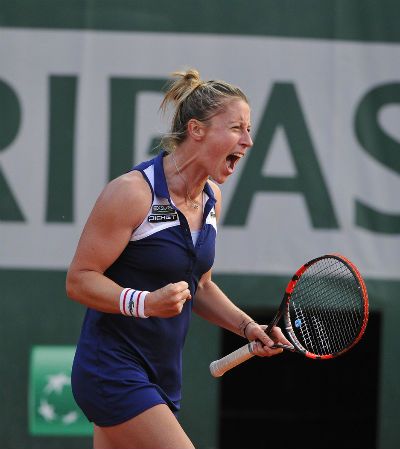 ...Kristina Mladenovic is still to play tomorrow, but wild card Pastry Pauline Parmentier is making a case to be THE French player of this Roland Garros. Ranked #145, Parmentier had only won two main draw matches in Paris before this year, but her come-from-behind win today over Mona Barthel gives her three at this tournament alone. She's on to her first career slam Round of 16 now, winning Day 6's only three-set women's match by a 1-6/6-1/7-5 score after Barthel -- as is her wont at times -- crumbled down the stretch. The German was up a break in the final set and served at 5-3, only to be broken in her final two service games.

Parmentier's win means she's this RG's "Last Wild Card Standing," and is also in the running for "Last Pastry." Her comeback today, on some level, even puts her in the conversation for "Zombie Queen." At it is, though, the leading contenders there are still Spanish: CSN for surviving two matches against qualifiers (especially for winning despite being down 4-1 in the 1st and 4-0 in the 2nd vs. Yuliya Beygelzimer in the 1st Round), and Garbine Muguruza for outlasting qualifier Grace Min in the 1st Round after the American led 4-2 in the 1st (and held SP) and 4-1 in the 2nd set.

...speaking of Muguruza, conqueror of Serena. She knocked off Anna Schmiedlova, conqueror of Venus, in straight sets today to reach her second consecutive slam Round of 16. Genie Bouchard did the same, while Angelique Kerber has now advanced to three straight slam 4th Round (and in eight of the last nine).

Elsewhere, 18-year old Taylor Townsend today fell victim to what often occurs when a young player gets their first big time upset win in a slam. After getting a slew of new attention, the Bannerette when went out and wasn't able to back up the victory. #14 seed Carla Suarez-Navarro schooled Townsend today, grabbing a quick 4-0 lead in the 1st then going on to win 6-2/6-2.

...in doubles, the Mladenovic Magic continues. The Pastry and Flavia Pennetta, after being 2-6 in doubles this season heading into Paris, won their second match this week, knocking out the team of Gajdosova/Husarova (who defeated Hingis/Lisicki replacements, the Pliskova sisters, yesterday).

...LIKE FROM DAY 6:

-- Andy Murray's comments when questioned about whether there'd be a "stigma" attached to an ATP player if he had a female coach.




...LOOOOVE FROM DAY 6:

-- after Rory McIlroy actually put on a late comeback to win his first post-break-up golf event last weekend, then opened this week by taking the 1st Round lead in his second, he tumbled down the leaderboard today. In turn, Caroline Wozniacki changed her Twitter avatar today to a shot of her dressed as a witch, stirring a potent brew. Coincidence? Hmmmm. Haha.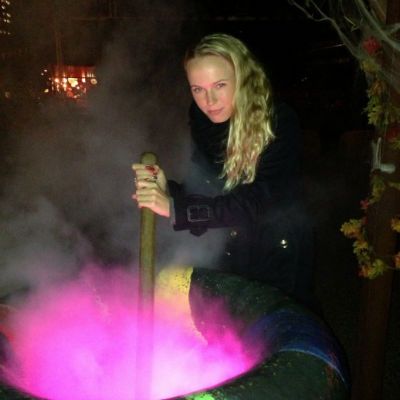 ...and, finally, proof that 17-year olds can make a big deal out of something that others might hear about and go, "What?"

Remember that Tweet from Donna Vekic earlier this week about her new haircut?: "I am never, ever, EVER GETTING A HAIRCUT EVER AGAIN. #depression"

Well, she Retweeted this photo of herself today:




So, THAT'S the trimming of her long hair that caused so much angst? Sigh... oh, all right then. That's sort of like the letdown of the first movie in the second "Star Wars" trilogy, you know?

Guacamole looks nice, though.











=WOMEN'S SINGLES ROUND OF 16=


Garbine Muguruza/ESP vs. (WC) Pauline Parmentier/FRA
#19 Samantha Stosur/AUS vs. #7 Maria Sharapova/RUS
Ajla Tomljanovic/CRO vs. #14 Carla Suarez-Navarro/ESP
#18 Eugenie Bouchard/CAN vs. #8 Angelique Kerber/GER
x
x
x
x



=MEN'S SINGLES ROUND OF 16=


x
x
x
x
#6 Tomas Berdych/CZE vs. #10 John Isner/USA
#18 Ernests Gulbis/LAT vs. #4 Roger Federer/SUI
#8 Milos Raonic/CAN vs. x
#13 Jo-Wilfried Tsonga/FRA vs. #2 Novak Djokovic/SRB













*RG "LAST WILD CARD STANDING"*


2008 Mathilde Johansson/FRA & Olivia Sanchez/FRA (2nd Rd.)
2009 Olivia Rogowska/AUS (2nd Rd.)
2010 Jarmila Groth (Gajdosova)/AUS (4th Rd.)
2011 Iryna Bremond/FRA, Caroline Garcia/FRA & Pauline Parmentier/FRA (2nd Rd.)
2012 Claire Feuerstein/FRA, Melanie Oudin/USA & Irena Pavlovic/FRA (2nd Rd.)
2013 Virginie Razzano/FRA (3rd Rd.)
2014 Pauline Parmentier/FRA (in 4th Rd.)






TOP QUALIFIER:

Grace Min/USA




TOP EARLY-ROUND (1r-2r):

#4 Simona Halep/ROU




TOP MIDDLE-ROUND (3r-QF):

xx


TOP LATE-ROUND (SF-F):

xx


TOP QUALIFYING MATCH:

Q2: Cagla Buyukakcay/TUR d. Alberta Brianti/ITA 6-3/5-7/10-8




TOP EARLY-RD. MATCH (1r-2r):

2nd Rd: (WC) Taylor Townsend/USA d. #20 Alize Cornet/FRA 6-4/4-6/6-4




TOP MIDDLE-RD. MATCH (3r-QF):

xx


TOP LATE-RD. MATCH (SF-F/Jr.):

xx


=============================




FIRST VICTORY:

Aga Radwanska/POL (def. Sh.Zhang/CHN)




FIRST SEED OUT:

#25 Kaia Kanepi/EST (lost 1st Rd. to Niculescu/ROU)




UPSET QUEENS:

The French




REVELATION LADIES:

The Spaniards




NATION OF POOR SOULS:

The Chinese (0-4 in 1st Rd.)


LAST QUALIFIERS STANDING:

Kiki Bertens/NED (in 3rd Rd.)




LAST WILD CARD STANDING:

Pauline Parmentier/FRA (in 4th Rd.)




LAST PASTRY STANDING:

in 3rd Rd.: K.Mladenovic, P.Parmentier(W)
MADEMOISELLE/MADAM OPPORTUNITY: xx
IT "??": Nominees: K.Mladenovic/FRA, T.Townsend/USA, G.Muguruza/ESP, A.Tomljanovic/CRO


COMEBACK PLAYER:

Nominees: S.Stosur/AUS, J.Jankovic/SRB, A.Petkovic/GER


CRASH & BURN:

#1 Serena Williams/USA (DC, lost 2nd Rd./Muguruza) & #2 Li Na/CHN (lost 1st Rd./Mladenovic - 1st AO champ out early since 2000)




ZOMBIE QUEEN:

Nominees: Suarez/Navarro survives tough early-round matches vs. two qualifiers; Muguruza trailed (Q) Min in both 1st and 2nd sets in 1st Rd.; Parmentier down break at 5-3 in 3rd set vs. Barthel in 3rd Rd.
JOIE DE VIVRE: Nominees: K.Mladenovic/FRA, P.Parmentier/FRA, T.Townsend/USA


DOUBLES STAR:

xx


AMG SLAM FUTILITY UPDATE:

Medina-Garrigues lost in second round of qualifying to Smitkova/CZE (ends streak of 41 con. appearances in slam main draws)


JUNIOR BREAKOUT:

xx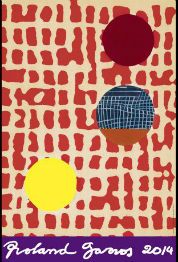 All for Day 6. More tomorrow.