BACKSPIN TIME CAPSULE: 2004 U.S. Open
[The Season of the Hordettes, Pt.III]
After Anastasia Myskina had become the first Russian slam winner at Roland Garros, then was quickly followed by a 17-year old Maria Sharapova into the major champion winner's circle at Wimbledon a month later, it didn't seem possible that the summer of 2004 could get any better for the Hordettes populating the WTA tour.
Ah, but those sneaky Tennis Gods had another ace up their collective sleeve.
Her name was Svetlana Kuznetsova, and the two slam-winning Russians were soon to be joined by a third in New York
.


A decade ago next week, as the annual August humidity was enveloping Flushing Meadows, the footsteps of 19-year old Kuznetsova weren't ringing in anyone's ears nearly as loudly as Sharapova's had been earlier in the summer. But Sveta HAD been making some noise. It had just been occurring off to the side, on the edge of the spotlight, but not quite in it. That would change, of course, and the Russian's activities prior to the '04 U.S. Open would later make everyone wonder how they'd missed the inevitability of her early arrival on the big stage.

Kuznetsova was the junior #1 in 2001, winning the U.S. Open girls doubles crown but failing to also sweep the singles title, losing in the final to a fellow 16-year old named Marion Bartoli, soon to be Backspin's "La Trufflette" and, eventually, a slam champion herself a dozen years later. A year later, Kuznetsova claimed a pair of small, tour level singles titles in Helsinki and Bali. In 2003, she finished the season ranked in the Top 40.

Even while Myskina and Sharapova were making history in 2004, there was Kuznetsova. Lurking. Just out of sight.

At Roland Garros, she held match point against Myskina in the Round of 16 before the Czarina would win that match and three more to earn the right lift to the Coupe Suzanne Lenglen. On the grass in England, Sharapova won a pre-Wimbledon title in Birmingham, then a week later Kuznetsova won an even bigger crown in Eastbourne. But Sveta lost in the 1st Round at the All-England Club, while Sharapova, well, you know.

As things shifted to North America in preparation for the U.S. Open, Kuznetsova was again playing in the shadows of others. She lost in the QF in Los Angeles to countrywoman Elena Dementieva, then did the same in the 3rd Round in San Diego against another Russian, Vera Zvonareva. At the Olympics in Athens, Amelie Mauresmo took her down in the final eight, preventing Kuznetsova from being assured of playing a for a medal in either the Gold or Bronze Medal matches. She came into New York having won just six total matches since her Eastbourne title, and one fewer than she'd need to win to become the third straight Russian slam champion.

But the two weeks in Flushing Meadows would prove to simply be the FIRST time that Kuznetsova would confound us and our expectations, either for the good or the bad, during her enigmatic career.




The first week of the Open seemed to revolve around what Serena Williams was wearing, as well as the exits of many big names. Myskina (2nd Round) and Sharapova (3rd Round) lost early, then Venus Williams (4th Round) and #1-seeded defending champ and Athens Gold winner Justine Henin (4th) failed to reach the final eight. Meanwhile, #9-seeded Kuznetsova quietly went about her business, reaching her first slam semifinal without dropping a set. She outlasted Lindsay Davenport in a three-set semifinal, setting up the second all-Russian slam singles final of '04, as RG runner-up Dementieva was there waiting for her, having taken out the likes of Dinara Safina, Zvonareva, Mauresmo (who'd nonetheless rise to #1 for the first time after the tournament) and Jennifer Capriati, playing four three-setters in five matches (she got a 3rd Rd. walkover) to earn yet another eventually-star-crossed chance to win a slam of her own.




Kuznetsova's 6-3/7-5 victory, and the Russian flavor of the final, solidified the "Year of the Russians" -- not that further ammunition was necessary, the Hordettes would add on a few additional huge moments to remember by the end of the season -- and, at the time, established the teenager's sturdy game as the one with maybe the most potential of those of any of her countrywomen.

Of course, the free-spirited, oft-inconsistent and focus-wandering Kuznetsova has never quite lived up to those early, (though still not overreaching) assumptions, but she continues to persevere on the tour a decade later, well beyond the time when most -- save for one -- of her fellow Hordettes have either walked or drifted away from the tour, or slam contention. Or both.

But the moment that that occurred now ten years and few weeks ago continues to stand the test of history. Here's how I recounted it all at the time...












September 14, 2004 - Finally the Bride"
Here we go again.

Last week in New York, after a season of constantly finding herself in the role of "bridesmaid" to her Russian-born countrywomen, 19-year old Svetlana Kuznetsova finally put together a bride-worthy performance (sorry, I couldn't come up with a "mail-order" reference that wouldn't strain everyone's patience) that officially puts her near the top of the invitation list of Horde nominees hoping to snare the honor of "best Russian." And since she's been hovering in the weeds all season, Kuznetsova's U.S. Open crown might just give her the right to claim the now-exalted title as 2004 swiftly comes to a close.

Consider this. Kuznetsova held a match point against Anastasia Myskina at Roland Garros, only to fail to convert it and then watch the Czarina become the first female Russian slam champion. During the grass season, Maria Sharapova won a grass court title two weeks before Wimbledon. Kuznetsova, for her part, took the more prestigious Eastbourne crown the week before play began at SW19 and went to the All-England club as many people's dark horse to challenge for the title. Of course, it was Kuznetsova who was bounced in the 1st Round while the Supernova went on to claim her eventual destiny -- a little earlier than most expected -- at age 17.

Also, Kuznetsova's had the most consistent season of all the Russians. After an 0-3 run in finals earlier this year, she's now won two in a row. She's 5-0 in singles semifinals (the best mark on tour), and this week is #6 in the singles rankings and #3 in doubles -- the only player to show up in both Top 10 lists. And how's this for a little known fact? The two longest WTA match winning streaks in 2004 have belonged to Lindsay Davenport (22) and Justine Henin-Hardenne (16). Guess who snapped both streaks. Yep, it was Kuznetsova.

It'll be interesting to see how Kuznetsova immediately responds to being the third straight Russian slam winner. Myskina has been a bit of a disappointment since Roland Garros, over-scheduling herself during the hard court season (and is that her name again in the Bali draw?! -- what is she doing to herself?), imploding in Athens, then leaving her head in Greece while she lugged her body to Flushing Meadows. The post-Wimbledon Sharapova, too, has been as shaky as a 17-year old slam winner would be expected to be, even if it seems an ungainly reality for a Supernova such as she.

It's the rugged game of Kuznetsova, though, that caused her to be befriended early-on by the likes of Martina Navratilova and Arantxa Sanchez Vicario (with 22 slam singles crowns between them). Maybe they were onto something. Maybe the best Russian has only now taken her turn on the big-time international stage.

Considering the exploits we witnessed earlier this summer in England, wouldn't THAT turn of events be a stunner?





*2004 BACKSPIN PLAYER-OF-THE-YEAR UPDATE*


...at this getting-late point in the season, the POY race is now essentially down to three players. I'm tossing Myskina and Sharapova out of legitimate contention for just not consistently having their game up to par beyond their isolated slam runs. Of the final three, Amelie Mauresmo is ranked #1 on the computer and Lindsay Davenport is #1 in the 2004 points race... but only Justine Henin-Hardenne has won a slam title (and an Olympic gold) this season. In fact, the other two haven't even made a single slam final this year. So, the question is this: Can a Player of the Year be a woman without a slam title (or RU) for the season? That'll be answered during the 4th Quarter. For the time being, with neither Mauresmo nor Davenport seizing the moment in New York, Queen Justine re-assumes her spot atop the race board despite her 4r exit. The race:

[Tier I]
1.

Henin-Hardenne

...Open disappointment tempered by 5 titles, 1 slam and 1 Gold
2.

Davenport

...6 titles, but nary a slam final in '04
3.

Mauresmo

...the reigning (dubious) #1, she's had great Tier I event success but choked in the slams yet again

[Tier II - Russian Division]
4.

Myskina

...was handed RG on a silver platter, then ran herself into the ground on hardcourts
5.

Kuznetsova

...might catch Myskina in race soon. Plus, she's #3 in doubles, too.
6.

Sharapova

...only "pretty good" year seems so much better with Wimbledon title in the mix
7.

Dementieva

...hasn't won a title yet, but was RU in two slams

[Tier III]
8.

Suarez

...quick start has slowed, but doubles play keeps ahead of "the rest"
9.

Zvonareva

...having breakthrough year, but still falling back into Horde pack
10.

V.Williams

...how easily we forget her stellar spring on clay. And think what her hardcourt summer would have been like without Davenport getting in her way -- she was 0-3 vs. Davenport, and 11-1 against everyone else.
H.M. -

Serena Williams & Virginia Ruano-Pascual

...VRP is the doubles #1, while Serena is, well, just Serena -- and that's enough for honorable mention



*FLUSHING MEADOWS WINNERS & LOSERS*




*5 WINNERS*


1. Dementieva and Kuznetsova, for their heartfelt addresses to the crowd after the US Open singles final. In the shadow of the September 1 Russian school tragedy, and on the three-year anniversary of 9/11, the players' pleas for unity against worldwide terrorism revealed the two to be more than just ball-striking machines.
---------------------------
2. Mary Pierce. With summer wins over Venus and Sharapova, is she looking to be the Davenport of '05?
--------------------------
3. Young American females. With the likes of Davenport and Capriati nearing the end, finally a little light was shining on the red, white & blue's youngsters as Angela Haynes made some waves in the main draw, 16-year old Jessica Kirkland was the girls' RU and 15-year old Julia Cohen quietly won her first ITF title in Mexico City while everyone else was in New York.
---------------------------
4. Anna Kournikova. Even while not playing, she's getting more and more credit for ushering in what has become the Horde's current wave of success. It's far more complimentary than the things most said about her game when she was a Top 10 player herself.
---------------------------
5. Pierre Cantin. Yes, it's the Tennisrulz head honcho himself making the list! Remember, he WAS correct about a Russian winning a third straight slam crown. And he was right about Vera Zvonareva winning her first slam title, as well. Sure, the Russian singles winner turned out to be Kuznetsova rather than his pick of Vera Z, whose first slam title came in Mixed Doubles, not the biggie he forecast two weeks earlier. A little disconnect? Sure. But the thread of a psychic prophecy was there, so let's forget that it was a tad "off." Good job, anyway!



*5 LOSERS*


1. Mariana Alves. Move over Ted Watts, you've got some company in the "Disgraced Umpire of the Year" contest. Sure, replay wouldn't be "full-proof." But we already know that the current system is anything but. To err is human, but ineptitude needn't be tolerated.
---------------------------
2. Amelie Mauresmo. Yeah, I know she's the new #1, but she could have clinched it with a QF win against Elena Dementieva and instead pulled her usual in-need-of-the-Heimlich act when it really counted the most.
---------------------------
3. Lindsay Davenport. So much for going out on top, huh? Sure, she was injured in "practice." But one wonders if that hip flexor would have happened if she hadn't decided to jam Cincinnati into her schedule at the last minute when her real goal was supposed to be success at Flushing Meadows. As it was, she blew another slam SF lead to a Russian teenager who went on to win the title.
---------------------------
4. Black Monday/Tuesday. The top three seeds on the women's side all fell within 24 hours in 4th Round and QF matches.
---------------------------
5. The Boo Award. It goes to Alan Schwartz. You're president of the USTA but can't pronounce the name of a Top 10 player (and #3 in doubles) who's playing the final your organization supports? That's downright embarrassing. And it's not as if "Kuznetsova" is the most difficult of the Horde surnames to decipher. Just imagine what would have happened had Schwartz tried to congratulate Anna Chakvetadze or, worse yet, Ekaterina Bychkova.







2004 U.S. OPEN CHAMPIONS




S:

Svetlana Kuznetsova d. Elena Dementieva 6-3/7-5


D:

Ruano-Pascual/Suarez d. Kuznetsova/Likhovtseva


M:

Zvonareva/B.Bryan d. Molik/Woodbridge


GS:

Michaella Krajicek d. Jessica Kirkland 6-1/6-1


GD:

Krajicek/Erakovic d. Gojnea/Niculescu




[US OPEN WEEK 2 - 4r to F]


PLAYER OF THE WEEK:

Svetlana Kuznetsova


...is she the first slam champion to wear braces since Tracy Austin?




=============================




RISERS:

Kuznetsova & Elena Dementieva


...#5 Dementieva's still ranked ahead of #6 Kuznetsova on the WTA computer.


=============================




SURPRISE:

Shinobu Asagoe


...Miss Opportunity. The 28-year old Japanese vet took advantage of Myskina's ouster from her section of the draw to, at #62, become the lowest-ranked quarterfinalist since #66 Venus Williams in 1997.


=============================




VETERANS:

Virginia Ruano-Pascual & Paola Suarez


...they won their third straight US Open doubles title, and their third slam crown in 2004.


=============================




FRESH FACES:

Michaella Krajicek & Jenifer Widjaja


...Krajicek swept both the girls singles and doubles titles in Flushing Meadows. The Brazilian Widjaja, 17, won back-to-back-to-back ITF titles in the period before and during the Open.


=============================




DOWN:

Jennifer Capriati


...twice this summer, Capriati advanced to a slam SF with a golden opportunity to grab her fourth slam title in an otherwise underwhelming year. She went 0-2 vs. the Russians, never showing up against Myskina in Paris (after which she fired Heinz Gunthardt) and dropping the 1st set at love against Dementieva in Flushing (is Stefano next?). At 28, it's feeling like #4 won't be happening.


=============================






[4th Rd. to Final]
1. QF - Capriati d. Serena
...2-6/6-4/6-4. The most poorly officiated contest since the last time a Williams got jobbed at a slam.


=============================


2. Final - Kuznetsova d. Dementieva
...6-3/7-5. What'll the Russians do for an encore in 2005? Hmmm, I smell an "Intriguing Question" coming on.


=============================


3. 4th Rd. - Petrova d. Henin-Hardenne
...6-3/6-2. This was the JHH we expected in Athens. After 46 weeks, #1 is history...for now.


=============================


4. 4th Rd. - Pierce d. Sharapova
...4-6/6-2/6-3. Sharapova had 14 DF, and blew a 3-1 lead in the 3rd set.


=============================


5. 4th Rd. - Davenport d. Venus
...7-5/6-4. Davenport went 4-0 vs. Serena & Venus this summer after not beating them during the previous four years.


=============================


6. QF - Dementieva d. Mauresmo
...4-6/6-4/7-6. Dementieva's serves were in the mid-60 mph range. She had a groin injury, suffered from an upset stomach, had 15 DF, needed a I.V. after the match and was down a set and a break to Mauresmo. And she STILL won.


=============================


7. SF - Kuznetsova d. Davenport
...1-6/6-2/6-4. What's the bigger Davenport story this summer -- the four straight titles, or the two blown slam SF leads?


=============================


8. SF - Dementieva d. Capriati
...6-0/2-6/7-6. Was Capriati feeling "unworthy" after that Serena match?


=============================


9. Mixed SF - Molik/Woodbridge d. Navratilova/Paes
...will Martina's last slam act be a DF on match point? After all the farewell talk at Wimbledon, there was decidedly little fanfare in NY in what is "supposed" to be her grand slam sayonara.


=============================


10. Jr. Final - Krajicek d. Kirkland
...6-1/6-1. Krajicek was the 2003 US Open girls RU.


=============================
















In her next two tournaments, Kuznetsova won Bali the week following her Open triumph, then reached the Beijing final (losing to Serena) and ran her winning streak to fourteen matches before finally going out in Filderstadt. The stretch, aside from the three-title clay court run that included her second slam win in Paris in '09, was probably the last time she fully rode a wave of momentum and followed through on the promise of her talent while everything great seemed probable, not just possible. But she didn't win another title until Miami in early 2006.

While it'd be unfair to call Sveta a full-on "talent tease," she hasn't evolved into a great champion, either.


Kuznetsova had maybe the most potential, talent-wise, of the entire group of Hordettes, armed with a game that translated to success on the most surfaces. Since that summer in the city, the inconsistent Sveta has become one of the most confounding enigmas in the sport. Ever the free-spirit -- who else would manage to sport cornrows and suddenly show up with a "Pain doesn't kill me, I kill the pain" tattoo over the last decade? ...not counting maybe Bethanie Mattek-Sands, I mean -- she's sometimes seemed disinterested on court over the years, and has constantly been searching for the "right" coach to get the most out of her.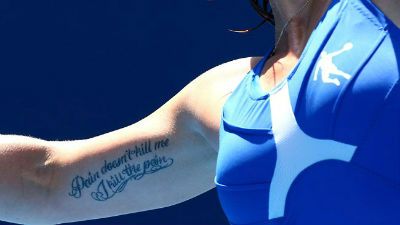 It's become commmon to wait on pins and needles when it comes to Kuznetsova, wondering whether her motivation will wane on a match-to-match basis in a tournament, or it'll be game-to-game...or even point-to-point. You just never know when Sveta will start to look like she has something else better to do than hit a fuzzy yellow ball with a racket. She's become the "ultimate wild card" in any event she enters, capable of a quick flame out or trip to the final weekend at each turn, with both being equally likely. In 2011, she defeated Henin in the final match of the Belgian's career in the 2nd Round of the Australian Open, then two rounds later played Francesca Schiavone in the longest women's slam match of the Open era. She lost a 16-14 3rd set in a contest that lasted 4:44.

When healthy and in form, she's still dangerous, having become the first player since the grand slams began seeding thirty-two players in '01 to reach the QF as an unseeded entrant in back-to-back majors (at the Australian Open and Roland Garros in '13). At this point, even if the well-liked Kuznetsova manages to win a third slam, she'll be viewed as something of an underachiever, though her two slam wins and Fed Cup heroics will likely get her into the HOF, assuring the Russian generation that came of age during the 2000's of at least two (w/ Sharapova) women eventually enshrined in Newport.




Of course, Sveta holds a special place in this space because of all that potential she showed back in 2004...

"The devil made me do it." "Everything happens for a reason." "Karma." Right alongside those should be "The Kuznetsova Curse."

For anything that occurs, there's always a reason, excuse, or dose of blame ready to be pulled out to explain it. Here at Backspin, while predictions do come true on occasion, just the lightly tapping of a particular player to achieve something is reason to think that, since the possibility was even brought up that it COULD happen, that from that point on it might now have ZERO chance of actually becoming reality. The notion has history, too. In fact, it even has a name. "The Kuznetsova Curse" goes back nearly a full decade now, unleashed upon the WTA (and, later, ATP) landscape all because of one double-headed prediction back in 2005. You see, after the official birth of the Russian tennis revolution back in 2004, Tennisrulz (Backspin's original home) Head Honcho Pierre Cantin and I posted our dual Top 10 predictions for the upcoming season that January. Without any consultation between the two of us, we'd both surprisingly picked the same player to finish as 2005's #1-ranked player. And it wasn't a "tried and true" champion, either. It was Kuznetsova, who'd just finished 2004 ranked at #5. Of course, as soon as the predictions were made I knew they -- and Sveta -- were doomed. As I said then, "hmmm. Both Pierre & I picked Kuznetsova to be #1? One is a prediction. Two is a jinx. So, it probably won't happen now. Sorry, Contessova. (Psst... blame Pierre!)"

I didn't know how right I was. After reports of a failed drug test greeted her at the Australian Open, Kuznetsova suffered through a less-than-compelling "year after," becoming the first defending U.S. Open champ to lose in the opening round, and finished the season at #18. Thus, the "Kuznetsova Curse" was born... and lives until this day, and into the future. The Curse seems to have covered the Russian's entire boom-or-bust career as she's bounced back and forth between being "focused & lethal" and "distracted & an upset waiting to happen."

The Curse eventually spread to other players, and has become the easy thing to "blame" whenever a perfectly reasonable prediction ends up looking pretty bad once the dust has settled, while (fill in the name of the unlucky individual) is forced to suffer through the consequences. It didn't take long for the pandemic to become reality, either. In 2007, I was even forced to issue an only-partly-in-jest "Statement" to "protect" Pierre and myself from legal action after both of us predicted Sharapova to finish '07 at #1, and she quickly fell into an early-season slump. Three years later, the Curse jumped tours. I picked reigning U.S. Open champ Juan Martin del Potro to be the ATP's #1 player for 2010, only to see him injure his wrist and miss three slams before having to embark on a comeback that, after some brief additional success, he is STILL trying to complete.

As a result, I stopped making official preseason #1 predictions, and instead simply compile an alphabetical list of players I think might finish in the Top 10. Well, until 2014, when I tempted fate and predicted that Serena would win the season Grand Slam, which was essentially a #1 prediction in all ways but the most blatant one. I soon noted that I figured we'd see just how great Serena was if she could outrun even The Curse, which was being tested to see if it had any "juice" left.

Well, I guess we know how THAT turned out, huh? Can you say, "Her. Worst. Slam. Season. Ever.?" (Ruefully shakes head.)

"The Kuznetsova Curse" came in a #5 on the "All-Time Backspin MVP List" back in 2012, behind only Kim Clijsters, Justine Henin, Jelena Jankovic and Serena Williams. It was the highest-placing Russian-related entry on the countdown, while Kuznetsova didn't make the list in her own right. In the end, I suspect that's Sveta's ultimate "legacy" in this space since, you know, you never really get to choose how you'll be remembered. Heehee.


Not that she hasn't had a very good, though not great, career. Kuznetsova has won fourteen tour singles titles, and sixteen in doubles, including five with the legendary Martina Navratilova and a pair of Australian Opens with Alicia Molik and Vera Zvonareva. She's reached the doubles final at all four slams. She's had five Top 10 seasons and six wins over world #1's. She's played in fifteen slam QF and four slam finals, as well as an additional SF. Kuznetsova topped out in the rankings at #2, first reaching the spot at the conclusion of the '07 U.S. Open. In 2008, if she'd won the Roland Garros title she'd have taken over at #1 in the wake of the retirement of top-ranked Justine Henin two weeks before the start of play in Paris. But she lost in the semifinals to countrywoman Dinara Safina, who'd then lose the final to Ana Ivanovic as the Serb won her first (and so far only) major title and became the new #1. A year later, five seasons after winning in NYC, Sveta won the Roland Garros championship that had eluded her in '08 (and in '04, when she'd held match point in the Round of 16 vs. Myskina, as well as '05, when Kuznetsova also got to MP vs. eventual champ Henin in the same round a season later).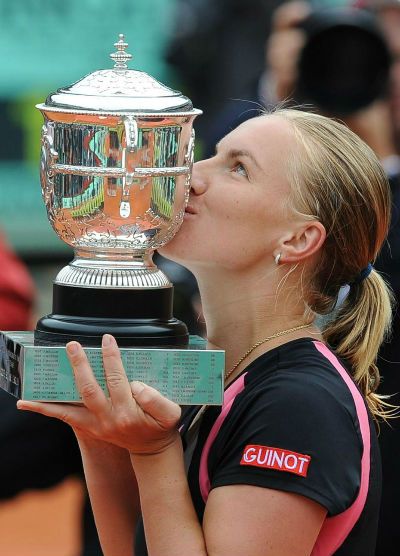 En route to taking that title in Paris, Sveta got wins over both the then-#1 (Safina) and #2 (Serena) players in the world in the tournament. She's the only woman to accomplish the feat on her way to winning a slam in the last eight seasons, since Sharapova did it at the U.S. Open in 2006.

Actually, those near misses in Paris weren't the only times Kuznetsova has come THIS CLOSE to taking a third slam crown, or at least taking out the woman who'd eventually win the title. In 2009, she served for her QF match against soon-to-be champ Serena in Melbourne, then had Williams a break down in the 3rd set in the QF again in Paris four years later before Serena went on to claim her own long-awaited second RG title. While a third major crown is still theoretically possible for Sveta, becoming the third Russian to reach the #1 ranking isn't a reality. Ah, but history can STILL be made. Only three women -- Hana Mandlikova (4), Ann Haydon Jones & Virginia Wade (both with 3) -- who played in the Open era have ever won as many as three singles slams but never reached the #1 ranking. Kuznetsova, if she could hold things together for one more two week stretch in what's left of the now 29-year old's career, could still be the fourth woman added to that list.

Of course, if she never darkened even the grounds of the final eight at another slam, no one would be surprised, either.

Maybe if Kuznetsova hadn't surprised everyone so much with her early slam win in '04, the five years between that triumph and her eventual return to the slam winner's circle at Roland Garros in '09 wouldn't have seemed so disappointing. But after flashing her skills and proving what she WAS capable of accomplishing, little leeway was given the Russian as she failed time and time again to live up to her Open success, from struggling to win regular tour finals to often missing golden grand slam opportunities. Maybe more than any other player this decade, Kuznetsova walked the fine line between being a "great talent" and a "great player," often times falling on the "lesser" side of the equation.




Still, after her '05 dip in results, she managed to once again finish seasons in the Top 10 from 2006-09 (twice she was in the year-end Top 3), star on multiple Fed Cup-winning Russian teams, and was the only women to defeat Henin twice (in '04 & '07) when she was ranked #1. But while her Russian countrywomen were sweeping the Beijing Olympic Medal stand in '08, Kuznetsova was losing in the 1st Round. Early in the '09 season, she found herself in a 1-10 rut in tour singles finals over the previous two seasons. It just went on and on, even when she never showed any physical or game-related reasons why she shouldn't be winning big tour titles.

Kuznetsova, on the advice of none other than Roger Federer, moved back to Russia from her longtime training ground at the Sanchez-Casal Academy in Spain at the start of the '09 season, then in the spring enlisted former Soviet doubles star Larisa Savchenko-Neiland as her new coach. For a time, the change seemed to work wonders, as for the first time as a pro she seemed settled and finally began to pick up where she'd left off five years earlier. After not winning a singles title outright since '06 (her '07 New Haven crown came when Agnes Szavay retired while leading the final), Kuznetsova won three times in four final appearances in '09, including at Roland Garros (where she had much unfinished business) and in Beijing (where she'd missed out on the Russian party a year earlier). After reaching the #3 ranking in '04, she returned there five years later, finishing at #3.

Since then, her results have been spotty. Many coaches and advisers have come and gone. The underachieving nature of Kuznetsova's career still rings true, but so does the prospect of her one day coming through with another result befitting her early promise, especially on a WTA tour where 29th and 30th birthdays have proven to be stepping stones to late-career success in recent seasons. Of course, we only occasionally see evidence of the Sveta capable of THAT. In the same 2012 season in which she was included as one of just ten then-active players on Tennis Channel's "100 Greatest Players of All-Time" list -- she was #92 -- the Russian missed the second half of the season due to injury and fell to a year-end #72, her lowest ranking since 2001. She rebounded with the two slam QF runs in '13 to finish at #21. In early '14, she briefly returned to the Top 20 for the first time in nearly two years, then in Oeiras reached her first final since 2011. Sure, she blew a 4-1 3rd set lead and lost, but she's since reached her fourth slam QF since her '09 RG win (again, in Paris), claimed her first tour singles title (in Washington, D.C., pictured below) in four years and once again finds herself on the cusp of returning to the Top 20 as the tenth anniversary of her U.S. Open title run arrives (she's ranked #21, but with the absences of other injured players she'll be seeded in the Top 20 in New York).




So, after all these years, lingering signs are there that Kuznetsova is still capable of jumping up and out with a great result. But can she still go deep in a major event, and is that historic third major title possible? Hmmm, probably not, since finding the prolonged consistency necessary to make it through seven matches is a huge sticking point. But we're talking about Sveta, so never rule anything out. 2014 is the five year anniversary season of Kuznetsova's LAST slam win in Paris in '09. In the fifth year after her U.S. Open win, she won her second slam, so who's to say Sveta's strangely ticking clock can't still make her soon-to-begin return to Flushing Meadows an even more significant anniversary than it already is? No one would be TRULY stunned if the Hordette could pull together a "time machine moment." Nothing she does on court over the years has ever really been a big shock.

As always, well, at least since 2004-05, there may be no WTA star more fitting than Kuznetsova of the description of a player who could lose in an upset on Day 1 of a slam or win the entire thing and, even now, really surprise no one with either outcome. The possibility of the latter scenario continues to play out in the back of your mind at slam time... until Kuznetsova is finally ousted from the draw, that is.

Oh, things could have been so different, and seemed like they would be a decade ago. But, then again, that wouldn't have been very Sveta-like, would've it?














As for the Hordettes, they went on to claim an even bigger chunk of 2004 history. Hmmm, don't be surprised if there's another Russian-centered '04 Time Capsule by the end of the year.




Maria Sharapova went on to end her season by winning her first and (so far) only Tour Championships title, becoming the only Russian to ever do so when she pulled off a sequel to her Wimbledon triumph by getting a second victory over (an injured) Serena Williams in the final in Los Angeles. Nearly a full decade later, Sharapova is still seeking win #3 over Williams.

The 2004 season-ending Top 5 included all three slam-winning Hordettes, as Myskina (#3), Sharapova (#4) and Kuznetsova (#5) gave the Russian threat rankings teeth. Two-time '04 slam finalist Dementieva was #6, while three more countrywomen (#11 Zvonareva, #12 Nadia Petrova & #15 Elena Bovina) made it seven Russians in the Top 15. Sharapova, contrary to what I thought possible after the U.S. Open, won "Ms. Backspin" honors (though, at the time I wasn't officially calling the "Player of the Year" winner that), while Myskina finished third, Kuznetsova sixth, Dementieva eighth and Zvonareva tenth.

A week after Sharapova won the Tour Championships, Myskina led the Russians to their first-ever Fed Cup title with little if any help from the season's other two slam champions. Kuznetsova, who'd eventually become a FC legend (twice winning title-clinching singles matches in '07 and '08), performed well in that week's semifinal action vs. Austria, but went 0-2 in the final against France, while Sharapova wasn't even on the team, mostly because Myskina, who had issues with Maria's father Yuri, had essentially forbid it if she was going to devote her own time to the Fed Cup cause. Sharapova wouldn't make her FC debut until 2008. The '04 FC win for Team Russia would be the first of the Hordette's four FC titles in five years. After having lost in four finals with Soviet/Russian squads prior to '04, the team has since reached additional finals in '11 and '13. Myskina officially became the Russian team's Captain before the 2014 campaign.

Suddenly, the old "quantity over quality" argument is back in the discussion when it comes to the Hordettes, as well. Really, unless Kuznetsova's talent flashes again, only Sharapova survives as a legit slam contender. The group has claimed just two slam crowns (both in Paris by Sharapova) since Sharapova's own pre-shoulder surgery Australian Open title in 2008, and no fourth Hordette major title winner has followed Kuznetsova in the decade since she won in New York. Other than the three slam winners of '04, the other Russian Revolution stars -- Dementieva, Safina and Zvonareva -- who have reached slam finals have gone a combined 0-7.

So far, no member of the NextGen Hordettes have shown major-winning ability, either. They're a talented lot, and the Russian junior stars keep coming in mini-waves -- two have won girls slam crowns in '14 -- but many are even sometimes more emotionally destructive on court than the notoriously fragile Safina and Zvonareva. Additionally, some of the better younger players are deciding to represent other nations with smaller talent pools, allowing themselves more opportunities for support and/or spots on Fed Cup or Olympic rosters. Anastasia Pavlyuchenkova, now 23, seemed to have the most ability of the next generation. She was once as dominant in junior play as any girl ever was, but fitness, coaching questions and inconsistency have kept her from a true breakthrough. Ekaterina Makarova, a truly lethal opponent for any top player to take down on one of the Russian's good days, is capable of a huge upset on a grand stage, but hasn't been able to string together enough of those sort of wins to be a realistic dark horse for a slam title. If veteran Maria Kirilenko could ever stay healthy, she might have a real shot at starring in a late-career Cinderella slam story. But that's a big "if." She's yet to reach her first slam semifinal.

Yes, the Russians are here to stay. As 2014 U.S. Open beckons, four Hordettes are ranked in the Top 25, and six in the Top 100. Not bad. But things are never, ever going to be how they were ten years ago.

Of course, we should have know that at the time.
















**KUZNETSOVA SLAM TITLES*


2001 U.S. Open Girls Doubles (w/ Galina Fokina)
2004 U.S. Open Women's Singles
2005 Australian Open Women's Doubles (w/ Alicia Molik)
2009 Roland Garros Women's Singles
2012 Australian Open Women's Doubles (w/ Vera Zvonareva)



**SOVIETS/RUSSIANS...**




[most WTA titles]


32 - Maria Sharapova (2003-14)
16 - Elena Dementieva (2003-10)
14 - SVETLANA KUZNETSOVA (2002-14)
13 - Nadia Petrova (2005-12)
12 - Vera Zvonareva (2003-11)
12 - Dinara Safina (2002-09)
10 - Anastasia Myskina (1999-05)
9 - Olga Morozova, USSR (1969-75)
8 - Anna Chakvetadze (2006-10)


[age at Hordettes at first title]


16-Dinara Safina (2002)
16-Maria Sharapova (2003)
17-SVETLANA KUZNETSOVA (2002)
18-Elena Likhovtseva (1993)
18-Anastasia Myskina (1999)
18-Vera Zvonareva (2003)
18-Maria Kirilenko (2005)
18-Anastasia Pavlyuchenkova (2010)
19-Elena Bovina (2002)
19-Anna Chakvetadze (2006)
20-Alisa Kleybanova (2010)
20-Ksenia Pervak (2011)
21-Elena Dementieva (2003)
22-Vera Dushevina (2009)
22-Ekaterina Makarova (2010)
22-Alla Kudryavtseva (2010)
23-Nadia Petrova (2005)
26-Elena Vesnina (2013)


[most all-Russian finals]


12...Elena Dementieva (6-6)
8...SVETLANA KUZNETSOVA (4-4)
7...Dinara Safina (3-4)
5...Maria Sharapova (3-2)
4...Anastasia Myskina (4-0)
3...Elena Vesnina (0-3)
2...Anna Chakvetadze (2-0)
2...Alisa Kleybanova (2-0)
2...Nadia Petrova (0-2)



**SOVIETS/RUSSIANS IN MAJOR FINALS*




[Australian Open]


2007 Serena Williams def.

Maria Sharapova


2008

Maria Sharapova

def. Ana Ivanovic
2009 Serena Williams def.

Dinara Safina


2012 Victoria Azarenka def.

Maria Sharapova




[Roland Garros]


1988 Steffi Graf def.

Natalia Zvereva


2004

Anastasia Myskina

def.

Elena Dementieva


2006 Justine Henin-Hardenne def.

Svetlana Kuznetsova


2008 Ana Ivanovic def.

Dinara Safina


2009

Svetlana Kuznetsova

def.

Dinara Safina


2012

Maria Sharapova

def. Sara Errani
2013 Serena Williams def.

Maria Sharapova


2014

Maria Sharapova

def. Simona Halep


[Wimbledon]


1974 Chris Evert def.

Olga Morozova


2004

Maria Sharapova

def. Serena Williams
2010 Serena Williams def.

Vera Zvonareva


2011 Petra Kvitova def.

Maria Sharapova




[U.S. Open]


1974 Chris Evert def.

Olga Morozova


2004

Svetlana Kuznetsova

def.

Elena Dementieva


2006

Maria Sharapova

def. Justine Henin-Hardenne
2007 Justine Henin def.

Svetlana Kuznetsova


2010 Kim Clijsters def.

Vera Zvonareva




[Olympic Gold Medal Match]


2000 Sydney: Venus Williams def.

Elena Dementieva


2008 Beijing:

Elena Dementieva

def.

Dinara Safina


2012 London: Serena Williams def.

Maria Sharapova




[Olympic Bronze Medal Match]


2004 Athens: Alicia Molik def.

Anastasia Myskina


2008 Beijing:

Vera Zvonareva

def. Li Na
2012 London: Victoria Azarenka def.

Maria Kirilenko




[Tour Championships]


2004

Maria Sharapova

def. Serena Williams
2007 Justine Henin def.

Maria Sharapova


2008 Venus Williams def.

Vera Zvonareva


2012 Serena Williams def.

Maria Sharapova




[Fed Cup]


1988 CZE def.

USSR

2-1
1990 USA def.

USSR

2-1
1999 USA def.

RUS

4-1
2001 BEL def.

RUS

2-1
2004

RUS

def. FRA 3-2
2005

RUS

def. FRA 3-2
2007

RUS

def. ITA 4-0
2008

RUS

def. ESP 4-0
2011 CZE def.

RUS

3-2
2013 ITA def.

RUS

4-0



**WTA ACTIVE LEADERS*




[singles titles]


62...Serena Williams
45...Venus Williams
32...Maria Sharapova
22...Caroline Wozniacki
17...Victoria Azarenka
14...Ana Ivanovic
14...SVETLANA KUZNETSOVA
14...Aga Radwanska
13...Jelena Jankovic
13...Nadia Petrova


[singles finals]


79...Serena Williams
74...Venus Williams
54...Maria Sharapova
35...Caroline Wozniacki
34...SVETLANA KUZNETSOVA
32...Victoria Azarenka
32...Jelena Jankovic
30...Vera Zvonareva


All for now.