W.10- Time After Time

The respective paths of the finalists to this year's Wimbledon championship match have been very different, but Petra Kvitova and Genie Bouchard will both find themselves on familiar ground on Saturday. Today both twentysomethings advanced to the final with straight sets semifinal victories, setting up the first women's grand slam decider pitting a pair of women who were both born in the 1990's.
Apparently, the future IS now.


In the opening semifinal match of Day 10, pitting a pair of lefty Czechs, 2011 SW19 champ Kvitova sought to reclaim the promise -- at least on the grass -- that surrounded her like a thick fog on her way to her first and so far only grand slam title. The biggest moment of Kvitova's career, while it came naturally to the hard-hitting first "Nineties child" slam champion three years ago, also arrived a little earlier than the shy young woman would ultimately be comfortable with, so much so that Kvitova's uneasiness in the spotlight, along with lingering illness and breathing issues linked or not linked to the now 24-year old's asthma, has seen her go from "sure thing" to "biggest disappointment" over the past thirty-six months. Her opponent, countrywoman Lucie Safarova, hasn't experienced anything of the sort of expanded expectations dealt with by her Fed Cup teammate, though, having reached very first major semifinal at this Wimbledon at age 27. While for Kvitova it has been a long wait for her "inevitable" return to such a stage, for Safarova to term the chance for the same level of success a "once in a lifetime" thing wouldn't be a case of speaking out of turn.

In the early going, both Czechs had slow starts as they attempted to find their way in a match against a very familiar opponent. Kvitova broke Safarova to open the match, then Safarova returned the favor a game later. In a nip-and-tuck 1st set, both held serve the rest of the way, keeping their error totals down and forcing a deciding tie-break. Kvitova sported a 3-0 mark against Safarova in head-to-head tie-break sets, including a win in a 3rd set TB in Eastbourne two weeks ago.

This time, Safarova grabbed an early 1-0 advantage, but Kvitova soon grabbed the lead with an ace and an error-producing deep return to go up 3-1. A backhand up the line from Safarova got the TB back on serve in point #7, then the players exchanged mini-breaks on back-to-back points to bring the score to 5-5. A big Kvitova serve to the corner of the box elicited a Safarova error and carved out a set point, but she pulled her return of a wide Safarova serve a point later. Safarova's forehand error gave Kvitova a second chance, and she put away a forehand winner behind her countrywoman to take the TB at 8-6 and grab a one set lead.

Kvitova carried over her momentum into the 2nd, holding and then breaking Safarova on her third BP chance in the game, firing a forehand winner off a short ball to go up 2-0. A big serve that forced a long Safarova return was punctuated by one of Kvitova's signature "barks." It wasn't as loud or shocking as the ones she employed during her QF against another Czech, Barbora Zahlavova-Strycova, but the implication was still crystal clear: Petra was in form and looking to get back to where she left off three years ago. A Safarova backhand error gave Kvitova a 3-0 lead. Needing a hold to stay in the match, Safarova got it, securing the game with an ace. A game later, Kvitova double-faulted and committed an error off a deep Safarova return to trail 15/30, but she put away a high-bouncing ball to level things at 30/30.

Bark!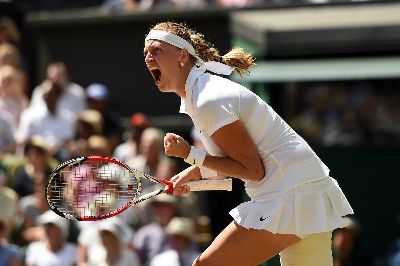 Safarova got to break point, but netted a 2nd serve return when she tried to run around her forehand to hit a backhand and handcuffed herself. It was her last chance. Kvitova's big serve got her to game point, then she ended a rally with a backhand to the corner to hold for 4-1. Things didn't last much longer. Kvitova pulled Safarova from one side of the court to the other until she forced an error that gave her double break point on Safarova's serve, then she got it to lead 5-1. Confident and smooth, Kvitova closed out the match with a love hold, winning eleven of the final thirteen points and committing just two errors in the 2nd set of the 7-6(6)/6-1 victory.

Three years ago, nearly everyone figured that Kvitova would one day return to the Wimbledon final. Of course, few expected it to be a three-year wait for her homecoming, nor that it would occur only after an extended period of hand-wringing and second thoughts about just what it was that we witnessed back in 2011. Had EVERYONE been wrong? No, as it turned out, we were right... her tennis destiny WILL play out on Centre Court.

Of course, Bouchard will have something to say about just what that destiny is. After all, the Canadian has her own single-minded goal of becoming a grand slam champion to think about. Lacking the patience to wait for something big to come in her tennis career, essentially, Genie has no time for time. And that's especially the case when it comes to giving her opponent a large (or small) chunk of it in order to formulate and execute a game plan that might force her to wait for a final Saturday appointment on Centre Court for anything more than a short forty-eight hours.

Bouchard and Simona Halep, her #3-seeded semifinal opponent today, have been something of a two-headed grand slam version of "rolling thunder" in 2014, matching or topping their career grand slam bests, or the best results of each other, throughout the season. Bouchard was playing in her third straight slam semi at just age 20, while the 22-year old Romanian was playing in her second, having been the first of the two to reach a slam final last month at Roland Garros. Both entered with identical, tour-best 15-2 match records in majors this year, with Bouchard having previously claimed her first WTA singles title in Nurnberg exactly one year after Halep had won her first at the very same event in 2013.

But that was where the comparisons would cease to line up so identically on this day.

Early on, though, Bouchard, as she has appeared to be doing at times during this Wimbledon even while she'd advanced so far without dropping a set, was seemingly trying to discover her "A"-game. She fell behind love/30 on serve in game #3, then fired a forehand long to go down a break at 2-1. She immediately broke back, then saw Halep, already playing with a wrap on her left thigh, slip in the back court, turning her ankle. Limping, Halep called for a trainer, who taped up the injury. Halep, whose footwork and change of direction are so crucial to her success, didn't complain and wasn't noticeably bothered by the ailment, but being hampered by anything against Bouchard, whose desire to step into the court to take balls early was once again unbound in this match, can't help but be a beneficial situation for the Canadian.

Bouchard fell down love/30 in the serve game immediately following Halep's injury, but managed to hold for 3-2 with a first ball put-away shot. A game later, Bouchard, at deuce, failed to get to break point when she netted a backhand swing volley, then saw Halep hold for 3-3. After taking advantage of every available opportunity through the first five rounds, winning despite playing her best because she was playing the big points better than her opponents, Bouchard was suddenly finding herself on the short end of such scenarios. A forehand winner into the corner got her to break point in game #8, but Halep's forehand up the line saved it. After the Romanian yanked a backhand to reach a second BP, Halep fired a backhand winner to save it, too. She held for 4-4.

Bouchard's inside out forehand held at love a game later, but Halep seized control of the rallies in the next game to hold for 5-5. After falling down love/30, Bouchard held serve then went up 30/15 on the Romanian's serve, getting to within two points of the set. Her forehand return down the middle of the court hit the net cord, popped up, then dribbled onto the Canadian's side of the court, making it 30/30 rather than double set point. A Bouchard forehand error was followed by a rally-ending Halep backhand winner up the line to get to 6-6 and force a tie-break.

The first five points of the TB were won by the player returning serve, but it was Bouchard's errors -- a DF that became reality after a Halep replay challenge, then a sprayed backhand when she tried to redirect a cross court shot down the line -- gave the Romanian a 3-2 lead. After a nearly five-minute break while medical technicians and Club officials tended to a crowd member who'd fainted in the London sun, Halep held her serve point to take a 4-2 advantage. It looked as if Bouchard's remarkable ability to gut out set wins was going to come to an end.

Ah, but no one talked to Genie about it. She had other ideas.

And then, almost out of nowhere, Halep suddenly seemed to pull back, hot hitting her groundstrokes with as much intent, relying on simply getting balls back with point re-setting defense rather than stepping forward for a bit of the well-timed aggression that has accompanied her climb up the WTA rankings. Bouchard, never one to take a step back (quite literally, as she very nearly equaled her "perfect" stat from the QF by hitting virtually every return from a position inside the baseline, while spending less than 10% of her time in rallies more than a few feet behind the baseline, per the stats revealed today on ESPN), grabbed control of the match right then and there. She never gave it back, either.

Bouchard ran off four straight points after falling behind 4-2, with the last three points ending with Halep errors. On set point at 6-4, Bouchard fired a big return that was sent back from an off-the-court Halep for a forehand winner. But the risk-taking came too late for the Romanian, as Bouchard's forehand swing volley ended the 7-5 TB, keeping her Wimbledon set streak alive as she was forced to win seven games for a sixth time this fortnight to keep her 11-for-11 record spotless.

It didn't take long for it become obvious that Halep was going to regret her lapse in concentration in the TB. While she was still smarting from the blown lead (and maybe the ankle, too?), Bouchard was emboldened. The Canadian even felt daring enough to play "cute," something that she simply is NOT on the court. She got away with a drop shot, lob, backhand winner combo that is hardly in her regular repertoire on one point, then saw Halep fall down something of a hole on her serve in game #3. Back-to-back double-faults from the Swarmette gave Bouchard a break lead at 2-1. After Bouchard held for 3-1, ESPN's Chris Evert said it was a "now or never" moment for Halep when it came to regaining her aggression.

Then Halep began game #5 with another DF, giving her five straight fault strokes. She barely got in her second serve to avoid a third consecutive DF. A replay reversal prevented Halep from facing a BP, but an error gave Bouchard a chance to go up an important double-break anyway. Halep netted a forehand and fell behind 4-1. While the suddenly error-prone Romanian had already totaled eight errors in the set, Bouchard was coasting along with just one. Serving down 5-1, Halep fell behind love/30, then an error gave Bouchard double match point at 40/15.

That's when things got interesting. For a little while.

After having a difficult time putting away Andrea Petkovic earlier in this tournament, needing three match points to finally win, Bouchard did the same dance with the Romanian here. After calling for time out, but not having the request noticed by chair umpire Kader Nouni, Bouchard argued for a re-playing of the point, which had been an ace for Halep. She didn't get her way, and the moment seemed to finally wake up the Romanian from her play-it-safe nap. For a bit. Halep saved two more match points in the game, the held for 5-2 when a Bouchard shot sailed long. Suddenly, that double-break lead was VERY important. Bouchard went up 40/15 a game later, but couldn't convert either MP, double-faulting on the second. Finally, she reached her sixth match point courtesy of a Halep error. The Romanian failed to return a wide serve to the corner and the match ended with a 7-6(5)/6-2 final score, as Bouchard notched her first career win over a Top 5 player.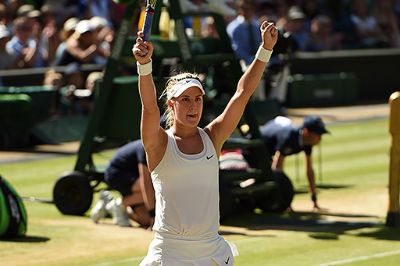 Said Pam Shriver of Bouchard on ESPN, after seeing her post-match interview, "She speaks the way she plays right now -- with great clarity. She knows what she's about. She's very confident, even though she doesn't have much experience in life terms -- (she's) just 20. She's the real deal, isn't she?"



Still having not dropped a set at this Wimbledon, Bouchard is the first Canadian to reach a slam singles final (Milos Raonic could become the second tomorrow), just as she was the first to win a slam junior singles crown when she won the Wimbledon girls in 2012. Next week, she'll become the second Canadian woman to be ranked in the Top 10, will be the highest-ranked ever, and might even become the first in the Top 5 if she wins the Ladies title. But her records aren't just national ones -- she now has the chance to be the youngest women's slam champ since a 19-year old Maria Sharapova won the U.S. Open in 2006.

Bouchard doesn't wait for time. Time just steps out of the way and lets Genie pass. It's just easier for the both of them that way.




Now, about this Kvitova person.

Yeah, exactly. The Czech has every right to believe that Centre Court is as close to a "home" as she'll ever get in her WTA career. She looked liked a future multiple Wimbledon winner three years ago, and now she's got an opportunity to be just that, with a great many more seasons to add to her totals. Meanwhile, Bouchard has always felt that she'd find herself in this position. She never had a doubt. She was right about it all, too. Hmmm... and, hmmm.

Who knows what wonders we'll get come Saturday, but it'll surely be a must-see event.












=DAY 10 NOTES=
...elsewhere around the grounds, Mladenovic Magic still reigns on the doubles lawns of the AELTC! The #14-seeded duo of French Kiki & Timea Babos outlasted Alla Kudrayvtseva & Anastasia Rodionova 6-4 in the 3rd set in the women's competition and will next face Andrea Petkovic & Magdalena Rybarikova in the semis. In Mixed, defending champs Mladenovic & Daniel Nestor knocked off Martina Hingis & Bruno Soares 6-4/7-6(4) to reach the semis there, as well.

Mladenovic, reclaiming "everybody's most favored doubles partner" honors, is the only woman still alive in both competitions.

Also in the doubles QF, #2-seeded Errani/Vinci advanced to the semis, bringing the Italians within two wins completing a Career Doubles Slam, by knocking off 2013 SW19 runners-up Barty/Dellacqua 6-4/2-6/6-0. Hlavackova/Zheng took out "Zombie Queens" Pavlyuchenkova/Safarova without leaving any rotting body parts behind on Court 12, though it did take three sets to finally send them home.




...in the junior Round of 16, Tornado Black (pictured above, the same photo that I misidentified as another player the other day... whoops) did what her fellow #3-seed on the women's side failed to do -- she won on Day 10. Black defeated Brit Katie Boulter, as the Bannerette seeks her second junior slam final appearance ('13 U.S. Open girls RU). She'll next face Jelena Ostapenko, who defeated #9 Anhelina Kalinina. Black is the only girl still alive in both the singles and doubles, advancing to the QF today with Aussie Naiktha Bains.

#12 Marketa Vondrousova took out #7 Francoise Abanda 7-6(6)/6-7(5)/6-2 in a Czech/Canadian match-up that ISN'T the Ladies' singles final, keeping alive the possibility of a Maiden sweep of the women's and girls titles. Meanwhile, qualifier Michaela Gordon of the U.S. advanced along with unseeded Paula Badosa Gibert (ESP) and Swarmette Elena Gabriela Ruse. #8 Kristina Schmiedlova (SVK) and #10 Xu Shilin (CHN) also won.

Of the seven American boys who reached the Round of 16, three advanced to the quarterfinals today. #2-seed Hyeon Chung of Korea, the Wimbledon junior runner-up last year, is the highest seed left in the boys singles.
...LIKE FROM DAY 10:




-- the idea that Jim Parsons, in the Players Box next to Bouchard's little brother today, is now probably going to have to ONCE AGAIN cancel his scheduled flight home and come back to Centre Court on Saturday. Hmmm, I wonder if Genie's twin sister will be there, too? You know, just to make things especially festive.




Hey, why not invite Parsons' "Big Bang Theory" co-star Kaley Cuoco, as well? She's married to ATP player Ryan Sweeting, after all.

Just, please... no Bieber.


"They really wouldn't let him in royal box if he came?"-Genie Bouchard doesn't like suggestion that Justin Bieber isn't #Wimbledon material.

— Ben Rothenberg (@BenRothenberg) July 3, 2014
...and, finally, Li Na and Carlos Rodriguez have parted ways as pupil and coach, with this year's Australian Open win as the only slam hardware picked up by the still world #2 since she took up a partnership with Justine Henin's longtime coach. On the bright side, we may now get a whole new round of "my husband is my coach" jokes from Li, only this time with an "I just can't get away from him" twist. On the down side, one has to wonder whether or not those funny lines will come during victorious post-final trophy ceremonies since one sort of got the feeling that Li is still playing in 2014 because of the challenge Rodriguez offered up to her when it came to trying to get every last ounce of success out of her career at an age when many players would have already retired.

Alas, it could be that Li might not be around much longer on tour now. She said she was thinking about retirement just last year. At the very least, you'd think she'd be around for the defense attempt of her AO title in 2015. Beyond that, who knows?














=LADIES' SINGLES FINAL=


#13 Eugenie Bouchard/CAN vs. #6 Petra Kvitova/CZE



=GENTLEMEN'S SINGLES SF=


#1 Novak Djokovic/SRB vs. #11 Grigor Dimitrov/BUL
#4 Roger Federer/SUI vs. #8 Milos Raonic/CAN



=LADIES' DOUBLES SF=


#14 Timea Babos/Kristina Mladenovic (HUN/FRA) vs. Andrea Petkovic/Magdalena Rybarikova (GER/SVK)
#9 Andrea Hlavackova/Zheng Jie (CZE/CHN) vs. #2 Sara Errani/Roberta Vinci (ITA/ITA)



=GENTLEMEN'S DOUBLES SF=


#1 Bob Bryan/Mike Bryan (USA/USA) vs. #12 Michael Llodra/Nicolas Mahut (FRA/FRA)
#5 Leander Paes/Radek Stepanek (IND/CZE) vs. Vacek Pospisil/Jack Sock (CAN/USA)



=MIXED DOUBLES QF=


#14 Max Mirnyi/Chan Hao-Ching (BLR/TPE) vs. #10 Casey Dellacqua/Jamie Murray (AUS/GBR
#5 Kristina Mladenovic/Daniel Nestor (FRA/CAN) def. #13 Martina Hingis/Bruno Soares (SUI/BRA)
#15 Samantha Stosur/Nenad Zimonjic (AUS/SRB) def. Anastasia Rodionova/Mikhail Elgin (AUS/RUS)
(WC) Naomi Broady/Neal Skupski (GBR/GBR) vs. #16 Vera Dushevina/Aisam Qureshi (RUS/PAK)



=GIRLS SINGLES QF=


Paula Badosa Gibert/ESP vs. #12 Marketa Vondrousova/CZE
#3 Tornado Alicia Black/USA vs. Jelena Ostapenko/LA
#10 Xu Shilin/CHN vs. Elena Gabriela Ruse/ROU
#8 Kristina Schmiedlova/SVK vs. (Q) Michaela Gordon/USA



=BOYS SINGLES ROUND OF 16=


Tim Van Rijthoven/NED vs. (Q) Noah Rubin/USA
Taylor Harry Fritz/USA vs. Filippo Baldi/ITA
#8 Johan Sebastien Tatlot/FRA vs. (WC) Joshua Sapwell/GBR
#6 Stefan Kozlov/USA vs. #2 Hyeon Chung/KOR



=GIRLS DOUBLES QF=


#1 Anhelina Kalinina/Iryna Shymanovich (UKR/BLR) vs. Tami Grende/Qiu Yu Ye (INA/CHN)
#4 Katie Boulter/Ivana Jorovic (GBR/SRB) vs. Usue Arconada/Fanny Stollar (USA/HUN)
Maria Bouzkova/Dalma Galfi (CZE/HUN) vs. #3 Naiktha Bains/Tornado Black (AUS/USA)
Katherine Sebov/Leticia Garcia Vidal (CAN/BRA) vs. #2 Priscilla Hon/Jil Belen Teichmann (AUS/SUI)



=BOYS DOUBLES QF=


#1 Stefan Kozlov/Andrey Rublev (USA/RUS) vs. Filippo Baldi/Lucas Miedler (ITA/AUT)
Rafael Matos/Joao Menezes (BRA/BRA) vs. #7 Petros Chrysochos/Nino Serdarusic (CYP/CRO)
#5 Pedro Martinez Portero/Jaume Munar (ESP/ESP) vs. #3 Orlando Luz/Marcelo Zormann (BRA/BRA)
Naoki Nakagawa/Tim Van Rijthoven (JPN/NED) vs. #2 Quentin Halys/Johan Sebastien Tatlot (FRA/FRA)



=WC LADIES' DOUBLES SF=


#1 Yui Kamiji/Jordanne Whiley (JPN/GBR) vs. Katharina Kruger/Sharon Walraven (GER/NED)
Sabine Ellerbrock/Lucy Shuker (GER/GBR) vs. #2 Jiske Griffioen/Aniek Van Koot (NED/NED)



=WC GENTLEMEN'S DOUBLES SF=


#1 Stephane Houdet/Shingo Kunieda (FRA/JPN) vs. Tom Egberink/Gordon Reid (NED/GBR)
Frederic Cattaneo/Joachim Gerard (FRA/BEL) vs. #2 Maikel Scheffers/Ronald Vink (NED/NED)
















*2014 FINALS ON DIFF. SURFACES*


3 - Ana Ivanovic (Hard,Red Clay,Grass)
2 - EUGENIE BOUCHARD (Red Clay,Grass)
2 - Sara Errani (Hard,Red Clay)
2 - Serena Williams (Hard,Red Clay)
2 - Angelique Kerber (Hard,Grass)
2 - Klara Koukalova (Hard,Red Clay)
2 - Karolina Pliskova (Hard,Red Clay)



*WIMBLEDON FINALS - ACTIVE*


8...Venus Williams (5-3)
7...Serena Williams (5-2)
2...PETRA KVITOVA (1-0)
2...Maria Sharapova (1-1)
1...EUGENIE BOUCHARD (0-0)
1...Agnieszka Radwanska (0-1)
1...Vera Zvonareva (0-1)
1...Sabine Lisicki (0-1)



*ACTIVE SINGLES PLAYERS - FIRST SLAM FINAL*


1997 U.S. Open - Venus Williams
1999 U.S. Open - Serena Williams (W)
2004 Wimbledon - Maria Sharapova (W)
2004 U.S. Open - Svetlana Kuznetsova (W)
2007 Roland Garros - Ana Ivanovic
2008 U.S. Open - Jelena Jankovic
2009 U.S. Open - Caroline Wozniacki
2010 Roland Garros - Francesca Schiavone (W)
2010 Roland Garros - Samantha Stosur
2010 Wimbledon - Vera Zvonareva
2011 Australian Open - Li Na
2011 Wimbledon - Petra Kvitova (W)
2012 Australian Open - Victoria Azarenka (W)
2012 Roland Garros - Sara Errani
2012 Wimbledon - Agnieszka Radwanska
2013 Wimbledon - Sabine Lisicki
2014 Australian Open - Dominika Cibulkova
2014 Roland Garros - Simona Halep
2014 Wimbledon - Eugenie Bouchard



*WIMBLEDON GIRLS/WOMEN'S SLAM CHAMPS - OPEN ERA*


Martina Hingis (1994 Jr. Champion; 1997 Ladies Champion)
Amelie Mauresmo (1996 Jr. Champion; 2006 Ladies Champion)


[others]


Martina Navratilova (1973 Jr. RU; 9-time Ladies Champion)
Hana Mandlikova (1978 Jr. RU; 1981 & '86 Ladies RU)
Zina Garrison (1981 Jr. Champion; 1990 Ladies RU)
Maria Sharapova (2002 Jr. RU; 2004 Ladies Champion)
Aga Radwanska (2005 Jr. Champion; 2012 Ladies RU)
Eugenie Bouchard (2012 Jr. Champion; 2014 Ladies Finalist)







TOP QUALIFIER:

Michelle Larcher de Brito/POR




TOP EARLY-ROUND (1r-2r):

#5 Maria Sharapova/RUS




TOP MIDDLE-ROUND (3r-QF):

#6 Petra Kvitova/CZE




TOP LATE-ROUND (SF-F):

xx


TOP QUALIFYING MATCH:

Q3: Paula Kania/POL d. Shelby Rogers/USA 7-6(12)/4-6/6-3




TOP EARLY-RD. MATCH (1r-2r):

1st Rd. -Coco Vandeweghe/USA d. #27 Garbine Muguruza/ESP 6-3/3-6/7-5 (on 13th MP, 9th in final game)




TOP MIDDLE-RD. MATCH (3r-QF):

4th Rd. - #9 Angelique Kerber/GER d. #5 Maria Sharapova/RUS 7-6(4)/5-6/6-4




TOP LATE-RD. MATCH (SF-F/Jr.):

xx


=============================




FIRST WINNER:

Elena Vesnina/RUS (def. Patricia Mayr-Achleitner/AUT)




FIRST SEED OUT:

#17 Samantha Stosur/AUS (lost 1st Rd. to Wickmayer/BEL)




UPSET QUEENS:

USA (def. 3 seeds and one ex-semifinalist in 1st Rd.)




REVELATION LADIES:

CZE




NATION OF POOR SOULS:

SVK (1-4 in 1st Rd.)




LAST QUALIFIER STANDING:

Tereza Smitkova/CZE (4th Rd.)




LAST WILD CARD STANDING:

Vera Zvonareva/RUS (3rd Rd.)




LAST BRIT STANDING:

Naomi Broady & Heather Watson (2nd Rd.)




IT ("??"):

Nominees: E.Bouchard/CAN; Y.Kamiji/JPN


Ms.OPPORTUNITY:

Lucie Safarova/CZE




COMEBACK:

Vika's white shorts




CRASH & BURN:

Sloane Stephens/USA (lost 1st Rd. to Kirilenko/RUS, ending 6 con. slam Round of 16 streak)




ZOMBIE QUEENS:

A.Pavlyuchenkova/L.Safarova, RUS/CZE (saved 9 MP vs. Black/Mirza in Doubles 2nd Rd.)




DOUBLES STAR:

Nominees: Y.Kamiji/JPN; K.Mladenovic/FRA; H-C.Chan/TPE


AMG SLAM FUTILITY UPDATE:

DNP - singles (first time Medina-Garrigues didn't play Q/MD singles at a slam since 2003 Wimbledon, ending a 43-tournament appearance streak)


JUNIOR BREAKOUT:

xx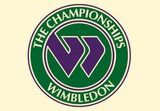 All for Day 10. More tomorrow.