2016 Preview: The Blowout
Well, the new season is almost here. Around this time next week we'll be preparing for the first champions of 2016 to be crowned, having already spent the first few days of the new year getting a probably-untrustworthy (
but maybe not!
) take on which players utilized their offseasons the most wisely...
and who didn't.
So, of course, it's time to make a few predictions.


The opening section of this year's Blowout will tackle the candidates for this season's Top 10, once the proverbial dust has settled next November. After back-to-back years in which the Top 11 players represented eleven different nations, things changed in 2015. While six of 2014's Top 10ers maintained their season-ending standing, last year both the U.S. (2) and Czech Republic (2) had multiple representatives in the mix. If we once again go down to #11 -- which would make sense, since #7 Flavia Pennetta has already wrapped up her career -- the Czechs have a third "Top 10" player as the 2016 season begins. That's the most players from one nation ranked so high at the beginning of a season since 2010 kicked off with four Russians ranked in the Top 10.

The quartet of absentees, of course, includes the retired Li Na , the tumbling (no pun intended) Genie Bouchard, Ana Ivanovic (even WITH her first slam semi in seven years coming in 2015!) and Caroline Wozniacki, replaced by the likes of Garbine Muguruza, Venus Williams, Lucie Safarova and the aforementioned Pennetta, whose exit from the sport marks the third consecutive year in which a reigning slam champ has called it a career. Hopefully, that won't happen yet again over the next twelve months... but I guess I said that last year, too, didn't I? The Italian's absence means that we're assured of a twenty-fourth straight season in which the season-ending Top 10 will look different twelve months later. The last time all ten players maintained their Top 10 rankings in back-to-back years was 1991-92.

ATP Backspin's Galileo West joins me in a Volley discussion about our predictions...



Blue

= Todd /

Orange

= Galileo



TODD SPIKER: So, here we are, back for another edition of the Backspin Volley. Let's see if we have ANY of the keys that open the 2016 locks.
GALILEO WEST: As everyone reads the published version of this I am likely in Sydney having recently done a big family gathering type thing. So happy holidays and new year's to you and yours, everybody. I do hope your stockings were full!
TS: And not with coal... or soft tennis balls whose only remaining purpose is to be slit open and put on the bottoms of the legs of chairs or walkers.
GW: I would add that I got rather testy during the last Volley. This time, during the season of good will, it will be a friendly discussion in cushy armchairs in front of the fire.
TS: So, no mentions of Monica Seles' stabbing or Gabriela Sabatini this time, then. We promise! Right?
GW: Well, I do like a tangent but I promise I will tangent about something else. Shall we get started?
TS: Sure. We're going to do this in sections, from the players who we think are most likely to finish up 2016 in the Top 10 down to those that will have some work to do to get there (or hold their spot). Let's kick this off by getting the "easy" stuff out of the way. Who are the three players we both think are "locked" (or as close to it as can be expected on the WTA tour) into place for a season-ending Top 10 ranking position eleven months from now?
*LOCKS FOR THE TOP 10*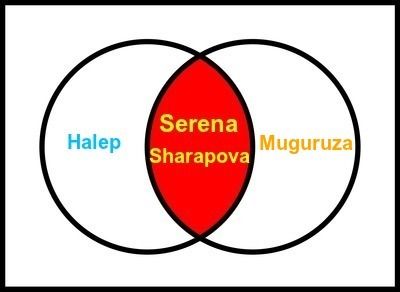 TS: Hmmm, looks like Serena and Maria are keeping each other company in the "safe zone," while we've got a split decision when it comes to which player makes it a trio. Have at it, Galileo.
GW: Serena. Do I need to say anything more? How about the fact she has the best serve, forehand and is defending champion at three slams? That enough for you?
TS: Umm, yep. It'd take some sort of prolonged injury absence to keep Williams out of Top 10. It's more likely she'll match Steffi Graf's feat of three consecutive FULL seasons in the #1 spot. Serena will go into 2016 with 149 consecutive weeks at #1, thirty-seven behind Graf's record of 186. She could break that record not long after next year's U.S. Open.
GW: I totally agree with you. I think Graf's 377 weeks is safe, but Serena is a lock for number one until sometime in 2017. Aged 36 or so. Wow.

On the other hand, I think Sharapova is on the wane. I think she is getting on a bit and this is certainly her last Olympics. It may even be one of the last seasons where she is relevant at the slams. But the WTA right now is an absolute mess. Radwanska is not that good. Halep is always missing something. Azarenka is always injured and Kvitova lacks any kind of consistency. Almost by default Maria is a lock. I think she is a slam threat everywhere except perhaps the U.S. Open. She has struggled there and at Wimbledon, too, in the last couple of years. This past year when she played she did so well and even challenged Serena in Australia. Kind of. Mentally she dwarfs all players save one and she has great game and movement these days. Can she solve the Serena issue?
TS: Yeah, I doubt she can do that. Serena's memory is mighty long (you wonder if she counts those '04 defeats in her head like sheep when she's falling asleep the night before she'll face off again with Maria).

Of course, the WTA that you see as a "mess" I see as super competitive (outside of an "on" Serena), multi-generational conflict with older veterans, in-their-prime stars and NextGeners ALL being capable of winning slams in the next year (something the ATP couldn't say in '15 when the expected-to-rise younger set -- especially Dimitrov -- slipped considerably and vets like Nadal and Murray had less slam impact).
GW: I retract that statement. My regret about the first volley is I was way too critical. I rescind the mess comment. It's a very watchable top ten and it is talent heavy. I apologize. Honestly the ATP next gen, Australians aside, is disappointing. But the three Aussies cannot be criticized for their on-court achievements, particularly Tomic. No, the WTA is not a mess. It is competitive and has a bunch of slam threats.
TS: Actually, I won't be shocked in any way if the first NextGen ATP player to win a slam is one of the Aussies. Particular Kyrgios, if he could just pull everything together. It's worth noting that Andre Agassi, as a young player, was once considered rude, boorish and worse... so Kyrgios' issues in '15 don't need to hound him the rest of his career, if he can just go through a normal maturing process. I really hope that happens, because I find his game the most entertaining to watch of all the young would-be men's stars.

I will say that, certainly, down the stretch the WTA's Top 10 was limping across the finish line, which could play a role in certain players altering their training and schedules a bit this coming year (Radwanska has learned something there, as she still had gas left in the tank this fall after barely running on fumes the last two years).

That said, I agree that Sharapova is an almost "by-default" lock just because it's hard to imagine nine non-Serenas who could out-point her over a full season barring an injury. She's been a model of consistency over the years even as she's dealt with injuries. Ten of twelve seasons in the Top 10, five straight Top 4 finishes and thirteen consecutive seasons with a singles title (one away from tying Graf for third all-time behind Navratilova and Evert).

If her shoulder holds together, I wouldn't rule out another Olympics in '20, either. She'd be 32, and that age doesn't mean as much in "tennis years" as it used to. I could see the competitor in her wanting to play in a Games in Asia (Tokyo), even if she was realistically only a good bet for a Bronze, where she's always been so well received. She didn't get to play in Beijing in '08 (when Russians swept the medal stand).
GW: I meant this is her last Olympics as one of the favourites. When Dementieva got that medal, a silver I think, that sparked a second career almost. You call it correctly. 'Pova will want to play in front of a home crowd particularly after her stint as a Sochi ambassador.
TS: Hmm, you know, I never thought of Asia as Sharapova's "home." But she WAS born in Siberia, which is technically in Asia... so there you go. Ha! Knowledge!



Actually, Dementieva got the Gold (Safina the Silver, Zvonareva the Bronze). I remember her saying she thought it was better than if she'd won a slam. Though I wondered then if she'd have said that had, you know, she actually won a slam.



I see you went with Muguruza, while I went with Halep. Truthfully, I suspect the Spaniard will fly HIGHER than the Romanian in '16 as far as winning big titles, but I can't quite push the button on putting her in the "Lock" category for fear might she still might have the "unravel gene." I REALLY like how Muguruza ended the season, though. She was consistent in her results, hired Sam Sumyk and has been saying all the right things of late, too. But I guess the memory of her inconsistent past (and immediate slip after her Wimbledon final) made me bump her down a category. But that doesn't mean I won't still be predicting very big (maybe even "grand") things for her in '16 later in this Prediction Blowout. I just think Halep will likely be more consistent over the course of a long season, making her more of a "safe" bet for the Top 10.
GW: I think of this as you have picked a red apple and I have picked a green one. No wrong answer, just slightly different. It was a 50/50 for me but I do believe Muguruza can win the slam.

I don't buy Halep just yet. She's just missing something. I struggle to quantify it but there's just something missing.
TS: I think it's confidence, for the most part. She's such a perfectionist that anytime something goes wrong she has to fight off her own feelings of failure. You can see when she's "feeling it" -- I call it her "Simonativity" -- but her confidence drifts in and out, and she just seems to think TOO much sometimes (and worry about too much, too... like living up to the entire nation of Romania's expectations) rather than just letting it go and allowing her talent and problem-solving skills to naturally take control. On the flip side, when she's NOT feeling it, things can get really ugly and she often looks like she wants to give up.
GW: I have a horrible feeling she will turn into a Dementieva. Poor serve but great ground game and never quite got over the slam hump. I really hope the 'injuries' stop, though. She always pulls out 'injured' but plays the next week. Drives me mad!
TS: I was more critical of Halep down the final stretch of '15 than any other player, I think. She needs to cut her schedule a bit to stave off injuries -- which usually involve her legs/ankles, impacting the court coverage that makes her defensive skills so expert. I put her here over Muguruza because the back three-quarters of her '15 season didn't produce a whole lot of SUPERIOR results (though there were some very good ones), so if she stays relatively healthy she should be able to do enough to keep her ranking up even if she starts '16 slowly. Halep is going with Darren Cahill as her coach next season, but I wonder if it'll take her to the "next level" over the long term. I'm still hoping for her to connect with Carlos Rodriguez down the line. Justine Henin was her idol, and C-Rod has shown he can get the most out of a player's natural talent (LPT, Li... even Hantuchova early in '15) through hard work, and Halep would seem to be a natural as his next great success.
GW: She may be missing something but Halep is still a top five player. She's in my next group on this list but, honestly, she could go in either of these sections. She will win a bunch of events and win some of the best matches of '16. She will take part in mind-blowing rallies, but she won't win a slam yet.
TS: I tend to agree there. 2017, maybe.
GW: I prefer Muguruza's outlook. She's a lock to at least stay within the top 10 parameters, though I don't think she will fall below eight. She will make at least one slam semi-final and slowly bring Spanish tennis back into relevancy with help from Suarez-Navarro. After years in the wilderness with regards to threats at slams, Spain again is becoming a bit of a force. Could a Fed Cup title be coming soon? With those two players it absolutely should.
TS: Muguruza destroyed Halep in front of a Romanian crowd in Fed Cup play early in '15. It was really the match that began to push the Swarmette into a "danger" area when it came to crumbling in a big moment no longer being a simple "aberration." I think Garbi, at the moment, is the better BIG MATCH, BIG STAGE player. That's why I think she's sort of nudged Simona aside as the most likely "next first-time major champ."
GW: She has impressed me and plenty of others this past year. Her brave performance against Serena in London was one of my favourite moments of 2015.
TS: I really think she could win a slam in 2016, too. Maybe as early as in Melbourne, while the Sumyk relationship is still young.
GW: Melbourne does tend to throw up some odd slam champions and finalists. Remember when Vika blew away Sharapova? Cibulkova, too.
TS: Three straight years with first-time slam semifinalists from North America and, "back in the day," it's where Mauresmo first broke out, as well.
*GOOD BETS FOR THE TOP 10*
TS: Here's where I've placed Muguruza heading into the season, but I'm still thinking her single BIGGEST '16 result will very likely outpace Halep's even though I think the Romanian putting up a larger collection of "very good" results is a "safer" bet at this point.
GW: Halep is like a jigsaw of, say, a farm. When it all goes together, as it frequently does, it is beautiful and perfect. But just when you want to show it off to guests, you can't find the back half of the horse. That is Halep all over. Fantastic a lot of the time but in the big matches she is just missing a piece. And the strange thing is, it changes. She was missing the back half of the horse against Sharapova in that final though she probably deserved to win. Then in that Wimbledon loss against Bouchard, she was missing the rooster jigsaw puzzle piece. Always a piece away from being perfect whenever the guests come to see. I.E on the big stage.
TS: And I think she focuses all her attention on that missing piece, too. To the point of distraction. Speaking of distraction, at least we've both got Kvitova here.
GW: Where does one even begin with Kvitova? If I could blaspheme then I could sum up Petra in two words: Heyzeus Christ[mas]. Just infuriating. Dominates everybody in Madrid then goes to Wimbledon then loses to Jankovic after obliterating two players before her and being a set up on the Serb.
TS: With Good Petra comes Bad Petra. With Stereo Petra comes Mono Petra (in '15, quite literally). Unfortunately, at this point I've come to expect it and accept it as part of "the fun."
GW: All that said I love watching her on song. There was a match at Wimbledon I watched where she was do dominant it was captivating. The commentator's dry humour had me in stitches.

I get too angry when talking about the Czech. But yes, top ten in 2016, along with ten ridiculous losses that are utterly unexplainable, inexplicable and enraging. Eugh. On the other hand, what a serve and forehand. When on song there is nobody better to watch. But you only get about 12 good days a year.
TS: You'd like to think that Kvitova's mono diagnosis might be a first step toward getting her overall health in order and begin the task of eliminating some of those bad days when she tires out and loses a big lead. Of course, she's still Czech... so part of her issues will always be between the ears. But she's only 25, and with her game she can contend at Wimbledon into her 30's if she keeps fit (see Davenport) and Serena takes a step back. Eventually.
GW: I'd love to see her do what Djokovic did health wise. Get in a proper scientist inclined and cut out gluten, etc. Maybe not to his extremes but just get that side sorted. Also, why not get one of those Czechs from past glories to help her out. Mandlikova, Novotna...
TS: Or even Navratilova... based on how she's talked about her, she's obviously a Petra fan.
GW: ...or even, at a push, Lendl. If she got Lendl even part time she could be number one.

Anyway, I've got Kerber here. She just hangs around the bottom end of the top ten between 9 and 12 in the world. She wins two or three small titles every year and does solidly at two or three slams. She never loses any major points or gains them. It's a perfect recipe for consistent 'top-tennery'. She is a "tough out," as they say in the NFL.
TS: I just couldn't quite have her this high, partly because of what you said there about where she's finished recent seasons. She's ended the last three seasons at either #9 or #10, and just barely stayed inside the Top 10 this past year despite a career year (four titles, more than she had in her entire career before '15) on the regular tour. Her usual good slam results didn't really materialize, though. I'm thinking she might just switch those two around in '16 (that's a lot of points to defend in multiple events -- she'll need to make up the difference with a couple of QF-or-better slam runs) and go back to "normal," which means she'll once again be fighting to stay in the Top 10. There are some new younger players on the cusp of going up a step, and I'm planting dual flags with two of those players' faces on them right here. Namely, Bencic and Pliskova.

Pliskova led the tour -- or was close to it -- in a crazy number of categories last season. Well, except for winning titles. Still, even after playing an overly loaded schedule, she ended strong with an Elite Trophy runner-up result and then turned around and provided the winning edge for the Czechs in the Fed Cup final. She's been very good in the IPTL this offseason, too. Not that that last one means anything at all, but it's the continuation of a trend that I think will continue in '16. She's yet to have even what would be considered a good slam result for a player of her talent, but I think she could make a huge leap there and go from never having a Round of 16 to maybe even making a final this coming season.
GW: I have Pliskova one group down, but I think she ends the year around the top eight. I believe she finishes well again. She will also make a couple of decent slam runs. That is for sure. It's just so much to squeeze in. If I were you I would bet on her making it in.
TS: Oh, I am! That U.S. Open Series "championship" still irks me... but, hey, what do you expect from the USTA, right? Karolina just took full advantage of their ridiculous rules.
GW: I remember one year in bold predictions, I predicted the USTA would run the U.S. Open without a hitch. Eric said it was absolutely ridiculous and had no chance of happening. Ha!

For Pliskova, her serve is only getting better and finishing the year by making that final will give her confidence. Also, that forehand is something you can build a game around, but for her it is just another weapon.
TS: Her ground strokes are sometimes just so crisp and clean. I think the Sydney final Pliskova lost 7-6/7-6 against Kvitova early last season was maybe the best-played two-set match of the entire season, and while Pliskova isn't often emotional on court it was very informative how she played that match. She wasn't intimidated (or didn't show it) and was able to hit with Kvitova on every level. Her seemingly calm demeanor, once she gets over the "grand slam first week hump," should serve her well. I'm not going to say that she's an atypical Czech but, unlike with most Maidens, Pliskova doesn't make you quite so "nervous" watching her play, for lack of a better word. Haha.
GW: But what about her sister? What's going on with her in your opinion?
TS: The success of one Pliskova seemed to feed into the success of the other over the course of 2015 but, at this point, it just looks like Karolina is the better player. But, then again, at one time I thought Ula was going to be the more successful of the Radwanskas. Oops.

Still, I think Kristyna could have a break-out season in '16. Not to the level of Karolina, but maybe make a push for the Top 50. Last season, she won three ITF titles (her most ever) and reached a career-best 3rd Round at Wimbledon (where she was the girls champ in '10).

Once again, I'm expecting a big step forward season from Bencic. I ranked her run to the Toronto title as the "Performance of the Year" last season (def. Serena & Halep -- and all six wins were against players who'd either been #1, won a slam or played in a major final). She ended the season at #14 and was 8-2 vs. Top 10 players. She's still got some improvement to make, but it's been a while since an 18-year old looked this close to really becoming a BIG DEAL on the women's tour. She's certainly got some good guidance with Melanie Molitor (and, in an unofficial capacity, Martina Hingis, too) in her corner.
GW: I like Bencic a lot. Another very dangerous player who does not belong at 14. I think she flirts with the ranking of ten all year and ends up somewhere between number 9 to number 11. All these predictions are barring injury, of course. I like her steady head. She is like Kokkinakis in that way. There rarely seems to be panic.
TS: She's occasionally prone to a tantrum or two on the court, but she's got heart and "want to" that she can reach deep inside and pull out (ala vs. Doi at the Open). I think it's possible she'll reach a slam semi in '16.
GW: I frequently go with friends and family to Wimbledon. I made them go see Duval versus Bencic. She was steely and solid throughout. That was in 2014 and they all liked Duval more than Bencic with regards to potential and game. She's mighty impressive for one so young.
TS: I see you went with CSN. I tend to think she might have just had her career year and will have a hard time maintaining that level in '16.
GW: Carla reminds me of Nicolas Almagro. Loves the clay, gorgeous one-handed backhand and can test anybody on any surface, but usually on the dirt. Great variety and good slam track record, too. Makes a lot of points on clay, but fades as the year goes on with a couple surprising results just when you had forgotten about them. She should stay in or around the top ten.
TS: She certainly faded down the stretch last year. She made three finals in the first half of the year, rose to #8, but then really slipped after the Rome final. At one point, she lost eight straight. She ended up at #13, and I think she'll have a hard time even holding that ranking. I'm thinking she'll be somewhere in the #20's. I'm interested to see what she does in doubles. I've got to think that her partner Muguruza will focus more on singles (especially w/ Sumyk coaching her now). All her matches in Singapore sort of showed that she likely can't withstand a full season of doubles AND singles and do what she's capable of in the latter. That said, they'd be a real threat in Rio.
GW: I've said this a lot but I can't look past the Williamses for the gold. I have underestimated CSN before and I don't think she and Muguruza will focus so much on doubles like you said. Plus, she has an all court game and won just two slam matches last year.
TS: Yes, of course, the Sisters will be the big-time favorites for, what, their fourth Gold? That's a record that might stand a LONG time.
GW: I am going to argue for Venus being here because it is important to recognise how good she continues to be. She has remarkable staying power. Even as I write this it feels impossible not to talk about her age, but the phrase 'good for her age' is something that irritates me. Commentators always bring up Venus and Federer's ages in matches. I fear too often we do not appreciate what we have. We should all take a moment and watch, really watch Venus. She is a bastion of the game. This is the woman who has compiled a career record of 711-193. Her first win in a final came against Joannette Kruger. Her last final win came against Pliskova. Venus is the last of the 90's generation. Forget Serena. Venus is the very last of her kind.
TS: I like the notion of picking Venus to follow up '15 with another Top 10 season, but I always hesitate to put too much expectation on her, I think. She surely looked fresh at the end of the season, though.
GW: I just think she is a top eight player on and off paper currently. That serve is still one of the best and she has excellent resilience. She has a good recent record against the top ten and she won three titles this past year. Watching the WTA this year, you really felt her presence. I still remember her match against Keys in Australia. With a favourable draw, I think Williams could well make the final of at least one slam next season. When you see the phrase 'favourable draw,' read avoiding Serena. But then avoiding Serena applies to everyone except, perhaps, Azarenka on her best day or Kvitova on hers. She won three in 2015 -- only Kerber and Serena won more -- and did not lose in a final.

I thought Venus was done in 2011. From 2011 to 2014 she made just one final. That was at a small event in Luxembourg which she won. Since 2014 she has made seven finals, winning four. She began the 2014 season at 47 and this past one at 19. She starts the next at 7th. That is a meteoric rise. You can break Venus' career into five or six very successful segments. Right now she is on fire at both slam and tour level. Serena stopped her in the fourth round at Wimbledon and in the quarters of the U.S. Open. Say what you want about the quarterfinal loss to Keys in Australia, but it was a perfectly respectable one.

She won match number 700 this year and beat nearly ten top ten players. And for all that she has achieved she was only recently voted the 10th most popular player. What? She is graceful, dignified and a joy to watch. She won Wuhan with class and great tennis. Her serve is still a big weapon and she hasn't the controversial history her sister does. It baffles me that she should be so low.
TS: Thankfully, I wouldn't think Venus even worries herself for a second about something like that, though. And I agree that she very well could have a deep slam run in her in '16, especially with a higher seed. It was so unlucky -- but so in form for so much of her career -- that the slam draws played out so that she was stopped by Serena in the second week. And, remember, she gave Kvitova her best match at Wimbledon in '14, as well.

Venus is a good example of how difficult it is to predict winners and results and finishes. You want to be right, but you don't want to be disappointed in players you'd like to see do well so you sometimes tend to under-predict them so that anything good that happens counts as a pleasant surprise. That's why I often steer clear of Venus on picks (though I do pick her on occasion to win a title). When she plays well it can simply be enjoyed for what it is -- a great result by a great player, and one that can be savoured for just that. It's sort of a nice gift. Last year, we received that gift multiple times.

I hope Venus has a great 2016. But I just didn't include her in my picks for this Volley. I hope I'll lament her absence here at the end of '16, though.
GW: I'm just a sentimental old fool clinging to the past. But I'll cling with all my might.
TS: As you should!

All right, now I KNOW someone you won't have on your list -- Aga! Haha! I do wish you appreciated her more, but it's her unconventional (in today's game, especially) ways that play some part in how she endears herself to her fans.
GW: I like her style. I like how she has won the shot of the year award the last three years running. But she frustrates me for similar reasons Kvitova does. The loss to CSN in Miami where she won the opening set but lost 4-6, 6-0, 7-5. The Wimbledon semi loss to Muguruza where she had no answers. Garbine was so nervous and Aga should have marched into the final. But she just lacks something. She lacks power and she lacks nerve. I've been waiting since 2012 for her to step up and establish herself as a genuine threat.
TS: Truthfully, if we'd done this Volley around spring of this past season, I wouldn't have had Radwanska anywhere near this list, either. But whatever had been dragging her down through the first half of '15 (and, really, since she lost that Wimbledon SF to Lisicki in '13... a heartbreaking and frustrating loss that may provide a clue to her general "malaise" that lasted over a year) she finally got past it starting with the grass season. By the 4Q, she caught a second wind and returned to the style of mostly-defensive, incredibly intuitive but also smartly-aggressive-when-necessary style that got her into the Wimbledon final in '12 and three slam semis since. Her run to the WTA Finals title in Singapore -- where she took out consecutive big-hitters in the SF/Final -- will go down as one of the more remarkable results we'll be talking about for years to come. For the circumstances in which it happened, but not because she was able to win it.




Radwanska winning a major is a scenario, not unlike with most players who can't simply hit opponents off the court, which would always take special circumstances. It very nearly happened at SW19 in '12 (she took Serena to three sets, remember), and SHOULD have happened there a year later, too. It probably won't happen, but if the Pole can play for two weeks like she did for the final few months of this past season (after a 15-13 start, she went 36-12) she'd at least put herself into the mix where it wouldn't be a shocking result. Not after Singapore, at least.
GW: If you take the list literally these are the top ten best players in the whole world. Look at the 3 billion plus women in the world. Is she one of the ten best? I don't think so. She's consistent but she has inexplicable losses and she gets blown away sometimes. Remember that Roland Garros where Sveta blew her away in an hour. She had little form and nothing going for her but Aga never got into the match at all. Ranking wise she should stay in the top ten but I do not think she is one of the best ten players in the world. When it really, truly counts she doesn't have it. Not like Azarenka, Kvitova and even Halep does.
TS: Well, at this point after the last year or so, I wouldn't include Halep in that trio. She still has to prove that she indeed does have it. She surely didn't in 2015.

Of course, I'm not here predicting a slam for Aga (and won't be later in the prediction section, either), but I think she enters '16 of the mindset that she IS capable of wins against multiple big hitters. Those wins over Muguruza and Kvitova to end the season could be a very big deal for her, simply because for all the wonderful aspects of her game that make her so interesting to watch the one thing that has sometimes eluded her in the past has been a belief that she could beat those sort of players on a semi-consistent basis. Often, she'd get pulled into trying to hit with big hitters, which isn't something she can do for an entire match and survive. She has to pick her spots for that, and frustrate her opponent in others.

Anyway, as I said, this is just a pick for her to stay in the Top 10 for 2016. Anything more would just be dessert. Hmmm, maybe even cheesecake!
*THREE HUNCHES FOR THE TOP 10*
GW: Keys is my final addition to the list. I can sum this one up quite succinctly for once. I am riding her bandwagon. I am buying her stock. I am a believer. I think this year is her year to become the Williams's successor.
TS: Did you reconsider your decision to keep her here when Keys announced that Davenport and Lisa Raymond weren't going to be her coaches in 2016?
GW: I think Davenport and Keys were a great partnership. If I were Davenport I would still enter into doubles with Keys either in Indian Wells or in a small tournament. Just for laughs. Nobody is going to say to Davenport "no you can't" and the crowd would love it.

Of course, I picked this before I knew they had split, but I will stick with it. There are places she can pick up some serious points. I think she will stay top 20 and I also get a different vibe with Keys than I got with the likes of Donald Young and even Sloane. Plus, she didn't have the incredible slam year Genie had in 2014 which wrecked her 2015 ranking wise.
TS: My take on Keys is that she'll take a step back before she takes another step forward -- and that was the idea before Davenport's family considerations led to the change. I just think we've sort of seen this pattern before. Just as Keys followed Stephens and Bouchard as AO semifinalists, I think she'll slip a bit as they did. Just maybe not as far. Stephens finally looks to be coming back in the right direction. We'll see about Bouchard. We sort of saw Keys be unable to maintain her early season form as '15 progressed, and unless she can come close to another great run in Melbourne in January she's probably going to fall outside the Top 25 (or 30) before she begins her climb back. I don't think it'll take upwards of three seasons like it did with Sloane, though.
GW: It will be rocky for her, but ultimately not disappointing.
TS: I hope not. As far as American tennis goes, either she or Stephens really needs to step up. Serena and Venus won't be around forever... and I don't trust ESPN, SI or the rest to give any real attention to the sport unless there's an American in the mix.

Of course, I'm cynical... especially when we've got a political race where the likes of Donald Trump, Ted Cruz and the rest are considered to be worthy of support by anyone. Hmmm, but what did I say about tangents? Moving on...

Svitolina is my other possible Top 10 newcomer. The Ukrainian has gradually and consistently been moving up each year. She's gone from #49 to #29 to #19 (w/ a high of #15), and in 2015 reached her first slam QF in Paris. She's been a little in the shadow of Bencic the last season or so, but I think she really begins to step out in '16. She needs to get more consistent in the slams, though. Her other three slams in '15 ended before the Round of 16, though she did force a 3rd set vs. Serena at the Australian.
GW: I think you're right about Svitolina. You don't need to convert me there, haha. What I want from the Ukrainian is two or three signature wins at big events. Wins we can look back on this time next year and go "wow that was big".
TS: And a better record in semifinals, at least. She was just 1-5 in them last season.

Wozniacki is my final pick. It's more of a roll of the dice than anything. I needed an eleventh player, and I figure that with better health she should at least be able to be consistently good and maybe finish at #9 or #10 again after slipping this past season. She needs to get back to the more aggressive style she employed in the back half of '14 that got her into the U.S. Open final and made her a truly relevant Top 10 player again. Of course, her personal circumstances at that time sort of led to her throwing caution to the wind with nothing to lose. The caution returned last season, and I wonder if the "old" Caroline is now once again the norm. Sigh.
GW: I think she will turn into Jankovic or Ivanovic. Hanging around the top twenty, occasionally having a good run here or there. She will have a small resurgence at some point, too, in the next few years. She won't win a slam and I almost get the feeling she is just playing out the rest of her time with us.
TS: I hope I don't have to start using, "Oh, Caro." Actually, scratch that. I KNOW I won't... because if she slips down the rankings she won't really be much of a topic of conversation as the next generation fully pushes her out.
*Top 11 RECAPS (alphabetical)*




=TODD=


Belinda Bencic, SUI
Simona Halep, ROU
Angelique Kerber, GER
Petra Kvitova, CZE
Garbine Muguruza, ESP
Karolina Pliskova, CZE
Aga Radwanska, POL
Maria Sharapova, RUS
Elina Svitolina, UKR
Serena Williams, USA
Caroline Wozniacki, DEN


=GALILEO=


Belinda Bencic, SUI
Simona Halep, ROU
Angelique Kerber, GER
Madison Keys, USA
Petra Kvitova, CZE
Garbine Muguruza, ESP
Karolina Pliskova, CZE
Maria Sharapova, RUS
Carla Suarez-Navarro, ESP
Serena Williams, USA
Venus Williams, USA
TS: Of course, eleven isn't nearly enough. In true CYA fashion, we have to have a few more "alternates" just so that we can say we were thinking about them, too, at the end of next season if they do indeed made the Top 10.
GW: I must say we are fairly united in our picks with enough difference to be interesting. But here the water grows a little murkier.
*And here are a few more possibilities...*
GW: I'll go with Wozniacki. A former number one should be included in this. And Garcia. Some fresh blood might be nice. I'm bored of waiting for A-Pavs to get it together and realize how good she is. How far up the rankings will the exotic and mysterious Garcia rise? Realistically, cracking the top ten would be an over-achievement, but I do think that the top fifteen is within reach. The top fifteen would be impressive.
TS: The Pastry is surely talented, but I find it difficult to pick a player who begs Roland Garros organizers not to schedule her on Chatrier because she can't handle the pressure. I agree, her being consistent enough to reach and stay in the Top 20 would be a good season for her.

I wish I could pick someone like Venus here. But, well, I already wrote myself out of that pick. I wonder if my successful Top 10+1 pick last year of Lucie Safarova will take a half-step back (no return to the RG final, I'm guessing) and not stay in the Top 10. Ekaterina Makarova is sort of flying under the radar. She had a semi in Melbourne in '15, but injuries wrecked the back half of her season. If she's healthy she tends to find her way to the edges of the Top 10. But I'm not picking any of those players.

I will go with Vika, though. I wonder about whether her injuries will continue to hold her back, but I'll take the optimistic view on that and cross my fingers. She finished #22 with an up-and-down year without a title. If she can pick up a couple, and have a good slam run, she might be able to get back into the Top 10. It's at least possible.
GW: A confession, now, if you will allow it. I forget about Azarenka. I know. I should be tarred and feathered. This is my first Top 10 Volley so expect a couple of errors here and there. Each one should get smoother. Another excuse is that this past season Vika has only turned up in matches where Serena is on the other side of the net. I even talked about her in other end of year posts. I agree - if she can avoid injury, a good year may well be in store for her.

I always like the riskier picks and Garcia is just too fabulously French to resist. I do like my Frenchies. I make no bones about it. Simon playing so boringly is an eternal sense of unhappiness for me. Where's the flair, the stupid decisions and the reckless shot making? It's interesting how his more, uhh, explosive compatriots have better slam records. Garcia just plays like Rezai. As for Safarova, well, she is like a Dr. Seuss book. Who knows what will happen next? I would not predict anything about her on a train or in a car, Sam I am. I would not predict about her in a volley or on a plate, Sam I am. etc. etc.
TS: Well, I guess my Cat in the Hat is Italian. I'm going on a simple hunch by including Errani. I know, I know... and can hear you Grinchily shaking your head from here. But I like to have a vet making a push (ala my Safarova pick last year), and I swear I thought I saw something stirring again in Errani after Pennetta and Vinci reached the U.S. Open final. I think they might have inspired her a bit as she'll soon be the elder Italian stateswoman (or whatever you'd call the tennis version of that). In an Olympic year, too, that might carry her to a few titles and maybe one of those Paris runs to the QF or so that gives her a big boost. So... that explains that.
GW: We've had our disagreements about Errani previously. And that's fine. Honestly, if she just grunted less I probably would be less 'bleugh' with her. It's just the volume of the grunt does not match the power with which the ball is being hit. I digress frequently and audaciously with no respect for the task at hand, either. There is no point in apologies, only acceptance that it is going to happen. I understand the pick however and she does do well on clay. But, as before, she does need a little luck at the slams to get a decent draw.
TS: (Rolling the dice!)

Ah, at least can end this in agreement about the Queen of Mexico!
GW: Yes! All hail to, err, Bacs [no, I can't spell her name and neither can you]...
TS: I can! You just have to teach your fingers. (Fact: I have to think about it an extra second if I'm WRITING out her name, though.) But, hey, I taught myself to memorize the keystrokes for B-u-y-u-k-a-k-c-a-y heading into this past season, so B-a-c-s-i-n-s-z-k-y is easier in comparison. Actually, I was a little upset recently to realize that I'd gotten into the mistaken habit of spelling Z-a-c-a-r-i-a-s as Z-a-c-a-r-i-u-s. I still sometimes have to catch myself.
"@letstalktennis1: … and now lets all repeat: B-A-C-S-I-N-S-Z-K-Y. (via @fedele_giulio) pic.twitter.com/XsbmcgHJMp" ??Awesome!!! ??????

— Timea Bacsinszky (@TimiBacs) March 9, 2015
As a reminder, my simple BACSINSZKY mnemonic device: Backhand And Clever Serving Imbue Newest Swiss Zenith's Killer Year!

— Jonathan Kelley (@jokelley_tennis) March 15, 2015
GW: Well we've learned a little something today. Say, did we forget Ivanovic? I know I forgot Azarenka, but I have a horrible feeling we only mentioned her once. Her forehand still works and her volley game is always better every time I watch her. Solid top twenty player next year. A slam quarter somewhere and two titles. Finishes at about number 12. Sound about right to you?
TS: I never expect anything good from AnaIvo. Well, at least not consecutively. I picked her to reach a slam semi (her first since '08) last year and SHE ACTUALLY DID IT! I figure I should never make another Ivanovic prediction again.

Anyway, back to Timea...
GW: She has a lot of points to defend and a big season to repeat. I think she'll have another very good season but she won't make the top ten for an extended period of time. It is not uncommon for players to have a breakout year then stutter a little. 2005 Kuznetsova is a good example. We can blame Todd and Pierre for that.
TS: I wouldn't want a Bacsinszky Curse to be stoked into existence, so I think we've managed to avoid that. She was a real borderline pick for my Top 11, but she just missed out to Caro (who has far fewer big point totals to defend). At least Timea won't have a great deal of post-Wimbledon points to maintain in '16, so maybe a stronger finish will allow her to hold fairly steady between #11-15, at least. Up until she has to defend her RG semifinals points, she and Bencic might be in a constant back-and-forth as the highest-ranked Swiss through the opening months of '16. That should be fun. I hope the Swiss Fed Cup team gets to field a Bencic-Bacsinszky-Hingis roster next year at least once. Now that's a squad that could do some damage.
GW: It would be a lot of fun. I don't think I honestly could see them losing except maybe to Russia. On that topic, sort of, there were a lot of jokes in Britain about the Davis Cup Great Britain 'won'. Scotland narrowly lost an independence vote and the joke is that Dunblane beat the world. Haha.
TS: Well, the ATP's Patron Saint of Women's Tennis, Andy Murray, rightly deserves a mention here. So there you go!

Hmmm, it looks like that about does it for this Volley... and we DID manage to avoid talking endlessly about Seles and/or Sabatini, too. Yes!
GW: No, we didn't talk about her but that doesn't mean I can't show her magnificence. Check this out. It's still amazing even two or three generations later. I think her style of play has not been matched yet in so far as beauty goes. Even Henin, Mauresmo or Suarez Navarro didn't have that fluidity. Hingis came close but a two-hander--quick change the subject!
TS: Well, why not...

(And, no, I won't not counter with anything about that Seles/Maleeva match in Hamburg... so we can all breathe easier.) But I will add this:


.@MonicaSeles10s & @GBSabatini light up the @TheGarden on #WorldTennisDay. VIDEO--> http://t.co/W2lLWYJDUa #tennis pic.twitter.com/uGuWwx7HGV

— WTA (@WTA) March 11, 2015


All, right... I think I win. Haha!

Of course, Galileo, you'll be back with some additional predictions later in this post. Although, I must say, I don't know if you'll be able to top your prediction last year that Stacey Allaster would announce she'd be stepping down at WTA CEO. She was gone a year earlier than you'd guessed... but it was still a little spooky.
GW: Can we reference that every year, please? To show people I'm not utterly incompetent even if I did forget the existence of the last number one player in the world before Serena.
TS: Sure thing!
GW: Well, to all a goodnight.
TS: ...or at least until a little later in this post.

And on that note, we move on...


All right, I'm back with my additional two cents (well, along with a piggy bank full of change, I suppose), i.e. the usual truck-load of preseason predictions that I can look back on eleven months from now with a smile, or an unholy eyeroll.


Arrived safe and sound in Australia ???????? pic.twitter.com/Cr79uhZ99R

— ???~YungJan Chan (@YungJan_Chan) December 31, 2015




*2016 DOUBLES TOP 10*


['15 ranks in parenthesis]
1. Martina Hingis, SUI (2)
2. Sania Mirza, IND (1)
3t. Chan Hao-Ching, TPE (12)
3t. Chan Yung-Jan, TPE (7)
5. Bethanie Mattek-Sands, USA (3)
6. Elena Vesnina, RUS (8)
7. Ekaterina Makarova, RUS (10)
8. Kristina Mladenovic, FRA (9)
9. Caroline Garcia, FRA (14)
10. Lucie Safarova, CZE (4)

[out of Top 10]
#5 Casey Dellacqua, AUS
#6 Yaroslava Shvedova, KAZ



NEWCOMERS OF THE YEAR:

Louisa Chirico/USA, Dalma Galfi/HUN, Anett Kontaveit/EST, Naomi Osaka/JPN, Jelena Ostapenko/LAT, Carina Witthoeft/GER




MOST IMPROVED PLAYERS:

Timea Babos/HUN, L.Kichenok/N.Kichenok (UKR/UKR), Danka Kovinic/MNE, Kristina Mladenovic/FRA, Kristyna Pliskova/CZE, Elina Svitolina/UKR, Wang Yafan/CHN




SURPRISE PLAYERS:

Naomi Broady/GBR, Anna-Lena Friedsam/GER, Oksana Kalashnikova/GEO (doubles), Paula Kania/POL, Magda Linette/POL, Demi Schuurs/NED (doubles)




COMEBACK PLAYERS:

Victoria Azarenka/BLR, Dominika Cibulkova/SVK, Vania King/USA (doubles), Peng Shuai/CHN




ITF ACHIEVERS:

Irina Maria Bara/ROU, Diana Buzean/ROU, Valentini Grammatikopoulou/GRE, Gabriela Pantuckova/CZE, Nadia Podoroska/ARG, Maria Sakkari/GRE, Katerina Stewart/USA




FIRST-TIME WTA CHAMPIONS:

Denisa Allertova/CZE, Zarina Diyas/KAZ, Anna-Lena Friedsam/GER, Daria Gavrilova/AUS, Daria Kasatkina/RUS, Danka Kovinic/MNE, Tatjana Maria/GER, Andreea Mitu/ROU, Kristina Mladenovic/FRA, Naomi Osaka/JPN, Jelena Ostapenko/LAT




FIRST-TIME WTA FINALISTS:

Louisa Chirico/USA, Daria Gavrilova/AUS, Daria Kasatkina/RUS, Johanna Konta/GBR, Anett Kontaveit/EST, Tatjana Maria/GER, Andreea Mitu/ROU, Naomi Osaka/JPN, Laura Siegemund/GER, Katerina Siniakova/CZE, Alison Van Uytvanck/BEL, Wang Yafan/CHN, Carina Witthoeft/GER, Zheng Saisai/CHN




NCAA CHAMPION:

Francesca Di Lorenzo, Ohio State



NAMES TO WATCH IN THE JUNIOR SLAMS:

Bianca Andreescu/CAN, Tessah Andrianjafitrimo/FRA, Sonya Kenin/USA, Claire Liu/USA, Olesya Pervushina/RUS, Charlotte Robillard-Millette/CAN, Elena Rybakina/RUS, Katie Swan/GBR




FIRST-TIME SLAM FINALIST:

Angelique Kerber/GER




FIRST-TIME SLAM SEMIFINALS:

Belinda Bencic/SUI, Karolina Pliskova/CZE, Elina Svitolina/UKR




FIRST-TIME SLAM QUARTERFINALS:

Daria Gavrilova/AUS, Karolina Pliskova/CZE, Anna Karolina Schmiedlova/SVK




FIRST-TIME SLAM ROUND OF 16's:

Caroline Garcia/FRA, Margarita Gasparyan/RUS, Daria Gavrilova/USA, Daria Kasatkina/RUS, Danka Kovinic/MNE, Tatjana Maria/GER, Naomi Osaka/JPN, Karolina Pliskova/CZE, Anna Karolina Schmiedlova/SVK, Katerina Siniakova/CZE, Lesia Tsurenko/UKR, Heather Watson/GBR





*RANKINGS*




#1-RANKED SINGLES PLAYER DURING SEASON:

Serena Williams (all season)




#1 RANKED DOUBLES PLAYERS DURING SEASON:

Martina Hingis & Sania Mirza




-SELECTED NATIONAL SEASON-END #1's-




CZE:

Karolina Pliskova


AUS:

Daria Gavrilova


SUI:

Belinda Bencic


GER:

Angelique Kerber


ITA:

Sara Errani


SRB:

Jelena Jankovic


FRA:

Kristina Mladenovic


JPN:

Naomi Osaka


CHN:

Wang Yafan


SVK:

Anna Karolina Schmiedlova


SWE:

Rebecca Peterson


TUR:

Ipek Soylu


Non-Williams USA:

Sloane Stephens


YOUNGEST IN SEASON-END TOP 20:

Belinda Bencic/SUI




YOUNGEST IN SEASON-END TOP 50:

Jelena Ostapenko/LAT




YOUNGEST IN SEASON-END TOP 100:

Ana Konjuh/CRO




OLDEST IN SEASON-END TOP 100:

Venus Williams/USA




FIRST-TIME IN-SEASON TOP 10 JUMPS (i.e. not necessarily season-ending):

Belinda Bencic/SUI, Karolina Pliskova/CZE, Elina Svitolina/UKR, Roberta Vinci/ITA




FIRST-TIME IN-SEASON TOP 20 JUMPS:

Irina-Camelia Begu/ROU, Daria Gavrilova/AUS, Camila Giorgi/ITA, Johanna Konta/GBR, Kristina Mladenovic/FRA, Anna Karolina Schiedlova/SVK




FIRST-TIME IN-SEASON TOP 50 JUMPS:

Margarita Gasparyan/RUS, Nao Hibino/JPN, Daria Kasatkina/RUS, Ana Konjuh/CRO, Anett Kontaveit/EST, Danka Kovinic/MNE, Naomi Osaka/JPN, Jelena Ostapenko/LAT, Yulia Putintseva/KAZ, Katerina Siniakova/CZE, Zheng Saisai/CHN




FIRST-TIME IN-SEASON TOP 100 JUMPS:

Paula Badosa/ESP, Louisa Chirico/USA, Oceane Dodin/FRA, Jana Fett/CRO, Dalma Galfi/HUN, Han Xinyun/CHN, Jovana Jaksic/SRB, Paula Kania/POL, Naomi Osaka/JPN, Rebecca Peterson/SWE, Wang Yafan/CHN, Maryna Zanevska/UKR




HIGHEST-RANKED PLAYERS WITHOUT A TOUR SINGLES TITLE IN CAREER:

Lara Arruabarrena/ESP, Lucie Hradecka/CZE, Johanna Konta/GBR, Bethanie Mattek-Sands/USA, Zheng Saisai/CHN





*MISCELLANEOUS TOP 20*


Serena Williams wins two slams to reach 23 for her career, passing Steffi Graf's Open Era mark of 22 and moving to within one of Margaret Court's all-time record of 24


===============================================


Serena leads tour in titles for fifth consecutive year, and completes her third straight complete season in the #1 ranking


===============================================


Karolina Pliskova, with four tour titles so far, doubles her career title total by the end of 2016. She leads the tour in total finals once again, too.


===============================================


Garbine Muguruza wins her first slam singles title, while Angelique Kerber reaches her first slam singles final


===============================================


Muguruza wins singles titles on three different surfaces


===============================================


Martina Hingis wins a Golden Slam in mixed doubles (winning a GS with Leander Paes, and Gold in Rio w/ Roger Federer), and comes within in eyelash of a women's doubles Grand Slam with Sania Mirza, as well


===============================================


Hingis returns to the doubles #1 ranking for the first time since 2000


===============================================


On home soil, Romania upsets the defending champion Czech Republic squad in the Fed Cup 1st Round... but Russia is ultimately crowned FC champion for the first time since 2008


===============================================


Francesca Schiavone matches and breaks Ai Sugiyama's WTA record of appearances in 62 consecutive grand slam main draws


===============================================


The Chan sisters win more doubles titles than any duo other than Hingis/Mirza, who win at least fourteen titles as a team


===============================================


Maria Sharapova does not get her first win over Serena Williams since 2004, but Victoria Azarenka becomes the first to defeat Serena in a singles final since 2013 (when she did it herself in Cincinnati)


===============================================


The year-end junior #1 hails from North America


===============================================


Elina Svitolina wins a singles title at a lower level Premier event (her biggest title), and reaches the final at a higher level Premier event ($2m +)


===============================================


Sharapova completes an undefeated season on red clay


===============================================


A Mexican woman plays a slam main draw singles match


===============================================


Flavia Pennetta plays doubles or mixed in at least one event in 2016


===============================================


At least six different Russians win WTA singles titles, more than any other nation


===============================================


Caroline Wozniacki falls out of the Top 20, but a second half surge lifts her back into the Top 10 in the closing weeks of the season


===============================================


Sloane Stephens and Genie Bouchard meet in a grand slam for the first time, sometime in the first three rounds


===============================================


Simona Halep announces that she will be coached by Carlos Rodriguez beginning in 2017... though, admittedly, I suspect this now replaces the "Vaidisova will come out of retirement" prediction as an annual event


===============================================







=EARLY OUTLOOKS=


[singles]


AO:

Muguruza d. Sharapova


RG:

Sharapova d. Kerber


WI:

S.Williams d. Kvitova


US:

S.Williams d. Azarenka


WTA:

S.Williams d. Muguruza

[doubles]


AO:

Hingis/Mirza


RG:

Makarova/Vesnina


WI:

Hingis/Mirza


US:

Hingis/Mirza


WTA:

Hingis/Mirza

[mixed doubles]
Martina Hingis (

AO

,

RG

,

WI

,

US

+

Olympics

)

[team]


FC:

Russia def. Germany


FC 16s:

Canada def. Czech Republic


FC 14s:

Russia def. United States

[Olympics]


WS:

S.Williams/USA d. Muguruza/ESP (Bronze: Sharapova/RUS)


WD:

S.Williams/V.Williams, USA


MX:

Hingis/Federer, SUI

[wheelchair singles slams]
Jiske Griffioen (1)
Yui Kamiji (1)
Jordanne Whiley (2)


Of course, I could be waaaaaay off.




Here's Galileo's take on the upcoming ATP season, and here are some additional WTA picks:





*MOST IMPROVED PLAYERS*




ANASTASIA PAVLYUCHENKOVA:

I just like talking about players with last names I struggle to spell. Every year Todd and I truly believe the next year will be hers. I think she could still win a slam. When we least expect it she will go on a run. She has a slam final in her at least. It is a total mystery why she hasn't made multiple slam semi-finals. Putting Wimbledon aside, she can challenge at every slam. I think she finds her way back to the top fifteen. Her doubles skills will help her do that. When on form she is a force to be reckoned with. I think she will certainly reach at least one fourth round at slam level this year and win a couple titles, too. I want to see improvement at the big events, as well. I think we get that.



VICTORIA AZARENKA:

She had a fine season but is still ranked too low. With her it is quite simple. Stay healthy and she can do whatever she wants. She is a top five player and this year I think she can get back to that. It's cruel that the WTA got a player without mental fragility who has a great game with slam winning capabilities who cannot stay healthy. As much as she does certain things I don't like, I feel for her.



AGA RADWANSKA:

Why is she number five? She has no weapons. She can't beat big name players when it really matters, gets upset frequently, won't win a slam and has a paper thin serve. She is not a slam threat right now. Aga lacks power and she has to add some element of that to her game. I see glimpses of potential to win the slams but if you watch her semi-final with Muguruza you will see her career writ small in that match.



*SURPRISE PLAYERS*




SVETLANA KUZNETSOVA:

Now here is what I struggle with. What constitutes a surprise? I think it could mean a good and bad thing. As in surprisingly good and bad. But this is not the season to be negative. And besides that, the rule is Svetlana Kuznetsova must be mentioned in every single thing Todd and I do. It's my own rule. I will always find somewhere to slot her in. I think she will finish in the top twenty again, but retirement certainly beckons for the veteran. She could still make a run at a slam. Somewhere she could make a run. The French or the U.S. are a good bet. She knows very well how to get to the quarters of the Australian Open, too. Every season she is surprising. Of that there is no doubt. And where you find Kuznetsova, somehow fate always makes sure she is accompanied by...



JELENA JANKOVIC:

I don't need to justify my selection. Both she and Kuznetsova are surprising, enigmatic, mercurial and frustrating. They are also both lacking what the other has in terms of game and career. Would Kuznetsova and Jankovic swap a slam for the top ranking? If they could, would they? I think both do well at Fed Cup, too. Really, I could have easily put Ivanovic in here. Seems to me that the careers of the three are somewhat intertwined. So if you're wanting a dose of Ivanovic just substitute one of the paragraphs and replace it with Ivanovic.



*COMEBACK PLAYERS*




ARAVANE REZAI:

She has repaired her family and injury issues. Emblazoned into my brain is Rezai defeating Venus Williams to Madrid. Once she hit 17 winners in a single set against Wozniacki. When she could get it going she was a graceful, poised hunter with a giant hammer. She would charge, golden dress shimmering in the sunshine, blazing forehands and backhands as if every point was the same. Nobody swung from the hip quite like she did at her peak. She was a joy to watch. Her strokes seemed to crackle and pop as they flew through the air. Nothing about her was ordinary. You would not teach a junior to play like her but, by god, what a player. Exotic, glamourous and too talented to be allowed. I miss Rezai. I would love just one more match, one more title run so we could have her greatest hits just one last time. For there was never a player who personified the country they played for more than Aravane Rezai.



MARIA JOSE MARTINEZ-SANCHEZ:

Was there ever a more infuriating player? Lobs, dropshots, serve and volley, moonballs, bizarre slices, topspin and big flat cannons down the line. You could expect all that in a single point. Utterly irritating, she made it her business to give you a miserable day. But she was so much fun to watch even if dropshot returns are hardly sporting at best. She has been back (in doubles in '15) and I think she will continue to come back this year. Perhaps she will continue to focus on doubles, as I would think she will want to give it one last shot. For all our sakes I hope the enigmatic Spaniard does so.



=EARLY OUTLOOKS=




AO:

S.Williams d. Sharapova


RG:

Sharapova d. Muguruza


WI:

Kvitova d. S. Williams


US:

S.Williams d. Halep


WTA:

S.Williams d. Kvitova


FC:

Russia

Here are a few less likely to happen scenarios...



*BOLD PREDICTIONS*


Switzerland wins the Olympics from a tennis point of view. Federer, Wawrinka, Hingis, Bacs, Bencic should be enough.


===============================================


A player born during Bill Clinton's presidency (January 1993-January 2001) wins a slam whilst a player born in the Bush administration (January '01 and later) wins a match.


===============================================


For Azarenka I feel as if this season is like she is down by six with a minute left in the fourth quarter. She has fourth and three, twenty yards out. This year is make or break. I just think she'll fade away if she doesn't produce something this year.


===============================================


Bouchard wins a title and makes a slam quarter. Cracks the top 25 again.


===============================================


Look for a high profile retirement after the Olympics. Zvonareva?


===============================================


Serena wins two slams but has a year of regression compared to this past one. She will win more then five titles, though.


===============================================


Sharapova finally wins in Miami.


===============================================


Of 2016's sixteen slam semi-finalists, at least two will be first-timers


===============================================



Happy New Year everyone!

Galileo




Well, that's it. We'll see how smart or stupid we look beginning very soon.


All for now.