AO.4 - Two Pliskovas Are Better Than One

As if anyone really had any doubt, we can now officially add a second Pliskova to the Melbourne 3rd Round recipe. It's almost as if prophecy foretold it.
And, in a way, I guess it did.
Seven years ago, as the Australian Open Twitter feed reminded us on this Throwback Thursday in Melbourne, Karolina Pliskova won the Australian Open girls singles title at age 17. At the moment, the 24-year old looks as if her mind is set on taking home an even more impressive title less than two weeks from now.
#ThrowbackThursday to junior champ @KaPliskova lifting the trophy in 2010!

She's up first on MCA this morning against #Blinkova.#ausopen pic.twitter.com/ogncvY2uoO

— #AusOpen (@AustralianOpen) January 18, 2017


Emboldened by her U.S. Open final run last summer, during which she transformed over two weeks in New York City from your "typical" slam underachieving Czech into a hard-nosed, don't-get-in-her-way stone cold slam killer -- taking out TWO Williams Sisters in the same tournament will do that to a Maiden, I guess -- Pliskova has been virtually untouchable in '17, opening the year in Brisbane by dropping just one of eleven sets, losing more than three games just twice in the ten sets she claimed en route to the title.

Well, so far in Melbourne, Pliskova has actually been even better.

Her 6-0/6-2 win today over Russian qualifier Anna Blinkova was a 6-0/6-2 affair in which she bludgeoned her teenage opponent in a fashion quite similar to the way she handled Sara Sorribes Tormo two days ago in a 6-2/6-0 victory. The win gives Pliskova a 7-0 mark on the season and has her even once more with twin sister Kristyna, who is also still alive in the singles draw and will now face #1 Angelique Kerber, who defeated Karolina in that U.S. Open final last September, in the 3rd Round.

While it IS true that Karolina was fairly well unfazed by the Hordette today, and all sorts of compliments should be thrown her way for her performance in Melbourne thus far, when such a thing is joined in an unholy alliance with the whole blink/Blinkova/eye bit of wordplay that will forever swirl around the young Russian, well, this sort of thing happens...


Blink & you'll miss her!#Pliskova blasts past #Blinkova without batting an eyelid: https://t.co/OTVYpBOwHo #ausopen pic.twitter.com/G1foRhutd0

— #AusOpen (@AustralianOpen) January 19, 2017


And I don't think any of us deserve that, do we?

(Well, at least not until Friday.)








=DAY 4 NOTES=
...most of the matches that took place on Day 4 were scheduled match-ups that had potential for a little drama, but turned out in reality to have very little. Probably the first match up on Laver was the best example.

The day opened with #9 seed Johanna Konta, a semifinalist a year ago, maintaining her great early '17 form with a 6-4/6-2 win over Naomi Osaka, whose power and star potential had made many wonder whether this slam would serve as host to her breakthrough moment. But that'll have to wait. Osaka held her own early, saving two BP in game #5, and the two were knotted at 4-4 in the 1st set. But Konta got the late break and took the set, then never looked back. The Brit has now reeled off seven straight wins on the season, and the recent Sydney champ is 9-1 on the year, having won fourteen straight sets since falling to young Katerina Siniakova in the Shenzhen semis in Week 1.

...in other day session matches on Thursday, Jelena Ostapenko eliminated #31 Yulia Putintseva 6-3/6-1, quite a different result from their previous meeting in Beijing last fall, when the Kazakh won a 7-5 3rd set and put on her regular post-MP celebration show... resulting in her unknowingly being on the wrong end of the Latvian glare that melts the souls of innocent children.


Highlight of the match. pic.twitter.com/nBhvOXb2dd

— Steven Mills (@StevenMtennis) October 1, 2016
And the handshake. ?? Amazing.

(credit to TF) pic.twitter.com/Uo9j2L01LT

— Steven Mills (@StevenMtennis) October 1, 2016


The two didn't engage in too many antics this time around, though Putintseva did complain early on about Ostapenko moving around while she was readying to serve. Ostapenko won eleven of the final twelve games and, in the end, there wasn't a great deal of competition, nor love lost, between the two this time around.


Ostapenko puts on a baseline masterclass to rout Putintseva 6-3, 6-1. No-look handshake the main highlight. pic.twitter.com/4Hdfe1EBVV

— The Tennis Island (@thetennisisland) January 19, 2017


Surely, this is to be continued.

...elsewhere, Sara Errani retired five games into her match with #30 Ekaterina Makarova, whose doubles partner, #14 Elena Vesnina, also advanced with a 3 & 3 victory over Mandy Minella, while #17 Caroline Wozniacki handled Donna Vekic ever more easily, winning 6-1/6-3. #6 Dominika Cibulkova won out over Hsieh Su-Wei 6-4/7-6(8).


2011 semifinalist Wozniacki, who has now won 27 of her last 32 matches, makes quick work of Vekic 6-1 6-3. #AusOpen pic.twitter.com/vxyy6VJVXG

— ESPNTennis (@ESPNTennis) January 19, 2017


#16 Barbora Strycova took out Andrea Petkovic 6-0/7-5, after at first failing to serve out the match at 5-4. Then, after shaking hands with the German, the Czech had one of her "now, let's get this straight" discussions with the chair umpire about a few things. But, eventually, Strycova just gave up trying to get her point across with the usual emphasis when it became quickly apparent that it was going to take longer than it was worth to prove she was correct about the matter.

One of a kind, that one. In a good way.

Strycova has now reached at least the 3rd Round at five of the last six slams, all since she turned 29 in 2015. She'd posted such a result just six times in her first thirty-seven appearances in majors.

...meanwhile, giving Lucie Safarova a mini-run for her money when it comes to "Zombie Queen" honors, qualifier Jen Brady survived a three-set battle with Brit Heather Watson. Faced with the task of serving while behind through the the extended final set, the Bannerette did so quite effectively.

Of course, Watson also had a ton of chances to put the win away. She had two MP at 6-5, only to see Brady secure the hold. She had another MP soon after, then two more on Brady's serve while leading 8-7. Brady held, then Watson missed badly on three forehands and double-faulted once a game later, giving the 21-year old former UCLA player a chance to serve for a berth in her first career slam 3rd Round. Brady did it with relative ease, going up 40/love to extend her point winning streak to eight. Finally, Watson gathered herself and played a bit more aggressively, saving two MP. But, on MP #3, Brady took the initiative and charged the net, putting away a volley winner to secure the victory, 2-6/7-6(3)/10-8.


????!@jennifurbrady95 joins the U.S. roster of women into singles 3R (along with Venus, Vandeweghe and Riske), d. #Watson 2-6 7-6(3) 10-8. pic.twitter.com/FD7pawHwz5

— #AusOpen (@AustralianOpen) January 19, 2017


...one of the best matches, if not THE best, of the day was the all-Pastry battle between #21 Caroline Garcia and Oceane Dodin.

Dodin took an early break lead in the 1st, but when given the opportunity to serve out the set at 5-4, she fell behind 15/40. She saved one BP with a big serve, but double-faulted to put the set back on serve.

In the next game, three points in, Dodin accidentally pulled off an amazing trick shot, lunging for a forehand return and sending it back so off-line that it was barely going to land inside the doubles alley. But the shot was low enough that it caught the top edge of the net post, banked off it, and ricocheted inside the line for a winner. Garcia questioned the legality of the shot, but gave up the losing battle pretty quickly when she was informed -- by the grinning chair umpire -- about what had actually happened, and that it was 100% within the rules. Dodin just had to smile.

Garcia held there, and the two soon went to a tie-break, which Dodin finished off with an ace for a 7-3 win.

But Garcia didn't fold, and instead staged a comeback that saw her take the 2nd set 6-4, then go up a break in the 3rd. Serving at 4-3, Garcia fell behind 15/30, but avoided a slip and held for 5-3, then quickly went up 40/love two games later when serving for the match. She won 6-7(3)/6-4/6-4 to reach her fourth career slam 3rd Round, but second in the last three years in Melbourne.


Comeback complete!@CaroGarcia defeats Dodin 6-7(3), 6-4, 6-4 in @AustralianOpen Second round! #AusOpen pic.twitter.com/6FSoArg8Dd

— WTA (@WTA) January 19, 2017


...meanwhile, the final is set in the Grade 1 Traralgon junior warm-up event, and it's the leaders of both of last season's girls team champions who'll face off.

#5-seeded Iga Swiatek, 15, will play #10-seeded Marta Kostyuk, 14. Swiatek is seeking her second G1 title (Repentigney, CAN in September), while Kostyuk is looking for her first. Girls #16 Swiatek led Poland to the Fed Cup 16s title last year, while #20 Kostyuk was the top player in Ukraine's championship run in the ITF World Junior 14s competition.



CHWALINKSA & SWIATEK


Swiatek and fellow Pole Maja Chwalinska, her doubles partner in the FC 16s, will also contend for the doubles title after upsetting #1 seeds Emily Appleton and Jodi Anna Burrage in the semifinals.
There's quite a full schedule of intriguing matches late on Day 4 in Melbourne, so I'll post something more before the start of play on Day 5 that addresses the goings-on under the lights tonight.

On Laver, Serena Williams undertakes the second part of her nothing-to-sneeze at draw, with Lucie Safarova (who saved 9 MP vs. Yanina Wickmayer in the 1st Round) up next. Williams leads their head-to-head 9-0, but they've only met once since late 2014. They've gone three sets in both their last two meetings.

On MCA, Aga Radwanska takes another turn in primetime, this time against Mirjana Lucic-Baroni, two days removed from the Croat getting her first MD win in Melbourne since 1998.

Additionally, on a late-starting match on Hisense, "The Dasha Show" plays out an additional episode order, though with Ana Konjuh playing the antagonist in this one, it might not have the happy ending that so many other Melbourne performances starring Dasha Gavrilova have had the last two years Down Under.








...LIKE ON DAY 4:

Study skills for the big test...


Kristyna Pliskova already sent Karolina some texts for tips vs. Kerber. "She hasn't got back to me. I hope she's gets on her phone soon."

— WTA Insider (@WTA_insider) January 18, 2017





...I'M JUST SAYIN' ON DAY 4:

It must be nice -- and really strange -- to know that nearly every person that crosses your path will consider those few seconds some of the greatest IN THEIR ENTIRE LIVES.


Cant say that was not a successful @australianopen for me??Got a picture with @rogerfederer ?? #australianopen @Hydrogenjeans @AustralianOpen pic.twitter.com/qClM3a9lSx

— Anastasia Pivovarova (@A_Pivovarova) January 18, 2017





...UNFORTUNATELY, THE NEW NORMAL ON DAY 4:

This.


'Hope you die slowly': Tennis stars trolled - My piece for @cnnsport https://t.co/icUI1tQeWB

— Danielle Rossingh (@DRossingh) January 18, 2017





...LIKE ON DAY 4:

It was a great shot. Take it on faith.


The wind-tweener, you can't see it, but you know it's there ?? @KikiMladenovic pic.twitter.com/OctkurWOur

— Kikitard (@Kikitard) January 18, 2017





...LIKE ON DAY 4:

V Inc.


Thrilled to bring my passion for @ElevenByVenus and VStarr Interiors to the cover of @Inc! #femaleentrepreneur https://t.co/RBvVcicXGp pic.twitter.com/8oEpAjYpgV

— Venus Williams (@Venuseswilliams) January 18, 2017





...REALIZATION ON DAY 4:

The sequel to 2016's "Dasha Show" might just be the "Barty Party." She's set to headline Night 5.


Round ?????? pic.twitter.com/BrRb3XXz6x

— Ash Barty (@ashbar96) January 18, 2017
...and, finally... when you're Sveta, I guess your mid-slam training regimen CAN include popcorn, cotton candy and (maybe?) a ride on the ferris wheel.


A perfect day out in @Melbourne for @SvetlanaK27!

?? + ?? + ?? = ?? #ausopen pic.twitter.com/T0xh3XZRPP

— #AusOpen (@AustralianOpen) January 19, 2017
I'm not sure about the crazy clown entrance, though.

I wonder is there anywhere where you can donate diapers? Leo grew out so quickly out of his size and we have more than half of ?? left

— victoria azarenka (@vika7) January 19, 2017

The quickest, most pointless on-court interview ever?
Caroline #Wozniacki is through to 3R #AusOpen pic.twitter.com/kJ0BoDLFFo

— #AusOpen (@AustralianOpen) January 19, 2017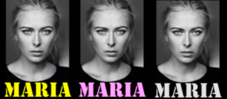 *AO "REVELATION LADIES" WINNERS*


2006 Italy
2007 Belarus
2008 Poland
2009 Kazakhstan
2010 Germany
2011 Czech Republic
2012 Germany
2013 United States
2014 Romania
2015 France
2016 China
2017 Australia



*AO "LAST WILD CARD STANDING" WINNERS*


2008 Jessica Moore, AUS (2nd Rd.)
2009 Jelena Dokic, AUS (QF)
2010 Justine Henin, BEL (RU)
2011 J.Dokic/AUS, C.Garcia/FRA & A.Molik/AUS (2nd)
2012 Casey Dellacqua/AUS & Olivia Rogowska/AUS (2nd)
2013 Madison Keys, USA (3rd Rd.)
2014 Casey Dellacqua, AUS (4th Rd.)
2015 K-C.Chang/TPE, O.Dodin/FRA & I.Falconi/USA (2nd)
2016 Han Xinyun, CHN (2nd Rd.)
2017 Ash Barty, AUS (in 3rd Rd.)



*RECENT AUSTRALIAN WOMEN IN AO ROUND OF 16*




[since 7-round event in '87]


1987 QF - Elizabeth Smylie
1987 4th Rd. - Janine Tremelling
1987 4th Rd. - Wendy Turnbull
1988 QF - Anne Minter
1989 4th Rd. - Nicole Provis
1990 4th Rd. - Rachel McQuillan
1991 4th Rd. - Rachel McQuillan
1993 4th Rd. - Nicole Provis
2003 4th Rd. - Nicole Pratt
2004 4th Rd. - Alicia Molik
2005 QF - Alicia Molik
2006 4th Rd. - Samantha Stosur
2008 4th Rd. - Casey Dellacqua
2009 QF - Jelena Dokic
2010 4th Rd. - Samantha Stosur
2015 4th Rd. - Casey Dellacqua
2016 4th Rd. - Daria Gavrilova
--
2017: Barty in 3rd Rd., Gavrilova to play 2nd Round












TOP QUALIFIER:

Elizaveta Kulichkova/RUS




TOP EARLY ROUND (1r-2r):

x


TOP MIDDLE-ROUND (3r-QF):

x


TOP LATE ROUND (SF-F):

xx


TOP QUALIFYING MATCH:

Q1 - Ons Jabeur/TUN def. Dalila Jakupovic/SRB 2-6/7-6(5)/7-5 (comeback from 6-2/4-1 down)




TOP EARLY RD. MATCH (1r-2r):

1st Rd. - Safarova/CZE d. Wickmayer/BEL 3-6/7-6(7)/6-1 (saved 9 MP)


TOP MIDDLE-RD. MATCH (3r-QF):

x


TOP LATE RD. MATCH (SF-F/Jr./Doub.):

x


TOP LAVER/MCA NIGHT MATCH:

x


=============================




FIRST VICTORY:

#29 Monica Puig/PUR (def. Tig/ROU)




FIRST SEED OUT:

#4 Simona Halep/ROU (lost to Rogers/USA)




UPSET QUEENS:

United States




REVELATION LADIES:

Australia




NATION OF POOR SOULS:

Romania (First Loss, First Seed Out & two players ranked in Top 32 ousted in 1st Rd.)




LAST QUALIFIER STANDING:

In 3rd Rd.: Barthel/GER, Brady/USA


LAST WILD CARD STANDING:

Ash Barty/AUS (in 3rd Rd.)




LAST AUSSIE STANDING:

In 2nd Rd.: Barty(W), Fourlis(L), Gavrilova


Ms. OPPORTUNITY:

x
IT (??): x


COMEBACK PLAYER:

Nominees: Barty/AUS, Bouchard/CAN, Jankovic/SRB, Cirstea/ROU, Safarova/CZE


CRASH & BURN:

#4 Simona Halep/ROU (1st Rd./Rogers; 2 con. AO 1st Rd. exits)




ZOMBIE QUEEN:

Nominees: Safarova (1st Rd. - saved 9 MP vs. Wickmayer); Brady (2nd Rd. - saved 5 MP vs. Watson)


KIMIKO VETERAN CUP:

Nominees: Lucic-Baroni/CRO, Jankovic/SRB, Kuznetsova/RUS, V.Williams/USA, Safarova/CZE


LADY OF THE EVENING:

Nominee: Gavrilova/AUS, Barty/AUS


DOUBLES STAR:

x


JUNIOR BREAKOUT:

x



All for Day 4. More tomorrow.