Wk.6- German Blitzkrieg Overwhelms Paris
A year after "Kvitova Kicks Kim's Keister," the headline in Paris has changed.
Though SOME things sure looked familiar.


After Week 6 began with the likes of Sabine Lisicki (illness), Jelena Jankovic (leg) and Kaia Kanepi (shoulder) pulling out of tournaments, then Li Na (back) and Vera Zvonareva (hip) retiring during matches, it looked like 2012's first post-Fed Cup week wasn't going to be very noteworthy. But then Angelique Kerber stepped into the breach.

She's been doing as much for a while now, but probably hasn't gotten as much credit for it as she should have. Last September, as the world #92, Kerber defeated an error-plagued Flavia Pennetta to reach the U.S. Open semifinals, the first German to do so since 1996. She was actually the second woman from her country to reach a slam Final Four that summer, as Lisicki had done so at Wimbledon two months earlier. Coming into last week's Paris Indoors, Kerber had proven to be no fluke. Having risen into the Top 30, she'd already reached two 2012 semifinals and posted wins over Lisicki, Julia Goerges (yet another German) and AO quarterfinalist Sara Errani. She'd climbed out of the pool of players largely disregarded as potential title-winners, but her title run in Paris takes her yet another level higher on the WTA scale. In winning her first career tour crown, she put up wins over the likes of top-seeded Maria Sharapova, Yanina Wickmayer and #2-seed Marion Bartoli, the latter in front of a partisan French crowd riding the wave of a La Trufflette comeback that had turned what appeared to be a "routine" straight sets win into something potentially far more.

While Petra Kvitova has so far failed to assume the #1 ranking (and actually slipped a notch this week), her gradual-then-sudden rise over the last two seasons continues to linger over the rest of the players on tour. Who is the NEXT Kvitova? Who is following in her footsteps? Earlier this season, it seemed as if it might be Kanepi. She, as Kvitova did in '10, finished '11 at #34 in the rankings. Both opened the next season by winning titles in Brisbane. The Czech followed up that win with an impressive storming to the Paris title last February. Kanepi was originally in the draw for the event (Carl even picked her to win) last week, but withdrew with a shoulder injury.

Enter Kerber, in very Kvitova-esque garb.

This weekend, it was the German who followed up Kvitova's Paris title with one of her own. Kerber, like the Czech before her, had reached a surprise slam semifinal the season before her February championship run under the roof. In the final against Bartoli, she even experienced a very Kvitova-esque ebb-and-flow stretch in her game. She led Bartoli 7-6/5-2, serving for the match at 5-3, before the French woman caught fire. Kerber dropped thirteen consecutive points, was broken three straight times and lost the final five games of the 2nd as she was forced into a 3rd set. As Kvitova often does, though, the German rebounded. She got an early break to gain control, going up 4-0. Then, after having a difficult time closing things out (Bartoli saved a handul of match points), she finally prevailed in a 6-3 set.

Kerber will soon be a Top 20 player. After that, she can set her sights on trying to catch Lisicki and the currently-injured Andrea Petkovic to become the highest-ranked German woman. Come fall, when she'll arrive in NewYork to defend her '11 Open semi, one has to wonder what other players directly above her in the rankings will have cause to worry.

Surely, quite a few more than anyone would have ever guessed twelve months earlier.



*WEEK 6 CHAMPIONS*
PARIS, FRANCE (Premier $637K/HI)


S:

Angelique Kerber/GER def. Marion Bartoli/FRA 7-6/5-7/6-3


D:

Huber/Raymond (USA/USA) d. Groenefeld/Martic (GER/CRO)
PATTAYA, THAILAND (Int'l $220K/HO)


S:

Daniela Hantuchova/SVK def. Maria Kirilenko/RUS 6-7/6-3/6-3


D:

Mirza/Rodionova (IND/AUS) d. Chan/Chan (TPE/TPE)

PLAYER OF THE WEEK:
Angelique Kerber/GER

...well, while the trophy she got to hold up didn't look as nice as the diamond-encrusted one that current Paris tournament director Amelie Mauresmo was given after she won one of her many Antwerp crowns a few years ago, Kerber surely isn't feeling "slighted" after her week in France. Obviously, her semifinal run at Flushing Meadows last September was more of a foreshadowing event than one closer to a fluke. She's already reached four additional semifinals since her U.S. Open Final Four result. Her final last week, though, was her first since she reached the decider in Bogota in 2010. In taking out the #1 (Sharapova) and #2 (Bartoli) seeds in the Paris Indoors, the 24-year old not only grabbed her first career title but also pushed her ranking to a new high. She's nearly in the Top 20 and, don't look now, but she's in Doha this week with a chance to fire another shot across the bow of German tennis -- she'll face Sabine Lisicki in the 1st Round. She could meet Bartoli again in the 3rd Round.


=============================




RISERS:

Marion Bartoli/FRA & Yanina Wickmayer/BEL


...Bartoli was the Pastry-Who-(Almost)-Could in Paris last week. The tournament's comeback queen, she reversed a 6-4/4-1 deficit, as well as 5-2 hole in the 3rd set, against Roberta Vinci in the QF, then, after taking out Klara Zakopalova in the semis, pushed Kerber to three sets in the final after falling behind 7-6/5-2, breaking the German three straight times. It wasn't enough to take the title, but Bartoli does seem to be slowly-but-slowly rounding into better and better form as the season progresses. For a player like Bartoli, too much of a veteran to be a "rising star" (her inclusion in the "Riser" category notwithstanding), but not old enough to be thinking along the lines of "I've-got-to-win-a-slam-now-or-I-never-will," it's all about trying to work her schedule so that she's peaking around the time she'll travel to Roland Garros and Wimbledon, the sites of her best chances to "slip" into the slam winner's circle. While she didn't have it in the winter, she's still got a shot to have Paris in the springtime. Also in the season's first indoor event, Wickmayer continued to add weight to her "comeback" season after falling outside the Top 25 last year. After being the best player on the court in Belgium's Fed Cup loss to Serbia in Week 6, she was one of the few FC stars to carry over their momentum to Week 7. She reached the SF in Paris, taking out Christina McHale and Mona Barthel.


=============================




SURPRISES:

Sania Mirza/IND & Chan Hao-Ching/Chan Yung-Jan (TPE/TPE)


...Mirza has shined as a doubles star (she's currently #7) in recent seasons, but she nicely pulled double-duty last week in Pattaya. In singles, she reached the QF with wins over Ayumi Morita and Anne Keothavong, then won the doubles title with Anastasia Rodionova. It's the Indian Princess' (whew! I haven't used that nickname for a long time) thirteenth career tour doubles crown, and she's collected them with ten different woman. With this win while partnering with the Aussie, her last ten WTA doubles titles have come with nine players. And she won a Mixed slam title with Mahesh Bhupathi, too. In the final, Mirza & Rodionova defeated the Chan sisters, 22-year old Yung-Jan and 18-year old Hao-Ching, who thus become the latest entry in the tour's ever-expanding pool of tennis-playing siblings.


=============================




VETERANS:

Daniela Hantuchova/SVK & Liezel Huber/Lisa Raymond (USA/USA)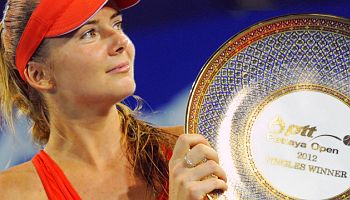 ...Hantuchova had never managed to defend a singles title before she did so this weekend in Pattaya. Reaching her second 2012 final (only Azarenka can say the same), Hantuchova claimed her fifth career crown with wins over Urszula Radwanska, Vania King, Hsieh Su-Wei and Maria Kirilenko in the three-set final. The 28-year old is (so far) the oldest singles champion on tour this season, just edging out Zheng Jie. In Paris, Huber (35) and Raymond (38) teamed up to claim their fifth title as a duo, all since last summer, and all Premier-level or better. Raymond has now grabbed 75 titles in her career, one fewer than Hall of Famer Jana Novotna (76) on the all-time WTA list and just five away from HOFer Natasha Zvereva's 80 (fifth-best in tour history). Teaming with Huber all season, it seems hard to believe that Raymond won't pass up both before the end of '12.


=============================




COMEBACK:

Hsieh Su-Wei/TPE


...the Taiwanese vet turned back the clock in Pattaya City. In 2001, as a 15-year old, she qualified at a tour event in Bali and reached the SF. Last week, nearly eleven years later, the 26-year old world #159 finally reached her second career tour-level singles semi. Again, she did it the hard way, making it through qualifying and reaching the Final Four with impressive wins over Zheng Jie, Kimiko Date-Krumm and Sania Mirza.


=============================




FRESH FACE:

Mona Barthel/GER


...from the looks of things, Barthel won't be having to go through qualifying for much longer. The Hobart champ (the OTHER German first-time singles champion of this young season) was at it again last week in Paris, qualifying with wins over the likes of Alize Cornet and Varvara Lepchenko, then reaching the QF after taking out Barbora Zahlavova-Strycova and Pauline Parmentier. The wins weren't as impressive as some of those during her early-season run, but the fact remains that the German's only '12 losses have come to players named Azarenka, Lisicki, Jankovic and Wickmayer, all of whom have previously reached slam a SF or better. After defeating Caroline Garcia today, Barthel will get a second shot at Azarenka, who beat her in the 3rd Round in Melbourne (it was the match in which the eventual champ had to fend off allowing her anger to get the best of her late in the 2nd set after a series of poor line calls, eliciting what was probably the most widespread anti-Vika crowd reaction during the two weeks), in a 2nd Round rematch in Doha in what will be the Belarusian's first post-AO title outing.


=============================




DOWN:

Maria Sharapova/RUS & Vera Zvonareva/RUS


...it wasn't a good week for top-seeded Russians. Sharapova, coming off the "cold" that took her out of her second day of Fed Cup play last weekend, lasted only two matches in Paris, losing in straight sets to eventual champion Kerber. Still, with '11 champ Kvitova idle, Sharapova moved past the Czech and into the #2 ranking behind Victoria Azarenka today. Meanwhile, in Pattaya City, '09 and '10 champ Zvonareva retired against Sorana Cirstea in the QF after suffering a hip injury early in her two-and-a-half set match with the Romanian. While this was actually Zvonareva's best result in three events this season, I'm still thinking that that preseason notion that the Russian was going to suffer a significant slide in 2012 might not have been far off at all.


=============================




ITF PLAYER:

Alexandra Dulgheru/ROU & Olga Govortsova/BLR


...there were two $100K challengers held last week, and Dulgheru (Cali, Colombia) and Govortsova (Midland, Michigan) took the crowns. Following up her countrywoman Irina-Camelia Begu's title there last year, Dulgheru notched wins over Sharon Fichman, Alexandra Cadantu, Lourdes Dominguez-Lino (who'll try to defend her Bogota '11 title this week) and Mandy Minella. Govortsova, sticking around in the States after her FC participation in Massachusetts (and maybe proving that just losing close to Serena is enough to boost one's confidence), traveled a bit west and got her title with wins over Ashley Weinhold, Anna Tatishvili, Jamie Hampton and Magdalena Rybarikova.


=============================




JUNIOR STAR:

Yulia Putintseva/RUS


...the junior #6, and Australian Open Girls runner-up last month, is still Down Under. Last week, she rebounded from her more-than-petulant reaction to her Melbourne loss to Taylor Townsend (here's how Diane saw it on "Women Who Serve"), winning a $25K challenger in Launceton with victories over Melanie South, Olivia Rogowska, Anna Schmiedlova and Lesley Kerkhove in the final.


=============================






1. Paris Final - Kerber d. Bartoli
...7-6/5-7/6-3. With the win, Kerber reached one of those weird little milestones in her career -- her ranking is less than her age for the first time. The 24-year old moved up to #22 today.


=============================


2. Patt Final - Hantuchova d. Kirilenko
...6-7/6-3/6-3. Hantuchova is the third #3-seed to win a singles title in the WTA's seven 2012 events, but she's the first #3-seed not named Victoria to do it. Meanwhile, Kirilenko drops to 5-5 in career tour finals, but once again played well in Asia (six of her appearances in finals have come on the continent).


=============================


3. Paris QF - Kerber d. Sharapova
...6-4/6-4. A few weeks ago in the Australian Open 3rd Round, Sharapova took out Kerber in straight sets. Throw in the German playing better, mixed with the Russian not playing at as high a level as she was in the Melbourne early-going, and you get the script being flipped quite nicely.


=============================


4. Paris 1st Rd - Pironkova d. Li
...7-6/3-2 ret. Li was coming off a three-match bit of work in Fed Cup when retired with a back injury in her first match in Paris.


=============================


5. Doha Q1 - Keothavong d. Robson 6-2/6-1
Doha Q2 - Keothavong d. Watson 6-4/6-4
...a week ago, Keothavong was Robson and Watson's supportive Fed Cup teammate. This past weekend, she slapped them down and showed them who's boss. At least for a little while longer.


=============================


6. Doha Q1 - U.Radwanska d. Tsurenko
...6-2/1-0 ret. Speaking of FC. In Week 6, U-Rad's untimely losses prevented Poland from advancing out of Zone play. Meanwhile, in the 1st Round, Tsurenko went 2-0 and very nearly led a huge Ukrainian upset of Italy. None of that mattered in Doha qualifying.


=============================


7. $100K Midland Doubles Final - Hlavackova/Hradecka d. Dolonts/Foretz-Gacon
...7-6/6-2. Hradecka has a pretty nice relationship going with this Michigan tournament. Coming into this year, she'd reached the singles final three straight years, winning in '09 and '11. As the #1 seed, she lost in the QF this year. But, as she did in '10 when she failed to win the singles title, she managed to go home with some hardware by taking the doubles crown instead.


=============================


8. Doha 1st Rd - Pervak d. Pavlyuchenkova
...1-6/6-2/6-3. While two Germans have won titles so far in 2012, no Russians have jumped into the singles winning circle. After a week in which Sharapova and Zvonareva stumbled, Pavlyuchenkova continued her early season spinout. The #10-seed opened up 1st Round play in Doha today by losing to Hordette-turned-Kazakh Pervak, fading after taking a set lead.


=============================


HM- Doha Doubles 1st Rd - Dushevina/Peer d. Pennetta/Schiavone
...6-2/5-7/10-7. The would-be Italian doubles pairing gets off on a bad foot (or back, in Pennetta's case?) in Doha. The Russian-Israeli pair won't be playing in the London Olympics, though.


=============================






1. Pattaya Doubles Final - Mirza/Rodionova d. Chan/Chan
...3-6/6-1/10-8. At least one tennis sibling sister was simply destined to win in Pattaya, as one half of the Rodionova sisters helped defeat the Chan clan.


=============================


2. Pattaya Doubles 1st Rd - Kichenok/Kichenok d. Gajdosova/Mattek-Sands
...6-2/6-2. They would soon lose to eventual runners-up Groenefeld & Martic, but Ukraine's Kichenok twins did manage a rather impressive 1st Round doubles win in Thailand before they left town.


=============================








**2012 FIRST-TIME CHAMPIONS**


Hobart - Mona Barthel, GER (21, #64)
Paris - Angelique Kerber, GER (24, #27)



**MOST CAREER WTA WEEKS AT DOUBLES #1**


237...Martina Navratilova
170...LIEZEL HUBER *
163...Cara Black *
124...Natasha Zvereva
117...Lisa Raymond *
111...Arantxa Sanchez-Vicario
87...Paola Suarez *
-
* - active



**CAREER DOUBLES TITLES - ACTIVE**


75...LISA RAYMOND, USA
54...Cara Black, ZIM
49...LIEZEL HUBER, USA
44...Paola Suarez, ARG
30...Katarina Srebotnik, SLO
-
NOTE: Rennae Stubbs (60)



**TOUR DOUBLES TITLES WITH SANIA MIRZA**


3 - Liezel Huber
2 - Elena Vesnina
1 - Chuang Chia-Jing
1 - Edina Gallovits-Hall
1 - Vania King
1 - Bethanie Mattek-Sands
1 - Shahar Peer
1 - ANASTASIA RODIONOVA
1 - Mara Santangelo
1 - Yaroslava Shvedova
-
NOTE: Mahesh Bhupathi (1 Mixed)



**2012 SINGLES CHAMPIONS BY SEED**


#3 - 3 (Azarenka,Azarenka,Hantuchova)
#9 - 1 (Kerber)
Unseeded - 2 (Kanepi,Zheng)
Qualifier - 1 (Barthel)





DOHA, QATAR (Premier $2.168m/hardcourt outdoor)
11 Final: Zvonareva d. Wozniacki
11 Doubles Champions: Peschke/Srebotnik
12 Top Seeds: Azarenka/Wozniacki
=============================


=QF=


#1 Azarenka d. Wickmayer
#4 A.Radwanska d. Peer
#13 Ivanovic d. Pennetta
Kerber d. #2 Wozniacki


=SF=


#1 Azarenka d. #4 A.Radwanska
#13 Ivanovic d. Kerber


=FINAL=


#1 Azarenka d. #13 Ivanovic

...Azarenka returns. So does a Sanchez-less Wozniacki, who reached the final a year ago. Stosur might get a rematch with AO conqueror Cirstea in the 2nd Round, while Kerber/Bartoli II could be on tap for the 3rd Round. A truly intriguing Azarenka/Wozniacki final is possible, but too far out in the draw to focus on at this point.



BOGOTA, COLOMBIA (Int'l $220K/red clay outdoor)
11 Final: Dominguez-Lino d. Johansson
11 Doubles Champions: Gallovits-Hall/Medina-Garrigues (Gallovits-Hall 2010-11)
12 Top Seeds: Erakovic/Dulgheru
=============================


=SF=


Voegele d. #4 Dokic
#2 Dulgheru d. #3 Oprandi


=FINAL=


#2 Dulgheru d. Voegele

...I'm tempted to pick Dokic, but I'll go with the more in-good-singles-form Dulgheru. Voegele has been playing well, of late, as well. Although she might have to face both the #1 seed (Erakovic... is this really a tour-level event?) and the defending champ (LDL) just to reach the semis.







DOHA




=SF=


#1 azarenka d. #4 a.radwanska
#2 wozniacki d. #3 stosur


=FINAL=


#2 wozniacki d. #1 azarenka

...Carl get more champion picks right than Todd (two in row with Hantuchova, since Kanepi pick last week "no count" since she pull out). Think CARL should get first pick. Would go with Vika, just like Carl did in Melbourne. But since Todd obviously trying to sabotage (thanks, Carla) Carl much-more-accurate picks, Carl outsmart him. Go against puny public's opinion and say Caroline. Like when Carl speak loudly at store as he trying to buy one of Carla's "female products" as she asked to do, then cashier ask for price check over loudspeaker and made Carl feel weird and make him want to smash and run out store because he no like way little woman with blue streaks in hair looking at Carl... umm, where was Carl? Oh. Like when Carl speak loudly, Caro win would both shut people up AND make them talk about him when he leave room.



BOGOTA




=SF=


#7 dominguez-lino d. #4 dokic
#5 dulko d. #2 dulgheru


=FINAL=


#5 dulko d. #7 dominguez-lino

...Carl pick Hantuchova/Kirilenko final right last week. Todd do not. Should listen to Carl when comes to picks. Carl so confused by this draw, though. Hard to pick winner from group of players like this. Should pick Dokic just to rub in Todd face if she win. In fact, Carl WILL do that.



=NEW SF=


#4 dokic d. #7 dominguez-lino
#5 dulko d. #2 dulgheru


=NEW FINAL=


#4 dokic d. #5 dulko


All for now.