RG.5- Early-Round "A"-Games Abound in Paris
After a few hectic days of upsets in Paris, Day 5 took a moment to take a much-needed breath. The early rounds are complete...
so who has been the best player so far?


More on that in a moment. First, a quick recap of Thursday's not-quite-as-monumental-as-yesterday-or-even-that-of-the-day-before action.



=DAY 5 NOTES=




...for the second time in five days, "doubles specialist" Kristina Mladenovic made headlines in singles. Two days after upsetting #2-seed Li Na, the 21-year old Pasty went up against against Alison Riske in the 2nd Round. It wasn't a sterling performance by any means, as the French woman's serve is a tennis version of Jenga -- one false move and the entire structure might come tumbling down. At times today, it seemed like it would.

Only 50% of Mladenovic's 1st serves actually went in, and she double-faulted thirteen times. In one game, she hit three DF. But she also pulled out eight aces, sometimes at extremely opportune times -- like soon after those three DF to help he get an important hold of serve. In a 1st set tie-break, she raced to a 6-1 lead only to see Riske close to 6-5 before finally securing the early lead in the match. Pushed to a 3rd set, though, Mladenovic's serve settled. She only had one double-fault there -- and it didn't come until she had her first match point at 5-3. Of course, she rebounded with a match-ending ace one point later, taking the victory at 7-6(5)/3-6/6-3 to equal her previous career-best 3rd Round slam result ('12 U.S.). The match lasted 2:41, and Mladenovic ended with a slim 107-105 advantage in total points.

...elsewhere, Svetlana Kuznetsova continued to roll along, eliminating Camila Giorgi in straight sets to arrange a 3rd Round meeting with an equally-frustrating-to-watch opponent, Petra Kvitova, who also won in straights over Marina Erakovic. 2012 runner-up and '13 semifinalist Sara Errani, with her hip still holding up, ran her RG record in her last seventeen matches to 15-2 with a win over Dinah Pfizenmaier.

...Kiki Bertens' win today over a retiring Anastasia Pavlyuchenkova, 5-7/6-4/3-0, makes the Dutch woman the "Last Qualifier Standing" for this RG. Pauline Parmentier completed her 2nd Round win over Yaroslava Shvedova, leaving just her and Taylor Townsend alive for "Last Wild Card Standing." Parmentier is also in the running with Mladenovic for "Last Pastry Standing."

...in doubles, Mladenovic's magic continued. Today, after going 2-6 as a duo this season, she and Flavia Pennetta were able to ride the Pastry's wave together. In their 1st Round match in Paris, Mladenovic/Pennetta faced off with Alize Cornet & Caroline Garcia, the Pastries who were stars early this spring but have felt the bad side of a hard-luck two weeks. The all-French team took the 1st set in Mladenovic's second match of the day, only to see the French/Italian duo charge back to claim the match, 3-6/6-1/6-2.

The equally-bad offshoot of Sabine Lisicki's retirement -- her fourth ret./walkover in eleven '14 events -- yesterday with a wrist injury is that now Martina Hingis is out of Roland Garros, too. The duo pulled out of the doubles competition, leaving the Original Swiss Miss still without a slam match win since 2007. They were replaced today by the Pliskova sisters, who lost to Gajdosova/Husarova.

The Chan sisters, who had been the only all-sibling pair in the draw before today, STILL are. They won their 1st Round match over another team that featured a tennis-playing sister, Nara/A.Schmiedlova. Top-seeded Hsieh/Peng defeated a superbly difficult unseeded opening round duo in Kuznetsova/Stosur, as well.

...with the Final 32 set, the "Revelation Ladies" of Spain are continuing to lead the way. The four Spaniards remaining are the most of any nation, while Germany, Russia and an under-the-radar Slovak contingent (all with three each) aren't far behind. There have been more wins by Bannerettes (9) than any other nation, but only two are still alive in the draw. Meanwhile, while the Italians haven't had a good RG, Errani's advancement to the 3rd Round means Italy is one win away from managing to place a woman in the Round of 16 in Paris for the tenth time in the last eleven versions of Roland Garros.

Once again, certain nations are being led by -- and only by -- some very familiar names. A Radwanska is the final Pole, while an Ivanovic and a Jankovic make up the two surviving Serbs. A Bouchard is Canada's final hope, and the same can be said about a certain Stosur and Australia. There are few "interlopers," though, as Sweden, Argentina, Croatia, Israel and the Netherlands are far-from-regular 4th Round party-crashers in Paris, represented by the likes of an Ormaecha, Tomljanovic, Glushko and Bertens.

=EARLY-ROUND AWARDS - 1st/2nd Rounds (Days 1-5)=
**THE BEST SO FAR...**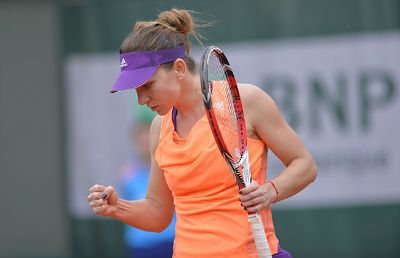 1.

Simona Halep, ROU


...many are becoming more and more comfortable with the Swarmette being a legit threat to take this title. She's done nothing to raise any doubts, opening the 1st Round by winning her first eleven games and dropping just eight through two matches.


=============================


2.

Ana Ivanovic, SRB


...AnaIvo turned her "great" 1st Round match vs. Garcia into a clinic, then eliminated youngster Svitolina with ease, too.


=============================


3.

Maria Sharapova, RUS


...she handled countrywoman Pervak in the 1st Round, then did the same with Pironkova and new expectations once Serena lost in the 2nd Round. She's the favorite to win the title now, or at least reach the final. I wondered a few weeks ago whether the Madrid final vs. Halep might be a preview of the RG final... and it very well might have been.


=============================


4.

Taylor Townsend, USA


...making her slam debut as a wild card, the 18-year old Bannerette has already won a classic over a Pastry (#20 Cornet) and a partisan crowd.


=============================


5.

Garbine Muguruza, ESP


...handing your childhood idol her worst-ever grand slam loss? Priceless.




=============================


6.

Samantha Stosur, AUS


...she's reached a RG final, but wasn't on anyone's radar heading to Paris. Strasbourg champ Puig was, but Stosur crushed her in the 1st Round.


=============================


7.

Sara Errani, ITA


...undersized and oft-overlooked, the feisty Italian is once again the last remaining player from her nation after overcoming a potential 1st Round obstacle in Madison Keys.


=============================


8.

Aga Radwanska, POL


...the highest seed (#3) remaining, she notched the first main draw victory of the tournament and has yet to drop a set. This has always seemed to be the slam that SHOULD best fit her major dreams, but she's only put up one QF result ('13) at RG and professes more love for the lawns of Wimbledon.


=============================


9.

Genie Bouchard, CAN


...the "Best Selfie Ever" run continues. And if she falls behind? She just takes a few minutes for herself, then comes back out and crushes an opponent.


=============================


10.

The Slovaks


...while Anna Schmiedlova made noise with her win over Venus, countrywomen Cibulkova and Hantuchvoa has slipped into the 3rd Round without anyone hardly noticing.


=============================


HM-

Kristina Mladenovic, FRA & Sloane Stephens, USA


...one has never had any grand slam singles success to speak of, while the other plays far better in majors than anywhere else. With very different backgrounds, both the Pastry and Bannerette find themselves in the Final 64.




=============================





HISTORY TURNS*


The loss on Day 4 by both Serena and Venus Williams marked the fourth time the Sisters have lost on the same day in a slam. Three of the four times have come in Paris.



HISTORY TURNS, Pt.2*




18-year old Taylor Townsend is the youngest American to reach the 3rd Round at Roland Garros since 2003 (Ashley Harkleroad). Another win and she'll be the youngest to reach the Round of 16 since 1998 (both Williams Sisters).



HISTORY TURNS?*


In the 1st Round, Garbine Muguruza trailed qualifier Grace Min 4-2 in the 1st set, and the Bannerette served at 5-4 and held a set point. Min led 4-1 in the 2nd, too. The Spaniard won in straights. She faced Serena one round later.



HISTORY TURNS?, Pt.2*


In the 1st Round, Carla Suarez-Navarro trailed a qualifier 4-1 in the 1st set and 4-0 in the 2nd, but won in straights. Another qualifier took her to three sets in the 2nd Round. The recent first-time title winner is still looking for her first slam semi.

...LIKE FROM DAY 5:

-- Knock, knock.. Who's there? Orange. Orange, who? Orange you glad that Sveta is having "a good week?"




Yeah, yeah... I know, I know.

..."UMMMMM..." FROM DAY 5:

-- really, Monfils? Really?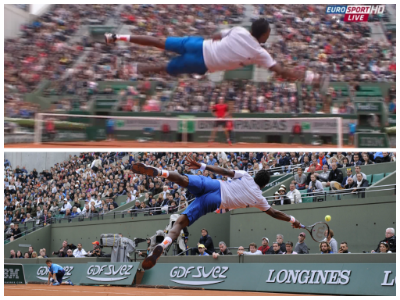 I smell a logo.

...and, finally, Vika might not be playing tennis in Paris but, have no fear, she is brushing up on other skills.












**RG "EARLY-ROUND TOP PLAYER" WINNERS**


2002 (Week 1 POW) Serena Williams, USA *
2003 (Week 1 co-POW) Serena Williams, USA & Kim Clijsters, BEL
2004 (Week 1 POW) Amelie Mauresmo, FRA
2005 (Week 1 POW) Kim Clijsters, BEL
2006 Amelie Mauresmo, FRA
2007 Justine Henin, BEL *
2008 Ana Ivanovic, SRB *
2009 Dinara Safina, RUS
2010 Venus Williams, USA
2011 Samantha Stosur, AUS
2012 Maria Sharapova, RUS *
2013 Serena Williams, USA *
2014 Simona Halep, ROU
--
* - won title



*RG "LAST QUALIFIER STANDING"*


2006 (3rd Rd.) Julia Vakulenko/UKR, Aravane Rezai/FRA
2007 (3rd Rd.) Dominika Cibulkova/SVK, Alla Kudryavtseva/RUS & Ioana-Raluca Olaru/ROU
2008 (QF) Carla Suarez-Navarro/ESP
2009 (3rd Rd.) Michelle Larcher de Brito/POR, Yaroslava Shvedova/KAZ
2010 (4th Rd.) Chanelle Scheepers/RSA
2011 (3rd Rd.) Chan Yung-Jan/TPE, Nuria Llagostera-Vives/ESP
2012 (QF) Yaroslava Shvedova/KAZ
2013 (3rd Rd.) Paula Ormaechea/ARG, Dinah Pfizenmaier/GER
2014 (in 3rd Rd.) Kiki Bertens/NED



*WINS OVER SERENA SINCE RETURN TO #1*




[since February 2013]


2013 July - Wimbledon 4th Rd. - #24 Lisicki
2013 August - Cincinnati Final - #2 Azarenka
2014 January - Australian Open 4th Rd. - #14 Ivanovic
2014 February - Dubai SF - #26 Cornet
2014 April - Charleston 2nd Rd. - #78 Cepelova
2014 May - Roland Garros 2nd Rd. - #35 Muguruza
--
ALSO: #6 Kvitova w/o (2014 Madrid QF)



*WOMEN'S OVERALL WON/LOST - BY REMAINING NATION*




[North America/Atlantic]


9-12..United States (Stephens,Townsend)
2-2...Canada (Bouchard)


[South America]


2-0...Argentina (Ormaechea)


[Russia & Eastern Europe]


8-5...Russia (Kuznetsova,Makarova,Sharapova)
5-2...Romania (Cirstea,Halep)


[Western Europe & Scandinavia]


9-5...Germany (Barthel,Kerber,Petkovic)
8-2...Spain (Muguruza,Soler-Espinosa,Suarez-Navarro,Torro-Flor)
7-2...Slovak Republic (Cibulkova,Hantuchova,A.Schmiedlova)
6-8...France (Mladenovic,Parmentier)
5-5...Czech Republic (Kvitova,Safarova)
4-2...Serbia (Ivanovic,Jankovic)
4-5...Italy (Errani)
2-0...Netherlands (Bertens)
2-0...Sweden (Larsson)
2-2...Poland (A.Radwanska)
2-3...Croatia (Tomljanovic)


[Asia/Pacific]


3-1...Australia (Stosur)


[Africa/Middle East]


2-1...Israel (Glushko)






TOP QUALIFIER:

Grace Min/USA




TOP EARLY-ROUND (1r-2r):

#4 Simona Halep/ROU




TOP MIDDLE-ROUND (3r-QF):

xx


TOP LATE-ROUND (SF-F):

xx


TOP QUALIFYING MATCH:

Q2: Cagla Buyukakcay/TUR d. Alberta Brianti/ITA 6-3/5-7/10-8




TOP EARLY-RD. MATCH (1r-2r):

2nd Rd: (WC) Taylor Townsend/USA d. #20 Alize Cornet/FRA 6-4/4-6/6-4




TOP MIDDLE-RD. MATCH (3r-QF):

xx


TOP LATE-RD. MATCH (SF-F/Jr.):

xx


=============================




FIRST VICTORY:

Aga Radwanska/POL (def. Sh.Zhang/CHN)




FIRST SEED OUT:

#25 Kaia Kanepi/EST (lost 1st Rd. to Niculescu/ROU)




UPSET QUEENS:

The French




REVELATION LADIES:

The Spaniards




NATION OF POOR SOULS:

The Chinese (0-4 in 1st Rd.)


LAST QUALIFIERS STANDING:

Kiki Bertens/NED (in 3rd Rd.)




LAST WILD CARD STANDING:

in 3rd Rd.: P.Parmentier/FRA, T.Townsend/USA(W)


LAST PASTRIES STANDING:

in 3rd Rd.: K.Mladenovic, P.Parmentier
MADEMOISELLE/MADAM OPPORTUNITY: xx
IT "??": Nominees: K.Mladenovic/FRA, T.Townsend/USA, A.Schmiedlova/SVK, G.Muguruza/ESP


COMEBACK PLAYER:

Nominees: S.Stosur/AUS, J.Jankovic/SRB


CRASH & BURN:

#1 Serena Williams/USA (DC, lost 2nd Rd./Muguruza) & #2 Li Na/CHN (lost 1st Rd./Mladenovic - 1st AO champ out early since 2000)




ZOMBIE QUEEN:

Nominees: Suarez/Navarro survives tough early-round matches vs. two qualifiers; Muguruza trailed (Q) Min in both 1st and 2nd sets in 1st Rd.
JOIE DE VIVRE: Nominees: Aga Radwanska's dress, K.Mladenovic/FRA


DOUBLES STAR:

xx


AMG SLAM FUTILITY UPDATE:

Medina-Garrigues lost in second round of qualifying to Smitkova/CZE (ends streak of 41 con. appearances in slam main draws)


JUNIOR BREAKOUT:

xx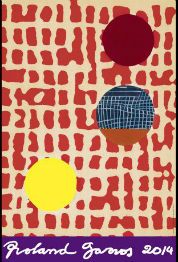 All for Day 5. More tomorrow.