Wk.19- The Business End of the Fist
Besides one of Serena Williams' ferocious roars --
or maybe Radek Stepanek watching longingly from afar?
-- there is nothing that can be seen regularly on a tennis court that should strike more fear in the hearts of a WTA tennis player than the sight of Maria Sharapova fixing her face into a stern stare and balling up her hand into a fist right when a match is reaching a critical stage.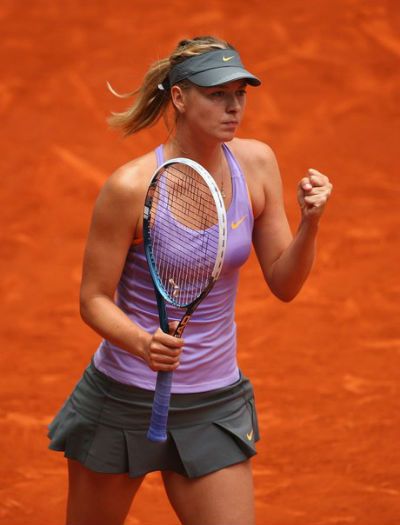 Since Sharapova and her horde of countrywomen arrived on the scene with a loud, collective shriek in 2004, there are certain images, anecdotes and perceptions that shape the legacy of the most successful of the Russians. Anastasia Myskina was the first slam champion, and a bit of an odd (in a good way) bird. Svetlana Kuznetsova, the super-talented enigma. Elena Dementieva was the hard-luck queen, while the memories of Dinara Safina and Vera Zvonareva will forever be infested with unfortunate images of emotional on-court breakdowns that brush aside much of the talk of their actual talent.

But Sharapova, alone above all the rest, even with all her off-court fame, is the only one who will be remembered as a winner. In the mind's eyes, she will always be a fierce competitor who is often at her most dangerous at the precise moment when most other players are at their weakest. It's that desire to fight, sometimes against an opponent, sometimes against herself in recent years, that has enabled Sharapova to recover from career-threatening shoulder surgery and reach new career heights and, in these early spring weeks of 2014, to prove that the shoulder issues she experienced last year aren't likely to foreshadow her end, as was beginning to be speculated, but instead might just be the setback that will make her next career moment all that much more well-earned.

After having defended her Stuttgart title two weeks ago, Sharapova didn't travel a smooth path to the Madrid final. She had to dig out of a 3rd set hole (4-1 down) in her first match of the week against Christina McHale, then do so again in the quarterfinals (down a set and a break) against world #2 Li Na. Meanwhile, her opponent in the final, Simona Halep, had clawed her way out of her own deficit, a 7-6/3-1 disadvantage against Petra Kvitova in the semifinals, to reach the biggest final of her career.

Heading into the match against the Romanian, Sharapova sported a 2-0 head-to-head record against Halep, but hadn't faced the Swarmette since 2012, more than a year before she began her remarkable climb last spring, when she rose from a #64-ranked qualifier to the Rome semifinals. Since then, Halep has won seven titles on three different surfaces, twice set personal slam bests (a 4th Round at the U.S. Open, then a QF in Melbourne), won Premier titles in New Haven and Doha, and climbed into the Top 50, 20, 10 and 5 to become the highest-ranked player ever from her country. Prior to facing #9-ranked Sharapova, Halep was 5-1 against Top 10ers this season alone, and was one win away from rising to yet another career-high of #4 on the WTA computer.

In the early going on Sunday, it looked like Halep was going to get that win, too. She was on top of Sharapova right out of the gate, breaking the Russian to open the match. Sharapova's double-fault on break point put her down a second break at 3-0. Halep's defense got back pretty much every ball Sharapova fired over the net, and she moved her around the court and utilized well-placed aggression and a much-improved serve to get to 4-0 before finally taking the set at 6-1. With the ability to hit bigger shots than one might expect from a player of her size, as well as defensive skills made lethal by her athletic quickness, as well as a willingness to follow along with an aggressive game plan in order to get the jump on a potentially overwhelming opponent, one might be able to close their eyes and see wonderful images of a certain Belgian who was also well-suited to clay court tennis.

But Halep isn't in La Petit Taureau's class just yet, as the rest of the match would show.

As it turned out, the most important moments of the match came in the opening games of the 2nd set. After Sharapova opened with a break of serve, she faced three break points in game #2. She saved them all, holding for 2-0. The moment ignited her game, and the nature of Sharapova's comeback essentially extinguished Halep's. From that point forward, Sharapova's 1st serve was no longer an afterthought. Meanwhile, the Romanian pulled back on her aggressive game plan. The Russian ceased being moved from side to side, and was instead stepping into the court and seizing control of rallies and imposing her will, within the lines and, on some level, outside of them as she argued line calls and generally assumed the starring role on the center stage. With Halep receding, her serve was no longer an asset, Sharapova ran away with the set at 6-2.

After Halep went up 40/love on serve in the third game of the final set, she dropped five straight points and was broken. Soon, Sharapova was up a double-break at 4-1. At that point, the Romanian attempted to return to her early-match game plan. It was fated to be an unsuccessful endeavor, but it at least made things more competitive down the stretch. She got things to 4-3, but was still broken by Sharapova (5-of-6 on BP) to end the match as Sharapova won 1-6/6-2/6-3, raising her clay court record since 2012 to 47-3 (she's only lost to Serena). She's 28-6 in three-setters over the same stretch.


While Halep's spotless (now 7-1) record in finals over the past year is no more, she's still gone 60-17 since her Rome run last May. She'll be a contender in Paris, and very well could set another personal slam record with her first semifinal (or maybe even better, for we could surely do worse than a rematch of this final in Paris). For Sharapova, though, such a result would be a disappointment.

Much like Williams, second-best is never enough for the Russian.

In an oddly fitting coincidence, while Sharapova added another chapter to her championship career and perhaps set the stage for another next month, the Madrid trophy ceremony doubled as an official goodbye ceremony for Safina, the former world #1 and slam finalist who officially announced her retirement from tennis this week after several years away following a back injury that she could never overcome. In an almost perverse way, Safina's career only heightens Sharapova's own accomplishments. Where Safina was never quite able to clear the final hurdle in her career (even right down to a career-ending injury) to truly become "great," Sharapova accomplished the feat early on and is still battling to do so again a decade later.



To see them together on such a day was oddly compelling. While it made one appreciate what Sharapova has done in her career, it also left a hint of sadness for what Safina didn't do, even if she does seem well set to have a fine and rewarding post-tennis life. All things considered, some part of Sharapova, likely always situated to drive forward for bigger and greater things within the sport and outside it, might one day envy Dinara, who'll never be weighed down by the condition of always feeling the need to top her own great accomplishments.

After all, the fickle hands of fate and circumstance often wield a fist even more mighty than Maria's.



*WEEK 19 CHAMPIONS*
MADRID, SPAIN (Prem.Mandatory $4.236/RCO)
S:

Maria Sharapova/RUS def. Simona Halep/ROU 1-6/6-2/6-3


D:

Errani/Vinci (ITA/ITA) d. Muguruza/Suarez-Navarro (ESP/ESP)




PLAYER OF THE WEEK:

Maria Sharapova/RUS


...the run-up to Sharapova's win in the final included wins over Klara Koukalova, Christina McHale, Sam Stosur, Li Na and Aga Rawanska. The victory over Halep gave her three Top 5 wins for the week, a feat that might not be accomplished again by anyone this season. Career title #31 is her ninth on clay, putting her just one behind Serena and Anabel Medina-Garrigues (both with 10) for the most by any active WTA player.


=============================




RISERS:

Simona Halep/ROU & Caroline Garcia/FRA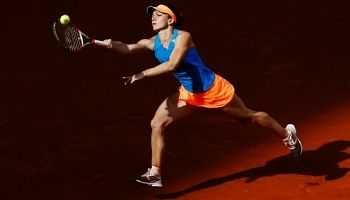 ...Halep has shown a few cracks in '14, but overall her accomplishments and improvements have more than outweighed her few slips in results, mostly because she's displayed such an intelligence when it comes to realizing that she needs to do a few things differently in her game to improve, and a fearlessness/confidence to put the plan into action on most game days. While Halep's Madrid run ultimately came up short, she emerged healthy, having put up three more highly-ranked wins (she's 8-2 vs. the Top 20 in '14) and reached the biggest final of her career. Having one titles last year on three different surfaces, while clay is likely her best playing field, Halep doesn't look to have a "slow" portion of the season where she won't expect to be able to put up good results. She didn't reach #4 with a title in Madrid, but she's only twenty-one points out and current #4 Vika (a Rome finalist and RG semifinalist last year) doesn't look to be putting up any points for a while still). Elsewhere in Madrid, Garcia continued to give every reason to believe that she'll be a dark horse candidate to put on a huge run in Paris at the slam where she first made her name known a few seasons ago when she nearly upset Sharapova. Hot off her Bogota title run and Fed Cup starring role, the Pastry made it through qualifying, then got a bit of good fortune, as well. Angelique Kerber retired from their 1st Round match, then Maria Kirilenko offered up a walkover a round later. A win over Sara Errani put Garcia in the QF, when her eleven-match winning streak came to an end in a three-set loss to Aga Radwanska. No matter. The chances are that Garcia, barring some sort of horrendous draw, will still have a better than even shot to outlast A-Rad at Roland Garros.


=============================




SURPRISES:

Garbine Muguruza & Carla Suarez-Navarro (ESP/ESP) & Marcela Zacarius/MEX


...Muguruza and CSN, two of Spain's three first-time singles champions this season, had their moments in singles in Madrid in front of the home fans. Muguruza won a 3:00 1st Round match over fellow Spaniard Silvia Soler-Espinosa, while Suarez-Navarro won two matches on the heels of her Oeiras title run before being Serena's 650th career singles victim in the 3rd Round. The pair reserved their best work for the doubles court, though, as they took a wild card entry into the draw and strung together wins over Huber/Raymond, #4 Peschke/Srebotnik, #6 Kops-Jones/Spears and #1 Hsieh/Peng to reach the final. They lost there to the #2-seeded team of Errani/Vinci. Zacarius, 20, put up her best-ever results outside of her native Mexico in the $10K challenger in Antalya. She won her fourth career ITF singles title, defeating Alyona Sotnikova (UKR) in the final, to win her first singles title away from Mexico. Meanwhile, she won her third career doubles crown (w/ Victoria Rodriguez), but her first outside of North America.


=============================




VETERANS:

Sara Errani & Roberta Vinci (ITA/ITA), and Hsieh Su-Wei/TPE




...slowly (but surely?), the Italians are getting their doubles groove back. Errani & Vinci opened '14 by winning in Melbourne, then in Stuttgart won their first title on clay since taking the '12 Roland Garros crown. In Madrid they made it two in a row, grabbing their 19th tour title as a duo with wins over Kuznetsova/Stosur, Medina-Garrigues/Shvedova and Muguruza/CSN in the final. The Italians are still co-#3 ranked players in the tour doubles rankings, but there's been a bit of re-arranging in the rankings just above them on the WTA computer. After Peng moved into the #1 spot a few months ago, past childhood friend Hsieh, because she played and won an additional event with a different partner, the duo's semifinal run in Madrid ended with Hsieh finally getting the points to catch up. Thus, the 28-year old becomes the thirty-second woman -- and first from Taiwan -- to come in at #1 in the doubles rankings.




=============================




COMEBACKS????:

Petra Kvitova/CZE & Sloane Stephens/USA


...for a bit in Madrid, it looked as if Kvitova's romantic break-up with Radek Stepanek had decidedly changed her on-court luck. The 2011 champion, she opened play by coming back from a break down in the 3rd set to defeat Sorana Cirstea, then battled back from a set down to take out Varvara Lepchenko. After defeating Lucie Safarova in straights, Kvitova advanced to the semifinals when Serena Williams (5-0 vs. Kvitova) pulled out with a thigh injury. In the SF vs. Halep, Kvitova led 7-6/3-1... then succumbed to the error-producing trap set by the Romanian, as well as so many of Petra's opponents. Kvitova lost in three sets, putting up 66 unforced errors, and once again seeming to be bothered by health/breathing/fatigue issues. So, was this result a "comeback?" Yes, and no. And no, and yes. In other words, as usual with Kvitova, nothing is what it seems, nor is what is seen without significant meaning. (Whatever that means.) Meanwhile, Stephens rather quietly put up some nice wins in Madrid, defeating Monica Niculescu and Petra Cetkovska, then took Li Na to three sets in the 3rd Round. Not bad for a non-slam event for Current Sloane. At the very least, maybe another Round of 16 result in Paris could be on the horizon. She's reached the 4th Round at RG two years running, and her 2012 result was her first Round of 16 appearance at any slam.


=============================




FRESH FACES:

Ons Jabeur/TUN & Anna Schmiedlova/SVK


...19-year old Jabeur took the $25K challenger in her native Tunisia, winning in the Tunis final over Hordette Valeria Savynikh to defend her '13 crown and run her career ITF singles total to seven. Schmiedlova, also 19, is still to play in her twelfth career challenger final in the $75K in Trnava, SVK. Looking for her ninth career title, and her biggest so far, the Slovak will face off with Czech vet Barbora Zahlavova-Strycova on Monday in their weather-delayed final match-up.


=============================




DOWN:

Dominika Cibulkova/SVK & Serena Williams/USA


...Cibulkova has never won a clay court title, but prior to her final run at this year's Australian Open, her best career slam result had come in Paris (a SF in '09, as well as a QF in '12). After her quick '14 start, it was easy to think that the Slovak might be able to contend in a Roland Garros field full of questions (at least before Sharapova seemed to begin to answer a few). But in her first clay court match of the season in Madrid, she was bounced by Sam Stosur 6-4/6-0. With AO champ Li Na, even with her '11 RG title in hand, likely being camped out just outside the circle of "favorites" in Paris, the chances of a third and fourth different slam finalist this season becoming a reality in Paris would seem pretty good. Throw in Serena's current plight, and the chances of an even more historically balanced slam final season are in play. Still nursing a thigh injury in Madrid (where she won in 2012-13), Williams played with a wrap and eventually pulled out of the event before facing Petra Kvitova in the quarterfinals. With her health in question, and her single-minded '13 drive to succeed in Paris hardly in the forefront a year later, her chances to defend her RG title seem more iffy than they did at the start of the season. Of course, that could open the door for a Sharapova vs. A Player to Be Named Later (Halep, AnaIvo, Garcia or an Italian?) final pairing. Throw in a possible Serena resurgence (or continued slip?) in London, and we could see a fifth and sixth different '14 slam finalist at Wimbledon (say, A-Rad, Lisicki, etc.). Come the U.S. Open, a (hopefully) healthy Vika (2013-13 RU) should be back in the mix. In other words, there's shaping up to be a legitimate chance for eight different slam finalists in 2014. The last time time that happened -- the only time in the Open era -- was 1977. There have already been seven different finalists at the last four slams, with only Serena (RG/US) with two appearances. While a "two-timing" Li could still throw a wrench into the equation, Serena will probably hold the key to the scenario. And, remember, she IS saddled with the "Kuznetsova Curse" that I inadvertently placed on her head in the Prediction Blowout before the season, where I had Williams winning all four slams. I wondered at the time whether or not the Curse was more powerful than Serena, or whether the closest thing the WTA has to a real-life superhero was "Curse-proof." Turns out, it might just be the Curse that wields the most power. So, just to get ahead of the game, I'll note now that the last time Serena didn't reach at least one slam final in a season was 2006. She's made at least one slam final appearance in twelve of the last thirteen seasons, and thirteen of fifteen from 1999-2013.


=============================



ITF PLAYER:

Sharon Fichman/CAN


...the 23-year old Canadian has been adding lines to her career bio all season long. She won her first tour doubles final in Auckland in January, and has already put up her second, third and fourth career Top 50 wins. This weekend in Cagnes-sur-mer, France she claimed her biggest-ever title with a $100K challenger crown with wins over Yulia Putintseva, Johanna Konta, Tamira Paszek, Kiki Bertens and Timea Bacsinszky (the '07 Cagnes-sur-mer champ) in the final. It was a pratice-makes-perfect situation on a few fronts for Fichman, as she'd reached but lost $100K finals in '09 and '13 (as well as putting up a SF result at such an event earlier this year), and she just recently loss to Bacsinszky in a 10-8 3rd set tie-break during Oeiras qualifying. With the win, Fichman has knocked down yet another career benchmark, as she has a new career-high ranking of #79.


=============================




JUNIOR STAR:

Katie Boulter/GBR




...2014 has been a "missed it by that much" sort of season for 17-year old Boulter, but even while she hasn't quite gotten the most out of many of her weeks this season her consistency has been admirable. After having reached consecutive $10K challenger finals in Sharm El Sheikh, only to lose an 8-6 3rd set tie-break to Ireland's Amy Bowtell and then another 3rd set to Serbia's Nina Stojanovic, Boulter's persistence finally paid off when the Top 25 junior reached a third final in Egypt. This time, she defeated fellow Brit Eden Silva in a 7-5 3rd set to claim her first ITF singles title and take her record to 12-2 in her last fourteen matches. She added a doubles title with Stojanovic, giving the duo two crowns this season. Afterward, on her Twitter account, Boulter was busy creating hashtags. A few: #backtobacktitles, #bringithome, #thirdtimelucky and, of course, #winforbally.


=============================






1. Madrid Final - Sharapova d. Halep
...1-6/6-2/6-3. "Simona" and "Serena" might both start with "S," end with an "na" and have six total letters, but while this result came about against Halep it most definitely would not have occurred against Williams. Sharapova is always a threat to turn around match and pull a win from the jaws of defeat. Except when it's Serena behind the sharp smile, that is.


=============================


2. Madrid 2nd Rd. - Sharapova d. McHale 6-1/4-6/6-4
Madrid QF - Sharapova d. Li 2-6/7-6(5)/6-3
...see above. McHale led 4-1 in the 3rd, while Li was up a break at 6-2/4-3.


=============================


3. Madrid SF - Halep d. Kvitova
...6-7(4)/6-3/6-2. After Kvitova took at 7-6/3-1 lead, it was the Romanian who served better -- hitting more aces and with a higher win percentage -- down the stretch. Playing a more aggressive game by necessity, Halep had 42 UE, but a whopping 55 winners.


=============================


4. Madrid 2nd Rd. - Pavlyuchenkova d> Jankovic
...6-2/5-7/7-6(3). JJ led 4-1 in the 3rd, but Pavlyuchenkova got the win -- (wait for it) -- only to lose her next match against AnaIvo.


=============================


5. Madrid QF - Halep d. Ivanovic
...6-2/6-2. Remember that Fed Cup loss to AnaIvo? Yeah, Halep must have, too.


=============================


6. Rome Q1: Cetkovska d. Cepelova
...6-4/6-3. The Slovak is 1-5 since reaching the Charleston final. On the bright side, she's in the Top 50 for the first time in the new rankings.


=============================


7. Rome Q1: Barthel d. Torro-Flor
...6-1/6-2. The Spaniard is 1-3 since winning Marrakech.


=============================


8. $10 Bastad Final - Conny Perrin/SUI d. Maria Sakkari/GRE 7-5/6-1
$10K Bastad Doubles Final - Grajdek/Sakkari d. Herdzelas/Perrin 7-5/6-4
...the Swiss and the Greek had a little anything-you-can-do-I-can-do-better game of hot potato in Bastad.


=============================


9. $25K Raleigh Final - Heidi El Tabakh/CAN d. Maria Sanchez/USA
...6-3/6-4. Fichman wasn't the only Canadian to win a title this weekend.


=============================


10. Madrid 1st Rd. - A.Radwanska d. Bouchard
...7-6(3)/6-2 . Genie didn't have quite as much success. Hey, but at least she ate well.

=============================


1. Madrid 2nd Rd. - Aga Radwanska d. Kuznetsova 6-3/4-6/7-6(6)
Madrid SF - Sharapova d. Aga Radwanska 6-1/6-4
...A-Rad found a way to survive against Kuznetsova, as the Russian lost at 4-1 3rd set lead just as she did last weekend in the Oeiras final against CSN. Here, Radwanska, after serving for the match at 5-4, saved three MP in the 3rd set tie-break before finishing off Kuznetsova by sweeping the final five points of the match. Of course, that didn't matter against Sharapova, who seems to be inside Aga's head at this point. She led 6-1/3-0 before Radwanska finally woke up and ended up taking a 4-3 lead. But, as is so often the case against top power players, Aga couldn't keep her momentum going and wasn't able to utilize her bag of tricks. Sharapova now leads their head-to-head series 10-2.


=============================


2. $50K Fukuoka QF - Broady d. Erika Sema 7-6/6-3
$50K Fukuoka SF - Broady d. Chan Yung-Jan 6-3/6-3
$50K Fukuoka Final - Broady d. Kristyna Pliskova 5-7/6-3/6-4
...the Brit went 3-0 vs. tennis sisters to grab her third ITF challenger title of the season. This was a GRASS court tournament, by the way. Yep, it's about that time.


=============================






...Vika!



...Vika & her mom!







**2014 PREMIER MANDATORY/PREMIER 5 CHAMPS**




[singles]


Doha - Simona Halep, ROU
Indian Wells - Flavia Pennetta, ITA
Miami - Serena Williams, USA
Madrid - Maria Sharapova, RUS
Rome - x
Canada - x
Cincinnati - x
Wuhan - x
Beijing - x


[doubles]


Doha - Hsieh Su-Wei/Peng Shuai, TPE/CHN
Indian Wells - Hsieh Su-Wei/Peng Shuai, TPE/CHN
Miami - Martina Hingis/Sabine Lisicki, SUI/GER
Madrid - Sara Errani/Roberta Vinci, ITA/ITA
Rome - x
Canada - x
Cincinnati - x
Wuhan - x
Beijing - x



**CAREER CLAY TITLES - active**


10...Serena Williams, USA
10...Anabel Medina-Garrigues, ESP
9...MARIA SHARAPOVA, RUS
7...Flavia Pennetta, ITA
7...Venus Williams, USA
6...Sara Errani, ITA
6...Jelena Jankovic, SRB
5...Francesca Schiavone, ITA
5...Roberta Vinci, ITA



**2014 WTA LONG WIN STREAKS**


13...Li Na, January-February (ended by Cetkovska)
11...MARIA SHARAPOVA, May-current
11...Caroline Garcia, April-May (ended by A.Radwanska)
11...Garbine Muguurza, January (ended by A.Radwanska)



**2014 CONSECUTIVE TITLES**


3...Peng Shuai, February (doubles)
2...Li Na, January
2...Hsieh/Peng, February-March (doubles)
2...MARIA SHARAPOVA, May-current
2...ERRANI/VINCI, May-current (doubles)



**2014 DOUBLES TITLES - TEAMS**


3...ERRANI/VINCI, ITA/ITA
2...Hsieh/Peng, TPE/CHN
2...Kudryavtseva/An.Rodionova, RUS/AUS
2...Medina-Garrigues/Shvedova, ESP/KAZ
2...Koukalova/Niculescu, CZE/ROU



**WTA FINALS - 2012-14**


22...Serena Williams (20-2)
16...Victoria Azarenka (9-7)
16...MARIA SHARAPOVA (7-9)
11...Li Na (4-7)



**2014 ITF TITLES - NORTH AMERICANS**


2 - Grace Min, USA
2 - Taylor Townsend, USA
1 - Francoise Abanda, CAN
1 - Heidi El Tabakh, CAN
1 - Sharon Fichman, CAN
1 - Bernarda Pera, USA
1 - Katerina Stewart, USA
1 - Marcela Zacarius, MEX



**2014 ITF FINALS**


4...NAOMI BROADY, GBR (3-1)
4...TIMEA BACSINSZKY, SUI (2-2)
5...Olga Doroshina, RUS (1-3)







ROME, ITALY (Premier $2.628/red clay outdoor)


13 Final: S.Williams d. Azarenka
13 Doubles Final: Hsieh/Peng d. Errani/Vinci
14 Top Seeds: S.Williams/Li
=============================


=QF=


#5 Kvitova d. Petkovic
#8 Sharapova d. #4 Halep
(Q) Bencic d. #3 A.Radwanska
#2 Li d. #10 Errani


=SF=


#8 Sharapova d. #5 Kvitova
#2 Li d. (Q) Bencic


=FINAL=


#8 Sharapova d. #2 Li

...of course, these picks are going on the not-so-crazy assumption that Serena will withdraw in order to preserve herself for RG, or play just one match before deciding it's not worth the risk. With a healthy Williams, the picks would look a BIT different. As it is, I'll go with qualifier Bencic playing the role of "Simona '13," but Sharapova ultimately playing the same one she has in every clay tournament since 2012 in which she hasn't had to play Serena -- that of champion. If it works out, it'd be hard to imagine she could head to Paris on a bigger high.


Can you believe we're coming up on the tenth anniversary of the "Russian summer" on the WTA tour? More later this week.

All for now.