W 6.5 - Middle Sunday Musings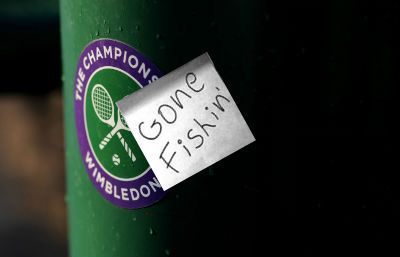 Well,
not really.
But there's no play today at Wimbledon on the middle Sunday.
That hasn't always been the case, though. Three times in Wimbledon's history weather delays during the first week have precipitated the opening of the gates of the AELTC for a "People's Sunday" in order to get the tournament back on schedule. The first came in 1991, while there was additional Sunday play in 1997 and 2004, as well.
It was the first, though, that was truly special.
With the Centre Court stands filled with "regular" fans, the most famous moment of the day was probably the serenading of veteran Jimmy Connors, two months before his U.S. Open semifinal run at age 39 later that summer. Fans sang and yelled out Connors' name, even vociferously counting groundstrokes during the pre-match warm-up... but only up to ten. Connors turned toward the stands and asked, as only he could, "What's the matter? You can't count past ten?" Ah, he had them at "hello," that guy. Fans even participated in a "wave" that traveled all around Centre Court. Here's a remembrance of the historic day from Tennis Buzz. When you read it, you can't but think how some of today's players might react to the scene.

Really, it would be a good moment for the sport as a whole.

Now, I admit, I selfishly enjoy the action-free middle Sunday just because I like having a day smack dab in the middle of a slam where I don't have to worry about actively following the events of the day and managing to post a recap before night falls and it's time to start up play for the following Monday. It's a refreshing point to pause. But the notion of a regular "People's Sunday" at the All-England Club, even a modified one where just a handful of matches were opened up to fans on a "first come, first served" basis for matches to take place only on Centre Court and maybe one or two other show courts, would surely be one of the annual highlights of the grand slam season. Every year. Being able to play in front of those crowds -- maybe even with the tournament loosening all those long-standing-and-always-a-bit-silly restrictions of colors on the players' attire, ala what occurred at the AELTC during the 2012 Olympics -- would be something that many players would take an immediate liking to, and bring them closer to the "real" fans, allowing their personalities to shine. Just like what happened with the players on the original "People's Sunday."

Yeah, I guess the middle Sunday is also a day to dream, huh? We sort of know that such a thing won't be happening anytime soon at Wimbledon. But there WILL be another "People's Sunday." Someday. Mother Nature and the Tennis Gods will make sure of that, if only just to nudge the tournament officials a little. Who knows, one day, maybe many generations from now, Marcos Agassi and his sister Sabine, the great, great grandchildren of Andre Agassi and Steffi Graf, will both notch wins on a middle Sunday and then tell the assembled media afterward that they should do this EVERY year.

Of course, they both might have to become great grandparents themselves before the notion would become a Wimbledon reality. But it will happen. Some day. Oh... some day. Maybe. Or not.

So, anyway, until Monday...

All for now.