W.6- Maria, Alize, Serena and, yep... Lists!

There were Pastry lips touching the Centre Court grass on Day 6.
But first...


The Round of 16 field isn't quite set, but fourteen is enough. And you know what that means... lists-a-palooza!



*2014 WIMBLEDON WOMEN'S FINAL 16*




[by ranking]


#3 - Simona Halep
#4 - Agnieszka Radwanska
#5 - Maria Sharapova
#6 - Petra Kvitova
#7 - Angelique Kerber
#13 - Eugenie Bouchard
#16 - Caroline Wozniacki
#22 - Ekaterina Makarova
#23 - Lucie Safarova
#24 - Alize Cornet
#43 - Barbora Zahlavova-Strycova
#61 - Peng Shuai
#72 - Zarina Diyas
#175 - Tereza Smitkova
x...Ivanovic (11) or Lisicki (19)
x...Keys (30) or Shvedova (65)


[by age]


28...Barbora Zahlavova-Strycova
28...Peng Shuai
27...Lucie Safarova
27...Maria Sharapova
26...Angelique Kerber
26...Ekaterina Makarova
25...Agnieszka Radwanska
24...Alize Cornet
24...Petra Kvitova
23...Caroline Wozniacki
22...Simona Halep
20...Zarina Diyas
20...Eugenie Bouchard
19...Tereza Smitkova
x....Ivanovic (26) or Lisicki (24)
x....Keys (19) or Shvedova (26)


[by nation]


4...Czech Republic (Kvitova,Safarova,Smitkova,Zahlavova-Strycova)
2...Russia (Makarova,Sharapova)
1...Canada (Bouchard)
1...China (Peng)
1...Denmark (Wozniacki)
1...France (Cornet)
1...Germany (Kerber)
1...Kazakhstan (Diyas)
1...Poland (A.Radwanska)
1...Romania (Halep)
+KAZ/USA, GER/SRB


[by career slam Round-of-16's]


31...Maria Sharapova
20...Agnieszka Radwanska
14...Caroline Wozniacki
12...Petra Kvitova
10...Angelique Kerber
7...Ekaterina Makarova
5...Peng Shuai
4...Simona Halep
4...Lucie Safarova
3...Eugenie Bouchard
2...Alize Cornet
1...Zarina Diyas
1...Tereza Smitkova
1...Barbora Zahalova-Strycova
x...Ivanovic(18) or Lisicki (6)
x...Keys (0) or Shvedova (3)


[by consecutive slam Round of 16's]


4...Simona Halep
4...Angelique Kerber
3...Eugenie Bouchard
3...Maria Sharapova
2...Lucie Safarova


[by career WI Round of 16's]


9...Maria Sharapova
7...Agnieszka Radwanska
5...Petra Kvitova
4...Caroline Wozniacki
3...Peng Shuai
2...Angelique Kerber
1...Eugenie Bouchard
1...Alize Cornet
1...Zarina Diyas
1...Simona Halep
1...Ekaterina Makarova
1...Lucie Safarova
1...Tereza Smitkova
1...Barbora Zahlavova-Strycova
x...Ivanovic(4) or Lisicki (4)
x...Keys (0) or Shvedova (1)


[by consecutive WI Round of 16's]


5...Petra Kvitova
3...Agnieszka Radwanska
x...Lisicki (3; reached 4r in last 4 Wimb. played - DNP '10)
[by preseason "Grand Slam Master List" rankings]
4 - Maria Sharapova
7 - Agnieszka Radwanska
8 - Petra Kvitova
9 - Angelique Kerber
12 - Simona Halep
16 - Caroline Wozniacki
19 - Ekaterina Makarova
20 - Eugenie Bouchard
44 - Alize Cornet
46 - Peng Shuai
47 - Lucie Safarova
unlisted - Zarina Diyas
unlisted - Tereza Smitkova
unlisted - Barbora Zahlavova-Strycova
x...Ivanovic(32) or Lisicki (6)
x...Keys (31) or Shvedova (42)


[WTA career slam Round of 16's - active]


45...Serena Williams
40...Venus Williams
31...MARIA SHARAPOVA
27...Svetlana Kuznetsova
21...Nadia Petrova
20...Jelena Jankovic
20...AGNIESZKA RADWANSKA
18*..Ana Ivanovic
18...Francesca Schiavone
17...Victoria Azarenka


[WTA slam Round of 16's since 2010 - active]


14...MARIA SHARAPOVA
13...Serena Williams
12...Victoria Azarenka
12...AGNIESZKA RADWANSKA
10...ANGELIQUE KERBER
10...PETRA KVITOVA
10...Li Na
10...CAROLINE WOZNIACKI
9*..Ana Ivanovic
9...Svetlana Kuznetsova


[2014 slam Rd. of 16's - youngest]


19 - Eugenie Bouchard (AO)
19 - Tereza Smitkova (WI)
20 - Eugenie Bouchard (RG)
20 - Eugenie Bouchard (WI)
20 - Garbine Muguruza (AO)
20 - Garbine Muguruza (RG)
20 - Ajla Tomljanovic (RG)
20 - Sloane Stephens (AO)
20 - Zarina Diyas (WI)
21 - Sloane Stephens (RG)
x - Keys (19)


[2014 slam Rd. of 16's - oldest]


32 - Serena Williams (AO)
31 - Li Na (AO)
31 - Flavia Pennetta (AO)
30 - Samantha Stosur (RG)
29 - Jelena Jankovic (RG)


[2014 slam Rd. of 16's - unseeded]


AO - Casey Dellacqua, AUS (WC)
AO - Garbine Muguruza, ESP
RG - Garbine Muguruza, ESP
RG - Pauline Parmentier, FRA (WC)
RG - Ajla Tomljanovic, CRO
RG - Kiki Bertens, NED (Q)
WI - Zarina Diyas, KAZ
WI - Peng Shuai, CHN
WI - Tereza Smitkova, CZE (Q)
WI - Barbora Zahlavova-Strycova, CZE
WI - Keys or Shvedova


[2014 slam Rd. of 16's - 1st-time GS 4th Rd.'s]


AO - Eugenie Bouchard, CAN
AO - Garbine Muguruza, ESP
RG - Kiki Bertens, NED
RG - Pauline Parmentier, FRA
RG - Ajla Tomljanovic, CRO
WI - Zarina Diyas, KAZ
WI - Tereza Smitkova, CZE
WI - Barbora Zahlavova-Strycova, CZE
x - Keys


[2014 slam Rd. of 16's - lowest-ranked]


#175 - Tereza Smitkova, CZE (WI)
#148 - Kiki Bertens, NED (RG)
#145 - Pauline Parmentier, FRA (RG)
#120 - Casey Dellacqua, AUS (AO)


[2014 slam Rd. of 16's - by nation]


6 - Russia
5 - Czech Republic
4 - Germany
3 - Canada, Romania, Serbia, Spain, United States
2 - Australia, China, France, Italy, Poland
1 - BLR, CRO, DEN, KAZ, NED, SVK
-
+KAZ/USA, GER/SRB


Whew!













=DAY 6 NOTES=
...rain interrupted or delayed play everywhere but Centre Court for four and a half hours on Saturday, producing the first significant weather-related issues at this Wimbledon. When play resumed in the afternoon, forty-three of the originally scheduled matches had already been cancelled (more would follow, as it turned out) as tournament officials attempted to get as many men's and women's 3rd Round singles matches completed as possible so that the usual "entire both Round of 16's play" nature of Monday wouldn't be left in complete shambles because of today.

Maria Sharapova had no such worries, though, as hers was the only scheduled women's match for Centre Court today, and she and Alison Riske went off as planned, after Rafa Nadal's opening match win, under the roof.

Riske managed to get a break of serve to open the match, but it didn't take long to realize that this wasn't going to be a "Sharapova vs. Serena, circa 2004" scenario. The American was clearly just trying to hold back the charging Russian after her early head start, hoping to stay a step ahead long enough to get to the 1st set finish line before Sharapova overtook her and ran away with things. She couldn't do it, though. A double-fault by Riske gave Sharapova her first BP chance at 3-2. She didn't convert it, but the Russian got a second BP chance. Another DF from Riske handed her the break to knot the set.

That was essentially the end of the festivities.




Sharapova held for 4-3 with a rally-ending forehand down the line, then went up 30/love on the American's serve a game later. A Sharapova return skipped off the net and into the backcourt to get another BP. A wide Riske backhand up the line gave Sharapova a commanding 5-3 lead. While Sharapova had four DF in the set, it didn't matter. Her 1st serve percentage was just 59%, but she was winning 76% of the points when she did get them in. A big Sharapova serve and a long Riske return gave the Russian a fifth straight game and the set, then she opened the 2nd set with another break of serve.

The win streak ultimately went to eleven straight games in Sharapova's 6-3/6-0 victory. In the 2nd, again, she put in just 56% of her 1st aerves, but she won a whopping 89% of them. This is her tenth straight match win, making Sharapova the first woman in 2014 with multiple 10-match winning streaks. One player who hasn't won ten straight this season? Serena Williams.

Speaking of...

Williams' 3rd Round match with Alize Cornet managed to get on the court early on Saturday, only to be stopped after two games. When everyone returned almost five hours later, Serena reeled off five straight games to win the 1st set 6-1. But then everything changed.

Williams was immediately off-kilter in the 2nd set, as she has so often been this season. While the American's footwork seemed to be taking place in quicksand, with her in-point decision-making in similar slow-motion form, Cornet got her footing and took a 5-0 lead. Williams bounced back and got to 5-3, but Cornet put away a forehand at the net off a weak backhand return from Serena and claimed the 2nd at 6-3 on her first set point opportunity.

While Cornet came into this Wimbledon with just one slam Round of 16 in her career (AO '09), Williams had only failed to reach the Wimbledon Round of 16 twice in her career, in '05 and in her '98 debut. But Cornet's semifinal win over Serena in Dubai earlier this year lingered in the Centre Court air. The Pastry knew she could defeat Williams. She already had. In straight sets, no less.

In the first game of the 2nd set, Cornet went up 40/15. When Williams put away a drop shot on BP #2, she yelled and stared at Cornet, pointing her first in the Pastry's direction. While it seemed like an act of intimidation (even if Cornet would never be intimidated by such a thing, and rather than back down would be more likely to unwisely challenge a stronger foe with more gusto, even if it meant the likelihood of physical danger), I wrote down in my match notes that it felt more like Serena was trying to convince HERSELF of her power than anything else.

No matter, for it didn't work on either front.

A Williams DF handed Cornet a third BP, but she committed a long error and things went back to deuce. Serena would soon net a backhand on game point, then challenge an obviously in line shot from Cornet that had given her BP #4 (again, reaching and trying to convince herself of something). Finally, Williams served up the middle and held with a put-away shot at the net for 1-0. This time, though, there was no howl or shaking fist. There wasn't even a noticeable acknowledgement of personal success.

At 2-2, Cornet again went up 40/15, but Williams won a 15-shot rally, then saved a second BP with a backhand winner. Cornet followed by winning a 14-shot rally to get a third shot, then a fourth with a forehand pass off a bad Williams volley as Cornet continued to whack the Williams pinata. But, Serena being who she is, there was still SOME question whether or not she could rip a hole in the champion's exterior. Finally, Williams framed a deep Cornet shot off the baseline and the Pastry went up a break at 3-2. In game #7, Serena raced to a drop shot to avoid falling down another break point at 2-4, but a Cornet backhand winner sent behind Williams got the BP anyway. A wide Williams backhand gave Cornet a two-break lead at 5-2 and the Pastry served for the match.

Briefly, Williams looked like the Serena of old, stringing together a handful of great points. She took a 30/love lead, but saw Cornet get within two points of the win at 30/30. Williams hit a backhand winner to reach break point, then cut Cornet's double-break lead in half with a break for 5-3. Holding steady, Williams got to 5-4 a game later.

But, still, while it could have happened, you didn't sense that one of Serena's classic comebacks was in order. And it wasn't, either. Cornet went up 30/love on her serve, again getting to within two points of victory. Williams was seen whacking her hand with her racket after the point. She quickly replaced the racket, but the hand remained. On the next point, Williams retrieved a mid-court ball and approached the net behind a deep forehand, only to see Cornet send a shot back directly at her. She couldn't handle the volley, netting a backhand and putting Cornet at match point. On MP, the Frenchwoman quickly employed a slice backhand drop shot off Serena's return. Williams raced to the net, but put a down the line shot into the net as Cornet held at love -- just as she did in the final game in Dubai -- to take the match 1-6/6-3/6-4, getting her second win this season over Serena and her first ever over a Top 20 player in fourteen such match-ups in majors.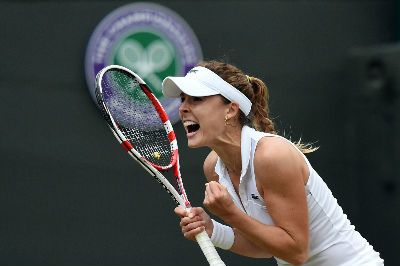 Cornet winningly celebrated, as she has so often this season. She ran back out onto the court to kiss the grass, then gave the crowd another #1-finger shaking dance before waving and slipping off stage with a huge smile on her face. She could seemingly hardly it had happened -- "I can't believe that I did it myself! Me!" -- after the match. But, really, it's not a HUGE surprise.




After her early loss in Paris, while Williams said all the right things, I said at the time that the words just weren't as convincing as they came out of her mouth as they have been in the past. It's become apparent as 2014 has progressed, while Williams has won three titles, that she's not the same player, emotionally, that she was during her eighteen-month storm of success in 2012-13. It could be that she used up so much mental and physical energy putting together arguably the best stretch of her long, already-Hall of Fame career that an inability to pull herself up to such heights in big moments on big stages was inevitable this season. Plus, you know, when I picked her to win a Grand Slam this season it wasn't a big leap to think she then had just as much of a chance to have her worst-ever grand slam season... even Serena isn't immune to the "Kuznetsova Curse," it appears.

Whoops.

Of course, the 2014 slam season isn't over. New York still appears in the distance as the site of Serena's last grand slam stand this year. After a summer of pre-Open rest and refocusing, it's easy to think that she'll at least reach the final in Flushing Meadows. After three straight slams without reaching the QF, Serena will head to NYC looking, at the modest least, to avoid having her third career season without a Final Eight slam result. The others came in 2006, when she played in only two majors, and 1998, her first season on tour. She's only failed to appear in at least one slam final in a single season once ('06) since 2001.

So, I guess we'll be repeating this will-she-or-won't-she dance two months from now before the start of the Open, as well.

...by the time the Williams match was completed, Eugenie Bouchard had already defeated Andrea Petkovic in a rematch of their Charleston semifinal from this spring, finally winning 6-3/6-4 on her third match point, as she continues to improve her grass game with every round. While Sharapova is getting all the attention for now no longer having Serena in her path in the QF, the Canadian was scheduled to face Williams in the Round of 16. She'll now play Cornet. Not an easy thing, but surely a better option than the alternative would have been.

In a match-up of former Wimbledon semifinalists, Angelique Kerber (2012) defeated Kirsten Flipkens (2013) 3-6/6-3/6-2 to advance to her fourth straight slam Round of 16. Even without a final berth, Kerber has been shockingly consistent at the slams since she ended a five-match losing streak at majors with that surprise semifinal at the U.S. Open in 2011 when she was barely ranked in the Top 100. This is the German's ninth 4th Round at the last ten majors, and tenth in the last twelve.

Simona Halep defeated New Swiss Miss Belinda Bencic, 6-4/6-1. The Roland Garros finalist has now reached the Round of 16 at four "big event" slams after showing that she'd learned to conquer the "smaller" events in 2013. The Pride of Romania is now tied with Kerber for the most consecutive slam 4th Rounds on tour. Hmmm, I wonder if Sloane, the former leader in the category, has noticed?

20-year old Kazakh Zarina Diyas continued her magical run in just her third career slam main draw, reaching her first Round of 16 with a three-set win today over wild card (and '10 RU) Vera Zvonareva. Diyas reached the final on the grass at the Nottingham challenger before the start of Wimbledon.

...two of the women's 3rd Round matches were not completed, but the winners are scheduled to meet each other in the 4th Round, so no advantage will be gained when the schedule gets scrunched together at the start of next week.

The Sabine Lisicki/Ana Ivanovic match was stopped at 6-4/1-1 after the Serb complained for nearly ten minutes about the lack of light. She got the match stopped, even while other matches on the grounds continued for a good while after that point, including the Madison Keys/Yaroslava Shvedova match-up, the winner of which would meet the Lisicki/AnaIvo winner.

Shvedova led 5-3 in the 1st set, but failed to serve out the set at 5-4. Things went to a tie-break, where Keys held four set points (two on serve), but saw Shvedova win 9-7. Keys led 4-2 in the 2nd set, but saw her lead slip away. The Eastbourne champ, with many matches piling up of late, was visibly tired down the stretch in the set, though she didn't push for a stoppage ala AnaIvo. She also injured her leg, but managed to gut out a break of serve in a 20-point game to give herself a chance to serve out the set in the fading light at 6-5.

It was at this point that she called for trainers, who treated the teary Bannerette who was once again undergoing the sort of 2014 season "trial by fire" that should serve to toughen her up for the rest of her career (remember vs. Cornet in Fed Cup, as well as her opening matches at this Wimbledon). Play wasn't stopped at this point, though it was upwards of around half an hour since the Ivanovic/Lisicki match had been interrupted. A physically-compromised, limping and hands-on-knees Keys was unable to hold serve, setting up a deciding tie-break for the 2nd set.

Finally, after both players questioned the umpire about the situation, play was stopped at 9:35 p.m.. Shvedova was upset about it, as she surely would have won the tie-break since Keys could no longer really cover the barely-visible court, but if the Kazakh really wanted to push the issue she wouldn't have asked, she would have simply acted as if she ASSUMED they'd finish things up tonight and made it look like everyone else was crazy even considering stopping. Meanwhile, Keys should have gone into a delaying tactic by calling for the tournament director and pushing things even deeper into the night, for her own good. But, she'll learn from this and probably do just that next time. Example of experience: Ivanovic setting things up ten minutes in advance by needling for a stoppage when she went down a set, but not yet a break in the 2nd... as that worked out pretty well for her. It might still work out for Keys, as well. She'll now have a day off to get physically prepared for the rest of the match. Come out and win the tie-break on Monday and it's a one-set battle for the Round of 16.

Ivanovic/Lisicki will probably re-start at approximately the same (likely early) time, so the winners might meet on Tuesday unless the tournament decides to have them play their Round of 16 matches that day, too, along with the rest of the draw.

...only two seeded girls were in action in the pared-down, post-rain Saturday schedule, #9 Anhelina Kalinina and #10 Xu Shilin. Xu got a win, while Kalinina was down a set and 5-5 to Brit Harriet Dart when play was called due to darkness.

...#4-seeded Cara Black & Sania Mirza faced off with Anastasia Pavlyuchenkova & Lucie Safarova in the only completed women's doubles match of Day 6. Black & Mirza looked as if they were going to win in straight sets, but the Russian/Czech pair saved five match points at 5-4 in the 2nd, then four more in the tie-break to force a 3rd set. Then, in the deciding stanza, Pavlyuchenkova & Safarova came back from an early break at 2-1 to win the match 2-6/7-6(7)/6-4.

Hmmm, could we have "Zombie QUEENS" at this Wimbledon?

...LIKE FROM DAY 6:

-- don't expect Riske to get down in the dumps about a single loss. After losing to Sharapova, in her typical good humor, she Tweeted, "David Beckham watched me lose to Sharapova on Center Court at Wimbledon. Id say that is half winning..."




...DISLIKE FROM DAY 6:

-- introducing the "killjoy gate."


...ANOTHER SHOT FROM THE "CARO & FRIENDS" ROAD TOUR FOR CONSPICUOUS DAY 6 CONSUMPTON: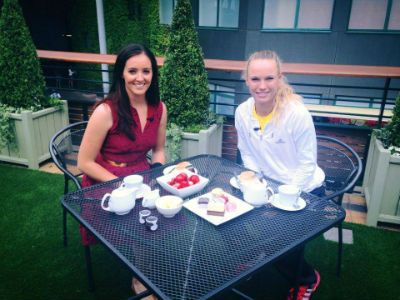 I tell ya, I think by now that wrist brace has fused itself to Robson's skin.

...and, finally, meanwhile, Aga watches and waits...
















=LADIES' SINGLES ROUND OF 16=


#25 Alize Cornet/FRA vs. #13 Eugenie Bouchard/CAN
#9 Angelique Kerber/GER vs. #5 Maria Sharapova/RUS
#3 Simona Halep/ROU vs. Zarina Diyas/KAZ
x vs. x
(Q) Tereza Smitkova/CZE vs. #23 Lucie Safarova/CZE
#22 Ekaterina Makarova/RUS vs. #4 Agnieszka Radwanska/POL
#6 Petra Kvitova/CZE vs. Peng Shuai/CHN
#16 Caroline Wozniacki/DEN vs. Barbora Zahlavova-Strycova/CZE



=GENTLEMEN'S SINGLES ROUND OF 16=


#1 Novak Djokovic/SRB vs. #14 Jo-Wilfried Tsonga/FRA
Jeremy Chardy/FRA vs. #26 Marin Cilic/CRO
#3 Andy Murray/GBR vs. #20 Kevin Anderson/RSA
#11 Grigor Dimitrov/BUL vs. Leonardo Mayer/ARG
x vs. x
#23 Tommy Robredo/ESP vs. #4 Roger Federer/SUI
#8 Milos Raonic/CAN vs. x
(WC) Nick Kyrgios/AUS x vs. #2 Rafael Nadal/ESP
















*2014 WTA 10-MATCH WIN STREAKS*


13...Li Na, January-February (ended by Cetkovska)
12...Maria Sharapova, April-May (Ivanovic)
11...Caroline Garcia, April-May (A.Radwanska)
11...Garbine Muguruza, January (A.Radwanska)
10...Eugenie Bouchard, May-June (Sharapova)
10...MARIA SHARAPOVA, June-current



*WIMBLEDON CAREER MATCH WINS*


120...Martina Navratilova
96...Chris Evert
74...Steffi Graf
73...Venus Williams *
72...Serena Williams *



*SERENA WILLIAMS SLAM HISTORY*


45-8 - record in slam 3rd Rounds
45-20 - record in slam three-setters
13-4 - record in Wimbledon three-setters


[Wimbledon three-set losses]


2001 QF - Jennifer Capriati
2007 QF - Justine Henin
2013 4th Rd. - Sabine Lisicki
2014 3rd Rd. - Alize Cornet







TOP QUALIFIER:

Michelle Larcher de Brito/POR




TOP EARLY-ROUND (1r-2r):

#5 Maria Sharapova/RUS




TOP MIDDLE-ROUND (3r-QF):

xx


TOP LATE-ROUND (SF-F):

xx


TOP QUALIFYING MATCH:

Q3: Paula Kania/POL d. Shelby Rogers/USA 7-6(12)/4-6/6-3




TOP EARLY-RD. MATCH (1r-2r):

1st Rd. -Coco Vandeweghe/USA d. #27 Garbine Muguruza/ESP 6-3/3-6/7-5 (on 13th MP, 9th in final game)




TOP MIDDLE-RD. MATCH (3r-QF):

Nominee: 3rd Rd. - #6 Kvitova d. #30 V.Williams 5-7/7-6(2)/7-5


TOP LATE-RD. MATCH (SF-F/Jr.):

xx


TOP UNDER-THE-ROOF MATCH:

xx


=============================




FIRST WINNER:

Elena Vesnina/RUS (def. Patricia Mayr-Achleitner/AUT)




FIRST SEED OUT:

#17 Samantha Stosur/AUS (lost 1st Rd. to Wickmayer/BEL)




UPSET QUEENS:

USA (def. 3 seeds and one ex-semifinalist in 1st Rd.)




REVELATION LADIES:

CZE




NATION OF POOR SOULS:

SVK (1-4 in 1st Rd.)




LAST QUALIFIER STANDING:

Tereza Smitkova/CZE (in 4th Rd.)




LAST WILD CARD STANDING:

Vera Zvonareva/RUS (3rd Rd.)




LAST BRIT STANDING:

Naomi Broady & Heather Watson (2nd Rd.)




IT ("??"):

Nominees: Z.Diyas/KAZ; E.Bouchard/CAN; T.Smitkova/CZE; M.Keys/USA; A.Cornet/FRA


Ms.OPPORTUNITY:

xx


COMEBACK PLAYER:

Nominees: Vika's white shorts; P.Kvitova/CZE; B.Zahlavova-Strycova/CZE; C.Wozniacki/DEN


CRASH & BURN:

Sloane Stephens/USA (lost 1st Rd. to Kirilenko/RUS, ending 6 con. slam Round of 16 streak)




ZOMBIE QUEEN:

Nominees: Makarova/RUS (down 5-0 in 1st set, 3-1 in 3rd vs. Date-Krumm in 1st Rd.); Shvedova/KAZ (saved MP vs. Kr.Pliskova in 3rd set in 1st Rd.); Smitkova/CZE (in 3rd Rd., Jovanovski twice for match and 2 MP in 3rd set, won 10-8 on own 5th MP); Pavlyuchenkova/Safarova (saved 9 MP vs. Black/Mirza in 2nd Rd.)


DOUBLES STAR

xx


AMG SLAM FUTILITY UPDATE:

DNP - singles (first time Medina-Garrigues didn't play Q/MD singles at a slam since 2003 Wimbledon, ending a 43-tournament appearance streak)


JUNIOR BREAKOUT:

xx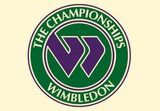 All for Day 6. A quiet middle Sunday tomorrow. More on Monday.