W.5- A Cool Classic

In the first truly anticipated match of this Wimbledon, a pair of former champions faced off. With serves cooking, and power to spare, they didn't disappoint, either.
Unfortunately, only one could win.
And, this time, it was Petra Kvitova who did.
With a clenched fist.


2011 Wimbledon champ Kvitova and five-time SW19 winner Venus Williams entered Day 5 having played four previous matches. All had gone three sets, with the Czech sporting a 3-1 record. Williams had held match point in a loss in Tokyo late last year, though, and they'd never played on a grass surface, let alone at Wimbledon, the tournament at which both have put up the best results of their careers.

As the two heavy hitters played on Centre Court on Friday afternoon, the draw around them opened even wide than it had been when it was originally posted a week ago. With Sloane Stephens out earlier this week, the quarter came into today with only four seeded women remaining in the final eight. Soon, #2-seed Li Na would fall, leaving the winner of this match as the heavy favorite to come out on the other end of next week with yet another semifinal berth at the All-England Club.

Both were quite stubborn on this day, not wanting to give away what was apparent to both to be a golden opportunity for grand slam success. It would be a day full of big serves, few breaks and just a handful of break point attempts with which to turn the match in their favor. It was really quite a wonderful thing to watch.

An all-business Williams saved a break point in the first game of the match, but held serve against an equally serious Kvitova, who came into the match having not lost her serve at this Wimbledon. Using great defense and offense to extend and win rallies, Williams particularly appeared to be turning back the clock to the prime of her career. She slipped and nearly fell in the corner of the court when she was leading 3-2 in the 1st set, but it couldn't knock Williams off stride.

But Kvitova didn't budge, either.

Both held serve as the set went deep. 2-2. 3-3. 4-4. 5-5. Neither player had even faced a break point since Williams had saved one in the opening game. Then, suddenly, it happened. After Williams had held for 6-5, she quickly went up 30/love on Kvitova's serve with deep penetrating groundstrokes leading the way. A long Kvitova backhand put her down love/40, then another wide shot on that wing broke herself at love to hand Venus the set at 7-5. It was the first break of Kvitova's serve this week, and the smooth and economical game of Williams had made it so, if not in the final game, then throughout the set. Winning 88% of her 1st serve points in the set, Venus committed just three errors. While Kvitova had slightly more winners (13-9), her fourteen unforced errors ultimately had done her in.

The 2nd stanza of the match often provided more of the same. Neither player faced a break point in the entire set, and once again Venus slipped and fell in the very same corner of the court with a 3-2 Williams lead showing on the scoreboard. At 5-4, Williams went up 30/15 on Kvitova's serve. Her six unforced errors paled next to Kvitova's twenty-two for the match, and things seemed to be going Venus' way. Twice she got to within two points of victory. But three straight sterling serves from the Czech pulled her out of the hole as the set barreled to a tie-break.

With the 34-year old, Sjogren's-diagnosed Williams not having reached the second week at a slam in three years, it seemed that she NEEDED to win this match in straight sets, and now was the time that the "old Venus" needed to show up more than ever. She didn't, though. After having a decided UE advantage at this point of the day, it was Williams' errors in the TB that would mean the most in the match. Kvitova extended her point streak to five by taking a 3-0 mini-break lead in the TB, and then back-to-back forehand errors from Venus soon turned a still-close 4-2 score into a 6-2 let's-play-three lead for Kvitova. A final double-fault gave Williams five errors in the TB alone, as Kvitova won in 7-2.

In the final set, Venus' game lost much of its early spark. She never fell off the table, but she wasn't nearly as sharp. She struggled to hold for 1-1, then couldn't close out a break after going up 30/15 in game #3. Again, break points were nonexistent for both women, but Kvitova seemed to be improving or holding steady while Venus was trying to simply hold on. Williams nearly did, too. At 4-4, her running forehand shot (oh, a Venus classic!) down the middle of the court produced a slice backhand error into the net from Kvitova, who fell behind love/30 on serve and momentarily resembled like the oft-rattled player who has lost so many leads over the past two seasons.

But the Czech didn't look that way for long.

While Venus dug in to return serve, Kvitova served. Big. She even pounded in a huge second serve with her Wimbledon life hanging in the balance, then fired in one of her signature, lethal wide first serves, too, to get to 30/30. A low forehand half-volley got Kvitova to game points, knotting the players at 101-101 in total points for the match. A winner fired behind Venus at the baseline got Kvitova the important hold for 5-4. A game later, Venus went up 40/15, but was forced to deuce before holding yet again. Still, Kvitova had the decided momentum on her side despite two long returns that put the score at 5-5.

Still, we're talking about Petra. Nothing is ever easy.

The Czech had two double-faults in game #11, but was able to string together enough winners to hold. Then, a game later, she grabbed a 40/15 lead on Williams' serve when the American's backhand sailed long. It presented Kvitova with the first break point on Venus' serve that she'd seen since the opening game of the match. It was also double match point. She only needed one to win. On the first and only MP of the day, Williams netted a backhand and ended the 2:30 match, as Kvitova won 5-7/7-6(2)/7-5. In the end, Kvitova's winner advantage (19-7 in the 3rd, 48-25 for the day) finally outpaced Williams as their unforced errors numbers were comparable (Kvitova had 10 to Venus' 9 in the 3rd) after Williams had held a big advantage (just 10 to Petra's 24) in the first two sets.

Kvitova nearly spun out of control down the stretch, but managed to gather herself in the sort of professional, workwomanlike manner she had throughout the match, and at this Wimbledon so far. Now, with other seeds having fallen in her section, the Czech is most assuredly the favorite to reach the semifinals. And, if she were to play her BEST game in that final four match against the other most accomplished player at SW19 remaining in the bottom half of the draw -- Aga Radwanska -- she's likely be the favorite to reach her second career Wimbledon final, as well.

Of course, no one should note that sort of thing TOO loudly, for Petra hasn't exactly been able to string together very many performances like this too many times since 2011. Still, Kvitova is a different, more comfortable player at Wimbledon than she is anywhere else. Just like Venus was in her prime. That may prove to be the most important thing of all.




This is the third consecutive slam in which Williams has had a set lead on her opponent, yet lost the match, having previously fallen, in order, against Ekaterina Makarova and Anna Schmiedlova. But don't think we've seen the last of Venus. She's already told us that more times than we can count. She'll go on, win or lose, for the love of the game and the hope, still lingering after all these years after staring down more obstacles than in a dozen "normal" tennis careers, that she can have another moment in the sun. Even if it's only a brief one.

I said earlier this week that "no matter what happens at this Wimbledon, or at any other event. Venus Williams does not lose. Even if the scoreboard says she came out on the short end, Williams will always remain the proud individual that she has become, growing into an inspirational adult despite living much of her life in the public eye for the last two decades. In life, Venus is quite simply the epitome of cool."

That still holds true today. Maybe even more so than yesterday, or the day before, or...












=DAY 5 NOTES=
...no former #1's fell yesterday, but two did today. Well, three, technically.

Venus lost, of course, but so did Lleyton Hewitt (a Fallen Seven member from '13) in the completion of his match from yesterday. The Aussie saved two MP in the 3rd set, but ultimately went out in five. Novak Djokovic fell, literally, against Gilles Simon. The Serb grabbed his shoulder and rolled around on the grass late in the 3rd set of the first Centre Court match of the day. It looked like The Rad had finally belatedly struck... but after being treated by trainers, Djokovic played on and took down the Pastryman in straights.




...The Rad might be keeping out of sight, but Aga Radwanska isn't. Not that anyone is noticing her much, as she was continually shrugged off as a real contender in the bottom half of the draw today on ESPN despite her final and semifinal SW19 results the last two years. Today she put down her magical hammer on the head of Michelle Larcher de Brito, making her LOOK like a qualifier in a 6-2/6-0 win.




Another sign of the lack of Radwanskian influence in 2014: after the Hordette streak of 51 consecutive slams with at least one player reaching the Round of 16 came to an end last year at the AELTC, Ekaterina Makarova's advancement there today with a win over Caroline Garcia marks the fifty-fifth time in the last fifty-six slams that a Russian has reached the 4th Round, as well as thirteen times in the last fourteen Wimbledons. Maria Sharapova and Vera Zvonareva are still to play 3rd Round matches. The Wimbledon record is six Russians in the final sixteen, in both 2005 and 2008.

Makarova gets A-Rad next.

...the two matches left over from yesterday were completed early on Day 5. Belinda Bencic won a close 6-5/7-5 match over fellow teenager Vicky Duval, while Simona Halep had to go three sets to defeat qualifier Lesia Tsurenko.




Lauren Davis, who has been putting on the run of her career the last few weeks on the grass, won the 1st set at love over Peng Shuai, only to then win just four games in the final two sets. Peng turns out to be the last Chinese woman in the draw, as Li Na's luck ran out rather quickly after her 1st Round escape against Paula Kania a few days ago. Barbora Zahlavova-Strycova, making a strong comeback from the six-month doping suspension that ended in the spring of '13, won a pair of tie-breaks to take out the Australian Open champ in straight sets. Li, who'd held a set point in the 2nd, also exited early in the 1st Round in Paris, remember. For 28-year old BZS, this is the first Top 10 win of her career. She'd entered the match 0-24 in such match-ups.

In the Australian Open final that never happened, Lucie Safarova went up against Dominika Cibulkova. Remember, Li saved that MP against the Czech earlier in the tournament in Melbourne, then went on to defeat the Slovak in the final. Today, Safarova gave a hint of what could have been, winning 6-4/6-2.

Meanwhile, Caroline Wozniacki might be back. Well, at least partially. Her 6-3/6-0 win today over qualifier Ana Konjuh means she's yet to lose a set at this Wimbledon, and allowed just eleven total games. This was the second match in which she's ended things with a love set. She's one win away from her first career Wimbledon QF.

...the "Last Qualifier Standing" was determined on Day 5, but it wasn't easy.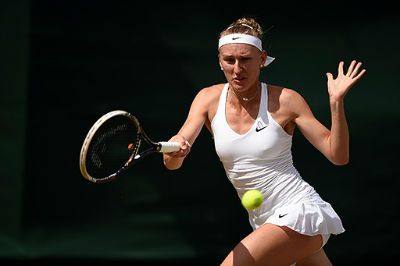 19-year old Czech Tereza Smitkova, the world #175 who has been making slam strides in leaps and bounds in recent weeks, ended Vika conqueror Bojana Jovanovski's Wimbledon with a 4-6/7-6(5)/10-8 win that took nearly three hours. BoJo had held a match point at 6-5 in the 2nd set, and after failing to put away the MP the Serb immediately fell down 4-0 in the tie-break, losing in 7-5. In the 3rd set, Smitkova went up 4-2, but soon was broken for 5-6. Jovanovski then failed to serve out the match at 6-5 and 7-6, holding another MP. Smitkova held three MP at 8-7, but couldn't convert any, either. Finally, the qualifier won on her fifth MP to take the 10-8 final set and advance to her first slam Round of 16, giving the Czech Republic four women in the group of eight players remaining in the bottom half of the draw. Smitkova will face countrywoman Safarova on Monday.

...in doubles, newly-engaged Michaella Krajicek & Martin Emmrich won their 1st Round Mixed match in three sets, while the Kichenok sisters, who'd seen play called for the night due to rain on Day 4 while leading 5-2 in the 2nd set tie-break, two points from victory, tried to make it a short work day for themselves against Monica Puig and Davis. The American had to come back out to play this match after having been eliminated in singles. The Puerto Rican/American duo won the first three points after the match resumed, tying the TB at 5-5, only to see the Ukrainian team take the final two points to win the match.

Elsewhere in doubles, Liezel Huber & Lisa Raymond lost to Aoyama/Voracova, while Madison Keys & Alison Riske were taken out by the veteran pair of Kudryavtseva/An.Rodionova. The Mixed match-up between Huber and Raymond won't happen, though, as Raymond & Trent Huey pulled out of the 1st Round match. Huber & Lukas Dlouhy defeated Alicja Rosolska & Michael Venus today instead, and will next face defending champs Mladenovic/Nestor.

...LIKE FROM DAY 5... no, it CAN'T be! But it is.:

-- LZ Granderson. Yep. During a rather delightful interview with Caroline Wozniacki by Chris McKendry and Granderson on ESPN, talk turned to a photo posted by the Dane with One Direction's Niall Horan.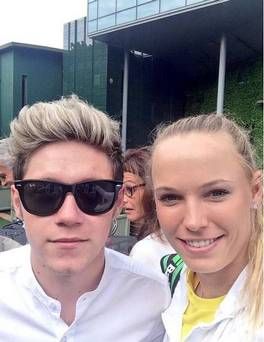 Wozniacki said too much was made of it (no, the "R"-word wasn't used, nor was "o," "r" or "y"), but gushed how famous the singer is on Twitter, specifically mentioning his millions and millions of followers (a "ridiculous" amount, noted Caro). But then she said that people say that One Direction are "bigger than the Beatles." Whoa, whoa now... let's not get crazy here, Caro. Granderson laughed at the notion, and was quick to defend the Fab Four on their native soil, noting that if the Beatles were around now they'd have a BILLION followers.

Nice, LZ. Nice. Maybe there's hope for you yet.

...and, finally, here we go again?

The pre-Wimbledon junior Grade 1 grass event at Roehampton has been held, and the title was claimed by Jelena Ostapenko. Unseeded due to her lack of junior play over the last year, the 17-year old defeated the fifth and sixth seeds en route to the win, wrapping things up with a 6-2/6-3 victory over Kristina Schmiedlova, sister of Anna, in the final. Schmiedlova had defeated CiCi Bellis in the semis.

Of course, I've already picked Ostapenko to win the girls title at BOTH the Australian Open and Roland Garros this year, only to see her falter, and now it will be mighty tempting to cover my eyes and go for a third spin of the Latvian Wheel of Chance in London.

Hmmm.



*WIMBLEDON GIRLS SEEDS*


1. Ivana Jorovic, SRB
2. CiCi Bellis, USA
3. Tornado Alicia Black, USA
4. Aliona Bolsova Zadoinov, ESP
5. Jil Belen Teichmann, SUI
6. Iryna Shymanovich, BLR
7. Francoise Abanda, CAN
8. Kristina Schmiedlova, SVK
9. Anna Kalinina, UKR
10. Xu Shilin, CHN
11. Ioana Loredana Rosca, ROU
12. Marketa Vondrousova, CZE
13. Priscilla Hon, AUS
14. Sandra Samir, EGY
15. Anna Bondar, HUN
16. Naiktha Bains, AUS






=QF=


Gabriella Taylor/GBR d. #7 Francoise Abanda/CAN
Jelena Ostapenko/LAT d. Katie Boulter/GBR
#16 Naiktha Bains/AUS d. Fanny Stollar/HUN
#8 Kristina Schmiedlova/SVK d. #2 CiCi Bellis/USA


=SF=


Ostapenko d. Taylor
#8 K.Schmiedlova d. #16 Bains


=FINAL=


Ostapenko d. #8 K.Schmiedlova

...the power of suggestion. You can't say I won't go with the ship, I guess.
















=LADIES' SINGLES ROUND OF 16=


x vs. x
x vs. x
x vs. x
x vs. x
(Q) Tereza Smitkova/CZE vs. #23 Lucie Safarova/CZE
#22 Ekaterina Makarova/RUS vs. #4 Agnieszka Radwanska/POL
#6 Petra Kvitova/CZE vs. Peng Shuai/CHN
#16 Caroline Wozniacki/DEN vs. Barbora Zahlavova-Strycova/CZE



=GENTLEMEN'S SINGLES ROUND OF 16=


#1 Novak Djokovic/SRB vs. #14 Jo-Wilfried Tsonga/FRA
Jeremy Chardy/FRA vs. #26 Marin Cilic/CRO
#3 Andy Murray/GBR vs. #20 Kevin Anderson/RSA
#11 Grigor Dimitrov/BUL vs. Leonardo Mayer/ARG
x vs. x
x vs. x
x vs. x
x vs. x
















*WIMBLEDON "LAST QUALIFIER STANDING"*


2006 Severine Bremond, FRA (QF)
2007 O.Govortsova/BLR, N.Ozegovic/CRO, T.Perebiynis/UKR, A.Szavay/HUN, H.Sromova/CZE (2nd Rd.)
2008 A.Pavlyuchenkova/RUS, MJ.Martinez-Sanchez/ESP, B.Strycova/CZE (3rd Rd.)
2009 Melanie Oudin, USA (4th Rd.)
2010 Kaia Kanepi, EST (QF)
2011 Misaki Doi, JPN (3rd Rd.)
2012 Camila Giorgi, ITA (4th Rd.)
2013 E.Birnerova/CZE, P.Cetkovska/CZE, M.Larcher de Brito/POR (3rd Rd.)
2014 Tereza Smitkova, CZE (in 4th Rd.)



*RUSSIANS IN WIMBLEDON RD. OF 16 - since 2000*


2000 (0)
2001 (2) Lina Krasnoroutskaya, Nadia Petrova
2002 (2) Elena Dementieva, Elena Likhovtseva
2003 (5) Dementieva, Kuznetsova, Myskina, Sharapova, Zvonareva
2004 (3) Nadia Petrova, Maria Sharapova, Vera Zvonareva
2005 (6) Dementieva, Kuznetsova, Likhovtseva, Myskina, Petrova, Sharapova
2006 (3) Elena Dementieva, Anastasia Myskina, Maria Sharapova
2007 (3) Svetlana Kuznetsova, Nadia Petrova, Maria Sharapova
2008 (6) Chakvetadze, Dementieva, Kleybanova, Kudryavtseva, Kuznetsova, Petrova
2009 (4) Dinara Safina, Elena Dementieva, Nadia Petrova, Elena Vesnina
2010 (2) Maria Sharapova, Vera Zvonareva
2011 (3) Ksenia Pervak, Nadia Petrova, Maria Sharapova
2012 (2) Maria Kirilenko, Maria Sharapova
2013 (0)
2014 (1) Ekaterina Makarova
--
NOTE: Sharapova & Zvonareva still to play







TOP QUALIFIER:

Michelle Larcher de Brito/POR




TOP EARLY-ROUND (1r-2r):

#5 Maria Sharapova/RUS




TOP MIDDLE-ROUND (3r-QF):

xx


TOP LATE-ROUND (SF-F):

xx


TOP QUALIFYING MATCH:

Q3: Paula Kania/POL d. Shelby Rogers/USA 7-6(12)/4-6/6-3




TOP EARLY-RD. MATCH (1r-2r):

1st Rd. -Coco Vandeweghe/USA d. #27 Garbine Muguruza/ESP 6-3/3-6/7-5 (on 13th MP, 9th in final game)




TOP MIDDLE-RD. MATCH (3r-QF):

Nominee: 3rd Rd. - #6 Kvitova d. #30 V.Williams 5-7/7-6(2)/7-5


TOP LATE-RD. MATCH (SF-F/Jr.):

xx


TOP UNDER-THE-ROOF MATCH:

xx


=============================




FIRST WINNER:

Elena Vesnina/RUS (def. Patricia Mayr-Achleitner/AUT)




FIRST SEED OUT:

#17 Samantha Stosur/AUS (lost 1st Rd. to Wickmayer/BEL)




UPSET QUEENS:

USA (def. 3 seeds and one ex-semifinalist in 1st Rd.)




REVELATION LADIES:

CZE




NATION OF POOR SOULS:

SVK (1-4 in 1st Rd.)




LAST QUALIFIER STANDING:

Tereza Smitkova/CZE (in 4th Rd.)




LAST WILD CARD STANDING:

Vera Zvonareva/RUS (in 3rd Rd.)




LAST BRIT STANDING:

Naomi Broady & Heather Watson (2nd Rd.)




IT ("??"):

xx


Ms.OPPORTUNITY:

xx


COMEBACK PLAYER:

Nominees: Vika's white shorts; V.Zvonareva/RUS; P.Kvitova/CZE; B.Zahlavova-Strycova/CZE; C.Wozniacki/DEN


CRASH & BURN:

Sloane Stephens/USA (lost 1st Rd. to Kirilenko/RUS, ending 6 con. slam Round of 16 streak)




ZOMBIE QUEEN:

Nominees: Makarova/RUS (down 5-0 in 1st set, 3-1 in 3rd vs. Date-Krumm in 1st Rd.); Shvedova/KAZ (saved MP vs. Kr.Pliskova in 3rd set in 1st Rd.); Zvonareva/RUS (T.Moore served for match at 5-4 in 3rd in 1st Rd.); Smitkova/CZE (in 3rd Rd., Jovanovski twice for match and 2 MP in 3rd set, won 10-8 on own 5th MP)


DOUBLES STAR

xx


AMG SLAM FUTILITY UPDATE:

DNP - singles (first time Medina-Garrigues didn't play Q/MD singles at a slam since 2003 Wimbledon, ending a 43-tournament appearance streak)


JUNIOR BREAKOUT:

xx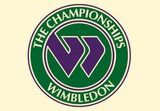 All for Day 5. More tomorrow.