W.1- The Return

Of course, Day 1 at Wimbledon is traditionally when former grand slam champions return to the stage to bask in the glory of their past accomplishments. That happened in a big way today at the All-England Club.
Welcome back...
Vika's white shorts.


Oh, yeah. And Sloane Stephens lost, too.

Since returning to the tour last week in Eastbourne after a multi-month absence, during which she admittedly had more alone time than she's used to while she tended to the foot injury that has kept her from experiencing a match win since the Round of 16 at the Australian Open, Victoria Azarenka hasn't yet quite gotten her match toughness in total working order. But she's getting there.

Last week, she lost her opening match to Camila Giorgi, failing to convert seven game points and being broken late in the 3rd set in a nine-deuce game. Things didn't get as hairy today against Mirjana Lucic-Baroni, who, like Azarenka, is a former Wimbledon semifinalist (even if it was fifteen years ago), but it wasn't a breeze, either. And that's a good thing for the Belarusian, who seems genuinely happy to be back, both on and off court, and who is only just now starting to rebuild the game that saw her ranked seven spots higher than her current #9 just a few months ago. After winning the 1st set at 6-3, Azarenka fell behind 3-1 and 5-3 in the 2nd, with the Croat serving at 5-4 and holding four set points. But Azarenka -- the white shorts glistening in the sunshine just as during that fabled Australian Open title run of old -- held back the tide, closing the door, finally, on her fifth match point of the last game.

It's Azarenka's first win since defeating a certain Current version of a player back in Melbourne. You remember that match, right? The rematch of the "controversial" 2013 semifinal won by Vika. The match where, we were told, the even more Current version of that '13 player would extract "revenge." As it turned out, Azarenka followed up last year's 6-1/6-4 win with a nearly identical (or better) 6-3/6-2 victory.




Yeah, THAT match.

Well, we won't be getting a healthy third helping of that dish in London, for mighty Sloane Stephens has struck out.

Since reaching the AO semifinals a year ago, Stephens has weathered numerous media storms, but her biggest obstacle has been herself. Most of the media issues -- social and otherwise -- were of her own making, while she also seemed to buy into the "next champion" talk to a level where her ability to improve and build confidence through on-court success no longer matches her prospective potential. She's yet to reach another tour semifinal over the past eighteen months, but she at least had her slam consistency -- six straight Round of 16 or better results, the best on tour -- to fall back on whenever someone asked her questions about players who've won more matches (and titles) in, you know, "smaller tournaments."

Just two days after a pair of fellow Americans won their first career tour titles, Stephens was sure to be pressed in London about her lack of even an appearance in a final in her career. This season alone, eleven woman have been crowned first-time singles champions, and fellow North American Genie Bouchard matched Stephens' AO semifinal... then passed her in the rankings, won her own first title and reached ANOTHER slam semi in Paris two weeks ago. Placed in a quarter of the draw with a lot of big names, but no clear or consistent favorite, Stephens was presented with an opportunity to show that the heart and urgency that she's generally accused of NOT having was actually there to be tapped at just such a moment. After all, it's in moments like this that real champions step to the forefront.

But then today happened.

Granted, Stephens was playing Maria Kirilenko, a very good player who was in the Top 10 a year ago, but one who has missed many months since suffering a knee injury late last season. Since the Russian's return a few weeks ago, she hasn't been much of a factor anywhere, going 1-4. We'll find out in the next round or two whether or not Kirilenko is really back and healthy but, really, Stephens bears much of the brunt of the loss today.

Looking tentative and, imagine this, generally playing with little urgency or desire to prove herself on one of the big stages that she's always taken such public pride in thriving on, Stephens was in the thick of things in the early stages of the opening set, then dropped weak back-to-back service games to lose the 1st at 6-2. She dropped the final four games of the set. She went up a break at 4-2 in the 2nd, only to quickly give back the advantage.

Still, at 4-5, Stephens, for brief stretches, looked to be really to turn the match in her favor. But it turned out to be only an illusion.

After being forced to deuce after going up 40/love on serve, Stephens held for 5-5, then went up 30/love on serve two games later. Kirilenko got to match point, but Stephens' game picked up a bit as the Russian's nerves did the same. One of the American's shots hit a line on MP #2, then Kirilenko didn't fire a forehand winner down the line on a short ball that would have won the match, instead trying to place an angled crosscourt shot that went wide. Stephens held for 6-6 after saving five MP.




The notion that this match could be a make-or-break moment for Stephens' psyche was rampant, and for a while a good result for Future Sloane seemed to be at hand.

In the tie-break, Stephens took a 5-2 lead, then fired a huge backhand down the line to reach double set point at 6-4. But then Current Sloane won out, as Stephens wouldn't win another point in the match.

After failing to put away a short shot up the line that would have locked away the set, Stephens' hard crosscourt shot was half-volleyed by Kirilenko, who then took Stephens' response and lobbed it just over her racket for a winner that tied things at 6-6. A missed backhand gave Kirilenko her sixth MP. A poor high backhand volley that should have been easily put away for a winner instead allowed the Russian back into the next point. She fired back a shot, and Stephens' last-ditch stab volley attempt sailed out to end the 6-2/7-6(6) match.

And, just like that -- poof -- Stephens' Wimbledon was over just two hours after the start of play on Day 1. It's her worst slam result since her major debut at Roland Garros in 2011.

With some talented young players, you'd be tempted to say that a hugely disappointing loss such as this, after playing her best in past slams and on the heels of so much should-be-inspiring success from other players in her generation (and from her own nation) in recent months, this would be the moment from which focus would be born. Something bad would have the chance to be the "best thing that ever happened" to a career, putting an end to nonsense and righting a ship that has drifted off course after a promising launch.

Of course, for that scenario to be true, the player in question would have to have a competitive bone in her body. She'd have to REALLY want success, and be willing to put herself on the line to get it. Winning would have to be important, not just one of two possible results in any given match.

But we're talking about Stephens. We still haven't really seen any evidence that she's that sort of player. Not currently, at least... and maybe not in the future, either.












=DAY 1 NOTES=
...meanwhile, on the other end of the Bannerette age spectrum, 33-year old Venus Williams lined up for her seventeenth Wimbledon, but her first since 2012. Although it ultimately went three sets, her 1st Round match against Maria-Teresa Torro-Flor never really FELT like one of those sort of disheartening matches from Williams we've seen in recent years when defeat was knocking and she seemed incapable of barricading the door. Although, when Williams failed to challenge what appeared to be an ace while she was serving at deuce at 4-5 in the 2nd, only to lose that point and then drop the next to lose the set, memories of her not recognizing that she was the victim of poor score-keeping in that SW19 match against Karolina Sprem many years ago WOULD have been appropriate had Venus gone on to get into trouble in the 3rd set.

That didn't happen, though. Williams went up an early break and won 6-4/4-6/6-2 to grab her first win at the AELTC since 2011. It's her 72nd career Wimbledon match win, just two behind Steffi Graf for third all-time.

In other Venus news, her photo from the upcoming (July 11) ESPN the Magazine "Body Issue" has made its way to public view a few weeks early.




...at the start of play on Monday, there was a rather odd dynamic taking place with two of the first-up matches involving Russian doubles partners Elena Vesnina and Ekaterina Makarova. At one point, while Vesnina was leading Patricia Mayr-Achleitner 6-0/3-0, Makarova was simultaneously trailing Kimiko Date-Krumm 5-0. For a bit, it looked like their Hordettian (is that a word... even HERE?) moods were going to be very different when the doubles started in a few days.

Ah, but then things turned around. Vesnina didn't serve the Austrian another bagel, but she still coasted to a 6-0/6-4 victory to grab the First Winner honors, while Makarova slowly-but-surely turned her Titanic of a match around. Ultimately, it took 2:24, and a comeback from 3-1 down in the 3rd against the 43-year old, but the Russian won 3-6/6-4/7-5. Last year, at 42, KDK was the oldest player to reach the 3rd Round at Wimbledon in the Open era.

...as quickly as she packed things in at this Wimbledon, Stephens' fall wasn't as swift as that of another seed. #17 Sam Stosur, who just parted ways with another coach (Miles Maclagan), was the "First Seed Out." It was hardly surprisingly, really. The Aussie's game has never taken to the grass courts, even if many years ago -- when she was first making the move from a doubles-player-who-plays-singles to a singles-player-who-also-used-to-be-a-#1-doubles-player -- everyone tended to believe that the net play involved in doubles meant Stosur would be a good grasscourter. Umm, nope. She went out early in the day to Yanina Wickmayer (below).




...for a few moments, it looked like the "potential-shocking-semifinalist bottom quarter" of the draw might lose another big name not named Sloane, as #2 Li Na fell behind Polish qualifier Paula Kania in the 1st set. Kania served for the set at 5-4, but Li got the break and that was all she wrote. The AO champ won eight of nine games to serve for the match at 5-1 in the 2nd. After a short dip, she won 7-5/6-2.

Late in the day, barely a day after claiming her first career tour title in the Netherlands, Coco Vandeweghe won her eighth straight match, taking out Garbine Muguruza (who she beat in straight sets last week) in a crazy little match. The Bannerette won 6-3/3-6/7-5, following up her 81 aces of last week with 15 today. But that's just one stat of note. Coco converted just 3-of-24 break points, and failed to put away four match points at 5-4 in the 3rd. Then, in the final game, it took her NINE more match points for her to finally win... and she finally did it when the Spaniard ended the match with not one, but two, double-faults.

Still, the American is the sort of player that no one wants to play on a grass court right now. Vandeweghe could face Azarenka in the 3rd Round.

...elsewhere, Jana Cepelova's post-Charleston freefall continued, as she lost her sixth straight match when she was ousted by Flavia Pennetta, giving her a 1-9 record since reaching the final in South Carolina in April. After doing very little of note of in recent months, Dominika Cibukova wiped out qualifier Aleksandra Wozniak 6-1/6-2 in less than an hour today. Casey Dellacqua outlasted qualifying teen Anett Kontaveit, saving a match point in the 2nd set before winning a tie-break and then taking the 3rd set.

Oh, and Petra Kvitova handily took out Andrea Hlavackova 6-3/6-0. Of course, we know that might mean absolutely nothing a few days from now.

...with Laura Robson out injured (here, as well as at the U.S. Open... pretty much assuring that we likely won't see her on the court in any meaningful way until 2015), Heather Watson seemed to maybe be the only real shot for a few wins from a British woman in the singles draw. But wild card Naomi Broady put an end to those thoughts, taking out Timea Babos after finding herself just two points from a 1st Round defeat. Broady's 2-6/7-6(7)/6-0 win pretty well assures the Brits of avoiding winning yet another "Nation of Poor Souls" at this Wimbledon.

Johanna Konta lost today, but three more British woman are scheduled up for Day 2.

Broady wasn't the only wild card to get a win on Day 1, as Jarmila Gajdosova advanced. Qualifiers with Monday wins: Tereza Smitkova (this Czech is starting to become something to take note of, it seems... she faces Coco V. next) and 16-year old Ana Konjuh, the youngest player in the draw, who impressively wiped out Marina Erakovic with a 3rd set bagel.
...LIKE FROM DAY 1:




-- Shaq in the houuuuse! Hmmm, Shaquille O'Neal and tennis. I think I know where he can get an appropriately-sized racket that he can use: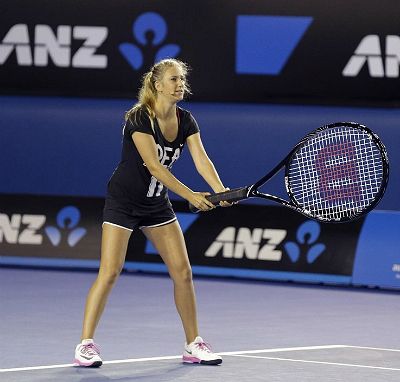 Whoop-whoop! It's a two Vika pic day. It's gotta be the shortz.



..."Whoops" FROM DAY 1:






...Genie is a brazen one, isn't she? In a good way... at least when it comes to having the sort of attitude that should allow her to maximize her talent.

...oh, am I forgetting a certain Aga? Well, she didn't get to finish her match, as it was scheduled in the last batch of five women's matches to be played that were suspended on account of evening rain. The Pole's match saw just six games completed (she had a 4-2 lead over qualifier Andreea Mitu). So, now her schedule has been backed up.

Yes, Aga, that's what I said.




Hmmm, someone might have to pay for that. Uh-oh.

...yes! It's a THREE Vika pic day! Thank you, shorts.


...and, finally, you've got to hand it to Maria Sharapova and the Sugarpova marketeers. Everything seems to be working quite well to this point. Well, if we just forget that it-sounds-like-someone-thought-it-up-after-a-weekend-"visit"-to-Colorado idea last summer that involved the Russian changing her name to "Sugarpova" at the U.S. Open. The Wimbledon village is the site of the candy brand's first pop-up store for the fortnight, and Sharapova even got Laura Robson and her injured wrist to join her for a few promotional photos.




Nice touch to include the hand brace in the shots, by the way. If Red Bull "gives you wings," does this hint at something about the cause-and-effect of popping Sugarpovas?














*WIMBLEDON "FIRST SEED OUT"*


2005 #10 Patty Schnyder, SUI (lost to Ant.Serra-Zanetta/ITA)
2006 #28 Sofia Arvidsson, SWE (lost to Birnerova/CZE)
2007 #30 Olga Puchkova, RUS (lost to Vesnina/RUS)
2008 #30 Dominika Cibulkova, SVK (lost to J.Zheng/CHN)
2009 #23 Aleksandra Wozniak, CAN (lost to Schiavone/ITA)
2010 #5 Francesca Schiavone ITA (lost to Dushevina/RUS)
2011 #22 Shahar Peer, ISR (lost to Pervak/RUS)
2012 #16 Flavia Pennetta, ITA (lost to Giorgi/ITA)
2013 #5 Sara Errani, ITA (lost to Puig/PUR)
2014 #17 Samantha Stosur, AUS (lost to Wickmayer/BEL)



*WIMBLEDON "FIRST WINNER OF FORTNIGHT"*


2009 Anastasia Pavlyuchenkova/RUS (def. Cetkovska/CZE)
2010 Chan Yung-Jan/TPE (def. Schnyder/SUI)
2011 Kimiko Date-Krumm/JPN (def. O'Brien/GBR)
2012 Samantha Stosur/AUS (def. Suarez-Navarro/ESP)
2013 Lesia Tsurenko/UKR (def. Arruabarrena-Vecino/ESP)
2014 Elena Vesnina/RUS (def. Mayr-Achleitner/AUT)







TOP QUALIFIER:

Michelle Larcher de Brito/POR




TOP EARLY-ROUND (1r-2r):

xx


TOP MIDDLE-ROUND (3r-QF):

xx


TOP LATE-ROUND (SF-F):

xx


TOP QUALIFYING MATCH:

Q3: Paula Kania/POL d. Shelby Rogers/USA 7-6(12)/4-6/6-3




TOP EARLY-RD. MATCH (1r-2r):

xx


TOP MIDDLE-RD. MATCH (3r-QF):

xx


TOP LATE-RD. MATCH (SF-F/Jr.):

xx


TOP UNDER-THE-ROOF MATCH:

xx


=============================




FIRST WINNER:

Elena Vesnina/RUS (def. Patricia Mayr-Achleitner/AUT)




FIRST SEED OUT:

#17 Samantha Stosur/AUS (lost 1st Rd. to Wickmayer/BEL)




UPSET QUEENS:

xx


REVELATION LADIES:

xx


NATION OF POOR SOULS:

xx


LAST QUALIFIER STANDING:

Day 1 wins: A.Konjuh/CRO, T.Smitkova/CZE


LAST WILD CARD STANDING:

Day 1 wins: J.Gajdosova/AUS, N.Broady/GBR


LAST BRIT STANDING:

1st Rd. wins: N.Broady


IT ("??"):

xx


Ms.OPPORTUNITY:

xx


COMEBACK PLAYER:

Nominee: Vika's white shorts


CRASH & BURN:

Nominee: Stephens/USA lost 1st Rd., ending 6 con. slam 4th+ streak


ZOMBIE QUEEN:

xx


DOUBLES STAR

xx


AMG SLAM FUTILITY UPDATE:

DNP - singles (first time Medina-Garrigues didn't play Q/MD singles at a slam since 2003 Wimbledon, ending a 43-tournament participation streak)


JUNIOR BREAKOUT:

xx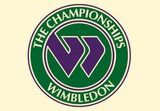 All for Day 1. More tomorrow. Vika's shorts won't be back until Wednesday, though.