Wk.25- Banner(ette) Days
The Bannerettes continue to charge. Well, most of them, anyway.


One never knows what will happen with the current generation of American players over the course of time. But, make no mistake, the U.S. prospects for honest-to-goodness life AFTER the Williams Sisters looks better right now than it, well, ever has.

While the Sisters have contributed to the numbers, after so many years of little-to-no success from anyone not named Venus or Serena, it sort of makes one do a double-take when you sneak a look at some of the stats being put up by the collective group of Bannerettes (the Williams Sisters and the NextGen) through the first six months of 2014.

No nation has produced more single titles this season than the U.S.'s six, nor has as many finalists (8) or semifinalists (15). The youngest player in the Top 50 is American, and there have already been more first-time singles champions from the U.S. this year than in any season since the start of the "Williams Era." There are six Americans ranked in the Top 50, more than the number of players from Russia, Italy, Germany, the Czech Republic or any other nation, for that matter. Why, it's like we've taken a trip in a time machine back a decade, or two. Or three.

The maiden title-winning runs this weekend by Madison Keys and Coco Vandeweghe marks the first time two U.S. players won titles in the same week since February 2002 (Venus & Monica Seles). The last time a Williams wasn't involved in such a feat was October 2001 (Lindsay Davenport & Seles), and to see first hand a pair of U.S. weekly winners who were both born on American soil you'd have to take a trip back to January 1999 (Davenport & Chanda Rubin). Serena was 17 at the time, and still nearly eight months away from winning her first slam singles title at the U.S. Open.

All those numbers might not mean a GREAT DEAL in the long run, but they certainly mean SOMETHING in the short run.

Makes you think that Mary Joe Fernandez can't possibly manage to continue to mismanage the U.S. Fed Cup team for the next few years, doesn't it? Hmmm. Well, we'll cross that bridge if and when it actually gets constructed, I guess.



*WEEK 25 CHAMPIONS*
EASTBOURNE, ENGLAND (Premier $710K/Grass)
S:

Madison Keys/USA def. Angelique Kerber/GER 6-3/3-6/7-5


D:

HC.Chan/YJ.Chan (TPE/TPE) d. Hingis/Pennetta (SUI/ITA) 6-3/5-7 [10-7]
's-HERTOGENBOSCH, NETHERLANDS (Int'l $250K/Grass)
S:

Coco Vandeweghe/USA def. Zheng Jie/CHN 6-2/6-4


D:

Erakovic/Parra-Santonja (NZL/ESP) d. Krajicek/Mladenovic (NED/FRA) 0-6/7-6(5) [10-8]

PLAYER OF THE WEEK:
Madison Keys/USA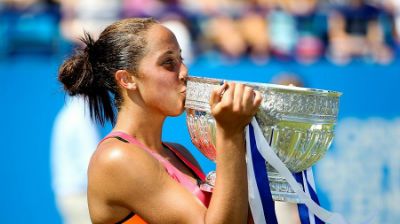 ...Team Madison is printing up membership cards as we speak. In a fashion quite contrary to her contrarian Current countrywoman, Keys is proving to be a quick learner intent on building one good result upon another. Last season, Keys was the second-youngest player in the Top 100, and ended the season with her first tour-level SF result in Osaka, finishing '13 just inside the Top 40 after beginning the season at #149. But even with a ton of promise and a slew of booming shots at her disposal, Keys didn't know how to win. Keys lost quite a few winnable matches against name players last year and in the early months of '14, but ever since her stick-to-it three-hour melodrama against Alize Cornet in Fed Cup play this spring, the Bannerette has been able to find ways to win matches that might have slipped away from her in the past. Not giving up when things get tight, as Keys learned against Cornet, who went from seemingly about to win the match to getting injured and seeing her efforts come apart at the seams, is a nice trait to possess. In Eastbourne, the 19-year old knocked off two Top 10ers (Jankovic, then Kerber in the final), the defending champ (Vesnina), a Brit playing in England (Watson) and even one of her countrywomen (Davis) while adding her name to the growing list of first-time finalists and first-time singles title winners in 2014, losing just one of ten sets (in the final) all week long. Keys, the youngest player in the Top 50, will assume a new career-high ranking (somewhere around #30-33) as Wimbledon begins on Monday.


=============================




RISERS:

Angelique Kerber/GER & Camila Giorgi/ITA


...Kerber had quite a week in Eastbourne, even if, as usual, it didn't have the sort of ending she would have preferred. In all, the German played a trio of three-setters in her five rounds of action and appeared in her third final of '14. She eliminated grasscourt-proficient Alison Riske, came back from match point down to defeat Alize Cornet, then followed up with wins over '10 Eastbourne champ Ekaterina Makarova and '09 winner Caroline Wozniacki. She battled Madison Keys deep into the 3rd set in the final, saving three match points on serve in a five-deuce game before the American finally broke her to end the match and avoid a title-deciding tie-break. Kerber is now 3-8 in career tour singles finals, and has lost to two first-time singles finalists (Pironkova and Keys) this season. Also in Eastbourne, Giorgi put a quick end in the 1st Round to Vika Azarenka's comeback, notching her third Top 10 win of '14 with strong play down the stretch in the 3rd set. She also came back from match point down to defeat Brit Johanna Konta in the 2nd Round before losing in three sets to Caroline Wozniacki in QF.


=============================




SURPRISES:

Chan Hao-Ching/Chan Yung-Jan (TPE/TPE)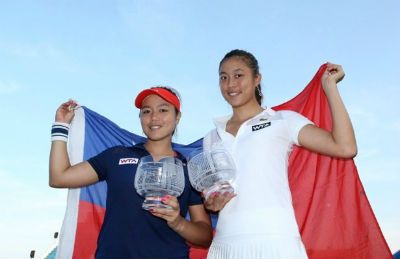 ...the Chan sisters simply tore it up in Eastbourne, taking out Birmingham champs Kops-Jones/Spears, #3-seeded Black/Mirza, #1-seeded Errani/Vinci and Hingis/Pennetta in the final. It's their second tour-level title as a duo (they're just the third sibling duo with multiple WTA titles). Yung-Jan has now collected twelve crowns in her career, while Hao-Ching has four, with two coming this season.


=============================




VETERANS:

Zheng Jie/CHN & Martina Hingis/Flavia Pennetta (SUI/ITA)


...an adept grass court player, and 2008 Wimbledon semifinalist as a wild card, 30-year old Zheng came into Week 25 having never reached a tour-level singles final on grass (though she did win the '06 doubles crown at Wimbledon). But wins over Monica Puig, Carla Suarez-Navarro (ret.), Elina Svitolina and Magdalena Rybarikova in 's-Hertogenbosch gave her the chance to join Li Na as the only Chinese players to complete a career surface slam. But her straight sets loss to the thunder-serving Vandeweghe put an end to such thoughts. Still hanging around, but well under the radar these days, Zheng has only won one singles title ('12 Auckland) since 2006. Meanwhile, in Eastbourne, 33-year old Hingis and 32-year old Pennetta nearly put on a remarkable comeback to grab the title there, erasing a set and 5-1 (and 3 MP) deficit before losing in a match tie-break to the Chans. Still, the pair got previous wins over #2-seeded Peschke/Srebotnik, #4 Makarova/Vesnina and Huber/Raymond, and it now seems as if Hingis is a bit more committed to staying on the doubles circuit than she seemed a year ago. Remember, after little success in '13 with Daniela Hantuchova, the former singles and doubles #1 hinted at yet another retirement, but then returned to play with (now former) pupil Sabine Lisicki, winning the Miami title. Last week she was accepted into the Wimbledon doubles draw as a wild card entry with Vera Zvonareva.


=============================




COMEBACKS:

Caroline Wozniacki/DEN & Heather Watson/GBR


...hmmm, maybe Caro should go through a break-up more often? Whatever the reason, the Dane seems to be a bit more focused on her tennis recently, and it's paying off. She strung together nice wins over Sam Stosur, Sloane Stephens and Camila Giorgi in Eastbourne before going out in three sets against Kerber in the semifinals. Sure, she's now 0-3 in semis this season, and her mark against Top 10 players isn't really improved at all, but she heads to SW19 as a dark horse candidate for a second week run as the #16 seed. She seems to be EVERYWHERE, with EVERYONE, off the court, too. Why, she's even learning to be a pizza maker:

Maybe Wozniacki should should talk to Sharapova to get some business ideas. Hmmm... "Caro's Homemade Pizza Kitchen" has a nice ring to it.

Meanwhile, sure, Watson got a nice assist when Petra Kvitova's hamstring injury gave the Brit a walkover through to the semifinals, her first since her pre-illness title run in Osaka in October '12, but who is she to turn down such an offer? Why, that'd be like saying "no" to a free slice of "Caro's Homemade Pizza." Plus, Watson put up additional grass court wins over Tsvetana Pironkova and Flavia Pennetta, and that's not chopped liver. Chopped liver... something you'd never see on a pie from "Caro's Homemade Pizza Kitchen." Well, unless she's up for special orders. Now THAT'S an idea! Quck -- get Maria's number!


=============================




FRESH FACES:

Coco Vandeweghe/USA & Lauren Davis/USA



...in 2012, six-foot-one Vandeweghe, one of the few players on tour who can literally stand up to the likes of a Sharapova and Venus, put on a remarkable run as a Lucky Loser in Stanford, advancing all the way to her first WTA final before losing to Serena Williams, Last week in 's-Hertogenbosch, with Williams nowhere to be seen, the 22-year old Bannerette once again went the long way around to reach her second tour-level final. She wasn't a LL this time, but a qualifier. By Saturday night, she'd won seven straight matches, dropping just two sets (to Mladenovic in qualifying, then Erakovic in the 1st Rd.) all week while firing eighty-one total aces (19 vs. Erakovic alone) while taking out a string of former tour singles titlists (Erakovic, King, Muguruza, Koukalova and Zheng). In the final against Zheng, Vandeweghe won twenty-seven of twenty-eight 1st serve points. Standing nearly a foot shorter than Coco, countrywoman Davis continued her great recent run. After making it through qualifying in Eastbourne, her second successful Q-run in as many weeks, she knocked off Sara Errani and Daniela Hantuchova to reach the QF. A week ago, she got wins over soon-to-be Wimbledon qualifiers Tamira Paszek and Vicky Duval.


=============================




DOWN:

Jana Cepelova/SVK


...oh, the Slovak has fallen into the trap that often ensnares young players. Ever since that amazing run to the Charleston final in the spring, she's fallen on hard times. Her 1st Round loss to Michaella Krajicek in Rosmalen is her fifth straight defeat. She's 1-8 since defeating Belinda Bencic in the Charleston semis. She faces Flavia Pennetta in the 1st Round at Wimbledon.


=============================




ITF PLAYER:

Elizaveta Kulichkova/RUS


...the 18-year old Hordette who swept the Australian Open singles and doubles junior titles has successfully moved onto the professional circuit, winning her fourth career challenger crown at the $25K clay event in Lenzerheide, Switzerland this weekend. She defeated 18-year old American Louisa Chirico, who was going for her second straight ITF win, in the final,


=============================




JUNIOR STAR:

Jelena Ostapenko/LAT


...the grass court Gerry Weber Junior Open event was cancelled this year, so I'll have to go with the 17-year old. She hasn't played much on the junior circuit in '14 -- and when she has, she hasn't faired well, causing me to "waste" back-to-back junior slam picks, by the way (not that I'm bitter or anything). In the $25K clay challenger in Ystad, Sweden, Ostapenko got wins over Alice Balducci and Ysaline Bonaventure before losing in the semifinals to Poland's Sandra Zaniewska, preventing the Latvian from having the chance to add to her 13-0 career record in ITF finals.


=============================






1. Eastbourne Final - Keys d. Kerber
...6-3/3-6/7-5. Keys fired 17 aces, winning on her fourth match point, to become the eleventh first-time champ through the first twenty-five weeks of the 2014 season. Nine of them have been 22-years old or younger. Maybe Paul Annacone should have Current Sloane watch a few of Keys' recent matches if she wants to possibly add her name to a list that will surely be a dozen names-long pretty soon.


=============================


2. Eastbourne 2nd Rd. - Keys d. Vesnina
...7-5/7-6(9). Keys saved set point in the 2nd, and won on her fourth MP against the defending champ.


=============================


3. Eastbourne 1st Rd. - Kvitova d. Safarova
...6-1/5-7/7-6(4). It says something about Kvitova that her highlight of the week was barely scraping out a victory in a match in which she served up 6-1/5-4 and held a match point, only to be forced to three sets. There, she led 3-1, served at 6-5 and held two more match points, but was forced to a tie-break. She trailed 4-2 there, but won the last five points to advance... only to pull out before the QF with a hamstring injury. Oh, Petra.


=============================


4. Neth Final - Vandweghe d. J.Zheng
...6-2/6-4. Hmmm, 27/28 points won on her 1st serve? That sort of game could be interesting at the All-England Club. At the very least, Coco should try to team up with John Isner for Mixed Doubles. NO ONE would want to face that all-match serving barrage.


=============================


5. Eastbourne 1st Rd. - Giorgi d. Azarenka 4-6/6-3/7-5
Eastbourne 2nd Rd. - Giorgi d. Konta 1-6/7-5/7-5
...Giorgi picked up some pretty good match toughness in Eastbourne, overcoming Vika by breaking her on her fourth BP of the game for 6-5 in the 3rd set to end a nine-deuce game in which the Belarusian held seven game points. A round later, the Italian saved a MP at 5-4 in the 3rd against Konta.


=============================


6. Eastbourne 1st Rd. - Keys d. Jankovic 6-3/6-3
Eastbourne 2nd Rd. - Wozniacki d. Stephens 6-3/6-3
...we could see both of these match-ups again in the 3rd Round at Wimbledon.


=============================


7. Neth 1st Rd. - J.Zheng d. Puig
...6-4/7-5. Puig is taking it on the chin from Asian vets. Last week she lost to Kimiko Date-Krumm in Birmingham.


=============================


8. Eastbourne 2nd Rd. - Kerber d. Cornet
...7-5/1-6/7-6(4). Would it belaboring the point to note that Kerber was able to beat Cornet despite the Pastry holding two MP at 5-4 in the 3rd, but couldn't take out Keys -- who outlasted Cornet in that key Fed Cup match -- in the three-set final? Just wondering.


=============================


HM- Neth 2nd Rd. - Beck d. Halep
...5-7/3-2 ret. This time, it was a shoulder/wrist that took Halep out right before a slam. She says she's okay for SW19. I guess at this point we have to take her world for it.


=============================




Meanwhile, Genie Bouchard didn't fret her opening match exit in Rosmalen. Same with Vika concerning her loss in Eastbourne. Well, unless the dueling "model faces" really mean, "Ouch, that loss hurt." Yeah, didn't think so.




1. Eastbourne Final - Chan Hao-Ching/Chan Yung-Jan d. Hingis/Pennetta
...6-3/5-7/10-7. The Chans let slip a 6-3/5-1 lead and four match points, but still celebrated in the end.


=============================


2. Eastbourne 1st Rd. - Pavlyuchenkova d. Aga Radwanska
...6-4/3-6/7-6(4). Of note: this is the third straight year that A-Rad has lost the opening match in her pre-Wimbledon tune-up event. She reached the final and semifinals at SW19 the last two years.


=============================


3. Neth 1st Rd. - Michaella Krajicek d. Cepelova 6-3/4-6/6-1
Neth Doubles Final - Erakovic/Parra-Santonya d. Michaella Krajicek/Mladenovic 0-6/7-6(5)/10-8
...Michaella probably won't remember last week for this singles win, nor the blown 6-0/5-2 (w/ 3 MP) lead in the doubles final. ATP player Martin Emmrich's on-court proposal sort of stole the show.


Of course, the same can't be said of Mladenovic, who has now lost '14 finals with three different partners, and has now gone out in back-to-back events (3 MP vs. Barty/Dellacqua in Birmingham) in which her team held MP in eventual doubles losses.


=============================


HM- $10K Galati ROU Doubles Final - Hristea/Tig d. Maryna Kolb/Nadiya Kolb
...6-3/6-1. Yep, another all-sister Ukrainian doubles duo, joining the likes of the Bondarenkos, Kichenoks and Ianchuks. Here, it's 21-year old Nadiya and her 17-year old sis Maryna. I guess they grow them in pairs in Ukraine.


=============================






...really, there's not much I could say about this one that would enhance the image at all. Well, maybe other than, "Respect my authoritah!" (In full Cartman from "South Park" voice, of course.)








**2014 WTA FINALS - NORTH AMERICA/ATLANTIC**


3...Serena Williams, USA (3-0)
2...Venus Williams, USA (1-1)
1...Eugenie Bouchard, CAN (1-0)
1...MADISON KEYS, USA (1-0)
1...COCO VANDEWEGHE, USA (1-0)
1...Monica Puig, PUR (1-0)
1...Christina McHale, USA (0-1)



**QUALIFIERS IN 2014 FINALS**


Sydney - Tsvetana Pironkova (26, #107/BUL) -- def.Kerber
Hobart - Garbine Muguruza (20, #58/ESP) -- def.Zakopalova
Strasbourg- S.Soler-Espinosa (26, #118/ESP) - lost to Puig
's-Herto.- COCO VANDEWEGHE (22, #69/USA) - def.J.Zheng



**2014 WORST RECORDS - 2+ appearances**




[finals]


.000 - ANGELIQUE KERBER (0-3)
.000 - Sara Errani (0-2)
.000 - Karolina Pliskova (0-2)
.333 - Klara Koukalova (1-2)
.333 - Dominika Cibulkova (1-2)
.333 - Simona Halep (1-2)


[semifinals]


0-3...CAROLINE WOZNIACKI
0-3...Zhang Shuai
0-2...Petra Kvitova
0-2...Christina McHale
0-1...Vania King (also w/ walkover loss)
1-4...Jelena Jankovic
1-4...Agnieszka Radwanska
1-3...Eugenie Bouchard



**MULTIPLE SINGLES CHAMPIONS in 2014**


4 USA - S.Williams,V.Williams,Keys,Vandeweghe
3 RUS - Makarova,Pavlyuchenkova,Sharapova
3 ESP - Muguruza,Suarez-Navarro,Torro-Flor
2 FRA - Cornet,Garcia
--
TOTAL NATIONS w/ CHAMPIONS: 16



**2014 LEADERS BY NATION**




[singles titles]


6...UNITED STATES
5...Russia
3...Serbia, Spain
2...China, France


[singles finals]


8...UNITED STATES
6...Czech Republic, Russia, Serbia
5...CHINA, Spain
4...GERMANY,Italy,Slovak Republic
3...France


[singles semifinals]


15...UNITED STATES
11...CZECH REPUBLIC
9...CHINA,Serbia,Russia
7...GERMANY, Spain



**U.S. PLAYERS w/ SINGLES TITLES in "WILLIAMS ERA"**




[since 1998]


98: Davenport,Seles,Snyder,V.Williams
99: Capriati,Davenport,Frazier,Morariu,Rubin,Seles,S.Williams,
V.Williams
00: Capriati,Davenport,Raymond,Rubin,Seles,Shaughnessy,
S.Williams,V.Williams
01: Capriati,Davenport,Seles,Shaughnessy,Tu,S.Williams,V.Williams
02: Capriati,Craybas,Raymond,Rubin,Seles,S.Williams,V.Williams
03: Davenport,Raymond,Rubin,Shaughnessy,S.Williams,V.Williams
04: Davenport,Frazier,S.Williams,V.Williams
05: Davenport,Frazier,S.Williams,V.Williams
06: King,Shaughnessy
07: Davenport,Shaughnessy,S.Williams,V.Williams
08: Davenport,S.Williams,V.Williams
09: S.Williams,V.Williams
10: S.Williams,V.Williams
11: S.Williams
12: Oudin,S.Williams,V.Williams
13: S.Williams
14: Keys,Vandeweghe,S.Williams,V.Williams



**DEF. TOP SEED & DEFENDING CHAMPION, DIDN'T WIN TITLE**


Bethanie Mattek-S./USA - Sydney [A.Radwanska in 2r] - QF
Garbine Muguruza/ESP - Roland Garros [S.Williams in 2r] - QF
ANNIKA BECK/GER - 's-Hertogenbosch [Halep ret. in 2r] - QF



**WTA ALL-SISTERS DOUBLES TITLES**


21...Serena & Venus Williams
3...Alona & Kateryna Bondarenko
2...CHAN HAO-CHING & YUNG-JAN
1...Chris & Jeanne Evert
1...Katerina Maleeva & Manuela Maleeva-Fragniere
1...Cammy & Cynthia MacGregor
1...Karolina & Kristyna Pliskova
1...Agnieszka & Urszula Radwanska
1...Adriana & Antonella Serra-Zanetta


...and, finally, a real head-scratcher. Why is it that certain oufits work perfectly well on the red carpet...




But once you take them off the carpet and onto the sidewalk, ummm, it looks like the Rads have made a drastic change in profession?




You know, as in "the world's oldest profession."

(Just kidding, of course.)


All for now. Daily Backspin begins tomorrow.