Wk.24- Could it Finally Be a "Go" for AnaIvo?
Somewhat lost in the ongoing story of the 2014 season has been the sometimes-it-looks-like-something, but-then-sometimes-it-sorta-maybe-doesn't resurgence of Ana Ivanovic. This past week in Birmingham, the Serb was on the upswing yet again, winning her first grass court title and threatening to climb back into a Top 10 discussion from which she's been absent since her lone grand slam crown was officially in her rear view mirror.


Early in the week, AnaIvo was open to discussing why playing on grass isn't exactly her favorite activity. "It's a tough transition, not only in the body and the movement, but also in the mindset," she said. But as the tournament went along, and Ivanovic had still managed to avoid losing a set, the change was evident. "I have more confidence. It's about rhythm and getting ready for the next match. Now I have the flow."

It's seemingly always been about confidence with the '08 Roland Garros champion, a talent-rich player who'd already reached a pair of major finals before Justine Henin's sudden retirement and Maria Sharapova's shoulder injury thrust her into not only the grand slam winner's circle, but also the #1 ranking. She wasn't ready for either, or any of the things that went with them. Perhaps somewhat ironically, I titled the recap of her win "Affirmation Ana" at the time of her slam triumph, before the "true" inner Ana that sunk her upward progression had emerged.

Flashforward six years, and AnaIvo, at 26, is still trying to find her way. There have been signs of small progress over the seasons: a two-year post-RG title drought ended in 2010, a return to the Top 20 that halted a troubling slide, a title defense in 2011, and her overdue first slam QF result ('12 U.S.) since her winning run in Paris. But through the many coaching changes, and two steps forward and one step back dances, it's become very easy to see something good happening on the Serb's side of the net, but then quickly disregard it because, well, we've been down this road before and nothing much came of it. Why would this moment be any different?

In 2014, though, things seem to have changed. But not without the usual AnaIvo "mind games," of course.

Ivanovic's recent climb can probably rightly be traced back to the coaching relationship she began last summer. After a series of uncomfortable situations with the likes of big names coaches such as David Taylor, Sven Groeneveld, Craig Kardon, Heinz Gunthardt and Nigel Sears, AnaIvo seems to have finally found the "right fit" with a former Davis Cup player from Montenegro, Nemanja Kontic. Younger than her previous coaches, and without the same language barrier, Kontic and the current team that Ivanovic has surrounding her has allowed her game to improve and, most importantly, her mind to settle. With that has come a renewed confidence.

Ivanovic began the season with a Week 1 title in Auckland which ended another two-year drought, defeating Venus Williams in the final. In Melbourne, she upset world #1 Serena Williams in the Round of 16 to reach just her second slam QF since winning Roland Garros. Later, she won the first all-Serb WTA final, not over Jelena Jankovic, but Jovana Jaksic, giving her two titles in a season earlier than she'd ever done it. A Fed Cup win over Simona Halep soon followed. In Rome, Ivanovic ended her seven-match losing streak to Maria Sharapova, handing the Russian what would be her only clay court loss in twenty matches in '14 and becoming the only player other than Serena to defeat her on the surface over the last three seasons. She pushed a revenge-seeking Serena to three sets in the same tournament.

Of course, her win over Serena was immediately followed by a loss to teenager Genie Bouchard in Australia. After taking the 1st set against the Czech, she lost a head-scratching two-bagel match to Petra Kvitova in Miami, too. Her Monterrey title was overshadowed by dancing Andrea Petkovic's bigger win that same week in Charleston. When she faced Sharapova in a title match in Stuttgart, AnaIvo lost after having led 6-3/3-1 with a point for 4-1. And, in Paris, she was ousted in the 3rd Round by Lucie Safarova.

But, so far, the up's have more than outweighed the down's. And with her title run in Birmingham, the stats are backing up the notion that AnaIvo might, maybe, could, very well may be on the verge of being "back."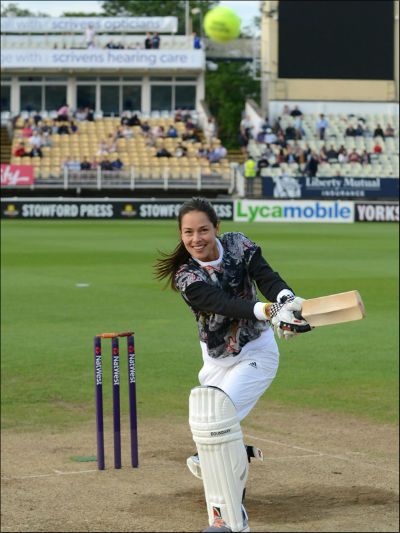 While the Birmingham field prevented Ivanovic from adding to her list of big-name wins, she ultimately won the tournament without dropping a set. In the final, after dropping her serve to open the match, the Serb won twelve of the final sixteen games to coast to a 6-3/6-2 victory over Barbora Zahlavova-Strycova. It's AnaIvo's 14th career title, tying her with Jennifer Capriati and Zina Garrison on the all-time WTA list, and moving her out of a tie with Aga Radwanska, Svetlana Kuznetsova and countrywoman Jelena Jankovic amongst active players. She's now 13-4 in non-slam finals, and has won eleven finals in straight sets.

But that's not all.

Ivanovic's grass title completes a career surface slam, and she'd never even reached a grass court final until this weekend. Her thirty-seven wins lead the WTA in 2014, as do her four finals, and she's tied with Serena and Sharapova with a tour-best three titles on the season. She and Williams are the only players with titles on multiple surfaces in '14, and Ivanovic is the only woman to reach finals at hard, clay and grass court tournaments. This is the first time since 2008 that she's won three titles in a season (she's never won four), and now her rise back into the Top 10 seems imminent in the near future, as well. It appears as if she'll be less than 100 points out at #11 on Monday, and a move up one spot would give AnaIvo her first appearance in the Top 10 since she fell out in June 2009, just as her '08 RG title points fell off her 12-month computer total.

Whew!

When I ranked Ivanovic at a conservative (wary, really) #10 on the most recent "Ms. Backspin" list for 2014, I noted that she was "still looking for that 'moment' that will officially carry her to the next level of achievement for 2014." Of course, I don't think her Birmingham title run fully fills that bill.

But AnaIvo is getting closer and closer.



*WEEK 24 CHAMPIONS*
BIRMINGHAM, ENGLAND (Premier $710K/Grass)
S:

Ana Ivanovic/SRB def. Barbora Zahlavova-Strycova/CZE 6-3/6-2


D:

Kops-Jones/Spears (USA/USA) d. Barty/Dellacqua (AUS/AUS)

PLAYER OF THE WEEK:
Ana Ivanovic/SRB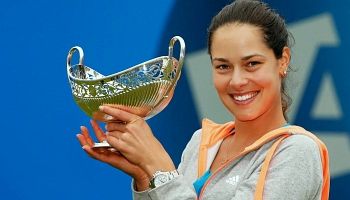 ...Ivanovic's wins over Mona Barthel, Lauren Davis, Klara Koukalova, Zhang Shuai and Barbora Zahlavova-Strycova didn't add to the Serb's list of 2014 triumphs over Top 20 (10 wins) and Top 10 (4) players, but they'll surely do.


=============================




RISERS:

Raquel Kops-Jones/Abigail Spears (USA/USA) and Zhang Shuai/CHN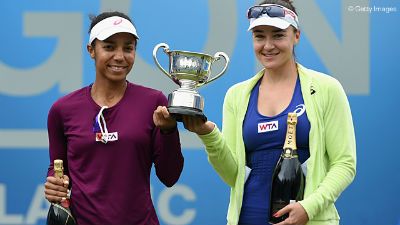 ...the veteran Bannerette doubles duo -- Kops-Jones is 31, Spears 32 -- completed a career surface slam as a pair in Birmingham, winning their ninth overall title together but first on grass (they've won seven hard court titles and one on clay, with their previous grass court best being a runner-up in this same Birmingham tournament in '09). It didn't come easy, as the Americans won a match tie-break (10-0) in the QF against the Chan sisters and again (10-8) in the SF vs. Black/Mirza. In the final, they saved three set points in the 1st against defending champs Barty/Dellacqua, who came in with a 12-1 grass record, but took the tie-break and went on to win in straight sets. Zhang, 25, reached the semifinals in both singles and doubles (w/ Caroline Garcia, lost to Barty/Dellacqua) in Birmingham. Her wins over Eleni Daniilidou, Shahar Peer, Petra Cetkovska and Sloane Stephens pushed the Chinese woman into her third SF of the season. Unfortunately for her, she's now 0-3 in those matches after losing to AnaIvo. She reached her only tour final when she won the title in Guangzhou last season.


=============================




SURPRISES:

Denisa Allertova/CZE & Zhu Lin/CHN


...Allertova (ranked #255) isn't the most talked-about Czech, while Zhu (#306) isn't the most discussed Chinese, either. But both are tied with a tour-leading four ITF singles titles this year after picking up wins this weekend. Allertova, 21, won her sixth straight singles final over the last three seasons in a $25K in Budapest, defeating Croat Adrijana Lekaj in a pair of tie-breaks in the final. Zhu, 20, won her fourth challenger of the season in the week's $10K tournament in Surakata, Indonesia with a win over Lavinia Tananta of Poland.


=============================




VETERANS:

Barbora Zahlavova-Strycova/CZE & Kimiko Date-Krumm/JPN


...both vets -- 28-year old BZS and 43-year old KDK -- achieved new heights in Premier level events in Birmingham. Date-Krumm hadn't been as far as the QF in a Premier event since 2008, while Zahlavova-Strycova had never been that far. The Czech easily trumped her previous best, reaching her fourth career WTA final -- the first on grass -- after notching wins over Naomi Broady, Lucie Safarova, Timea Babos, '13 Wimbledon semifinalist Kirsten Flipkens and Casey Dellacqua. In losing to Ivanovic, Zahlavova-Strycova failed to get the biggest win of her career (AnaIvo came in at #13, while the Czech's best wins are two victories over then-world #14's -- Petra Kvitova & Roberta Vinci) or pick up career title #2 to go with the one she won in Quebec City in 2011. Date-Krumm, a '96 Wimbledon semifinalist in the final year of her "first career," took out Paula Ormaechea, Monica Puig (saving two MP) and defending Birmingham champ Daniela Hantuchova on her way to the QF.


=============================




COMEBACK:

Casey Dellacqua/AUS


...heading into last week, the Aussie had already moved into the Top 50 during the '14 season after finishing last year down at #130, and in the new rankings the Aussie will be close to having jumped up 100 spots in less than six months. Dellacqua matched her career-best singles result by reaching just her second tour-level SF (w/ Dallas '12) in Birmingham after putting up impressive wins over Urszula Radwanska, Varvara Lepchenko, countrywoman Sam Stosur and Kimiko Date-Krumm. As half of the defending Birmingham doubles champion team with Ashleigh Barty, Dellacqua was part of a comeback from a set and 4-2 deficit in the 1st Round -- they saved 3 MP -- against Babos/Mladenovic, and the pair eventually reached the final with a chance to defend the very first title they shared last year (they recently followed up with a clay win in Strasbourg). After holding three set points in the 1st against Kops-Jones/Spears, though, they fell in two sets.


=============================




FRESH FACES:

Lauren Davis/USA & Belinda Bencic/SUI


...5-foot-2 Davis' heart is always bigger than her entire body, and she showed that once again in Birmingham, taking out qualifier/grass court specialist Tamira Paszek ('12 Eastbourne champ) and Vicky Duval en route to the 3rd Round. Meanwhile, although she didn't last very long in Birmingham, The New Swiss Miss still made headlines, upsetting '13 runner-up Donna Vekic in the 1st Round before coming up short in the 2nd Round against '13 champion Daniela Hantuchova. Both Davis and Bencic have won two matches to advance to the final qualifying round in Eastbourne, as well.


=============================




DOWN:

Kristina Mladenovic/FRA


...yeah, I'm tempted to list all the people embarrassing themselves by carping about another Frenchwoman in the tennis news this past week (and it surely won't end, as Amelie Mauresmo is in something of a "no win" situation -- if new charge Andy Murray manages to defend his SW19 title, he'll simply have matched his previous result, and if he doesn't win again... well, you know certain people won't hesitate to note that the Scot will have had a worse result with Mauresmo than the one he had under the supervision of Ivan Lendl last year), but I'll keep it on the court and go with Kiki. The Mladenovic Magic from Paris didn't travel very well across the Channel. In singles, she dropped her 1st Round match to vet Shahar Peer, then she and Timea Babos fell in their opening doubles match to Barty/Dellacqua, too, despite being up a set and 4-2, and holding three MP in the match tie-break. She rebounded a bit in Eastbourne, getting a win over (still-grass-court-proficient) Eleni Daniilidou in qualifying, but she then lost in three sets in the next round to Coco Vandeweghe. In Eastbourne doubles, the Pastry and Michella Krajicek barely escaped their 1st Round encounter on Sunday against Irina-Camelia Begu & Vania King, taking a 10-8 match tie-break.


=============================




ITF PLAYER:

Jarmila Gajdosova/AUS


...the 27-year old Aussie took the $50K grasscourt challenger in Nottingham, an event that was won by the late Elena Baltacha last year. Gajdosova (#223) made her way through qualifying, then had a highlight win over Andrea Hlavackova in the semis before defeating Timea Bacsinszky 6-2/6-2 in the final. It's Gajdosova's thirteenth career ITF singles win, but her first since 2010. She also grabbed the doubles title with Arina Rodionova. With the win, the Aussie claimed the final Wimbledon MD wild card into women's singles.


=============================




JUNIOR STARS:

Iryna Shymanovich/BLR & Ingrid Neel/USA


...Shymanovich won the biggest junior event of the week, a Grade 1 in Offenbach, Germany. But that came as the #1 seeded Belarusian won out over Slovenia's Tamara Zidansek (#15 seed) on clay. On grass in the Grade 4 International Grasscourt Championships in Haverford, Pennsylvania it was 15-year old Bannerette Neel, the #8 seed, who prevailed, defeating #3-seeded 16-year old Francesca DiLorenzo of the U.S. in a 7-6(8)/6-3 final.


=============================






1. Birmingham Final - Ivanovic d. Zahlavova-Strycova
...6-3/6-2. So, the list of Czech '14 title winners doesn't include a Barbora. Of note, it still doesn't include a Petra, either.


=============================


2. Birmingham 3rd Rd. - Stephens d. Riske 7-6(4)/2-6/6-1
Birmingham QF - Sh.Zhang d. Stephens 6-3/6-1
...Stephens saved five break points at 3-4 in the 1st against Riske and won in three set, but then went out quickly a round later. She reached the SF last January in Hobart and Melbourne, but hasn't done so again over the last seventeen months.


=============================


3. Birmingham Doubles 1st Rd. - Barty/Dellacqua d. Babos/Mladenovic
...5-7/7-6(3) [12-10]. Babos/Mladenovic led 7-5/4-2, and held three MP against the defending champs/eventual RU.


=============================


4. Birmingham 1st Rd. - Wozniak d. Watson
...2-6/7-5/6-4. A-Woz saved three MP and won here, but lost in the 3rd Round to Flipkens, who'll soon to be trying to back-up massive SF points from last year's Wimbledon. Hmmm, maybe that explains those shirtless photos in Bjorn Borg underwear with the elephant?


Well, then again... maybe not.


=============================


5. Birmingham 3rd Rd. - Dellacqua d. Stosur
...2-6/6-2/6-2. Casey lasts longer in the draw than Sam. Are we back in Melbourne?


=============================


6. Birmingham 2nd Rd. - Date-Krumm d. Puig
...2-6/6-4/7-6(7). KDK was a match point down at 6-5 in the 3rd, then another in the tie-break after Puig had saved three MP. Finally, on MP #4, experience prevailed.


=============================


7. $25K Padua ITA Final - Louisa Chirco d. Paula Cristina Goncalves
...6-2/1-6/7-6(3). The 18-year old Bannerette claimed her second career challenger title, her first since 2012.


=============================




8. $25K Budapest Doubles Final - Jani/Khromacheva d. Jakupovic/Kramperova
...7-5/6-4. Reka-Luca Jani! Reka-Luca Jani! Reka-Luca Jani! The 22-year old Hungarian picked up her eighteenth career ITF doubles title, and lost in the SF in a three-set singles match to eventual champ Denisa Allertova.



=============================






1. Birmingham 1st Rd. - Riske d. Lyudmyla Kichenok 7-6(3)/6-3
Birmingham 2nd Rd. - Riske d. Nadiya Kichenok 7-6(4)/6-1
...Alison won't likely be invited by the Kichenoks to a "Sister Act" movie marathon. Whoopie.


=============================


2. $10K Coatzacoalcos, MEX Doubles Final - Fuentes/Zacarius d. Maria Paulina Perez/Paula Andrea Perez
...6-2/6-2. The Mexican pair took out the 18-year old twins from Colombia. Marcela Zacarius, 20, also won her fourth career ITF singles title by defeating countrywoman Ximena Hermoso in the final.


=============================


3. $10K Bol CRO Final - Nadia Podoroska d. Olga Ianchuk
...6-3/2-6/6-2/ The 17-year old Argentine won her circuit lead-tying fourth ITF crown of the season, this coming via a win over one half of the tennis-playing Ianchuk sisters.


=============================






...look who's back this week in Eastbourne.

Also, Sharapova wasn't the only one holding up a trophy at Wimbledon in 2004. Vika won the girls doubles with fellow Belarusian Olga Govortsova (who, what with the language differences, is still listed that year as "Volha Havartsova," including on the ITF's "Junior Honor Roll" champions list).





**2014 WTA TITLES**


3...Serena Williams, USA
3...Maria Sharapova, RUS
3...ANA IVANOVIC, SRB



**WTA TITLES - active**


60 - Serena Williams
45 - Venus Williams
32 - Maria Sharapova
21 - Caroline Wozniacki
17 - Victoria Azarenka
14 - ANA IVANOVIC
13 - Aga Radwanska
13 - Jelena Jankovic
13 - Svetlana Kuznetsova
13 - Nadia Petrova



**2014 WTA FINALS**


4...ANA IVANOVIC (3-1)
3...Serena Williams (3-0)
3...Maria Sharapova (3-0)
3...Li Na (2-1)
3...Simona Halep (1-2)
3...Dominika Cibulkova (1-2)
3...Klara Koukalova (1-2)


[2Q finals]


3...Maria Sharapova (3-0)
3...ANA IVANOVIC (2-1)
2...Simona Halep (0-2)



**2014 TITLES ON MULTIPLE SURFACES**


Serena Williams - Brisbane/Miami(H), Rome(C)
ANA IVANOVIC - Auckland/Monterrey(H), Birmingham(G)


[finals]


3 - ANA IVANOVIC, SRB - Hard,Clay,Grass
2 - Sara Errani, ITA - Hard,Clay
2 - Simona Halep, ROU - Hard,Clay
2 - Klara Koukalova, CZE - Hard,Clay
2 - Karolina Pliskova, CZE - Hard/Clay
2 - Serena Williams, USA - Hard,Clay



**2014 WIMBLEDON WILD CARDS**


Naomi Broady, GBR = 24; no Wimbledon MD wins in her career
Tara Moore, GBR = 21; no Wimbledon MD wins in her career; 2 con. Wimb. WC
Samantha Murray, GBR = 26; I sense a theme -- no Wimb. MD wins; 2 con. Wimb. WC
Kristyna Pliskova, CZE = 22; 2010 Wimbledon Girls champ
Taylor Townsend, USA = 18; 2013 Wimbledon Girls RU; Wimb. debut; 2 con. slam WC
Vera Zvonareva, RUS = 29; 2010 Finalist; last slam MD win was in 2012
Silvia Soler-Espinosa, ESP = 26; '14 first-time WTA finalist; RG 3rd Rd.
Jarmila Gajdosova, AUS = 27; 2nd 2014 slam WC; 2010 Wimb. 4th Rd.



**2014 ITF TITLES**


4...DENISA ALLERTOVA, CZE
4...MARIA PODOROSKA, ARG
4...Patricia Maria Tig, ROU
4...ZHU LIN, CHN





I guess Caro has a LOT of extra free time these days, huh? Yep, probably. Anyway, her Miami fun with Serena has now segued into the Dane making the rounds with other WTA stars:



If things work out perfectly, Wozniacki could play BOTH Vika and Aga in Eastbourne.






EASTBOURNE, ENGLAND (Premier $710K/Grass)


13 Final: Vesnina d. Hampton
13 Doubles Final: Petrova/Srebotnik d. Niculescu/Koukalova
14 Top Seeds: A.Radwanska/Kvitova
=============================


=SF=


#1 A.Radwanska d. Giorgi
#3 Jankovic d. #2 Kvitova


=FINAL=


#1 A.Radwanska d. #3 Jankovic

...Vika returns, but in what form is she coming to England? This is a dicey one to try to predict, as Aga could face '10 Eastbourne champ Makarova in the 2nd Round, while Azarenka is in the same quarter as Stephens, Wozniacki & Stosur. Defending champ Vesnina is in the same quarter as Hantuchova/Vinci (1st Rd. foes) and JJ/Keys (ditto). Meanwhile, Kvitova is sitting in the bottom half of the draw, along with Safarova (1st Rd.) and Pironkova. And I'm making these picks without yet having seen exactly where potential qualifier Bencic, again a possible upset-maker early on, might land if she reaches the main draw. So, I'll go with A-Rad for Wimbledon redemption purposes, I guess.





's-HERTOGENBOSCH, NETHERLANDS (Int'l $250K/Grass)


13 Final: Halep d. Flipkens
13 Doubles Final: Begu/Medina-Garrigues d. Cibulkova/Parra-Santonja
14 Top Seeds: Halep/Cibulkolva
=============================


=SF=


#1 Halep d. #6 Flipkens
#3 Bouchard d. Shvedova


=FINAL=


#3 Bouchard d. #1 Halep

...a possible preview of an "alternate universe" -- well, draw-without-Serena-late-into-the-second-week, at least -- Wimbledon final? Again, for SW19 purposes.



WIMBLEDON QUALIFYING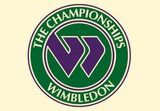 And, of course, it goes without saying. One year ago, Elena Baltacha was winning in Nottingham and accepting a wild card into what would be her last Wimbledon. Now, everyone will rally for the departed Bally.






All for now.