BACKSPIN TIME CAPSULE: 2004 Wimbledon
[The Season of the Hordettes, Pt.II]
If Anastasia Myskina's title run in Paris in June of 2004 was a tremor, then Maria Sharapova's win at Wimbledon was an earthquake that cracked the mantle of the earth and broke the tennis world into two distinct pieces:
the Russians and the rest of the WTA.


Unlike with Myskina, though, we saw Sharapova coming. She arrived on the tennis scene as an immediate dual threat, both on and off court. She was a winner out of the gate, taking two singles titles and being named WTA "Newcomer of the Year" as a 16-year old in her first full season on tour in '03, while she additionally carried with her the promise of a Nike marketing campaign just waiting to happen. Sharapova was already a hot commodity with "star" written all over her before she, as I called it then, "went Supernova" at the All-England Club in the summer of '04. On the heels of the phenomenon that was the career of another blonde Russian, Anna Kournikova, Sharapova was seen as the "total package." Her looks could sell anything, but she also had the enticing ability to do what Kournikova never did -- become a true champion.






In 2003, Sharapova was already a photographic favorite



Maria was Kournikova 2.0 ...it was just a matter of when it was going to become official.

And then it did.












July 6, 2004 - "The Passion of the Supernova"
Maria Sharapova is a liar. Ever after she'd raised Wimbledon's championship plate above her head as the tournament's third youngest singles titlist, she still expressed disbelief about what had happened to her over the previous two weeks at the All-England Club. Don't believe it for a second... she's been preparing for the moment her entire life. In the end, the only thing that didn't work perfectly was her dad's mobile phone.




If the breakthrough Act I of the Russian Tennis Revolution in Paris was necessary, then Act II in England was simply cosmic.
su*per*no*va

-

n.

- "a rare celestial phenomenon in which a star explodes, resulting in an extremely bright object."
In her 6-1/6-4 victory over two-time defending Wimbledon champion Serena Williams, the transcript of the 17-year old Sharapova's game day tactics was most assuredly not for the faint of heart -- it read that her goal was to essentially exchange hay-makers in the center of the proverbial ring with a heavyweight champ with knockout power... and hope to succeed in the face of her surely star-crossed fate. But the Siberian-born usurper of the Williams family's SW19 power base pulled off what would have seemed impossible even to those of us not surprised to see her game rise to so high a level over the English fortnight. Sharapova routinely dictated points, often backing Williams into an uncharacteristic corner (or at least plastering her to the baseline, when she wasn't racing to her left or right to chase down another potentially lethal winner that so recently had come flying off the Supernova's Prince racket). Judging by her actions, you might have sworn the teenager thought a Wimbledon title was her birthright. Well, maybe it was.

Down 2-4 in the second set, and with everyone expecting Serena to turn up her intensity as she had in the tight semifinal battle with Amelie Mauresmo two days earlier, Sharapova didn't accept the seeming reality that she'd have to play an additional set of tennis on a glorious Saturday afternoon. Instead, she broke Williams' serve and held her own. Then, she broke the American once again to take a 5-4 lead as Williams slipped at the baseline and watched her advantage fully transform into a deficit that she wasn't going to be able to turn back in her favor. Maybe I was seeing things, but I don't think so -- someone will have to do some convincing to get me to believe that that wasn't an invisible gremlin's hand I sensed reaching up from the earth to make sure everything went as planned.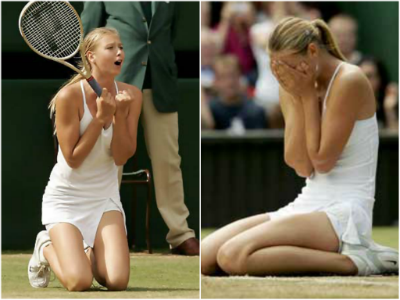 It was a fitting bit of irony that the two biggest female stars at this year's Wimbledon were Sharapova and Martina Navratilova. At age 6, Sharapova made her "debut" by hitting balls at an exhibition with Navratilova, then a sprightly gal of a mere 36 years of age. The would-be Supernova was literally dancing in the shadow of a legend. Eleven years later, Martina was the headliner at the beginning of play, gaining the first victory of the women's draw. By the end, though, it was Yuri's one-time little girl who was casting her own shadow on the entire sport by gaining the last.




Oddly, some seemed to view what happened on Centre Court as a stunning shock that has somehow blindsided women's tennis, as if Sharapova's immense display of talent came without the required forewarning. Not Backspin. After about a year and a half of columns that have chronicled the wait for the inevitable to occur, it was more of a relief than a revelation when "The Supernova" officially went supernova. If the sport's lucky, she'll be burning intensely at a tennis complex near you around the world for most of the next decade.

"It's 'Maria Time' now." That's how the new Wimbledon ladies champ described things a short while ago.

Her time, indeed. As forecast here (and promised by Miss Sharapova), this is suddenly Maria's World... and we're just living in it. At the moment, she's busy pulling up a chair to the WTA's "big person's table," right next to the Belgians, Williamses, and a few stray Americans, Frenchwomen or Russian compatriots as the true contenders for the game's biggest honors (hey, she's already shot up the Backspin Player of the Year poll!). The Supernova's arrival as a dominant force could forecast a series of bad tidings as far as the on-court prospects of those players not currently present at that aforementioned head table are concerned. Actually, if Saturday's mix of Federer-esque shotmaking, Grafian power and a young Seles-like fearlessness was any indication, even a few of her new table mates might soon need a passport to go beyond a certain point. Kim Clijsters might never get that elusive slam crown now (pardon me if I don't break down in tears at that prospect).

Alas, celestial supernovae don't endure forever. They burn with spectacular brilliance, but last a relatively short time. But fresh off her greatest day, Sharapova's feet seem set firmly on the ground. That's good news for us, the Russian Revolution, teenage girls (and boys, teenage or otherwise), TV ratings and magazine sales... and even better news for tennis.




Plus, it also might begin to explain that pesky phone problem.




WIMBLEDON CHAMPIONS




S:

Maria Sharapova d. Serena Williams 6-1/6-4


D:

Black/Stubbs d. Huber/Sugiyama


M:

Black/Black d. Molik/Woodbridge


GS:

Katerina Bondarenko d. Ana Ivanovic 6-4/6-7/6-2


GD:

Azarenka/Havartsova d. Erakovic/Niculescu



PLAYER AWARDS (WIMBLEDON, WEEK 2)




PLAYER OF THE WEEK:

Maria Sharapova
...la belle dame sans merci (the beautiful lady without mercy).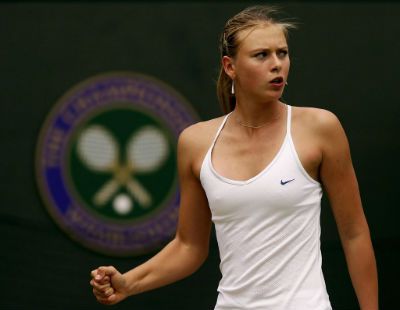 ======================


RISERS:

Sharapova & Amelie Mauresmo
...the Supernova proved she was destiny's child; while Mauresmo has now advanced to the SF of her last two Wimbledons.
======================


SURPRISES:

Paola Suarez & Cara Black
...Paola's quietly great season continued as she followed up her Roland Garros SF with a QF at Wimbledon. Meanwhile, amidst all the doubles chatter about Navratilova trying to grab sole possession of the Wimbledon career titles record and the Ruano-Pascual/Suarez team going for a fourth straight slam crown, it was Zimbabwe's Black who swept the doubles (w/ Rennae Stubbs) and mixed (w/ brother Wayne) events.
======================


VETERAN:

Lindsay Davenport
...a SF result in both singles and mixed doubles, but far less than she was hoping for around Thursday.
======================


FRESH FACE:

Katerina Bondarenko
...the junior champ, and maybe heading the next wave of Ukrainian upset queens?
======================


DOWN:

Jennifer Capriati & Lindsay Davenport
..."Maybe if the press didn't talk about it so much, it would have been a better match." That was one of the Petulant One's more creative excuses for her throttling by Serena in the QF. She fired coach Heinz Gunthardt after she failed to show up in the Roland Garros SF against Myskina, so should Tom Gullikson start looking for additional work elsewhere? Davenport was up a set and a break against Sharapova in the SF with a feel-good Wimbledon finale that would send her into retirement with no regrets firmly in her sights... but then she let Sharapova hang around a little too long. The rest was history.
======================



MATCHES (4r-F)


1.

Final - Sharapova d. S.Williams


...6-1/6-4. The Supernova looked as if she might shock the world two weeks ago, and she did just that.


======================
2.

SF - S.Williams d. Mauresmo


...6-7/7-5/6-4. Mauresmo led 7-6/3-1 and was up 30/0 on Serena's serve.
======================
3.

SF - Sharapova d. Davenport


...2-6/7-6/6-2. Davenport led 6-2/3-1, but the 'nova turned a tiny crack into an open door to history.
======================
4.

QF - S.Williams d. Capriati


...6-1/6-1. The worst slam loss ever for Capriati. Serena peaked too early.
======================
5.

QF - Sharapova d. Sugiyama


...5-7/7-5/6-1. Oh, how close we came to seeing destiny headed off at the pass in this one.
======================
6.

4r - S.Williams d. Golovin


...6-2/6-1. Golovin's shorts were so small the crowd could almost see her Frussian Pastry.
======================
7.

Jr.F - K.Bondarenko d. Ivanovic


...6-4/6-7/6-2. Credit these two for putting forth an additional effort in the final after their SF heriocs -- Bondarenko upset #1 seed Michaella Krajicek, while Ivanovic had to survive a 12-10 3rd set against Viktoria Azarenka.
======================
8.

Doubles F - Black/Black d. Molik/Woodbridge


...the Black siblings saved six match points.
======================
9.

Doubles SF - Black/Stubbs d. Ruano-Pascual/Suarez


...the dreams of an "unofficial" slam unceremoniously end.
======================
10.

QF - Davenport d. Sprem


...lost amid the Supernova's explosion is that Sprem had her career breakthrough at SW19, as well.
======================



2Q GRASSCOURT AWARDS


==TOP PLAYER==
1.Maria Sharapova
2.Serena Williams
3.Amelie Mauresmo
4.Svetlana Kuznetsova
5.Paola Suarez

==RISERS==
1.Maria Sharapova
2.Svetlana Kuznetsova
3.Karolina Sprem
4.Daniela Hantuchova
5.Vera Zvonareva

==SURPRISES==
1.Cara Black
2.Virginie Razzano
3.Anabel Medina-Garrigues
4.Nuria Llagostera-Vives
5.Shenay Perry

==VETERANS==
1.Martina Navratilova
2.Lindsay Davenport
3.Paola Suarez
4.Mary Pierce
5.Amy Frazier

==FRESH FACES==
1.Tatiana Golovin
2.Gisela Dulko
3.Katerina Bondarenko

==DOWN==
1.Jelena Dokic
2.Venus Williams
3.Elena Dementieva

==BEST PERFORMANCES==


CHAMPION


Maria Sharapova (Wimbledon)
Maria Sharapova (Birmingham)
----------------------


NON-CHAMPION


Daniela Hantuchova (Eastbourne)
----------------------


DOUBLES


Cara Black (Wimbledon)
----------------------



==BEST MATCH==


Wimbledon SF - S.Williams d. Mauresmo
...6-7/7-5/6-4. Not the most important match, as it turned out, but it WAS the "best."



==BEST COMEBACK==


Wimbledon SF - Sharapova d. Davenport
...2-6/7-6/6-2. Davenport was up a set and a break, then Sharapova changed the rotation of the earth














Heart-fueled champions aren't built, they're born. When Sharapova was first gaining notice as the latest hard-hitting teenager to emerge from the Nick Bollettieri Academy at the start of the 2000's, there was the more-than-lingering thought that she might turn out to be more hype than heroine.

But Sharapova changed all that in one fell swoop in 2004.

Ten years later, the Russian has traveled both a brilliant and rocky road. But as we saw during her recent Roland Garros title run -- her second in Paris, to win her fifth major crown -- no player perseveres with more competitive fire than the Russian. The natural trait was there when she was 17. You didn't have to look very intently to see it, either. It was right on the surface. It still is.

It's why she's just as relevant at 27 as she was at 17, after a Hall of Fame career that still might have a few great chapters left to be written.

Sharapova, or should I say "The Supernova," was the first WTA phenomenon of the "Backspin era." On the heels of Kournikova's inability to combine off-court marketability with high-level on-court success (though Anna K. is perennially undersold as a player, as she WAS a slam semifinalist, Top 10 singles player and doubles #1, even if she didn't manage to win a tour singles title before injuries finally brought an early end to her career), Sharapova promised to be an upgrade to the original model. And she was, putting the appropriate championship spin on the formula and opening doors to barrier-crossing athletic respectability that had been long closed to her predecessor. By winning Wimbledon at just 17 in '04 -- she's still the youngest slam winner in the last sixteen years, since a 16-year old Martina Hingis won the U.S. Open in 1997 -- she established her generation's template for a tennis "starlet" who could also be the most famous female athlete in the world, yet still contend for major titles.

Being a star is one thing, but simultaneously maintaining the foundation of a champion is another. Since Sharapova perfected the combination, no one has managed to do it nearly as well.

Sharapova's opponent at Wimbledon on that history-making day in '04, Serena Williams, too, after some trial and error, came to fit the role of a tour-endorsed superstar/champion, but she usually had to create her own press -- or demand it with thrilling on-court dominance -- rather than have the higher-ups do the early groundwork work for her, likely because the people that make such decisions thought she presented "too strong" a physical presence... a notion just as ridiculous as the one that prevented Martina Navratilova from starring in a major American television commercial for over twenty years because she was gay (just as snide and/sexist remarks have accompanied both Amelie Mauresmo's rise as a top player in the late 1990's, and now as one of the first female coaches of a top male player, Andy Murray).

But while Sharapova had an "advantage" in some areas, she worked hard to bring both sides of her legacy together into one legendary career.

Almost from the start, the teenage Sharapova projected the multi-sided image of a player who could be the subject of a photoshoot one day, in a business meeting with high-paying sponsors the next, and then go out and win a major title the following weekend. It's a presence worth it's weight in gold for the WTA tour, and the powers-that-be are always trying to hype the next "one," sometimes to both the detriment of the player and, at times, even the tour's own reputation as an ATHLETIC organization. But, with Sharapova, the line never seemed to be crossed into exploitation... and that's because the woman who is Sharapova her never allowed it to be the case. With her, image wasn't the only thing, it was simply one of many. She stated emphatically at the start that she didn't want to be a "tennis babe," but had her sights set on being a winner. And unlike many who've come before and after her, she recognized the pitfalls and was ready for them all from Day One.

It's a trait not to be undersold. And, boy, it never is, either. Sharapova has used it to soar to great off-court heights in business endeavors, and will likely continue to do so long after her playing career is over.




But everything discussed here so far has just been surface niceties. It's Sharapova's actual tennis career that has given all the off-the-court extracurriculars -- from commercials to glamor shots to media-friendly promotional appearances -- added cultural weight, serving to give her a personal "importance" within-and-outside the sport that allows her standing to arguably rise above players with perhaps a few additional major titles. And as far as that career goes, it didn't take long to learn everything we needed to know about the seriousness of her desire to be more than a multimedia star.

In 2003, in her first full season on tour, Sharapova finished in the Top 50, reached the Wimbledon Round of 16 and won the first two titles of her career as a 16-year old. By the middle of the following season, she arrived at Wimbledon with her name flagged in the draw as one to watch. She'd just won a small grass event in Birmingham, and the buzz about her was starting to hit the mainstream. Few expected her to e-x-p-l-o-d-e onto the scene at the All-England Club that summer, though. I was lucky enough to actually pick the #15 seed to reach the final before the tournament began, but I surely didn't think my "wild card" selection might actually SURPASS my surprise prediction. But that's just what she did.

Down 6-2/3-1 in the '04 semifinals against Lindsay Davenport, Sharapova first showed the no-lead-is-safe fire that has since become commonplace in a career filled with comeback wins. After using a game plan in the final that was heavy on penetrating groundstrokes that pinned the flummoxed defending champ at the baseline, Sharapova quickly proved her SW19 arrival was no fluke as she backed up her result by once again defeating Serena in the final of the Season-Ending Championships, coming back from a 0-4 deficit in the 3rd set against an injured-but-desperate Williams who was putting everything she had into nearly every shot in an attempt to drag herself over the finish line with a flourish before she could physically go no further. She almost did it, too. But Sharapova gathered herself, didn't succumb to the pressure of the moment and an ailing-but-still-lethal opponent and claimed the final six games of the match.

In August 2005, she became the first Russian woman to grab the #1 ranking, and the fifth-youngest (18 years, 4 months) to do so in WTA history. A year later, she stepped into the spotlight seemingly made for her at the U.S. Open. Sporting what many dubbed her "little black dress" tennis outfit, she was "Exquisite in the City" in a way that only the Supernova could be, ruling the nighttime in round after round as la belle dame sans merci. After defeating world #1 Mauresmo in the SF (her first victory over the Frenchwoman), she ended a personal four-match losing streak against Justine Henin in the final, winning in straight sets 6-4/6-4.

Sharapova narrowly missed claiming the year-end #1 ranking for '06, coming in second (behind Henin, ahead of two-time slam winner Mauresmo) in a three-way battle for the spot at the SEC that November. Nevertheless, she again rose into the #1 position the following January. Then, one year later, she climbed yet another career mountain.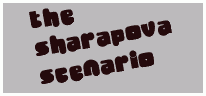 In Melbourne in '08, Sharapova won the Australian Open title in dominating fashion, not dropping a set and handily knocking off Ana Ivanovic in the final. In winning her third different slam of the 2000's, she joined only Serena and Henin in accomplishing the feat during the decade. With her game looking better than ever, the "Sharapova Scenario" that I once theorized about seemed a potential reality. She began the year on a 27-2 tear, and when Henin made her surprise retirement announcement in the spring it was Sharapova who inherited her #1 ranking. The Russian seemed a natural fit to fill what would later be called the "power vacuum" at the top of the Henin-less game. 2008 might have been the year of Sharapova's dreams.

As things turned out, she very nearly suffered the same shortened-career fate that Kournikova did, as the REST of the definition of a "supernova" -- the part which notes the short-lived nature of such a phenomenon -- threatened to become reality and cut short her tennis life. She was barely 21 years old in 2008 when her shoulder betrayed her. Or, maybe, I should say that the doctors who misdiagnosed her rotator cuff tear for months on end did so. Sharapova's story has been one of redemption and reclamation ever since. Out of the game for nearly ten months after shoulder surgery, Sharapova returned with a new service motion that protected her body but messed with her head. Double-faults often came in double-digit bunches, but she miraculously still managed to show a great deal of the old Supernovic spirit even though she was but a shadow of her old celestial self. Her '09 Roland Garros QF run showed that the heart and know-how were still there. Her season-ending title in Tokyo seemed to signal something of a rebirth, as her service troubles seemed mostly conquered, allowing her big match attributes to shine through. The win propelled her back into the Top 20, and that the title came in the same city in which she'd won her maiden tour crown in 2003, too, surely would seem to spookily hint at a potential return one day of the pre-shoulder surgery Sharapova.

It never quite happened. But while the old on-court Supernova didn't fully return, the true, stripped-down-to-her-competitive-essentials Sharapova emerged. She'd been there all along, of course, standing shoulder-to-shoulder with Maria the Star, but now was the time for HER to shine. Without an always-reliable serve to depend upon, she was forced to remake and improve the rest of her game, becoming an overall better, more versatile player in the process. Intensive training improved her movement on court, and her longtime pounding "A"-game -- which had always been kick-started by her serve, with the momentum working its way down to the rest of her arsenal -- was added to with better defense and point construction. The "new" Sharapova, after she'd joked about being "a cow on ice" on clay in the past, suddenly became the most consistent and reliable clay courter on the WTA tour since Henin stepped away from the sport for good.

Because of the in-and-out nature of her post-surgery serve, the current Sharapova often has to scrape and claw for victories against players that she might have simply been able to blast off the court in her early career. Needed even more than ever before, Sharapova's desire, heart and competitiveness have come even more to the forefront of her game -- and persona -- in recent seasons. While the strength of her star power is still evident, the Russian is known as much now for the intangibles that her fight brings to the table as she is for all her "bright lights" attributes from her time on the world's stage.

Years ago, I wrote of Sharapova: "When Sharapova wins big titles, she often does it with the utmost of style, managing to tear out an opponent's heart, then smile for the cameras after the match, even as the still-warm blood of her defeated foe's most vital organ continued to drip down her arm." Or something like that. Either way, her fashionable tennis attire has never been stained by the "bloody" nature of her intense on-court battles.

It was a trait that served Sharapova well during her longer-than-originally-anticipated climb back to the top. Finally, in 2012, after a nearly four year-long battle, it all came together when she completed her Career Grand Slam with her first title at Roland Garros, a run after which she briefly regained the #1 ranking that she'd lost around the time she'd continued to play without the knowledge of the full extent of her rotator cuff injury in the summer of '08.

While many considered Sharapova's comeback "complete" after her '12 campaign, she did not. Naturally, though, she'd have to fall again before she could rise once more.

After injuring her hip at Wimbledon in '13, she missed the U.S. Open and the 4th Quarter of the season with shoulder bursitis. Once again, one wondered if the end might be near.

Umm, no. It's not over until Maria says it is.

Always and still a fabulous competitor, Sharapova might just be the one player on tour who never simply "gives away" matches. Even if she provides her opponent with occasional help (usually in the form of double-faults), the player on the other side of the net still has to BEAT her at some point. And, sometimes... well, usually, unless her opponent's name is Serena -- big match-turning points are extremely difficult to wrestle away from Sharapova. At the most recent Roland Garros, players young (Genie Bouchard, Garbine Muguruza), "old" (Sam Stosur) and somewhere in between (Simona Halep in the final) tried to put her away when an opportunity presented itself, but none of them ever could. Sharapova battled her way to her second RG crown, winning four straight three-set matches to end the tournament, ultimately winning what she dubbed the "toughest" grand slam final in which she'd ever played. The win marked her twentieth straight three-set match win on clay.

Staring into the light is rarely as dangerous as it is when that light is named Maria.

So, is this the moment when Sharapova will cease to "need" tennis in her life? Hmmm, far from it, it would seem. She's STILL too competitive to be satisfied, and will continue to look for more, more, more success. The player who solidified the Russian tennis revolution has turned out to be the one who has almost single-handedly sustained it into the 2010's, well past the prime time of most of her generational countrywoman, many of whom have either retired or fallen from slam contention. Since her first RG win, she's added "Olympic flagbearer" and Olympic medalist (a Silver on the All-England Club grass in London) to a career accomplishments list that already includes the roles of spokesperson, model, businesswoman, tennis ambassador, intense competitor, champion, "most famous face in the WTA" and even candy maker (Sugarpova!!).

After being burdened with the pressure of having so much talent as she emerged from the Bollettieri Academy, Sharapova has arguably outpaced some of the more optimistic scenarios that revolved around her future when she was just a kid. Having outgrown her "Supernova" beginnings, in so many ways, she's turned out to be much more than a sudden star that illuminated the sky, then faded to darkness.

While "The Supernova" is part of Sharapova's -- and Backspin's -- past, that's all right. By definition, a supernova is supposed to be a short-term thing, and, I admit, there is some sense of "relief" that the moniker I hung around Sharapova's neck a decade ago turned out to have an abbreviated lifespan, after all. It just feels more realistic, you know?

In so many ways, what's come afterward has been even better because of the struggle that Sharapova has had to endure in order to make it all a reality. The only thing, or person, Sharapova has so far failed to find a way to defeat over the last ten years is, well, Serena Williams. Since being defeated at Wimbledon and in the Tour Championships in 2004, the American has run off fifteen straight wins over Sharapova. When and if the losing streak ever ends, one has to believe that it will almost feel as good as winning that first Wimbledon over Williams did all those years ago.

Ah, but that's another potential future Capsule for another day, isn't it?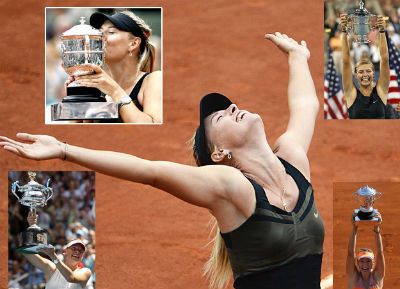 Currently on course for a ninth Top 10 season, Sharapova is sixteenth (and climbing) on the all-time WTA singles title list, with her thirty-two crowns amounting to twice as many wins as the second-ranking Russian in tour history. 79-23 for her career against her countrywoman, including a 25-2 run over a stretch covering a bit more than the last four years, her five major titles are now more than the other slam-winning Hordettes combined. After her title runs in 2014, Sharapova now stands fourth in WTA history with at least one title in twelve consecutive seasons, behind only players with names such as Navratilova, Evert and Graf.

With slam titles a full decade apart, nothing beats longevity when it comes to crafting a legendary career. And Sharapova, both "easily" and in hard-earned fashion, has certainly done that.

But as far as the Hordettes were concerned, the Supernovic turn at Wimbledon win only added to the Revolution's momentum in 2004. The Russian summer was not over.

There would be another.















**SHARAPOVA IN SLAM FINALS**


2004 Wimbledon - Maria Sharapova def. Serena Williams
2006 US Open - Maria Sharapova def. Justine Henin-Hardenne
2007 Australian Open - Serena Williams def. Maria Sharapova
2008 Australian Open - Maria Sharapova def. Ana Ivanovic
2011 Wimbledon - Petra Kvitova def. Maria Sharapova
2012 Australian Open - Victoria Azarenka def. Maria Sharapova
2012 Roland Garros - Maria Sharapova def. Sara Errani
2013 Roland Garros - Serena Williams def. Maria Sharapova
2014 Roland Garros - Maria Sharapova def. Simona Halep



**CAREER SLAMS IN THE OPEN ERA**


Margaret Smith-Court
Chris Evert
Martina Navratilova
Steffi Graf
Serena Williams
Maria Sharapova



**CONSECUTIVE SEASONS WITH SINGLES TITLE**


21...Martina Navratilova, 1974-94
18...Chris Evert, 1971-88
14...Steffi Graf, 1986-99
12...Maria Sharapova, 2003-14
11...Evonne Goolagong, 1970-80
11...Virginia Wade, 1968-78



All for now.

















NEXT UP:

Sveta Shines in the City