W.7- A Very Particular Set of Skills

Day 7 was about the good --
Genie Bouchard, even when she was sometimes bad
, the bad --
Aga Radwanska, at the place where she most wants to be and has almost always been good
and the ugly specter of the rain once again playing havor with the schedule, turning the annual Round of 16 Monday into a disjointed, half-played and, once more, laregly carried-over-until-tommorow affair.


So far at this Wimbledon, Bouchard has proven amazingly adept at winning -- actually, not even dropping a set -- when she's generally been playing with something other than her "A"-game. On Monday, against Serena Williams conqueror Alize Cornet, the Canadian often seemed to be making a go of things with her "C"-game. Still, when a player is as competitive as Bouchard, whose new actor friend Jim Parsons (The Big Bang Theory) compared to Chris Evert over the weekend on ESPN because both are "cold-hearted killers" on the court, even a less-than-sharp knife can be an effective weapon in the right hands.

Ala Liam Neeson, Bouchard is a young woman with a very particular set of skills.



Throughout her Round of 16 match, Bouchard has a difficult time corralling her groundstrokes. Her error totals mounted as a result. She had eight in the first five games of the match. Meanwhile, Cornet was superbly utilizing the same sort of drop shots that she'd employed to bring down Williams, taking advantage of maybe the one exploitable aspect of the Canadian's game -- her movement and less-than-honed net game. Still, Bouchard hung in, saving a break point to hold for 4-4 and once more pushed things deep into the 1st set, hoping to catch a (literal) break late in the stanza as she has already done so often over her previous three matches in London.

Bouchard, with Cornet letting a few errors slip into her game at just the wrong time, held for 6-6 to force a tie-break to take the break-less 1st set (Genie was 0/3 on BP attempts, Alize 0/1). In the TB, again, the Pastry's errors gave the Canadian an early lead as Cornet sent a shot long and then missed an open court attempt at a winner. Bouchard led 4-1, but then her own error-prone game resurfaced. A double-fault was followed by two forehand errors and a netted return of a second serve, giving Cornet a 5-4 lead. But then Cornet's penchant for drop shots got the best of her, as a poorly-executed attempt -- for her first backhand error of the set -- knotted the score at 5-5 rather than giving her a set point. Sensing the opportunity she'd been waiting for, the Canadian jumped at the chance.

Bouchard fired an ace to reach set point at 6-5, and took the set a point later as Cornet threw her racket in disgust as the Canadian won the 1st while committing seventeen errors to her opponent's six, and merely equaling the Frenchwoman (44-44) in total points.

The 2nd set was more of the same. A Bouchard backhand error handed Cornet two break point chances in game #5. The first break of the match gave the Pastry a 3-2 lead, and she soon held for 4-2 and served for the set at 5-4. But, of course, that's when Bouchard raised her game yet again. A drop shot and winner gave her a 30/love lead on Cornet's serve. With the score knotted at 30/30, Bouchard practically murdered a second serve return down the line to give herself a break point. Cornet sent a shot wide and the set was tied at 5-all. Bouchard then held to take a 6-5 lead, then went up 30/love in game #12.

Racing across the grass deep behind the baseline during a rally at 15/30, Cornet slipped and fell. She gently rested her head on the slick green blades, never seeing Bouchard's forehand sail long to knot things at 30/30 rather than a winner put the Pastry match point down. The moment was coming though, after just one more point. On MP, Cornet fired a shot long and Bouchard won 7-6(5)/7-5. It's her fourth consecutive straight sets win at this Wimbledon (she's had to win seven games in five of the eight sets), and she won this one while only leading the final total point tally by a slim 81-78 score.

Bouchard got all the important points, as has become her way. A very particular set of skills, remember.

Afterward, she was appreciative of the win, as well as, naturally, the opportunity that she yet again grasped with both tightly-clenched hands.


It was an honour to play under you @WimbledonRoof

— Eugenie Bouchard (@geniebouchard) June 30, 2014


After the Canadian had managed to gut her way through to her third straight slam quarterfinal (in six career slams), Aga Radwanska showed a decided lack of said internal fortitude against an in-form Ekaterina Makarova. Of course, that's (eventually) been par for the course for the Pole at pretty much every tournament she's played since she squandered a lead against Sabine Lisicki in last year's Wimbledon semifinals and quite possibly let slip away what will be her best ever chance to win a major title. Ever since, while her ability to reach the latter stages of events has remained, the Pole's inability to follow up a big win with another, or to come through in the clutch in many big moments, has been wanting, to say the least.

Against the Russian, things were moving along rather smoothly in the 1st set. A-Rad had easily won her first three serve games, and led 3-2 after not facing a single break point, or even reaching deuce. In her second and third service games, she lost a total of one point. And then she never held her serve again. In fact, she never even won another game.

Makarova held for 3-3, broke Radwanska on her first BP of the match in game #7, held at love in game #8, then broke again on her fourth BP of game #9, via an Aga double-fault, to take the set at 6-3. Aga scored just one point in her first serve game in the 2nd set, failed to convert on two BP to fall behind 3-0, then was broken at love. With Radwanska down 6-3/5-0, play was interrupted due to rain, and Aga's last remaining hope seemed to survive only in some residual supernatural form left over from last Wimbledon's Massacre. But when play resumed, once again, A-Rad was essentially alone on court. She battled a little, holding a game point, but was broken for the fifth straight time. She dropped the final nine games of the match, losing 6-3/6-0 in a measly fifty-three minutes of actual play.

In the 3rd set, Makarova won twenty-seven points to Radwanska's ten. Aga finished with more errors (14) than the Hordette (6), and won just thirty-one of the match's eighty-eight points, claiming just 23% of points in her return game.

With a big number of ranking points now lost due to the semifinalist-to-4th Rounder downshift, current #4 Radwanska will slip a bit farther down the WTA ladder just two years after she found herself one set from the Wimbledon title -- and the #1 ranking -- in the 2012 three-set final against Serena. With Aga having won just one tour singles title since opening 2013 with back-to-back crowns in the season's first two weeks -- a span of eighteen months and counting, after having won six titles in the previous eighteen month span that had followed a three-year title drought -- it may be legitimate to question whether or not Poland's #1 player will be even be a Top 10 player when everyone assembles next year at the AELTC.

There would seem to be little doubt that Bouchard will be ranked in the Top 10 twelve months from now, though. Hmmm, maybe The Rad has a new favorite player? Malevolent entities often take a liking to "cold-hearted killers," right? They don't all come from Poland... they can emerge from Canada, as well.

Bouchard is set to possibly play Maria Sharapova next. Or not. After all, things have a tendency to not always go according to play at SW19.












=DAY 7 NOTES=
...meanwhile, the flood of Czech women deep into the draw continued on Day 7. Three of the five completed women's singles matches advanced Czechs into the Wimbledon final eight. There have never been so many Maidens in the QF at the All-England Club. None of them dropped a set, either.




Barbora Zahlavova-Strycova took out Caroline Wozniacki in the closest of the three matches, winning 6-2/7-5, while Lucie Safarova put an end to countrywoman qualifier Tereza Smitkova's magical career-best run via a 6-0/6-2 score.




Later, to round out the Maidens' day, 2011 champ Petra Kvitova handled Peng Shuai 6-3/6-2, running her Wimbledon record to 23-3 since her initial back-to-back 1st Round exits in 2008-09.

...the much-anticipated revival of the 3rd Rounder between Madison Keys and Yaroslava Shvedova shriveled on the vine before play even began on Monday. Even after a day of rest, the thigh injury and the hope that it wouldn't jeopardize the continuation of the Bannerette's great grass court run ended up putting an end to it. She pulled out of the tournament, advancing the Kazakh (one of two still in the draw, for now, at least) to her second SW19 Round of 16 (w/ '12).

...late in the day, Maria Sharapova's match with Angelique Kerber joined the lengthening list of cancelled matches.



...LIKE FROM DAY 7:

Sabine Lisicki ♥ Wimbledon. Awwl, those crazy kids!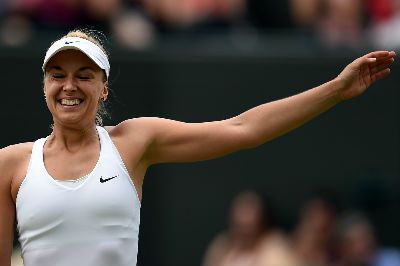 Well, unless Sabine is auditioning for a version of "Harvey" with a female lead... he said in a nod to Parsons' recent Broadway turn in the role made famous by Jimmy Stewart.

...as it turned out, Ana Ivanovic's move to get her 3rd Rounder with Lisicki carried over to today because of Saturday darkness, after the Serb dropped the 1st set to the '13 finalist, didn't quite work out for her in the end.

Down 6-4/1-1 when play stopped, AnaIvo came out and ran to a 5-2 2nd set lead today until the rains stopped play yet again. This time, though, it was Lisicki who grabbed the momentum when play resumed. Ivanovic took the 2nd at 6-3, but then the German went up a quick 3-0 in the 3rd, getting a break for 2-0 on her fourth attempt in the game. Lisicki won 6-4/3-6/6-1, ending things in her typical SW19 fashion (with an ace) to advance to her fourth straight Wimbledon Round of 16, and her fifth in her last five appearances at the AELTC (an ankle injury kept her out of action in '10).

For matters of "fairness," the Round of 16 match between Simona Halep and Zarina Diyas wasn't even scheduled for today, as the Lisicki/Ivanovic and Shvedova/Keys matches which will produce the other half of the QF in that section were given Monday to compete on their own so Halep/Diyas didn't get a day ahead. Of course, only one of those matches ended up being played because of Keys' withdrawal so, actually, there's something of an "unfair advantage" for the well-rested Shvedova in what will now be her 4th Round match with Lisicki anyway.

Sigh.

...some doubles and junior play was completed today, but not much.

Among the highlights, Kristina Mladenovic & Timea Babos defeated Belinda Bencic/Tsvetana Pironkova, while Ashley Barty/Casey Dellacqua knocked off the veteran-heavy duo of Kimiko Date-Krumm/Barbora Zahlavova-Strycova. Anastasia Pavlyuchenkova & Lucie Safarova, who saved nine MP in their last match against Black/Mirza, were leading Pennetta/Stosur 6-1/4-4 at the end of play, while the Kichenok sisters had a 7-5/2-4 advantage over Errani/Vinci. Mladenovic's Mixed match with Daniel Nestor was halted with the defending champs leading 7-5/1-1 over Huber/Dlouhy. Defending women's doubles champs Hsieh & Peng were down an early break at 3-1 to Beygelzimer/Jans-Ignacik.

In the juniors, after ending Saturday down a set and 5-5 to Brit Harriet Dart, #9 girls seed Anhelina Kalinina charged back to win 2-6/7-6(2)/6-3. #1 Ivana Jorovic, #5 Jil Belen Teichmann, #7 Francoise Abanda and #12 Marketa Vondrousova (a Czech, imagine that) also notched victories. Brit Katie Boulter took out #13-seeded Aussie Priscilla Hon.

...while there was no middle Sunday play at Wimbledon, not to mention very little on Saturday or today, there were titles decided on the ITF circuit.

Keeping the Czech theme of this Wimbledon intact, ITF Circuit Player of the Week goes to Denisa Allertova. The 21-year old claimed her season-leading fifth singles title of 2014 at the $25K event in Siófok, Hungary. She defeated fellow Maiden Martina Borecka in the final after having knocked off the #1 and #4 seeds in the event, and also won the doubles. It's her seventh career singles crown, and her seventh straight victory in a final going back to 2012.

In the Prokuplje, Slovenia, $10K, Elizaveta Ianchuk claimed her second career (and first since '11) ITF singles crown, giving us two title-winning Ianchuks on the circuit in 2014. Elizaveta's 19-year old sister Olga won a tournament in February.

...A NON-SELFIE OF A SELFIE FROM DAY 7: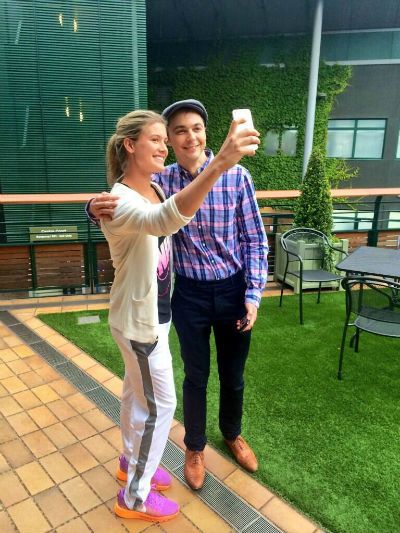 -- Bouchard with Jim Parsons, who has become friends with the Canadian after, as a tennis fan with no connection to the Canadian, innocently sending her a congratulatory message after her AO semifinal run in January. Parsons was in the Friends Box for Bouchard's match today, having cancelled his flight home in order to attend.

...BOARD GAMES FROM DAY 7:

-- speaking of Bouchard, the AELTC has no use for a Genie Army. Genie Scrabble, though, is apparently A-Ok. (That's be a seven-letter word, by the way, if you were playing with very liberal spelling rules... well, unless it was played on a double or triple world score square, of course.)


...and, finally, she hasn't been forgotten. The North American hard court season is just around the corner now!



"Lip singing to my high school music dance"














=LADIES' SINGLES ROUND OF 16=


#13 Eugenie Bouchard/CAN def. #25 Alize Cornet/FRA
#9 Angelique Kerber/GER vs. #5 Maria Sharapova/RUS
#3 Simona Halep/ROU vs. Zarina Diyas/KAZ
#19 Sabine Lisicki/GER vs. Yaroslava Shvedova/KAZ
#23 Lucie Safarova/CZE def. (Q) Tereza Smitkova/CZE
#22 Ekaterina Makarova/RUS def. #4 Agnieszka Radwanska/POL
#6 Petra Kvitova/CZE def. Peng Shuai/CHN
Barbora Zahlavova-Strycova/CZE def. #16 Caroline Wozniacki/DEN



=GENTLEMEN'S SINGLES ROUND OF 16=


#1 Novak Djokovic/SRB def. #14 Jo-Wilfried Tsonga/FRA
#26 Marin Cilic/CRO def. Jeremy Chardy/FRA
#3 Andy Murray/GBR def. #20 Kevin Anderson/RSA
#11 Grigor Dimitrov/BUL vs. Leonardo Mayer/ARG
#5 Stan Wawrinka/SUI vs. #19 Feliciano Lopez/ESP
#23 Tommy Robredo/ESP vs. #4 Roger Federer/SUI
#8 Milos Raonic/CAN vs. #10 Kei Nishikori/JPN
(WC) Nick Kyrgios/AUS vs. #2 Rafael Nadal/ESP
















*UNSEEDED/WC/Q in SLAM QF SINCE 32-SEED DRAW*




[began w/ 2001 Wimbledon]


01 US - Bedanova
02 AO - Ad.Serra-Zanetti
02 RG - Pierce,C.Fernandez,Suarez
02 WI - Likhovtseva
02 US - Bovina
03 AO - Shaughnessy,Ruano-Pascual
03 RG - Pierce
04 WI - Sprem
04 US - Asagoe
05 RG - Karatantcheva
06 AO - Hingis(wc)
06 WI - Bremond(q)
07 AO - S.Williams,Safarova [Williams won title]
07 US - Szavay
08 RG - Kanepi,Suarez-Navarro(q)
08 WI - Zheng(wc),Tanasugarn
09 AO - Dokic(wc),Suarez-Navarro
09 RG - Sharapova,Cirstea
09 WI - Lisicki,Schiavone
09 US - Wickmayer,K.Bondarenko,Oudin,Clijsters(wc) [KC won title]
10 AO - Henin(wc) [Henin reached final]
10 RG - Shvedova
10 WI - Kvitova,Kanepi(q),Pironkova
10 US - Cibulkova
11 WI - Lisicki(wc),Paszek
11 US - Kerber
12 AO - Makarova,Errani
12 RG - Shvedova(q)
12 WI - Paszek
13 AO - Kuznetsova
13 RG - Kuznetsova
13 WI - Kanepi
13 US - Hantuchova
13 US - Pennetta
14 RG - Muguruza
14 WI - Zahlavova-Strycova
--
UNSEEDED STILL TO PLAY 4th Rd.: Diyas,Shvedova



*RECENT BEST AMERICAN WOMEN'S SLAM RESULTS*




=2011=


AO: Venus Williams (3rd)
RG: Vania King & Bethanie Mattek-Sands (3rd)
WI: Serena Williams (4th)
US: Serena Williams (RU)


=2012=


AO: Serena Williams (4th)
RG: Sloane Stephens (4th) & Varvara Lepchenko (4th)
WI: Serena Williams (W)
US: Serena Williams (W)


=2013=


AO: Sloane Stephens (SF)
RG: Serena Williams (W)
WI: Sloane Stephens (QF)
US: Serena Williams (W)


=2014=


AO: Sloane Stephens & Serena Williams (4th)
RG: Sloane Stephens (4th)
WI: L.Davis, M.Keys, A.Riske, S.Williams, V.Williams (all 3rd)



*2014 ITF FINALS*


7...Zhu Lin, CHN (4-3)
5...Denisa Allertova, CZE (5-0)
5...Elena-Teodora Cadar, ROU (3-2)
5...Maria Sakkari, GRE (3-2)
5...Timea Bacsinszky, SUI (2-3)







TOP QUALIFIER:

Michelle Larcher de Brito/POR




TOP EARLY-ROUND (1r-2r):

#5 Maria Sharapova/RUS




TOP MIDDLE-ROUND (3r-QF):

xx


TOP LATE-ROUND (SF-F):

xx


TOP QUALIFYING MATCH:

Q3: Paula Kania/POL d. Shelby Rogers/USA 7-6(12)/4-6/6-3




TOP EARLY-RD. MATCH (1r-2r):

1st Rd. -Coco Vandeweghe/USA d. #27 Garbine Muguruza/ESP 6-3/3-6/7-5 (on 13th MP, 9th in final game)




TOP MIDDLE-RD. MATCH (3r-QF):

Nominee: 3rd Rd. - #6 Kvitova d. #30 V.Williams 5-7/7-6(2)/7-5


TOP LATE-RD. MATCH (SF-F/Jr.):

xx


TOP UNDER-THE-ROOF MATCH:

xx


=============================




FIRST WINNER:

Elena Vesnina/RUS (def. Patricia Mayr-Achleitner/AUT)




FIRST SEED OUT:

#17 Samantha Stosur/AUS (lost 1st Rd. to Wickmayer/BEL)




UPSET QUEENS:

USA (def. 3 seeds and one ex-semifinalist in 1st Rd.)




REVELATION LADIES:

CZE




NATION OF POOR SOULS:

SVK (1-4 in 1st Rd.)




LAST QUALIFIER STANDING:

Tereza Smitkova/CZE (4th Rd.)




LAST WILD CARD STANDING:

Vera Zvonareva/RUS (3rd Rd.)




LAST BRIT STANDING:

Naomi Broady & Heather Watson (2nd Rd.)




IT ("??"):

Nominees: Z.Diyas/KAZ; E.Bouchard/CAN; Kichenok/Kichenok (UKR)


Ms.OPPORTUNITY:

Nominees: L.Safarova/CZE; E.Makarova/RUS; E.Bouchard/CAN; S.Halep/ROU; Y.Shvedova/KAZ


COMEBACK PLAYER:

Nominees: Vika's white shorts; P.Kvitova/CZE; B.Zahlavova-Strycova/CZE


CRASH & BURN:

Sloane Stephens/USA (lost 1st Rd. to Kirilenko/RUS, ending 6 con. slam Round of 16 streak)




ZOMBIE QUEEN:

Nominees: Makarova/RUS (down 5-0 in 1st set, 3-1 in 3rd vs. Date-Krumm in 1st Rd.); Shvedova/KAZ (saved MP vs. Kr.Pliskova in 3rd set in 1st Rd.); Pavlyuchenkova/Safarova (saved 9 MP vs. Black/Mirza in 2nd Rd.)


DOUBLES STAR

xx


AMG SLAM FUTILITY UPDATE:

DNP - singles (first time Medina-Garrigues didn't play Q/MD singles at a slam since 2003 Wimbledon, ending a 43-tournament appearance streak)


JUNIOR BREAKOUT:

xx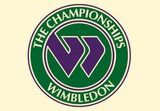 All for Day 7. More tomorrow.